Followers of Chengdu-Expat WeChat receive a weekly special deal on a great product or service in Chengdu, available every Monday, this week ETHöS.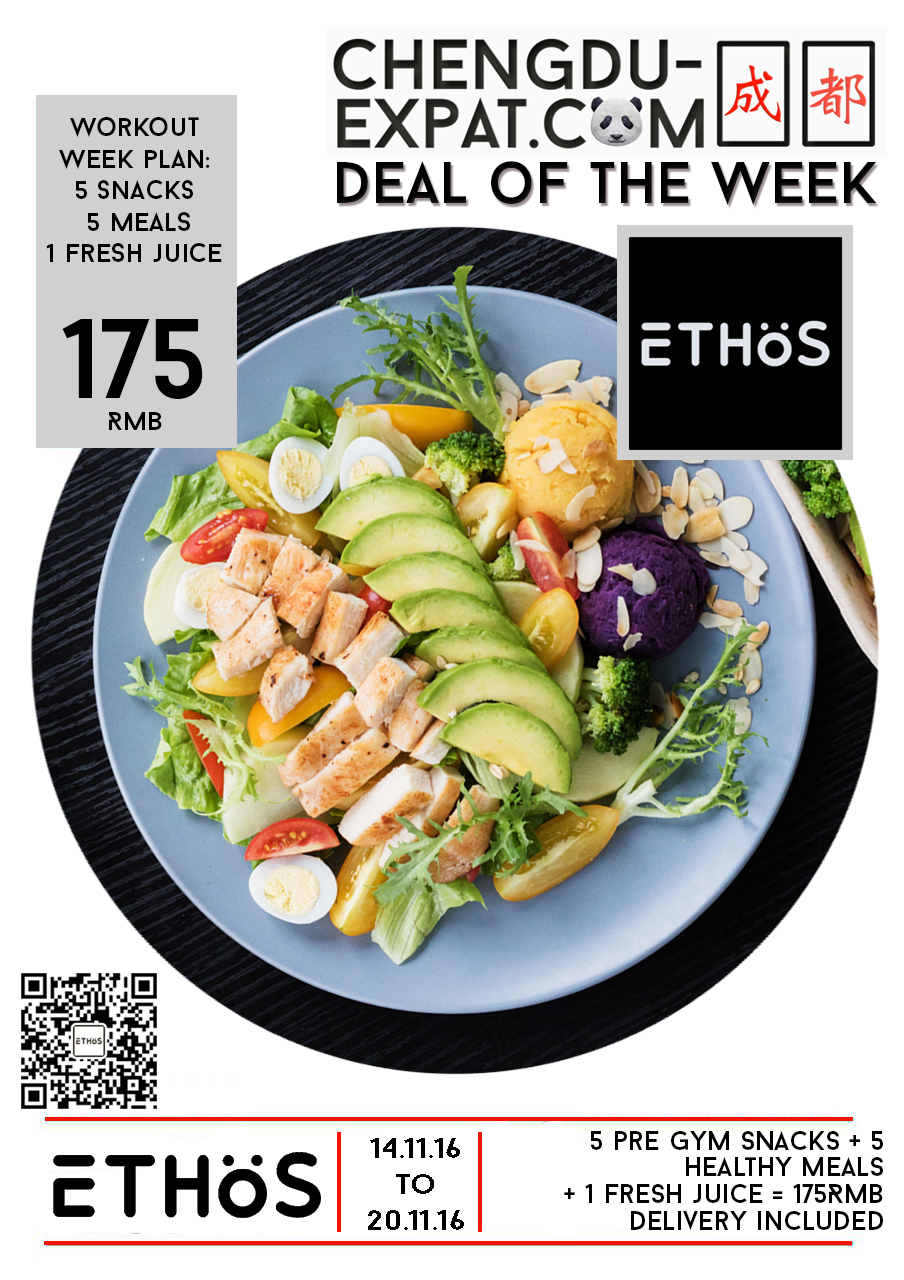 ETHö S is a company specialising in food for your fitness and this week are offering a special deal: This week's package:
5 pre-gym snacks 5 post-gym meals 1 fresh juice for 175RMB Your meal will be delivered straight to your door daily included in this price. Alternatively if you would like to try a meal before ordering a package, you can save 5RMB on individual meals – orders need to be placed 1 day in advance.
You can begin the 5 day package any time between now and Sunday 20th November or (if ordered at the weekend, they will deliver next week). ETHOS do not deliver on weekends. Prices include delivery costs.
Claim the deal
Scan the QR code to order the deal for delivery and quote "Chengdu-Expat Deal of the Week" by WeChat.

About ETHOS
Ethos means distinctive spirit of a culture or an era in English, and we call it "有所食" in Chinese which means having proper food to eat.
ETHOS work-out meal plans strictly calculate calories, protein and fat with two main types: fat loss and muscle building. It is specially for those people who do sports and body management. Fitness is a combination of proper training and right choice of meals. However, many Chinese have not realized it yet or they do not have approach to buy fitness meals.
ETHOS  pays highly attention to complete the fitness training by proper food intake.
We offer pre work-out supply and post work-out meal according to body different demand in different situation to maximize the effect of your training. Therefore, ETHOS is defined as "Tasty Fitness Equipment" to imply that ETHOS is an essential last part of your training.
Please contact info@chengdu-expat to collaborate.