City life can sometimes get to be too much and everyone needs a little break to get their juices flowing and the adrenaline pumping! Chengdu-Expat have complied a list of some of the best venues around Chengdu to get you moving and most importantly, having fun.
Air Factory 空气工厂蹦床馆

Location/ 地址: 武侯区创业路36号附1号 No.1 of No.36 Chuangye Street, Wuhou District.
Axe Throwing
Originally from Canada, Axe Throwing is a legitimate sport. Now it's time for Chengdu to pick up this exhilarating and fashionable sport. Fit for those aged 18 years and above, axe throwing can be a real stress reliever. Imagine throwing darts, but much more thrilling!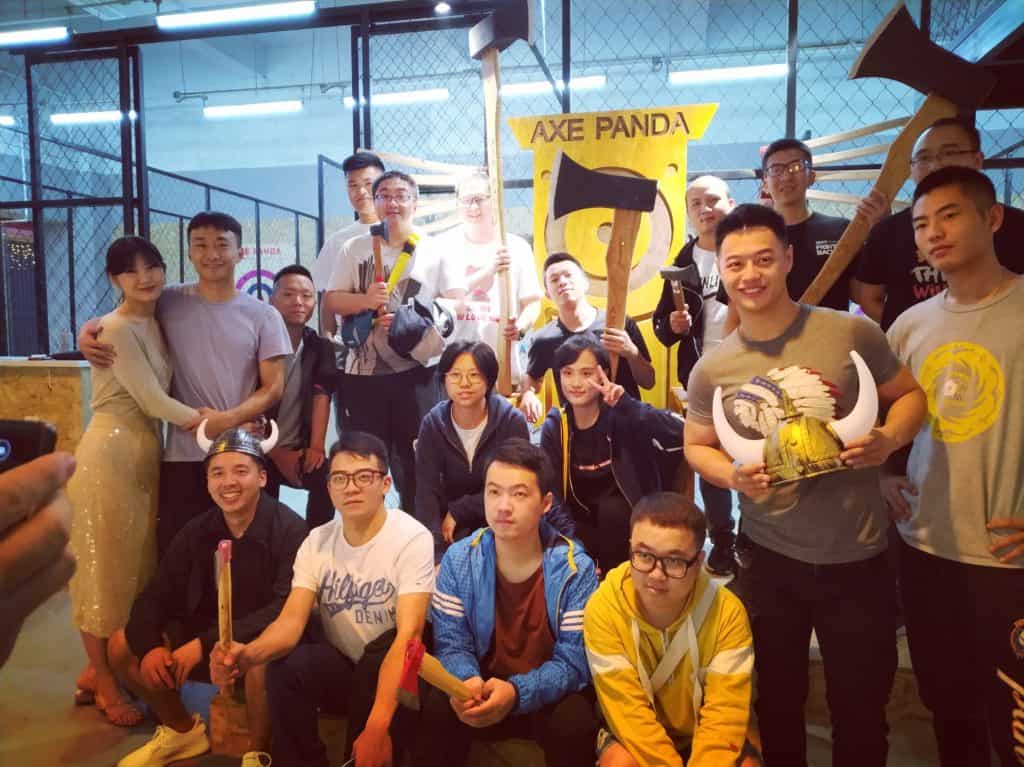 Location: Axe Panda
Address: #2231 underground floor, Luzhouli Shopping Center, Tianfu 2nd Street, Gaoxin District
Time: Mon. – Fri.| 13:00-22:00; Weekends | 10:00-22:00
Telephone: 19182196395 / 028 – 83106862
Price: RMB78/30min; RMB128/hour
Bungee Jumping
Floraland Theme Park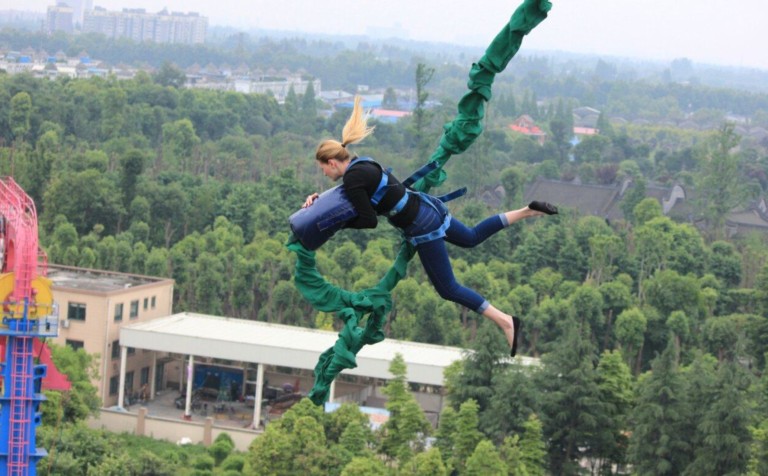 Location:
Floraland Guosetianxiang Theme Park, Wanchun Town, Wenjiang District, Chengdu 611133, China成都市温江区万春镇
Visitors can take bus 904, 319, 763, 762, 904 to the final stop
Opening Hours:
9AM-8PM
Cost:
Monday to Thursday: 150Yuan/Person for daytime and 80Yuan/Person for evening
Friday to Sunday: 130Yuan for daytime and 100Yuan/Person for evening
Contact:
+86 28 8261 1222
A theme park in Chengdu that does have some great attractions, such as bungee jumping and some really fun rides (even if you don't want to bungee jump you can still have a great day out). However, all signs are in Chinese and not all the staff have very good English. Make sure you take sun cream and water if it's a hot day!
CS Real-life Counter-Strike
Counter-Strike is arguably one of the most classic video games, but maybe the keyboard and LCD screen can't bring you the same thrill as before. Then head to a real-life Counter-Strike arena to test your skills. Don a camo suit, team up with real people to complete missions in real-world scenarios just like your favorite action hero.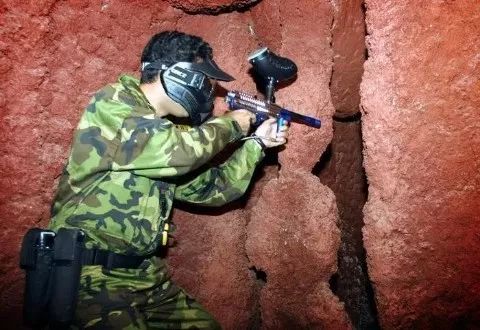 Location: 1 Upper Road of Shiling Street (near Chengdu University), Longquanyi District 石灵上街1号(靠近成都大学)
Cost: RMB70/person
Ecological park, Huanglong Lake
Address:
188 Huanglong Avenue, Shuangliu District 双流区黄龙大街188号
This park also offers BBQ, fishing and other activities.
Guofang Park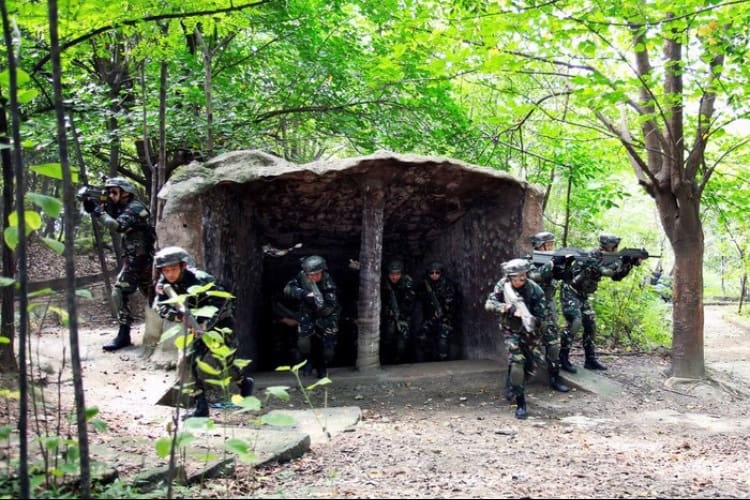 Location: 
17 Xinyuan Avenue, High-tech Zone 高新区新园大道17号国防乐园内(近石羊场客运中心站)
CS club, Shuxianyuan
Location:2408 Mid-section of Chenglong Avenue, Jinjiang District  锦江区成龙大街中段2408号

CS club, Shiling

Location: 1 Upper Road of Shiling Street (near Chengdu University), Longquanyi District 石灵上街1号(靠近成都大学)
CS club, Dongshan Avenue, Huayang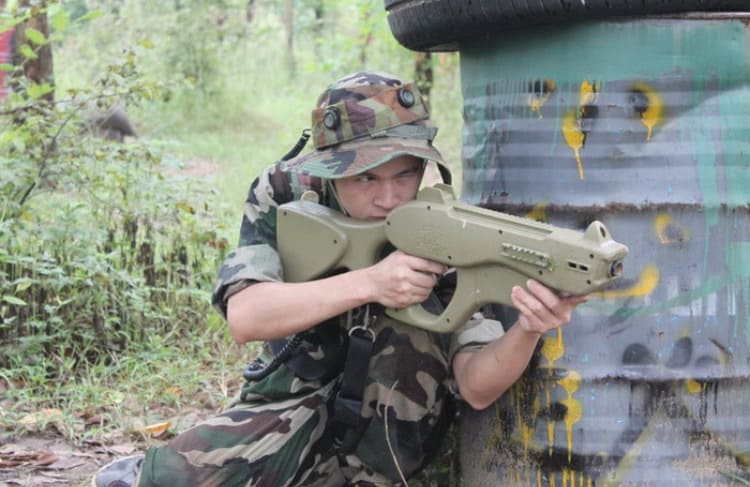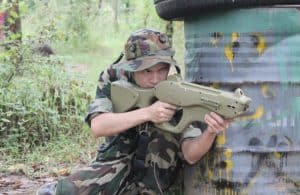 Location:200 1st section of Dongshan Avenue, Huayang, Shuangliu District 双流区华阳东山大道1段200号
CS club, Shiling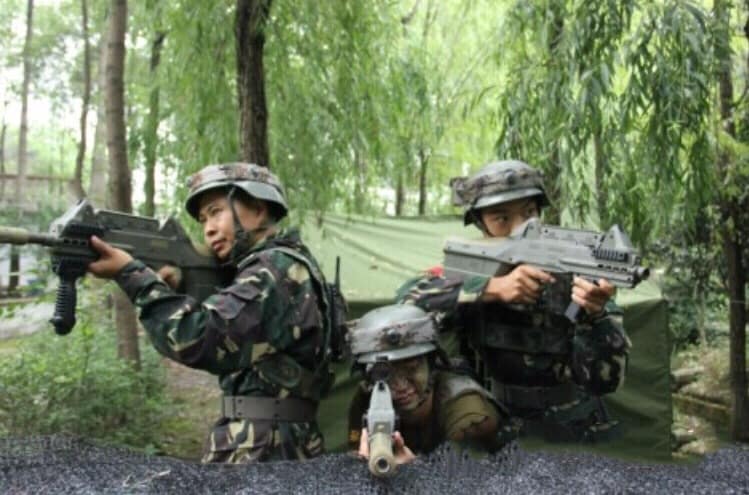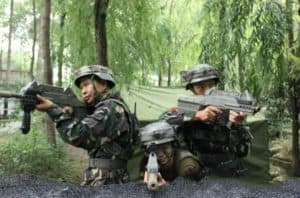 Location: 1 Upper Road of Shiling Street (near Chengdu University), Longquanyi District 石灵上街1号(靠近成都大学)
Downhill Mountain Biking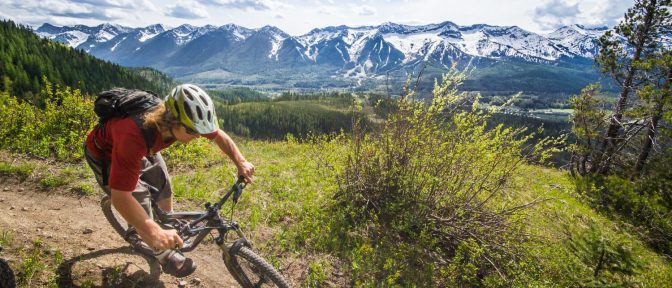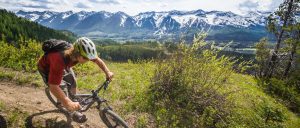 Downhill mountain biking is a gravity-powered activity that involves riding a mountain bicycle or other vehicles down an alpine course.
Those that have ridden a bicycle down a paved slope understand how fun it is, and that gave rise to downhill mountain biking. Professional downhill bikers blast down steep and complex mountainous terrains on bicycles at speed of 50 to 80km/h or even faster, so the excitement is quite extreme.
Location: Yangtianwo on Longquan Mountains
Yours truly learned from enthusiasts that Yangtianwo on Longquan Mountains is a magnet for downhill bikers who gather there every week, so it might be a good choice for any bike-riding thrill-seekers out there.
Address: Junction of National Highway No.318 and Oupeng Avenue, Longquanyi District, Chengdu
Price: Free
Half-Pipe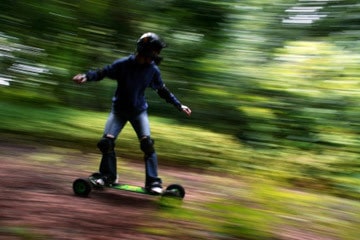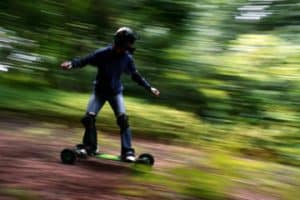 The half-pipe is a structure where skateboarders can perform spins, flips and other tricks. It is absolutely a must-go destination for freestyle skateboarders and fans of the sport.
Location: Half-pipe at Fenghuang Mountain Park
Address: No.969 West Section Panda Avenue, Chengdu
Price: Free
Ice skating/Skiing
Miss winter sports in the summer? Indoor ice skating/skiing is the way to go! Indoor skating or skiing slopes usually areflatter, smaller and less steep, and artificial ice and snow are not as cold as real ice and snow, thus there is no need to worry about getting frostbite, allowing people to stay warm and comfy while reveling in the fun of winter sports.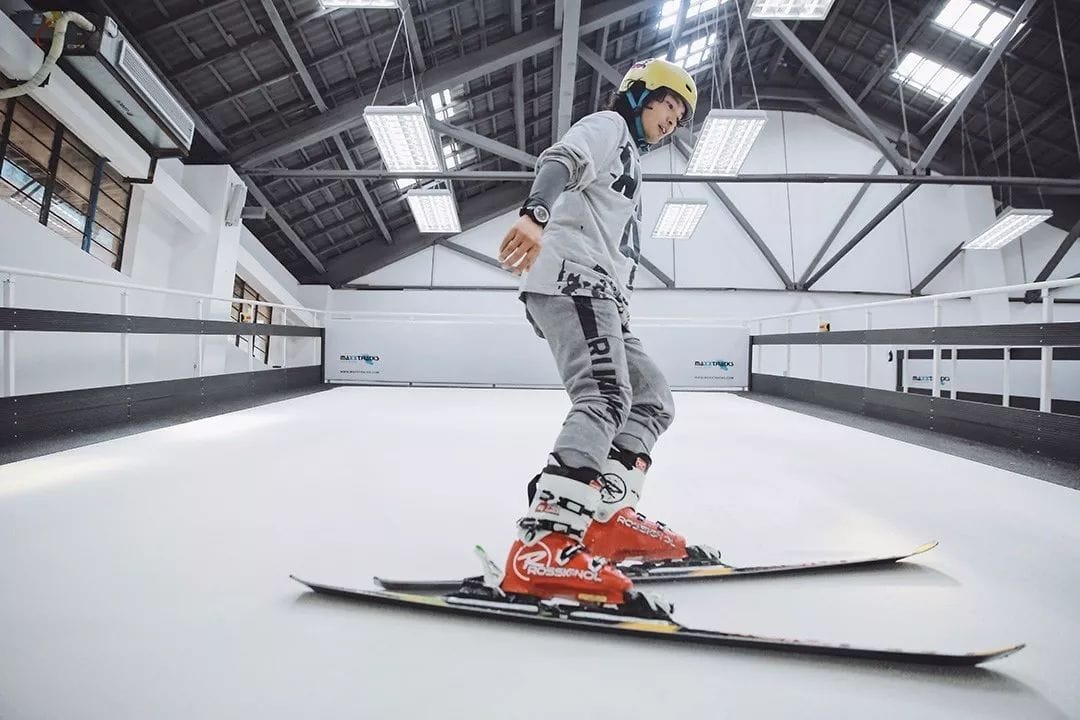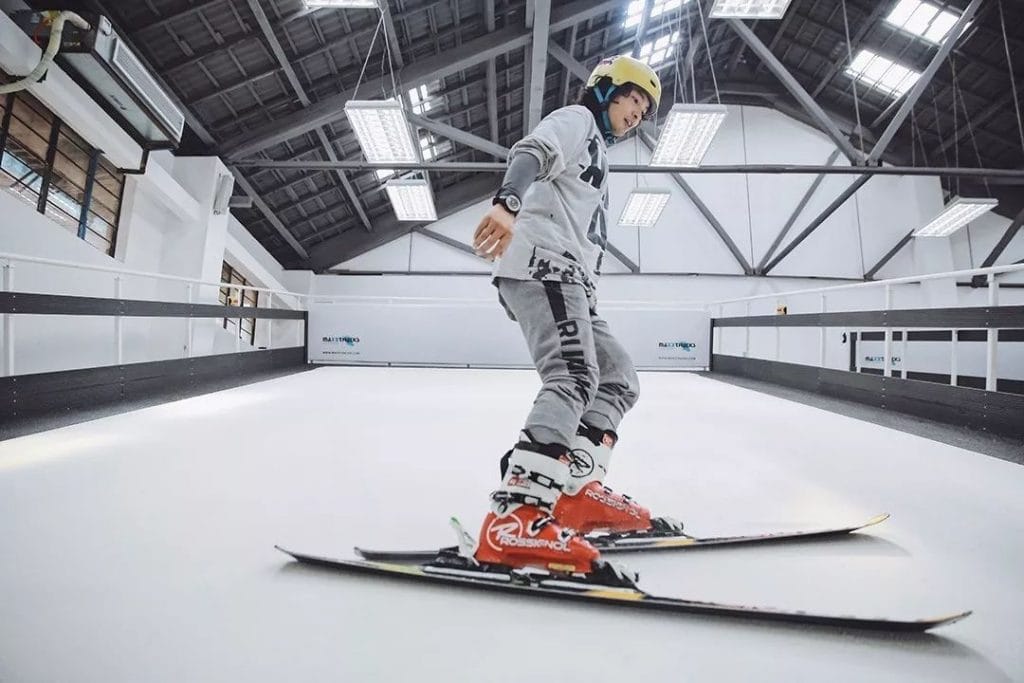 Location: Champion Rink
Address: Champion Rink@4/F, New Century Global Center, No.1656 North Section of Tianfu Avenue
Price: RMB345/person
Indoor Skydiving
Not all extreme sports are outdoor, and thrill-seekers could still get a fat dose of adrenaline rush indoor. Indoor skydiving facilities create and control air current to keep participants floating in air, then through adjustingposition and center of balance players can perform moves such as handstand, somersault and spin, just like real skydiving.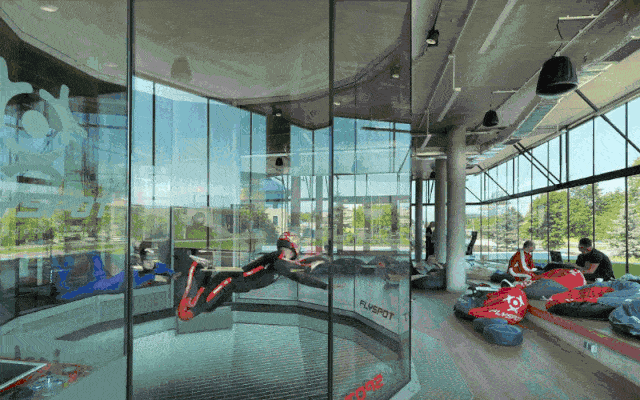 Location: Extreme Space Station at Happy Valley
Address: OCT Plaza, No.16 Xihua Avenue, Jinniu District, Chengdu
Price: RMB178/person
Laser Tag
Defense Park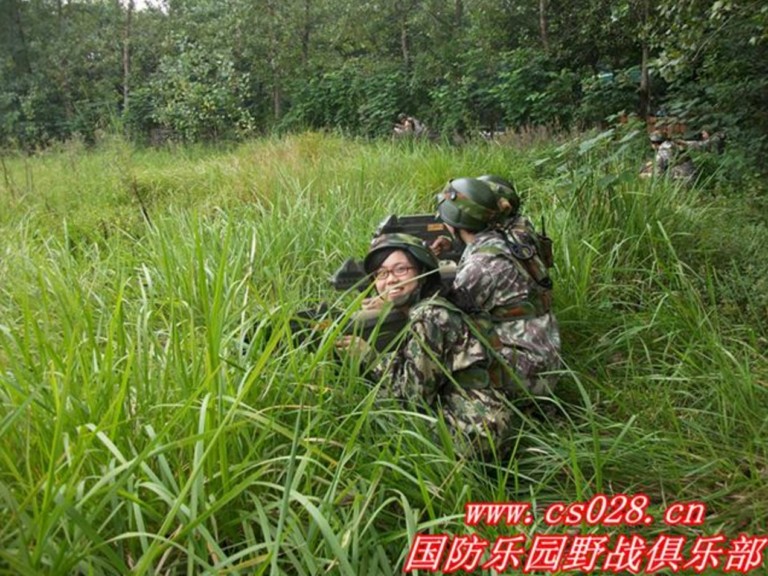 Location:
Chengdu Hi-Tech Zone Shiyangchang (next to the terminal station Shiyang) 国防乐园,四川省成都市武侯区新园大道17号
Cost:
Half day 168 yuan per person. Full day 268 yuan per person
Price includes: the trainer, equipment, clothing, the site and drinking water
How to Book:
028-85319698 / 13980992310 / 13981976758
A large park filled with retired military vehicles makes this a great place for laser tag, giving it a real army feel, which is great fun for you and your group. Chinese of the staff is not very good and to make a booking you really need someone who speaks good Chinese, but it is worth it once you get out there!
Paint balling
Defense Park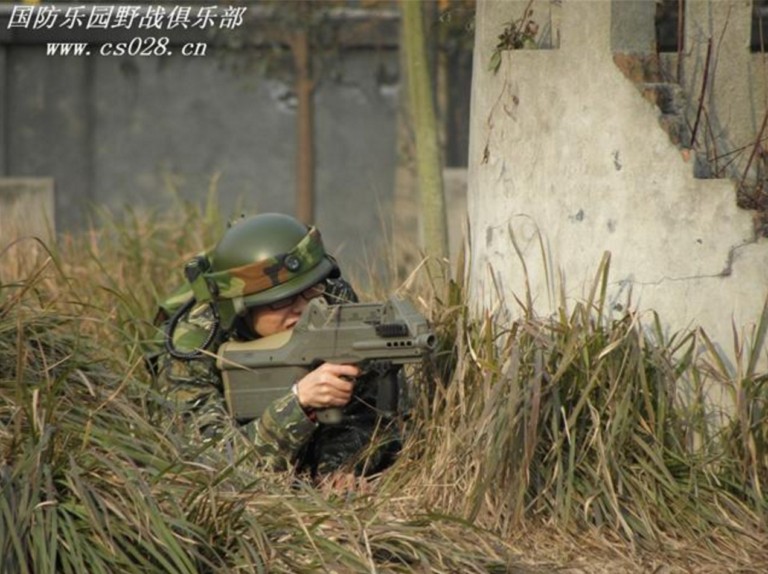 Location:
Chengdu Hi-Tech Zone Shiyangchang (next to the terminal station Shiyang) 国防乐园 四川省成都市武侯区新园大道17号
Cost:
RMB 88 per person
How to Book:
028-85319698 / 13980992310 / 13981976758
The same location as the laser tag with the same army feel but with real paintballs adding to the excitement, if you're into that.  Of course, the same problem as with the laser tag will be that you will need a Chinese speaker to make a booking
Speed Panda Go Karting
Location:
4F, Fun2 Shopping Mall, 339 Television Tower (East Chengdu) 成都339欢乐颂4楼(四川电视塔)
Chengdu Karting Club 成都国际卡丁车俱乐部
Location:
Jinjiang District, Jinjiang Avenue, ShiSheng Road No. 87成都市锦江区锦江大道石胜路87号成都国际赛车场内(原金港赛道)
BlueSpeed Karting 蓝速卡丁车俱乐部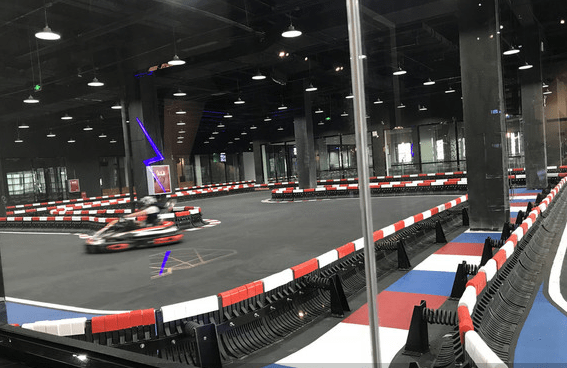 Location: Qingyang District, Qingyang Dadao No. 99. Youpin Square (West Chengdu) Building 2 Unit 3
青羊区青羊大道99号 ,优品道广场2懂3楼 (白衣商街177)
Average Price: 100RMB per person
Parachute Simulation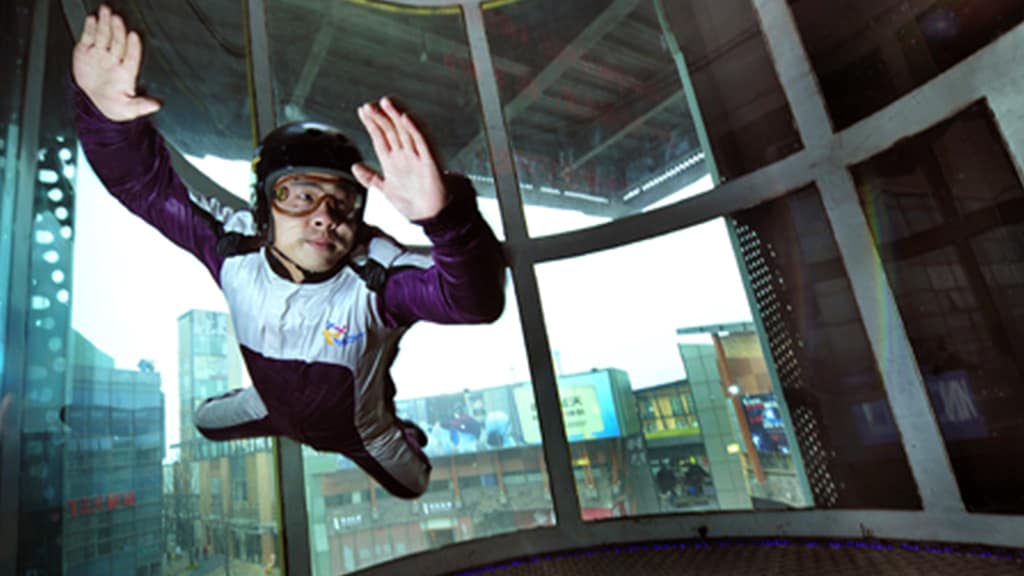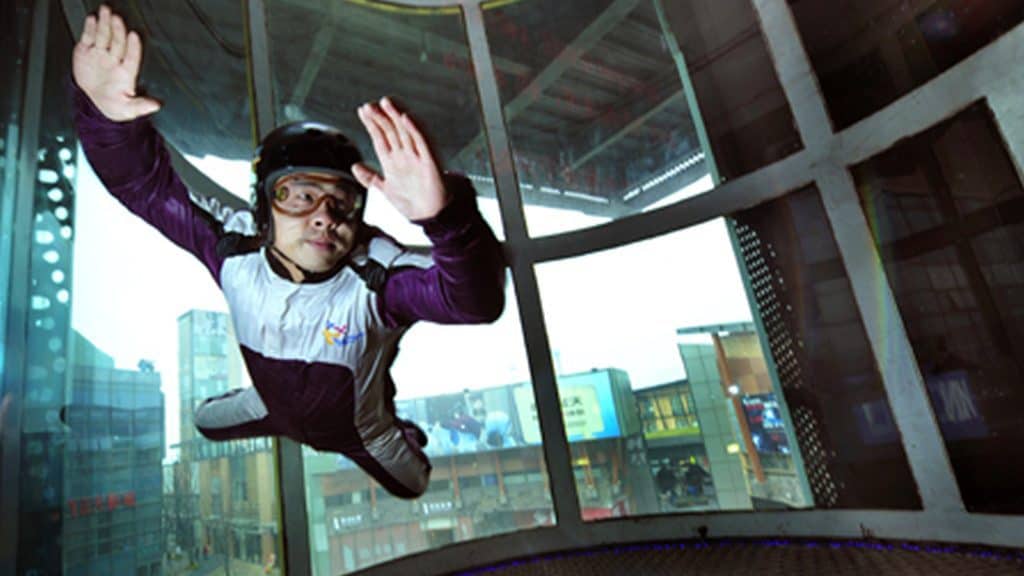 If you want to experience the excitement of parachuting but lack the courage to jump out of a plane, you could get a feeling of just what it feels like to parachute in the sky.
The parachute simulation machine is in essence a wind tunnel. Participants can "parachute" inside this tubular passage filled with controllable air streams, which makes parachuting "the safest extreme sport".
Location: Extreme Space Station at Happy Valley
Address: OCT Plaza, No.16 Xihua Avenue, Chengdu
Price: RMB180
Paraglide
都江堰鱼嘴滑翔伞俱乐部 Dujiangyan Yuzui Paragliding Club
Dujiangyan Paragliding Club has two paragliding bases, you can choose different heights according to your own situation, to meet your different needs.
It is the paraglider base with the highest drop in Sichuan, with an altitude of 1480 meters and a drop of 750 meters, with the highest cost performance.
It takes about one hour to drive 70 kilometers away from Chengdu, and you can fly up to overlook the Dujiangyan water conservancy project, the mountains and the Dujiangyan city.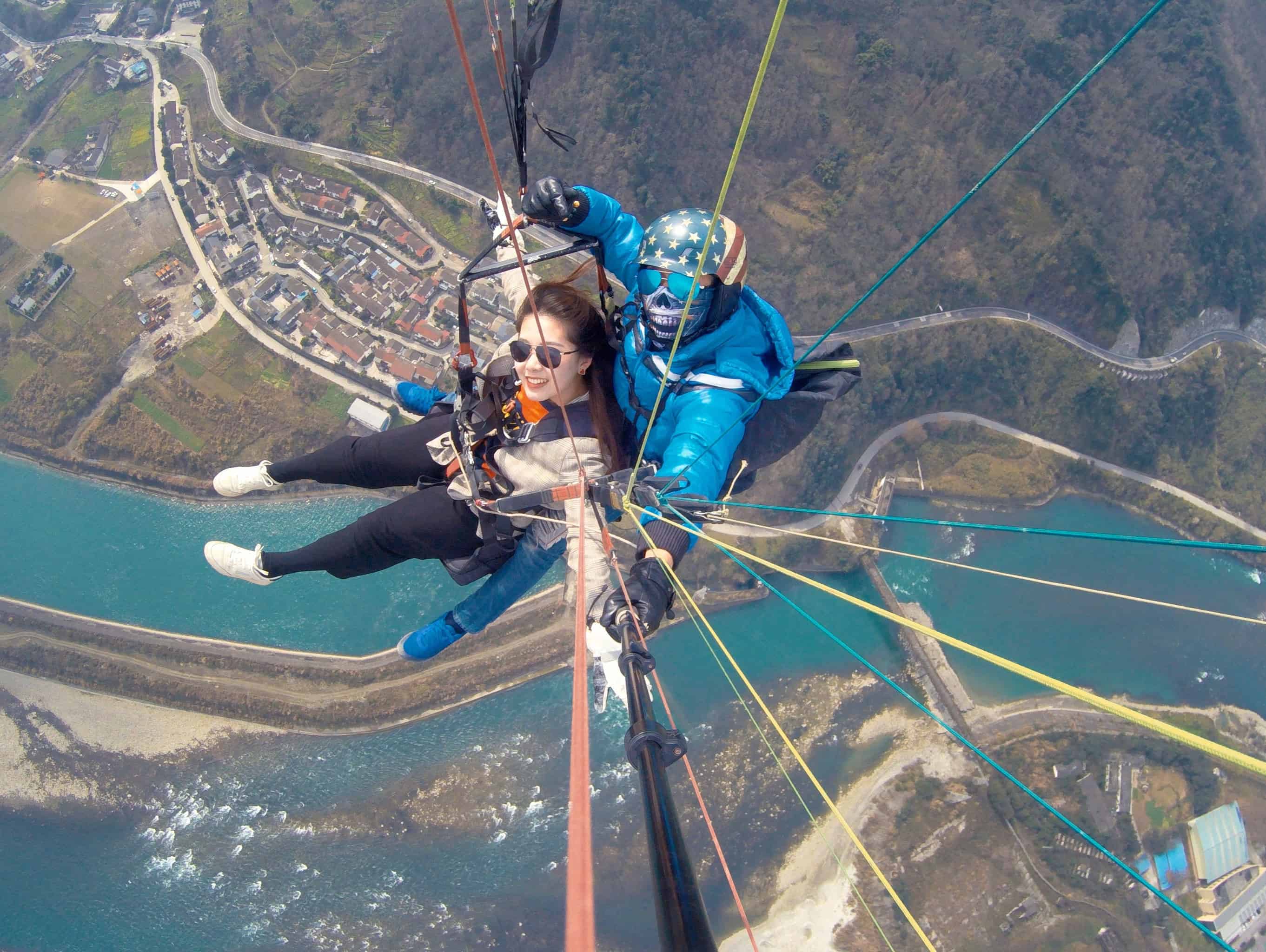 Location: No. 1, Group 5, Liming Village, Longchi Town, 150 meters east of 213 National Road, Dujiangyan City, Chengdu, Sichuan Province
Price: 750m drop field: 880 yuan / person
350-meter drop field: 780 yuan / person
Tel: 18628309847
Opening hours: Autumn and winter Monday to Sunday 10: 00-18: 00, spring and summer Monday to Sunday 09: 00-18: 30
Rock climbing
Indoor rock climbing features artificial rocks designed of varying height and difficulty (usually six to eight meters in height) to allow climbers to enjoy this traditionally outdoor sport, while offering a higher degree of safety. Not only will participants be able to experience the joy of ascending to the top of walls with different difficulty degrees by climbing at different speeds and using different skills, but also hone one's endurance, strength, coordination and other physical attributes.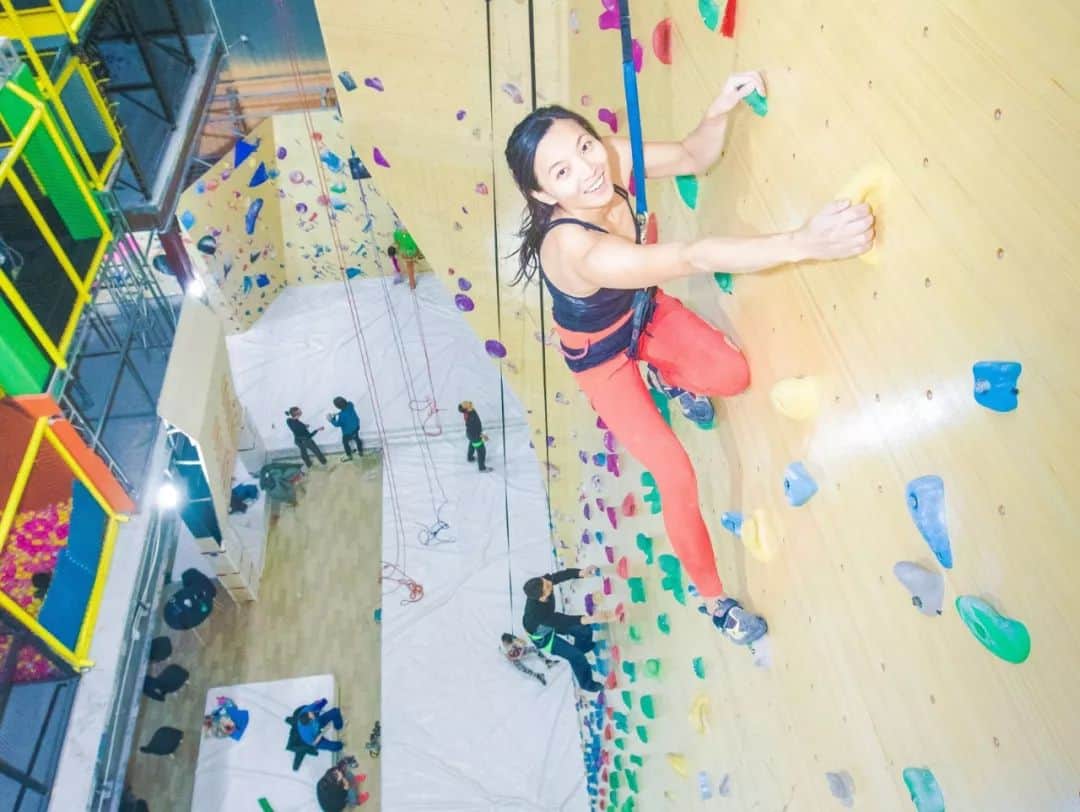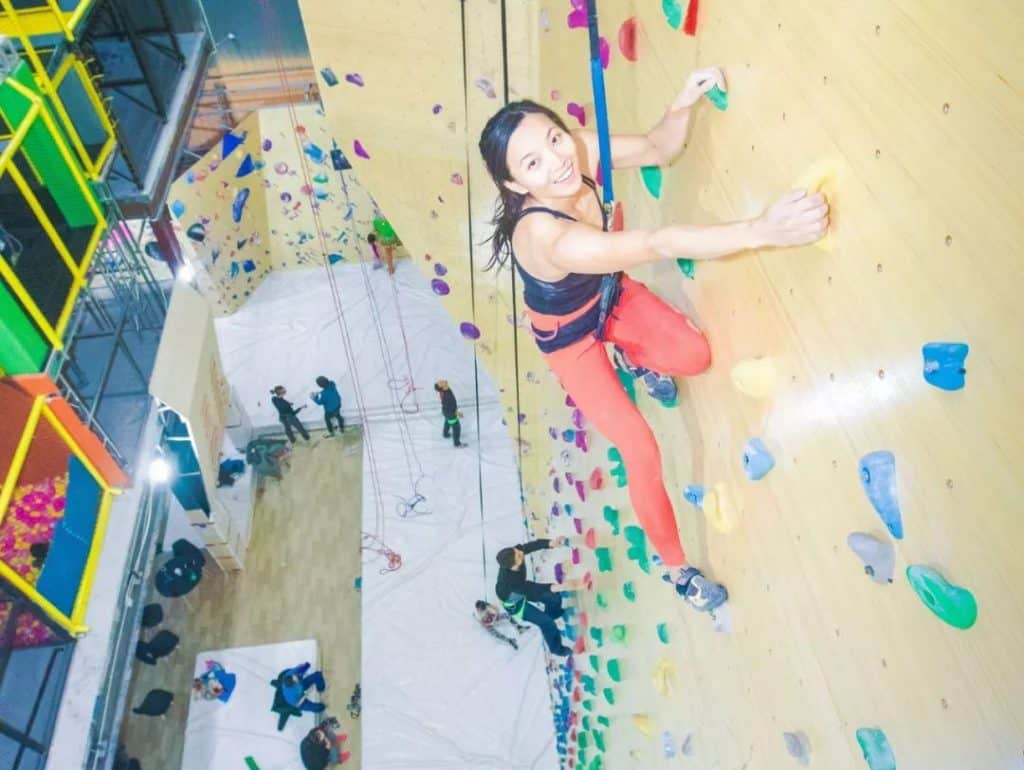 Location: Ma Da's Rock Climbing
Address: Ma Da's Rock Climbing @5/F, Winter Concourse, Chengdu Joy City
Price: RMB95/person
Skiing
When the summer sun is high, what else is cooler than stylishly skiing down (or tumbling down) the slope? It's as gratifying as jumping into a hot spring in winter.
Location: All-season Ski Slopes at the American Park
Address: Junction of Jincheng Avenue and Xinyuan Avenue, Chengdu
Price: RMB160/four hours
Xiling Snow Mountain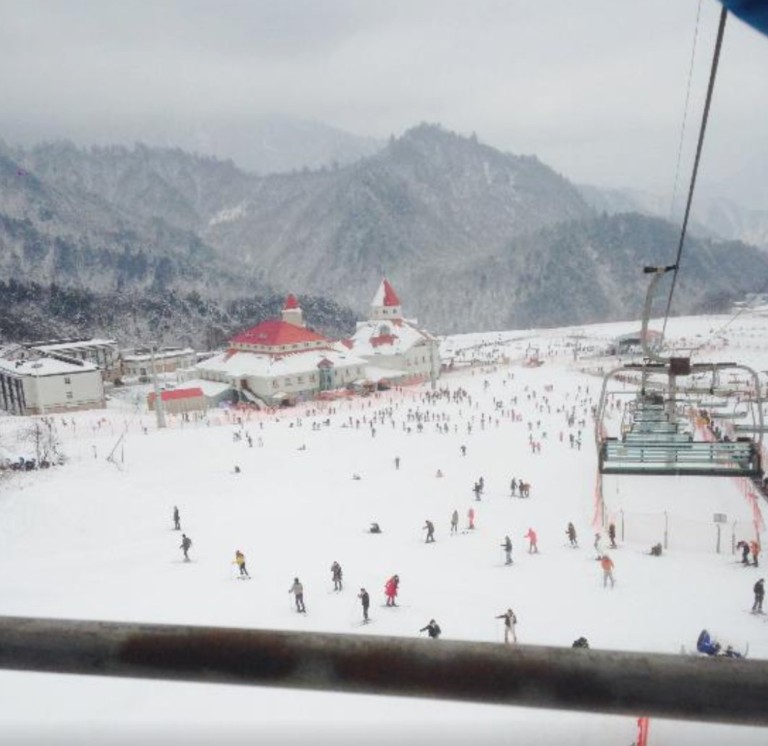 Location:
‪Xiling Snow Mountain Ski Field , Xiling Town, Dayi County 611346,    China四川省成都市大邑县西岭雪山滑雪场
About 120 km away from Chengdu
Tourist bus from ski resort take around 2.5 hours
Opening Hours:
Mid Dec- March
How to Book:
For a free quote in 24 hours' visit
https://www.chinahighlights.com/forms/reservation-form-citytour.asp
The highest mountain is 5364 meters and skiing level is suitable for all levels. You can rent ski gear (skis, boots and ski poles) from the ski resort. It can be a difficult trip if you don't speak Chinese and given the up and down weather of Chengdu good snow is not guaranteed. However, it is not too far away and can be the perfect cure when you just want to hit the slope.
Chengdu American Sports Park Dry Slope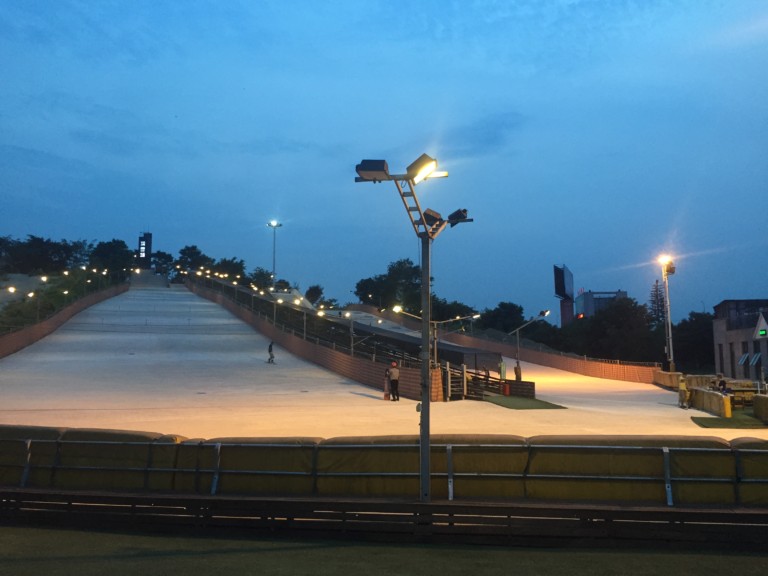 Location:
Chengdu American Sports Park
锦城大道与新园大道交界处 美洲时尚体育公园内 成都足球公园
Opening Hours:
Open daily from 9 AM- 1o PM
Cost:
2 Hours: RMB 80 (weekday) RMB 100 (weekend) RMB 120 (public holidays)
4 Hours: RMB 130 (weekday) RMB 160 (weekend) RMB 180 (public holidays)
Whole Day: RMB 180 (weekday) RMB 220 (weekend) RMB 260 (public holidays)
How to Book:
No need to pre-book
If you don't want to make the full trip up the mountain then dry slope skiing is the answer. Located about ten minute drive from Incubation Park metro station (taxi should cost about 11-15 RMB, though it may be more during peak times). The English of the staff is not great which can make the process of getting skis fitted a little long winded but once you get onto the slope you will soon forget all about it. The slope is not very busy so you will usually only be sharing the slopes with a few other people. They also offer classes if you are looking to improve your skiing.
Xindu JF Dry Ski

Location:
Opposite Beixing residential compound, Majiazhen, Xindu District, Chengdu City, Sichuan Province. 四川省成都市新都区马家镇北星小区斜对面
Opening hours:
Workdays | 13:30-17:30, 18:30-22:30
Weekends | 9:00-12:00, 13:30-17:30, 18:30-22:30
Cost: 120 RMB/session (4 hours)
Contact: +862885248915 (No booking needed)
This is the largest dry ski resort in southwest China with over 13,000㎡ of slope area including baby slope, beginner slope, intermediate slope, expert slope, club area, canteen and leisure area.
Surfing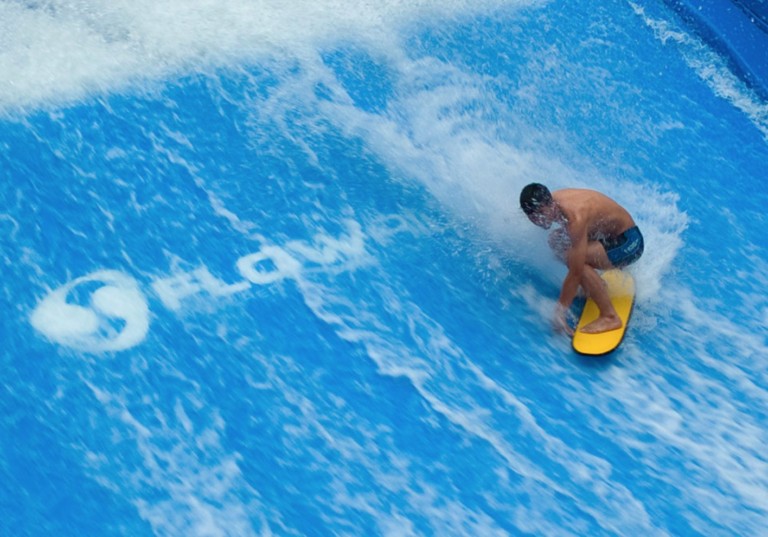 Location:
New Century Global Center 新世纪环球中心,成都高新南区天府大道北段1700号

Opening Hours:
10:30AM – 8:00PM
Cost:
From RMB 140 (Can go for RMB 90 after 5PM)
Prices vary depending on time and date.
How to Book:
No need to book! You pay on arrival
The worlds biggest building, with the worlds biggest television and the worlds biggest wave pool, so hardly surprising that the World Global Centre should also include a water park. There are a whole hosts of ways to enjoy yourself here such as AquaPlay, Rain Fortress, Abyss, Family Raft Ride, Whizzard, AquaLoop, Ropes Course, Freefall Plus, AquaTube and Wave River. However, the double flow rider proves to be one of the best and most popular. The surf-simulator is hours of fun. No need to be a pro-surfer, you can get a body board and just enjoy the waves.
WUTEVER Karting 卡丁车俱乐部
Hubaba World Adventure Park 
Zipline: Enjoy the beauty of the valley from a height with the Hubaba zipline trail. There are currently 11 lines to experience.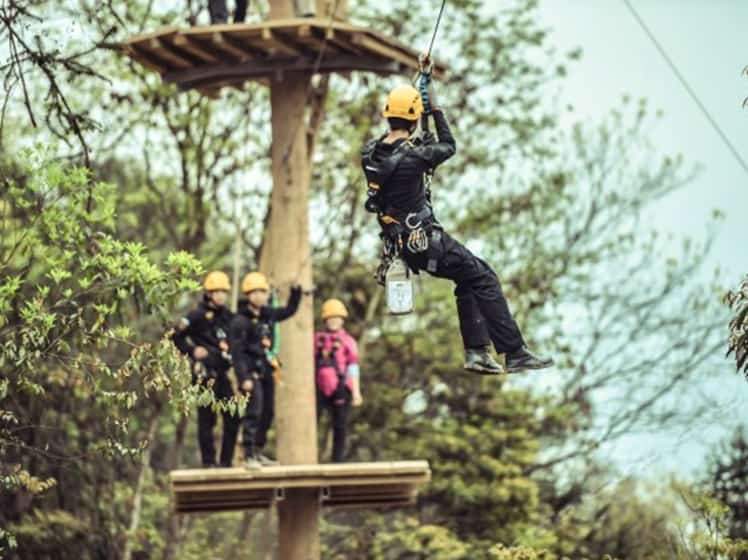 Archery: Shooting for all ages is available with state of the art equipment and qualified instructors.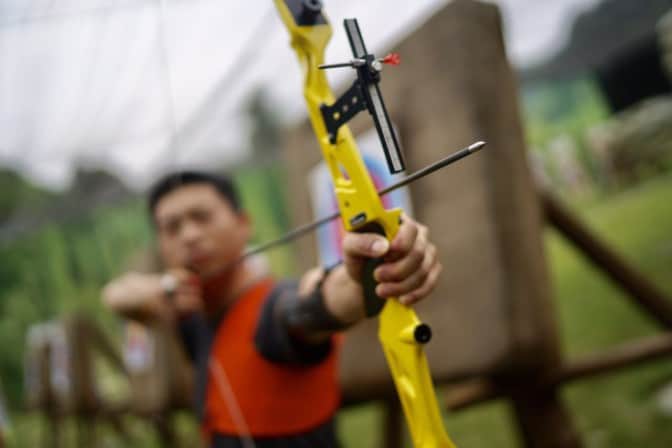 Mountain Biking: If you want to work up a sweat, you can make the most of the rugged mountain biking trail which cuts through the valley.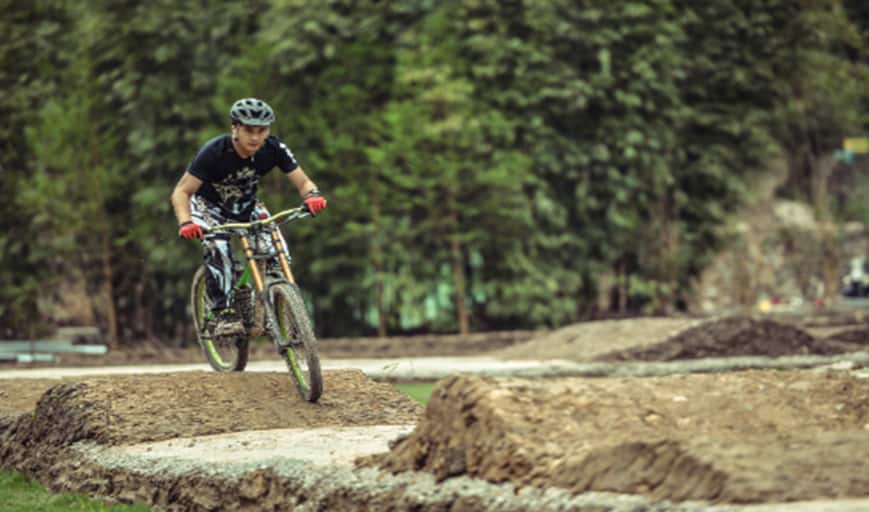 Rock Climbing and Free Fall: There are also rock climbing walls with high spec safety equipment and specialist instructors.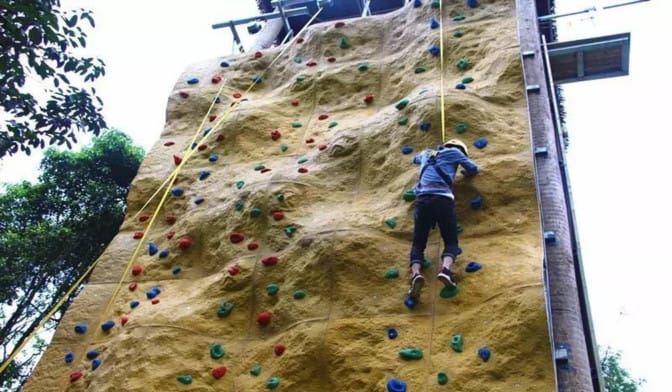 Hiking: If you want to explore the hills and valleys surrounding the resort, there are great hiking trails with different difficulties to suit all ages.
Address:
Dianyexiang Valley No. 3, Xiang'e County, Dujiangyan
四川省成都市都江堰市向峨乡爱莲社区电业巷3号
You can reach Dujiangyan by high-speed train from Chengdu (north) Railway Station or Xi Pu Station.
成都火车站 – 都江堰站
It takes 30 minutes and they run frequently.
Zorb Football
Crazy Lab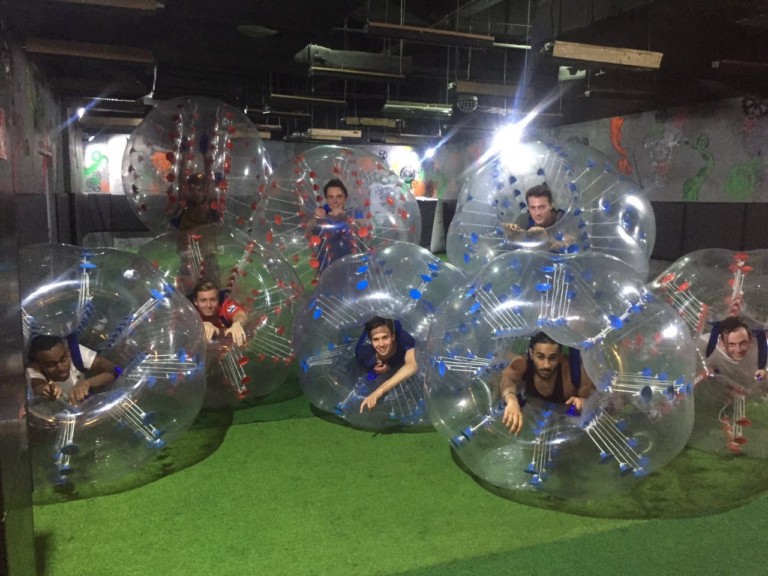 Location:
No. 518 Joy City Mall (right side of the fountain at the entrance), 4th Floor 成都大悦城 4楼518号
Opening Hours:
10AM – 10.30PM
Cost:
RMB 140 for four activities
How to Book:
028-6506-1100
Zorb football (or space football) is definitely the most popular attraction of crazy lab but they offer lots of other activities to keep your adrenalin rush going such as dodge ball, archery, football pool and so much more. It can get very sweaty so bring plenty of water.
If you like this article then you will love these:
Chengdu Outdoor Swimming Pools

Sports in Chengdu: Bowling Places