Chengdu can seem dauntingly large at first with its mammoth size alongside a very copy and paste style of architecture. However as Chengdu has rapidly developed, so has its transportation. Here's a look at how to cut out all the stress and glide around the city with ease. Transport yourself like a pro.
Baidu Maps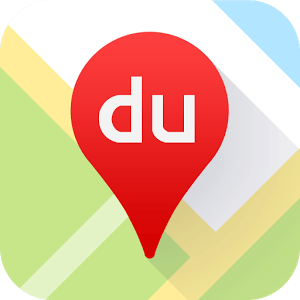 First of all: download Baidu Maps. The navigation and route-planning feature for public transport is invaluable. Showing cab drivers the locations in Chinese is also very useful. WeChat has a location sharing option so your friends can share their location or you can save useful and frequently visited places. Tapping on these locations allows you to bring it up on maps and use the app to plan your route. Just press the bus icon on the navigation screen for a selection of public transport routes sorted by time. This allows you to know what metro and/or bus you need to take as well as where any changes are.
Taxis
Chengdu's taxis are incredibly cheap compared to their western cousins. When you first arrive the difference in price between a London cab and a Chengdu cab can be very alluring. Cabs are probably the most stress free form of transport. However, this is if you know what you're doing. A taxi ride can become stressful if you're not well prepared and don't speak the language.
Public
Chengdu inner city taxis are green with a lit up taxi sign on top. You can occasionally see some blue cabs riding around but they're for other areas of Chengdu and aren't allowed to serve you so don't take it personally when you're ignored. You can hail them down if the front facing rooftop light is red, don't make my mistake assuming the rear facing light means it's not occupied either. It's essential to have a written copy of where you're going if you can't say the destination. The Chinese driver will not speak English. Either have the address on your phone or paper or the location up on Baidu Maps until you learn how to say it.
Fare prices are incredibly cheap with the meter starting at 8RMB for the first 3km during normal hours and 9RMB for abnormal hours. Most journeys should be within 30RMb at the very most. Just make sure the driver puts it down before they drive off. Cab drivers will sometimes try to haggle a price instead of using the meter, do not accept this and insist on the meter. The only time when it's acceptable to agree a price when is a green taxi is taking you to a different zone, such as Shuangliu. Blue cabs run in further out districts. They're technically not allowed to take fares there or there's little chance of them getting a fare for the long journey back.
Didi



Didi is China's answer to Uber, with nicer cars and cheaper fares it's many expats preferred method of transport. Just like Uber, it uses location services and maps to pinpoint available cabs, yourself and your destination. To use the apps express service you'll need a Chinese phone number and WeChat pay or an Alipay account, the drivers don't accept cash.
The service is available either as a mini program in WeChat and Alipay or as a standalone app, I prefer the standalone app however as it's all in English and it's better optimised. It's very useful if your Chinese is poor or you know the location but not the name. Sometimes the cab drivers will call you but the app has an inbuilt chat service with automated translation and pre-set phrases so drivers rarely have a need to call now.
Didi Services
You can order a variety of services depending on your needs, all available for immediate pick up or prior reservation at an extra cost. The main is the express service, where most cars are available and you have three choices of immediate fares: Express pool, Express and Select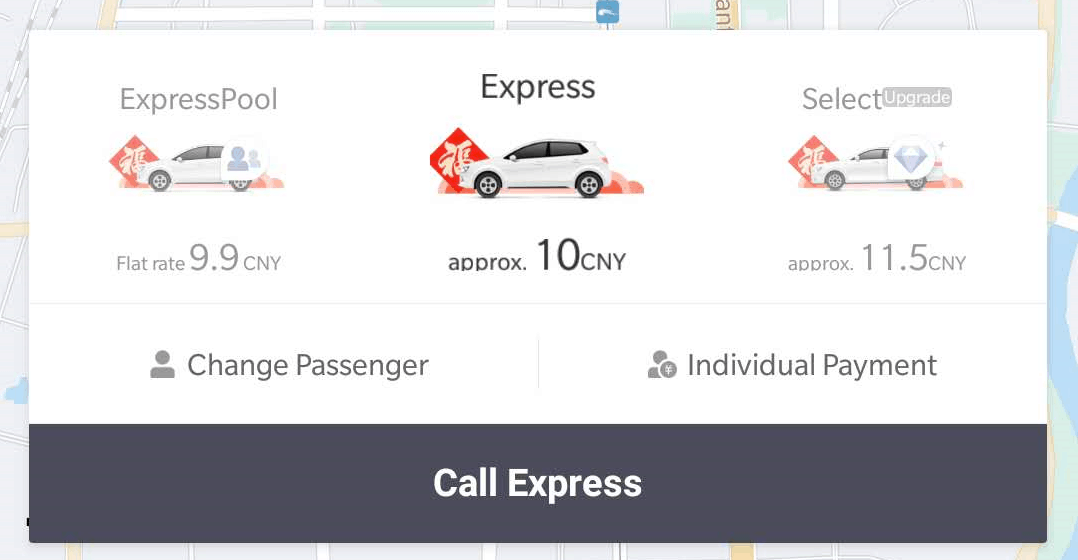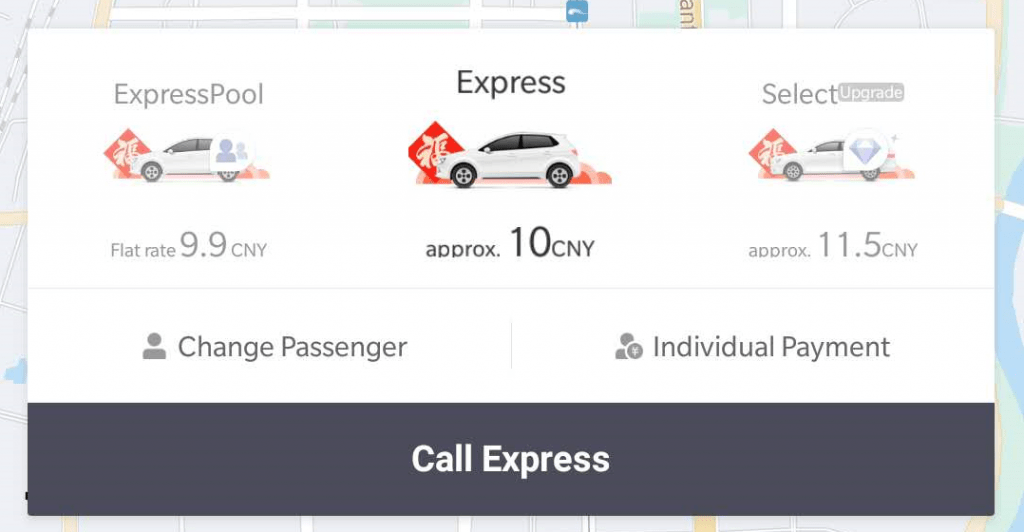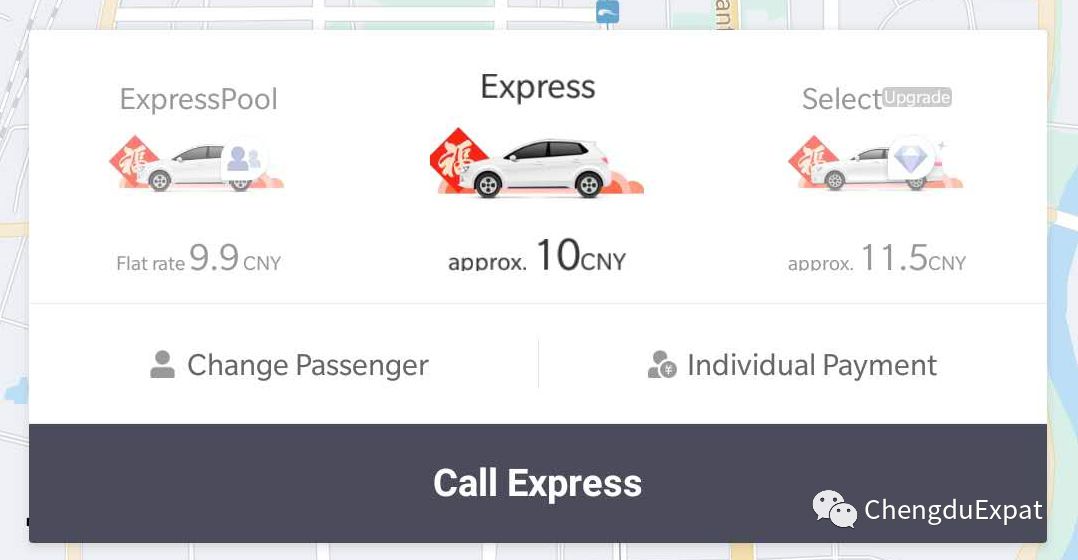 Express pool is a car pool service and allows the driver to pick up other passengers along your journey. Express is a private service and typically the most used and standard service. Select has a selection of better cars and drivers for a slightly higher price. You can also use Didi to hail a public cabs mentioned earlier, these cabs accept cash as well as WeChat but don't use Didi's meters or fares. Didi also offers a premier option aimed mostly at businesspersons or important airport collection. Reservation over phone in advance is required.
Metro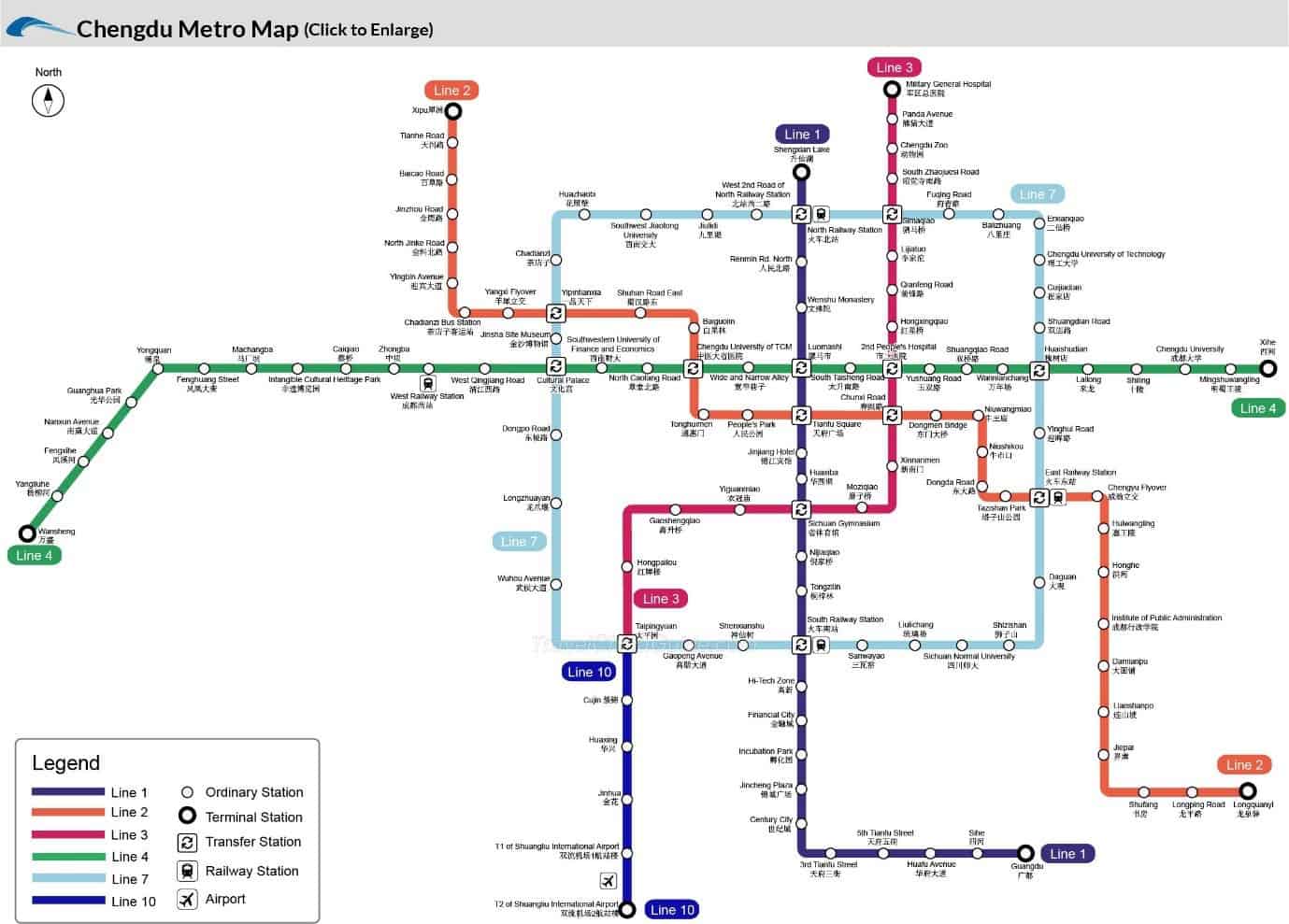 Chengdu's metro system is a relatively new addition to the city, making it modern and clean whilst also seemingly growing a new line and line extensions every few months. At time of writing, there are six metro lines currently running. There's also air conditioning during the summer months which is an absolute godsend. Before you board your bags and bottles have to go through a scanner, any liquids in your bag you should remove for inspection. They really aren't a fan of foreigners with aerosol cans either, mine always get confiscated, so you're going to have to get used to roll on deodorants.
The metro is incredibly cheap, with fares being under 5RMB in the city. Purchase a ticket from the machines, which have both English and Chinese language options. A kiosk is also available if you don't have the correct change or you can use the Chengdu equivalent of an oyster card: the Tianfu Tong. With the Tianfu Tong, you receive a 10% discount as well as avoiding the massive queues for tickets. The newer cards with a 'C' in the corner are also able to be topped up via an app. It also comes in different snazzy themed varieties like Garfield.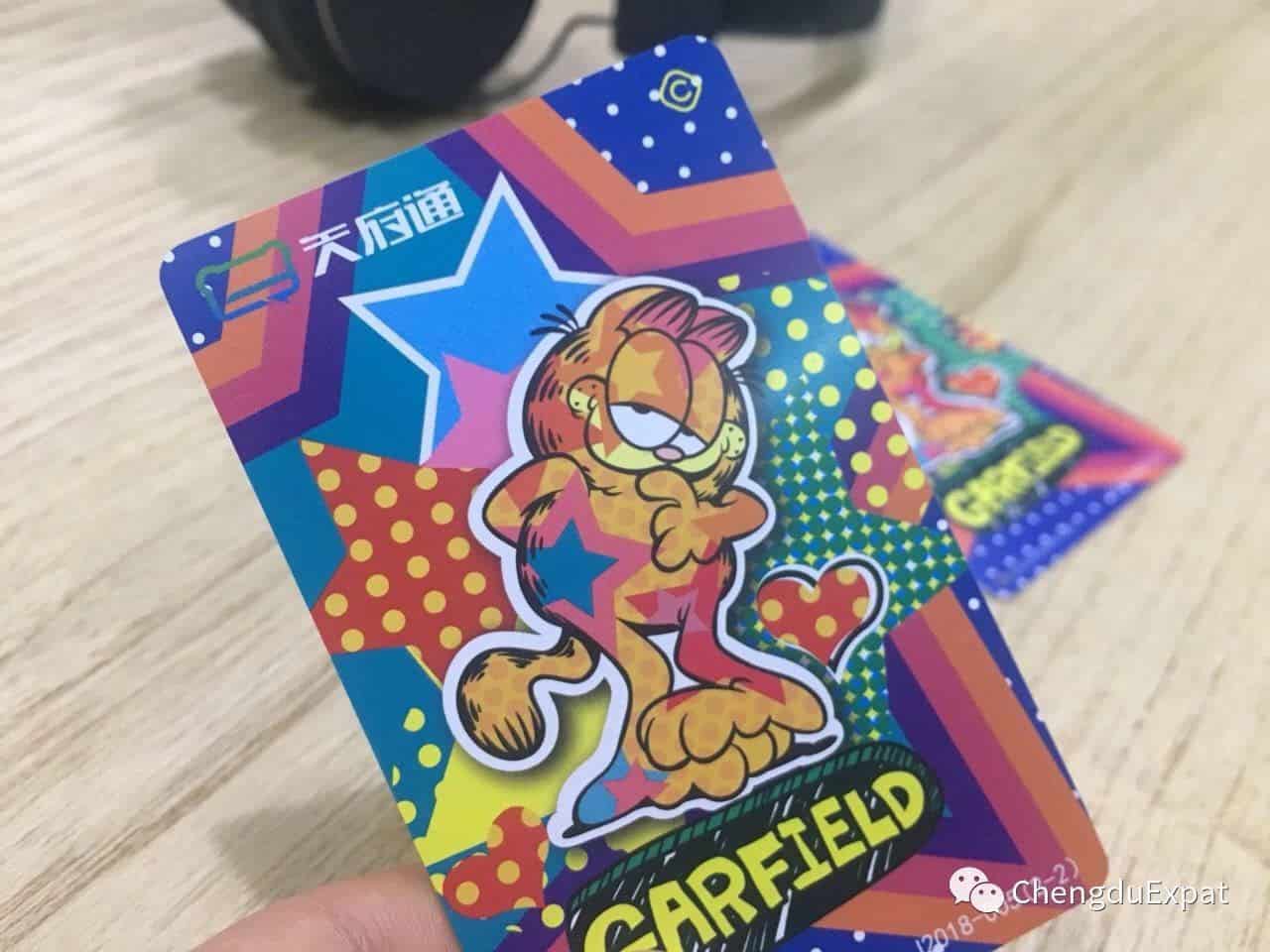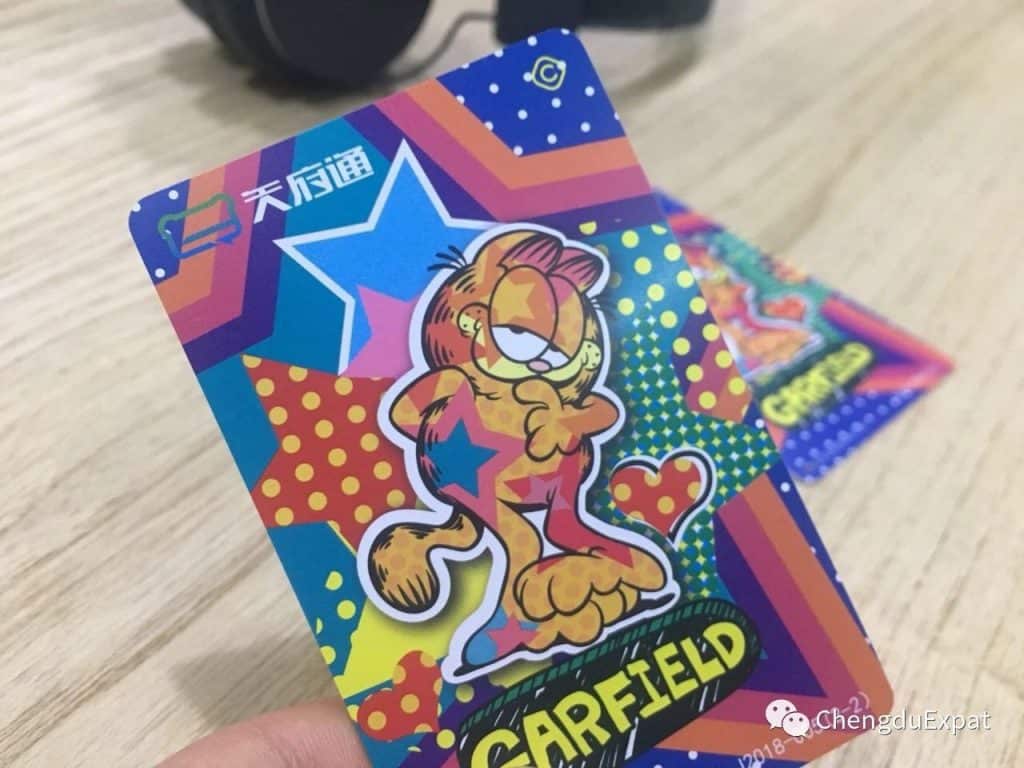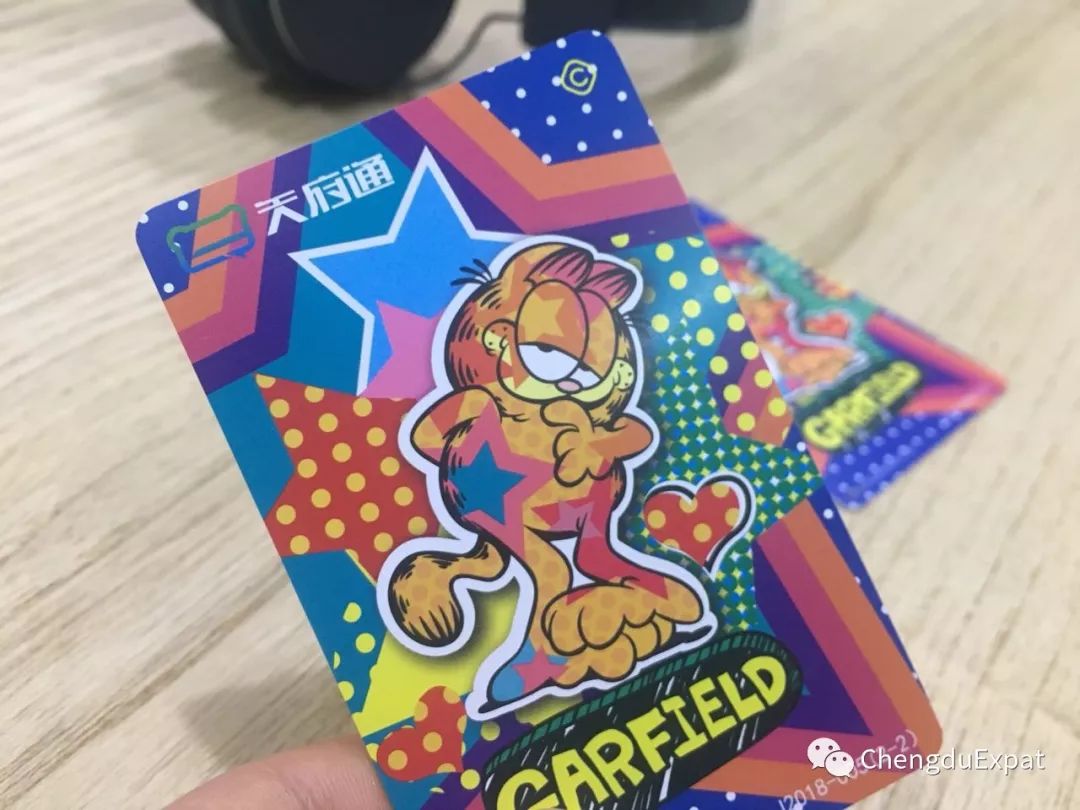 There's always a catch though and on the metro what you save in ticket fares you pay with your personal space. Chinese public transport is notorious for packing in passengers like sardines and the Chengdu metro is no exception. Even during off peak hours it can be hard to find a seat.
Rush hour is 7-9 in the morning and from 5-7 in the evening, so prepare yourself mentally and physically. Rush hour gets pretty toasty and intimate. You're going to have to push to get on and to get back off if you find yourself away from a door at rush hour. People don't really want to move unless you move them so don't be shy when trying to move around. It's not seen as rude as long as you don't rugby tackle them.
Be sure to download the 'MetroMan' app to check out all the metro times.

Bike Sharing
Chengdu has always been a bicycle-friendly city, with its flat roads and slow speeds. Often we can find a 24-hour bike rental for something as little as 20 kuai. There are 450 million bikes in China. Thus it is clear that the demand for cycling certainly exists.
public bikes can be locked and parked with the use of apps and QR codes. Users simply need to check where an available bike is via the app map, unlock it via QR code, travel to their desired destination then drop it off where ever they want.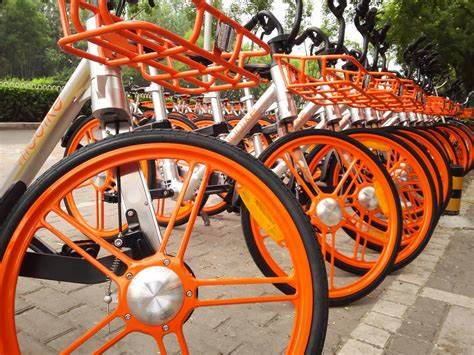 Mobike/Meituan and Hello Bike
After downloading the app you have to register by taking a selfie with a picture of your Chinese ID. If you don't have a Chinese ID you can use your passport but this is only available with the above bicycles. You will then need to put a deposit down of RMB299 through WeChat pay or Ali pay so if you are lucky enough to have access to these then you are ready to start exploring Chengdu on your bicycle.
Buses
The metro is growing month by month but it still isn't the most extensive transport network in Chengdu. That title belongs to the buses. You can get a bus to just about anywhere in Chengdu. They run like clockwork every day so there's no real need to check schedules for city buses. Some of the lines often run later than the metro too. Buses are often essential for your weekend getaways too. For trips outside of Chengdu, buses are often the cheapest and simplest method of travel if it's close by.
Chengdu BRT Service Now on First, Second and Third Ring Roads
Chengdu Public Transport Group issued a notice on July 29th for the construction of Chengdu First Ring Road BRT (Bus Rapid Transit). Earlier this year, in April, a notice was also issued for the construction of a Third Ring Road in Chengdu and People's South Road – Tianfu Avenue BRT. With the current bus routes and the addition of the Second Ring Road Chengdu will soon have rapid bus transit systems.
City
City Buses only cost 1 or 2RMB and make the most cost-effective transport. It's payable either by stuffing your unwanted notes and coins in a box at the front, a Tianfu Tong scanner or digital payments on newer buses. The buses are a bit slower than the metro due to traffic. Combine the two for the most effective way of covering all of Chengdu. Using the public transport navigation on Baidu Maps tells you the bus number(s) and exactly where to get on and/or off.
The buses are plagued by the same problems that the metro faces however with massive crowds at rush hours. Buses are slightly worse because many don't have any air-conditioning. Meaning during the summer it's basically a carriage of sweat and tears. On the buses, you usually get off the doors at the back rather than the front, so position yourself near there when you're close to your destination. If you manage to find a seat, people sat in the aisle seats won't get up for you to get out so make it known you want to get past them.
Long Distance
The main bus station is Xinnamen Bus Station or Wugui Bridge Bus Station. These stations provide a multitude of buses leaving for destinations all over Sichuan and surrounding provinces. These buses adhere to a stricter timetable than the inner-city buses so search online beforehand for times to your destination. Most destinations have regular buses however.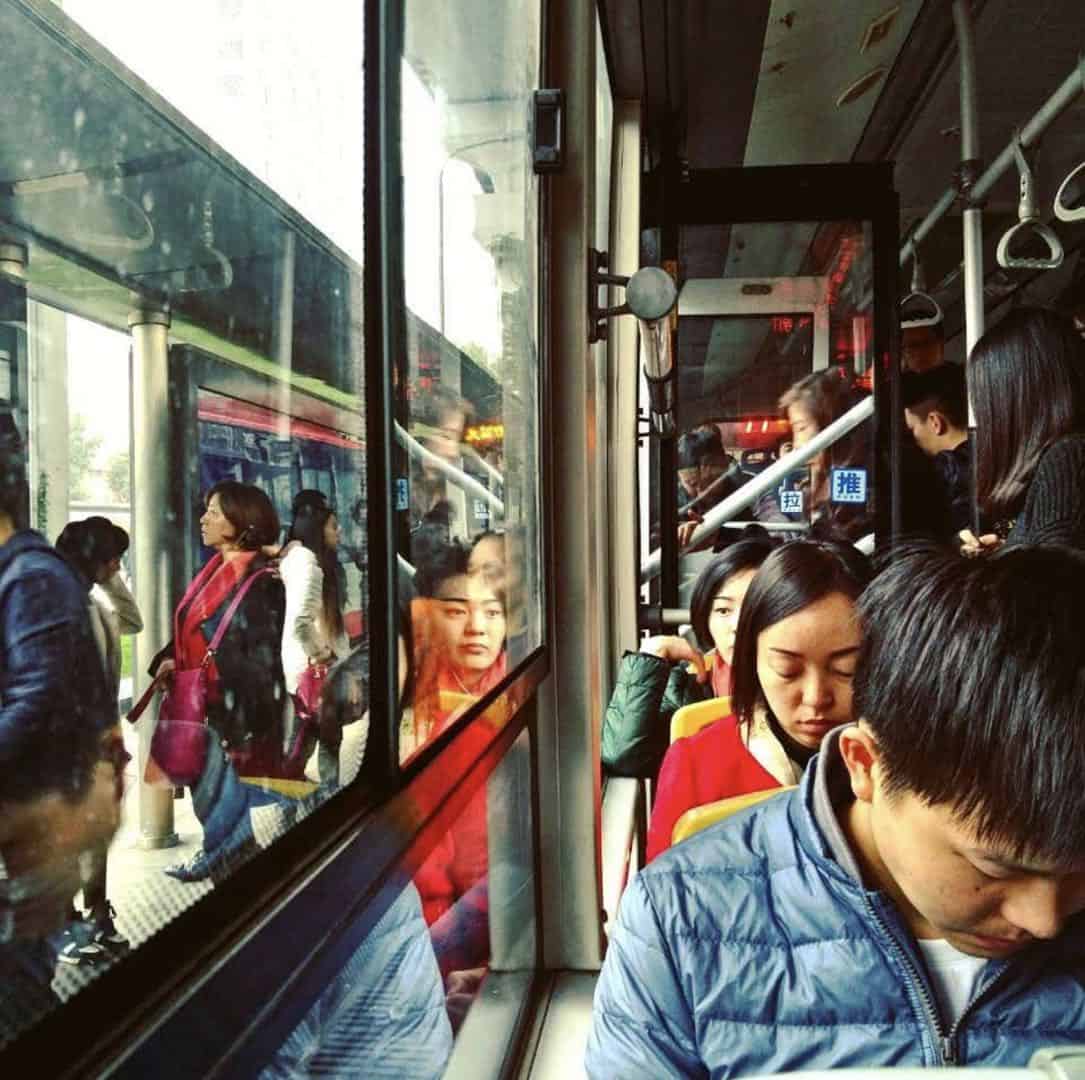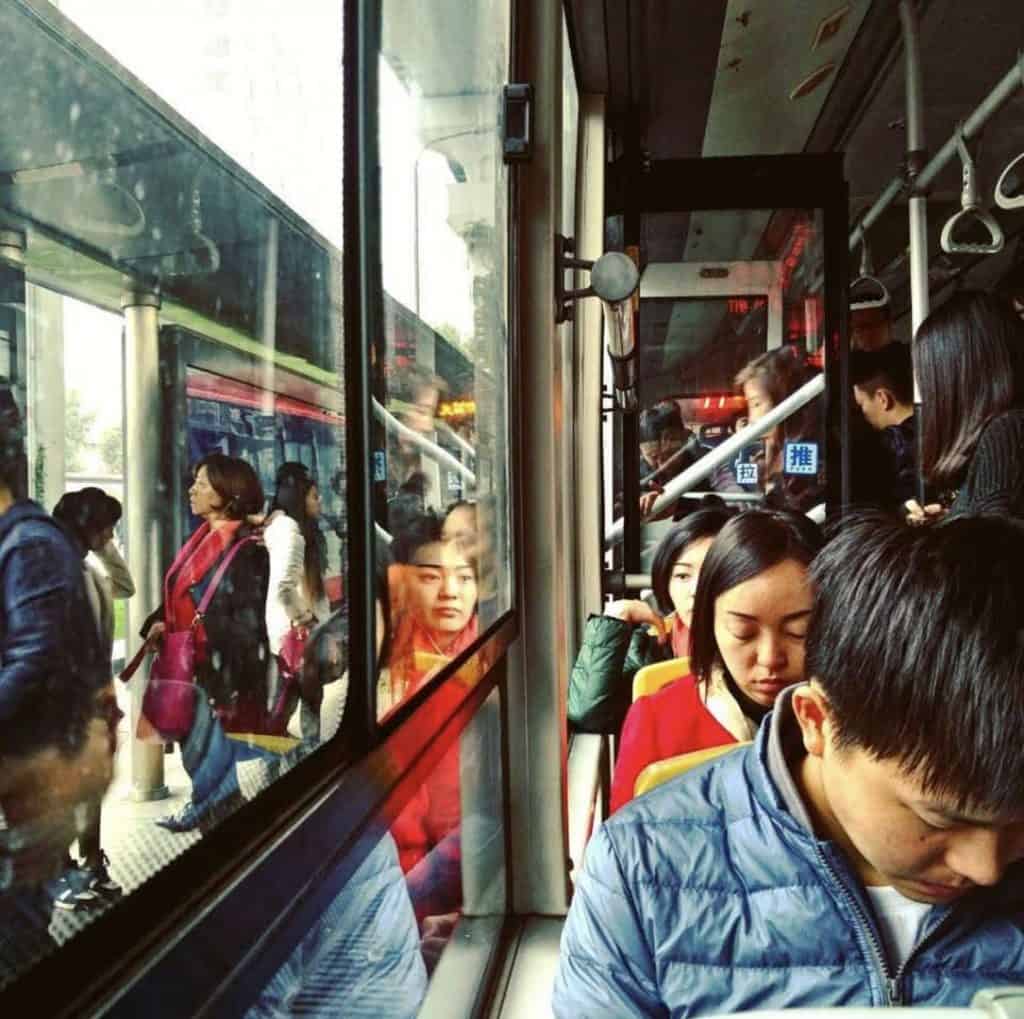 Prices vary depending on destination but it's usually in the 10-30RMB bracket each way for most places. You pay for the ticket at the station kiosk. You can't book ahead for buses so you have to either be able to say your destination or have it written down. Buses have air conditioned and reserved seating so no need to worry about crowds or having to stand.
Often if the bus isn't very busy you'll be placed in a mini taxi or mini bus. So fear not, you're not being abducted! You always have to buy two one way tickets, they don't usually offer returns. So always make a note of when your return bus is and leave enough time to buy a ticket. As well as queue, queues in China are a constant.