Extravagant Yak is extending their Early Bird Special to August 17th so that you can take advantage of this amazing offer for your October Holiday. This will be a breathtaking trip to one of the most extraordinary regions on Earth.
 What They Believe
At Extravagant Yak, responsible tourism means you are invited to partner with us in championing local Tibetan small businesses. They believe Tibetan businesses should benefit the most from tourism resources in their locale. As such, they not only frequent these businesses on each trip, but they seek to tell the world about their products and services through our sister website Tibetpedia.com. This way, small businesses of excellence continue to grow while you get to experience authentic Tibetan hospitality.
To ensure that your experience is as comfortable and relaxed as possible, they limit the group sizes to no more than 12 people. As a foreign and local partnership, guests get the best of both worlds, by pairing local expertise with international service standards. The result is a world-class travel experience. Their friendly, English speaking, Tibetan guides have years of guiding experience. This is how they make their living, and they are truly the hometown experts!
 The Early-Bird Special
Extravagant Yak is offering a 10% discount on our Lhasa and Everest Small Group Tour for October Holiday (October 1-8, 2018). Now you can experience for yourself the imposing beauty of Everest while also discovering the ancient and mysterious land of Tibet. At ¥8460, Lhasa and Everest have never been more within reach! They have extended their booking deadline for this offer to August 17th so take advantage of it while you can!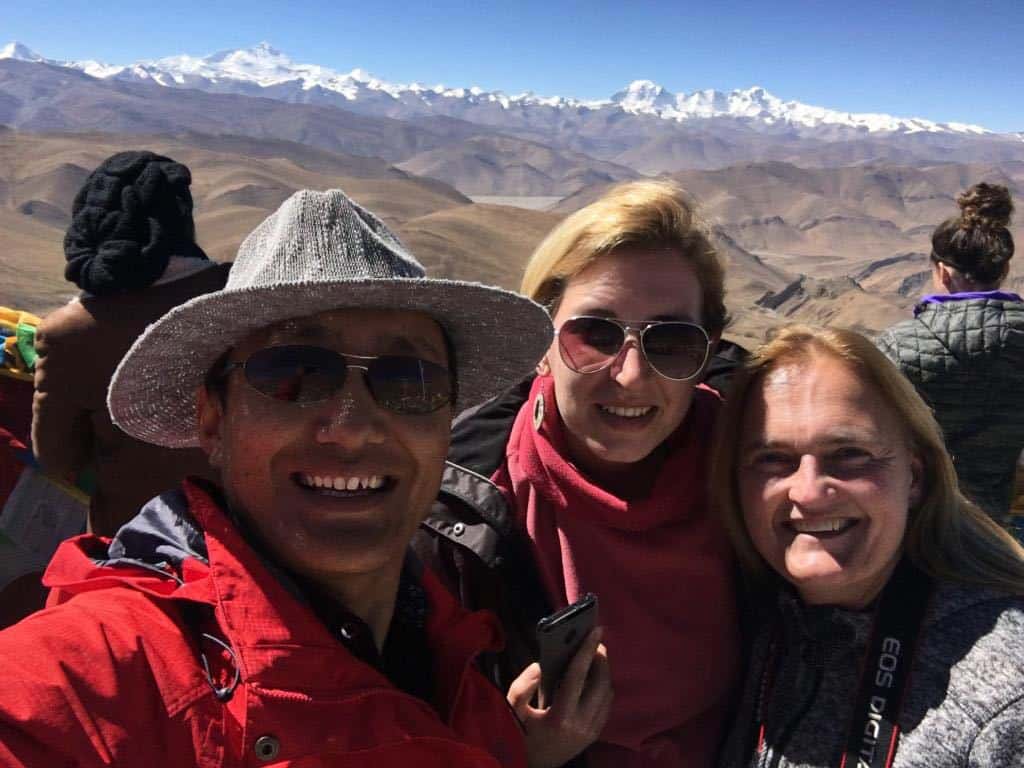 Your Extravagant Lhasa and Everest Experience
At Extravagant Yak they love what they do. They exist to provide you with the absolute best overland travel experience, specializing in providing you with a rich and authentic, personally crafted travel experience to some of the most geographically extreme and culturally fascinating corners of Tibet.
The Lhasa and Everest Tour is perfect for those who consider a sense of adventure and a dose of curiosity essential travel ingredients. With no strenuous hiking, this tour is easily accessible to those who might otherwise count themselves out. In eight days, they will show you the best that the Roof of The World has to offer.

Taking you by air from Chengdu to Lhasa, you will spend two full days in this mesmerizing city. You will explore iconic cultural sites such as the Potala Palace, Norbulingka, and Jokhang Temple, and hear fascinating stories from your local Tibetan guide as you stroll through temples and monasteries and taste delicious local Tibetan food. Following Lhasa, your journey will continue across the vast Tibetan plateau over mountain passes, past lakes and glaciers, and on to your journey's destination: Everest Base Camp!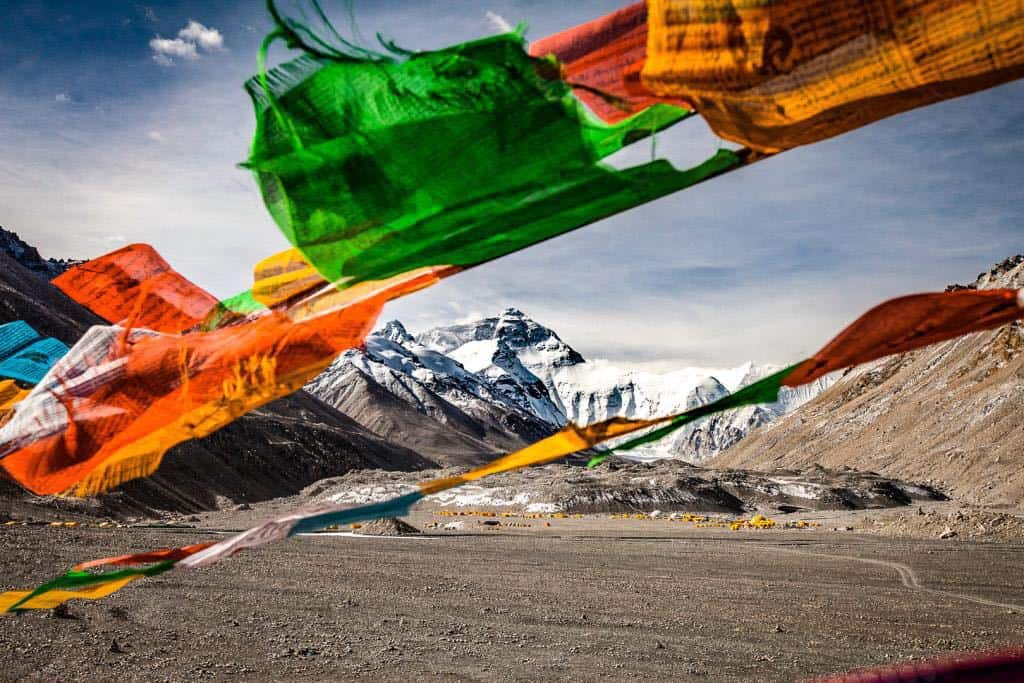 Everest is a household name in every region of the world and an icon to the belief that all things are possible. As one of earth's ultimate destinations, the highest frontier of human ability remains an awe-inspiring natural wonder that most appreciate only through Discovery Channel documentaries. Traveling from Lhasa by car to Everest Base Camp, you will witness the Sun rise on one of the most epic landscapes on Earth. You'll return as a member of an exclusive group of travelers who have beheld the highest point on planet Earth.
If you've ever considered traveling to Lhasa and Everest you can trust Extravagant Yak not just to get you there, but to provide you with an unforgettable experience of a lifetime.
Visit http://bit.ly/Lhasa-Everest for more information or contact them at info@extravagantyak.com.
 Looking for something closer to home?
Mid- Autumn Holiday at Four Sisters National Park 
Back in June, Extravagant Yak organized a fun and relaxing Dragon Boat Holiday weekend trip to Four Sisters National Park, specifically for expats living and working in China. Chemey, their amazing Tibetan guide lead a small group of eight, who traveled from various provinces throughout China, to spend their holiday weekend at Siguniangshan. This coming Mid-Autumn Holiday they'll be doing it again!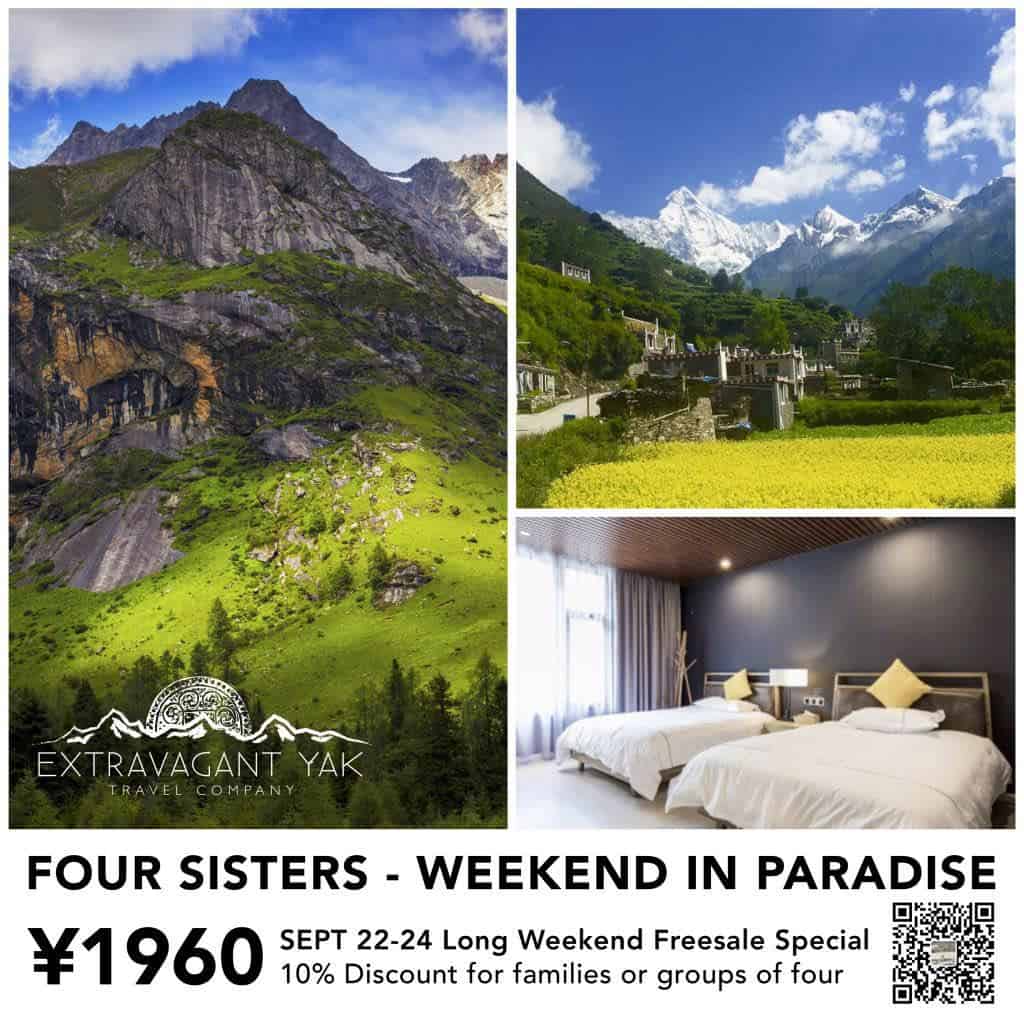 Extravagant Yak developed this three-day trip, running from Sept 22-24 (Mid-Autumn Festival), to offer a quick weekend getaway so you can relax and recharge, surrounded by natural wonders within easy reach from Chengdu. Come and enjoy the stunning scenery that Four Sister's Mountain is known for and catch a glimpse into the unique local Tibetan culture.

 What to Expect on Your Four Sisters Trip
En-route you will drive through bamboo forests, quaint mountainside communities, and beautiful canyon valleys. In a short four-hour drive, you will arrive at your comfortable accommodations in Changping Village, whose modern feel juxtaposes nicely with the surrounding nature. After checking in at the hotel and having a nice lunch, you will start right into an afternoon of exploring Changping Valley so as not to waste a moment of your weekend. Changping Valley is outfitted with boardwalks for the first 4km, making this afternoon trek a light one, even at over 10,000ft in altitude. A few minutes is all it will take to begin rejuvenating your soul and clearing your mind. For dinner, you will refuel with some hearty Tibetan food at a local restaurant.
The following day will bring you further in and farther up, into the Haizi Valley. Going at your own pace, you are free to continue as far as you would like, exploring the heights and depths of the park, with rewarding views every step of the way, including ridge top vistas for those wanting more of a climb. Day 3 will mark your reluctant return, but not before one last lingering morning. You will be free to spend it however you wish, taking a stroll through the village or one last hike into the valley. A noon departure will have you home in time for dinner, refreshed and ready for the week ahead, and dreaming of your next weekend away.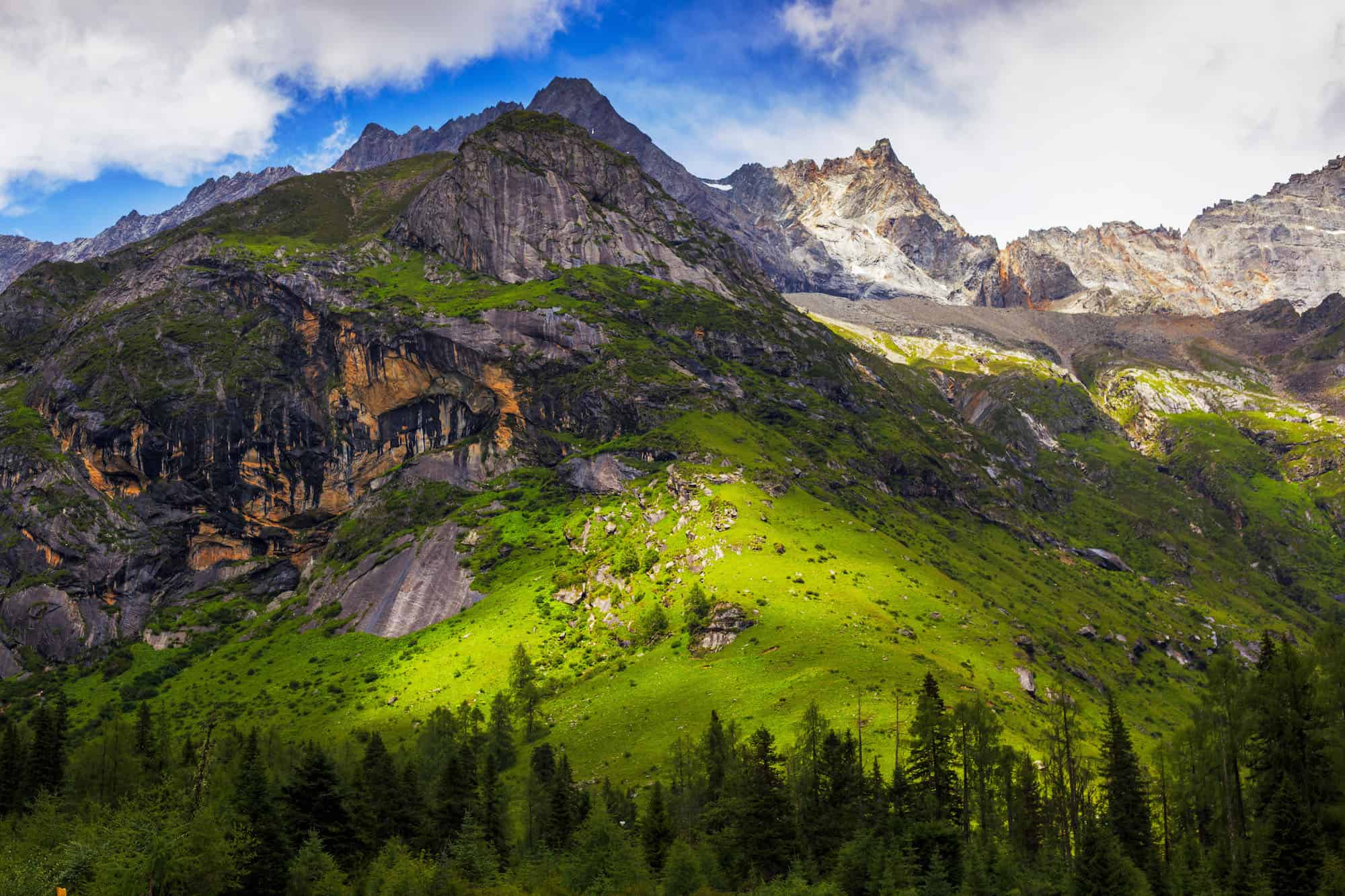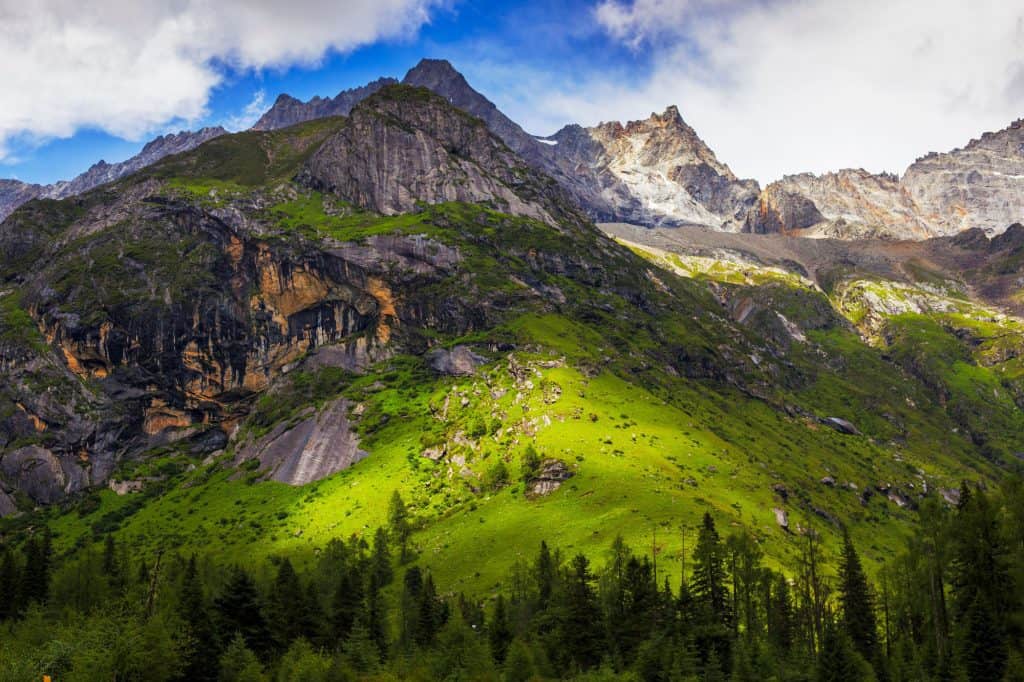 If you're needing some time away from the bustle of the city, are wanting a taste of village life in the beautiful mountains surrounding the Tibetan plateau, or even just a chance to get out to new places and meet new people, contact for more information about our Four Sisters trip this September 22nd – 24th.
Let the mountains move you.
Tibet is closer than you think.
Contact them today for more information
info@extravagantyak.com