During the last few decades of development in China, new architectural projects have become synonymous with record-breaking firsts and avant-garde design. From the 28-story Louis Vuitton 'boot' in Shanghai to Fuzhou's Star Trek Enterprise replica, municipal governments and private developers have been commissioning increasingly wacky projects, to put their cities on the map.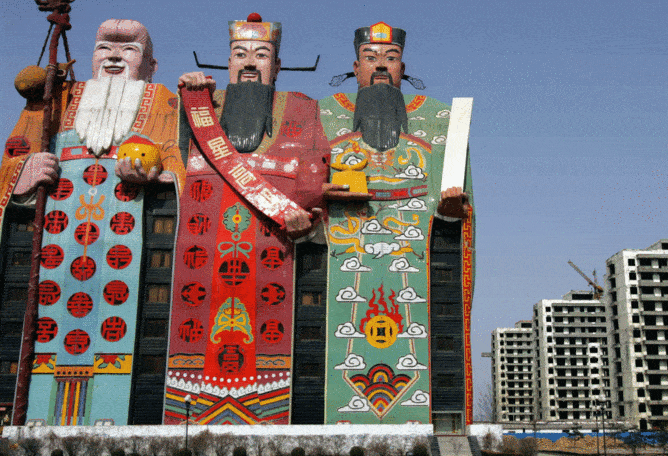 Chengdu is no different. The current architectural landscape is, in part the result of large incentivized tech-focused commercial projects and, in part, due to the encouraged growth of the city, especially when compared to some of China's eastern cities that are beginning to hit government endorsed population caps. This climate of rapid expansion, flagship developments and a booming economy draw big design firms and global talent to the city.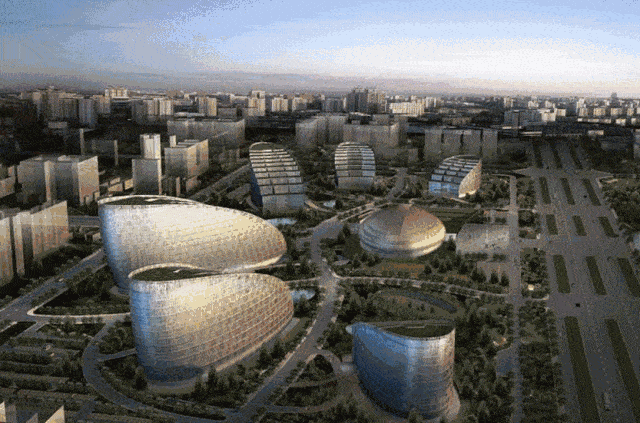 Chengdu Technology Centre by Paul Andreu Architects,
Raffles City Chengdu by Steven Holl Architects and The Chengdu ICON Yunduan by PES-Architects
You don't have to venture too far south of Tongzilin, which a decade ago would have been farmland, to see some pretty extraordinary structures. Heading even farther south to Huayang's Luxe Lakes development, where a plethora of international firms have bid for projects that will be a part of the plan to rehouse 100,000 people in a new, high tech, city centre which is at the moment the very the edge of the Chengdu. Here are some of the city's upcoming buildings that will make up the skyline in the future:
Chengdu Greenland Tower | Smith + Gill
Scheduled Completion: 2019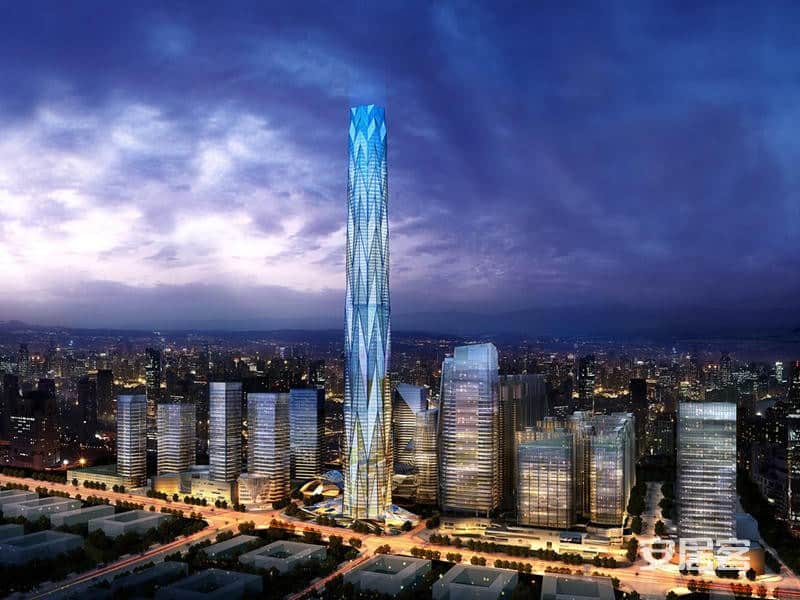 The ground has already been broken on Smith and Gill's  Greenland Tower – which is set to be the tallest building in China's South West and the fourth tallest building in China – at 468 metres (101 stories) high. The development in Dongcun district (in the east) will include several 5* hotels, retail space, conference halls, an exhibition centre and a roof garden on top of the topping it off – with two smaller residential towers flanking each side.
Urban Concert Hall of Chengdu | gmp Architects
First Concert scheduled for Jan 1st 2019

This project is nearing completion, and you may have noticed its construction – as the site is centrally located opposite Sichuan University on the first ring road, near the prestigious Sichuan Conservatory of Music. It will have two main auditoriums; the opera hall with 1,600 seats and a concert hall for an audience of 1,400. There is also an adjoining open-air auditorium – which rises above the main entrance in the form of a grandstand – and of course, a tea-house. The diamond copper facade is mimic the traditional folk art of basket weaving and will be underlit at night.

Located just south of the Chengdu's new Central Business District in Tianfu, Luxe Lakes seeks to provide high-tech environmental living solutions for 100,000 people as the city spreads. The Lux* hotel (a luxury 5-star hotel) will total 27,000 meters and have 160 rooms. It will join the recently completed Crystal Laputa by design firm 5+ which is a vertical community located in Luxe Lakes hat aims to redefine the standards of modern high-rise dwelling by restoring the inhabitants' connection to the environment and to each other.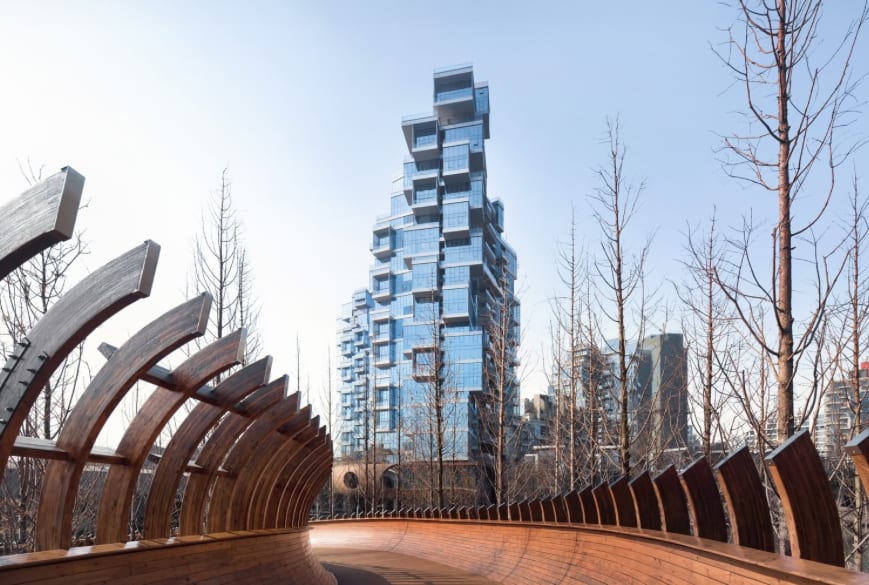 The planned Chengdu Natural History Museum will span 62,700-square-meters and be built in an eastern stretch of the city. The designers were inspired by the natural geological forms and volcanic activity in the Sichuan basin, such as the shifting tectonic plates and it's natural irrigation system – and have created an innovative, geometric design due for completion in 2021. The building will have cinemas, cafes, shops and learning centres.
Unicorn Island | TBC
Completion Date Not Yet Announced 
OMA's Unicorn Island Competition Entry
In early 2018 the government held a competition for the design of 'Unicorn Island' on Xing Long Lake. The project aims to provide facilities for both start-up firms and so-called "Unicorn" companies, those with a value of over one billion US dollars. Spanning a site area of 67 hectares, it is in proximity to Chengdu's new International Airport, the city centre, and the central rail station.
The scheme seeks to contribute to the Chengdu skyline, and create an "identity for China's booming startup community." Four designs from global firms have been shortlisted:  OMA, Morphosis, Foster + Partners, and a team composed of Arata Isozaki & Associates and Jun Aoki & Associates.
With image credits to Arch Daily, Smith and Gill, Atelier Jean Nouvels', Aedas and Pelli Clarke Pelli Architects.
With thanks Lucy Connolly and Chengdu based design consultants Kura Design Studio