Chocoliss 肖盈 – Mah-jong Master, adrenaline junkie and founder of CoolTrip describes her weekends in the 'Du.
Sichuan born Chocoliss is a self-confessed adrenalin junkie, free spirit and lover of adventures. After fleeing life pushing papers for an international trading company in Shenzhen she founded alternative travel company Cool Trip in 2015 – Chocoliss noticed that aside from the well-trodden bar scene in Chengdu, there wasn't much on offer for foreigners to do at the weekends – and now plans action packed trips in surrounding Sichuan, hoping to share her love of rock climbing, paragliding, zip lining, hike and camp.
Friday
By Friday afternoon I'm always raring to leave the office as I've never been very good at sitting still, I'm pretty sure I have some form of ADHD. So as soon as the clock hits 6, I leave Cool Trip, near the Poly Centre and head straight for a teahouse to play Mah-Jong.  My French friend Quentin started a group on WeChat called 'Touch Yourself' (A wordplay on 自摸 zimo, a mah-jong move where you draw the winning tile by yourself) so we often meet to play Mah-Jong at the weekends. If the weather is good we ride our bikes to a park and play by the calming water (my favourites are BaiHuaTang Park and WanJiang Park) but as it's getting colder we'll stick to a teahouse for now. We might just order 外卖 like Mike's Pizza to the tea-house while we playing; yeah we are really in it! I love this group, as it's so great playing with a mixture of foreign and local friends, as I find we have such different ways of thinking about the game; People say bird instead of tiao teaches –or call tong 'the pancake' – it's so much fun.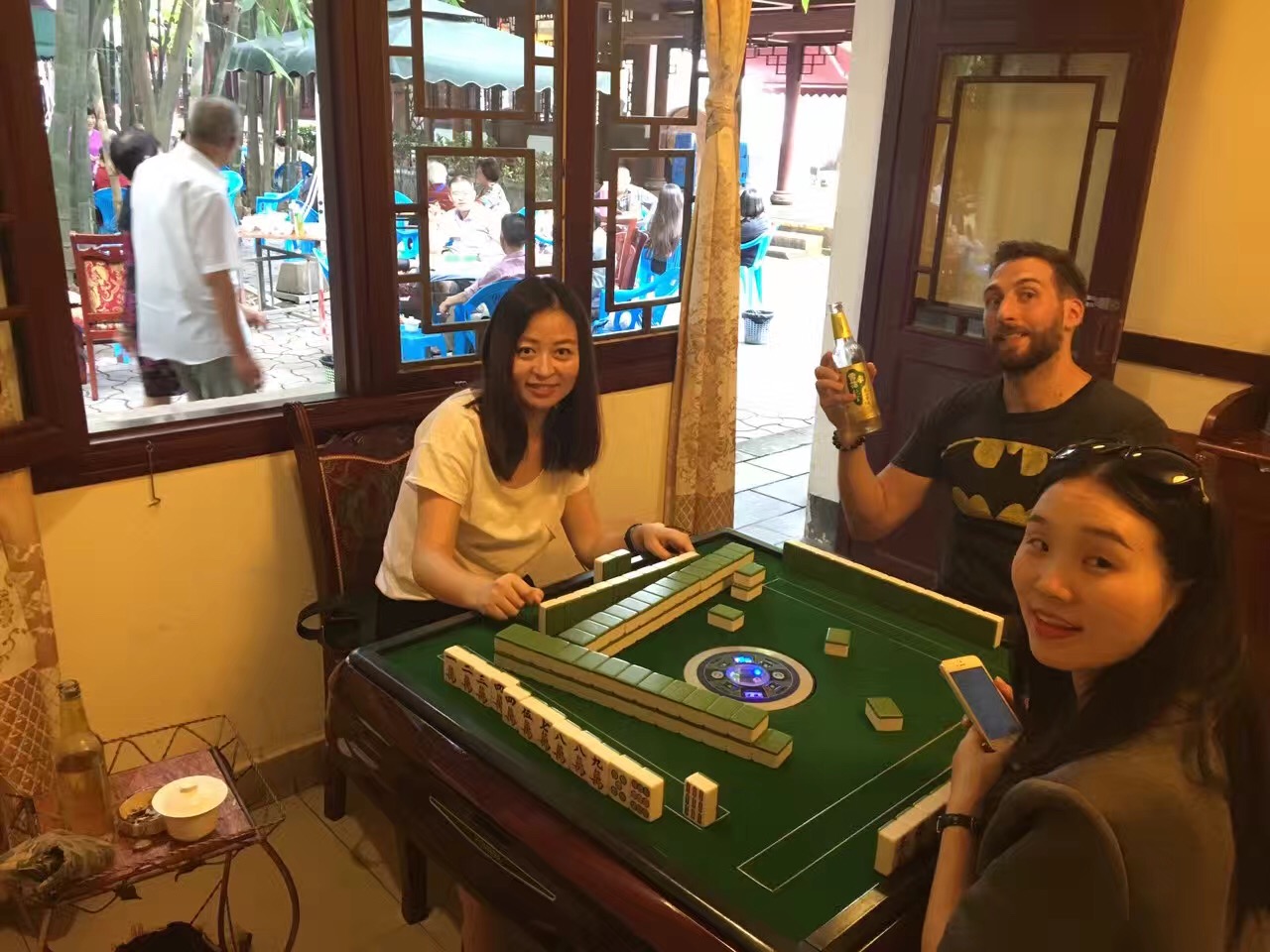 Or afterwards we will head to one of my favourite Tongzilin Japanese restaurants, like  小森林 XiaoSengLin, 青花刺身 oR淞刺身. I tend to eat a lot of Japanese food, as even though I'm a Sichuan girl at heart, I can't handle spicy food! If I'm not working the next day I will hit the clubs because once I start to dance, I just can't stop…
Saturday
Most weekends I will lead at least 1 trip myself, but also have a team of expert guides if I'm not there. I started Cool Trip because I saw how difficult it was for foreigners to access the beautiful places Sichuan has to offer and now organise paragliding, rock climbing, rafting, ziplining, hiking and camping in lots of beautiful places as well as tours of ancient towns. This weekend I am organising a team building activity for US consulate families, and will take them to Mt. Mengding to zip line and see the beautiful tea terrace.
There is always plenty of time on the trips to eat some local food, play some Mah-jong, drink some tea and explore the surrounding areas as well as get an adrenaline rush. Groups are kept small and intimate, from 6 – 12 people so everyone can get to know each other and avoid queuing or waiting too long for a turn. We really try to take the mafan out of travel. When I return to the city for the evening, I often stop by my parents for dinner because even though adventures are great, there's still no place like home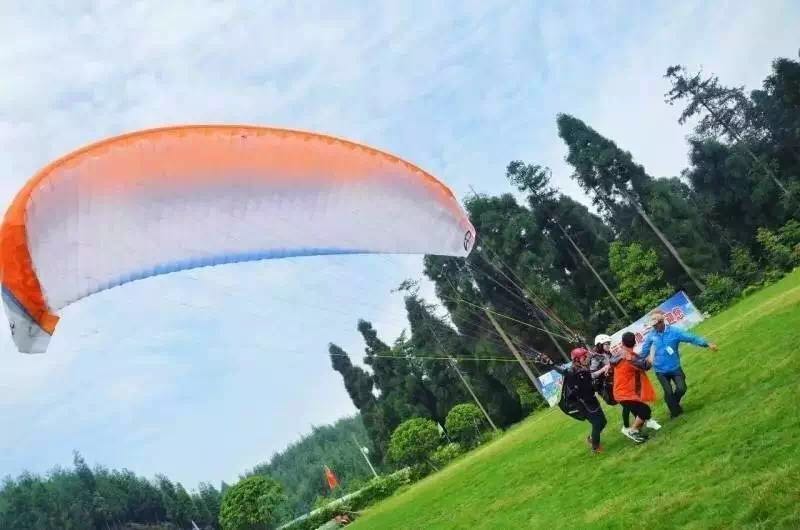 Sunday
If I'm not leading another Cool Trip on Sunday, I still find it hard to keep still. I usually start the day with a run along the river or some yoga. There's nothing like sitting near water with a good book.  I also like to meditate, although that sounds a bit ancient right? Then I mix myself with X-HIT, some new ways to workout, Rebecca Louise is my workout idol. I've also recently become involved with a basketball league game called CIBL, we go watch the game every Sunday, a friend was in the best team.  Before the game we play together. I play the Swing position – I used to play in college and even though I'm only small I'm fast on my feet!
After all the excitement I'm lucky enough to go round to my friends Lingna & Diamiano' s home,  where they will cook me an Italian delight! They run an interior design company here bringing Italian flair to Chinese people's homes and often spoil me with great Mediterranean food I've never heard of before. I'm very lucky. I usually head to bed early Sunday night ready for hard work the next day. Building a new company is tough work, but when the work is this exciting and I get to show beautiful Sichuan to visitors, almost every day is a pleasure.