• Due to extensive renovations works taking place at Chengdu Shuangliu International Airport over the next two years, Shuangliu Terminal 1 will be closed for international flights and flights from Hong Kong, Macao and Taiwan China from 26 March 2023.
• Starting from Sunday, 26 March 2023, all international airlines will relocate its operations in Chengdu from Shuangliu International Airport to Tianfu International Airport Terminal 1.
• Located in the Chengdu's East, Chengdu's Tianfu International Airport is approximately 50 kilometres from the downtown city. Customers can take private transport or public transport (Chengdu Metro Line 18 or Tianfu Airport Bus) from downtown city to Tianfu International Airport.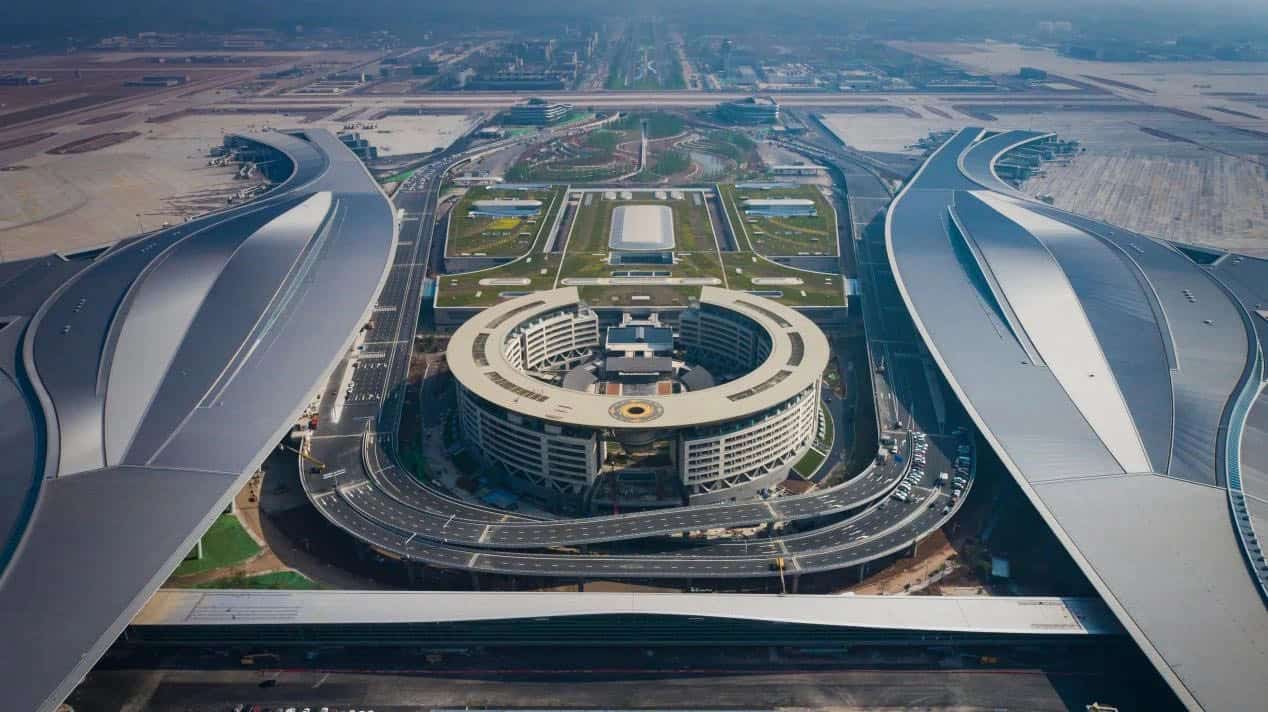 Chengdu Tianfu Int'l Airport (TFU)
Chengdu's second airport, TFU opened in 2021 when most domestic airlines transferred their flights. According to Flightradar24, facilities and airline lounges are superior to CTU. There are two drawbacks; the one-hour commute to the airport and the lack of a railway station to allow passengers to continue their journeys to other cities in Sichuan province.
Customers are advised to factor additional travelling time and arrive at the airport at least two hours before their departure time to allow sufficient time to complete Customs and Immigration formalities of your flight for check-in.
Getting to and from Chengdu TFU, Terminal 1
Ground transportation options including taxis, buses and car services are available. Journeys to the city take approximately 1 hour and 10 minutes, depending on the route and traffic on the road.
The Tianfu Airport Express train (Metro Line 18) is available daily, which runs every eight minutes between the airport and Chengdu South Railway Station. The journey time is approximately 40-45 minutes.
• From downtown (Tianfu Square): 50km, 1h10m by driving/ 1.5h by subway line 1+18
• From Shuangliu Airport: 50km, 1h by driving/ 1.5h by subway line 10+9+18
• From Chengdu Panda Base: 80km, 1h10-20m by driving/ 2-2.5h by subway + bus 1h by airport bus line 2
• From East Railway Station: 42km, 50m by driving/ 1h 20m by subway line 7+18
• From South Railway Station: 60km, 50m by driving/ 40m-1h by subway line 18
Click here for more information about the three bus lines to and from TFU.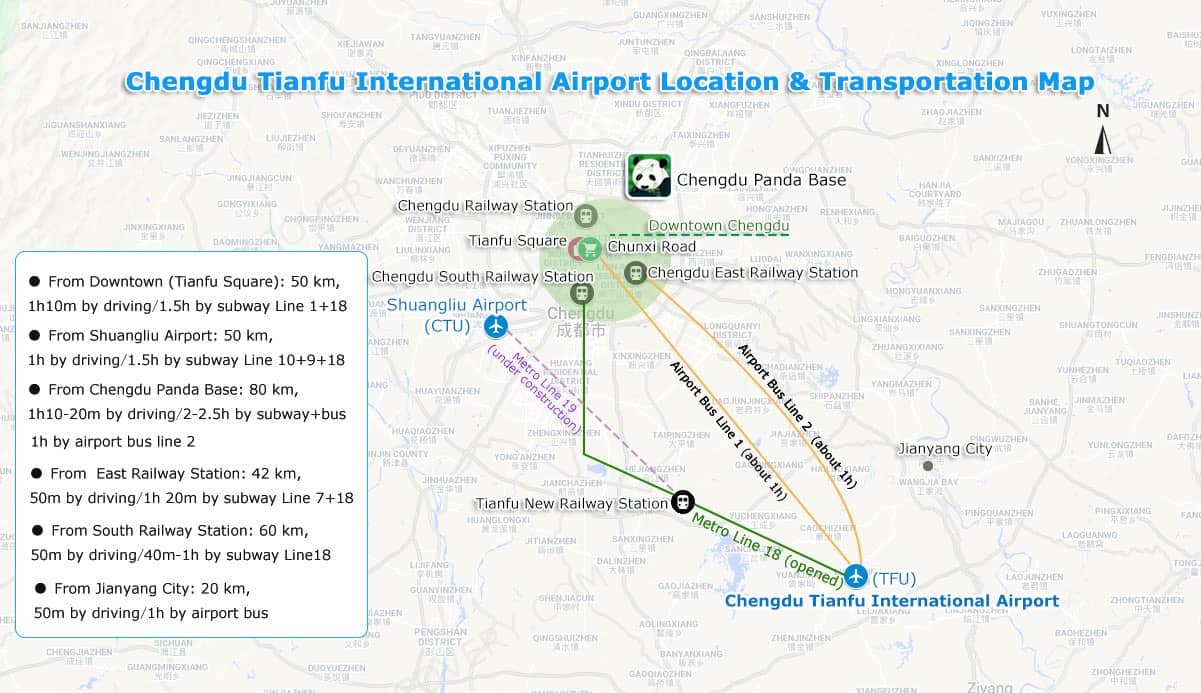 Airlines operating at CTU and TFU
At the end of March 2023, CTU had 74 domestic passenger destinations, covering first- and second-tier cities, provincial capitals, some cities in the province and popular domestic tourist cities and other major destinations for travelers.
Following the relocation, TFU will open more than 30 international, Hong Kong, Macao and Taiwan routes, which will connect North America, Europe, Oceania, Africa and the Middle East, Central Asia, East Asia, South Asia, Southeast Asia and other Asian regions.
Airlines at CTU (8): Air China (CA), Sichuan Airlines (3U), China Eastern Airlines (MU), China Southern Airlines (CZ), Chengdu Airlines (EU), Long Dragon Airlines (GJ), Shenzhen Airlines (ZH), Tibet Airlines (TV).
Airlines at TFU (33): Air China (CA), Sichuan Airlines (3U), China Eastern Airlines (MU), China Southern Airlines (CZ), Chengdu Airlines (EU), Long Dragon Airlines (GJ), Shenzhen Airlines (SZ), Xiangpeng Airlines (8L), Xiamen Airlines (MF), Spring Airlines (9C), Juneyao Airlines (HO), Shandong Airlines (SC) Shanghai Airlines (FM), Qingdao Airlines (QW), Hainan Airlines (HU), Capital Airlines (JD), China United Airlines (KN), China Airlines (G5), Kunming Airlines (KY), Ruili Airlines (DR), Aokai Airlines (BK), Colorful Guizhou Airlines (GY), Hebei Airlines (NS), Tianjin Airlines (GS), Donghai Airlines (DZ), Urumqi Airlines (UQ ), Beibu Gulf Air (GX), Hunan Airlines (A6), Jiangxi Airlines (AQ), Jiuyuan Airlines (RY), Western Airlines (PN), Guilin Airlines (GT), Chongqing Airlines (OQ).