Young children deserve an outstanding education that challenges, excites and inspires. At SPGS International School, our commitment to delivering a genuine British education extends not just across our unique programme of learning but focuses on developing the whole child, from co-curricular activities, such as sport and the Arts, to wellbeing, community values and life skills, all of which help children to find their place in the world and succeed.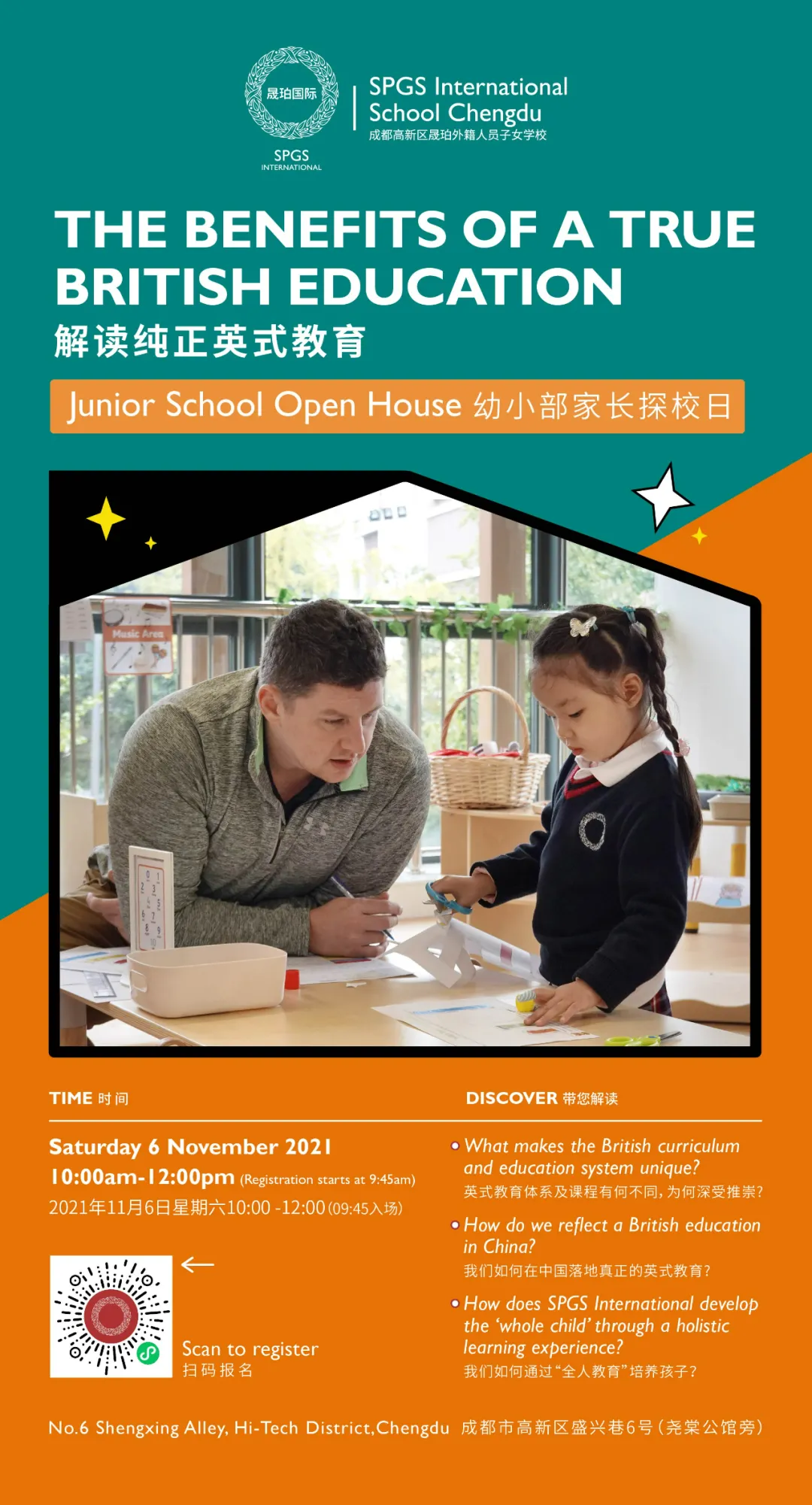 On 6th November, we are holding a Junior School Open House for parents.
What makes the British curriculum and education system unique?
How do we reflect a British education in China?
How can a British programme benefit your child both academically and outside of the classroom?
How does SPGS International develop the 'whole child' through a holistic learning experience?
How do we deliver our exceptional learning programme and ensure quality of teaching?
This Open House is also an opportunity to learn more about our school ethos and values, understand our strong relationship with St Paul's Girls' School in London and discover unique aspects of our programme which make SPGS International School Chengdu a special place to study and grow.
Please scan the Mini Program code below to register.

---
​Event Details
Time:
Nov.6 (Sat.) 9:45am-12:00pm
Location: 
Junior School Library, SPGS International School Chengdu
Shengxing Alley #6, Hi-Tech District, Chengdu
成都市高新区盛兴巷6号
---
SPGS International schools' operation is built on a close partnership with St Paul's Girls' School (SPGS) to incorporate the best aspects of the St Paul's education and ethos.
St Paul's Girls' School, London is an outstanding day school, consistently achieving the best GCSE and A level results in the UK. Founded in 1904, the school is committed to a broad and progressive curriculum at all stages, encouraging a thirst for knowledge and scholarship.  St Paul's Girls' School's approach to learning promotes creativity, problem-solving, collaboration and entrepreneurship throughout the curriculum.
SPGS International School Chengdu follows the British National Curriculum and is initially for children aged 3 to 6 years old, expanding to educate students from Year 3 through to Year 10 in August 2022 offering IGCSE, and A Levels over the coming years.
More information on SPGS International School in Chengdu can be found at http://spgs-shengbo.com/sisc