April 6-14: The 108th China Food & Drinks Fair
• China Food & Drinks Fair "Tángjiǔhuì 糖酒会", or Sugar and Wine, is the largest alcoholic beverage trade fair in China; exhibiting food, beverages, spices, packaging machinery and equipment, raw ingredients, food machinery production, and much more.
• The official 108th China Sugar & Wine Fair will be held from April 12th until 14th at Chengdu's two huge exhibition centres, but lots of hotels (especially in the city center) are full, and many more boozy events will be taking place around town.

This trade fair that was born in China's planned economy era and has gradually developed and grown since then. Along with the reform and opening-up of the country, the production and sales of produce like sugar, alcohol and beverages were becoming increasingly lucrative, so from 1984, the fair was held twice a year, in Spring and then again in the Autumn.
The 108th China Food & Drinks Fair
Until April 11th:

Many hotels, such as Kempinski (6 Floors), Shangri-La, Taihe Int.'l Hotel, Wanda Reign, The Renaissance, Jinjiang Hotel, Minshan Hotel, Sheraton Lido, among others.

April 12-14th (daily, 09:00 – 16:30):
The big exhibitions each have a different focus and will be held at both the New International Convention & Exhibition Center (wine, spirits & beer) AND the Western China International Exposition City (ingredients, food, dairy, packaging/ design, equipment/ machinery) .

If you haven't been there before, both places are VAST – with the Western Exposition City alone covering an area of approximately 210,000 ㎡ with more than 4000 exhibitors.
Tickets:

70RMB for one day, 100RMB for three days
世纪城新国际会展中心

198 Shijicheng Rd, Wuhou District 武侯区世纪城路198号
Western China International Exposition City
中国西部国际博览城
No. 88 East Fuzhou Road 福州路东段与蜀州路交汇处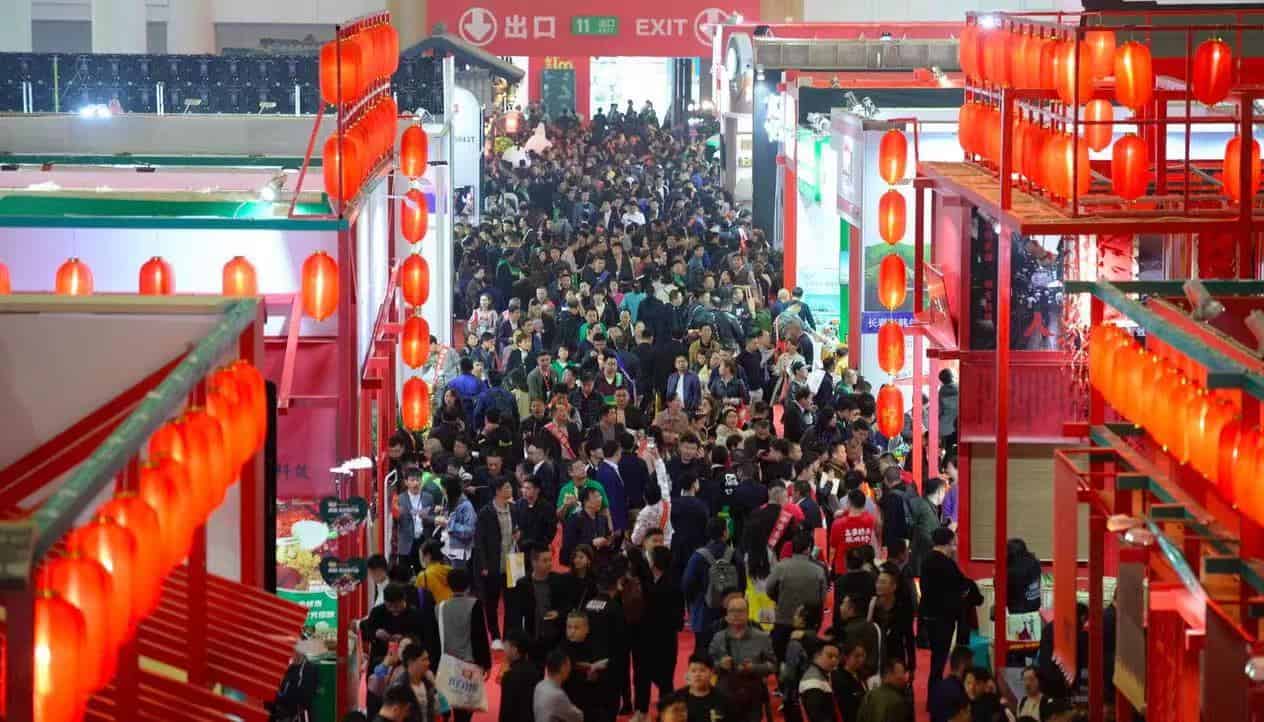 Guide to the Sugar and Wine Festival
The fair brings a wide variety of food and beverage vendors together (baijiu, other spirits, wine, beer, spices, food additives, etc), but also food packaging machinery, raw ingredients, food machinery production, and much more.
If you're expecting a food festival like the ones you may have been to at home and planning a leisurely day out – The Sugar and Wine Fair is not this. It's mostly focused on business to business sales and has been described as 'messy sales, crowded fair' – spot on.
Navigating this expo, if you're looking to make sales, is no easy task, even with industry customer contacts, as it often involves shuttling between hotels in order to see more clients. The traffic situation in Chengdu is usually significantly worse during the Fair.
For the time being, the China Food and Drinks Fair is still a gathering of local Chinese companies. It is far from being geared to international standards and, for now, overseas businesses should not expect an overnight share of the rewards.
Attend if you dare.