We were more than excited last year when Michelin rocked up at the temple of Chuancai and cast it's decerning eyes on Chengdu's food and beverage scene – but the 2022 recommendations left us a little wanting.
We had wondered how China's fiercest foodies would take to being told where is good, by a French food guide in their beloved city? How could they give out stars, in a passionately anti-fine-dining F&B market where people would fight to the death to defend their local mala tang joint, and declare western food tasteless and boring.
The new guide has just been released for 2023, and like last years we're wondering why there isn't more local meat on this normally juicy bone? When arriving in Guangdong, and Hong Kong, Michelin made an effort to award fly restaurants, and time honored brands alike with stars. But even the Bib Gourmand recommendations this year in Chengdu are places you'd be unlikely go to with your local buddies. Perhaps they're more suitable, and safe for visits with your parents, if they ever make it over to China's Southwest for a visit.
Whilst the lack of gutter oil on the menu has got us hot and bothered, there is of course some extremely impressive culinary talent recognised this year:
We were blown away by Chú. It offers up a beautifully inventive, seasonal fine dining menu using Sichuan ingredients, with clever wine pairings. If you can ever get a table, ever again, we highly recommend it.
And there are of course old favourites, like Tivano which was deservedly recommended again, that serve what is probably the best western food in the province, in a casual, fun setting. They will no doubt have a Michelin tasting menu worth checking out soon.
Congratulations on everyone who was included, and if anyone would like to sign the petition to include Peter's Tex Mex in the Bib Gourmand next year, we will include the link below.
Happy dining Chengdu.
2 Michelin Stars (1)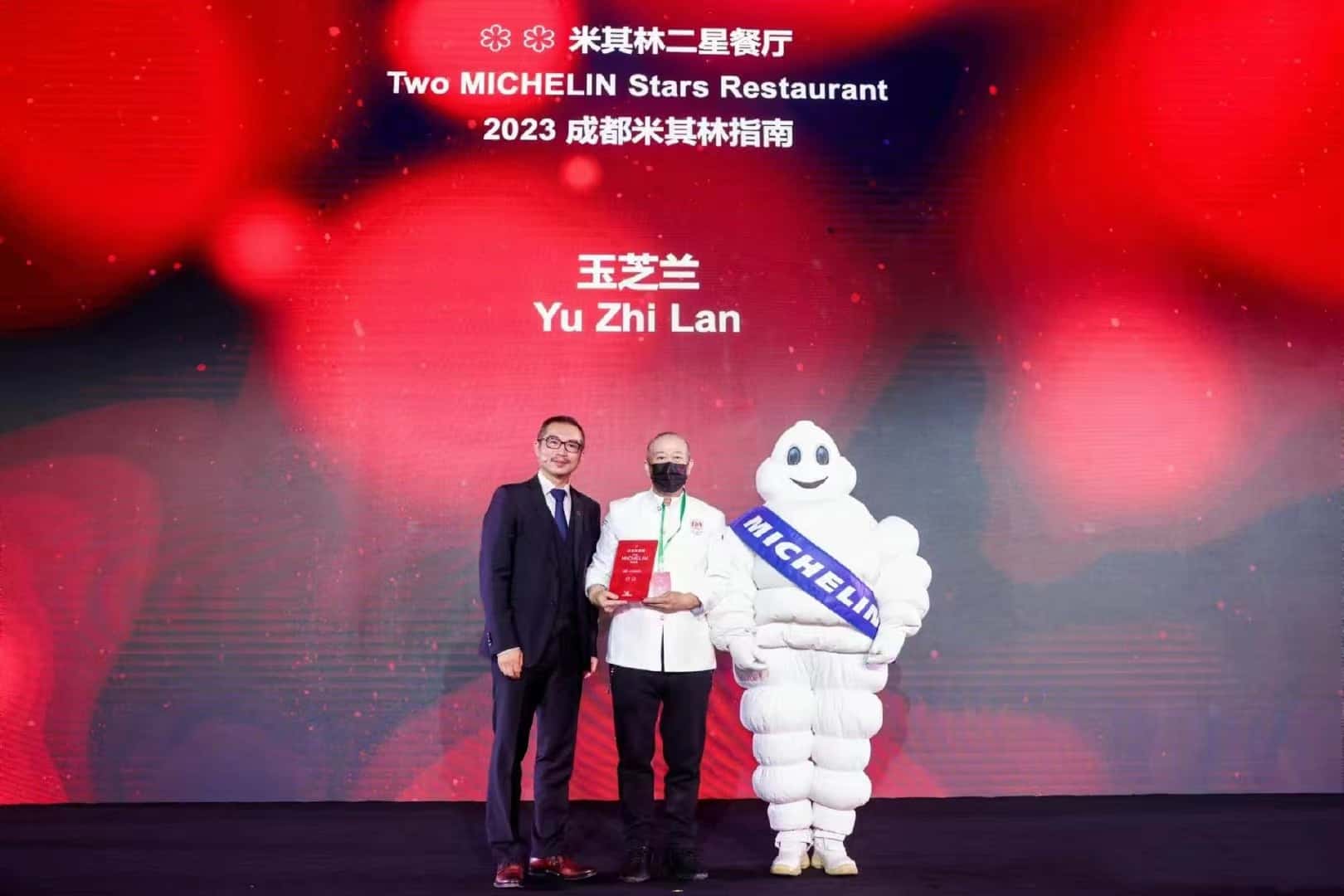 ---
1 Michelin Star (10)
柴门荟 Chái Mén Huì
成都宴 Chéngdū Yàn
芳香景 Fāng Xiāng Jǐng
芙蓉凰 Fúróng Huáng NEW
银锅 Yín Guō
松云泽 Sōng Yúnzé
许家菜 Xǔ Jiā Cài
漾亚·雍雅合鲜(桐梓林) Young Art · Yōngyǎhé Xiān (Tongzilin) NEW
---
8号 #8
拔萃(天府二街) Betrue (Tianfu 2nd Street)
柴门公馆 Chaimen Gong Guan
锦城印象(武侯祠大街) China Samite-Hot Pot (Wuhouci Street)
食物 Chû
数据库 Datenbank
银杏金阁 Gingko
隐庐·古法川菜 Hidden Place
福满楼 Hokkien Cuisine
华道生活·钰善阁 Huadao Art of Life – Yu Shan Ge
银芭(麓山大道) Leaf Kitchen (Lushan Avenue)
丽轩 Li Xuan
龙森园 Long Sen Yuan
门板儿 Menbaner
南堂馆(天顺路) Nan Tang (Tianshun Road)
南汇57 Nanhui 57
新拾玖 New Peking Cuisine
辛殿房·辛悦 Private Collection • See Joy
青龙正街饭店(武侯) Qinglong (Wuhou)
荣乐园 御苑  Rongle Garden Royal Court
---
禅悦素食 Chanyue Vegetarian
陈麻婆豆腐(青华路) Chen Mapo Tofu (Qinghua Road)
喜玉饺子酒 Dumpling & Drinks
凤栖梧 Feng Qi Wu
老成都三样面 Old Chengdu San Yang Noodles
漫得 Mind
明婷小馆 Ming Ting Xiao Guan
茉小馆 Mo Xiao Guan Organization South
组织向南蓉荣北大铺盖面 Rongrong Beida Pugai Noodles
熟地当归 Shudidanggui
庭院399 Ting Yuan 399
杨伯英杂酱面 Yangboying Za Jiang Noodles
渝九香 Yu Jiu Xiang
转转会(莲花南路) Zhuan Zhuan Hui (Lianhua South Road)