On Wednesday November 20th, The Peninsula Hotels held their Chengdu roadshow stop with a sumptuous dinner at Niccolo Chengdu. Attended by the hotels higher management and various media, the attendees enjoyed the wonderful meal while learning more about The Peninsula properties and upcoming specials. Here's what you should know: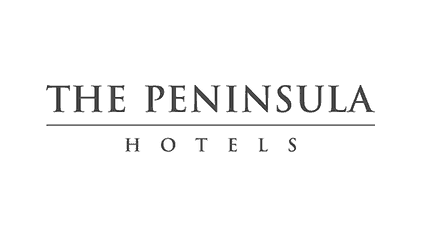 The Peninsula Hotels is the world's leading luxury hotel brand, owned and operated by The Hongkong and Shanghai Hotels, Limited (HSH), which was incorporated in 1866. HSH has a proud heritage as Asia's oldest hotel company still in operation. The flagship Peninsula hotel opened its doors in Hong Kong in 1928.
TodayThe Peninsula Hotels portfolio comprises of 10 hotels, located in some of the world's most iconic cities: Hong Kong, Shanghai, Beijing,Tokyo, New York, Chicago, Beverly Hills, Paris, Bangkok and Manila. New Peninsula hotels are currently under development in London, Istanbul and Yangon. The Group has recently been named first and only hotel brand to achieve ForbesTravel Guide Five-Star status across entire portfolio.
For nearly a century,The Peninsula name has embodied an elegant combination of tradition, glamour, innovation and service. Guests enjoy exquisite accommodation, luxury transport and exemplary dining and spa experiences, plus curated cultural programmes that allow immersion in each property's distinctive home city.
The Peninsula Beijing 北京半岛酒店

The Peninsula Beijing is the city's first all-suite hotel, situated in the heart of China's dynamic capital. Following a landmark renovation, the hotel combines timeless Chinese artistry and craftsmanship with cutting-edge technology and superlative service to set spectacular new standards in design, luxury and comfort.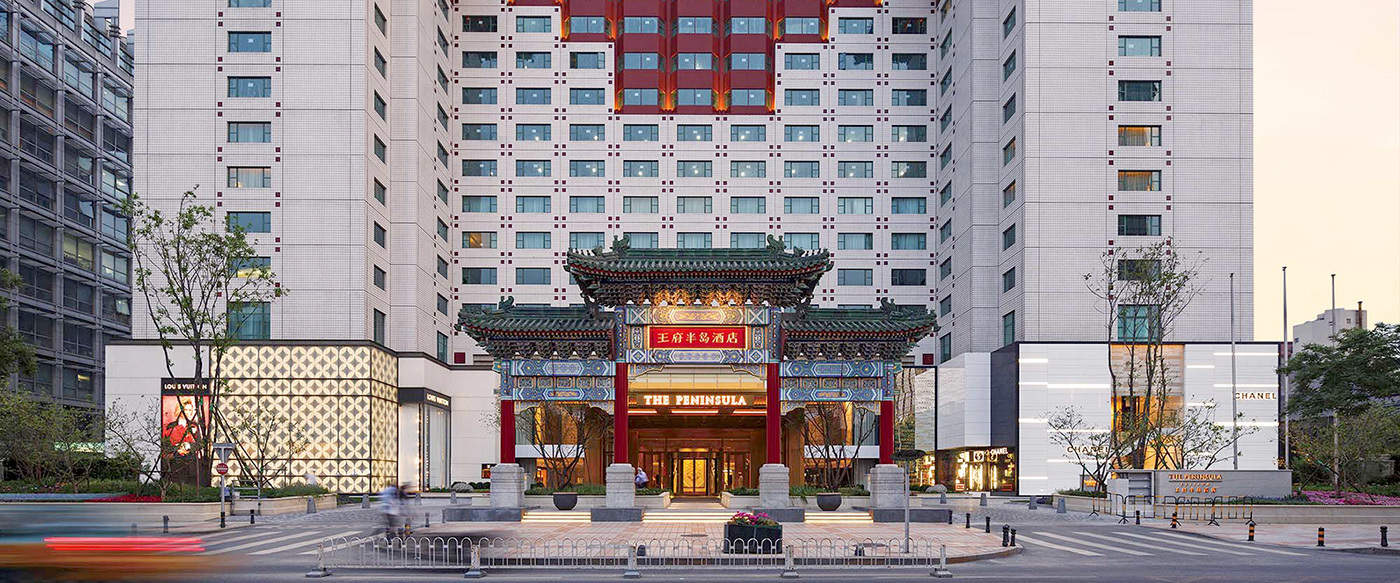 The Peninsula Beijing highlights:
With a standard entry level suite starting from 60 square metres, the hotel's suites are currently the largest in Beijing, and among the most spacious in China.
Western restaurant Jing serves contemporary French cuisine with Asian inspirations in a stylish setting evoking a secret Chinese garden. Innovative menus are paired with fine wines from around the world including rare Krug Champagnes.
The hotel features an in-house art gallery and art studio, to enable local, young 'Artists in Residence' to create artwork in the centre of Beijing.
The Peninsula Beijing Unveils Its Peninsula Academy Programmes for 2019
The Peninsula Beijing has curated six, highly personalised and varied activities for its iconic 2019 Peninsula Academy programmes, including "Dumpling Making – A Chinese Culinary Tradition", "Art Tour – A Window on Chinese Contemporary Art", "Great Wall Adventure – Vistas Through Time", "Fashion Tour – Chinese Designer Labels", "Kung Fu – an Ancient Chinese Martial Art" and "Hutong Tour – A Walk Through Beijing's Past".
Year of opening: 1989  Number of rooms and suites: 230
Address: Wangfujing, 8 Goldfish Lane 北京王府井金鱼胡同8号
+86 10 8516 2888
pbj@peninsula.com
The Peninsula Shanghai 上海半岛酒店

The Peninsula Shanghai is their flagship hotel in Mainland China, and the only new building on the historic, riverfront Bund in the past 70 years. With stunning facilities, world-class service and two Michelin star-rated restaurants, the hotel blends an exquisite retro-style interior with contemporary comforts.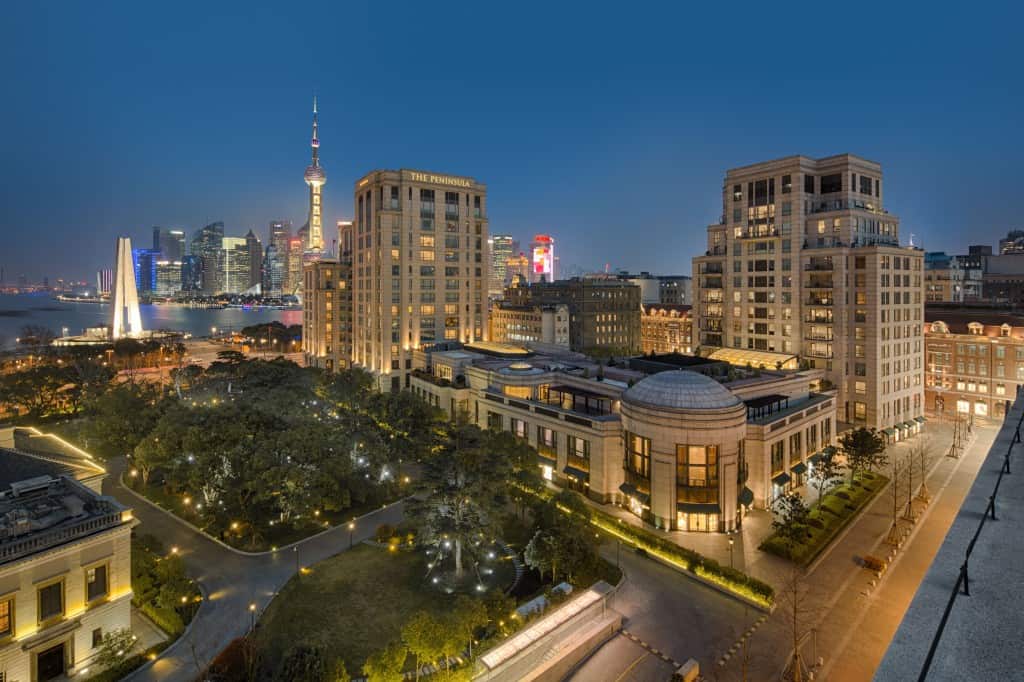 The Peninsula Shanghai highlights:
A rooftop bar that offers breath-taking, panoramic views of Shanghai's skyline (open

during the summer months).

The world's first Peninsula Residences, which are the most luxurious and exclusive private residences in China.

A total of three Michelin stars across its two restaurants:Yi Long Court (two stars)and Sir Elly's (one star); making The Peninsula Shanghai the only hotel in Mainland China with two Michelin-starred restaurants simultaneously.
Year of opening: 2009  Number of rooms and suites: 235
Address: No. 32 The Bund, 32 Zhongshan Dong Yi Road 上海市中山东一路32号 (外滩)
+86 21 2327 2888
psh@peninsula.com
The Peninsula Hong Kong 香港半岛酒店

Building on its over 90 years as a global beacon of hospitality, the legendary "Grande Dame of the Far East" continues to set hotel standards worldwide, offering a blend of the best Eastern and Western hospitality in an atmosphere of unmatched classical grandeur and timeless elegance.

The Peninsula Hong Kong highlights:
A prime location in the heart of Tsim Sha Tsui, overlooking Victoria Harbour and just one-minute's walk to the subway or five-minute's walk to the historic Star Ferry.
An acclaimed, classic Afternoon Tea.
An impressive fleet, including a 1934 vintage Rolls-Royce Phantom, 14 Rolls-Royce extended wheelbase Phantoms II, two MINI Clubmen, plus a new MD 902 helicopter and a yacht.
The Peninsula Hong Kong's "Springalicious" Afternoon Tea
– A highlight of any season,The Peninsula Hong Kong's renowned Afternoon Tea has been given a fresh twist for spring by two of the hotel's acclaimed chefs. Available from 1 April to 31 May 2019, and crafted by Chef François Delaire, the hotel's Executive Pastry Chef, and Chef Andy Cheng, Chef de Cuisine of The Lobby, the enticing new menu incorporates zesty and refreshing flavors that
celebrate the vivacity of the season.
Hong Kong's Grande Dame Launches "The Peninsula Yacht"
– The Peninsula Hong Kong heralds the arrival of a new Peninsula Yacht for guests' enjoyment.The introduction of the yacht results in The Peninsula being the first luxury hotel in Hong Kong to offer a trinity of deluxe transportation options, complementing the existing fleet of Rolls-Royce Phantoms and a customised helicopter. The Sunseeker Manhattan 60 is an iconic, 19 metre cruiser that will welcome up to 15 passengers each evening to enjoy a two-hour evening cruise featuring the 'Symphony of Lights' on the mesmerising Victoria Harbour during the "Harbour Sunset Cruise".
Year of opening: 1928  Number of rooms and suites: 300
Address: Salisbury Road 香港九龙梳士巴利道
+852 2920 2888
phk@peninsula.com
For more info, please check their official website at https://www.peninsula.com