There is loads going on in and around Chengdu. Get all the information you need to keep up-to-date with what is happening in the city right here.
2019 FISE Chengdu
From October 31st to November 3rd, the international Festival of Extreme Sports (FISE), was one more successfully organized in Chengdu. Held for the past 10 years, it's one of the biggest Action Sports Festivals in the world. This was the last FISE 2019 qualifying stage in BMX Freestyle Park for the Tokyo 2020 Olympic Games, so it was a crucial event for athletes!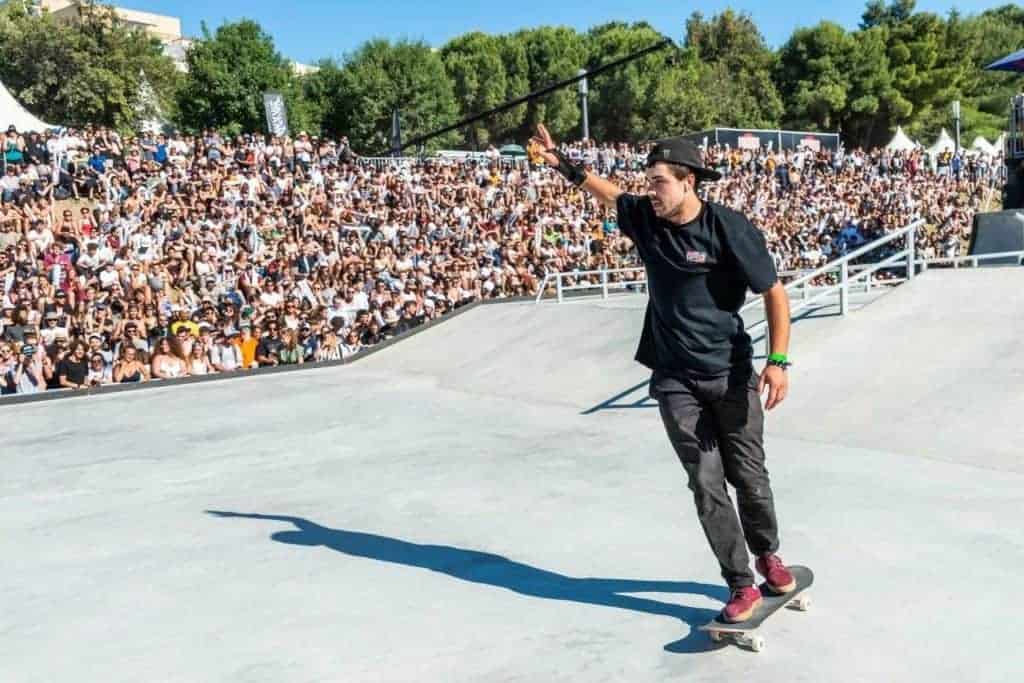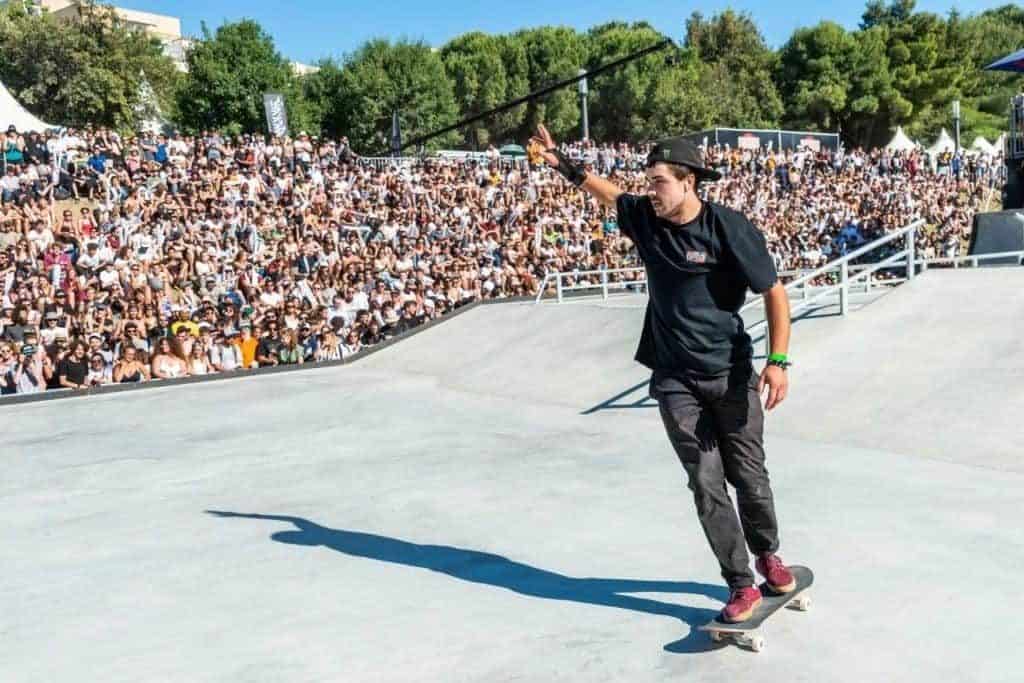 The event saw more than 2,900 amateur and professional athletes from over 40 countries who took part in BMX freestyle park, skateboarding, BMX dirt, scooter, BMX flatline and more.
Record Breaking Sales on 11.11 Day
This year's singles day/ 11.11 shopping extravagant was larger than ever, as the online shopping spree maintained its title as the most lucrative E-commerce days in the world today. It is no surprise that Alibaba yet again outperformed their sales record from previous years as they achieved record high sales of RMB 268.4 billion. Around halfway through the sales volume had already smashed last year's total sales.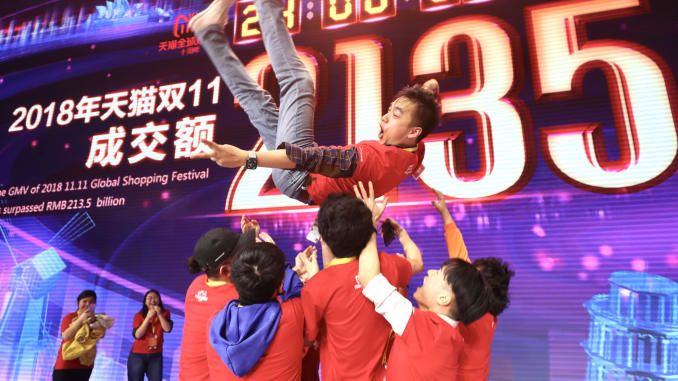 Evidencing substantially larger sales volume than Black Friday, Cyber Monday and Thanksgiving gain combined. Chengdu ranked sixth amid all Chinese cities in their volume of consumption according to data at 10:00pm on Nov 11. Demonstrating the significance of the cities purchasing power and vast demand from the local market, which appears to be endlessly increasing. See more stats about 11.11 day from our article 11.11 Madness Bigger than all Western Equivalents Combined.
China-EU Business and Technology Cooperation Fair
The China-EU Business and Technology Cooperation Fair was held on November 11, 2019 here in Chengdu. The fair lasted three days focusing on the China-EU Digital, Free Trade Summit Forum, China-EU New Economy, the China-EU Internationalized Business Environment Forum and Economy and Technology Innovation Forum. Presenting a theme of "building a new land-sea channel, creating a new hub for opening up and sharing new opportunities for cooperation" throughout the fair. The topics included education, biological medicine, technological innovation, ICT, industrial environmental protection and cultural tourism. Over 300 enterprises and institutions from 27 European countries, including Spain, Germany, Finland and France attended the fair as well as more than 700 Chinese enterprises and park representatives.
Chengdu Creativity & Design Week
The 2019 Chengdu Creativity & Design Week (CCDW) was held featuring the Belt and Road National Hall on November 8-13th 2019, for the 6th year running. CCDW was a platform to present innovative design as well as fostering relationships between creative industries and global innovative. Over 30 different fields were covered including high-tech products, jewellery, painting, architecture, food, art, photography, automobiles and fashion.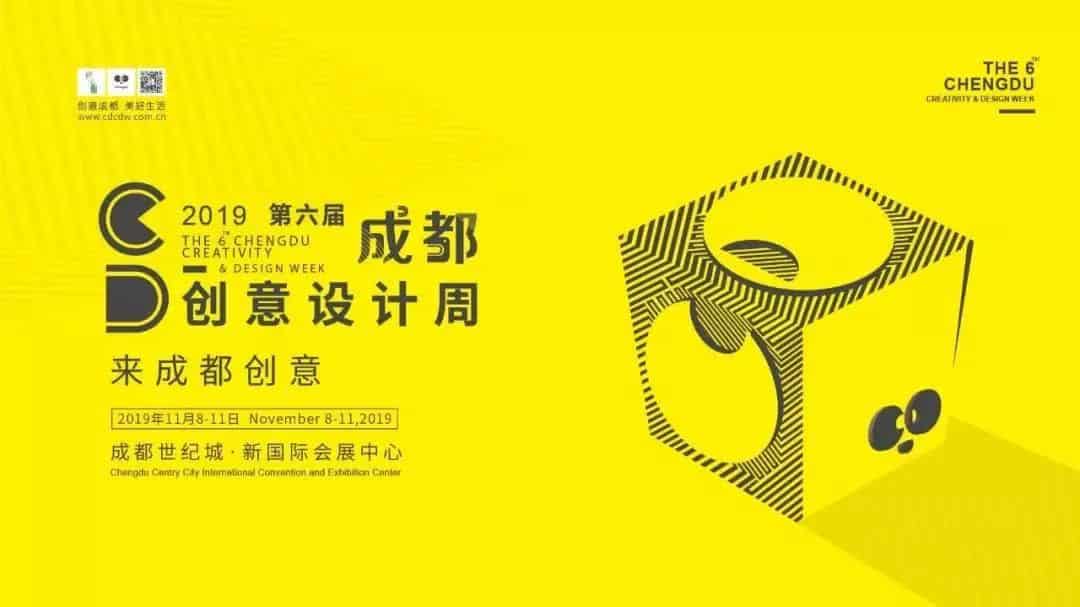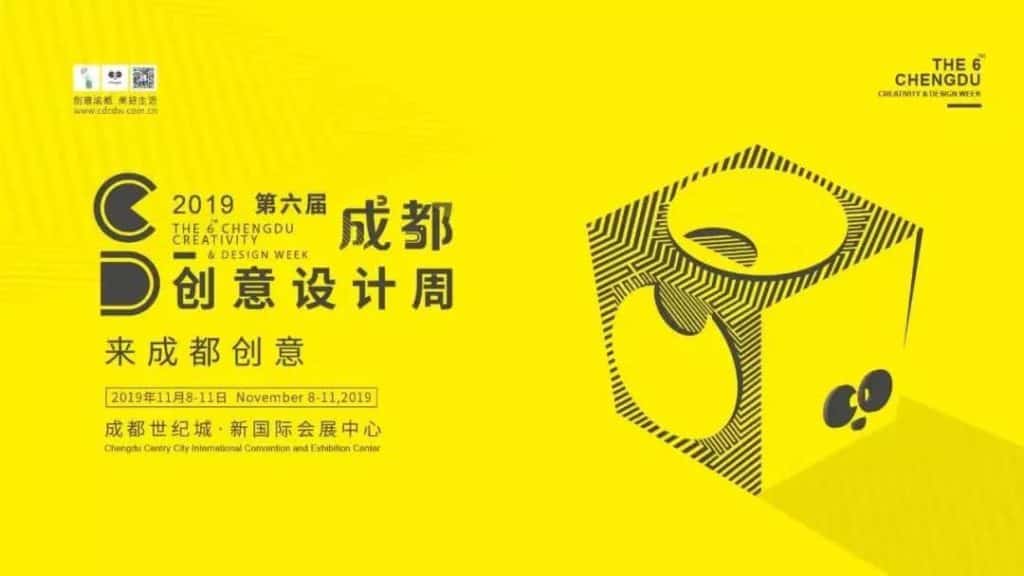 The exhibition displayed extraordinary and inspiring designs from all over the world and people were in attendance of this unique event as people gathered from the United Kingdom, Hungary, Israel, Sri Lanka, Denmark and many more.
"Encounters Across Cultures" Immersive Art Exhibition
From 7th November 2019 to 3rd January 2020, Encounters Across Cultures transforms The Temple House into an immersive art journey – the final rendition of 'Seeds of Life'.
This new art exhibition begins at the entrance of The Temple House, flowing from the Bi Tie Shi Courtyard to The Gallery, then to JING above the staircase, through to JING and ending at the Italian restaurant TIVANO. Located in the heart of Chengdu, The Temple House perfectly meshes with the modern sophistication of local heritage in Sino-Ocean Taikoo Li Chengdu.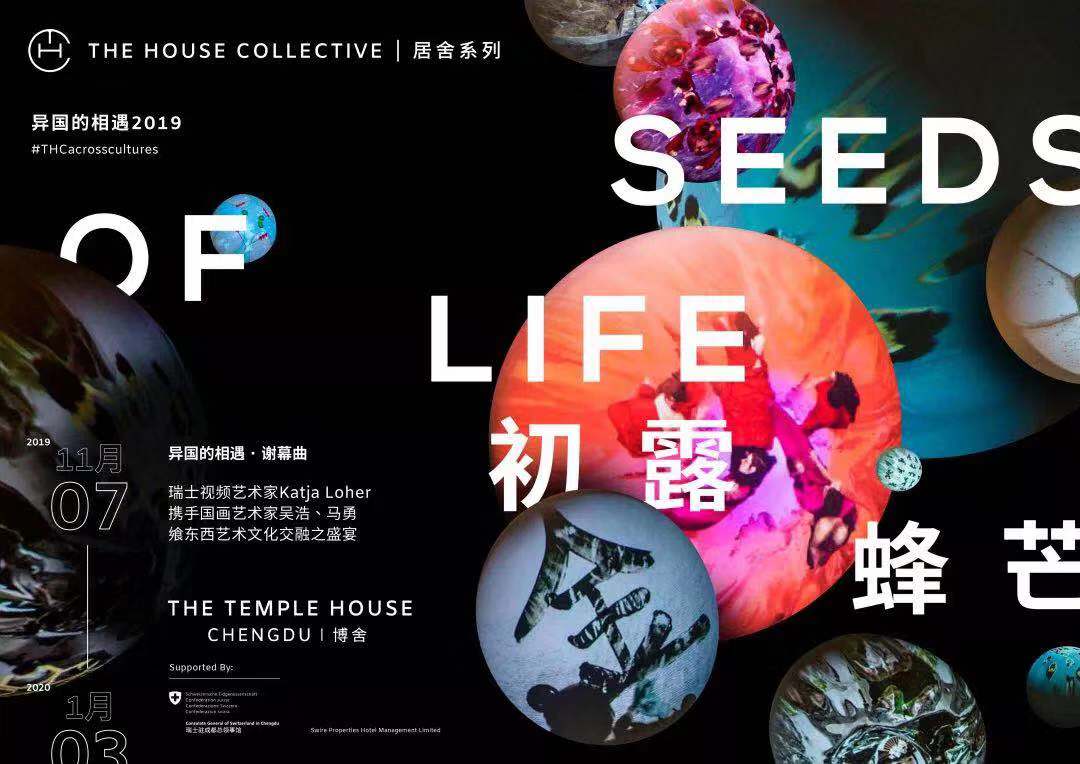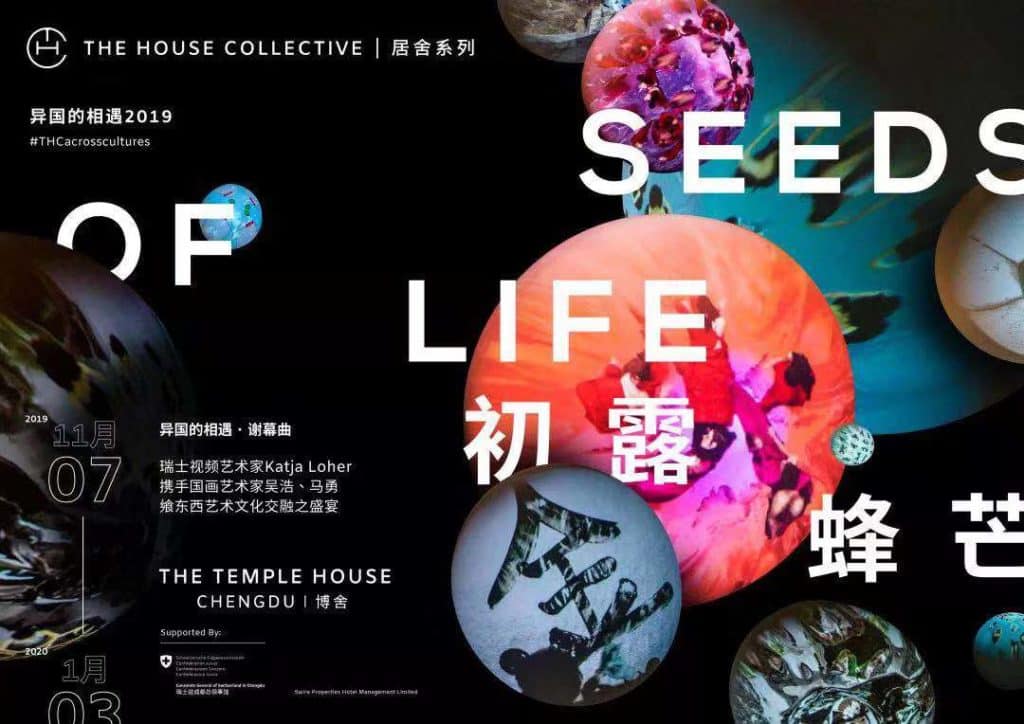 Be amazed by how Katja incorporates her video projections throughout the House! Katja's past work incorporates music, dance and costume to celebrate universal connections. With Chengdu as The Land of Abundance, Katja enlists artists Hao Wu and Yong Ma's expertise in the city's meticulous calligraphy and tea ceremony culture to bring these traditional elements into her video sculptures.
2019 Holiday Bazaar
Don't miss Chengdu's largest international event, the Holiday Bazaar which will take place on Saturday the 23rd November from 10:00-16:00. This family-friendly day with music, silent auctions, great food and festive performances by student choirs from Chengdu's international schools and local musicians. Additionally, there will be over 60 vendors providing fantastic seasonal food and gifts to purchase, fun games for children to play, and a chance to have your photo taken with Christmas kittens and puppies at the Santa photo booth.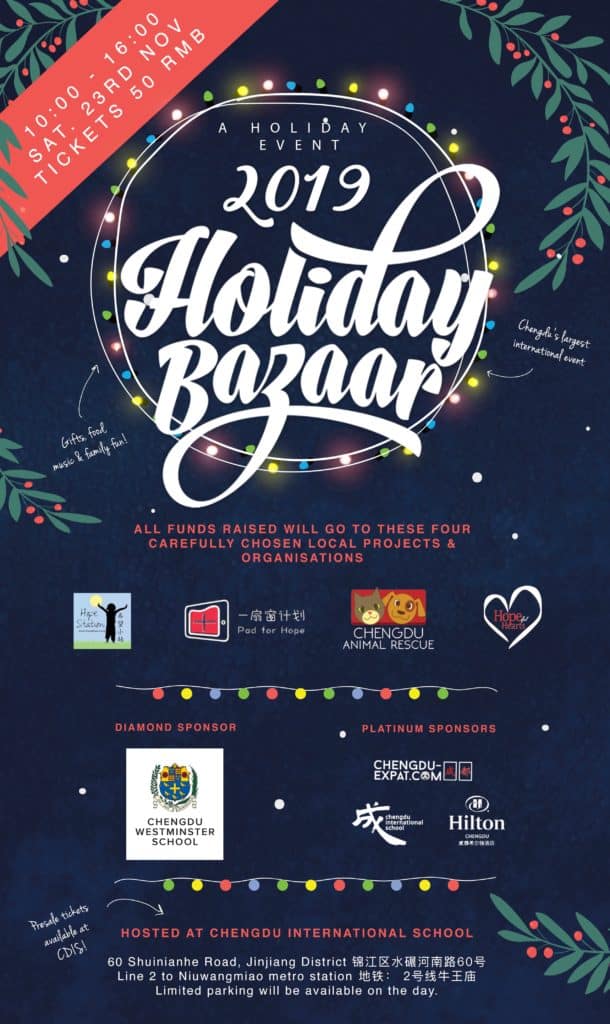 This event isn't just a wonderful place to buy Christmas pressies but also helps support important causes in Sichuan province. 100% of the money raised by the volunteer committee goes towards these carefully selected community projects in Sichuan. Previous years have raised over 250,000 RMB for local causes, and participation in the Bazaar is a meaningful way to give back to the communities around us.
Time:
Saturday 23rd November, 10am – 4pm.
Location:
Chengdu International School
成都爱思瑟国际学校
60 Shuinianhe Nanlu, Jinjiang District
成都市锦江区水碾河南路60号
Nearest Metro: Niu Wang Miao (Line 2)
地铁:2号线牛王庙站
Tickets:
50RMB (pay at entrance)
Greece and Nepal to open Consulates in Chengdu
Chengdu and Greece have always maintained close economic, trade and cultural exchanges with each other. It has recently been announced that Greece will open a new consulate general in Chengdu which seeks to bring their relationship even closer. From January to November 2018, the total amount of import and export volume between Chengdu and Greece reached RMB 130 million. Both sides also stated that they will launch more air services between Greece and China, to further strengthen their comprehensive strategic partnership. Chengdu and Athens support each other in culture, education, tourism, economy and trade through the platform set up by the authorities.
According to the Joint Statement between the People's Republic of China and Nepal released October 13 on the official website of the Ministry of Foreign Affairs of the People's Republic of China, at the invitation of Rt. Hon. Bidya Devi Bhandari, President of Nepal, H.E. Xi Jinping, President of the PRC, paid a state visit to Nepal from 12 to 13 October 2019. During the visit, leaders of the two countries reached broad understanding through the in-depth exchange of views on the bilateral relations and regional and international issues of common concern, and "the Chinese side consented to the establishment of Nepal's Consulate General in Chengdu, Sichuan Province of China".
Chengdu in the Headlines
Chengdu has yet again received many praises for being such a thriving and booming city in China today. South China Morning Post recently announced that growth engine Chengdu has overtaken technology hub Shenzhen as the best-performing economy out of 262 Chinese cities. The city has shot up six places from last year, enabling them to snatch the top spot from Shenzhen, proving how momentous Chengdu's advancements have been in recent years. Fast-growing Chengdu rose to the number one spot due to strong gains in its ratio of foreign investment to GRP, as well as employment and wage growth, between 2016 and 2017.
Read the full article here: Chengdu is China's Best-Performing Economy!
Chengdu boosting its capabilities in commerce, arts and fashion has not gone unnoticed, as China daily celebrates the cities enhancements by highlighting Chengdu as a commerce, fashion and fun hub. Assisting Chengdu to reach its goal of being renown globally for its high-quality lifestyle. The China Daily article emphasizes successful events the city has held recently including the Chengdu Marathon and The Monocle Cities Series Conference, which took place here due to the huge investment opportunities and diverse entertainment spaces available in the city. Chengdu also soared up the Beta+ level to 71st place among all the cities in the world, presented by the Globalisation and World Cities Research Network.
Read the full article here: Chengdu Charms as Commerce, Fashion and Fun Hub
These articles show Chengdu's modern metropolis in an extremely positive light and applaud the cities advancing economy, purchasing power and quality of life, foretelling that Chengdu will continue to thrive and expand its capabilities.
Jane Goodall in Chengdu
On Jane Goodall's recent visit to Chengdu she gave a public Speech at Chengdu Museum on Nov 17, with the theme of Sustainable Development of People and Nature. Jane spoke about the environment, animal conservation issues and how to implement positive changes, aiming to inspire everyone to help look after the world better. Only 350 lucky people were able to listen to her speech due to the limited capacity of the museum.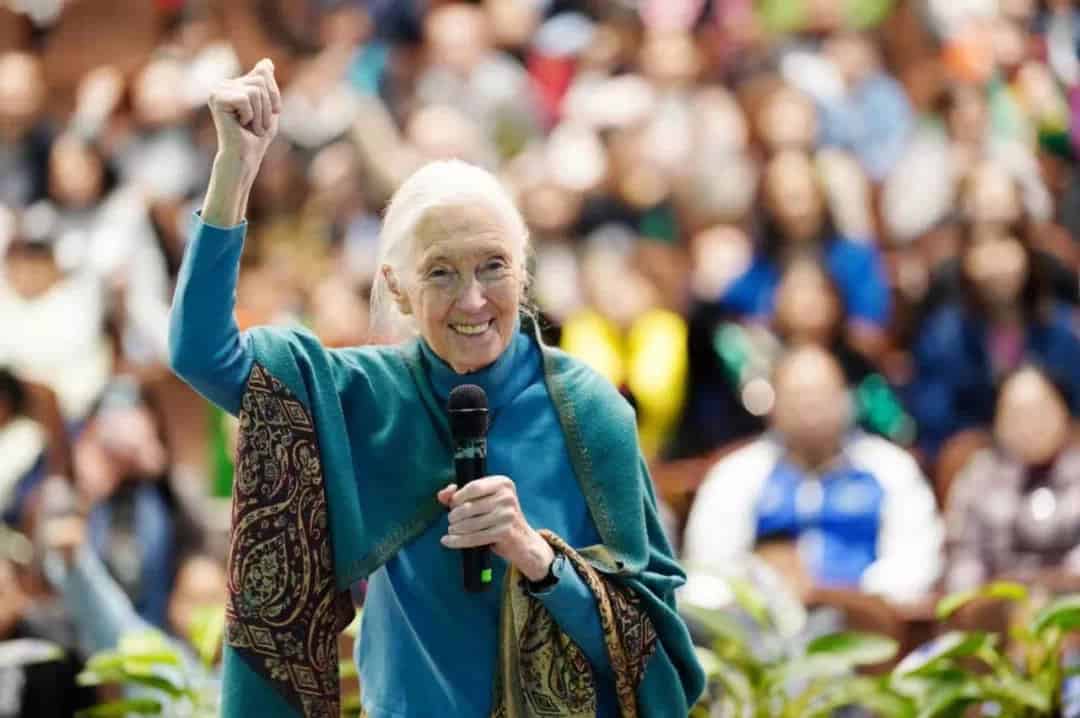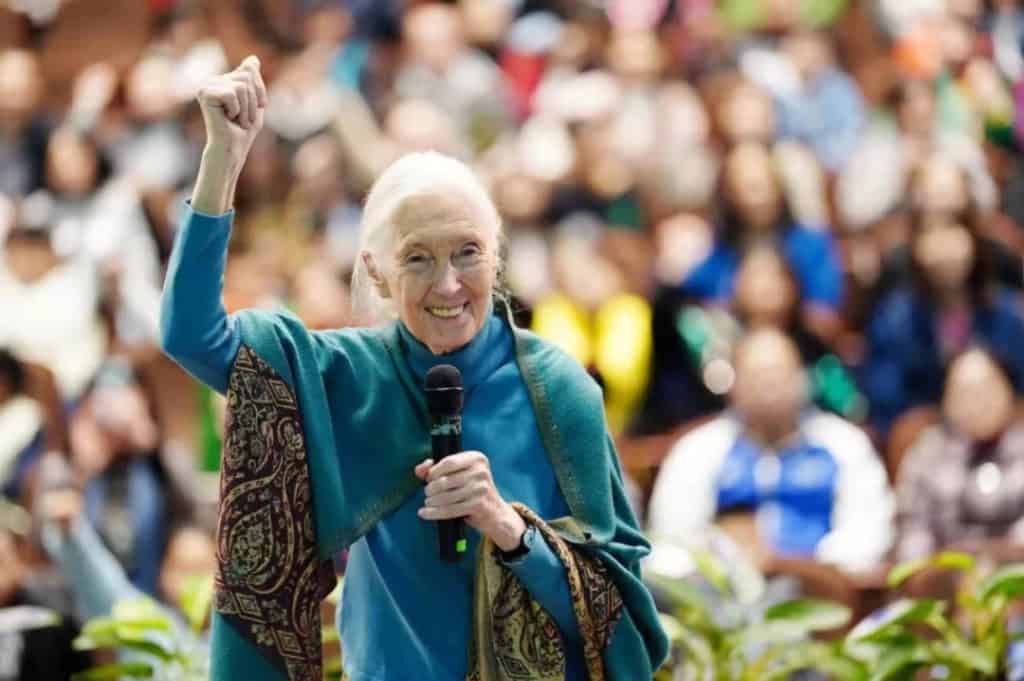 On November 18th, Chengdu Roots and Shoots founded by Jane, held a Charity Night at The Temple House, called "Dr. Jane Goodall and her friends". With Jane and her friends Huang Hongxiang, the star of ivory game, the 89th Oscar nomination for Best Documentary, Luo Dan, the director general of Chengdu Roots and Shoots, and Mr Christopher Lim, the Australian Consul-General in Chengdu. Who all shared their stories on environmental protection, dreams, and sustainable development issues. During Jane's time in Chengdu she met with local students to inspire and interact with them, they also presented her their recent projects.
New Hexatron Light Installation
Chengdu IFS now has a new display on its doorstep for the next three months, from November 6 2019 to February 14 2020. The Hexatron display is a sound and light art installation which was developed by US artist Mark K. Lottor.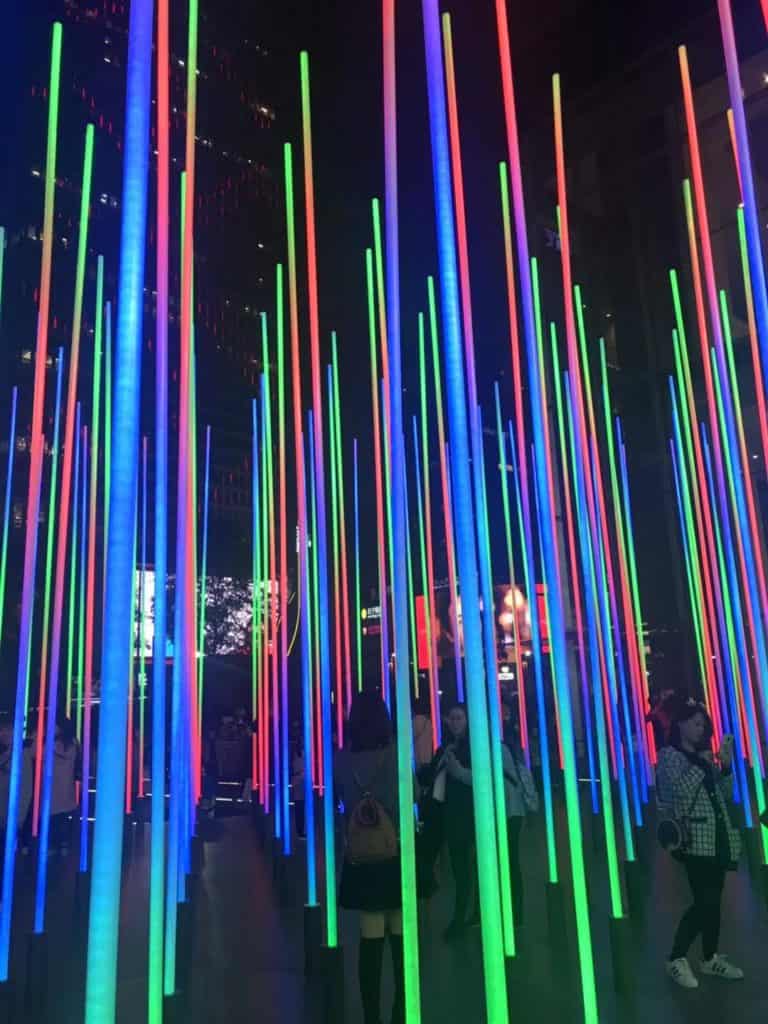 Featuring a forest of 486 20ft tall LED light poles assembled in a large hexagon shape, which exhibit an array of different light displays. The exhibition is free for all to enter and enjoy by absorbing the unique mixture of science and technology that the display promotes.