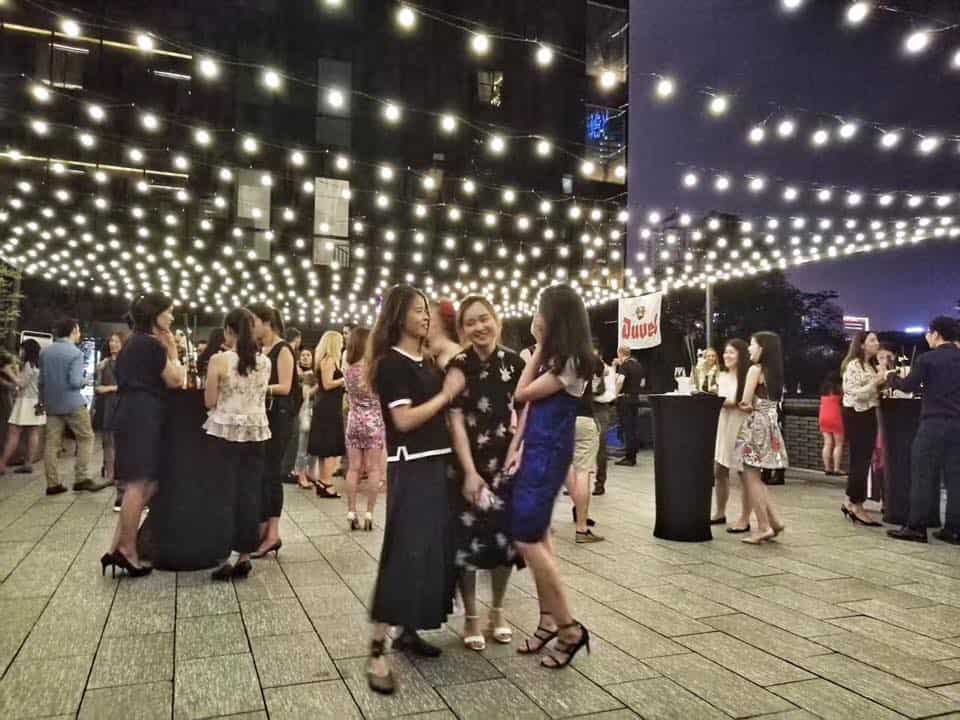 Chengdu-Expat together with the British Chamber of Commerce launched the Young professional Network in Chengdu with a business mixer at The Temple House's terrace, The Temple Top.
The event served for young people in the city to meet the next generation of leaders and innovators. It was the first in a series of events aimed at growing your network, finding like-minded people and enjoying an evening of good company. In the future The Young Professionals Network will hold monthly round table discussions, company visits and focused business mixers with key note speakers. Email info@chengdu-expat.com to join the next event.
Paulaner Carnival provides an inner city paradise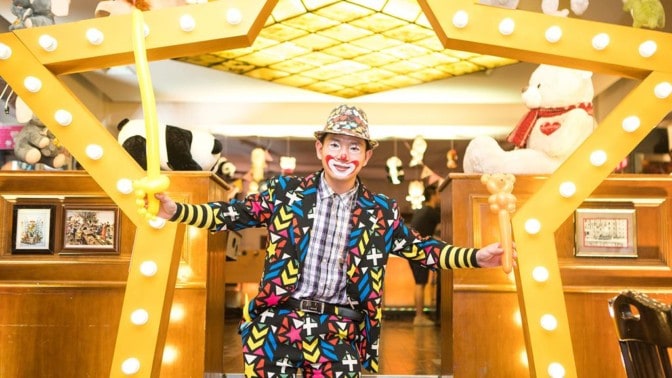 The fantastic Paulaner Carnival is a day where families and friends can spend time full with amazing shows, kid's activities, seafood BBQ buffet, family set menu, abundant a la carte, live music and free flow Paulaner homebrewed beer, sparkling wine, white and red wine, soft drink – every Sunday, all without leaving Chengdu.
Time: Every Sunday (11:30 – 15:30)
Location: #42, 4th section, South Renmin Road, Chengdu Kempinski
Oakwood Residence Funder Chengdu celebrates its 6th Anniversary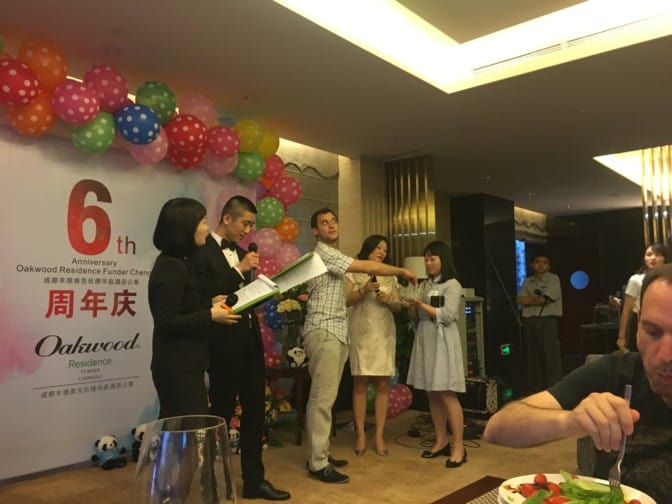 Oakwood Chengdu celebrated its 6th anniversary with a seafood buffet party on 18th May, 2017. Over 80 distinguished guests attended the party, including key people from Consulate Generals, Chambers of Commerce, corporate accounts and media partners. Addressing the VIPS at the event, Ms. Vicky Yang, Executive Assistant Manager, Oakwood Residence Funder Chengdu, extended the deepest gratitude to guests and expected Oakwood properties will be blessed with their ongoing favor and support and to be the most trusted name in serviced apartment worldwide.
Address: No. 7 Xin Xiwang Road, Wuhou District
Tel: 86 28 8535 6666
E-mail: reservations.orfc@oakwoodasia.com
Spectrum at Fairmont Chengdu
Spectrum, an all-day dining restaurant on the first floor of Fairmont Chengdu, with a total of 227 seats, is offering a tempting array of Asian and Western cuisines served throughout the day.In addition to fried steak, seafood, or noodles that normal restaurants offer, Spectrum also provides single-pan fried Chinese food and Sichuan flavoured pizza, freshly baked in the authentic Italian pizza oven that is rare in China.
The restaurant has launched three dining options – Atelier Lunch Monday throughout Thursday, Seafood Night Market every Friday and Saturday, and Sunday Brunch. The Brunch is served every Sunday from 11:30am to 3:00pm. You can enjoy a premium selection of international delicacy, accompanied by flow of Moet & Chandon and Jing A Craft Beer. Specially prepared for family, a Junior Chef Course is customized for children joining the Brunch.
Opening Hours: 06:30 till 22:00
Address: 1F, Fairmont Chengdu, 269 Tianfu Middle Avenue, Hi-Tech Zone
高新区天府大道中段269号成都棕榈泉费尔蒙酒店一层
For more information, please contact: 028 8064 8543
Saturday Picnics at The Temple House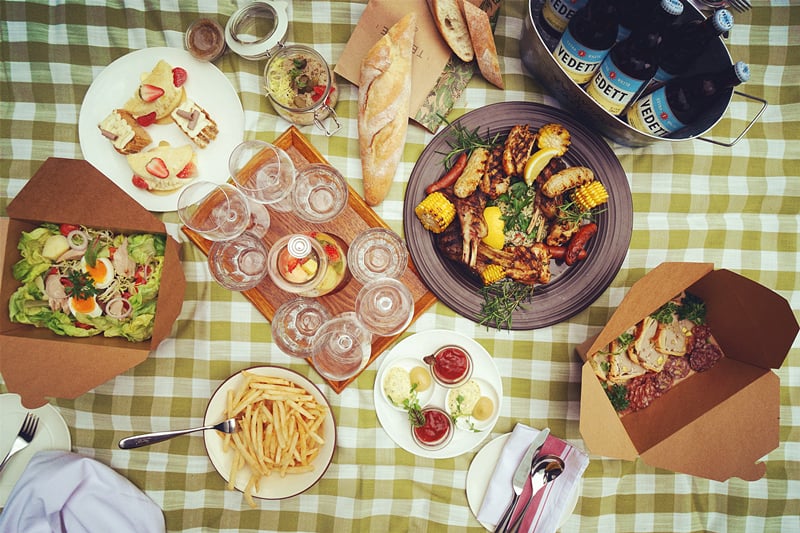 Starting from 17th June, from 12:00 to 15:00 on every Saturday, you and your friends and family can come enjoy an outdoor picnic on the lawn in The Temple House!
Brought to you by The Temple Café, you can enjoy BBQ and refreshing beverages, as well as playing ping-pong, badminton, and frisbee under the sun. The trendiest way to chillax in the heart of Chengdu over the weekend.
Price: RMB 268 for two/RMB398 for four (our prices are subject to 10% service charge and 6% VAT on the total bill.)
Limited seats | For reservation: +86 28 6297 4191
Chengdu named as one of China's new First Tier Cities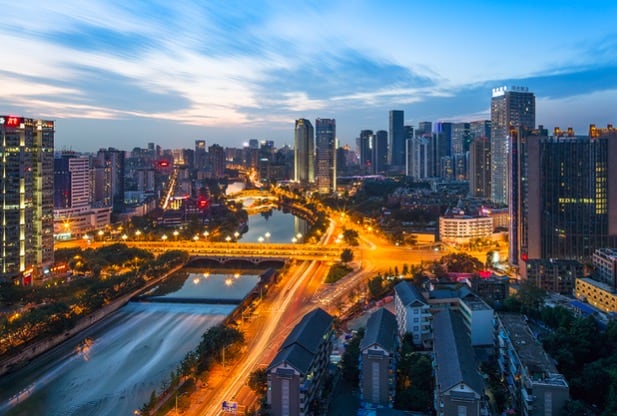 After assessing 338 cities in China, the financial news agency Yintai have announced that 15 new cities will be recognized as 'first tier' with Chengdu scoring the highest. They considered 5 different factors in their analysis; clustering of business resources, capability as a transport hub, quality of life of urban residents, diversity and the future capacity and potential of the economy.
Beijing, Shanghai, Guangzhou and Shenzhen still remain the most developed according to the index – with Chengdu, Hangzhou and Wuhan taking 6th, 7th and 8th place. Some cities now recognized as 'first tier' came as a surprise, such as Dongguan – it's thought that the increase in international retailers such as Starbucks and Uniqlo, together with a strong electronic manufacturing sector contributed to this.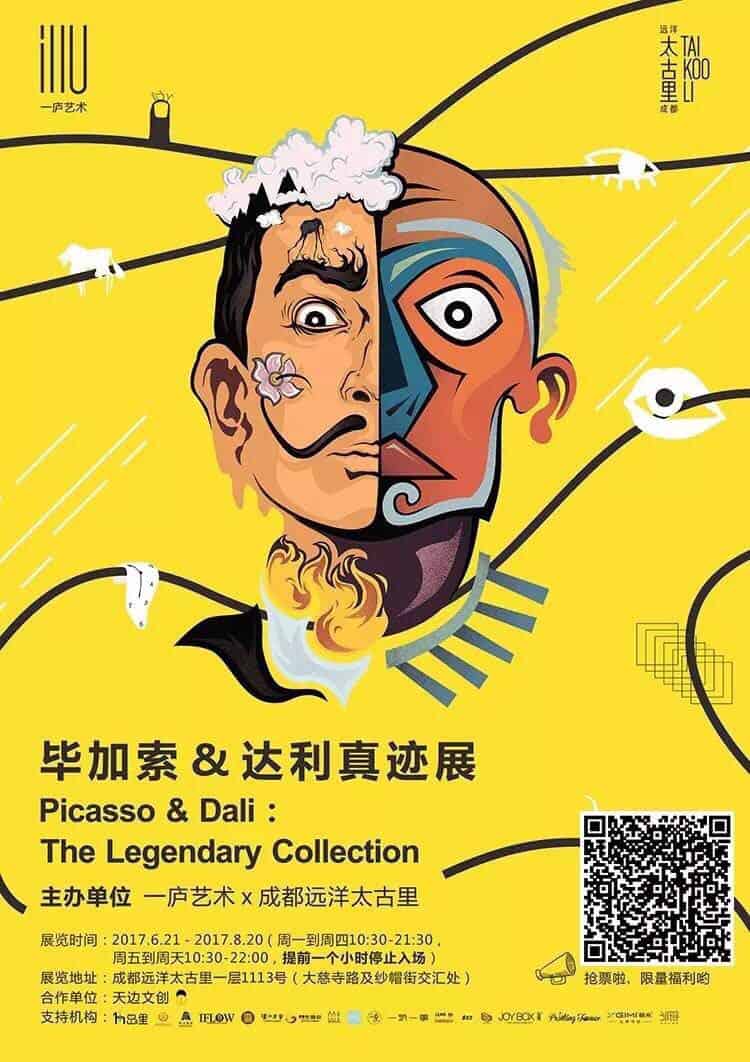 From June 21 till August 20th, illu Art and Sino-Ocean TaiKoo Li are pleased to present their upcoming exhibition of finest artworks by legendary Pablo Picasso (1881 – 1973) and Salvador Dalí (1904 – 1989).
The exhibition will feature a variety of graphic and traditional media – the collection includes a rich legacy of work that spans decades of artistic production.
Date: June 21 – August 20
Time: Monday – Thursday, 10:30 – 21:30
Ticket: Early bird 80RMBpp/ 140RMB 2persons/ 180RMB 3persons
After June 21st: 120RMB pp
Free for kids below 80m
Phone: 028-85190084
Address: Sino-Ocean TaiKoo Li, F1, No. 1113
成都远洋太古里东区一层1113号
June 23-25: 2017 Chengdu Fête de la Musique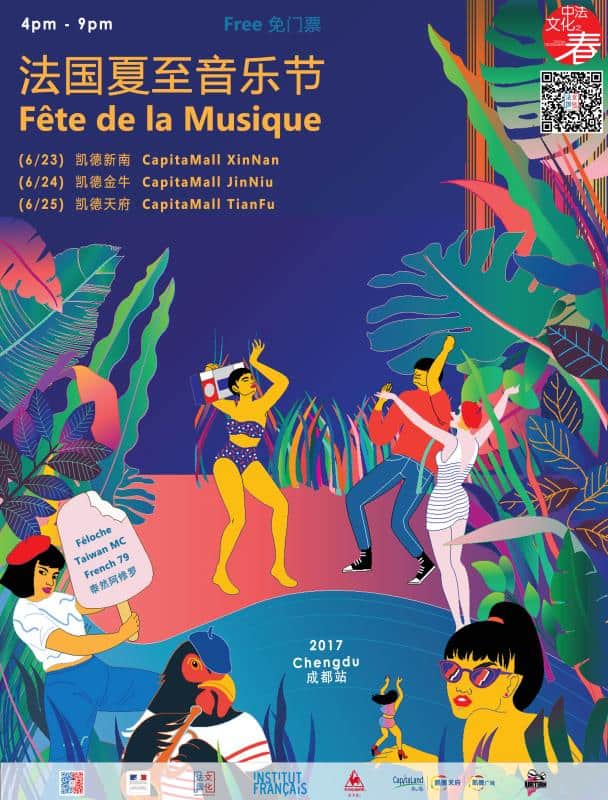 Fête de la Musique (Global Music Day) is one of the biggest free music festivals, started in Paris in 1982. Every year middle of June whole cities all over the world are transformed into concerts, which feature various music style FREE OF CHARGE. Celebrations spread to over 100 countries and 450 cities all over the globe.
More than just a festival gathering French music bands, Fête de la Musique Chengdu is the encounter of different music genres from France and Sichuan. Following the original spirit of the festival, cultural exchange of music between artists from different backgrounds is at the focus and many local Sichuan talents will be showcased.
6/23 凯德广场·新南     CapitaMall Xinnan
6/24 凯德广场·金牛     CapitaMall Jinniu
6/25 凯德·天府               CapitaMall Tianfu
Friday to Sunday from 16:00 – 21:00
Chengdu Startup Grind #6: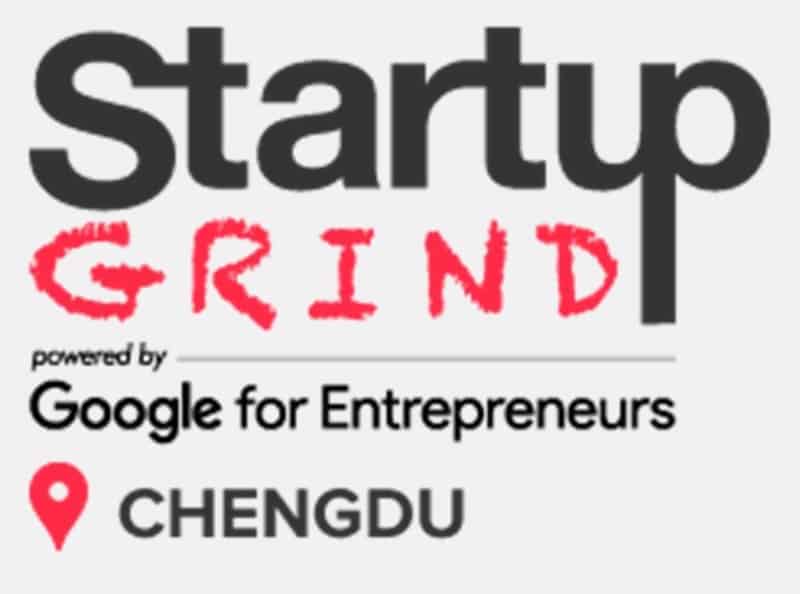 This time in cooperation with Tencent and Skymoons, the local Startup Grind team is proud to feature Mr. Trevor Owens, founder of Javelis, creator of the global Lean Startup Machine and author of "The Lean Enterprise". Trevor will share his experiences and opinions on how to fail fast and succeed faster.
Venue: Tencent Co-Working Space
Address: Gaoxin District, Tianfu 3rd Street, Tencent Tower B, F8  成都高新区天府三街腾讯大厦B座8F
Date: June 30
Time: 18:00 – 21:00
Cost: 50RMB early bird, 70RMB regular