Check out What's New in the 'Du [April/ May 2016]
2nd Chengdu IKEA Store Officially Open
At the end of March, IKEA's second store in Chengdu opened in the Chenghua district. Offering a simple and natural Nordic style and inspiration for home furnishing, the store is a one-stop shopping and recreation for households in the northern urban areas of Chengdu.
The four-floored store counts over 250 employees. The first and second floors are for parking while the third and fourth for shopping. Chengdu is the first city to have two IKEA stores in central and western China. Having made a business presence in the city for nine years, the Swedish company has become part of many Chengdu people's lives.
Wax Museum Opened in Chengdu
Recently, "Wax Museum of Global Celebrities" was officially open to the public in Global Center. There are about 100 exquisitely-made wax statues of celebrities, including global politicians, stars, sportsmen, as well as fashion icons of various periods. Just the day before the opening ceremony, Li Boqing, the most popular comedian of Sichuan, paid a visit to the Wax Museum.
The Temple House x Zhuyeqing Afternoon Tea
The Temple House has partnered with premium Chinese tea brand Zhuyeqing Tea to launch "Embrace Spring", a Chinese-style afternoon tea at MI XUN Teahouse. Featuring a series of desserts inspired by multiple Chinese ingredients, the selection is presented on a three-tier curate stand.
The first tier introduces the signature dessert MI XUN Tea Cake and White Chocolate with Strawberry and Pistachio. The next tier is filled up with White Sesame Cookie and Green Tea Mousse Cake, while the third tier features Almond Tofu with Mango Puree, and Lychee and Goji Berry Muffin.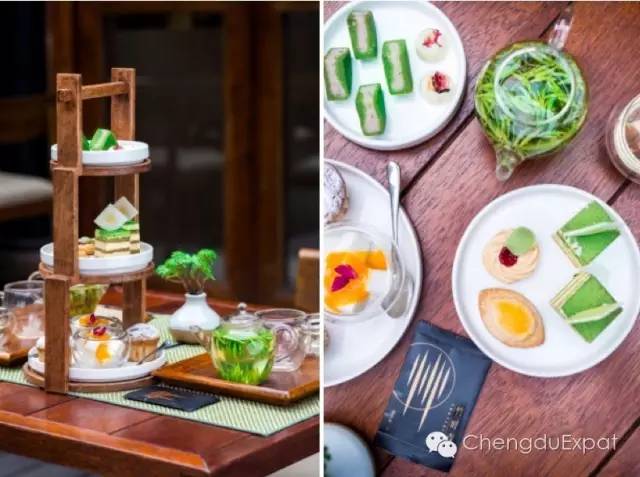 Priced at RMB 168 for two persons, the afternoon tea is available daily for a limited time from March 20 to June 20 between 2 p.m. and 5 p.m. Guests will also receive an exclusive gift set including a gift card, as well as an exclusive Zhuyeqing souvenir. To make reservations at MI XUN Teahouse, please call +86 28 6297 4193 or email mixun@thetemplehousehotel.com.
028-66369999
Address: 81 Bitieshi St., Jinjiang District 锦江区笔帖式街81号
March 20 to June 20 between 2 pm and 5 pm
Celebrating Chengdu's Art and Culture Niccolo Chengdu Hosts its First Anniversary Gala Dinner
Niccolo Chengdu, the first hotel under Marco Polo Hotels' luxury brand, celebrated its first anniversary on April 19th by hosting an exciting gala dinner packed full of creative art performances. The theme of the event was "A Celebration of Chengdu's Art and Culture," which was apparent throughout the event. The red carpet was rolled out for over 250 guests, including consulate generals, dignitaries and partners of the hotel. Over 50 local, regional and international media were also on-hand to participate in the celebration.
Grand Hyatt Chengdu "Xi-Mi" Bar Opens for business
Following the opening of Grand Hyatt Chengdu on Chunxi Road in January 2016, "Xi Mi" Bar, opened for business on March 25. The bar, on the 15th floor of the hotel, is decorated in a cabaret style that resembles the performance venue for a European opera. The black-white posters and chairs in the bar make people feel as if they were in the vintage time. Xi Mi specializes in cocktails, wines and snacks of local flavor.
Wanda Reign Chengdu Appoints Maged Louis as General Manager
Wanda Reign Chengdu has officially appointed Maged Louis as General Manager. Before this appointment, Mr. Louis was the General Manager of Wanda Vista Nanning.
  Mr. Louis has a wealth of work experience of over 20 years in the hospitality industry. He was born in Cairo, the capital of Egypt, and started his career in London in 1988. With an extraordinary passion and enthusiasm for his challenging job, Mr. Louis is also a big fan of Chinese culture and food, and enjoys sports and outdoor activities.
Wedding Show @Hilton Chengdu
 On April 23th, the first wedding show of Hilton Chengdu was presented at Galaxy ball room. Three married couples and 15 bride-to-be recruited by wechat defines us the "perfect wedding" on the stage themed as "Alice's Adventures in Wonderland".
  With the most fabulous wedding site and the famed "most extraordinary" servive, Hilton Chengdu ouns all the premises of making people's most beautiful dream come true.
  As the General Manager Mr. Bill Fisher said, the wedding show sets a new market standard in both the decoration and service perspectives.
CISA Poetry Slam at The Bookworm, Friday 11th March
QSI student poets performed impressively at the Poetry Slam. Neve Maguire won first place in the 10-11 year old group. All three places in the 12-14 year old group were taken by QSI students.  Natasha Rajasivam won first place, Hope Knutson took second place, and Christopher Fang placed third and was named the "Brooding Rock Star of the Poetry World". Emma Martin placed second in a very competitive 15+ age group.  All the students wrote and performed with courage, truth and great heart. Welld one competitors.
Monthly Chengdu Entrepreneurship Meetup
more than 2.5 years, the Chengdu Entrepreneurship Meet Up has been held every 3rd Wednesday of the month starting at 7:30pm. It's a free event for anybody interested in entrepreneurship and operating a business and includes presentations, idea pitches, Q&A and networking. Feel free to join and hear the stories of trailblazing and building businesses in Chengdu! Organized every 3rd Wednesday of the month @The Beer Nest II, Brewpub & Kitchen.
You Miss 100% of the Shots You Don't Take
One missed shot, one missed opportunity. Join Blue Frog every Tuesday from 4pm for their buy one shot get one free deal. Choose between a wide selection of shots from their sophisticated 007 to the electrifying Blue Lightning. If that doesn't convince you, then every Tuesday after 8pm, ladies who buy 10 selected shots, receive a free complimentary selected appetizer. Remember, you miss 100% of the shots you don't take so bring a few friends and go on over to give it a shot.
Oakwood Opens First Branded-Building in Australia
Pacific Ltd, which manages the finest serviced apartments for business and leisure travelers, has expanded into the Queensland market with the debut of Oakwood Apartments Brisbane – the first Oakwood-branded building in Australia.
 The first guests ofthe newly re-branded Oakwood Apartments Brisbane were received by general manager Paul Wilsher and his team with much fanfare, including a bottle of champagne, welcome drinks and in-room goodies.