Are you a foodie but don't really know where to go for good food in Chengdu. Check out our monthly restaurant overview:
Bucciano Wine & Dine Italian Restaurant market
One of the first things we notice on walking into Bucciano, where MORE was hosted recently, are the largeslabs of salt and herb covered pork belly curing in a chiller. Their in-house charcuterie also includes a few types of fresh sausage that we enjoyed during the dinner. This attention to craft is on display via their antipasto board, which is a great way to start off a meal. It included salami, proscuitto crudo and mortadella, which impressed with their quality and were sided with mushroom and tomato bruschetta and some very interesting fresh Tuscan style fritters that the server instructed us to eat with the proscuitto. The housemade ciabatta and flat bread tasted very authentic and were very good with their house olive oil and vinegar.
 Other Tuscan specialities on the menu make Bucciano one of the few Italian restaurants in town where we can feel a sense of regionality. We were impressed by the soft and fresh gnocchi in a rich meat sauce; the cheese that was served on the side brought the dish to life. The fresh, fragrant dough of the thin crust pizza was fantastic. The housemade sausages were sided with roasted vegetables and salad that included arugula and were served with house made aioli and mustard.
  We also enjoyed a super simple dish of white beans and sausage in a tomato sauce.The porchetta was a really memorable dish; it came as a generous serving of crispy skinned roast pork sided with roasted vegetables. The zuccotto and tiramisu from the dessert menu are both very good; we'd get the tiramisu again first. We were dining with an Italian friend who had been posting some photos of the dishes. She got a call from her mother urging her to eat all she could.
Bucciano also has for sale a selection of imported Italian goods like pasta, oil,vinegar, wine and seasonings. We heard mostly English and Italian spoken in theroom, which was very busy the night we were in. Most of menu itemsare in mid to high two figures; a multi-course meal should run around 200RMBper person. Specials from Tuesday to Saturday make it easy to stop in for abite and a drink to check the place out.
 18583750921
Address: Poly Centre B, 3rd floor, 314
 11:30- 2:00pm 6:00- 11:00pm
Paulaner Bräuhaus Restaurant
   We were recently hosted at the Paulaner brewery and restaurant in the Kempinski hotel, which is one of the earliest five star hotels to open in Chengdu. The room, with its outside entrance just off of South Renmin road, feels more like a neighbourhood watering hole than a hotel and is dominated by the large fermenters where their own house lager and dark beers are brewed. The menu is in German, Chinese, and English with the first few pages devoted to their house brewed beer, beer cocktails, schnapps and German specialties. There are enough cuts for the steak lover to find their favourite style and a page of European desserts offers sweet endings.
  They got us started off on the right foot with a unique bread service that included pretzels served on a rack with pretzeled rolls and dark rye bread sided with liver pate, butter and a delicious seasoned pork fat based spread called shmalz. (The pretzels and bread are also available to pick up in the Kempinski deli.) We sampled a generous serving of Angus beef tartare, mildly seasoned raw beef served with a raw quail egg on top and sided with dill pickles and some more excellent toasted bread. A crab cake, starchy with potato, was garnished with spicy salsa and avocado, and a serving of homemade pappardelle with porcini mushroom ragout was a vegetarian friendly offering on an otherwise meat heavy menu. The romaine salad with Guizhou ham was cool and refreshing with anice contrast between the sweet dressing, salty ham and tender Brussels sprouts.
  From the Chef's Favourites section of the menu, the mixed sausage platter was pretty interesting, offering a selection of sausages sided with really good sauerkraut. Some of the sausages were savoury, some mild and some spicy enoughto challenge even a local Sichuanese palate. The roast pork knuckle with crispy skin showed off all the textural interest in this well-loved cut of meat and was escorted by a very good pile of mashed potato topped with crispy friedonions. The dessert menu has lots of desserts that we traditionally associate with Germany like black forest cake and apple strudel, but we went with their macadamia cheese cake, which had fantastic flavour and texture with the macadamia nuts down near the crust.
  Paulaner has a good combination of a cool, informal atmosphere with a kitchen that takes its work seriously. Although the menu was pretty European, the sound track kept usmostly west of the Atlantic with country and western playing til the band started at 8:30. The live band is on from 8pm on Mondays and 8:30 Thursday into the weekend. Per person cost for food at Paulaner is about 200 and up.
 +86 28 8526 9999
Address: 42 South Renmin Road Kempinski Hotel
 Monday-Sunday 5pm-1am
Website: http://www.paulaner-brauhaus.com/chengdu
Fun Fondue 1 (by HuangCheng Lao Ma) Restaurant 壹小馆
We just had to know how one of Chengdu's most traditional and respected hotpot groups would reimagine the hotpot experience individual serving style, so went to IFS to check out Fun Fondue. The decor is very modern, sleek and minimalist. The lunch crowd was mostly shoppers and business lunches with some tourists dining with stacks of luggage. There are a few tables but many of the seats are sushi bar style, making this a very convenient spot for solo diners.
The hotpot sets,which most customers were enjoying, come as a pot of soup (red, white oryuanyang-mixed) and several stacked tins of hotpot ingredients. The dipping sauces and tea are self-serve, and their pork bone soup is available inpitchers to replenish the pot as it boils down. We got the maocai set, with two possible choices of ingredients in red or white soup, and it was more manageable for lunch than a leisurely hotpot meal. Their maocai came sidedwith a bottom less bowl of beautifully steamed rice, fruit and a bowl of theirpork bone broth with a few greens. Their spicy mao cai really is ear-tinglingly hot. We noticed that other customers eating it were getting a bit red faced. People who tolerate rather than relish the spicy and oily qualities of mao cai should either order the white soup or givethis one a pass.
   Thereare lockers available to put bags and shopping in, and the famous Huang Cheng Lao Ma hotpot seasonings are on sale too. Mao cai is 35RMB per person, hotpot sets are 90RMB, self-serve hotpot with ingredients ona rotating belt is 140RMB. 
028-84451986
Address: HongxingRoad, IFS, F5-518 红星路三段1号成都国际金融中心5楼518
10am-10pm
Yu Family Kitchen Restaurant 喻家厨房

  We dropped in to check out the new location of Yu Family Kitchen, which moved from Kuanzhai Alley down to Huayang earlier this year. The cold dishes of vegetables, tofu and pickles that started off our 20+ course lunch displayed precise knife work and cooking skill and served as palate cleansers between some of the other courses.
  This meal was our first time eating local food after several weeks away from Sichuan, so we were happy to recognise lots of classic local flavours in the creative dishes at Yu's, like the salt and pepper filling in the edible calligraphy brushes. Dishes like the yu xiang shrimp and the jiangtuan fish in truffle broth showed local cooking methods or ingredients in original or humorous combinations. Not every dish impressed, however: the abalone that came with the liang fen was rubbery and the sloppy boiled er cai seemed like it was from a different kitchen than the perfectly done cabbage in water that came out a few dishes later. The astoundingly good and very local desserts were tian shao bai, a piece of sugar-sprinkled steamed pork belly stuffed with sesame and served over sticky rice followed by some perfect lychees that had been cooked with Sichuan pepper.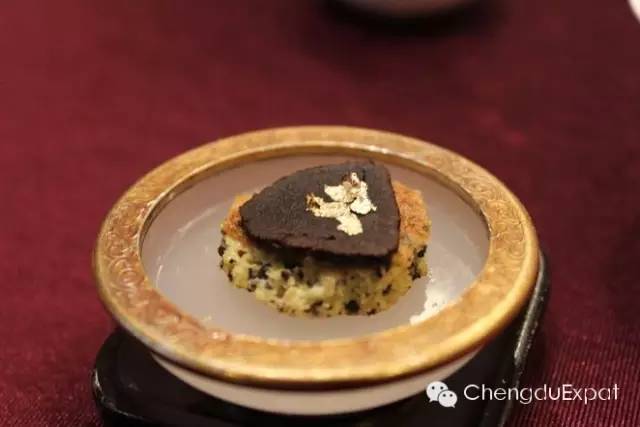 We got enough good dishes to feel pretty satisfied with Yu's. Private kitchens at their best feel very personalized and decadent, so they often require a few visits and communication to figure out a really peak dining experience. The cost per head at Yu's ranges from 330 and up to 1000 and up; a solo person for dinner in a private room would be the highest cost and two or more for lunch in the main dining room, a cavernous space which also houses the prep kitchen and the busy reception desk, is the lowest. Booking ahead and deposit are required for lunch and dinner Tuesday through Sunday.
☎️ 028-86691985
Address: 41-4-48, La Cadiere, 2599 West Section of Tianfu Avenue 天府大道南段2599号蔚蓝卡地亚41-4-8
⌚️
Yu Jiu Xiang Sichuan Restaurant  渝九香川菜馆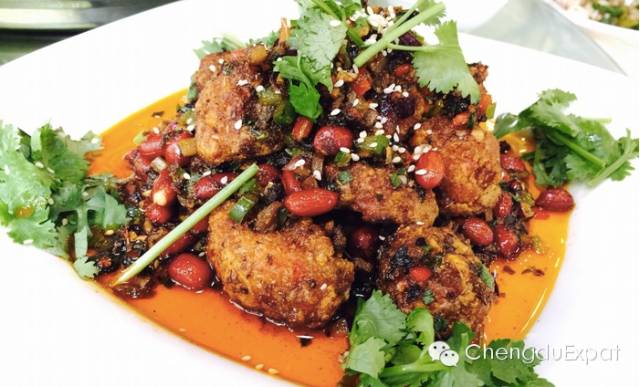 Yu Jiu Xiang has been open several months now and has built a pretty stellar online reputation. We get that the popular restaurant review sites are open to some manipulation as businesses get savier about their online and social media marketing, but there were enough posts with credible photos and descriptions to pique our interest, and the location right near the first ring and Yiguanmiao intersection makes it a convenient stop for many. 
  The menu is characters only and starts with the house specialties. The most popular one by far is a spicy rabbit dish 大盘兔, which we noticed on many tables. We passed it up in favour of a dry fried ribs dish named 大妈排骨, where the ribs appeared to have been stewed, then deep fried, then dry fried with a million different seasonings including onion, black beans, hot peppers and peanuts. Tender, crunchy, fragrant and showing a lot of different cooking techniques, this dish impressed us a lot. We also asked for the potato and bean dish 洋芋四季豆that was crazy delicious. They have a fried apple and corn dish (苹果玉米烙)that was a bit more sweet than savoury but was still pretty good. The boneless beef on an iron plate (铁板牛柳) came served on the advertised plate but wasn't sizzling, or very warm. The dish had a good amount of meat and the flavour was OK but was so much less interesting than the other dishes – we'll give it a pass next time. They have a full list of regular Sichuan homestyle dishes, but we think diners are better off ordering the restaurant's specials.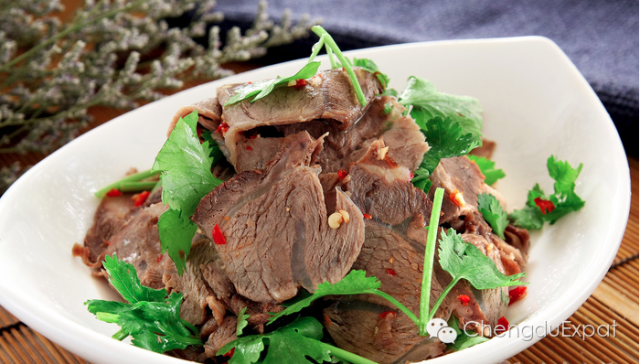 The servers were polite and could recommend dishes and explain ingredients, and the dining room was quite well run with most tables full and diners looking happy with their food. We left after a complicated session of bill splitting, not between guests but between the specials offered by the restaurant on a few different apps, and succeeded in shaving about 15% off our bill. The usual cost per person would be around 50RMB.
☎️ 028-86785196, 17713572990
Address: Yiguanmiao intersection 兴蓉东巷4号
10am-late
Charlie's Bakery and Pastry Workshop
There has been a wholesale western bakery in this alley off of Ruisheng Street for almost fifteen years, but we only recently noticed they'd opened a little spot with a few tables and a space for coffee. There is still no outside signage besides a placard advertising a soft opening (long past, according to staff) and fresh ground coffee and cakes.
The sweets on offer include tiramisu, a brownie, a few cheesecakes, a few kinds of mousse, a napoleon and a chocolate truffle cake. The staff told us that there was also a menu with western food – steak and such – but their cook has never been in when we've stopped to check. The brownie is gorgeous and dense with plenty of walnuts and a jam glaze topping. On our last visit, we enjoyed a caramel apple cheesecake with a nut and graham crumb crust and an apple jelly glaze. It had obviously been frozen at some point but was still very good. The mixed berry cheesecake we tried on another visit was fresh and perfect. If you don't have a sweet tooth, the menu offers both plain and cranberry grilled cheese sandwiches. The room has a big cooler that holds the cake selection of the day and a few of their raw ingredients, which we examined closely: the cheese is real, the cream veg style. We're going to keep sampling the menu but have a feeling we'll end up back at the brownie.
The space is small and the atmosphere varies with whatever is going on outside, which usually includes some of the buzz from Ruisheng Street. We think it's a pretty chill spot for a weekend or an afternoon, and there are spaces to plug in your laptop. Considering that most of the ten-and-under kuai coffees in town are grab and go, the value is fantastic. Americano 9RMB, latte 12RMB, all cakes and sandwiches 9RMB; Americano and cake 15RMB.
Address: 玉林芳草街36号瑞升南街28号
☎️ 85162041
8am-8 or 9 pm