Date Ideas In Chengdu
Date night nerves are definitely something everyone experiences whether you're a seasoned TanTan-er or a die heart romantic. Here are some of our favourite restaurants, bars and activities to ensure sparks fly.
Romantic Restaurants
This Thai Style Restaurant offers beautiful views of the city and island style decor. Perfect for summer evenings but make sure you reserve a table on the terrace with a view. It's hidden away in an apartment block and doesn't break the bank, so it has a quirky appeal.
160RMB/ person
萨芭蒂·高空花园餐吧
Address: LinYin Street No. 5, Wuhou District
林荫街5号(华西大厦B座二单元1902室,农商银行楼上,四川省地震局,四川大学华西校区东区旁)
A good steak is one of the finer things in life and Morgan's has some of the best steak in town. There's a huge variety of cuts, including dry aged steaks, as well as excellent traditional dishes. This coupled with a classy dining set up makes for a memorable dating experience.
RMB 240/person
摩根扒房
Address: Shop 5, No.9 Tongzilin South Road
武侯区, 桐梓林南路9号附5号
Fantastic Food in a Rustic Atmosphere
Gli Azzurri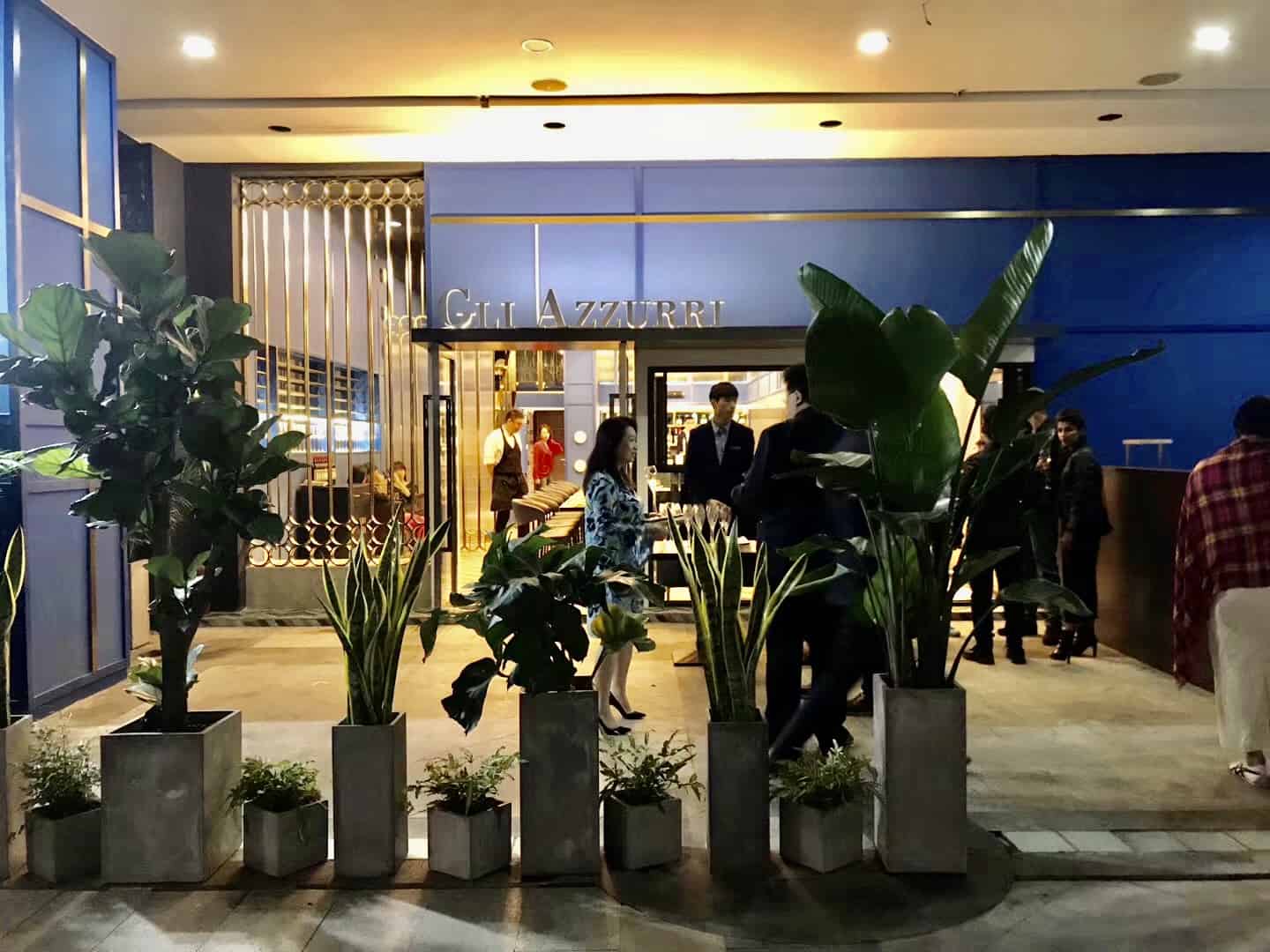 If the two of you are serious foodies, head to Gli Azzuri. The food is some of the best in Chengdu. With carefully-selected ingredients from Italy plus authentic cooking techniques, the restaurant's reputation precedes itself.
RMB 200/person
Address: Renmin Road Section 4, No. 48-32, Master Building Walking Street 1F
人民南路四段48号附32号,首座万里商业街1楼
Closest Metro: Line 1, Tongzilin Exit B
Phone: 13350896477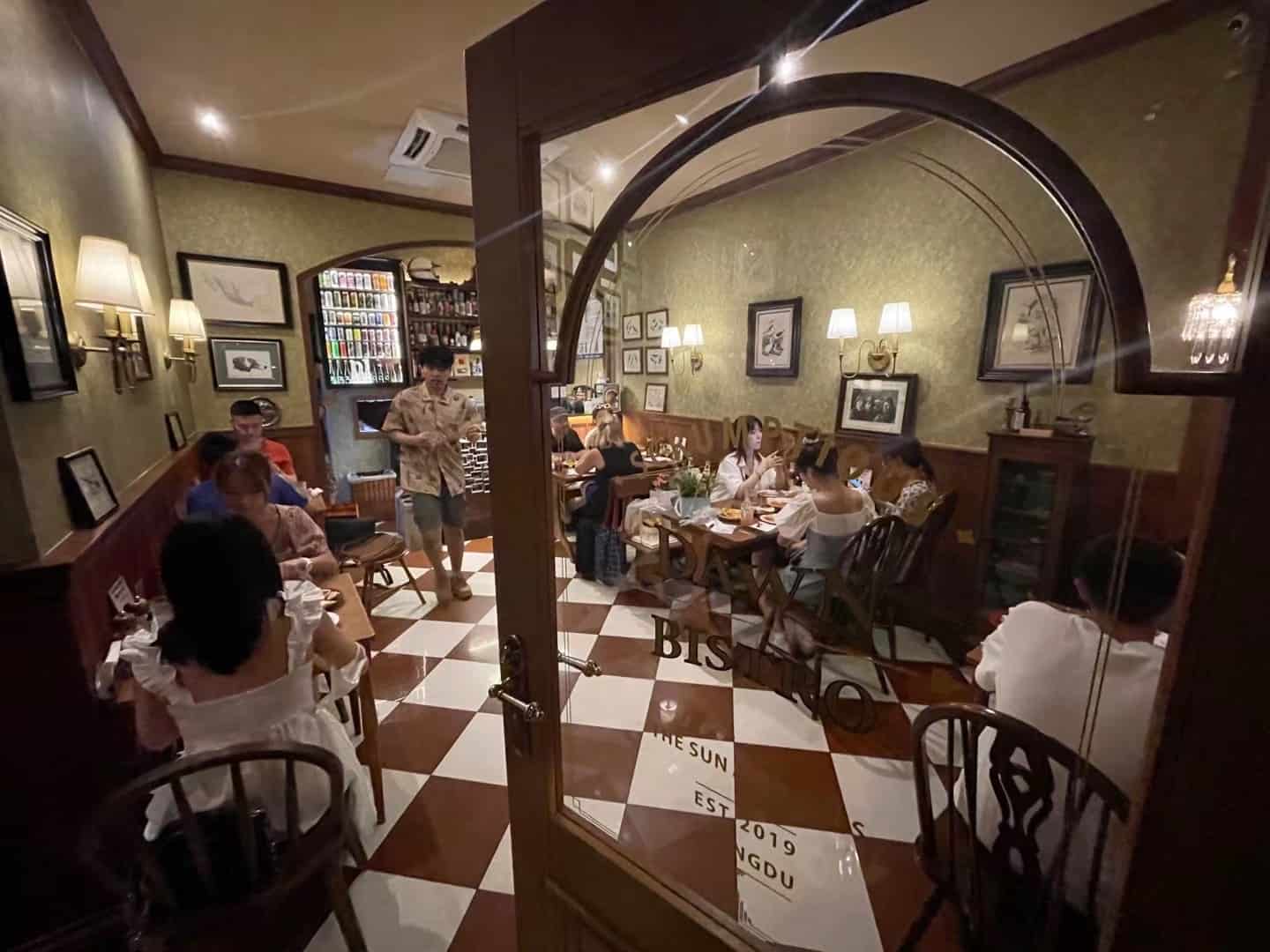 The compact menu of this pocket-sized bistro on the other side of the river to Wangping Street has Tex-mex classics like nachos, quesadillas, burgers, and steaks. They have a really extensive range of (canned) craft beers, and juices. The place is crying out for a cocktail list – it would be the perfect place to enjoy an Old Fashioned, or Whiskey Sour after work.
Opening time: Daily, 15:00-22:00
Price: Ranges from RMB 68-120
Address: No. 29 Dong'an South Road, Jinjiang District 锦江区东安南路29号
Stylish but Funky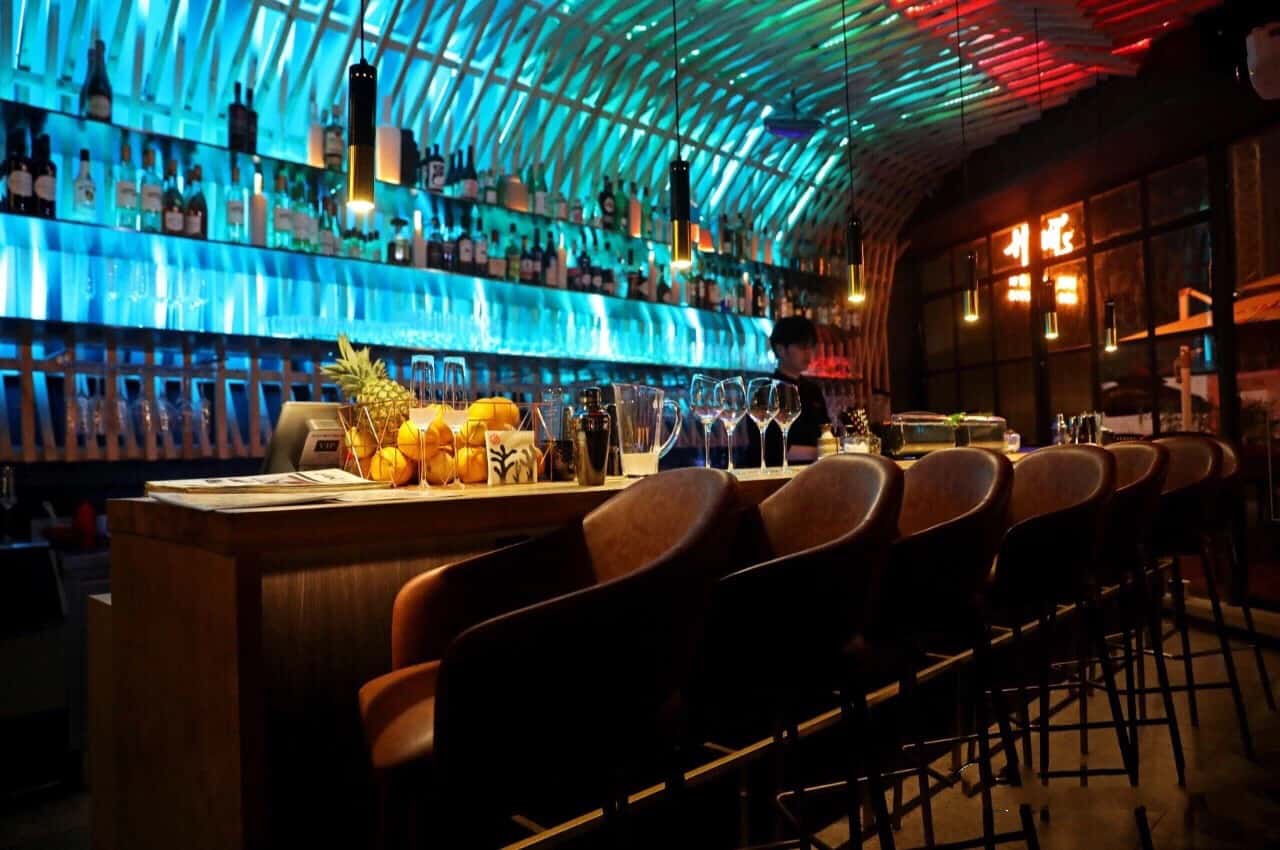 RMB 200/person
Address: No.8 Shuangqing Road Chenghua District  成华区双庆路8号(万象城南庭一楼155号)
​Opening time: Sunday-Wed 10:30am-00:30am, Thursday-Saturday 10:30am-01:00
Wine & Cocktail Bars
Cocktails and People Watching
JING Bar
If you're looking for relaxed drinks then JING Bar is a great choice. It has an extensive menu of classc cocktails as well as other delicious imported drinks. Its vibrant decor makes for a relaxed and informal setting. With both an indoor and outdoor lounge setting, you can choose to either get cosy inside or snuggle up together by the outdoor heaters.
RMB 160/person
井吧
Address: The Temple House, 81 Bitieshi Street, Jinjiang District
锦江区笔帖式街81号,
Opening time: 4pm – 1am
Ritz-Carlton's rooftop bar is definitely a location that will impress. Its incredible city views and grand decor make for a romantic backdrop. The bar has an extensive list of wines, malt whisky as well as an indulgent selection of tapas and other snacks.
RMB 160/person
Address: 27/F, The Ritz-Carlton, Chengdu, 269 Shuncheng Ave.
顺城大街269号成都富力丽思卡尔顿酒店27楼.
This new wine bar offers first-rate wines, superb food platters, combined with a relaxed and elegant atmosphere. The 3 french owners bring an authentic touch to the place, always finding time to help you choose wisely. With all the clubs in Lan Kwai Fong just across the road allows you to extend your night with a post drink boogie.
RMB 80/person
公鸡先生
Address: Tangba Street No. 8
镗钯街8号
Stylish Cocktails in Central Location
Whisper Bar
This stylish cocktail/whisky bar has an elegant 1920s feel and offers really really good cocktails. It's just opposite the Poly Centre and has 2 floors of cosy, low lit tables with great service and drinks. Perfect for an after dinner drink with someone who really knows their whiskeys.
RMB 160/person
Address: Poly Center Tower C, Consulate Road No. 9 – 35 [across Tims Bar-B-Q]
保利中心C座,领事馆路9号附35号
Take your date to one of Chengdu's biggest landmarks. The Bridge is a contemporary whiskey bar and restaurant overlooking the river on the iconic Anshun Bridge. Treat yourselves to a view that graces many a Chinese postcard alongside some great cocktails, wines and whiskeys.
RMB 90 for a cocktail
Address: No,66 Bingjiang East Rd. Jingjiang District.
成都市锦江区滨江东路66号
Intimate and Sophisticated Drinks
Lotus Palace Bar
Again not far from Lan Kwai Fong, or the perfect walking distance from Gli Azzuri, this European style bar offers a very intimate and relaxed setting for your date. Frequened by Chengdu's hip and in the know – this place will charm even a seasoned Chengduer.
RMB 90-100/drink
Address: No.5 QinglianShangjie Hejiangting St.
合江亭街道青莲上街5号附5号
Opening time: 10am – 3am
Fun Activities
Machu Picchu is a creative local bar, which regulary attracts many talented performers for the open mic night on Thursdays. This transforms the cosy bar into a busy, noisy, high energy place. If you want somewhere with a live sound track for your date and plenty to talk about – or even want to show off and perform, then this is the place for you.
RMB 50/person
Address: 1-5, North Yulin St.
玉林北街1号1栋附5号(玉林品上临街商铺)
Get Your Hearts Racing
Go Karting
If taking things slow isn't your style, Speed Panda Go Karting is right up your street. Have some friendly competition with your date and get your pulses racing. Perfect to either break the ice on a first date or to give a nice change of pace in an existing relationship.
RMB 130/person
Address: Fun2 Shopping Mall, 339 Television Tower (East Chengdu)
成都339欢乐颂4楼(四川电视塔)
Explore
Escape the City
Flower Town
Escape the city centre together and head to luscious flower town. The series of villages are famous for selling, you guessed it, flowers but now the area has become a perfect weekend getaway. There are plenty of places to have all-you can-eat barbeque by the river or even have a drink at Morning House 早上好. Grab yourself a shared bike and explore this peaceful area, just a short didi ride from the city centre.
Free
Address: Jinjiang District, Sanshengxiang
锦江区三圣乡
Gastronomic Exploration for Two
Chengdu Food Tours
If you're looking for some local flavour, check out Chengdu food tours. You and your date can bond over your favourite (or not so favourite) Sichuanese dishes whilst soaking up the local culture. Guided expertly by an experienced team and tailored specifically to your needs, this is a unique experience you can have together, exploring old neighbourhoods, markets and eateries you may not have been to before.
RMB 400/person for standard tour
[Tailored tour for 2 on request, locations depend on tour]
WeChat ID: Jprocknroll
Adventurous Getaway
                                                    Andaman Eco-Tourism Village

Do you love the outdoors and have and a bit of an adventurous side? Andaman Village in Dujiangyan got you covered! Zip lining, rope course, free fall, rock climbing, canoeing, kids activities, hiking and MORE. If you plan to stay overnight, they have different options ranging from camping to luxurious tree houses.
You can reach Dujiangyan by high-speed train from Chengdu (north) Railway Station or Xi Pu Station (成都火车站/ 成都犀浦 – 都江堰站). It takes 30 minutes and they run frequently. A Didi from Chengdu will take around 1.5 hours.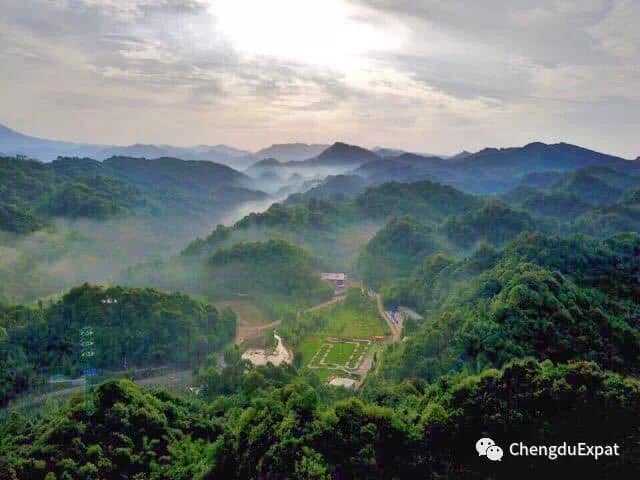 Andaman Eco-Tourism Village
都江堰·安缇缦生态旅游度假区
Address: Dianyexiang Valley No. 3, Xiang'e County, Dujiangyan
都江堰市向峨乡爱莲社区电业巷3号
Local Art Appreciation
Nu Space
Nu Space is a creative work space in an old part of town, Qingyang. Providing a multi purpose space for art shows, music concerts and video exhibitions, it's the perfect place to check out some local art together. If you don't want to go to an event or there simply isn't one on, the space always has interesting pieces up to admire. The area itself is al so worth exploring with a lot of cool things hidden away as well as the famous Wide and Narrow Alleys nearby.
RMB 80-150 for events
Address: Kuixing Street, Qingyang District, No. 55 Street
成都市青羊区奎星楼街55号
ADD: Fields,