Don't miss the chance to have your voice heard by helping award those communities, places, and people that made living in Chengdu so special in 2019 and encourage them to keep doing better. Nominations through our official WeChat account will be open from January 1st to 5th. Instructions to participate in the nominations and categories are listed below.
How To Nominate?
•1•
(If you haven't added us yet) Scan the Chengdu-Expat official QR code below
Or Search Offical WeChat ID: ChengduExpat
•2•
Message us with your nomination for each category (Appreciated if you nominate at least for half of the categories)
You can copy and paste the categories from the list below.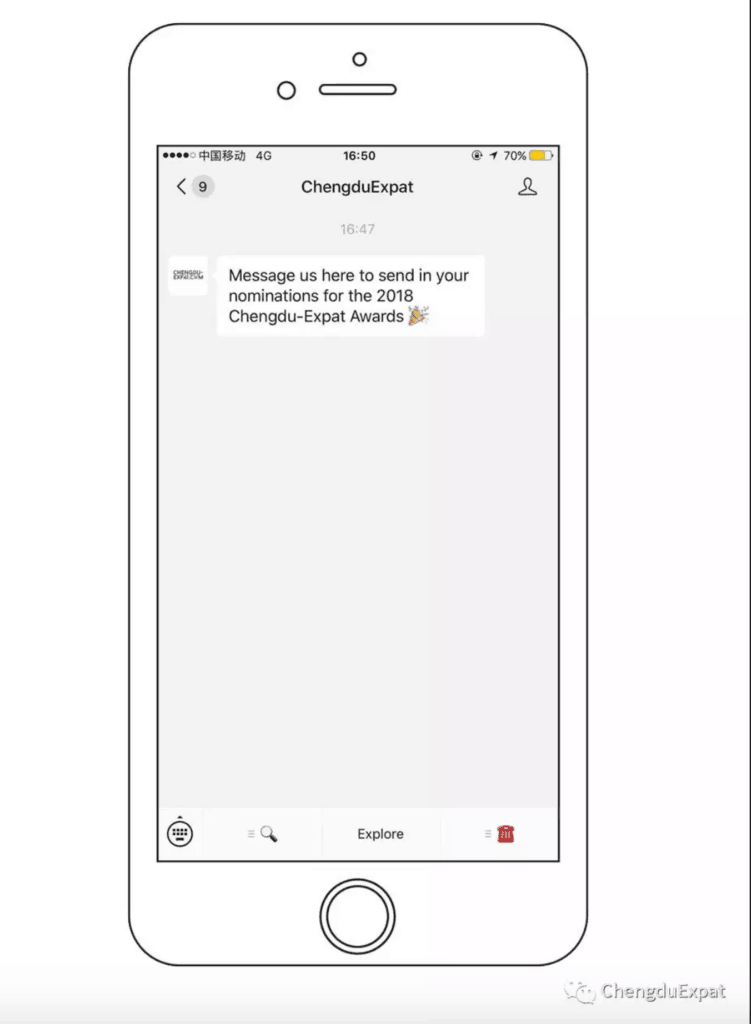 •3•
The top ten most nominated in each category will go through public voting from the 6th to 13th of January 2020.
Don't miss your chance to have your voice heard!
🏆 The Categories
🎵 Best Nightclub
🏨 Best Hotel
🍸 Best Cocktail Bar
🍷 Best Wine Bar
🍺 Best Beer Bar
🍽️ Best Western Restaurant
🥢 Best Asian Restaurant
🥐 Best Café Bakery
🛵 Best Delivery Service
♥️Hospitality of the Year
(venue or person with friendly and generous reception and entertainement of guests)
🎉 The Event of the Year
🎊 Best Reoccurring Event
🤸Best Sporting Community
💡Best Newcomer
How to Celebrate?
Don't miss out on a night of glitz and glamour, at the Grand Hyatt's decadent Xi•Mi. Walk the red carpet, enjoy the live band, catch views of the city and celebrate the people and communities that make Chengdu so great to live in on Friday 17th January 2020.
Presale Tickets are on sale till January 12th.
120RMB, incl. 2 drinks
⇣
17th January 2020
19:30 – 22:30
No.8 South Chunxi Road, Jinjiang District
锦江区春熙路南段8号