2020 Chengdu Easter Specials
This weekend is Easter weekend! Don't know yet what to do and how to make this a special one? Check out the following venues. We have it all from Easter Sunday brunch to a big Easter Egg Hunt. Chengdu's F&B are ready to welcome you to celebrate 2020 Easter Weekend in Chengdu.
Easter Egg Painting at Niccolo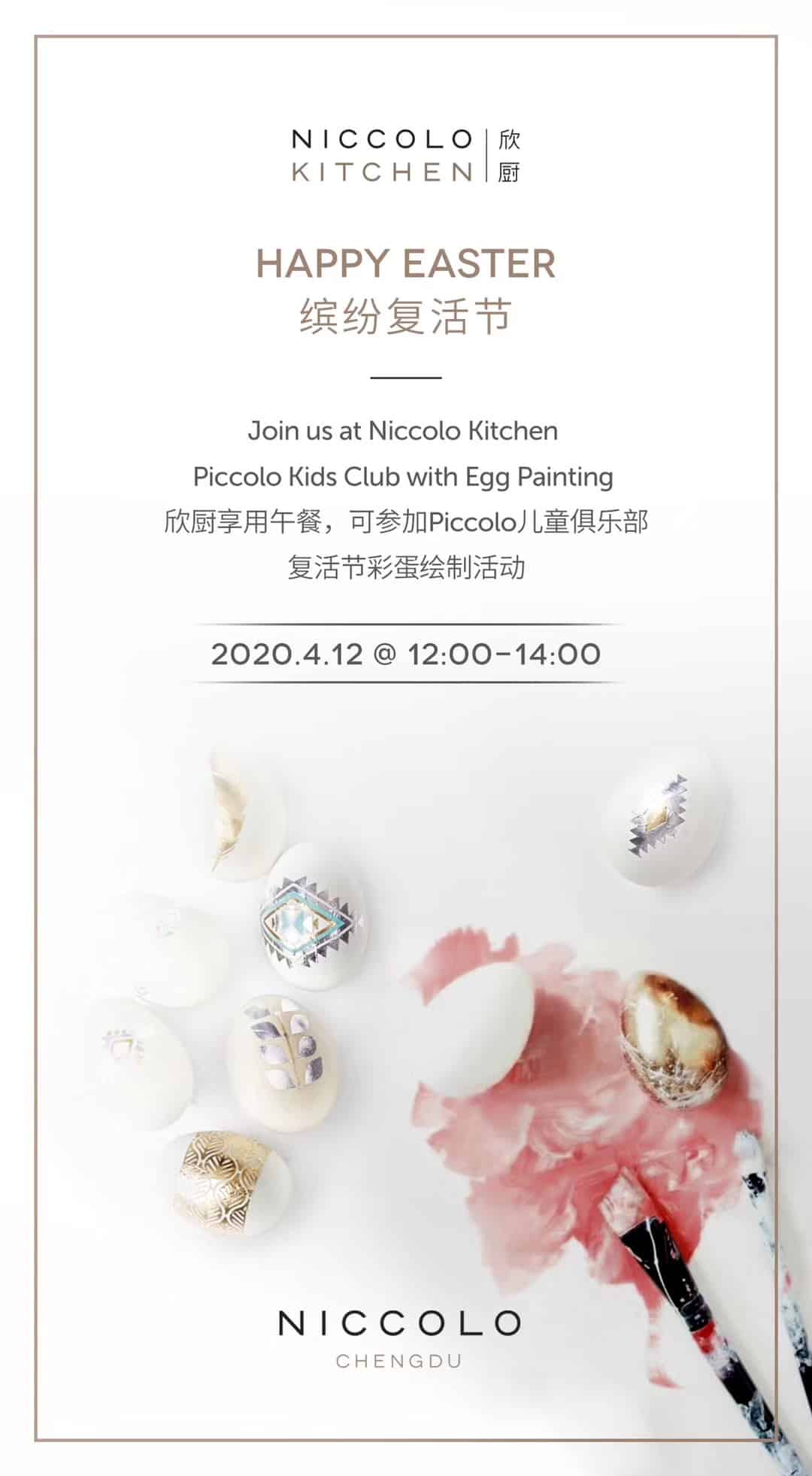 Details:
Sun. April 12th, 12.00 to 14.00
Address:
Tower 3, Chengdu IFS, No.1, Section 3, Hongxing Road, Jinjiang District, Chengdu, Sichuan 610021, China.
锦江区红星路3段1号国际金融中心3号楼(IFS)L1 (成都尼依格罗酒店, 欣厨)
Tel.:
028-68719881
Easter Weekend Garden Brunch at Temple House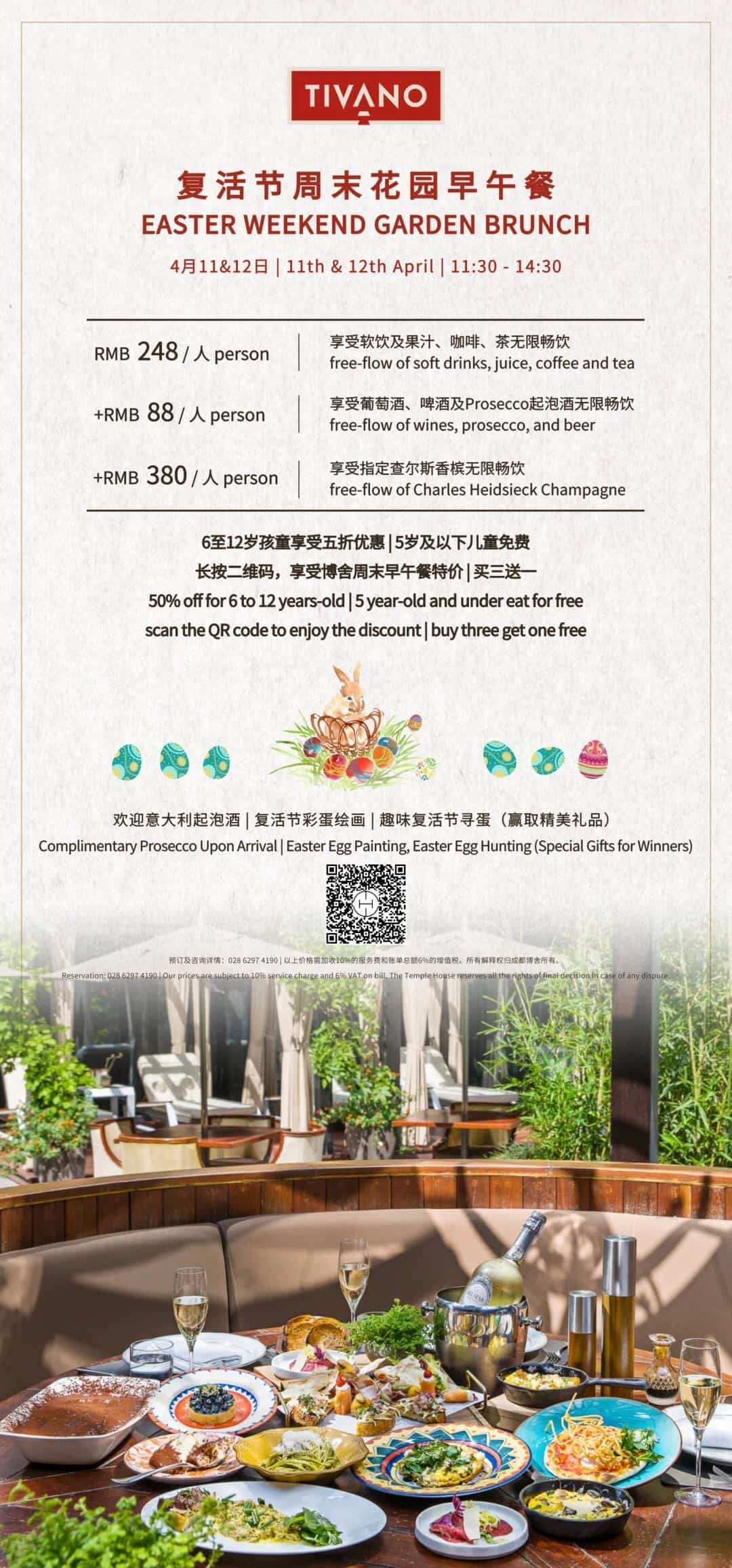 Details:
Sat. & Sun. April 11-12th, 11.30 to 14.30
Price:
For Adults
Standard: 248RMB (free flow of soft drinks, juice, coffee and tea)
+88 (free flow of wines, prosecco, and beer)
+380 (free flow of Charles Heidsieck Champagne)
For Kids
6-12 years old: 50% off
under 6 years old: free
Address:
 81 Bitieshi Street, JinjiangDistrict 锦江区笔帖式街81号
Tel.:
028-62974190
Easter Day at Canopy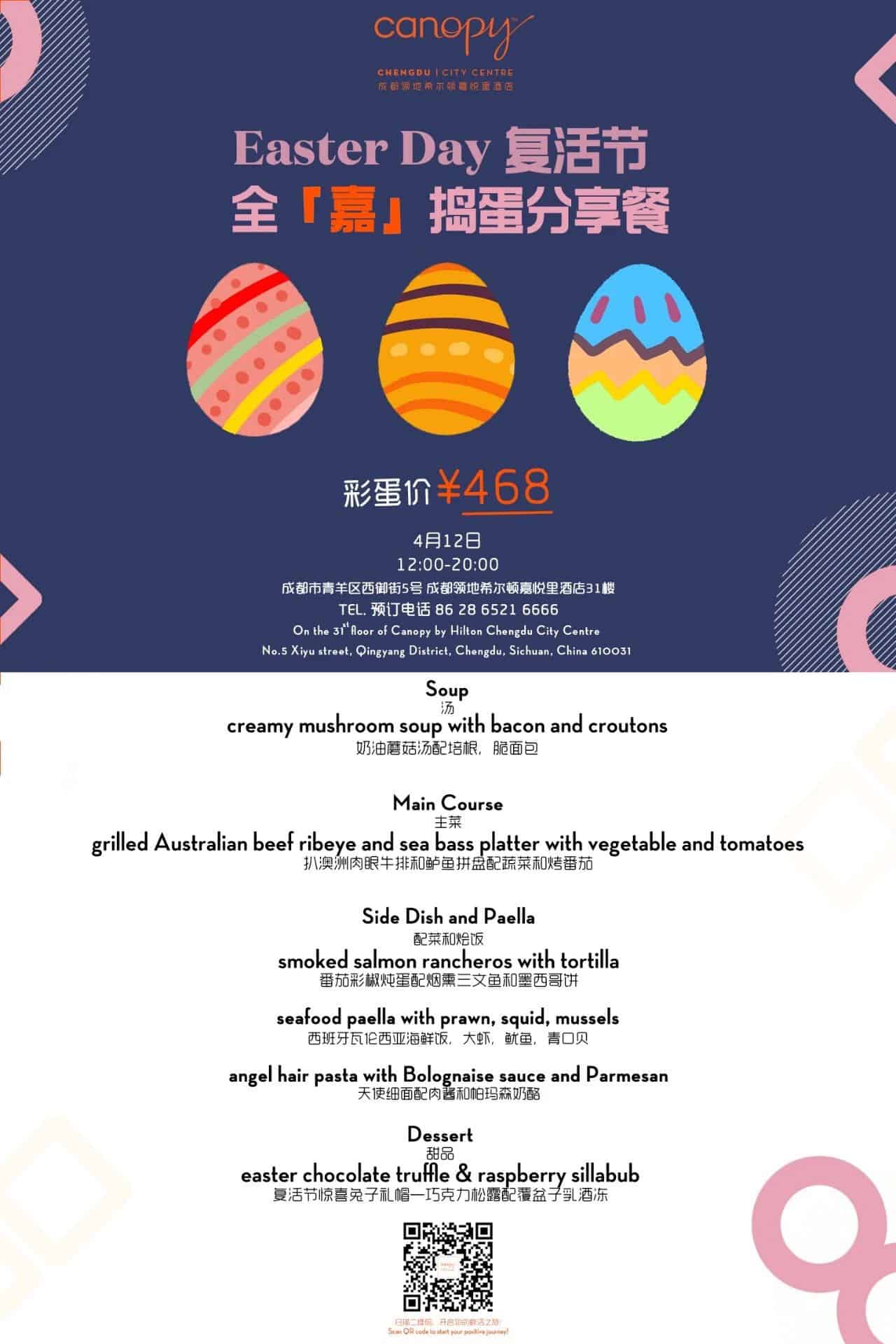 Details:
Sun. April 12th, 12.00 to 20.00
Price:
468RMB
Address:
Canopy by Hilton Chengdu City Centre 
Address: No5, Xiyu Street, Qingyang District 青羊区西御街5号
Tel.:
028-6521 6666
Easter Indulgence at Waldorf Astoria Chengdu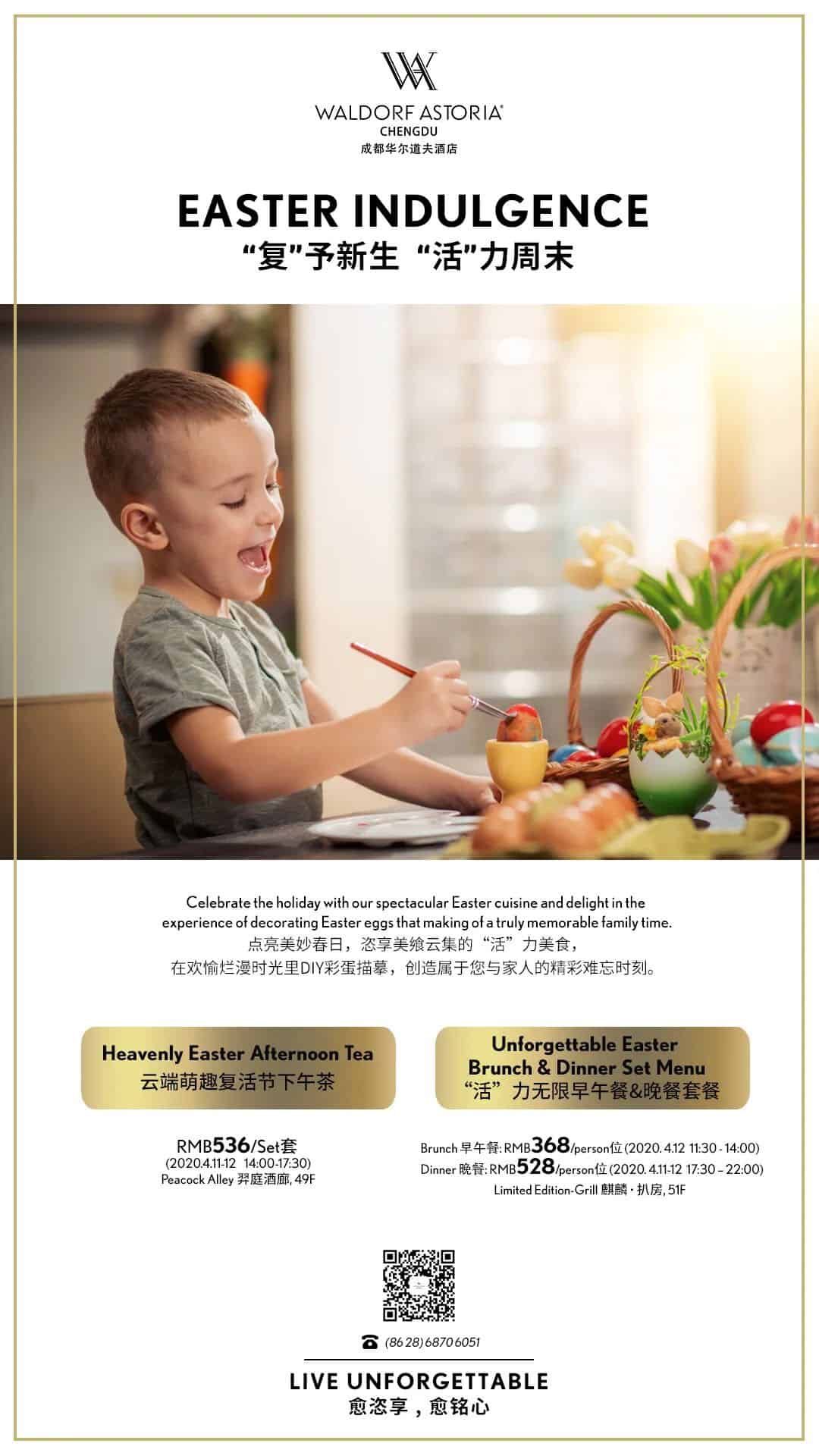 Details:
Sat. & Sun. April 11-12th
Price:
Peacock Alley Afternoon Tea:
536/set
Limited-Edition-Grill:
Brunch: RMB 368/person
Dinner: RMB 528/person
Address:
No. 1199 Tianfu Avenue North, Chengdu, 610041, China 成都市高新区天府大道北段1199号 
Tel.:
028-68706051
Easter Grand Sunday Brunch at Fairmont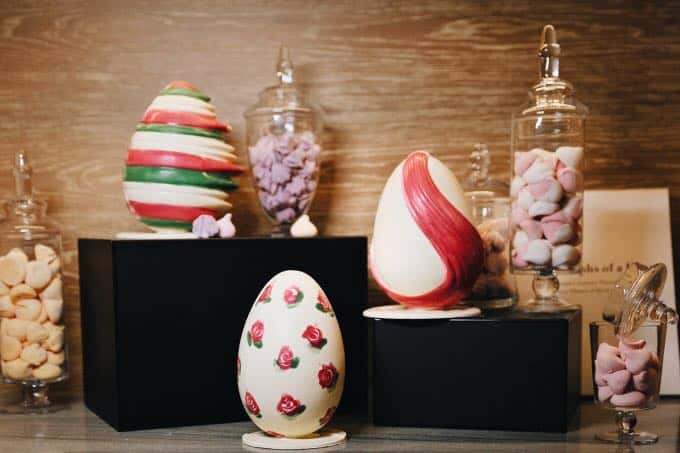 Celebrate Easter with Fairmont Chengdu's Grand Sunday Brunch. Enjoy a lavish Easter Brunch featuring a decadent array of traditional Brunch favourites, including seafood, sushi & sashimi, plus Chang Yi Chinese signature dishes, and Barbecue station, International pastries and Easter chocolates from Master Pastry Chef Susan.
– For the Kids –
Visit the Easter Clown, and take part in the traditional Easter egg hunt and egg painting competition.
Bubbles, beer & wine, or mocktails & fresh juices, your choice
Details:
Sun. April 12th , 12.00 to 16.00
13:30 – 14:00
EGG HUNT
14:00 – 14:30
EGG PAINTING
12:00 – 16:00
CLOWN PERFORMANCE
Price:
For Adults
288/388 per person
Family Package(including 2 adults and 1 child under 12 years old)
578/778
free flow of bubbles, beer & wine
Child under 5 years old for free, between 6 to 12 years old will charge CNY 140 net/ pax
Address:
269 Tianfu Middle Avenue, Hi-Tech Zone, Chengdu,
成都市高新区天府大道中段269号
Tel.:
028-80648543
Easter Day at Shangri-la Hotel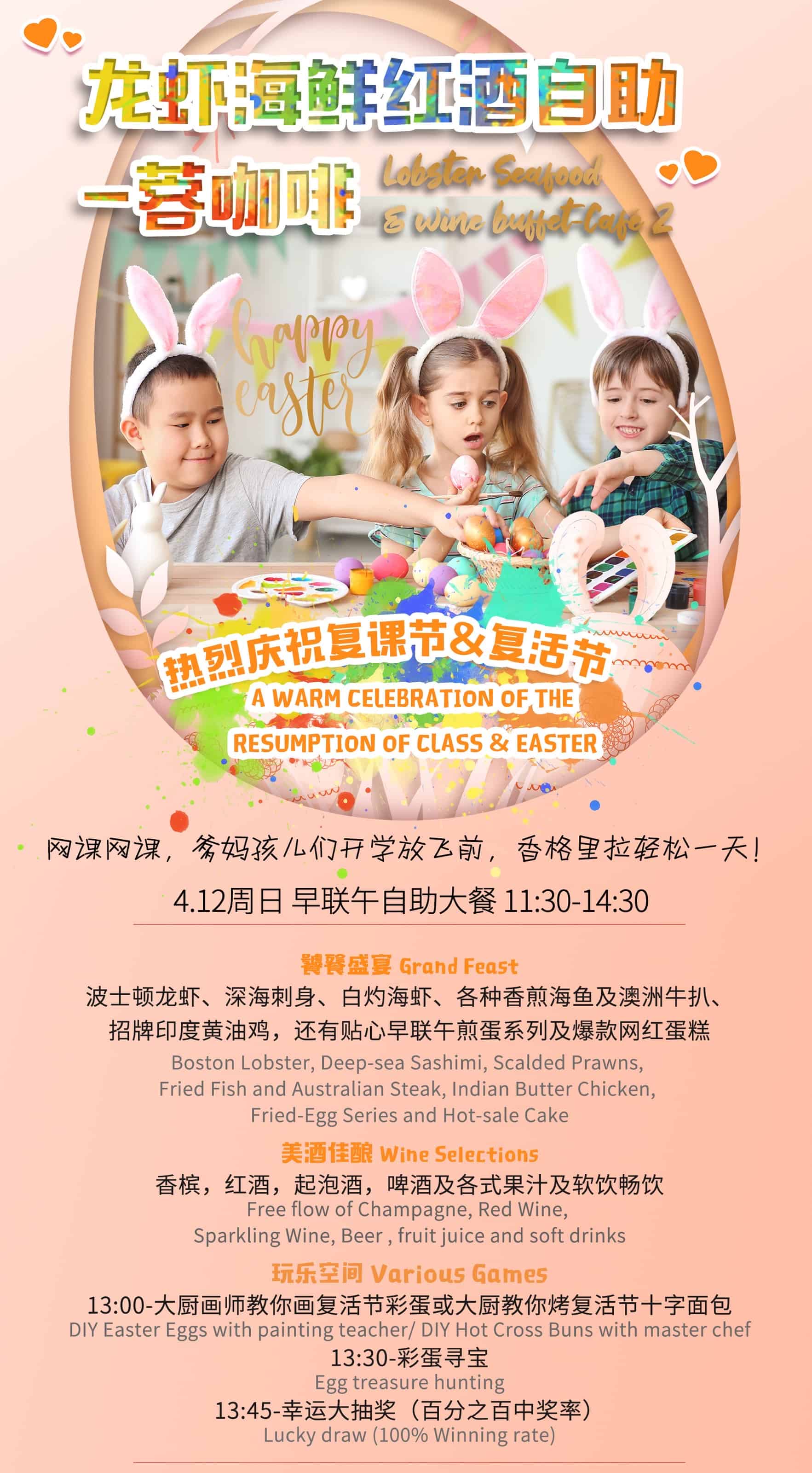 Details:
Sun. April 12th
Price:
396 per person
Address:
9 East Binjiang Rd. 滨江东路9号
Tel.:
028-88889999
Happy Easter Day with Bucciano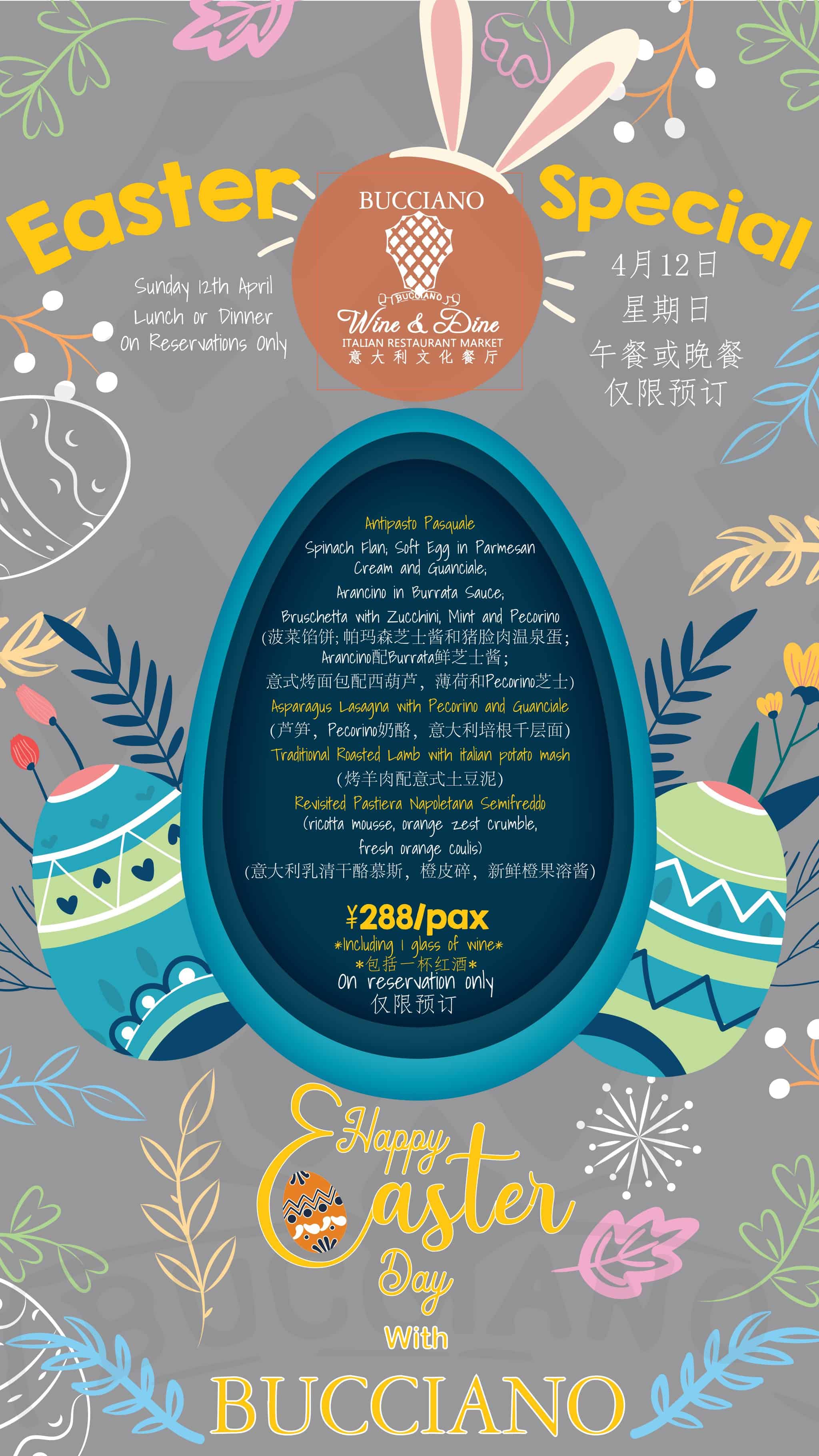 Easter is at the door, choose Bucciano to celebrate with your loved ones!
wonderful easter themed menu in true Italian spirit at ¥288/person.Reservation only
复活节到了,选择阿布奇诺与你爱的人一起庆祝吧!
我们推出真正意大利精神的复活节主题菜单(288元/人的优惠价格) 仅限预订
Details:
Sun. April 12th , Lunch or Dinner
Price:
Address:
GaoXin District, XinJieLi 6 No265 HuiJin Road Building 1, 1st Floor, 1031
成都市高新区新街里6荟锦路265号一幢一楼1031号
Time: 11:30am- 2:00pm 6:00pm- 11:00pm
Tel.: 18583750921
Easter Egg's Painting at Peter's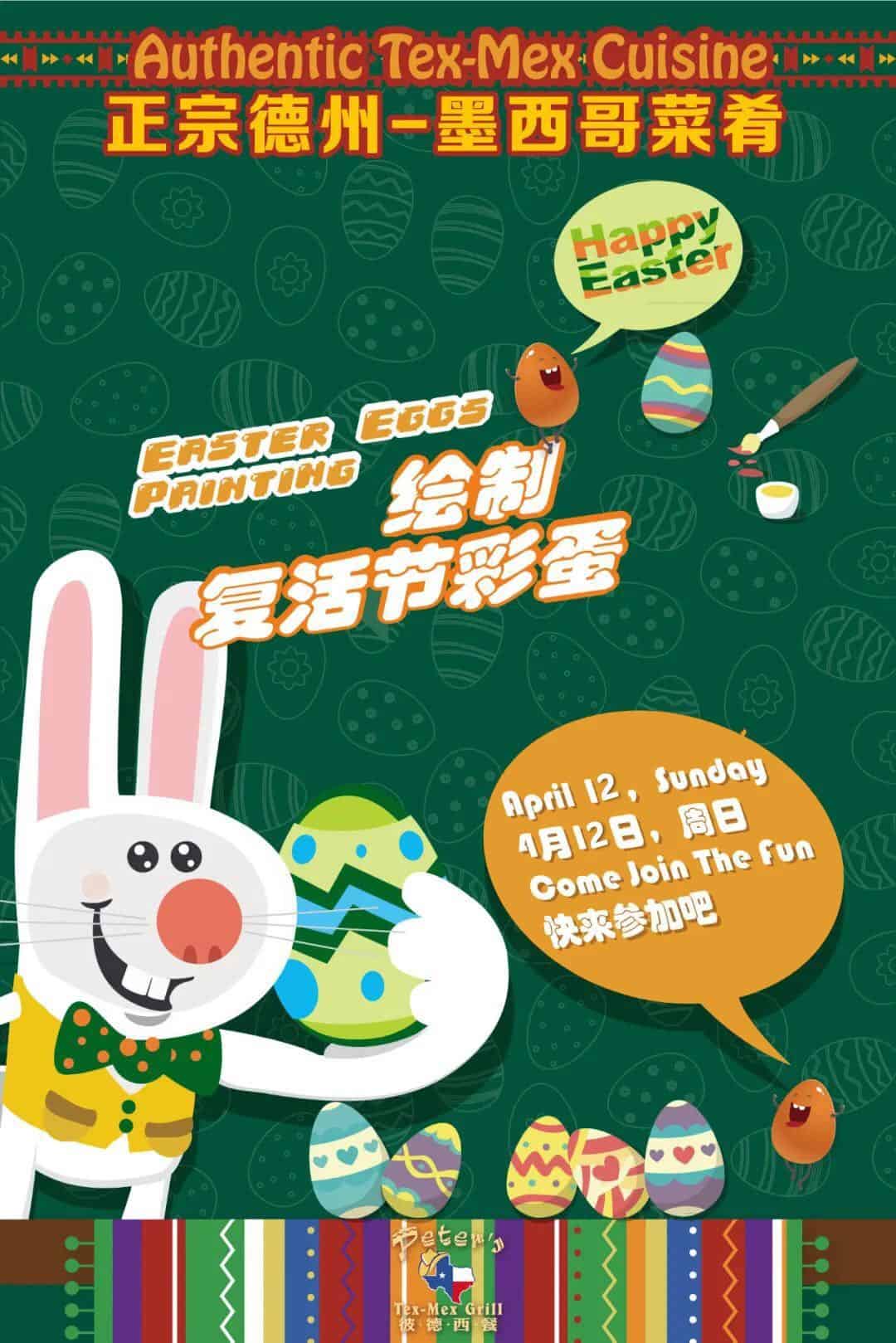 Details:
Sun.  April 12th
Deal:
kids brings their own easter egg this weekend can exchange a free vanilla ice cream (100g)
Address:
Peters Tex Mex
 117, North Kehua Road科华北路117号,85227965;
34, Jinxiu Road 锦绣路34号, 85253506;
April 12: Easter BAR-B-Q @The Beer Nest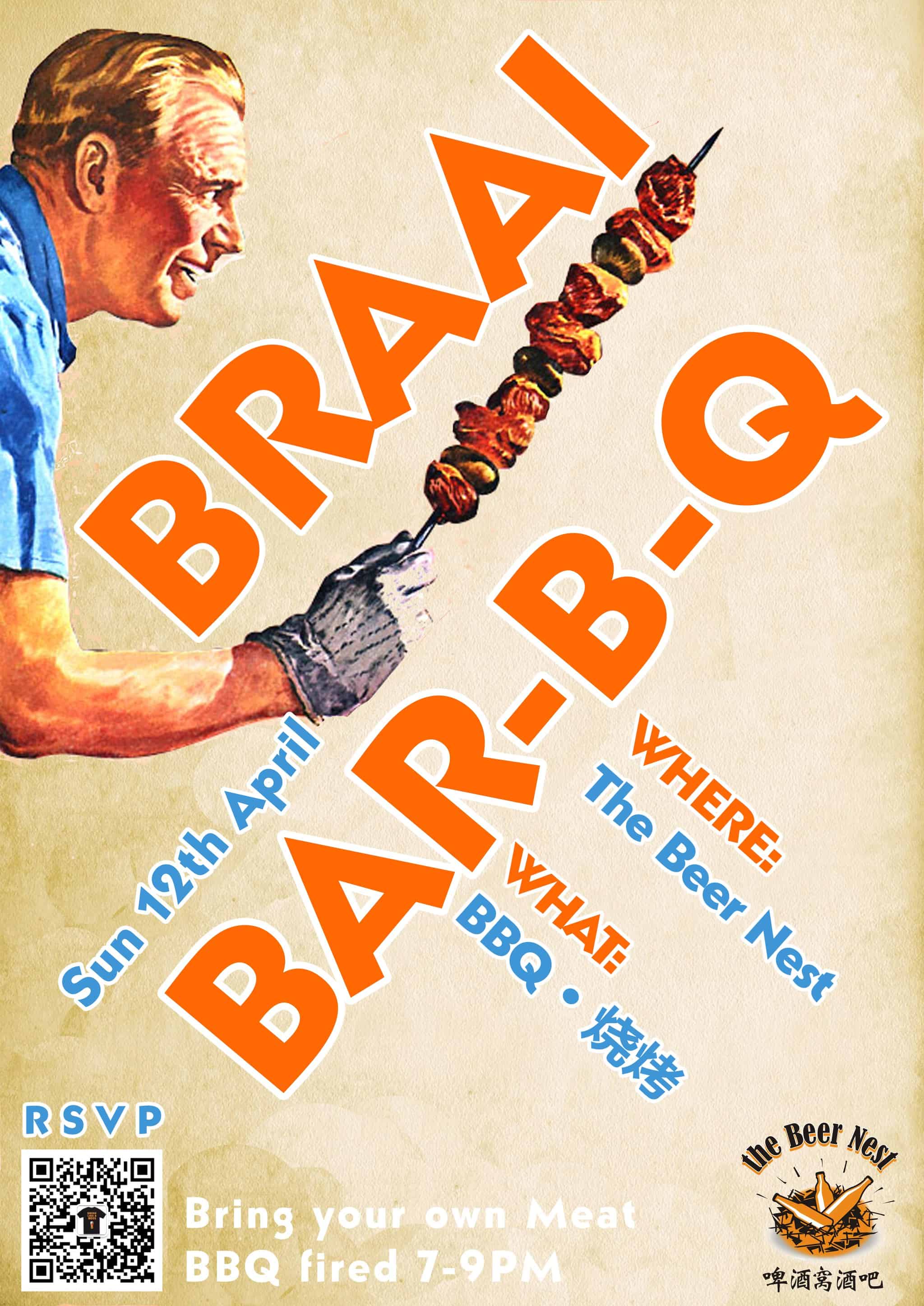 The Beer Nest hosts a special Easter Barbecue – meat 🍖 drinks 🍻 friends 👯 and merriment.
Every country around the world has some form of barbecue culture that stems from the same origin, whether it's an American cook-out, an Australian shrimp barbie, a South African BRAAI or the infamous Chinese shaokao, we all enjoy the taste of meat cooked on an open flame. Bring your own Meat and join us!
Time
April 12
19:00-21:00
Location
The Beer Nest 啤酒窝
武侯区锦绣路34号附7号
Wuhou District, Jinxiu Road 34-7
Ticket
FREE 免费
扫描下方二维码预定席位
Scan the QR code to reserve your spot