On December 18th 2020, Chengdu opened four new metro lines (and an extension to metro line 18), bringing the number of metro lines in the city to 13. The new lines have brought the total length of Chengdu's far-reaching metro system to 558 km.
Line 6, the first phases of lines 8, 9 and 17, as well as the eastern section of Line 18 have been opened. Line 18 links Chengdu's city proper with its new airport, the Chengdu Tianfu International Airport, which is slated to begin operations next year. An automated train system has been deployed on Line 9. Trains on the line can automatically run, stop, turn on, and carry out inspections.
​The Chengdu Metro launched its first line, Line 1, in 2010. So far, it has transported more than 6 billion passengers, with the average daily number of passengers exceeding 4 million.
Below the updated metro map, detailed map of each line, and additional information.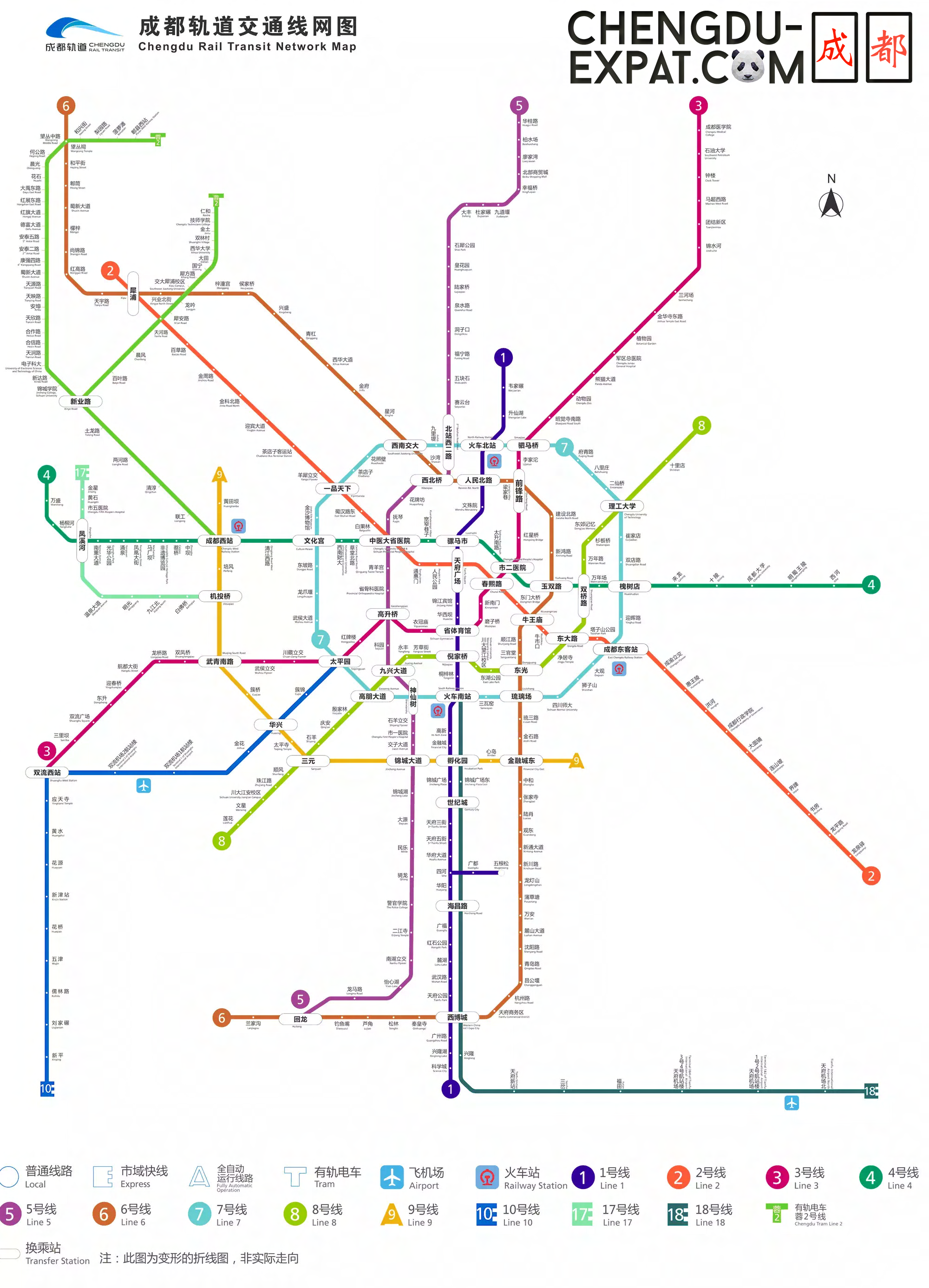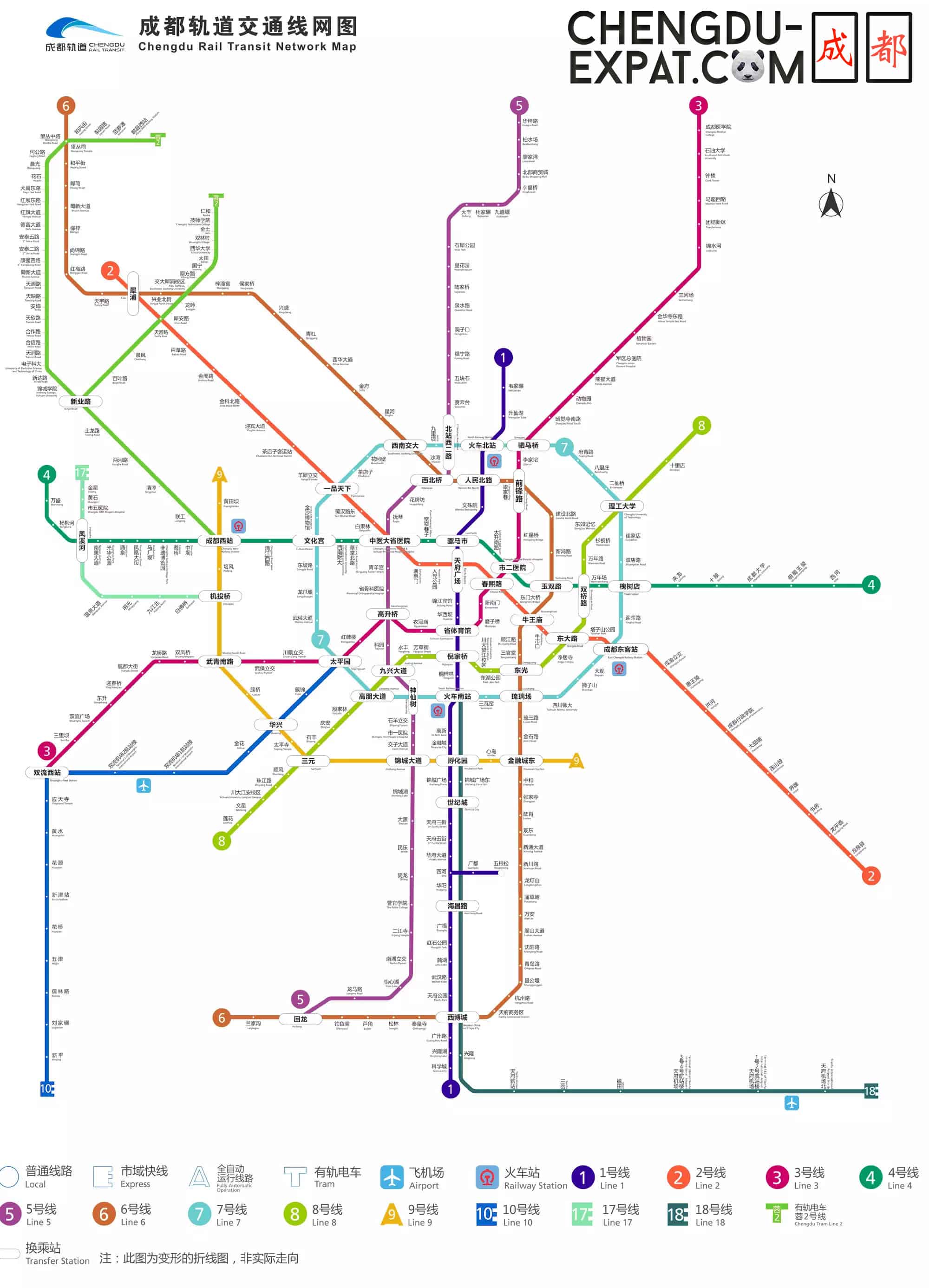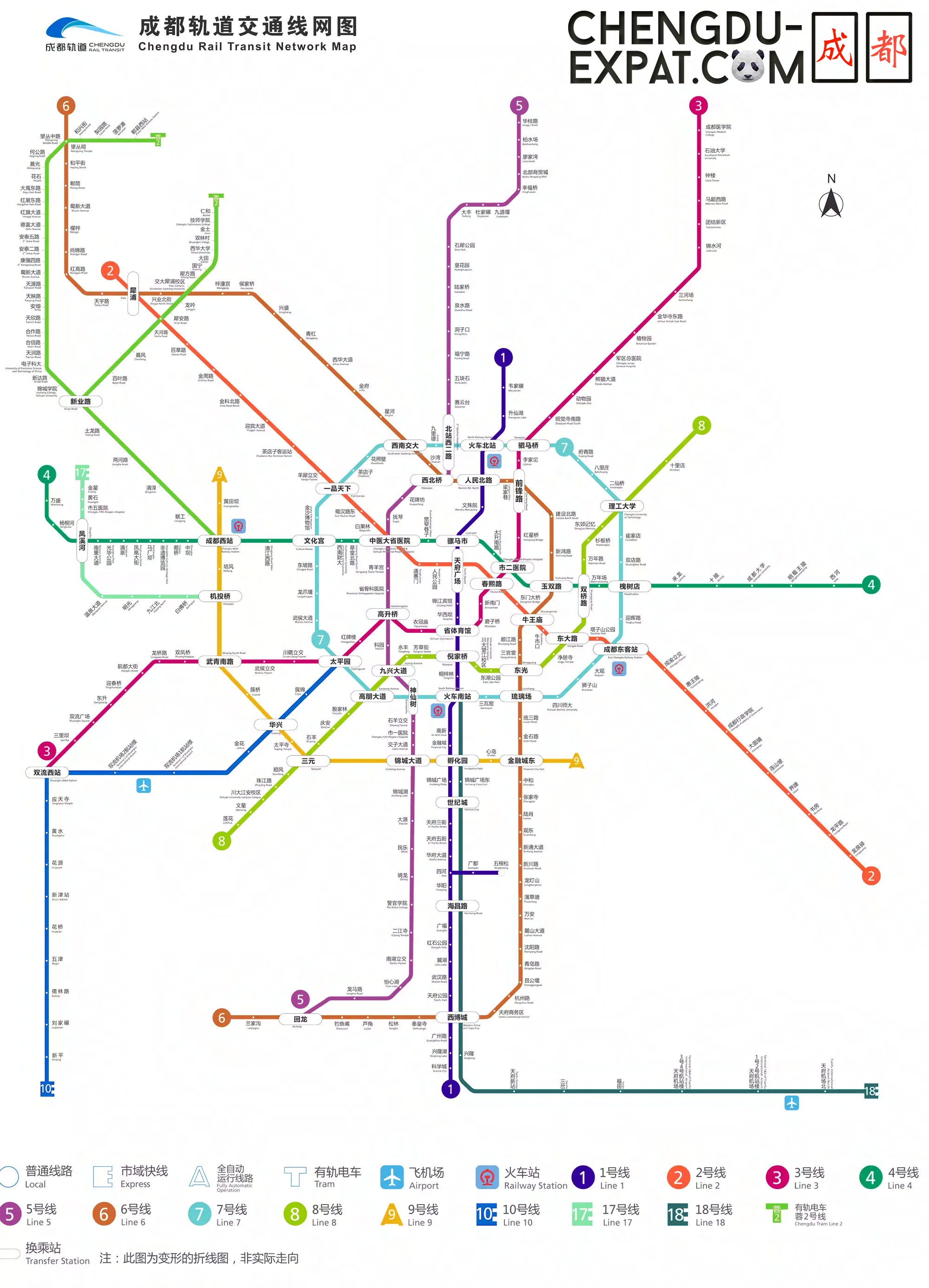 2020 Chengdu Metro Map
First Train: 6:10
Last Train: 23:00
Example for Line 17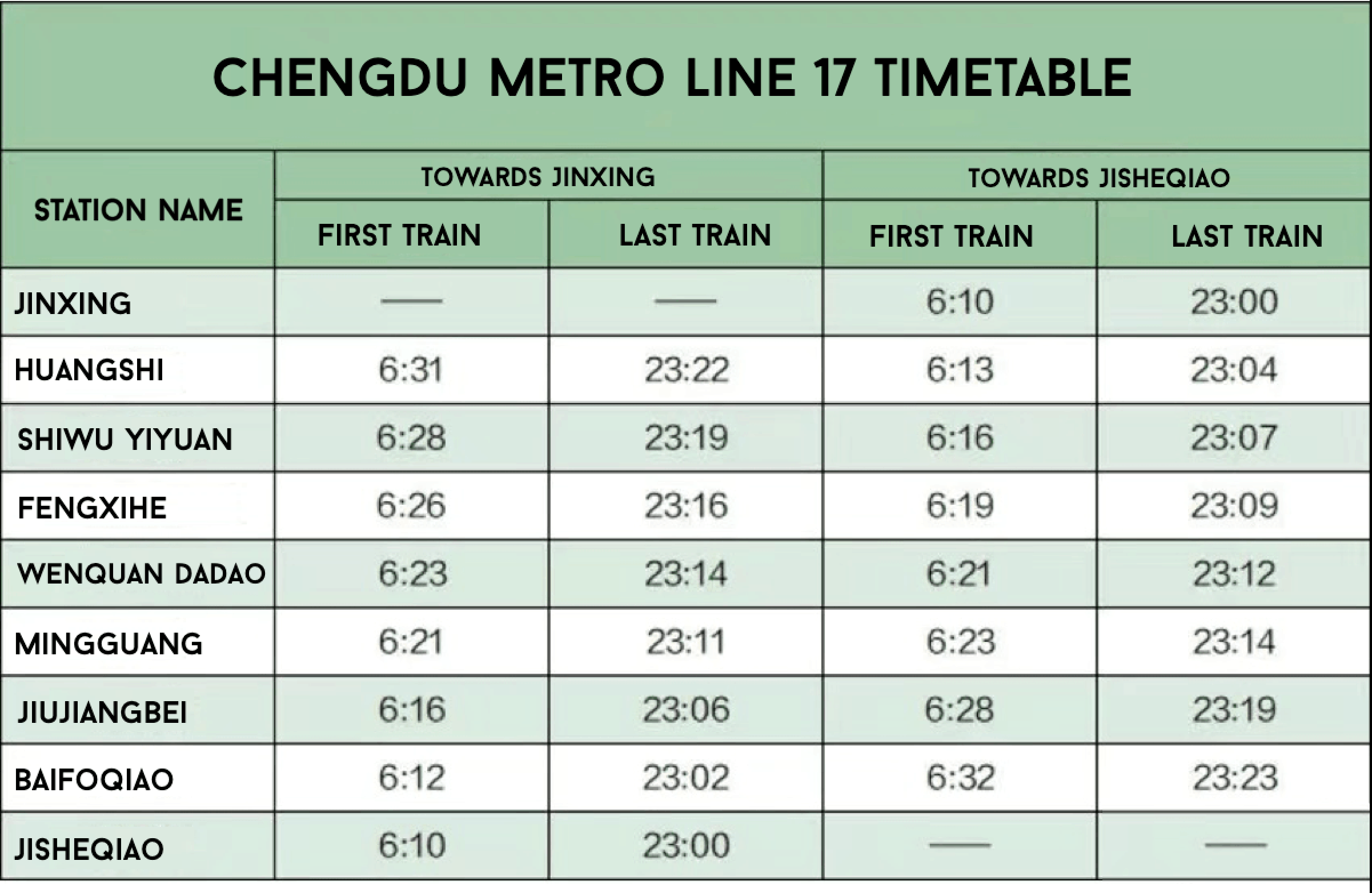 Chengdu Metro Lines Under Construction:
Line 6: Zhengjialin – Taiqing Road
Line 8: Xiejiaqiao – Longtansi East
Line 9: Outer Circle
Line 11: East Railway Station – Xinjin West & Huanglongxi
Line 12: Luodai North – Yanhe Community
Line 13: Sichuan Normal University – Longquan South
Line 14: East Railway Station – Luodai North
Line 15: Jintang Sanxing – East Railway Station & Qianfeng Road
Line 16: North Railway Station – Chaoyang Lake
Line 17: Sichuan Normal University – Shuangliu West Railway Station & Yiyuan
Line 18: Tianfu International Airport – Lidun Park & Mount Qingcheng – Pengzhou
Line 19: Baihe – Yong'an South
Line 20: Xindu East Railway Station – Pengzhou
Line 21: Hongguang North – Jinma North
Chengdu Metro Lines Timetable: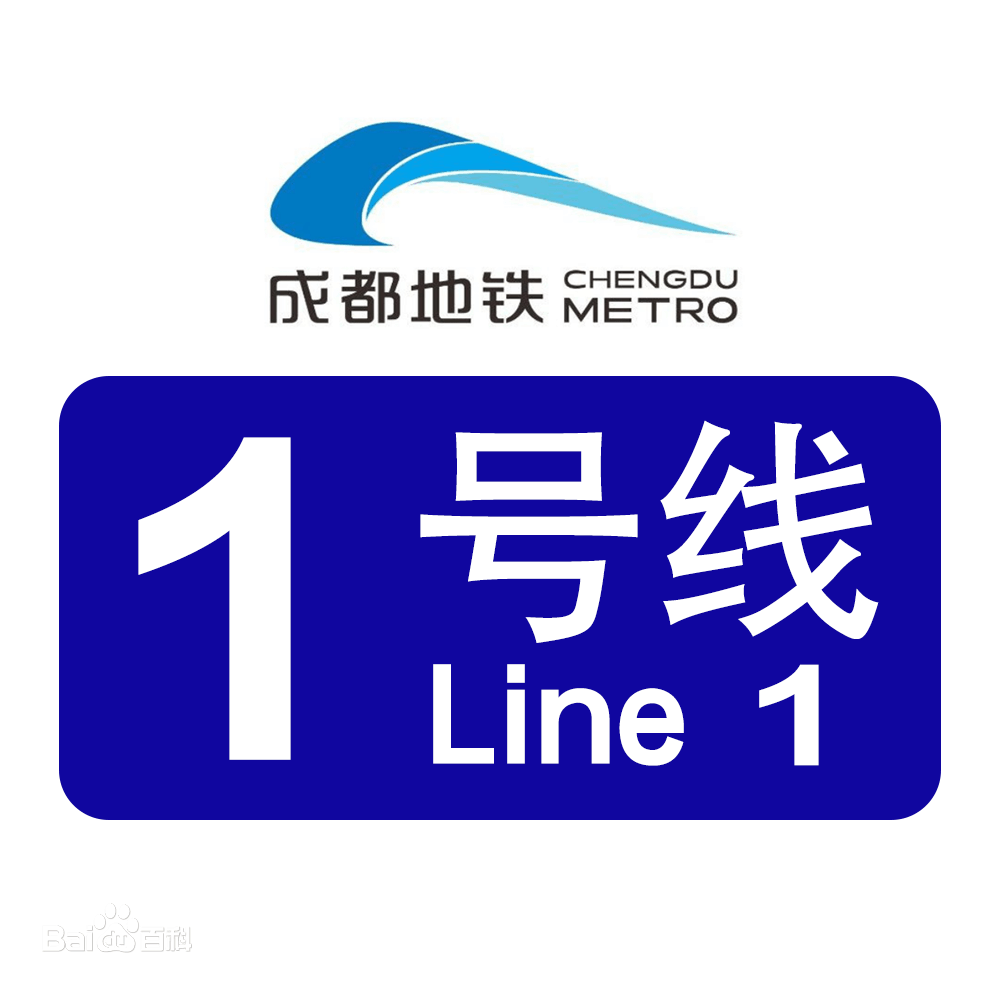 成都地铁1号线
Chengdu Metro Line 1
 首尾班车经过各车站时间
1st Train & Last Train Timetable
方向Direction

韦家碾 – 科学城
Weijianian –

Science City

科学城 – 韦家碾

Science City – Weijianian

车站Stop
韦家碾Weijianian
06:10

22:50

—

—

升仙湖站

Shengxian Lake

06:12

22:53

06:35

23:57

火车北站

North Railway Station

06:15

22:56

06:32

23:55

人民北路站

North Renmin Road

06:17

22:58

06:30

23:53

文殊院站

Wenshu Monastery

06:19

23:00

06:28

23:50

骡马市站

Luomashi

06:10

23:02

06:26

23:49

天府广场站

Tianfu Square

06:13

23:04

06:24

23:47

锦江宾馆站

Jinjiang Hotel

06:10

23:06

06:22

23:45

华西坝站

Huaxiba

06:11

23:08

06:20

23:43

省体育馆站

Sichuan Gymnasium

06:13

23:10

06:18

23:41

倪家桥站

Nijiaqiao

06:10

23:11

06:16

23:39

桐梓林站

Tongzilin

06:12

23:13

06:14

23:37

火车南站

South Railway Station

06:14

23:16

06:12

23:35

高新站

Hi-Tech Zone

06:16

23:18

06:10

23:33

金融城站

Financial City

06:18

23:20

06:13

23:31

孵化园站

Incubation Park

06:20

23:22

06:12

23:29

锦城广场站

Jincheng Plaza

06:22

23:23

06:10

23:27

世纪城站

Century City

06:24

23:26

06:18

23:25

天府三街站

Tianfu 3rd Street

06:26

23:28

06:16

23:23

天府五街站

Tianfu 5th Street

06:28

23:30

06:14

23:21

华府大道站

Huafu Avenue

06:30

23:32

06:12

23:19

四河站

Sihe

06:33

23:35

06:10

23:16

广都站

Guangdu

06:51

23:47

06:17

23:03

五根松站

Wugensong

06:53

23:49

06:15

23:00

华阳站

Huayang

06:35

23:37

06:22

23:13

海昌路站

Haichang Road

06:38

23:39

06:20

23:11

广福站

Guangfu

06:40

23:42

06:17

23:09

红石公园站

Hongshi Park

06:43

23:45

06:15

23:06

麓湖站

Luhu Lake

06:45

23:47

06:13

23:04

武汉路站

Wuhan Road

06:48

23:49

06:10

23:02

天府公园站

Tianfu Park

06:50

23:51

06:19

22:59

西博城站

Western China

International Expo City

06:52

23:53

06:17

22:57

广州路站

Guangzhou Road

06:54

23:55

06:15

22:55

兴隆湖站

Xinglong Lake

06:56

23:57

06:12

22:53

科学城站

Science City

—

—

06:10

22:50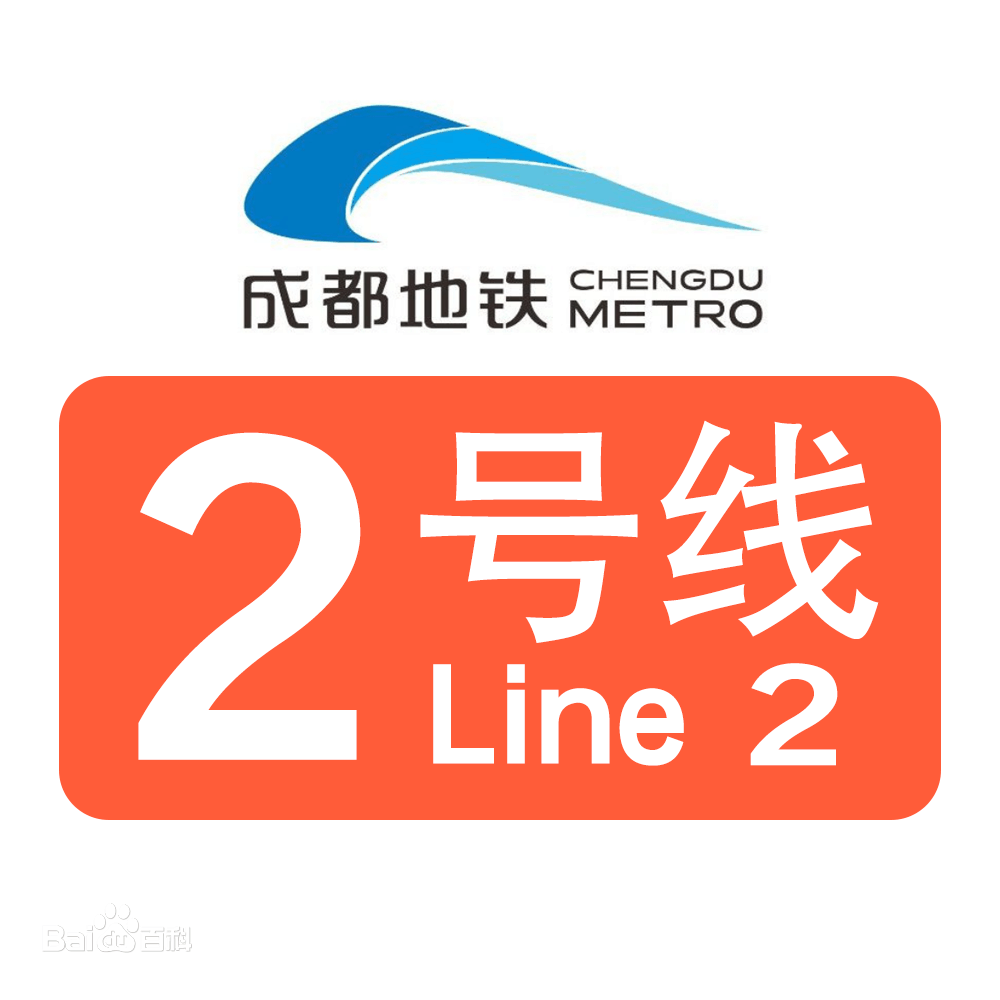 成都地铁2号线
Chengdu Metro Line 2
首尾班车经过各车站时间
 1st Train & Last Train Timetable
方向Direction
首班车  1st Train
末班车Last Train
车站 Stop
往龙泉驿

To Longquanyi

往犀浦

To Xipu

往龙泉驿

To Longquanyi

往犀浦

To Xipu

犀浦

Xipu

06:10
–:–
23:00
–:–
天河路

Tianhe Road

06:13
06:48
23:03
00:10
百草路

Baicao Road

06:10
06:45
23:06
00:07
金周路

Jinzhou Road

06:13
06:42
23:09
00:04
金科北路

North Jinke Road

06:10
06:40
23:11
00:02
迎宾大道

Yingbin Avenue

06:12
06:38
23:13
00:00
茶店子客运站

Chadianzi Bus

Terminal

06:14
06:36
23:15
23:58
羊犀立交

Yangxi Overpass

06:10
06:34
23:17
23:56
一品天下

Yipintianxia

06:12
06:32
23:19
23:54
蜀汉路东

Shuhan Road East

06:10
06:29
23:21
23:52
白果林

Baiguolin

06:12
06:27
23:24
23:49
中医大省医院

Chengdu University of TCM &

Sichuan Provincial People's

Hospital

06:14
06:25
23:26
23:47
通惠门

Tonghuimen

06:10
06:23
23:28
23:45
人民公园

People's Park

06:12
06:21
23:30
23:43
天府广场

Tianfu Square

06:15
06:19
23:32
23:41
春熙路

Chunxi Road

06:18
06:16
23:35
23:38
东门大桥

Dongmen Bridge

06:20
06:14
23:37
23:36
牛王庙

Niuwangmiao

06:21
06:12
23:39
23:34
牛市口

Niushikou

06:24
06:10
23:41
23:32
东大路

Dongda Road

06:25
06:15
23:43
23:30
塔子山公园

Tazishan Park

06:27
06:13
23:45
23:28
成都东客站

Chengdu East Railway Station

06:30
06:10
23:48
23:25
成渝立交

Chengyu FlyOver

06:32
06:15
23:50
23:23
惠王陵

Huiwangling

06:34
06:12
23:52
23:21
洪河

Honghe

06:36
06:10
23:54
23:19
成都行政学院

Chengdu Institute of Public

Administration

06:39
06:14
23:57
23:16
大面铺

Damianpu

06:43
06:10
00:00
23:12
连山坡

Lianshanpo

06:45
06:14
00:02
23:10
界牌

Jiepai

06:47
06:12
00:05
23:08
书房

Shufang

06:50
06:10
00:07
23:06
龙平路

Longping Road

06:52
06:12
00:10
23:03

龙泉驿

Longquanyi

–:–
06:10
–:–
23:00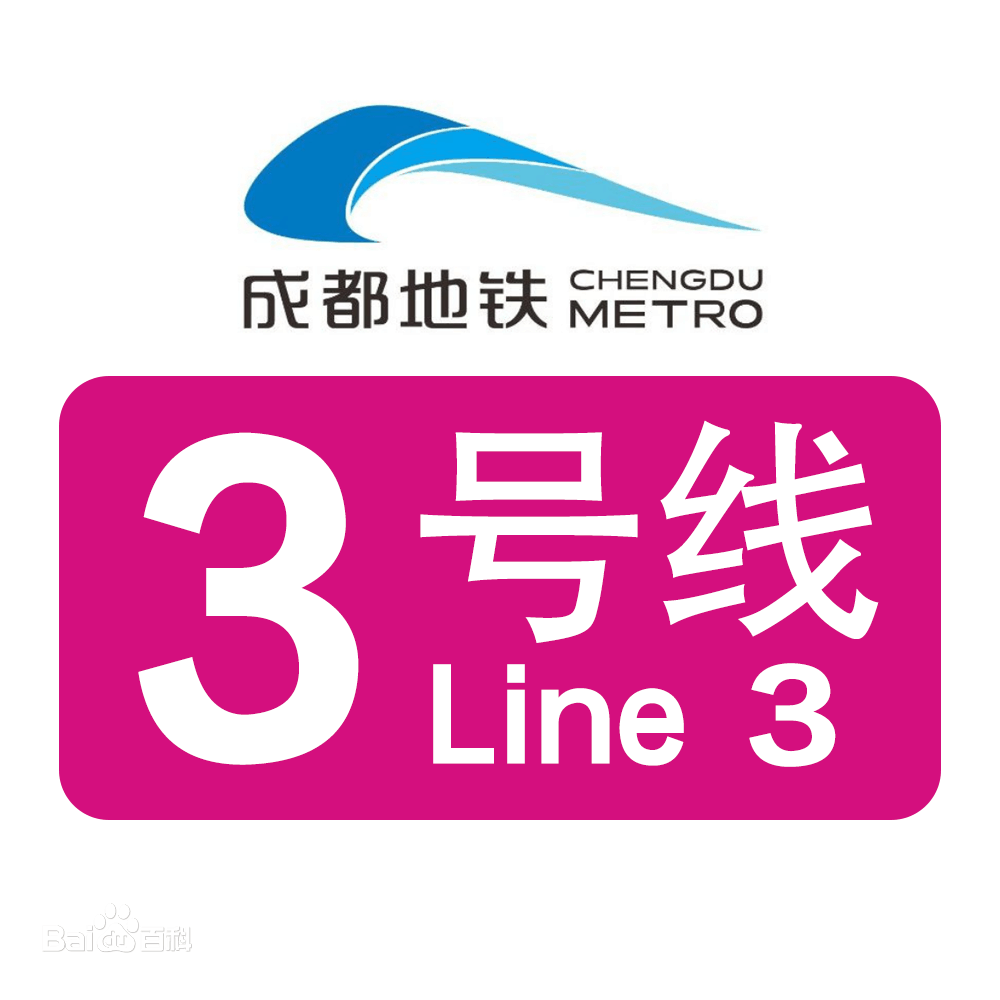 成都地铁3号线
Chengdu Metro Line 3
首尾班车经过各车站时间
1st Train & Last Train Timetable
方向 Direction
首班车 1st Train
末班车 Last Train
车站 Stop
往成都医学院

To Chengdu Medical College

往双流西站

To Shuangliu West Station

往成都医学院

To Chengdu Medical College

往双流西站

To Shuangliu West Station

双流西站

Shuangliu West Station

06:00
—:—
22:50
—:—
三里坝

Sanliba

06:02
06:54
22:53
0:09
双流广场

Shuangliu Square

06:05
06:52
22:55
0:07
东升

Dongsheng

06:06
06:50
22:57
0:05
迎春桥

Yingchunqiao

06:09
06:48
22:59
0:03
航都大道

Hangdu Avenue

06:11
06:45
23:02
0:00
龙桥路

Longqiao Road

06:14
06:43
23:04
23:58
双凤桥

Shuangfengqiao

06:10
06:40
23:08
23:54
武青南路

Wuqing Road South

06:13
06:37
23:10
23:52
武侯立交

Wuhou Flyover

06:14
06:35
23:12
23:50
川藏立交

Chuan-zang Flyover

06:10
06:33
23:14
23:48
太平园

Taipingyuan

06:13
06:30
23:17
23:45
红牌楼

Hongpailou

06:16
06:28
23:19
23:43
高升桥

Gaoshengqiao

06:10
06:25
23:22
23:40
衣冠庙

Yiguanmiao

06:12
06:23
23:27
23:38
省体育馆

Sichuan Gymnasium

06:15
06:21
23:26
23:36
磨子桥

Moziqiao

06:17
06:19
23:29
23:33
新南门

Xinnanmen

06:19
06:17
23:30
23:32
春熙路

Chunxi Road

06:21
06:15
23:33
23:30
市二医院

Chengdu Second People's Hospital

06:23
06:13
23:35
23:27
红星桥

Hongxing Bridge

06:25
06:10
23:37
23:25
前锋路

Qianfeng Road

06:27
06:18
23:39
23:23
李家沱

Lijiatuo

06:29
06:16
23:41
23:21
驷马桥

Chengdu Zoo

06:31
06:15
23:43
23:19
昭觉寺南路

Zhaojuesi Road South

06:33
06:12
23:45
23:17
动物园

Chengdu Zoo

06:35
06:10
23:47
23:15
熊猫大道

Panda Avenue

06:37
06:18
23:49
23:13
军区总医院

Chengdu Junqu General Hospital

06:40
06:15
23:52
23:10
植物园

Botanical Garden

06:43
06:12
23:55
23:07
金华寺东路

Jinhua Temple Road East

06:45
06:10
23:57
23:06
三河场

Sanhechang

06:48
06:22
23:59
23:03
锦水河

Jinshuihe

06:51
06:20
00:02
23:00
团结新区

Tuanjiexinqu

06:53
06:18
00:04
22:58
马超西路

Machao Road West

06:55
06:16
00:06
22:56
钟楼

Clock Tower

06:57
06:13
00:08
22:54
石油大学Southwest Petroleum University
06:59
06:11
00:10
22:52
成都医学院

Chengdu Medical College

–:–

06:10

–:–

–:–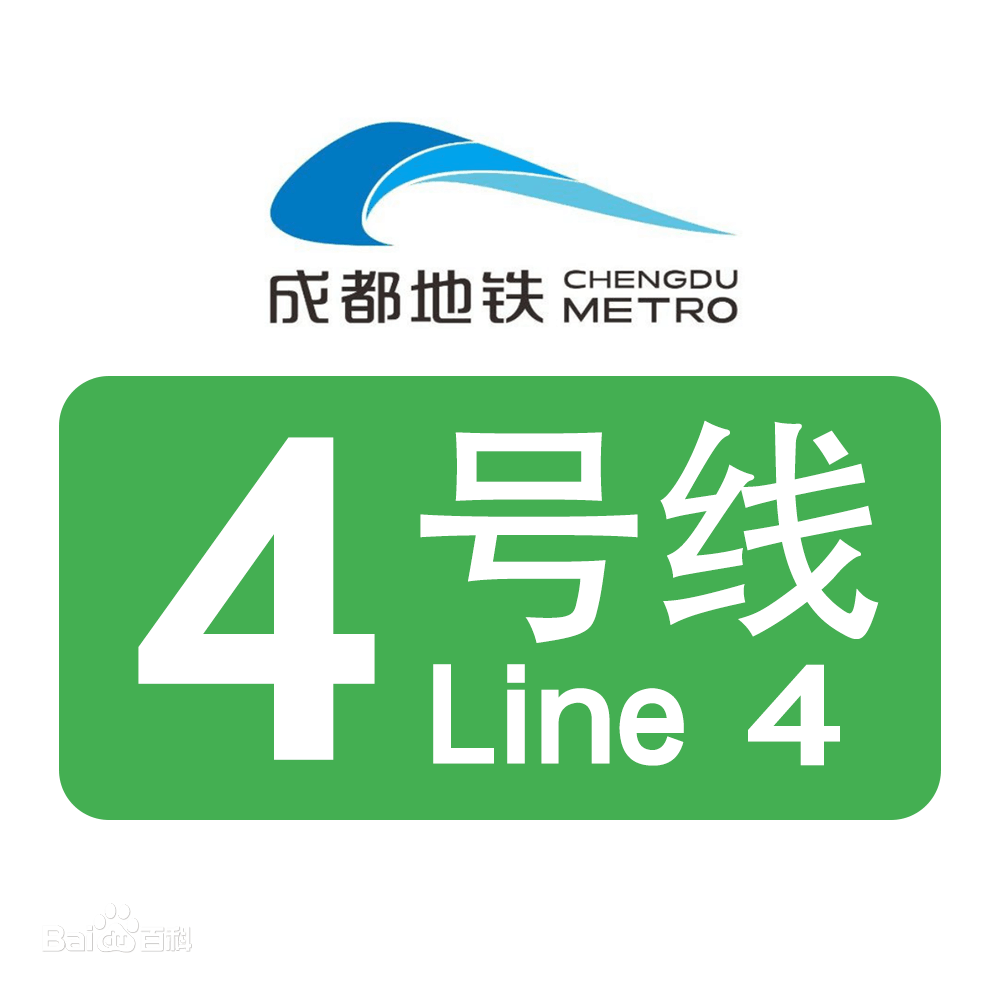 成都地铁4号线
Chengdu Metro Line 4
首尾班车经过各车站时间
 1st Train & Last Train Timetable
方向 Direction
首班车  1st Train
末班车 Last Train
车站 Stop
往万盛站

To Wansheng

往西河站

To Xihe

往万盛站

To Wansheng

往西河站

To Xihe

西河站

Xihe

06:10
–:–
23:00
–:–
明蜀王陵

Mingshuwangling

06:13
06:38
23:03
00:07
成都大学

Chengdu University

06:10
06:35
23:06
00:04
十陵站

Shiling

06:12
06:34
23:08
00:03
来龙站

Lailong

06:10
06:32
23:10
00:01
槐树店站

Huaishudian

06:13
06:28
23:13
23:57
万年场

Wannianchang

06:10
06:25
23:16
23:54
双桥路

Shuangqiao Road

06:12
06:23
23:18
23:52
玉双路

Yushuang Road

06:10
06:21
23:20
23:50
市二医院站

Chengdu Second People's Hospital

06:12
06:19
23:23
23:48
太升南路

Taisheng Road South

06:14
06:17
23:25
23:46
骡马市

Luomashi

06:16
06:14
23:27
23:43
宽窄巷子

Kuanzhaixiangzi Alleys

06:19
06:12
23:30
23:41
中医大省医院站

Chengdu University of TCM & Sichuan Provincial

People's Hospital

06:21
06:10
23:32
23:39
草堂北路站

Caotang Road North

06:23
06:13
23:34
23:36
西南财大站

Southwestern University of

Finance and Economics

06:25
06:11
23:36
23:35
文化宫站

Culture Palace

06:27
06:10
23:38
23:33
清江西路站

Qingjiang Road West

06:29
06:13
23:40
23:30
成都西站

Chengdu West Railway Station

06:33
06:10
23:43
23:27
中坝

Zhongba

06:35
06:13
23:46
23:25
蔡桥

Caiqiao

06:38
06:10
23:49
23:22
非遗博览园

Intangible Cultural Heritage Park

06:41
06:28
23:52
23:19
马厂坝站

Machangba

06:43
06:26
23:54
23:17
凤凰大街

Fenghuang Street

06:46
06:23
23:57
23:14
涌泉站

Yongquan

06:49
06:21
23:59
23:11
光华公园

Guanghua Park

06:51
06:18
00:02
23:09
南熏大道

Nanxun Avenue

06:53
06:16
00:04
23:07
凤溪河

Fengxihe

06:55
06:14
00:06
23:05
杨柳河

Yangliuhe

06:57
06:12
00:08
23:03
万盛站

Wansheng

–:–

06:10

–:–
23:00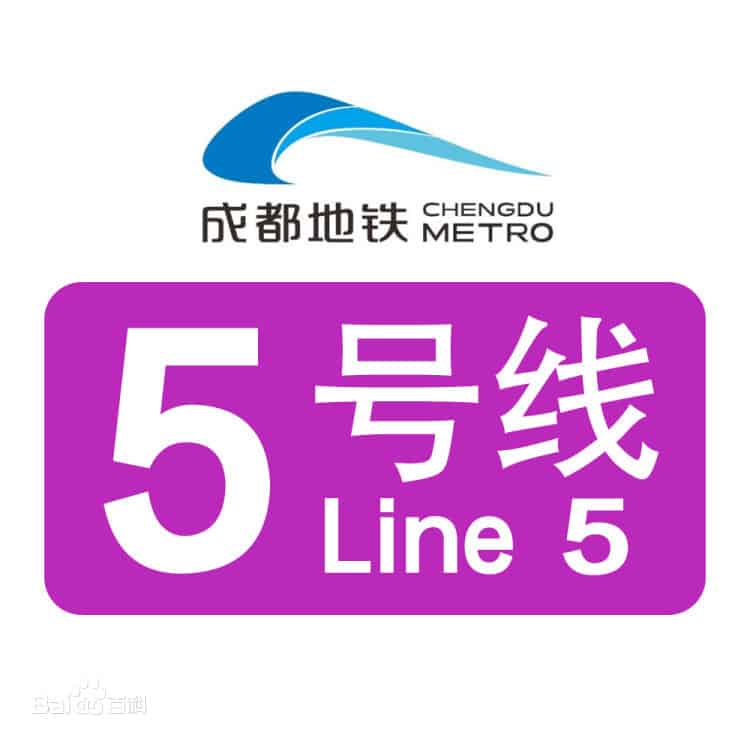 成都地铁5号线 Chengdu Metro Line 5
首尾班车经过各车站时间1st Train & Last Train Timetable
方向Direction
首班车1st Train
末班车Last Train
车站Stop
往回龙

To Huilong

往华桂路

To Huagui Road

往回龙

To Huilong

往华桂路

To Huagui Road

华桂路

Huagui Road

06:10
— :—
22:50
—:—
柏水场

Baishuichang

06:12
07:07
22:52
00:17
廖家湾

Liaojiawan

06:14
07:05
22:54
00:15
北部商贸城

Chengdu International Trade City

06:10
07:02
22:57
00:13
幸福桥

Xingfuqiao

06:12
07:00
23:00
00:10
九道堰

Jiudaoyan

06:14
06:58
23:02
00:08
杜家碾

Dujianian

06:16
06:56
23:03
00:06
大丰

Dafeng

06:10
06:54
23:05
00:04
石犀公园

Shixi Park

06:12
06:51
23:08
00:02
皇花园

Huanghuayuan

06:14
06:49
23:10
00:00
陆家桥

Lujiaqiao

06:16
06:47
23:12
23:58
泉水路

Quanshui Road

06:10
06:45
23:14
23:56
洞子口

Dongzikou

06:12
06:43
23:16
23:53
福宁路

Funing Road

06:14
06:41
23:18
23:52
五块石

Wukuaishi

06:16
06:39
23:20
23:50
赛云台

Saiyuntai

06:10
06:37
23:22
23:48
北站西二路

2nd Beizhan Road West

6:12
06:35
23:24
23:46
西北桥

Xibeiqiao

06:14
06:33
23:27
23:43
花牌坊

Huapaifang

06:16
06:31
23:29
23:41
抚琴

Fuqin

06:18
06:29
23:31
23:29
中医大省医院

Chengdu University of TCM &

Sichuan Provincial People's Hospital

06:21
06:26
23:33
23:37
青羊宫

Qingyang Taoist Temple

06:23
06:24
23:35
23:35
省骨科医院

Sichuan Provincial Orthopaedic Hospital

06:25
06:22
23:37
23:33
高升桥

Gaoshengqiao

06:27
06:20
23:40
23:30
科园

Keyuan

06:30
06:17
23:42
23:28
九兴大道

Jiuxing Avenue

06:32
06:15
23:44
23:26
神仙树

Shenxianshu

06:35
06:13
23:47
23:23
石羊立交

Shiyang Flyover

06:37
06:10
23:50
23:20
市一医院

Chengdu 1st People's Hospital

06:39
06:16
23:52
23:18
交子大道

Jiaozi Avenue

06:41
06:14
23:53
23:16
锦城大道

Jincheng Avenue

06:43
06:12
23:55
23:15
锦城湖

Jincheng Lake

06:45
06:10
23:58
23:12
大源

Dayuan

06:48
06:14
00:00
23:10
民乐

Minle

06:50
06:12
00:02
23:08
骑龙

Qilong

06:52
06:10
00:05
23:05
警官学院

Police College

06:55
06:14
00:07
23:03
二江寺

Erjiang Temple

06:57
06:12
00:09
23:00
南湖立交

Nanhu Flyover

06:59
06:10
00:12
22:58
怡心湖

Yixin Lake

07:02
06:15
00:14
22:55
龙马路

Longma Road

07:04
06:12
00:17
22:53
回龙

Huilong

—:—
06:10
—:—
22:50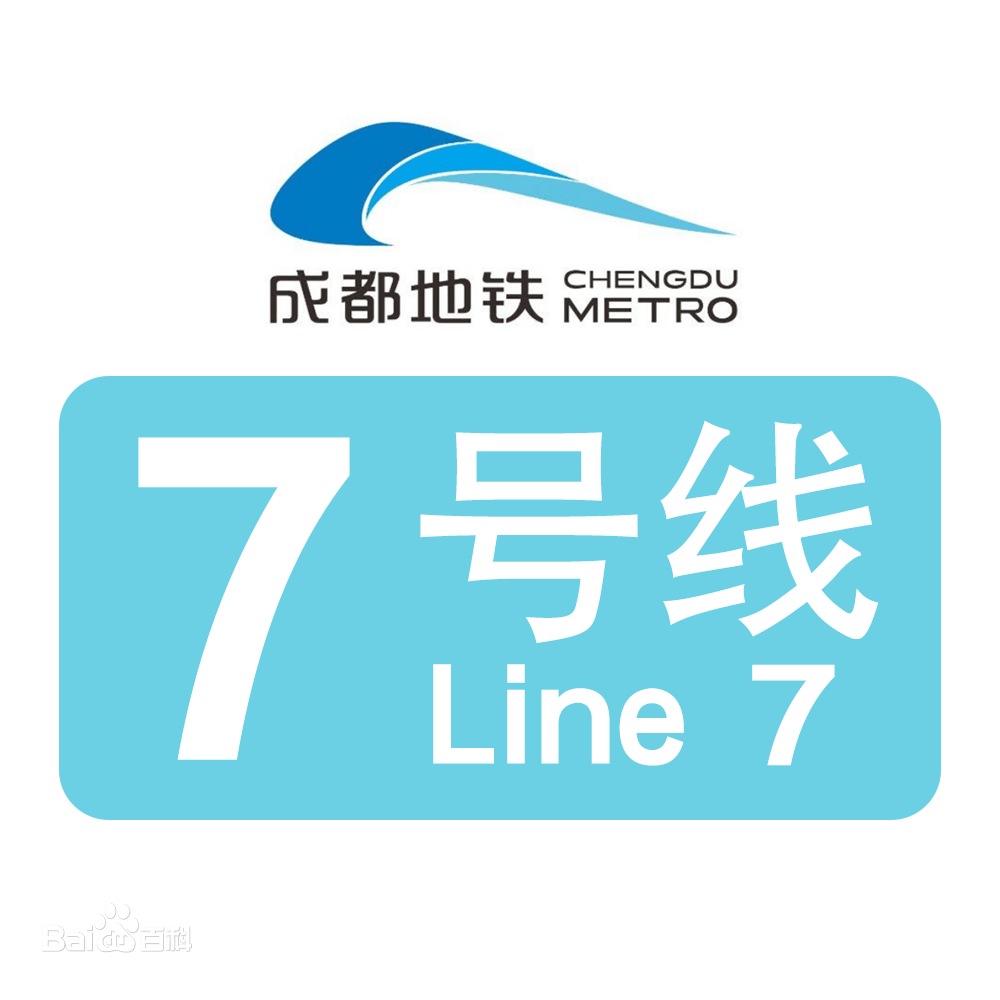 成都地铁7号线Chengdu Metro Line 7
首尾班车经过各车站时间 1st Train & Last Train Timetable
方向 Direction
首班车1st Train
末班车Last Train
车站 Stop
往火车北站

To North Railway Station

往北站西二路

To 2nd Beizhan Road West

往火车北站

To North Railway Station

往北站西二路

To 2nd Beizhan Road West

火车北站

North Railway Station

06:15
06:18
23:19
23:59
驷马桥站

Simaqiao

06:19
06:21
23:16
00:02
府青路站

Fuqing Road

06:17
06:24
23:13
00:04
八里庄站

Balizhuang

06:15
06:26
23:11
00:07
二仙桥站

Erxianqiao Bridge

06:19
06:28
23:09
00:09
理工大学站

Chengdu University of Technology

06:17
06:30
23:07
00:11
崔家店站

Cuijiadian

06:15
06:15
23:05
23:05
双店路站

Shaungdian Road

06:34
06:16
00:11
23:07
槐树店站

Huaishudian

06:32
06:18
00:10
23:09
迎晖路站

Yinghui Road

06:29
06:20
00:07
23:11
成都东客站

East Chengdu Railway Station

06:28
06:15
00:05
23:13
大观站

Daguan

06:25
06:17
00:03
23:15
狮子山站

Shizishan

06:23
06:19
00:01
23:17
四川师大站

Sichuan Normal University

06:21
06:15
23:58
23:19
琉璃场站

Liulichang

06:18
06:17
23:56
23:22
三瓦窑站

Sanwayao

06:15
06:15
23:53
23:25
火车南站

South Railway Station

06:21
06:17
23:51
23:27
神仙树站

Shenxianshu

06:18
06:20
23:48
23:30
高朋大道站

Gaopeng Avenue

06:15
06:15
23:46
23:32
太平园站

Taipingyuan

06:19
06:17
23:43
23:35
武侯大道站

Wuhou Avenue

06:17
06:20
23:41
23:37
龙爪堰站

Longzhuayan

06:15
06:15
23:38
23:39
东坡路站

Dongpo Road

06:19
06:17
23:36
23:41
文化宫站

Culture Palace

06:17
06:19
23:34
23:44
金沙博物馆站

Jinsha Site Museum

06:15
06:21
23:33
23:45
一品天下站

Yipintianxia

06:21
06:15
23:30
23:48
茶店子站

Chadianzi

06:18
06:17
23:28
23:50
花照壁站

Huazhaobi

06:17
06:19
23:26
23:52
西南交大站

Southwest Jiaotong University

06:15
06:21
23:24
23:54
九里堤站

Jiulidi

06:19
06:15
23:22
23:55
北站西二路站

2nd Beizhan Road West

06:17
06:16
23:21
23:57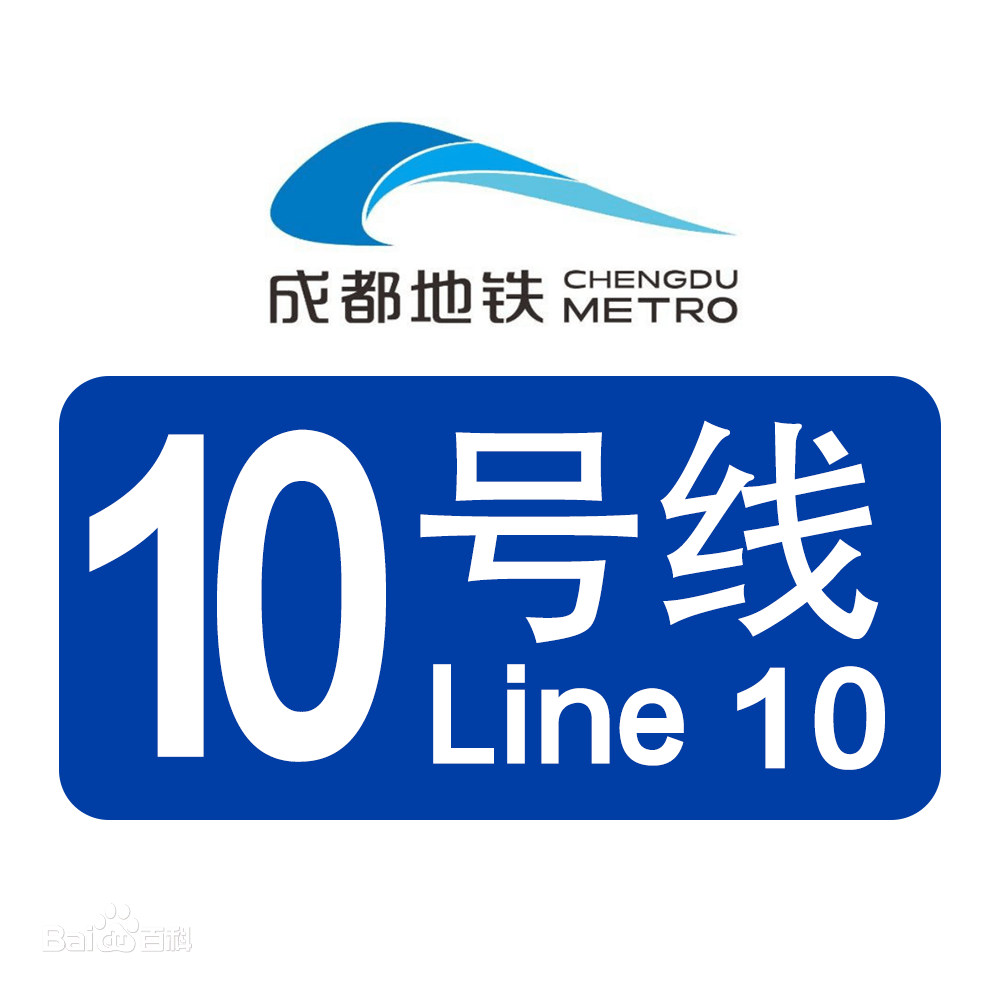 成都地铁10号线 Chengdu Metro Line 10
首尾班车经过各车站时间1st Train & Last Train Timetable
方向 Direction
首班车1st Train
末班车Last Train
车站 Stop
往新平

To Xinping

往太平园

To Taipingyuan

往新平

To Xinping

往太平园

To Taipingyuan

太平园

Taipingyuan

06:00
–:–
23:10
–:–
簇锦

Cujin

06:02
06:11
23:13
23:23
华兴

Huaxing

06:05
06:09
23:15
23:21
金花

Jinhua

06:08
06:05
23:19
23:17
双流机场1航站楼

Terminal 1 of Shuangliu International Airport

06:11
06:03
23:22
23:15
双流机场2航站楼

Terminal 2 of Shuangliu International Airport

06:14
06:00
23:25
23:12
双流西站

Shuangliu West Station

06:00
06:05
23:30
23:06
应天寺

Yingtian Temple

06:02
06:02
23:32
23:04
黄水

Huangshui

06:00
06:00
23:35
23:01
花源

Huayuan

06:04
06:06
23:38
22:57
新津

Xinjin Station

06:00
06:03
23:41
22:54
花桥

Huaqiao

06:03
06:00
23:44
22:51
五津

Wujin

06:07
06:06
23:49
22:47
儒林路

Rulin Road

06:09
06:04
23:51
22:45
刘家碾

Liujianian

06:12
06:02
23:53
22:42
新平

Xinping

—:—
06:00
—:—
22:40