Thursday 29th November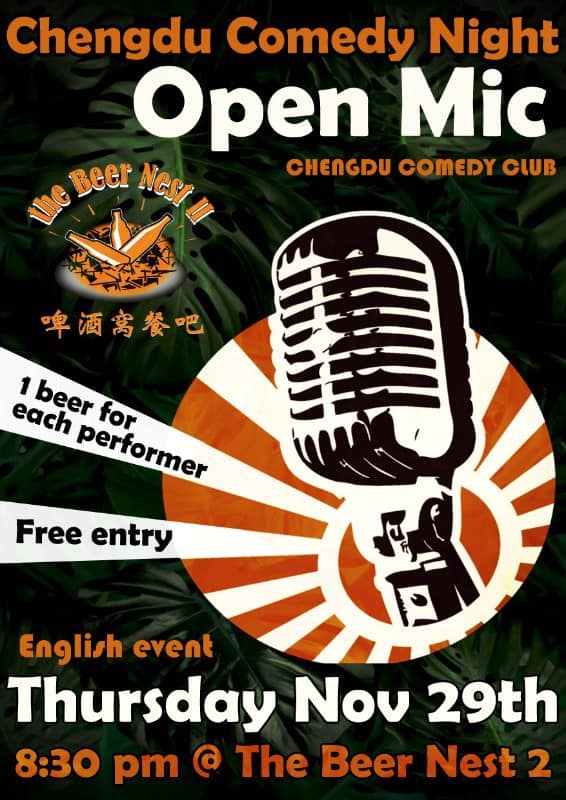 The Chengdu Comedy Club, who now tour China with their shows, test out their new material for their monthly open mic night at Beer Nest 2.  If you fancy yourself as a funny man (or woman) and would like to get up on stage – you'll get a free beer.  Click Here for more
    Time: 
8:30 pm
Location: 
The Beer Nest II, Bar & Kitchen
Renmin South Road Section 4 – No. 48-32, Master Commercial Street
人民南路四段48号附32号,首座万里商业街1楼
Free entry. English speaking event.
---
Friday  30th  November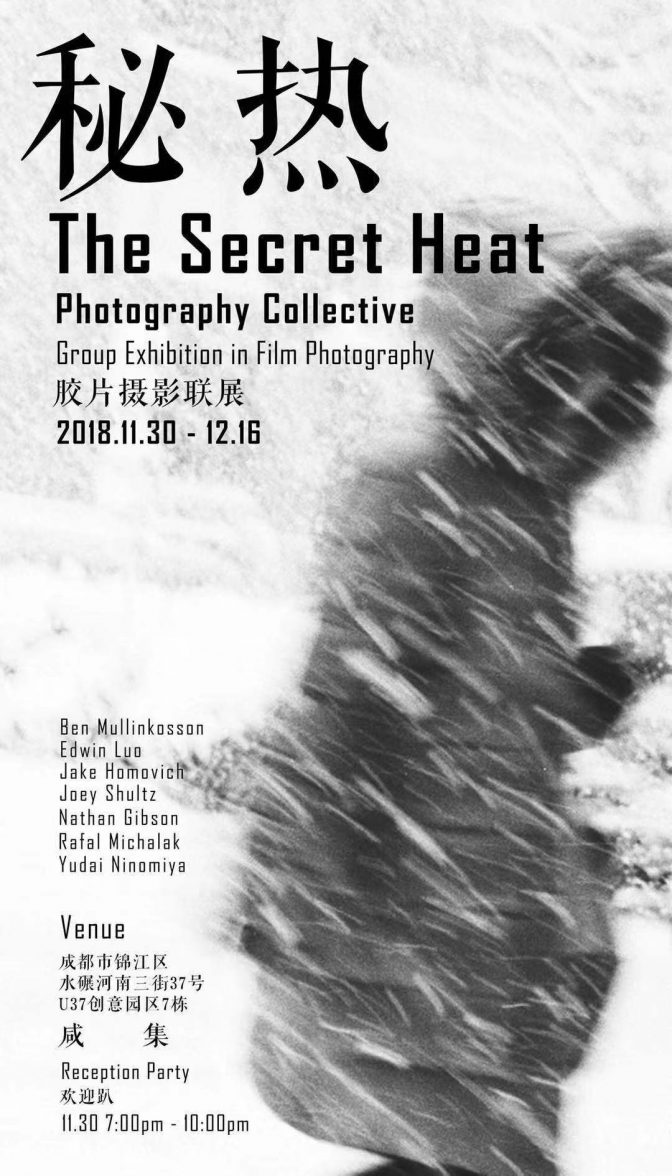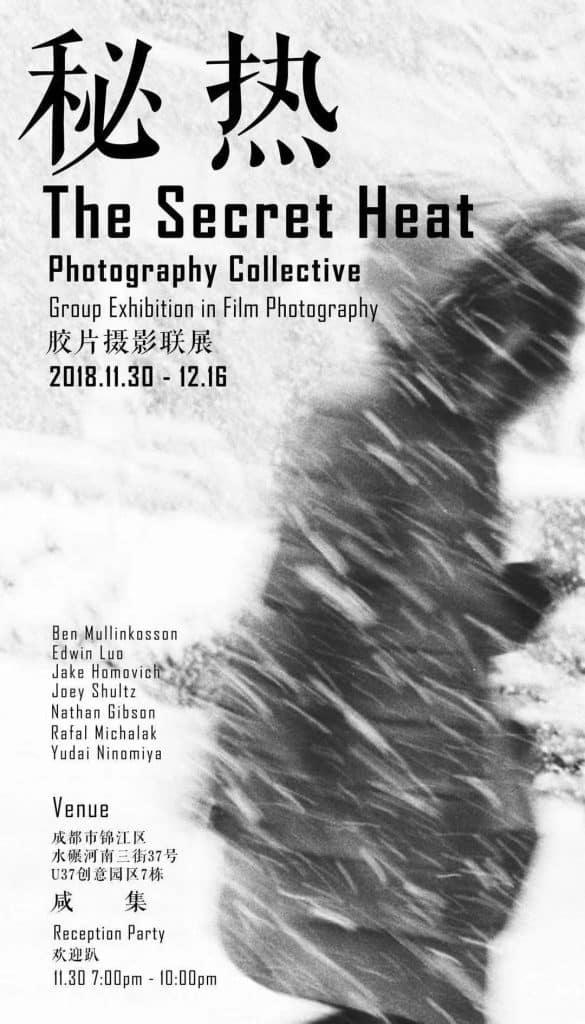 Starting November 30, with a Reception Party from 7:00pm to 10:00pm, The Secret Heat is a new group photography exhibition in the U37 area. It will be displaying collections of work from various photographers up until December 16, every day from 9am to 8pm. The Reception Party will feature wine, music, limited edition prints on sale, and a screening of several short films from the Secret Heat members. Click Read More at the bottom of the article, for more information about the exhibit. Click Here for more.
Time:
19:00
Photographers Collaborating:
Ben Mullinkosson, Edwin Luo, Jake Homovich, Joey Shultz, Nathan Gibson, Rafal Michalak, Yudai Ninomiya
Location:
Building 7, U37 Creative Park, No. 37, South 3rd Street, Shuimohe, Jinjiang District
锦江区水碾河南三街37号,U37创意园区7栋
---
Sunday 2nd December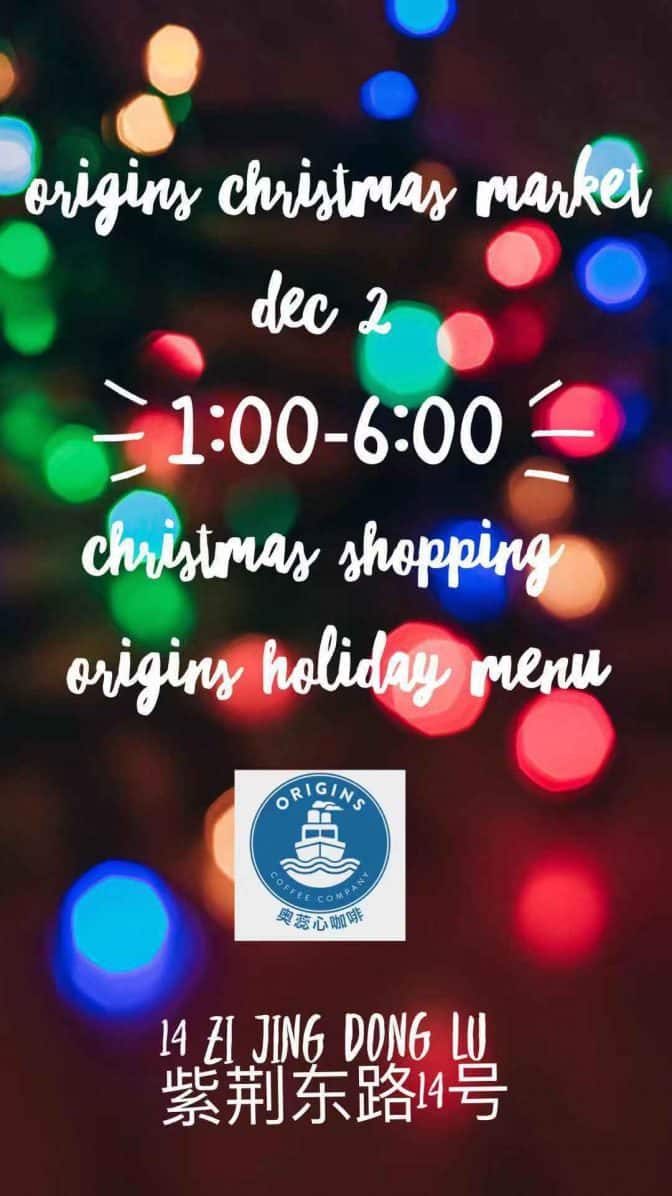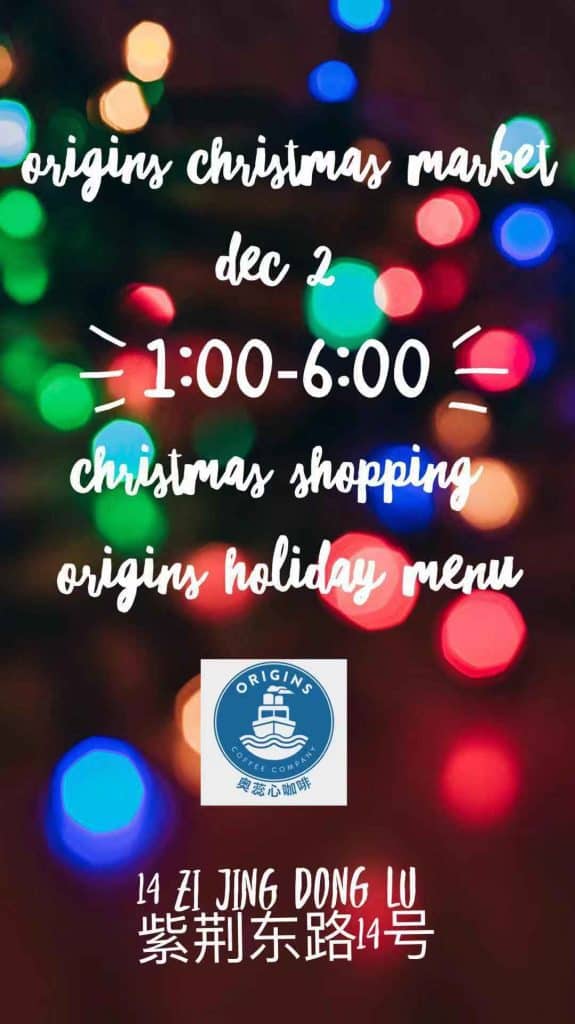 If you missed last week's Holiday Bazaar, fear not, there's still time to stock up on Christmas goodies. Origins will run their 3rd annual Christmas Market with goods from PinYin Press, Dancing Yak and more – come enjoy Christmas shopping and a special holiday menu. Click Here for more.
Time: 
1:00 – 6:00pm
Location:
Origins Coffee Company
No. 14 Zijing East Road 紫荆东路14号
---
Chengdu Baijiu Club – Derek Sandhaus
Sunday  2nd December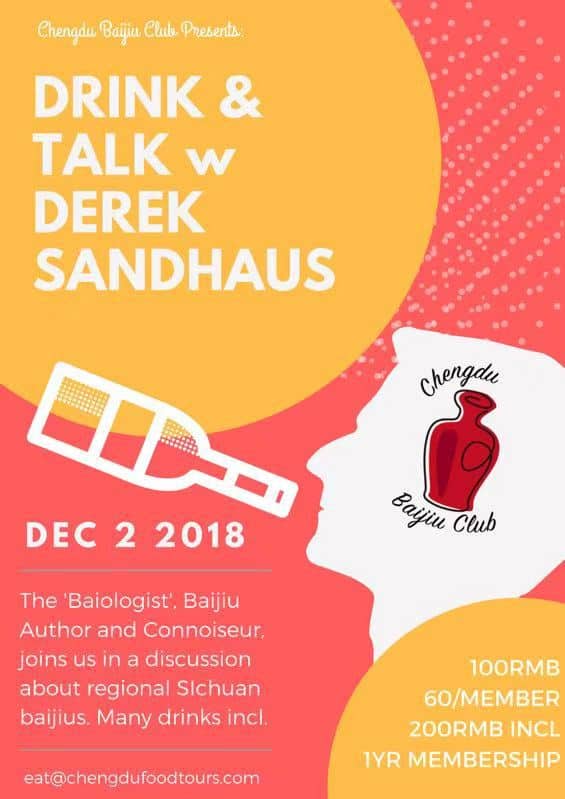 Explore the baijius of Sichuan with Special guest Derek Sandhaus and Ming River baijiu. Derek is the author of a Baijiu: The Essential Guide to Chinese Spirits, founder of drinkbaijiu.com and former Chengdu Resident. He is part of the team behind Ming River, a special baijiu crafted in Luzhou for the western market and is leading a crusade to earn baijiu its place on the table and at the bar outside of China. This discussion will be followed by a tasting of Ming River, as well as other famous Sichuan baijius. Fun will ensue. Click Here for more.
Time: 
19:00 until late
Organized and hosted by Chengdu Baijiu Club.
 RSVP needed.
RSVP:
eat@chengdufoodtours.com
---
Chengdu Film Society – Searching
Sunday 2nd December
📽️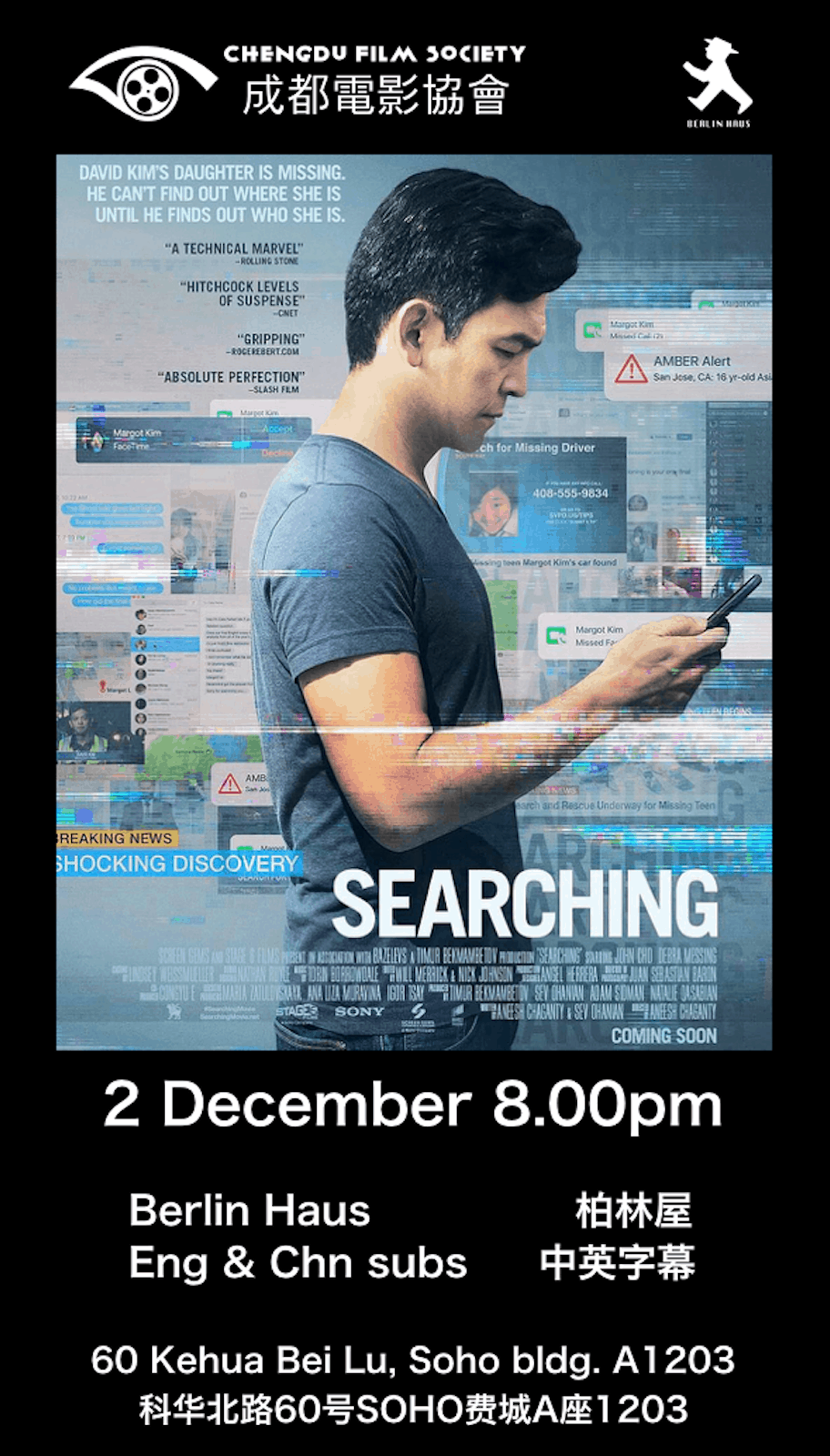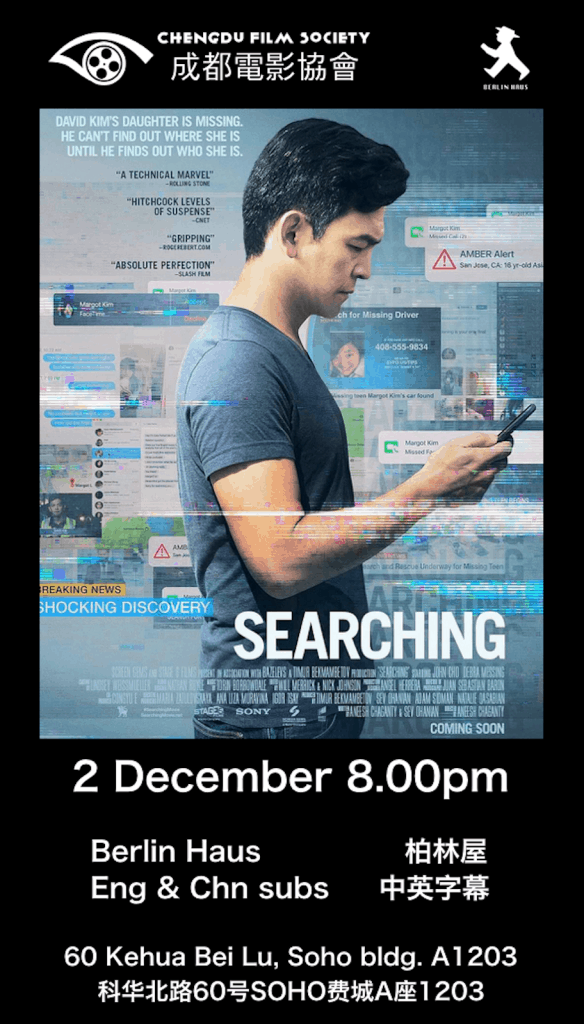 The Chengdu Film Society screen a film every Sunday evening at Berlin Haus. This week they're showing 'Searching 网络谜踪 2018' 2 weeks before it's released in Chinese cinemas. David Kim becomes desperate when his 16-year-old daughter Margot disappears and an immediate police investigation leads nowhere. He soon decides to search the one place that no one else has – Margot's laptop…. They're showing Chinese and English subtitles.
Time: 
20:00
Location:
 Berlin Haus
1203, F12, A Soho Building, 60 North Kehua Rd.,
科华北路60号SOHO沸城A座顶楼1203
Free Entry, you just need to buy a drink.
Drink and food specials available.
Have a Great Week!