For those of you who were upset that Ke$ha's concert was postponed, dry your tears because there's plenty to do in the mala city this week…
STOMP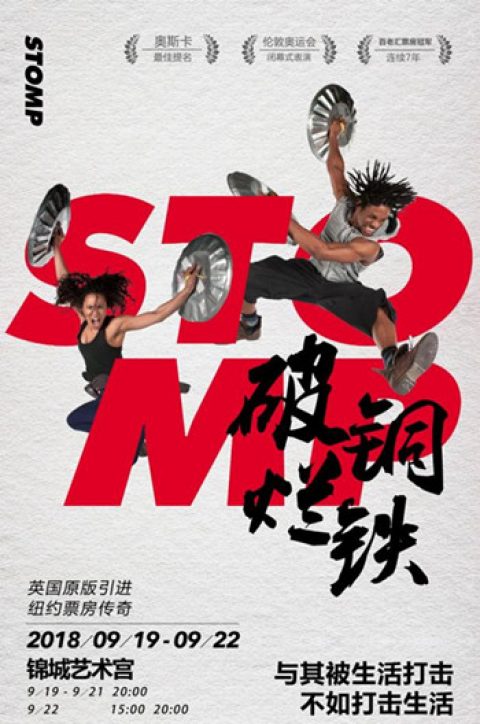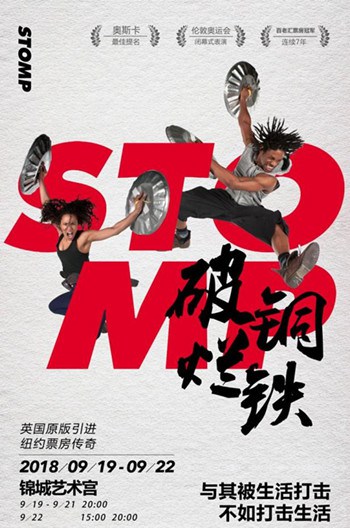 From Wednesday 19th September
For almost three decades STOMP, which originated in Brighton, has been wowing audiences all over the world – with its unique blend of rhythm, movement, comedy and dance. It's coming to Chengdu this week, for 5 performances only.
Tickets cost between 180RMB and 880RMB.
At Jin Cheng Art Palace  锦城艺术宫
Young Professionals Mixer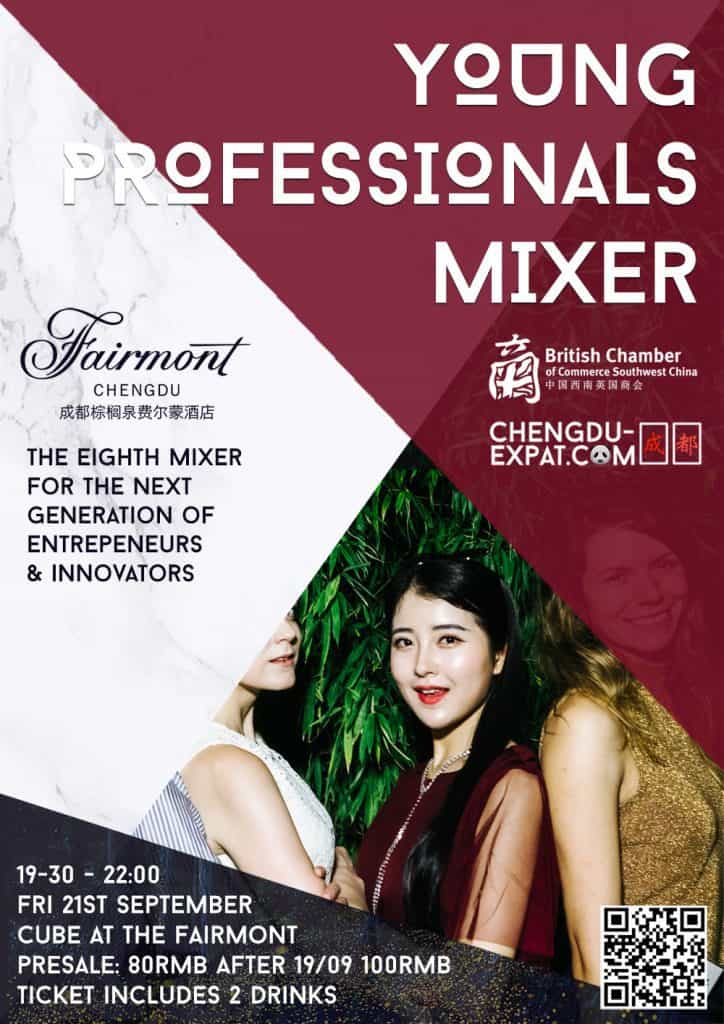 Friday 21st September
Enjoy relaxed drinks and the chance to meet like-minded people at vol 8 of the Young Professional Mixers, in collaboration with The British Chamber of Commerce. Tickets include include 2 drinks at the Fairmont Chengdu's glamorous cocktail bar CUBE .
Scan Below for tickets or click here
Presale tickets: 80RMB
After 19/09: 100RMB
At the Fairmont, 269 Tianfu Middle Avenue, Hi-Tech Zone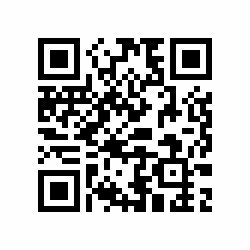 ATP Tennis Open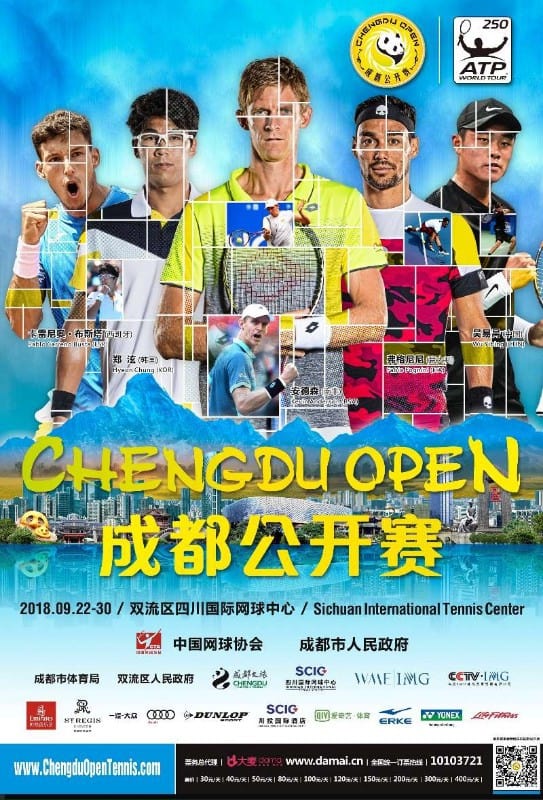 From Saturday 22 September
The third Chengdu Open, which will be played at the Sichuan International Tennis Centre kicks off this Saturday and lasts until 30 September 2018. Players such as South Africa's Kevin Anderson will contest the title on outdoor hard courts, joining Shenzhen, Beijing and Shanghai as Chinese hosts during the ATP World Tour's Asian swing.
At Sichuan International Tennis Center 双流区四川国际网球中心
Sunday 23 September
This Sunday, Mala Swing will hold an event for those curious about the golden age of jazz music – as apart of Chengdu Can Swing Jazz Weekend. There will be a beginner's swing dance class, a lecture about swing music history and development, a concert with an 8-piece band playing swing classics, special dance performances, and afterwards the dance party will continue until late.
Tickets can be bought by scanning the QR code below.
Student: 120RMB, Presale: 160 RMB, Door: 200RMB, Single: 80RMB
No.48 Shuinianhe Road, Niushikou, Jinjiang District
锦江区牛市口水碾河路48号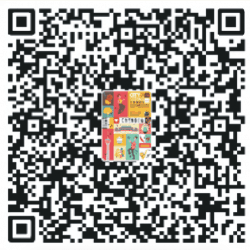 Beer Yoga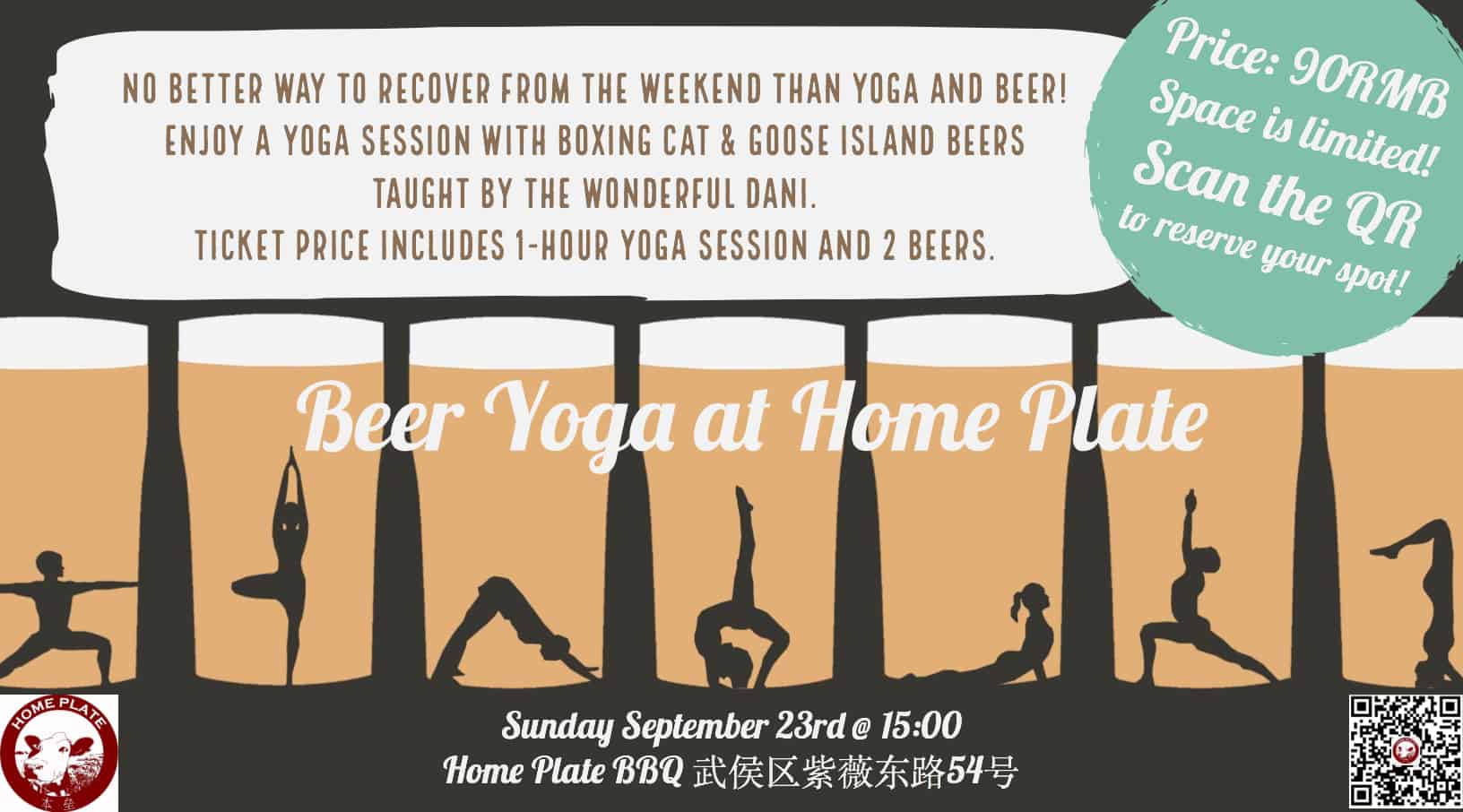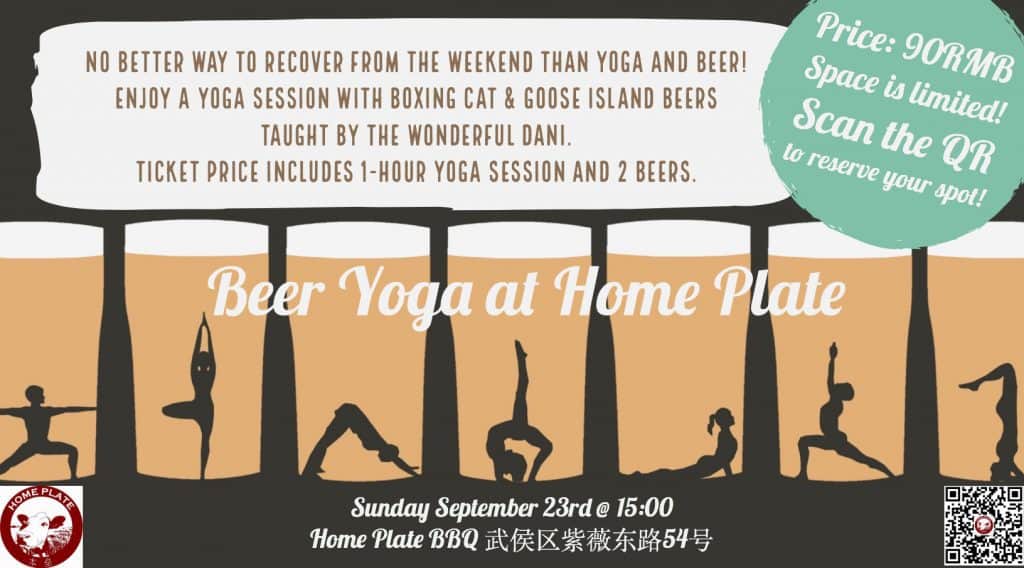 Sunday 23 September
This Sunday, Chengdu fitness favourite Dani Bulgrien will be leading a 1-hour beer yoga session, that's both naughty and nice at Home Plate. With Boxing Cat and Goose Island beer available you can namaste with an IPA. 90RMB for tickets, including 2 beers. Places are limited.
Scan below to reserve your place.
Wuhou District, Ziwei East Rd. No.
54 四川省成都市武侯区紫薇东路54号