According to custom, one is supposed to eat the cakes under the full moon on the 15th day of the eighth lunar month, which this year falls on Monday 24th September.
Often extravagantly expensive, they are about the size of a hockey puck and just as dense. Fillings range from red bean with salted egg yolks to rich meat jelly pastes – which historically would have been a rare calorie-rich treat to fill a chronically hungry belly. Nowadays, they are given as gifts to strengthen guanxi and endlessly regifted because few people want to eat them.
This is partly because a typical 6.3-ounce mooncake has about 800 calories. By contrast, a McDonald's cheeseburger which weighs roughly the same has only 330 calories.
Last year, health officials in Taiwan warned the public to lay off the mooncakes and instead indulge in fruits and vegetables. But mooncake-haters notwithstanding, nutritionists and dietitians in Beijing doubt that health warnings will dissuade people from eating them.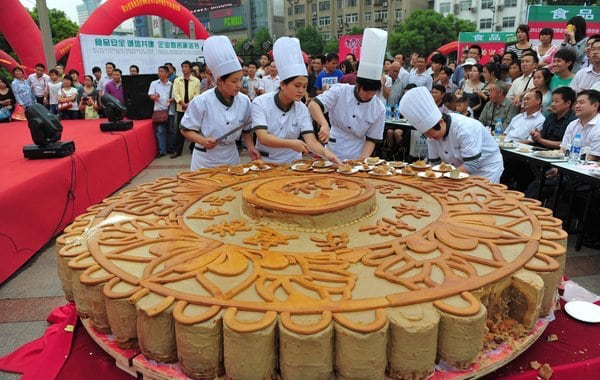 35kgs of salted egg…
We try to avoid mooncake mania, but as the boxes pile up in the office this year, we went in search of lighter, tastier, alternative mooncakes. Here's what we found:
Tiramisu | The Ritz-Carlton, Chengdu
Gloriously glad in a decadent orange chest, this is the box to go for if you really want to nong your guanxi. 7/8 of the mooncakes are traditional fare, but it's the tiramisu one that caught our attention.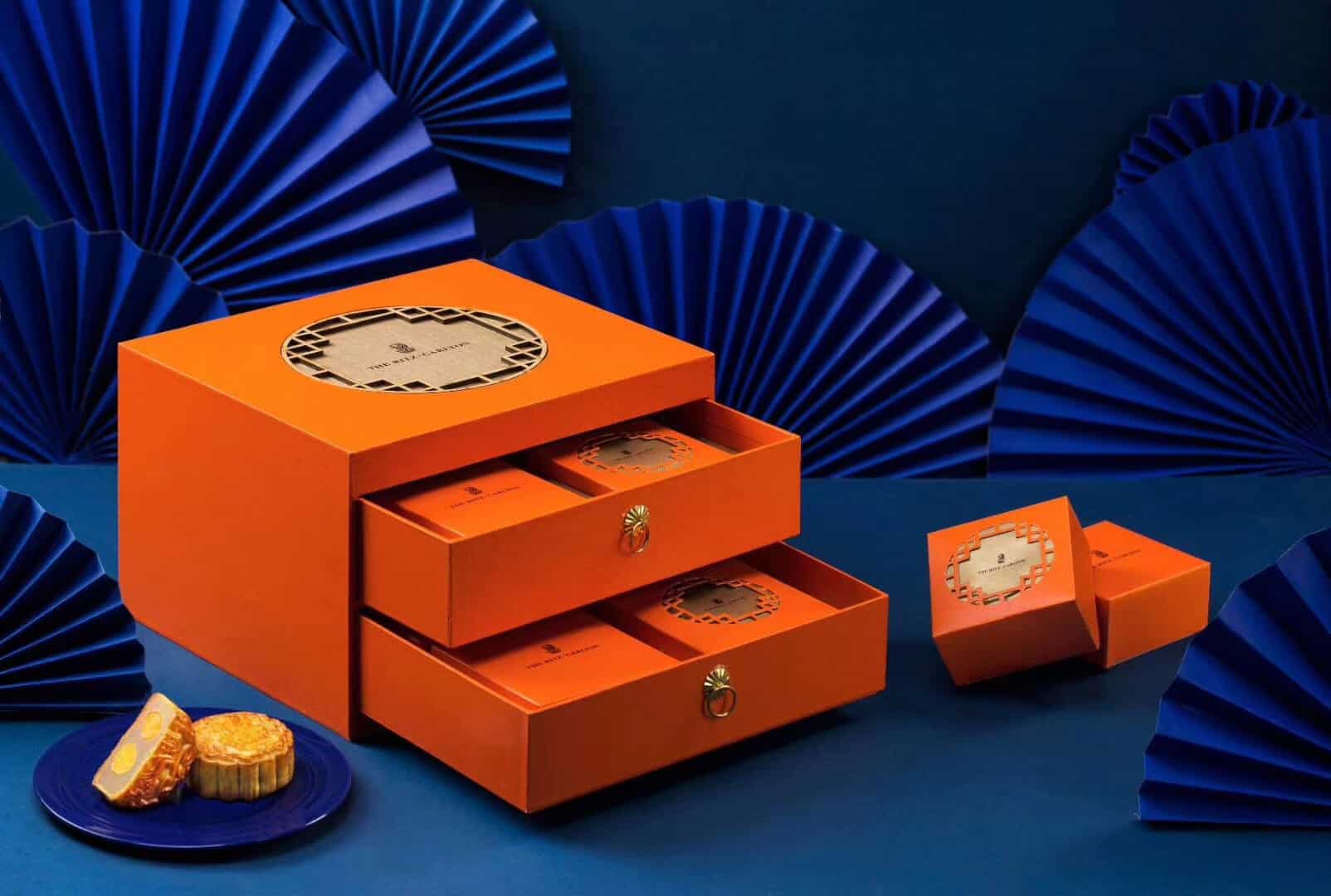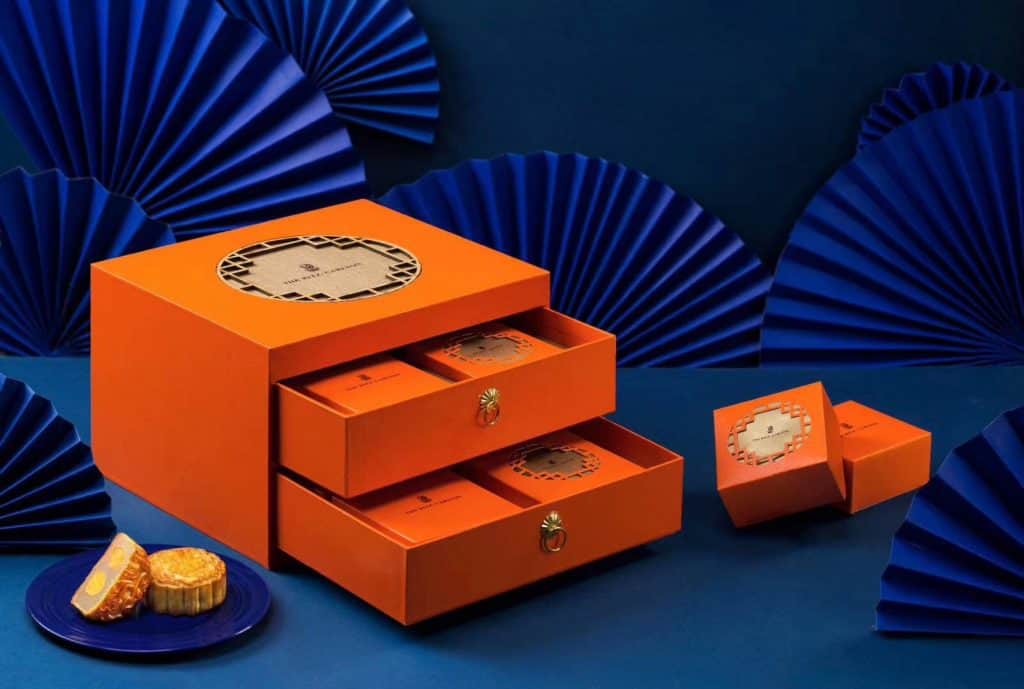 Unlike the others, this is wrapped in silvery foil, and cased in shortcrust crumbly pastry, it's filled with a coffee, chocolate filling. It's not as sweet as your Nonna would have made it, but it's buttery and light. Quite delicious.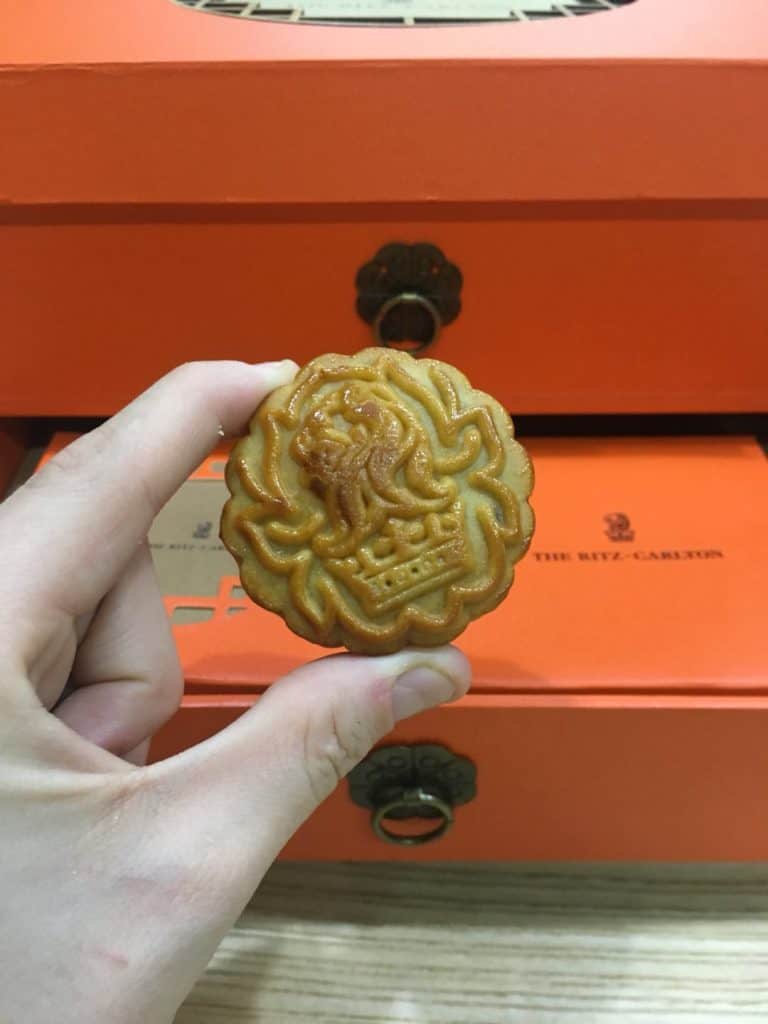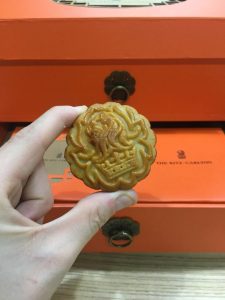 Boxes Contain: Custard Mooncake, Passion Fruit Paste & Egg Yolk Mooncake, Jasmine Tea Paste Mooncake, White Lotus Paste & Egg Yolk Mooncake, Mango Paste & Egg Yolk Mooncake, Rattan Pepper Beef Mooncake, Longan & Walnut Mooncake and Tiramisu – 418RMB for 8 cakes.
On sale until the 24th September, Tel +86 28 8359 9603 or email rc.cturz.restaurant@rizcarlton.com.
269 Shucheng Avenue, Qingyang 青羊区顺城大街269号
Vegan mooncakes were popping up in Shanghai and Beijing this year – so we're stoked to see a plant based patisserie making them locally in Chengdu. They are delivered in cold bags, as they need to be refrigerated, and are presented in beautiful reusable brushed metal tins.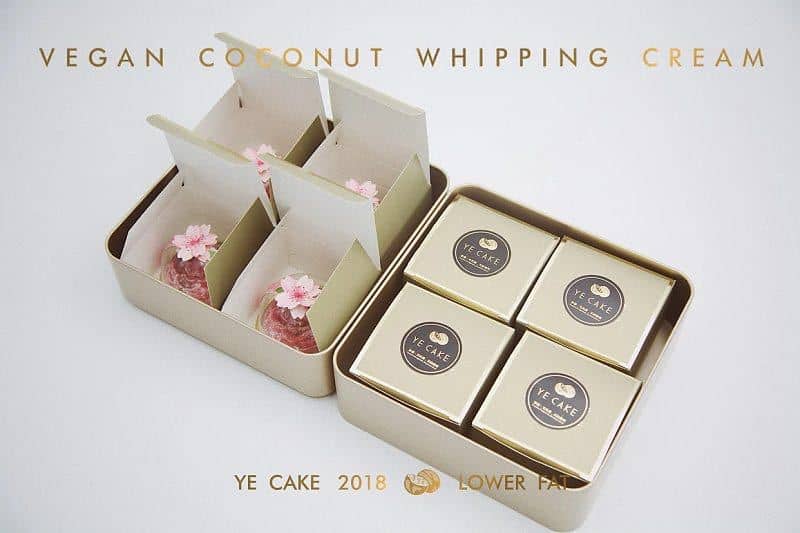 Apart from the shape, there's nothing traditional about these mooncakes – which have are more like a Japanese mochi. As an extra bonus, they're only 110 calories each. The chocolate was one of our standout favourites of all of the cakes we had – with a really rich centre. The durian on the other hand…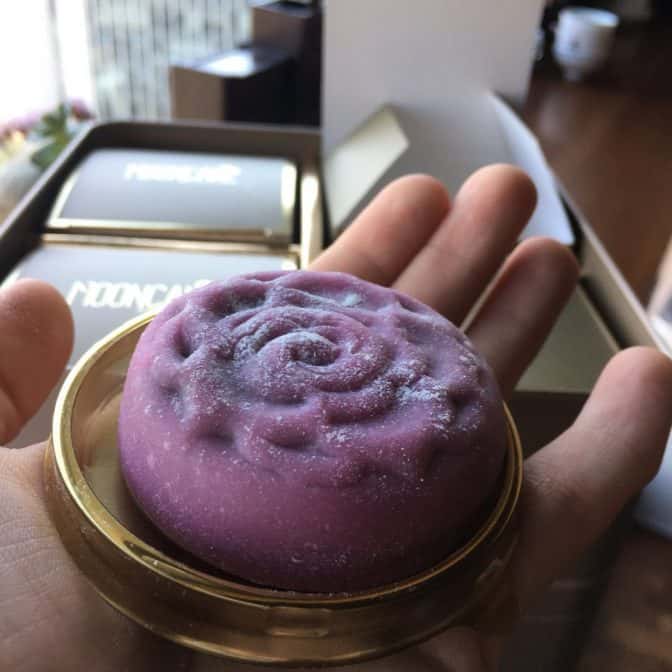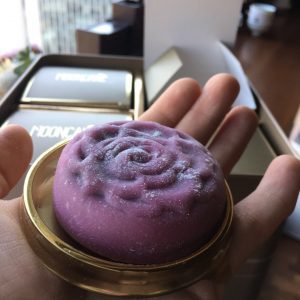 Boxes contain: Red Bean Paste Mooncake, Vegan Matcha Mooncake, Vegan Chocolate Mooncake, Vegan Dragonfruit & Raspberry Mooncake and Vegan Durian Mooncake – 79RMB for 4, 158RMB for 8.
Order through their weidian store (YE CAKE. 椰蛋糕) or through WeChat ID: yecake67765566.
Espresso & Sea Salt | Starbucks
Never missing a trick, this global chain's cakes were probably some of the best we tried and came in a beautiful turquoise pivoting box. The espresso and sea salt was dense and quite bland, but the raspberry cheesecake was delicious.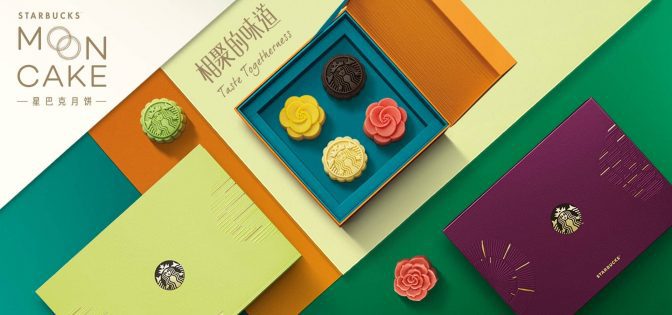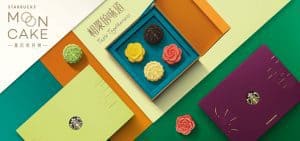 If these do tickle your fancy, you may be better off feasting on the samples that are currently on offer at most branches, because these tasty treats are a whopping 448RMB for a box of eight. Ouch.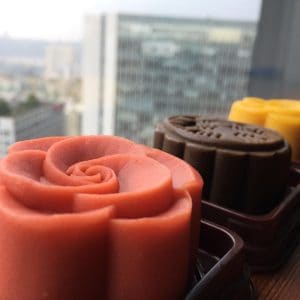 Boxes contain: Soft Custard Mooncake, Raspberry Cheese Mooncake, Caramel Macchiato with Hazelnut Mooncake, Raspberry Cheese Mooncake, Seasalt Espresso Mooncake, Starbucks Style Mixed Nuts Mooncake, Cold Brew coffee with Macadamia, Matsutake Lava Custard and Lime Teavana.
Available in store. Box of 6 – 338 RMB, Box of 8 – 448 RMB, Box of 10 – 598 RMB
Mulberry Leaf & Pistachio | MI XUN Teahouse
Ever elegant, The Temple Houses' vegetarian MI XUN Teahouse is offering a high tea with some of the only freshly made mooncakes in town.
You can also order these delicate, vegetarian cakes individually, for 48RMB each. The Edible Charcoal with Fig and Ginger was our favourite.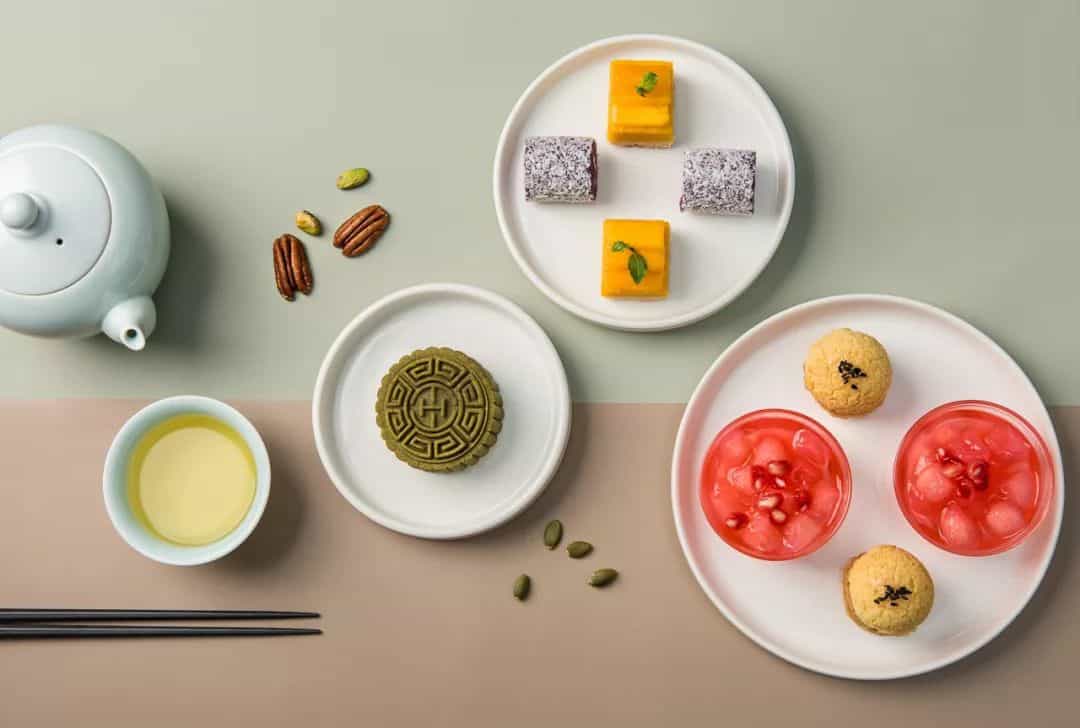 The only drawback is you have to dine in – so these are no good if you're looking to woo your boss in the office. But sitting in the beautifully tranquil MI XUN Teahouse isn't too much to ask…
Flavours available are the edible charcoal with fig and ginger moon cake and mulberry leaf with pistachio mooncake.
Available between 2018.8.15-9.24. For reservations call 028 – 6297 4193.
MI XUN Teahouse, No. 81 Bitieshi Street, Jinjiang District 谧寻茶室, 锦江区笔帖式街81号
Frozen Skins | Shangri-La, Chengdu
We got excited when we heard about these frozen treats, and they're quite tasty – the skins (much like the vegan cakes), are like a Japanese mochi.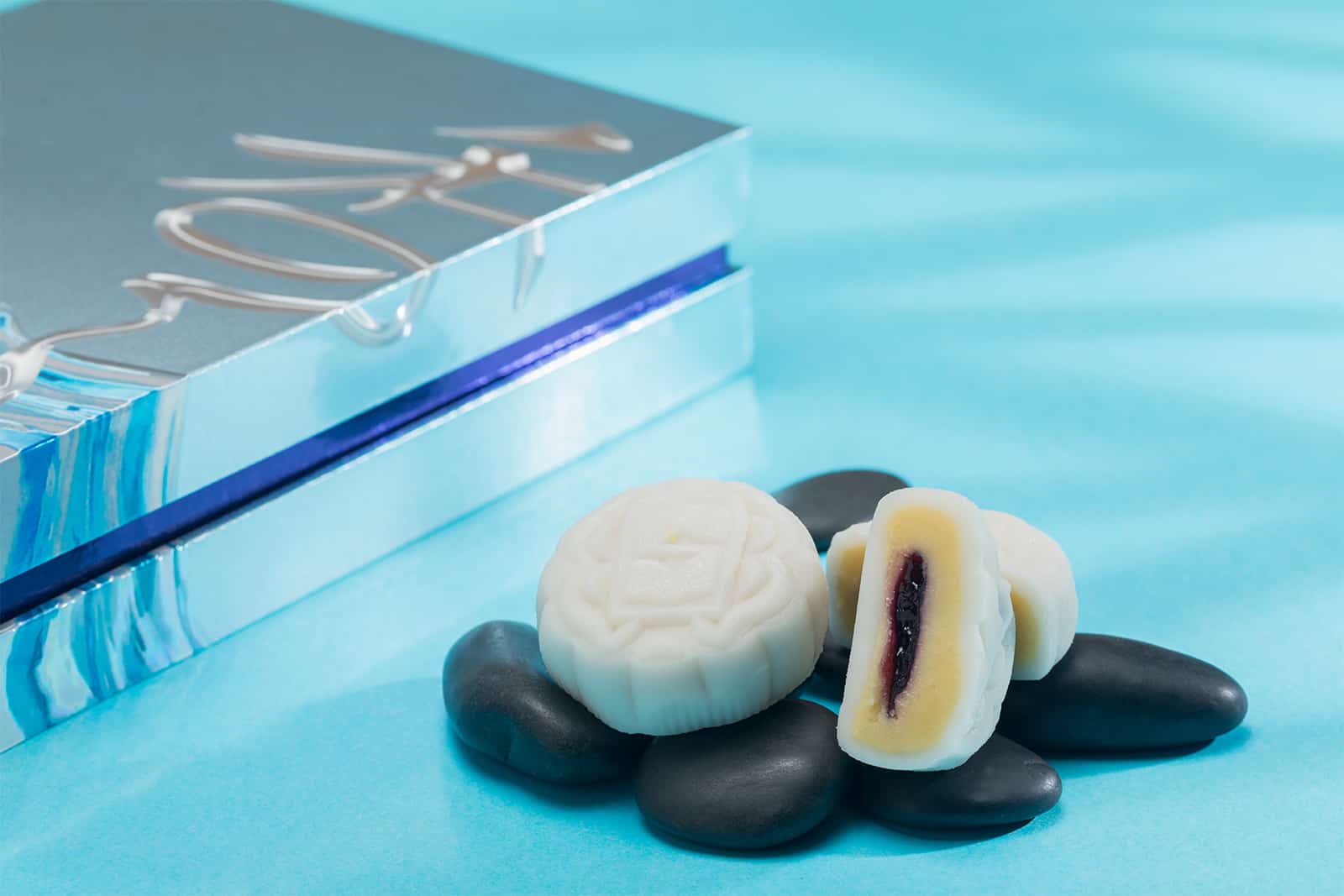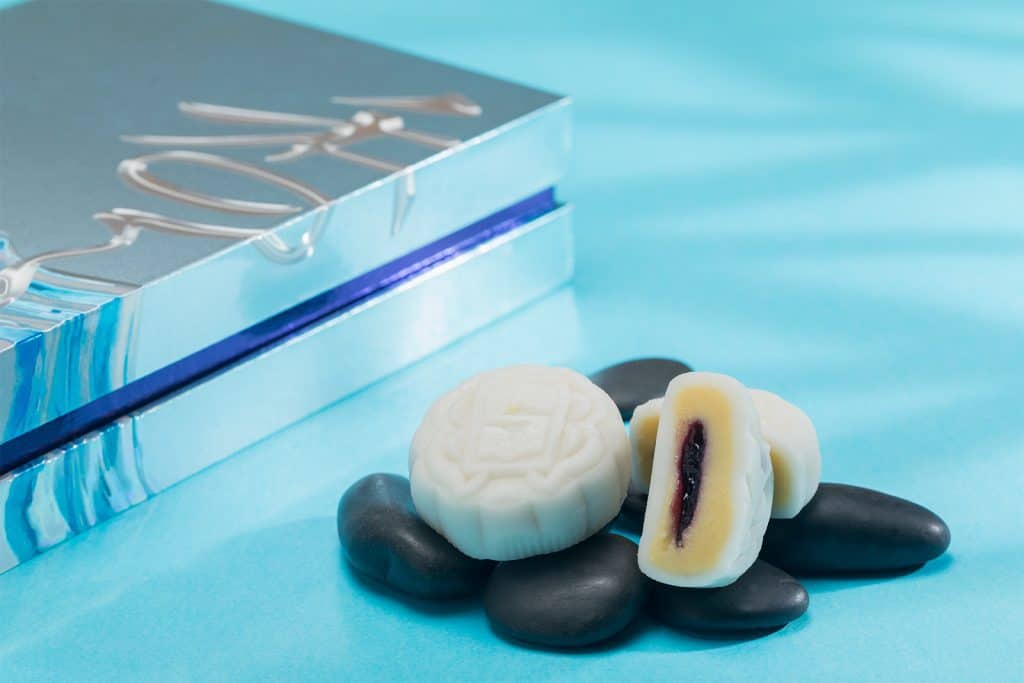 The hotel has a huge variety of mooncakes, some of them traditional like lotus, and some more risky options like sea cucumber and Sichuan pepper. We weren't brave enough for those. They offer a cute kids version, with various fruit flavors and a puzzle.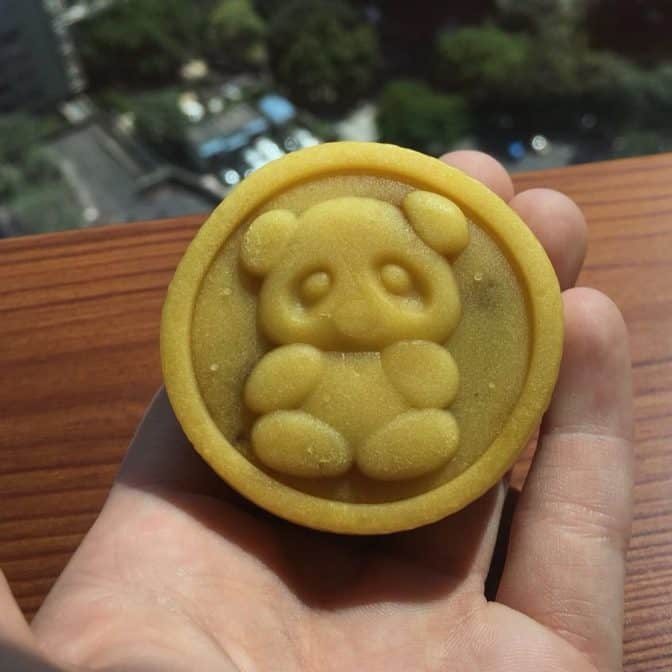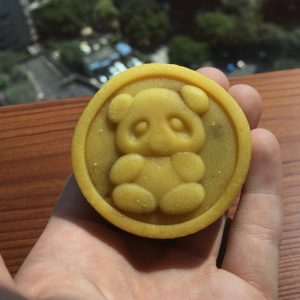 288RMB for a box of 8.  Flavours are Durian, Blueberry, Strawberry Ice Skin and Mango flavours.
9 East Binjiang Road 滨江东路9号
---
The verdict? We really liked the vegan cakes, as they were light and refreshing. But after trying 50 or so flavours this week, we'll wait until next year to until we yue bing again.
Mooncakes or no mooncakes, we wish you a fantastic Mid-Autumn festival.