It's the moment that foreigners in Chengdu have been waiting for, the chance to use China's most efficient and popular mobile payment platforms, without any unnecessary hassle. When in China you quickly realize that most Chinese people live a cash-free life, making all their payments through online payment apps such as Alipay and WeChat pay.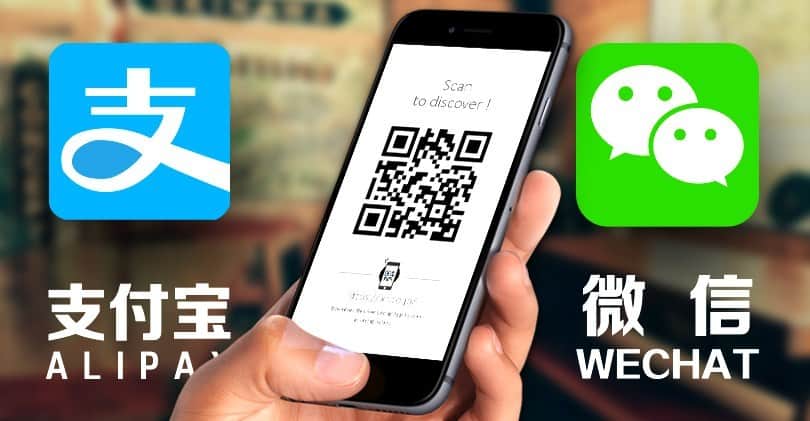 The services these platforms offer on their apps appear endless, from purchasing products in stores to paying bills, prepaid mobile top-ups and ordering food, you can use these platforms to pay for pretty much anything in China. This cashless society means that these mobile payment platforms are vital for locals or visitors, thereby, it is progressively difficult for foreigners that don't have a Chinese bank account or local mobile number. As both were required to utilize online payment platforms, making it feel like an impossible task for overseas visitors to discover any apps that would allow them to make online payments with their own international cards.
This is all about to change as Alipay has recently released a 'Tour Pass' which finally allows foreigners to use their own international credit cards to top up their Alipay account. Evidencing a great breakthrough for foreigners in China, considering that users previously had to have a Chinese bank account or mobile number to register. The Tour Pass allows tourists to pay for their transactions using a prepaid card from the Bank of Shanghai. The minimum amount you can top up is 100RMB and you can top up to 2000RMB, however, it has a 90-day restriction. There is no need to worry about loosing your money if you do not use it all, as the remaining funds in your account are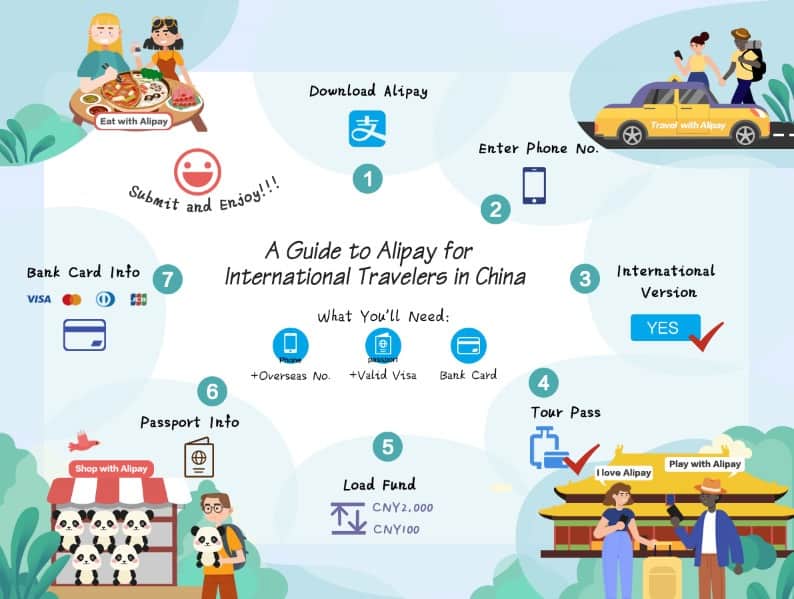 How to use the Tour Pass
Tourists can download the Alipay app on both iOS and Android phones, by logging in with their overseas phone number and using their international bank card to load CNY onto their Tour Pass. The Tour Pass is currently accepts both credit cards and debit cards and is compatible with four issuers being Visa, MasterCard, JCB and Diners Club.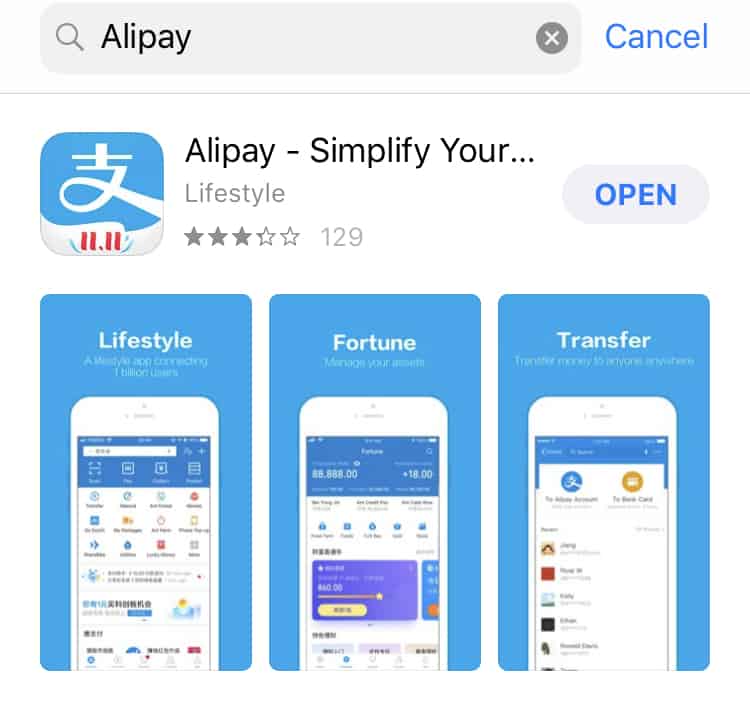 Once you have installed the app, ensure that you select the international version, the option will pop up when you first log in with your international phone number. After you have logged in, search "Tour Pass" in the search bar which will take you to the Tour Pass Mini Program option, which will then ask you how much you wish to top-up by. After choosing how much to top up, be prepared to enter your passport number, card details and have a photo of your Chinese Visa ready to upload. This is all the information Alipay require you to provide to verify your identification before you can upload any money: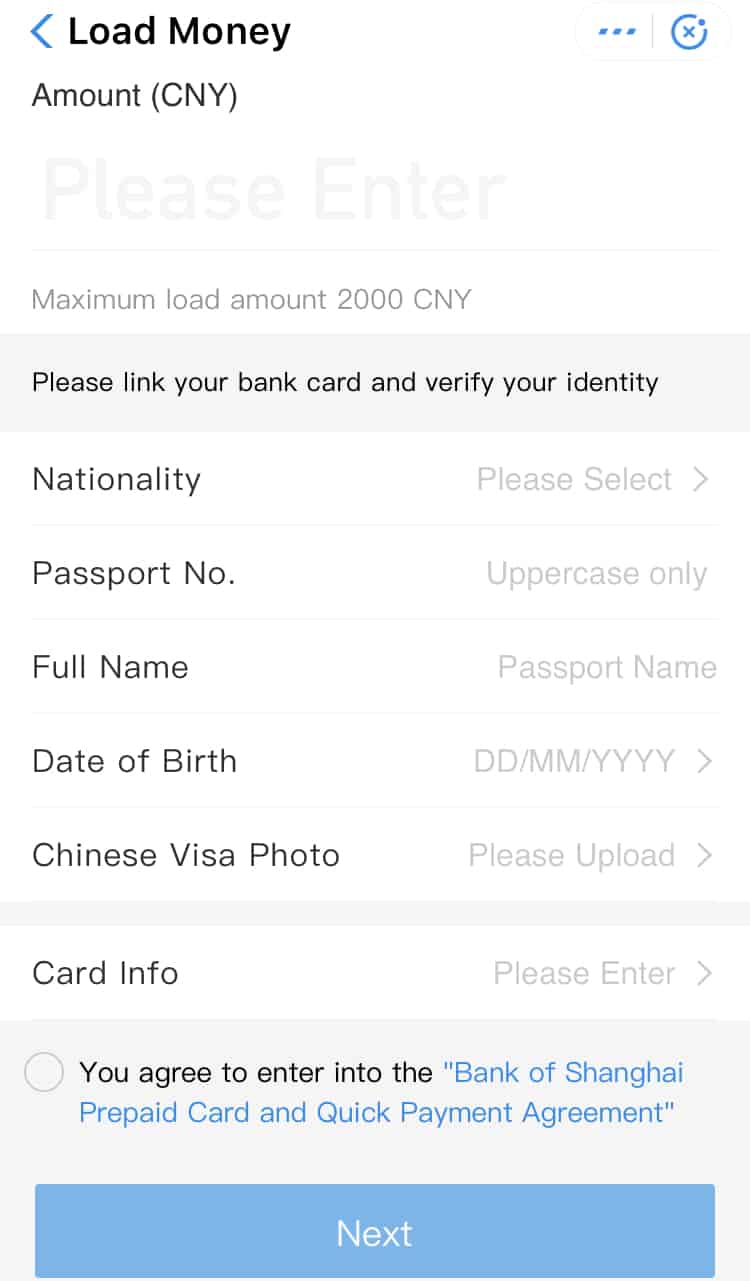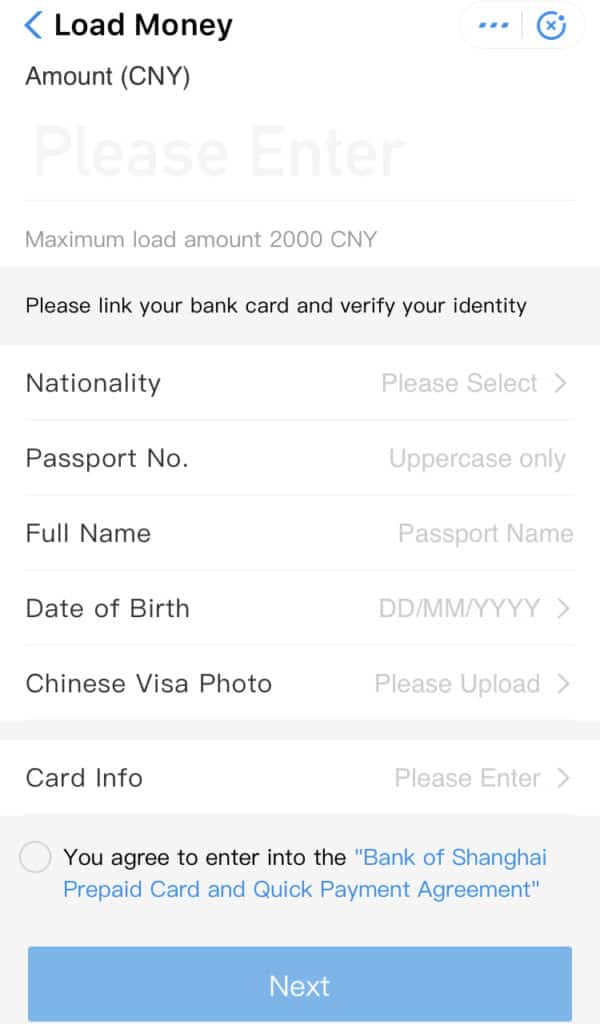 When you have topped up your account, you are required to enter a 6 digit password, make sure you take note of this to avoid forgetting it! Add the Tour Pass to your favourites to make it easier to find by selecting "More" on the homepage, then under "My Favourites" select "Add" which will show you all the apps available, then select the blue plus button in the right hand corner to add this to your favourites.
There are two different ways you can pay with Alipay, by scanning a merchants QR code or the opposite, they can your QR code. You may need to show your barcode for the merchant you are paying to scan which you can do by pressing the "Pay" option, which will bring up your barcode. This is typically for more established stores and big chains, which already have the amount ready to take from your Alipay. Alternatively, sometimes you need to scan the merchants Alipay QR code to pay them. You can do this by selecting the scan option, however, you will need to ask them how much you need to pay, confirm the amount and then pay it. To reassure them that you have paid you can show them your screen that shows the transaction has been completed! The amount you have paid will be deducted from your prepaid account. You can check all your previous transactions by selecting "Me" on the homepage then selecting "Transactions".


Besides just mobile payment options, there is much more that you can do in Alipay through using the prepaid card. When you select "More" on the Alipay homepage it takes you to an abundance of different applications, including Phone Top-ups, Taobao, Didi Taxi, Takeout and more. All of which can make your experience in Chengdu easier and more convenient.
Now you are ready to pay like a local!
Developments of Alipay and WeChat Pay
The Tour Pass is perfect for just that, tourists, who may be traveling in China for a few months, students visiting on short cultural exchanges or studying for a short period of time in China. Unfortunately, it appears that the tourist pass may not be as wonderful as it first seemed for expats living in China for a long period of time. As foreigners are only eligible for the Tour Pass for three months before it becomes invalid, meaning that only short-term visitors can benefit from this new system. Proving it to be less useful for foreigners that are hoping to reside in Chengdu for a long time, which many expats are, especially according to the saying "once you visit Chengdu, you will never want to leave".
Many expats in China have already expressed that the Alipay innovation will not be of any benefit to them due to the tight 90-day time restriction placed on the pass. The Tour Pass has nowhere near the same number of features as the normal Alipay, even the option to transfer money to friends is not available which is disappointing, considering how useful this is. It appears that Alipay hasn't yet recognized or understood the foreigners who stay in China for longer than 3 months, yet, are not eligible for a Chinese credit card meaning they can't utilize the full version of Alipay. Overall, the Tour Pass is a positive sign that Alipay could expand its offerings to foreigners for a longer amount of time if they consider the Tour Pass to be successful.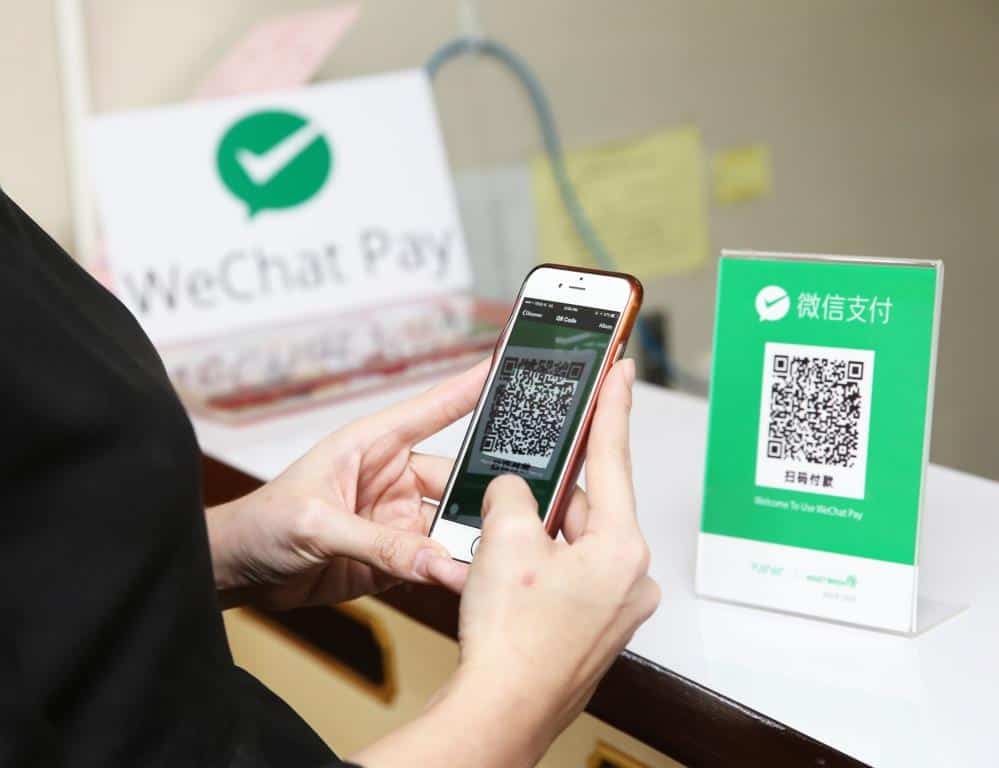 Following the announcement of Alipay's new Tour Pass, it is no shock that their biggest rival WeChat pay was quick to reveal that they are also planning to release a method for foreigners to utilize their international cards for WeChat pay. As they state that they are currently in the process of speaking to various card-network operators including Visa and Mastercard, to develop an effective process of linking overseas credit cards to WeChat Pay. Since most overseas visitors use international credit cards, the alliance between WeChat Pay and global card associations will provide more convenience for foreigners both traveling and living in mainland China.
WeChat Pay currently have the option for foreigners to connect their international card, however, they had to rely on Chinese friends to transfer the money as people without cards issued in mainland China were restricted to limited functions such as QR code payment. Foreigners were not able to transfer the money directly from their international cards onto WeChat Pay. Seeking to open their services to support international card usage suggests that WeChat Pay is becoming more open to allowing and encouraging foreigners to use their platforms. Hopefully, WeChat pay will allow accounts using international cards to utilize more features for a longer period than Alipay's Tour Pass.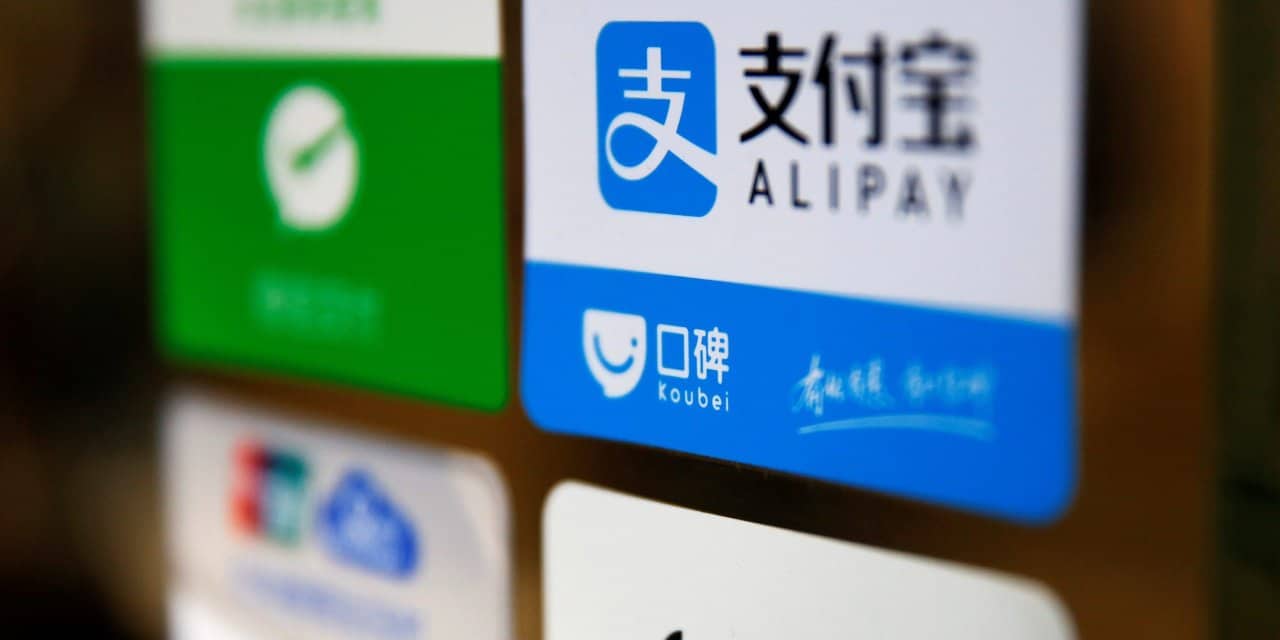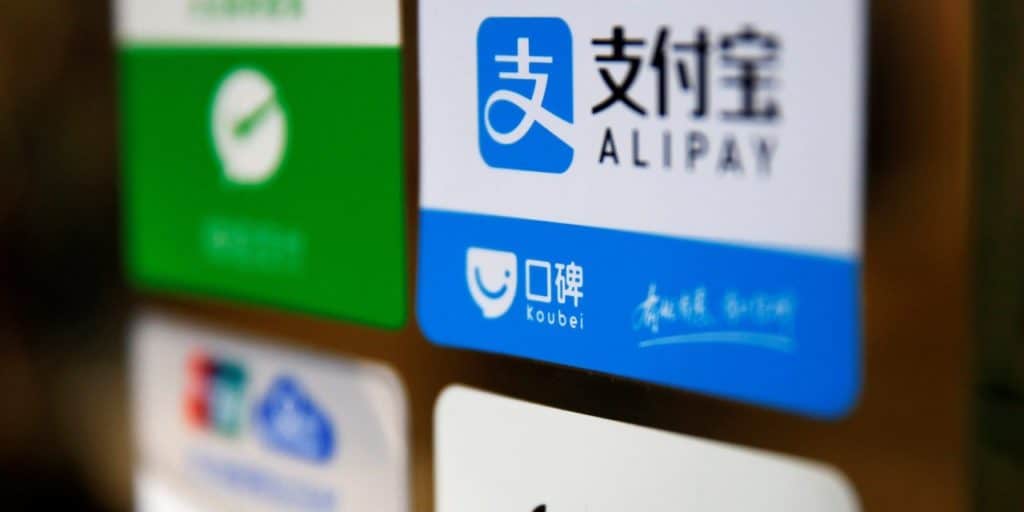 It is evident that these mobile payment platforms are determined to take advantage of the flourishing number of foreigners in China to provide increasingly convenient lifestyle services. Expats' life in China would be significantly easier and more efficient if they were able to use all the services of Alipay and WeChat pay through their own international bank cards endlessly, it would also enable them to fit into China's cashless society better. Although these companies have acknowledged this, there is still be a long way to go until foreigners are granted full access to all the advantages of China's high-tech mobile payment platforms, but this movement is definitely a step in the right direction. It is looking increasingly optimistic that Alipay and WeChat pay may reach out with more foreigner-friendly methods to use their payment platforms in the future.
Do you think that the Alipay 'Tour Pass' is useful for foreigners?