Where to Happy Hour in Chengdu
Chengdu brings about a fantastic array of bars with themes ranging from French wine houses to craft beer houses to award winning cocktail bars and everything in-between.
An even better way to enjoy these bars is to enjoy some of the great happy hour deals they offer, below we have compiled a list of our favorite deals.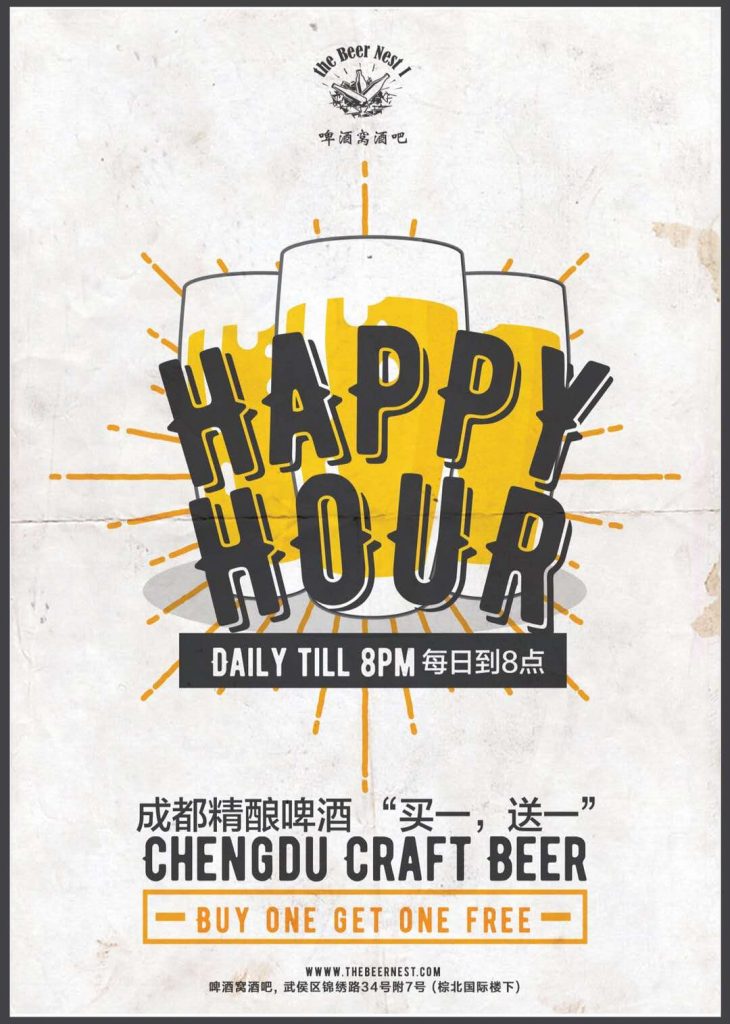 This cosy bar opposite the Poly Center was one of the first to introduce Chengdu to good beer and has become an iconic waterhole in the city. They show comedy and have a great variety of locally made craft beer and other drinks.
The little wooden clad bar is in the centre of the city, and promises a great atmosphere, good music, and is the perfect place to watch the world go by.
Open 5pm – late.
Deal: Buy One, Get One Free on Chengdu Craft Beer, Daily Till 8PM
Address: Jinxiu Road 34 – 7 (Across Poly Center Ping'an bank; close to Zongbei Peter's Tex Mex).
啤酒窝酒吧, 武侯区锦绣路34号附7号 (棕北国际楼下)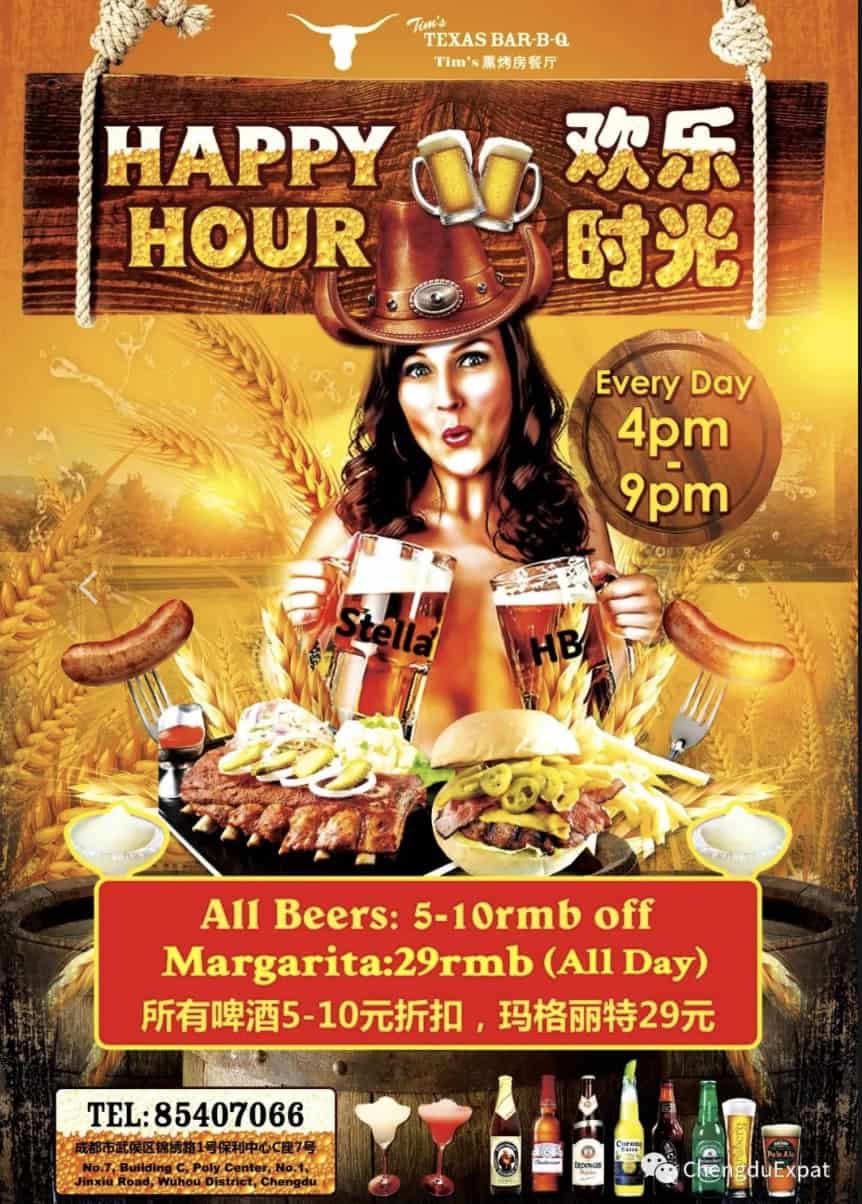 That menu is pretty extensive for a small place, also offering a decent selection of Tex-Mex with burritos, chalupas, quesadillas, tacos, nachos, and fajitas. Other Western favourites such as pizza, burgers sided with hand-cut fries, and salads round out the menu. Their smoker produces sausage, pork ribs, brisket, and chicken, all which can be ordered as plates or combinations with a few sides. Tim's also serves up an all day American style breakfast with pancakes, eggs, or breakfast tacos stuffed with the smoked meat.
Deal:
5-9pm: Beer 5-10RMB cheaper
Always: Frozen margaritas 29RMB
Address: No.7, Building C, Poly Centre, No.1, Jinxiu Road, Wuhou District, Chengdu Zip
锦绣路1号,保利中心C 坐7号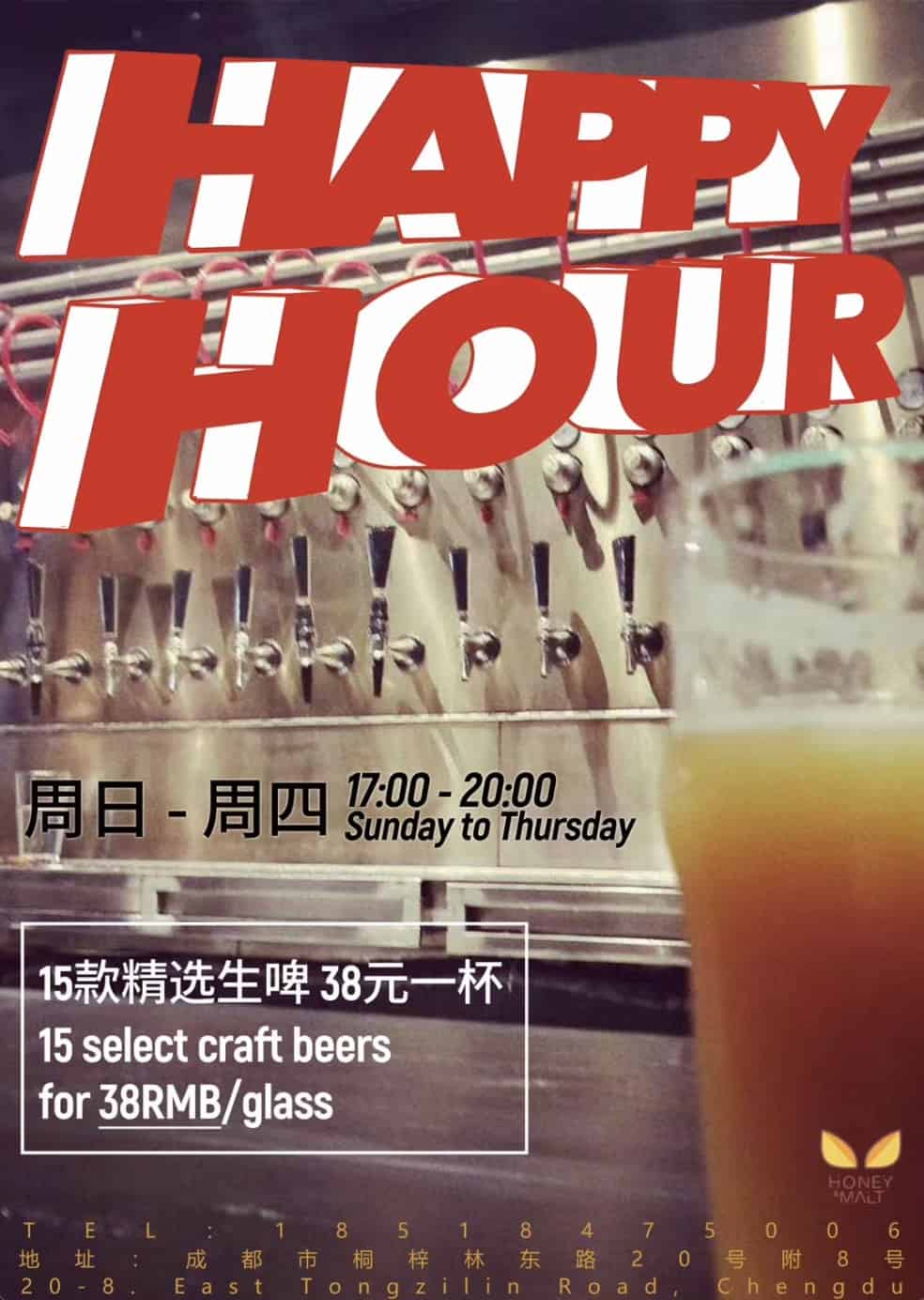 Based in the heart of expat friendly Tongzilin area, this modern craft beer bar offers over 30 different beers on tap. They focus primarily on brews from NBeer in Beijing, Trip Smith in Guiyang, No. 18 in Wuhan, Master Gao in Nanjing, as well as Harvest Brewery located right here in Chengdu. Walking in from the cool night air, the place felt immediately warm and inviting with a clean open concept and minimal design. The sides were lined with wooden tables, and there was ample space to pony up to the bar.
Deal: Buy 1 get 1 Free for 20 selected craft beers, Monday to Sunday before 8:00
Address: 20-8 East Tongzilin Road, Chengdu, 桐梓林东路20号附8号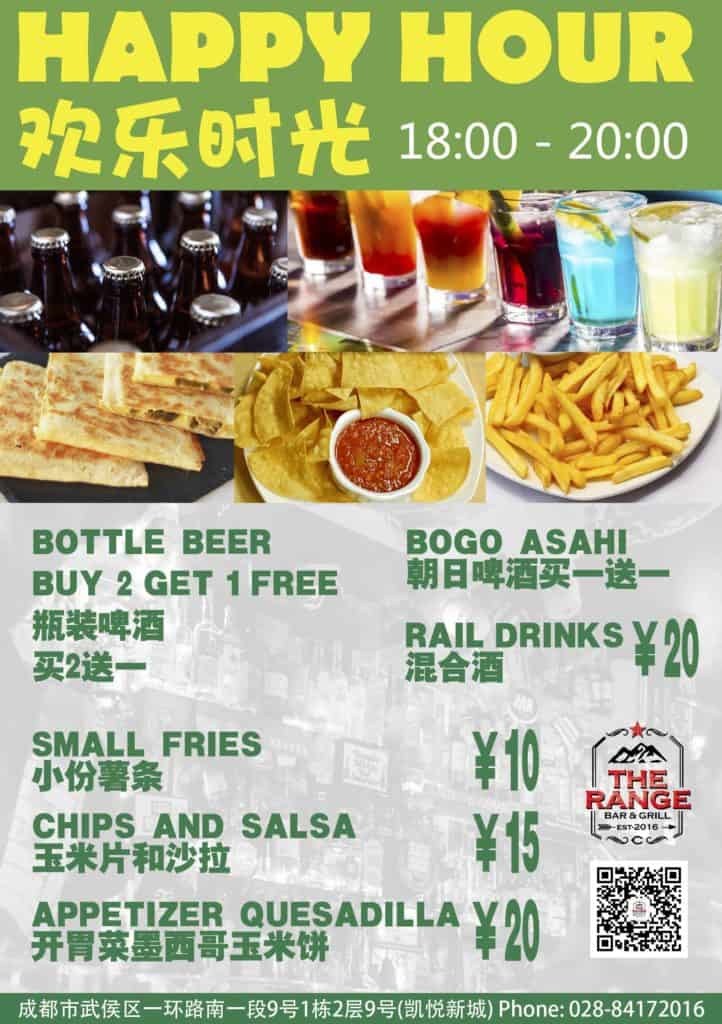 Deal: See poster. Daily, 6-8pm
Address: Wuhou District, First Ring Road #9 South First Section Building 1. Second Floor Suite #9. (KaiYue New City) 成都市武侯区一环路南一段9号1栋2层9号(凯悦新城)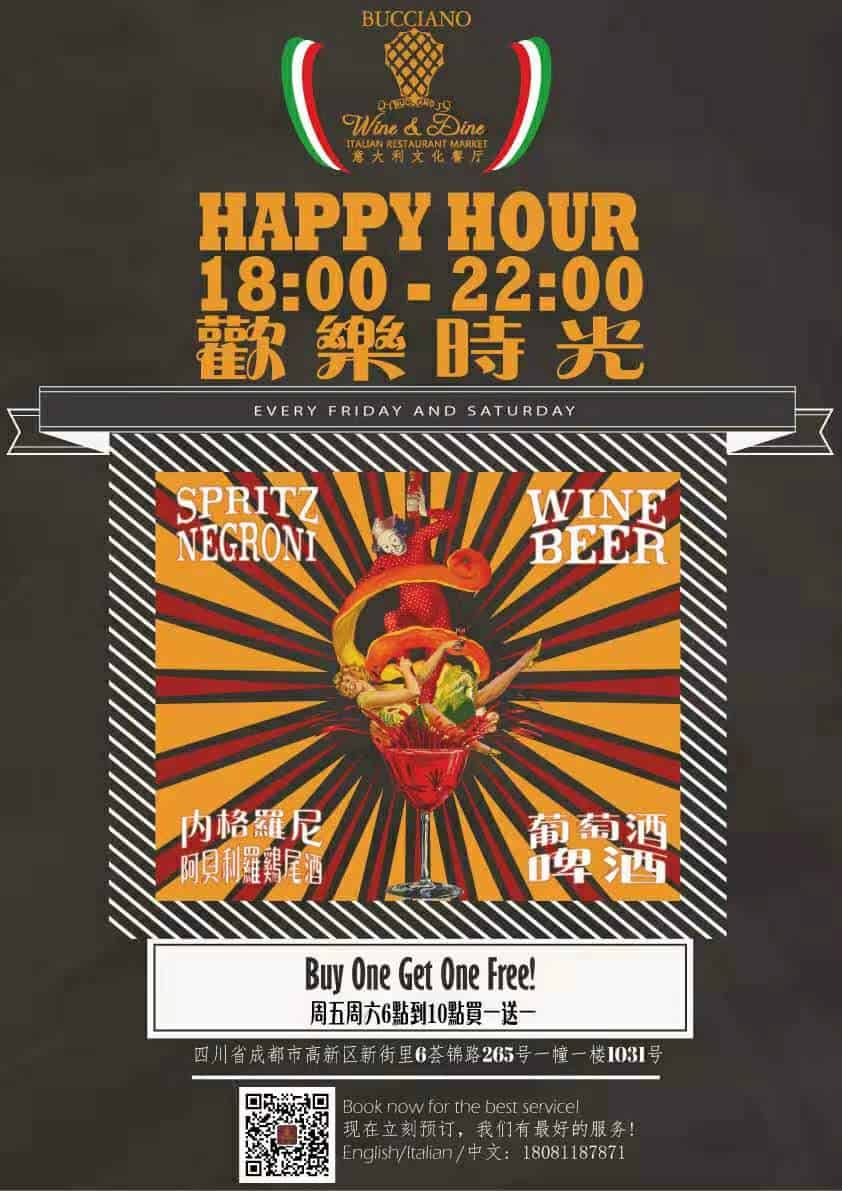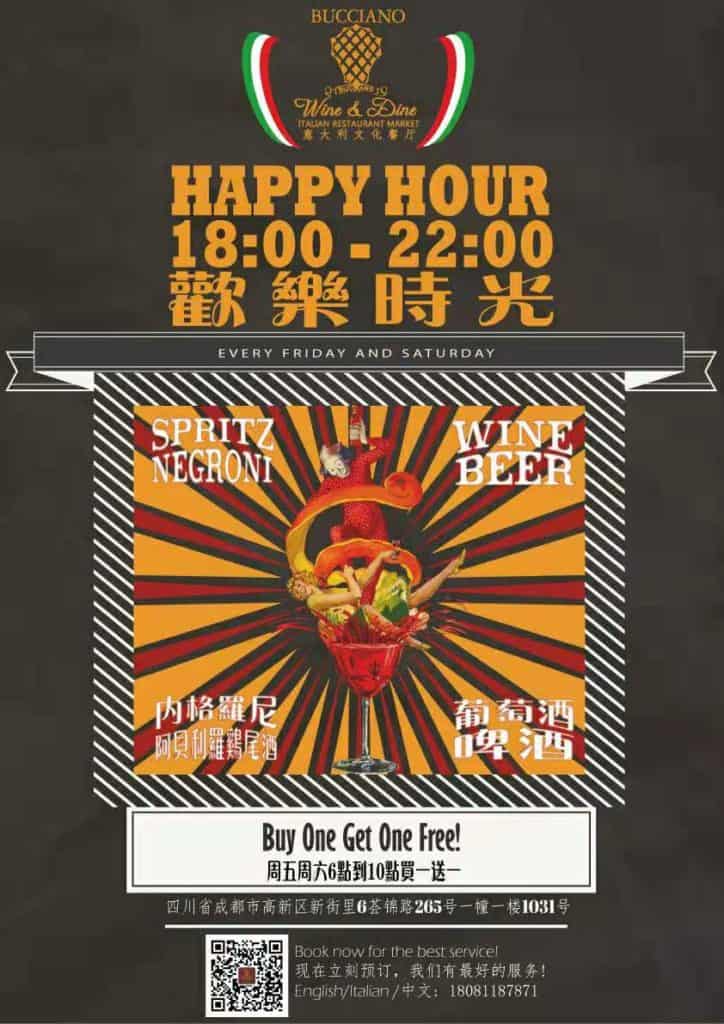 Deal: Buy One Get One Free, Every Friday and Saturday – 18:00 – 22:00
Address: GaoXin District, XinJieLi 6 No265 HuiJin Road Building 1, 1st Floor, 1031
四川省成都市高新区新街里6荟锦路265号一幢一楼1031号
Opened in February 2018, Kathmandu is run by Nepalese American with Tibetan heritage aimed to serve Chengduers with fine Himalayan and Italian fusion.
Kathmandu offers customers a multi-cuisine food with the best of Indian, Nepalese, Tibetan and Italian fusion. Born in Kathmandu and lived in New York for many years have inspired the owner to create Himalayan and Italian fusion. Get Happy Hour to add to the flavour.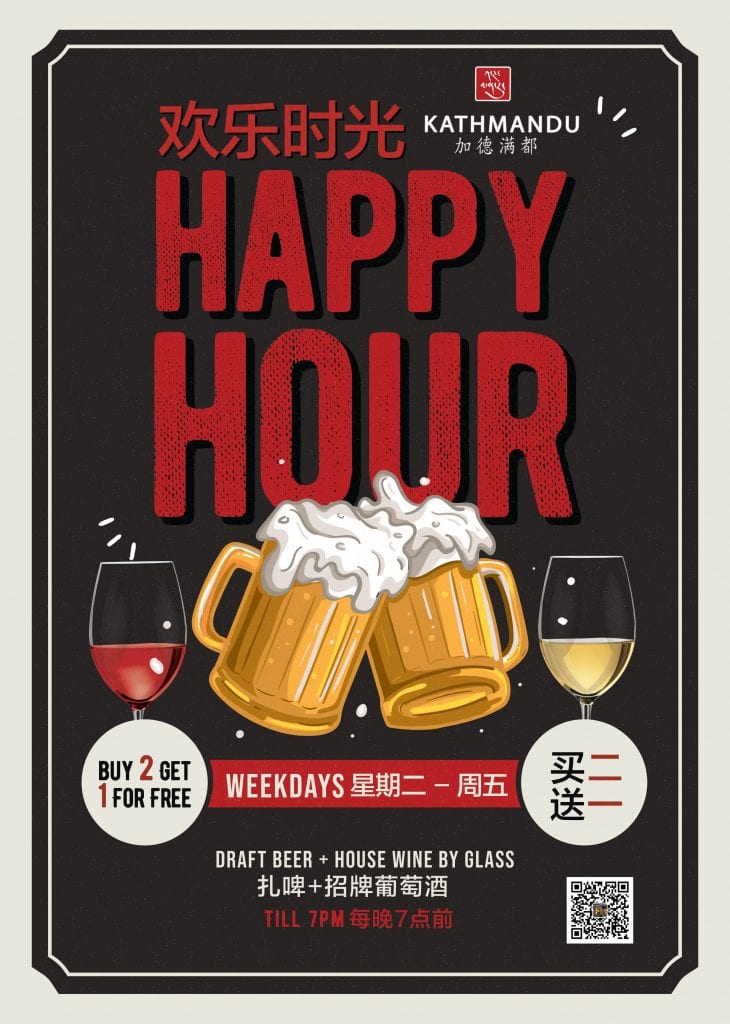 Deal: Happy Hours till 7pm (Tueday- Friday)  Buy 2 Get 1 Free on Draft 🍺 & House  🍷
Address: 99 Huan Jin Road, Qing Yang District, Chengdu 成都市青羊区浣锦路99号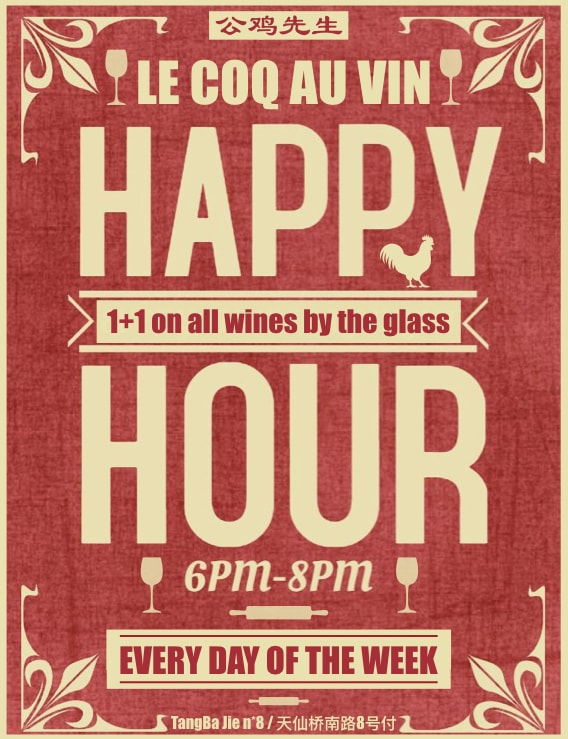 Le Coq Au Vin is not just the famous French recipe anymore but also a trendy wine bar in Chengdu. The comfortable bistro offers first-rate wines, superb food platters, combined with a relaxed elegant atmosphere. The French owners bring an authentic touch to the place, will always help you choose wisely, or simply teaching you how to drink French fluently.
Opening Time: 18:00-02:00
Deal: Buy One Get One Free on all wines – Every day of the week 6pm – 8pm
Address: No.8 South of Tianxian Road, Tangba Street 锦江区镗钯街,天仙桥南路8号
JING Bar @ The Temple House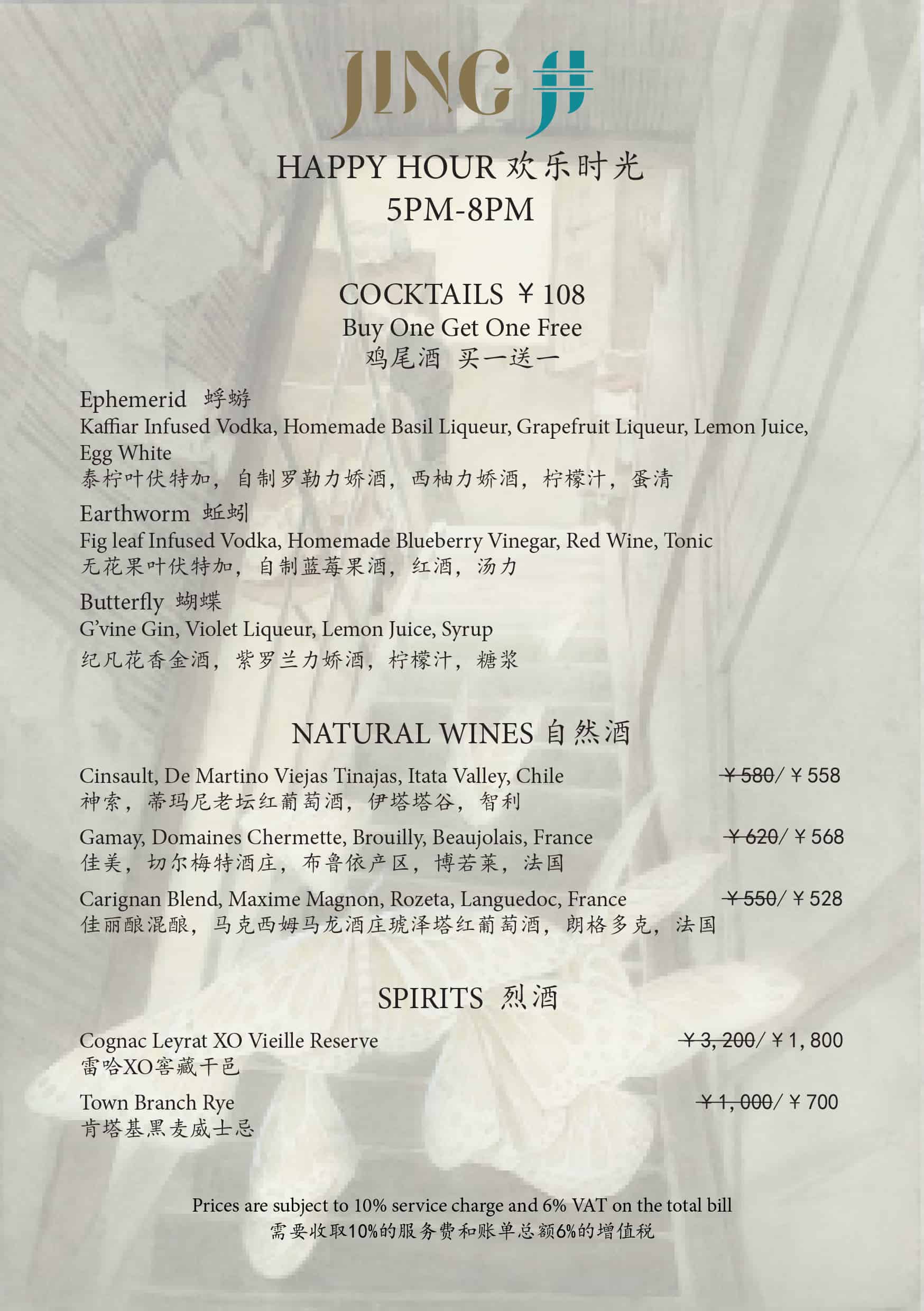 *Happy Hour: See poster
*When: Daily
*Time: 5-8pm
*Address: No.81 Bitieshi Street, Jinjiang District 锦江区太古里81号
McElroy's Irish Pub
*Happy Hour: Draft beers (except Guinness) 10RMB off per pint.
*Time: Daily, 5-7pm
*Address: 1-36/37 East Poly Centre, 1 Jinxiu Rd., Wuhou District 锦绣路1号保利中心东区商铺附36, 37
Blue Frog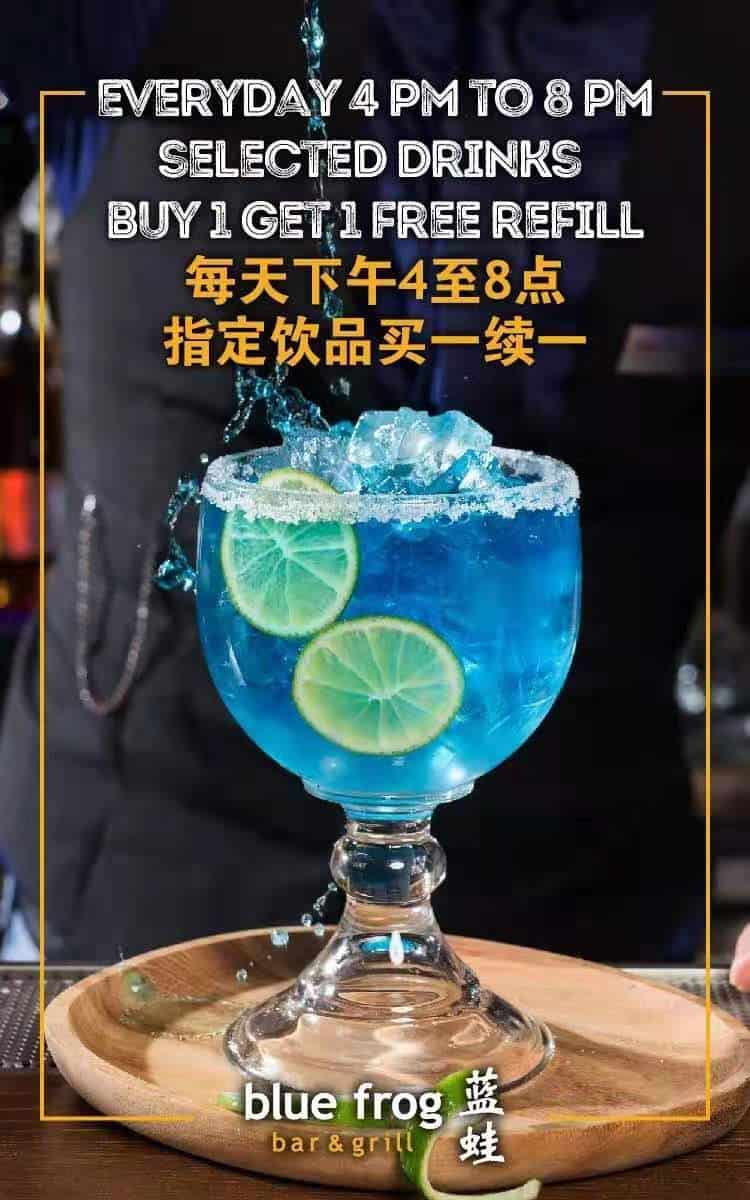 *Happy Hour: All Standard drinks, Buy 1 get 1 Free refill
*When: Daily
*Time: 4pm -8pm
*Address: TaiKoo Li Chengdu, 1307 & 2308 大慈寺中纱帽街8号远洋太古里1307 & 2308
Nanmen Craft Beer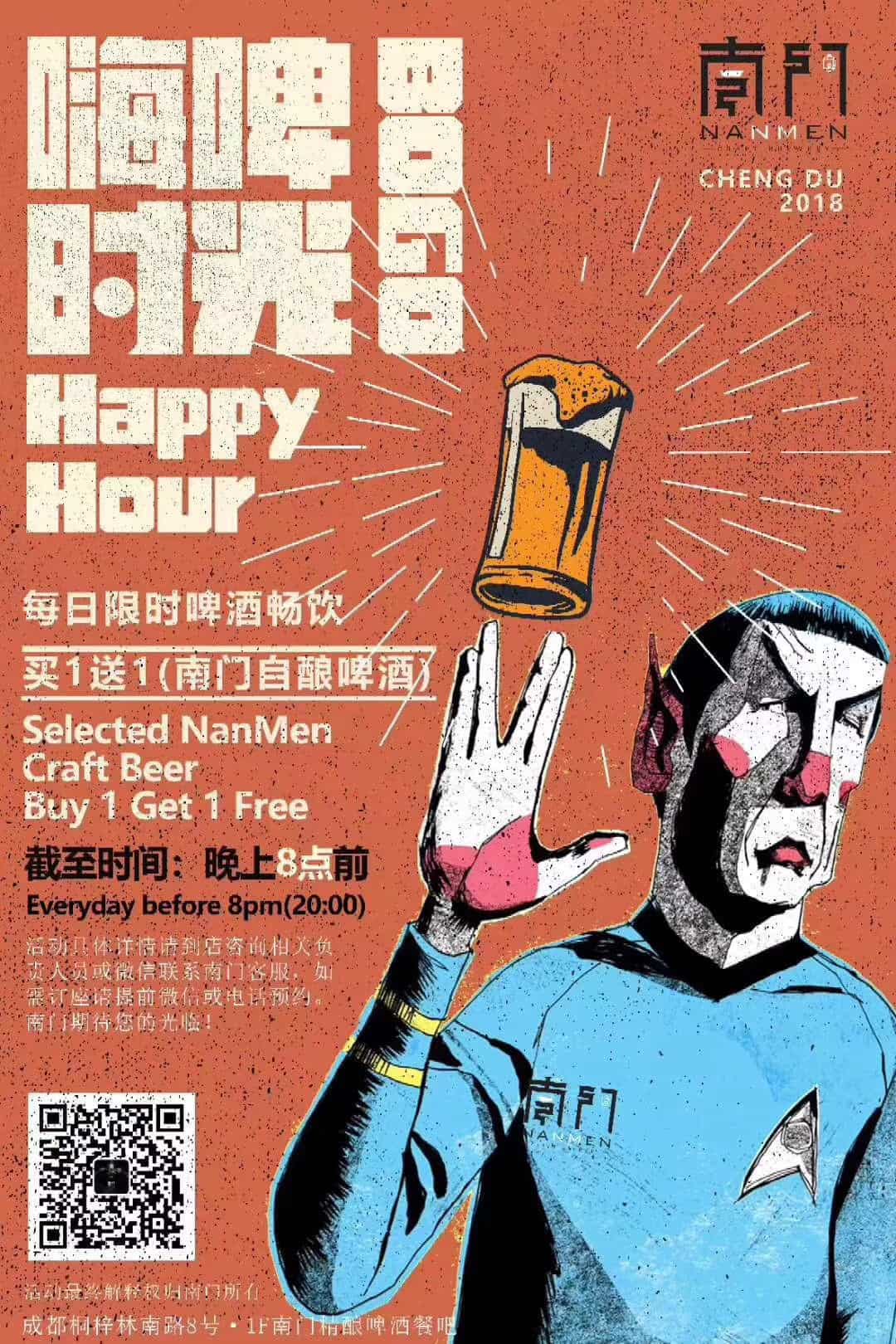 Located in Tongzilin and MiXc shopping mall, Nanmen serves the people Chengdu craft beer made by their own brew team and American style food. Making great beer is their passion, and they aim to make the finest beer in town, and they are on their way.
Deal: Buy 1 get 1 Free for selected Nanmen Beers. Daily until 8pm.
Addresses:
Nanmen Brewpub (Tongzilin) Tongzilin Road No. 8, Wuhou District 武侯区桐梓林路8号(世纪景苑正对面)
Nanmen Taproom (MIXcJ-122, C Block, MIX City, 8 Shuangqin Road, Chenghua District 成都市成华区双庆路8号 – 万象城二期c区J-122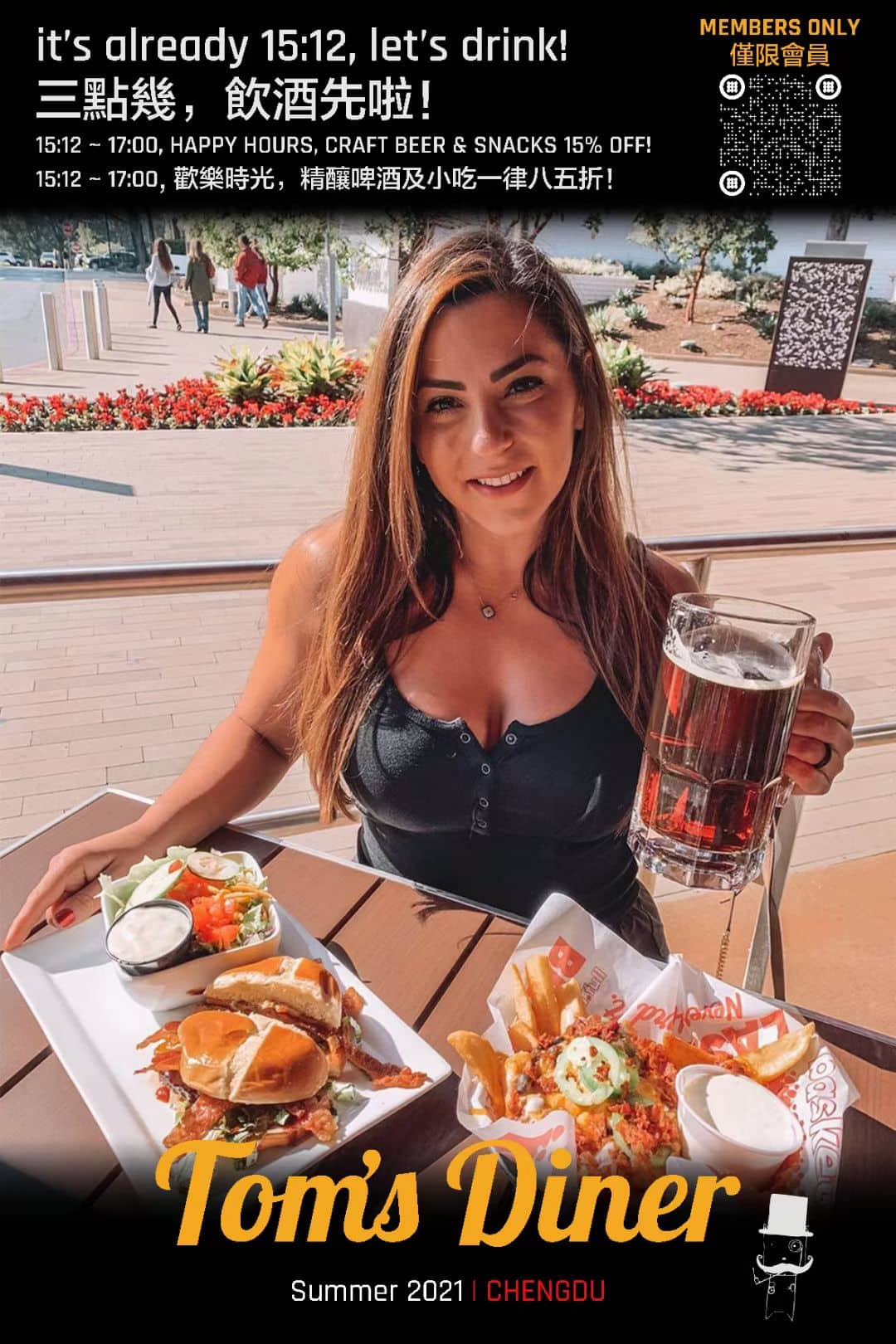 *Happy Hour: Craft beer and snacks 15% off
*When: Daily
*Time: 15:12 – 17:00
*Address: No. 1-5-6, Chunyangguan Street, Jinjiang District 锦江区纯阳观街1号附5-6号
Element Fresh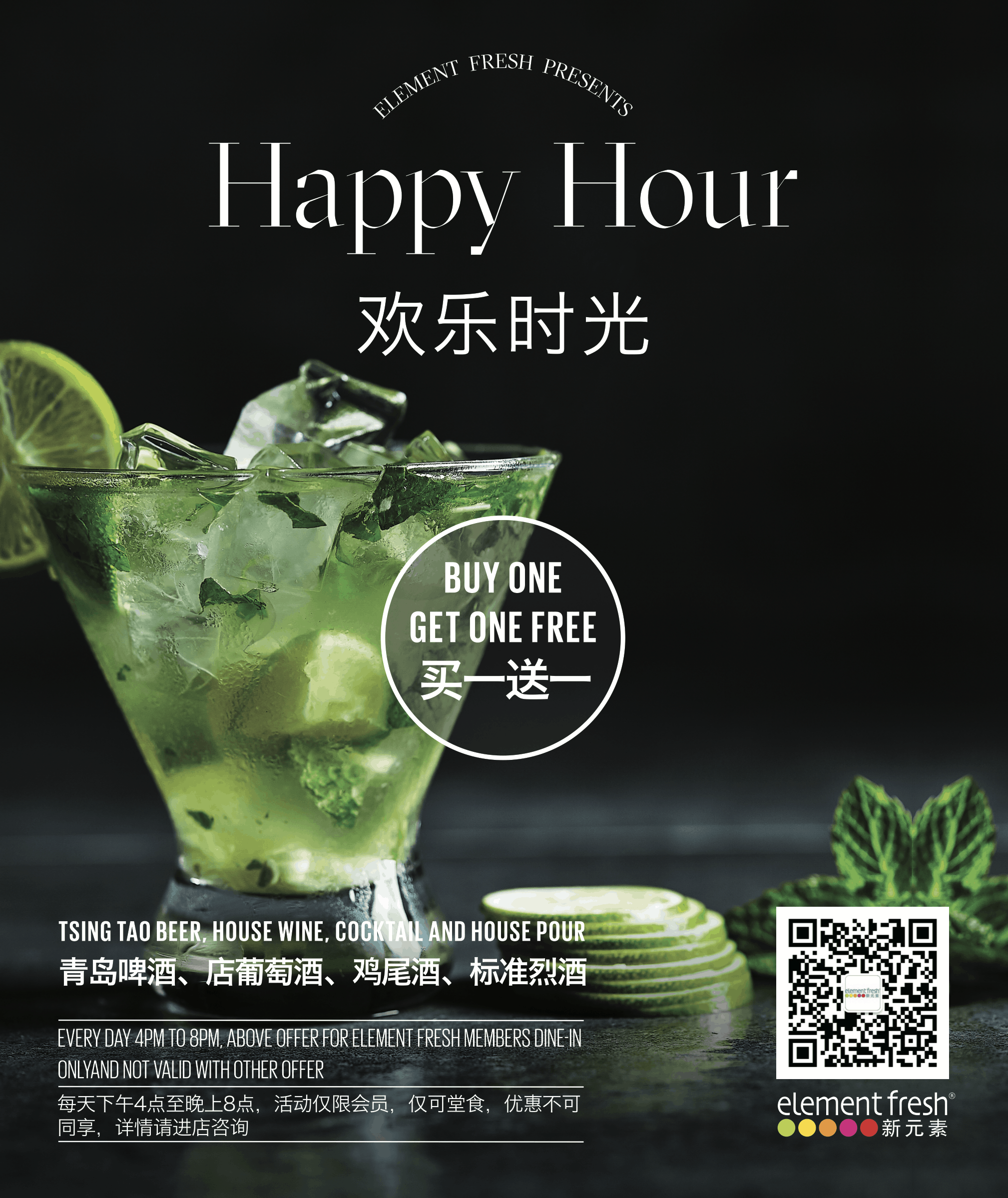 *Happy Hour: "Buy one, get one free" for Element Fresh members. Dine-in only, not valid with other offers.
*When: Daily
*Time: 4pm – 8pm
*Address: 1F 1301 2F 2332 Sino-Ocean taikoo li, 8 Zhongshamao Jie 锦江区中纱帽街8号成都远洋太古里一层1301二层2332店铺
Harry's Wizard Cafe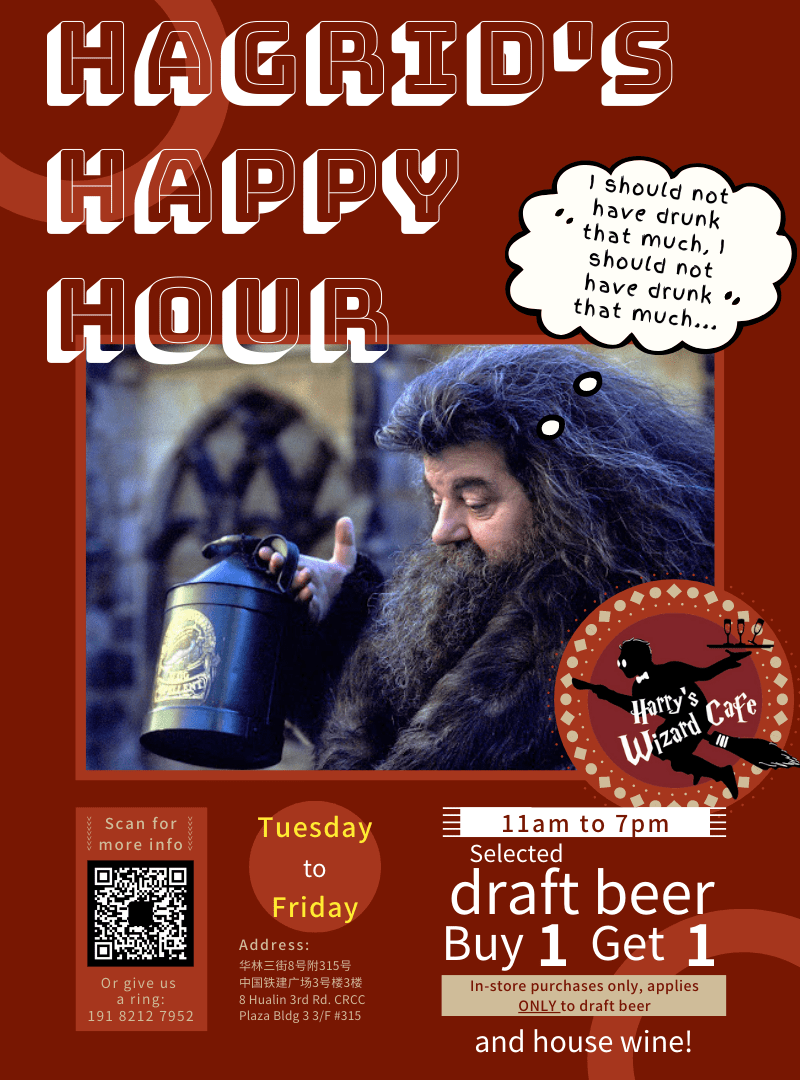 Harry's Wizard Café is located near Chengdu University of Technology and the soon-to-open Natural History Museum on Metro Line 8 (Shilidian Station). By day, a quiet, cozy café; by night, an intimate bar serving draft beer and cocktails which only a true wizard could create. They serve a full menu of innovative Western-style food all day long and the spacious restaurant boasts bar and restaurant seating, as well as a "Room of Requirement" upstairs for private events.
Deal: Buy 1 get 1 Free for Draft Beer and House Wine (glass), Tuesday to Sunday, 11am 'til 7pm
Address: 8 Hualin 3rd Rd. CRCC Plaza Bldg 3 3/F #315;华林三街8号附315号,中国铁建广场3号楼3楼
Fanzone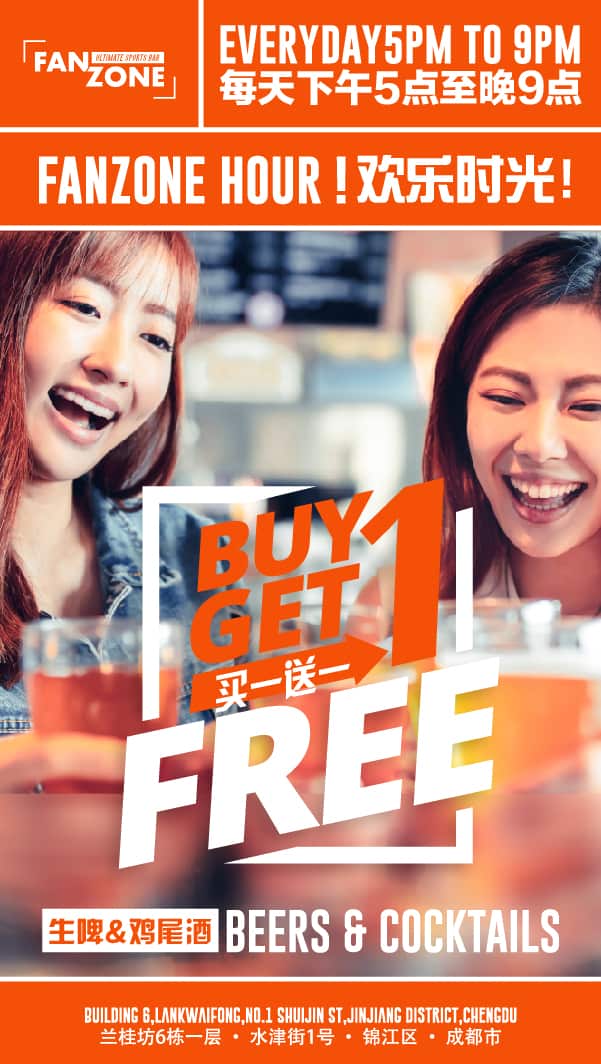 Fanzone Ultimate Sports Bar Cheer your heroes on one the TV's or big wall screens, enjoy pub food and a wide selection of beers and drinks. Darts boards, pool, beer pong and other games available.
Deal: Buy 1 get 1 Free for Beers and Cocktails (glass). Daily, 5pm 'til 9pm
Address: 1/F, 107A Building 7, Lan Kwai Fong, 1 Shuijin St. 水津街1号成都兰桂坊7栋1层107
Haru Bistro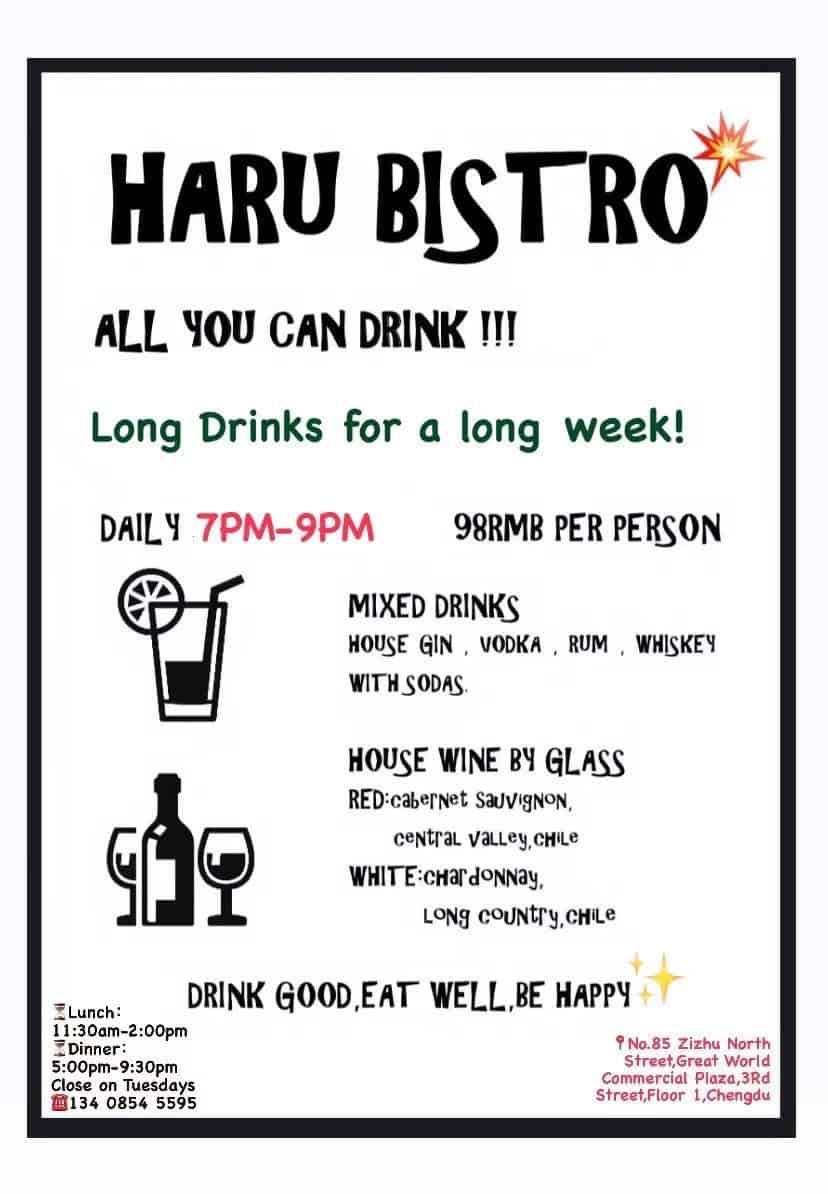 *Happy Hour: All-you-can-drink mixed drinks and house wine for 98RMB
*When: Daily
*Time: 7-9pm (Closed on Tuesdays)
*Address: No.85 Zizhu North Street, Great World Commercial Plaza,3rd Street 紫竹北街85号大世界商业广场1层
Great Leap
*Happy Hour: Selected beers on special for 30RMB/ glass.
*When: Daily
*Time: 12-8pm
*Address: 2-6, East Yujie St., 28 Sect. 4th, South Renmin Road 人民南路四段28号玉洁东街2号附6号
Shamrock Bar & Restaurant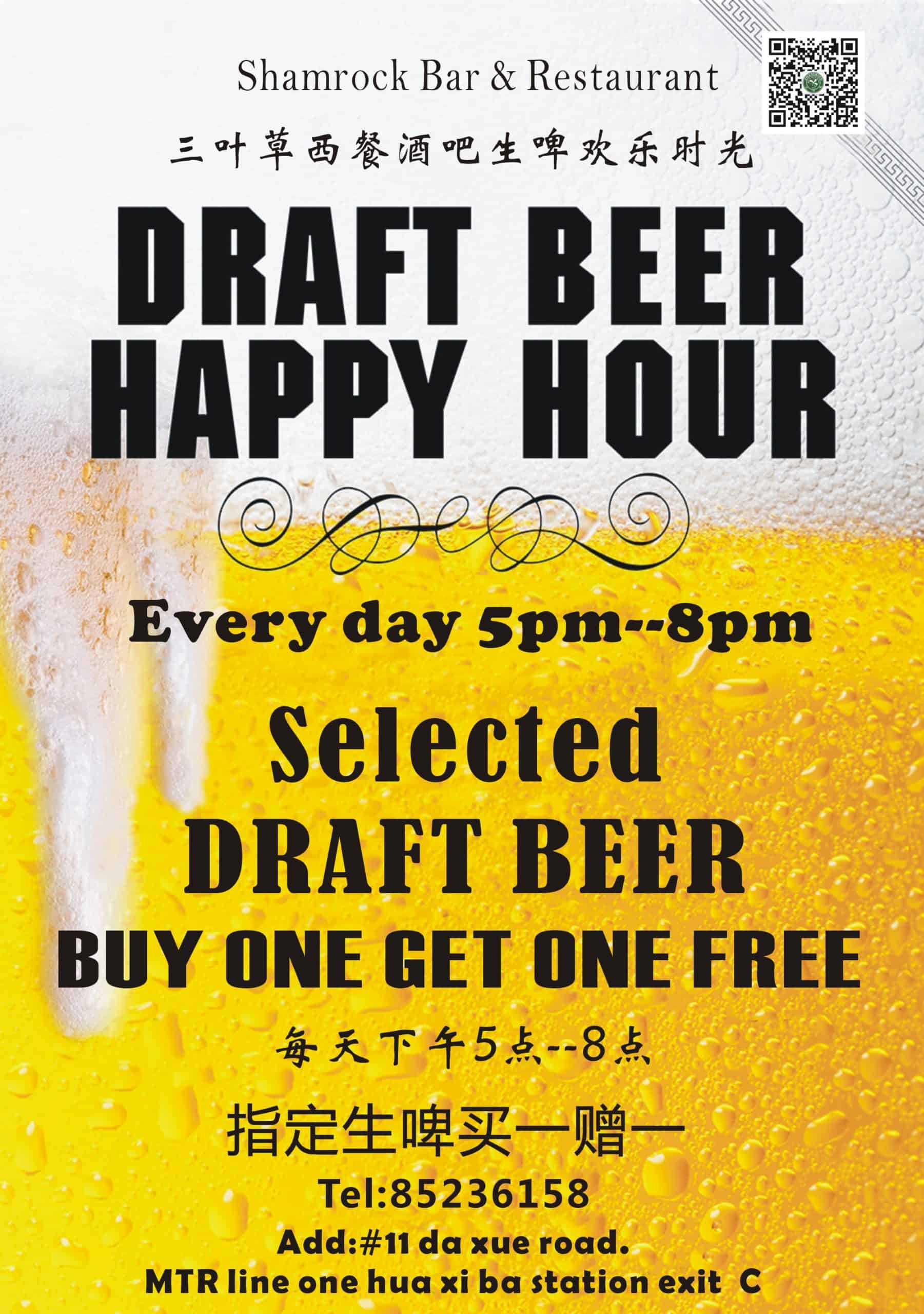 *Happy Hour: "Buy one, get one free" draft beer.
*When: Daily
*Time: 5-8pm
*Address: Wuhou District, Daxue Road No. 11 (Sichuan Uni North Gate) 武侯区大学路1号
Gili's
*Daily specials: See poster
*Addresses:
(Tongzilin) 9 South Tongzilin Road, Wuhou District 武侯区,桐梓林南路9号
(LuxeLakes) 180 Jiazhou Road, Shuangliu District 双流区,嘉州路168号
Foam Ranger TaiKoo Li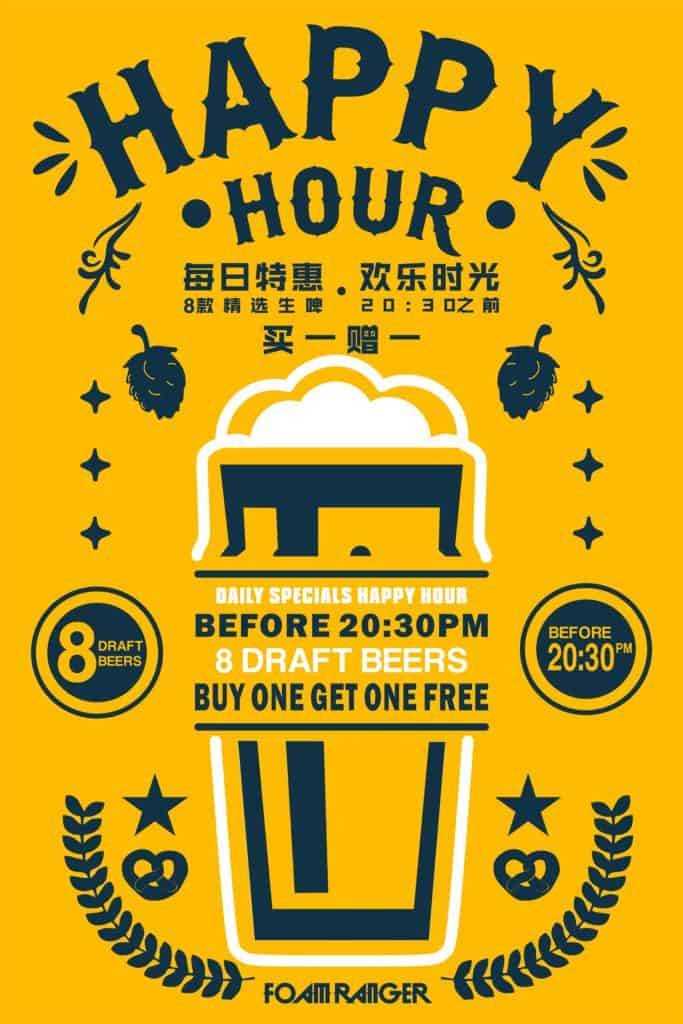 *Daily specials: See poster
*Address: F1-32,No.4 Jianshe South Rd.建设南支路4号万科天荟1F-032
Tel: 028-62615661
Foam Ranger TaiKoo Li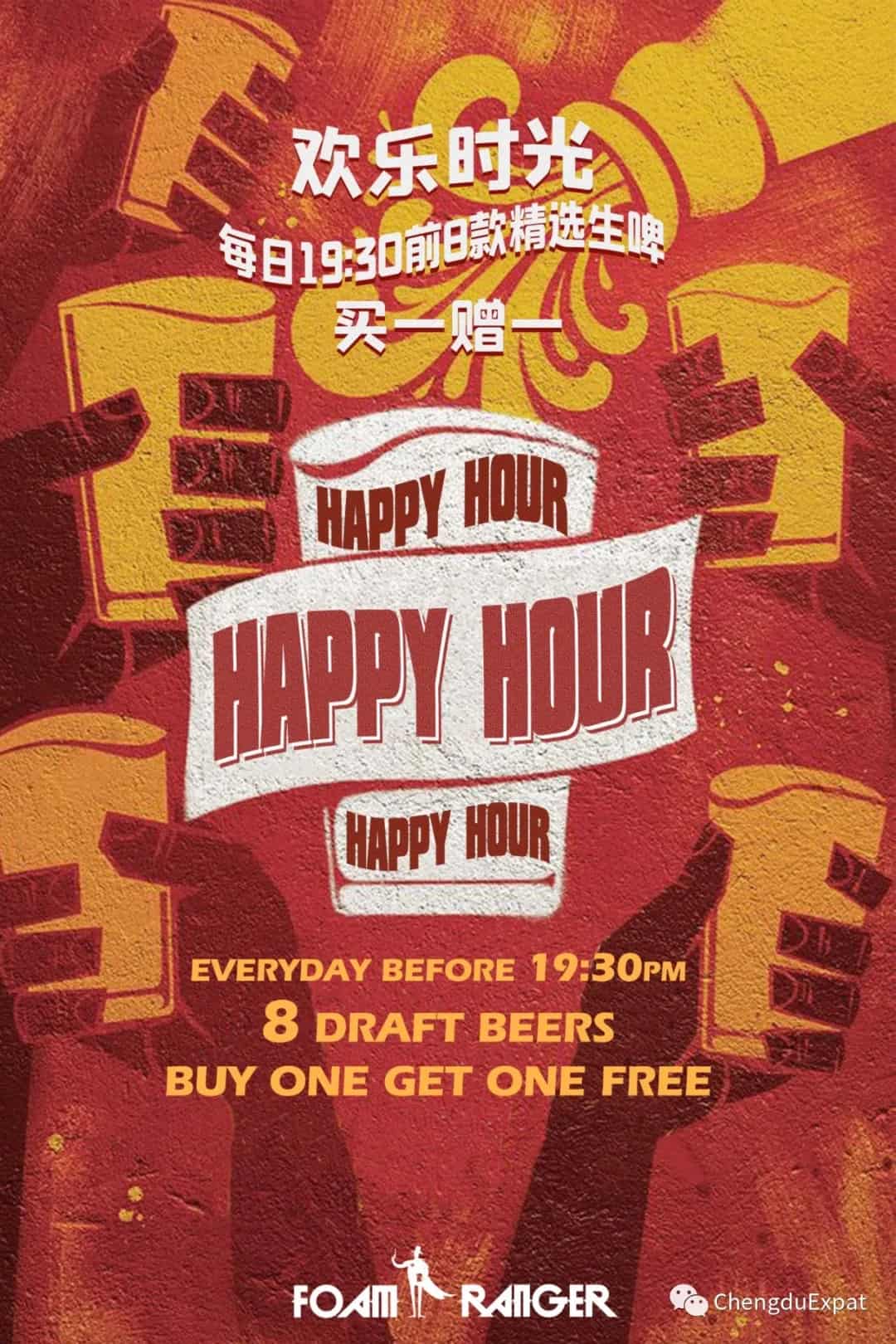 *Daily special: 8 Selected draft beers "Buy 1, get 1 Free". Daily, 5 – 8:30pm
*Address: L2-2316, 8 Middle Zhongsha Mao street, Sino-Ocean TaiKoo Li 锦江区中纱帽街8号 成都远洋太古里L2-2316
UA Bar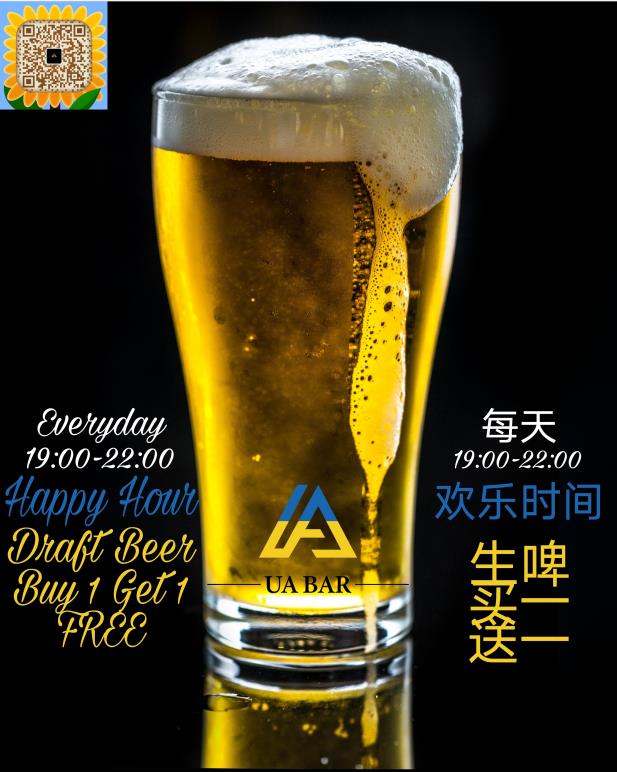 Daily, 7 – 10pm
Draft Beer: Buy 1, Get 1 Free
Address:
Address: #5, 2F, A Building of Feicheng,NO.60 of Kehua north Road, Wuhou District.
成都市武侯区科华北路60号沸城A座2楼5号
Opening Hour:
Monday-Thursday, Sunday: 19:00-02:00
Friday & Saturday: 19:00-03:00
Tel.: 18328692743
---
Know any other deal, or any changes?
Let us know in the comments!