A year ago Chengdu-Expat.com and the Chengdu-Expat WeChat platform officially launched. Here are the prize winners of our one year celebration.
We wanted to provide useful information about the city that we love to live in and help local businesses reach the international community. We would like to say a huge thank you to everyone who has read our articles, attended our events, asked us questions and supported us over the last year.
We feel extremely lucky to be a part of such a wonderful community – many of who have donated  great prizes to be won.
First of all here's what we got up to this year…
Chengdu-Expat WeChat Followers Grew To

8570+ 
53% ♀  47%♂
---
---
…and viewed

125 WeChat Articles 
---
---
and
16 Weekenders


From Chengdu Community Members
---
Most viewed…

2016 Chengdu-Expat Awards. VOTE NOW
23761 views  88 shares

Survival Sichuanese
4613 views  46 shares
7 Must Eat Dishes in Chengdu
3261 views 18 shares
Chengdu's Best WeChat Groups
3085 views 32 shares
---
2091 Direct Messages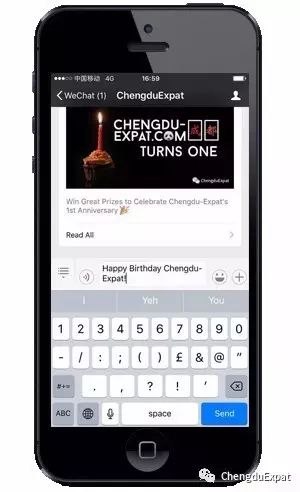 ---
Chengdu-Expat.com
July 2017 monthly views
10k+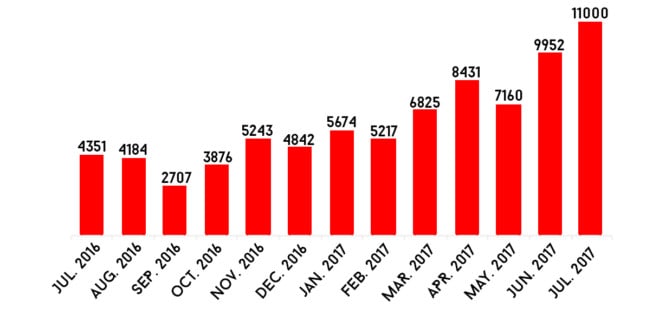 ---
Traffic from all around the world.
Although VPNs make it difficult to know exactly where it's coming from.

143 countries


The Prize Winners
Munchwich 500RMB Vouchers
Nabila Nutriarsita
1 night deluxe room + breakfast for 2 at Somerset Riverview Chengdu
Rachel Wethers
CHEERS 6 bottles of Marquis Bernard Sparkling wine
Ferris 费理期
Bottle of JP Chenet French Sparkling at Jellyfish LKF
小琳Juju
Bottle of JP Chenet French Sparkling at Jellyfish LKF
Karin
T-Shirt from Natooke
Mark (马克)
Pardhu
3 Litre Keg of Wheat beer at The Beer Nest 
Gijs 王海思
The Range -1 bottle of Fireball
Grace Valerie
The Abbaye –  200 RMB Voucher
Adam [龙珏]
Mavis
Grappa's – 2×200 RMB voucher
Amber
Martin Mahler
Tandoor – 100RMB voucher
Austin
Tara
Chantal Denier
Ashley
Louis
Nige – 2x 200RMB vouchers
Sean Cronin
Aaron 阿龙
Whatever Bar – 5 Pint of Fin IPA or Wheat
Nicolas
La Cave Voucher Free Bottle of Wine
celia
iraglassismyhero
我是jessica

Many thanks to the companies that generously donated great prizes to help us celebrate our first anniversary.
If you have any questions please contact the Chengdu-Expat WeChat account or scan the QR code:

And a huge thanks to the whole Chengdu community for your support over the year!