Chengdu Spring Festival Survival Guide
It's that time of year again, Chinese New Year has crept up on us and you find yourself with no plans. It's the world's largest annual human mass migration and instead of joining in with the exodus, you've decided to stay behind in the hope of missing all the insane travelling crowds and inflated ticket prices. That or you just spent all your money on a Christmas holiday.
Then as more people leave and everything starts to shut, you realise you're in a ghost town. Your favourite noodle shop is no longer open and you're left staring at your hob contemplating cooking for the first time since you moved in. Don't fret though as you're not as alone as you feel, we're here to help you make the most of Chengdu during this quiet period.
What's Closed or Open?
As mentioned before, this period is the time where most establishments close. All enterprises and public institutions (such as banks) in China will take a 7-day holiday and your favourite tiny local noodle shops will most likely all be shut with the owners off celebrating. Western restaurants aren't exempt from this either so here's a list of the restaurants shut for the holidays.
List of businesses closing: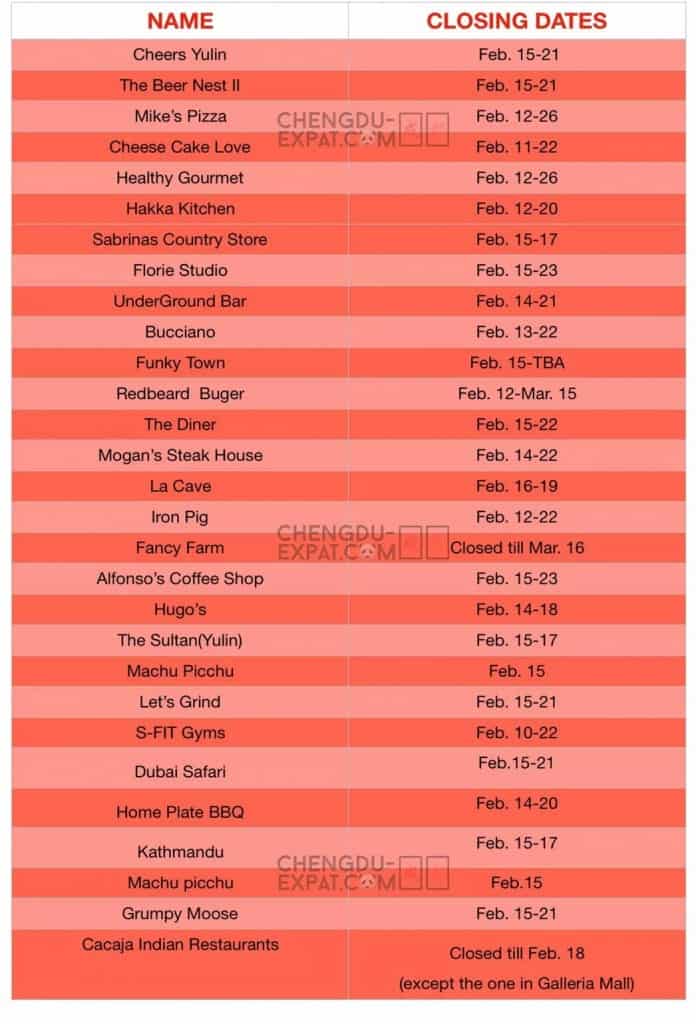 Not everyone gets a holiday though, so you don't have to starve. Most supermarkets and malls (Taikoo Li, MixC, Galleria, IFS, Joy City, Yintai Centre etc) will be open just with limited hours as well as some bigger chain Chinese restaurants so local families can still enjoy their hot pot.
Many western restaurants are usually over the holidays but to be on the safe side, message their WeChat account beforehand.
List of businesses that stay open:
Local and national public transport also runs as usual, with only a few smaller buses cancelling their routes but expect intercity trains to be incredibly expensive and busy.
Lantern Festivals
The 50th Chengdu International Panda Lantern Show at Qicai Tianye Scenic Spot in east suburban Chengdu. As the largest lantern show in the city, this one is expected to bring audiences can expect a real show to be put on.
Check All Lantern Festivals in and around Chengdu
Mix City Pink Valentine's
ALL PINK: This year is the first time ever that Valentines Day and Chinese New Year coincide on the same day. To celebrate this, The Mix City shopping mall is hosting a Valentine's event where lovers can pose in a specially constructed pink city and a sea of pink roses.
Location:
Mix City 万象城
How to get there ?
Subway Line 4 Shuangqiao Road
Chengdu Bus Rapid Transit: WannianChang Station
Du Fu Thatched Cottage New Year Couplets
Writing and displaying Spring Festival Couplets (chunlian) is an ancient Chinese tradition. Traditionally displaying them outside their doors. Written vertically with black or gold characters on red paper and composed of a pair of poetry lines side by side. There will be a competition for the best Festival Couplets, organised and judged by the Chengdu Art Institute. The winning entries will be displayed at Du Fu Thatched Cottage from February 10th to March 10th.
Tickets:
30RMB
Location:
No,37 Qinghua Road, Qingyang District 青羊区青华路37号
How to get there ?
Subway Line 4 Dufu Cottage station
Bus: 19、35、58、82、151
Loose yourself in Lights
UNZIP THE FUTURE, a new immersive audio visual experience is coming to Taikoo Li. Conceptually inspired by .zip – the uncompressing and generating of compressed files – this new, incredibly striking multi media exhibition is showing until April 21st 2018. 9 artists use their imagination to display unique spaces, allowing the audience to explore the relationship between immersive spaces and self experience and to evaluate how technology is shaping our lives.
Online Tickets: 128rmb pp or 228 for 2 people or 150rmb on the door
M071, Sino-Ocean Taikoo Li Chengdu.
成都远洋太古里M层M071号
Chinese NY Films
Just like Christmas, the Lunar Festival has its own cinematic offerings. Produced in China and Hong Kong the genre of these films is called "hesuipian" devoted to Lunar New Year. The films are usually illogical, uplifting comedies, with a focus on families and happy endings to make viewers feel warm and fuzzy. Holiday favorites include the "All's Well, Ends Well" series (the 1992 classic stars Stephen Chow and Maggie Cheung), "Fat Choi Spirit" and "It's a Mad Mad World." All cinemas will will be open just so you can go check these seasonal films.
-Monster Hunt 2- -A Beautiful Moment-
-The Monkey King 3: Kingdom of Women – -The Faces of My Gene-