• The Fortune Global 500 list for 2023, tracking the world's richest enterprises in terms of revenue, recently revealed that 135 companies were from the Chinese Mainland and Hong Kong, one less than the previous year, the first drop in 15 years.
• However, China remained in the top position, with a total of 142 companies from the Chinese Mainland, Hong Kong and Taiwan. Industry experts said the list shows China's growing prowess in emerging sectors, such as new energy, on the global stage.
• The 2023 ranking featured 4 companies based in Chengdu, we wonder if you've heard of one of these entities…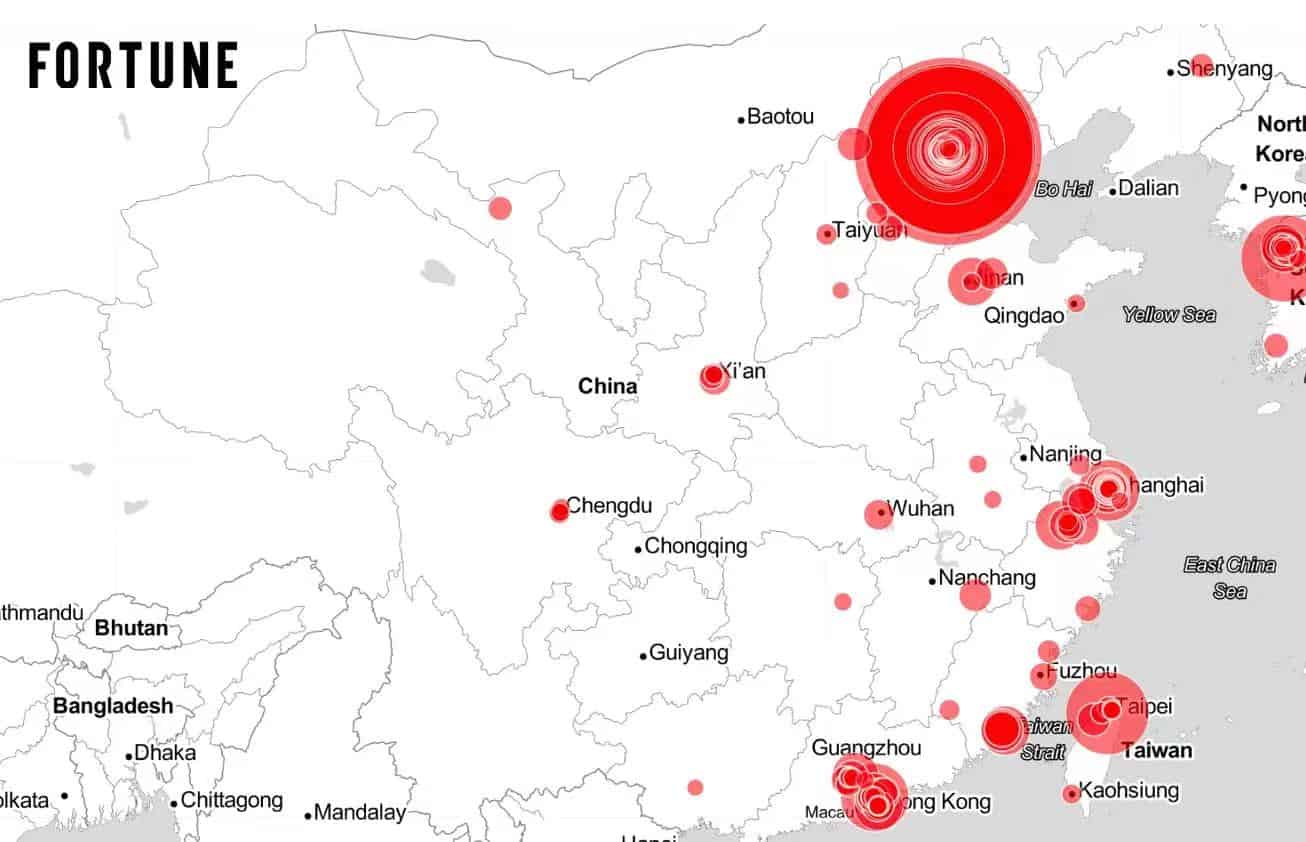 Map indicating the density of Global 500 companies in several (Chinese) cities
Rank 363
New Hope Group Co., Ltd. operates as an agricultural products manufacturing company. The Company produces and sells feed, meat, dairy, egg products, and more. The group also operates real estate development, infrastructure construction, financial investment, and other businesses.

Rank 389
Shudao Group is the result of the merger between Sichuan Railway Investment Group and Sichuan Transportation Investment Group. This conglomerate transformed from a traditional highway and railway provider to a modern, green and comprehensive transportation service company.

Rank 476
Tongwei Group Co., Ltd. operates in agricultural product production businesses. The Company produces aquatic feed and livestock feed products. The group also provides new energy product development services.

Rank 493
Chengdu Xingcheng Investment Group Co., Ltd. operates real estate businesses. The Company provides housing renovation, housing loans, real estate brokerage, and other services. It also operates asset management, land development, project construction management, and other businesses.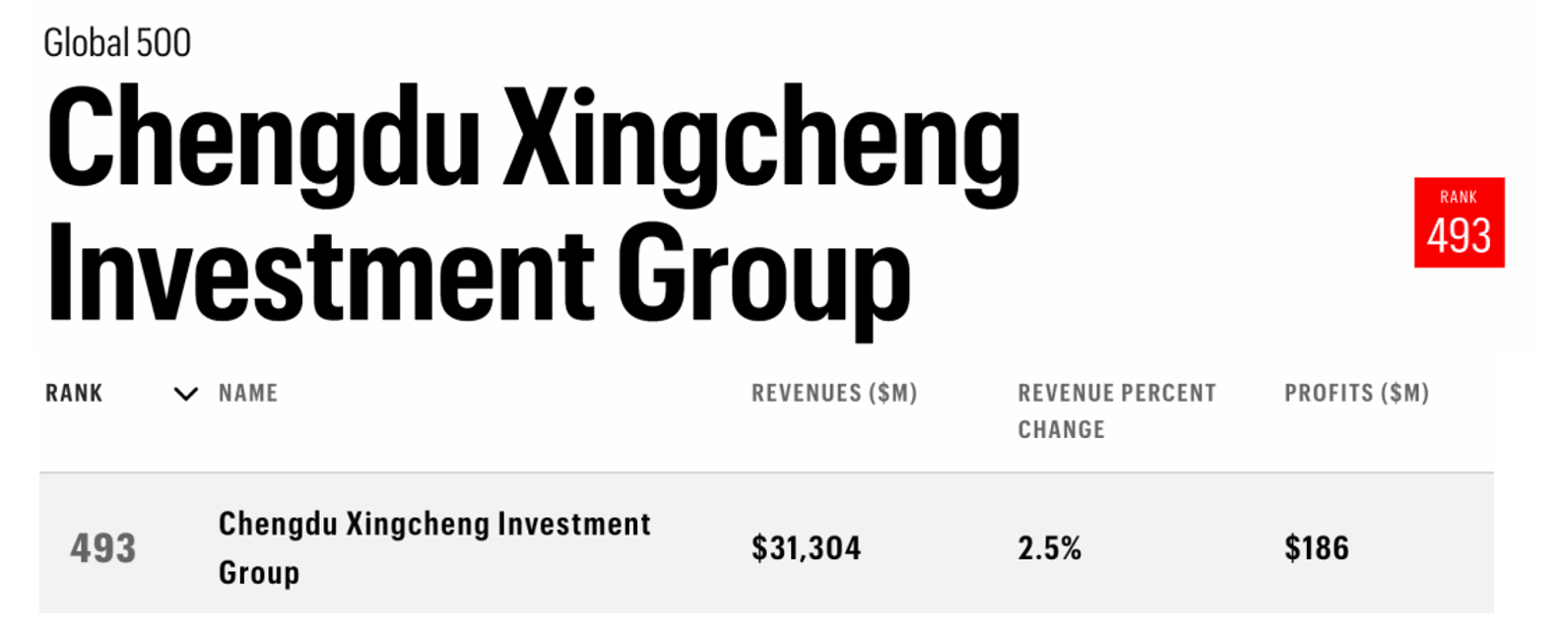 2023 Fortune Global 500 List
The corporations on the annual list of the world's largest companies showed their muscle in 2022, delivering record-high aggregate revenues of $41 trillion. But the Fortune Global 500 has been anything but static, as technological change and scientific breakthroughs threaten established leaders and elevate new winners. Walmart remains No. 1 for the 10th consecutive year, while Saudi Aramco, which grew its revenues by 51%, claims the No. 2 spot (up from No. 6 last year). In another shift from the previous year, aggregate revenues of Global 500 companies in the U.S. ($13 trillion) exceeded that of Greater China.
2023 Fortune Global 500: Top 10
For the full list, please refer to https://fortune.com/ranking/global500/
Methodology
Companies are ranked by total revenues for their respective fiscal years ended on or before March 31, 2023. All companies on the list must publish financial data and report part or all of their figures to a government agency. Figures are as reported, and comparisons are with the prior year's figures as originally reported for that year. Fortune does not restate the prior year's figures for changes in accounting.
Sources: Fortune.com, Bloomberg, 成都发布
---
What's your take?
Have you heard of one of these 4 entities?
Let us know your remarks in the comments.