Daily 6 a.m. to 11 p.m. Breakfast Buffet: 6 a.m. to 10:30 a.m. Lunch Buffet: 11:30 a.m. to 2 p.m. Dinner Buffet: 5:30 p.m. to 9:30 p.m. À la carte lunch and dinner selections served daily from 11 a.m. to 11 p.m.
We visited The Ritz-Carlton, Chengdu's SPICES Restaurant, whose interior combines modern and traditional decor, with a few tables that feel more private as well as some areas that would suit a group. The 25th floor views of the city and TV tower are great on clear evenings. The daily buffet offers a carefully edited and presented selection of delicacies. The chilled food station showcases several tyes of seafood and sushi. There is a diy salad station as well as a couple of prepared salads. There is an impressive choice of ham and cold cuts, with chunks of fresh cut fruit nearby that paired nicely with the proscuitto. A couple of different kinds of smoked salmon also sharpen diners' appetites for the following courses. Each of the dishes and portions, including the sushi rolls and sashimi, are prepared in buffet friendly smaller bites.
The hot food selection showcases several Chinese, Western, and Southeast Asian dishes. A main appeal of a buffet should be originality in presentation and we like how the serving ware, like tagines and cast iron Dutch ovens, add interest to the dishes. Selections include a very well done pork bone soup, dry pot ribs with potatoes, fresh vegetables, Cajun chicken, and a few types of fried rice and noodles. They also do a fresh noodle bar. There are a couple of kinds of Cantonese barbecue with the tangy sauces on the side. We think the Western food section, with some gorgeous grilled vegetables, roasted potatoes, and very fresh rolls, offered some of the best highlights. The roast pork with mustard or mushroom sauce was perfectly cooked. There was obvious attention to detail in how each cuisine and dish was presented, with appropriate condiments, and prepared to be remain fresh and appealing during service.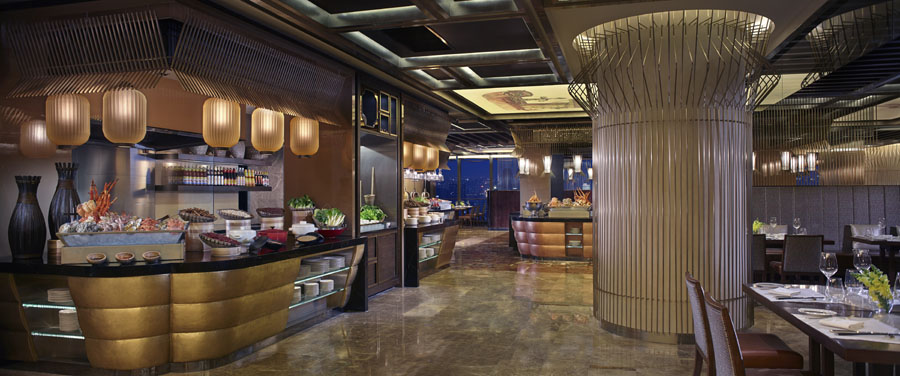 At SPICES, they clearly understand that the final things you eat are among the first to be recalled about a memorable dining experience, and the desserts are a highlight that we have to stress saving room for. The dessert case might have New York style cheesecake, mango mousse, tiny profiteroles filled with lemon curd and meringue that had been bronzed with a torch. There were also vanilla macaroons, with specks of real vanilla bean. They make waffles and crepes to order, and serve up ice cream that guests can ask for topped with a selection of sauces, toasted almonds, rum soaked raisins and a cookie like crumble. We asked the server to pick out the best chocolate dessert to try and got the cake, with three layers of chocolate cake filled with ganache flavoured with bits of orange peel and covered with more dark chocolate. SPICES is a great place to linger over coffee and maybe another dessert course or two.
The servers were taking good care of the room, bringing drinks and clearing plates and enjoying interacting with customers. SPICES is looking forward to offering Chengdu diners several specials during February and March, including a Valentine's special menu, a traditional New Year's menu, and will bring the Korean wave to town in March. Guest chefs from The Ritz-Carlton, Seoul will bring you the most authentic Korean food (Bibimbap, Ginseng Chicken soup, hand-made kimchi etc) from March 13 to March 29. The price won't be changed during the Korean Food Festival, the most popular buffet restaurant by the popular Chinese restaurant review platform Dazhong Dianping.
By Susan Johnson