Deal of the Week:
Followers of Chengdu-Expat WeChat now receive a weekly special offer on great products and services in Chengdu – so keep your eyes peeled!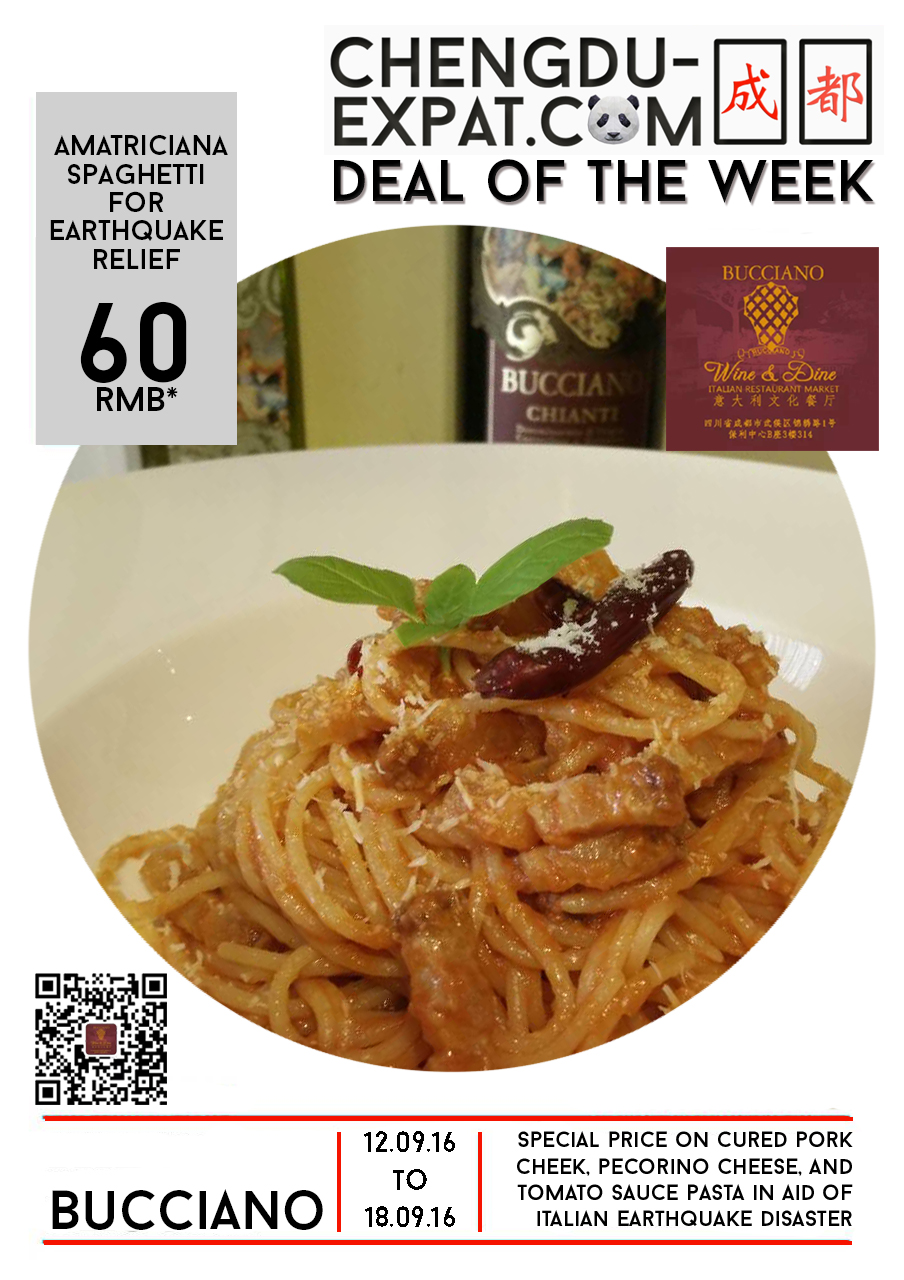 This Week:
For every portion of Amatriciana Spaghetti ordered at Bucciano, 20 RMB will be donated to the population of Amatrice recently affected by the recent earthquake in the region. What's more, for one week only they are offering the special price of 60RMB (usually 78RMB).
Pasta all'amatriciana is a traditional Italian pasta based on guanciale (cured pork cheek), pecorino cheese, and tomato sauce. Originating from the town of Amatrice (in the mountainous Province of Rieti of Lazio region), the Amatriciana is one of the best known pasta sauces in Roman and Italian cuisine. The Italian government has named it a traditional agro-alimentary product of Lazio.
This deal applies in the restaurant and also for delivery. For deliver orders can be made through WeChat.
About Bucciano
Bucciano offers authentic Tuscan cuisine in the heart of Chengdu. Bucciano Wine & Dine market is both a wine bar on the first floor, and restaurant on the second floor- they also have a market place to by imported goods. They are located at Poly Centre B, 3rd floor, 314 武侯区锦绣路1号保利中心B座3楼314 and also offer delivery.
Claim the Deal:
Simply Scan Bucciano's WeChat below and quote "Chengdu-Expat Deal of the Week" if ordering by delivery, or show the poster when ordering in the restaurant.