If you're finding the grey, icy, winter months in Chengdu tough to bear, do like the locals and head for the rejuvenating hot thermal waters that run deep beneath the province. The facilities in Chengdu and the surrounding regions range from scenic outdoor baths to brightly lit, jam-packed indoor pools, all varying in quality and ambiance. Here is a range of options to thaw out your toes and soak yourself in some local culture:
Howard Johnson Conference Resort Chengdu
青城道温泉(青城国际豪生酒店)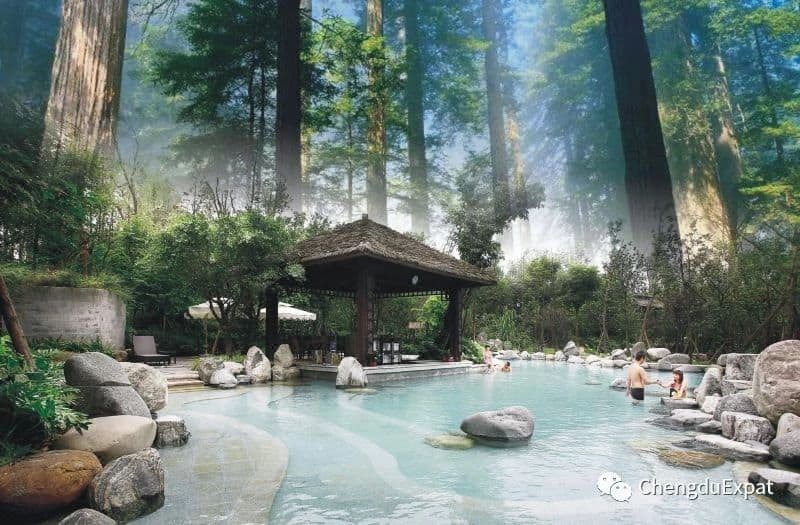 The perfect end to a long hike on Qingcheng Mountain, is the Howard Johnson Resort, just a stone's throw from Qingcheng Shan highspeed train station. The Qingcheng Taoism Hot Spring has a large indoor pool, 50 outdoor pools, and 4 VIP hot spring villas. There's a special spa, traditional food massage, a Taoism wooden bath, outdoor forest spa, and under floor heating. You can visit for the day or stay in the hotel overnight – they offer breakfast and dinner buffets.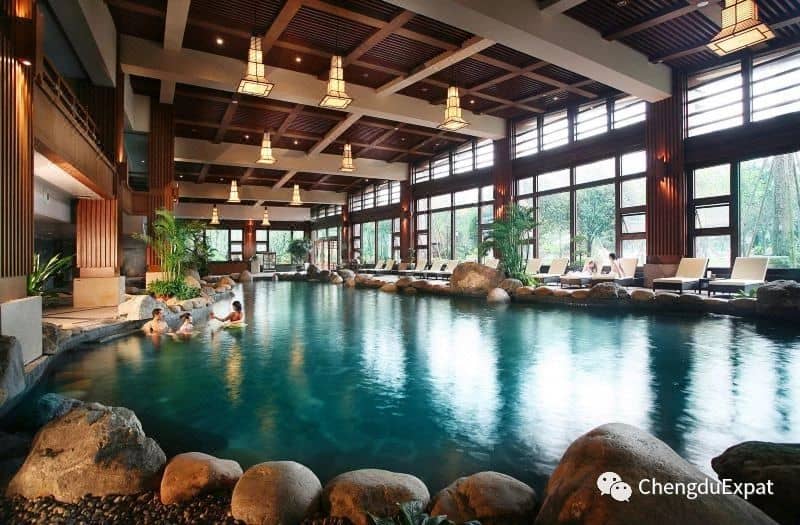 Like all hot springs in China, they get very busy (and unpleasant) on national holidays and weekends – so be sure to call ahead.
Opening Hours:
Mondays – Thursdays: 14:00-24.00 | Fridays: 14:00-1:00 | Saturdays: 10:00-01:00 | Sundays: 10:00-24.00     Price:
 168RMB per person
Contact:
Tel: (028)88988888, (028)87198999
Address:
 No.88 Qingcheng Taoism, Dujiangyan
 都江堰市青城山镇青城大道88号
 花水湾温泉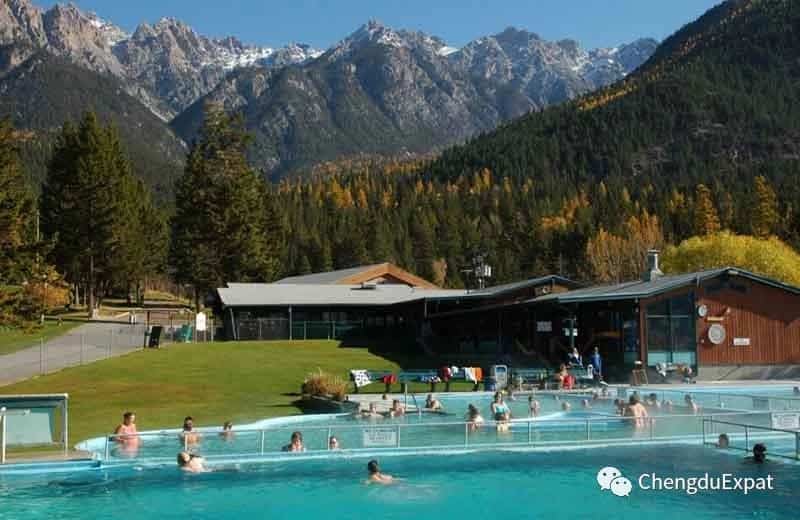 If you're planning on going skiing in Xiling Mountain (or rafting in the summer), this nearby town in Dayi county, is famous for hot springs. Just 20km away from snow mountain and about 70km from downtown Chengdu, many of the hotels here have their own hot spring pools with mountain backdrops. In the Spring there are decent hikes to be had in the surrounding regions.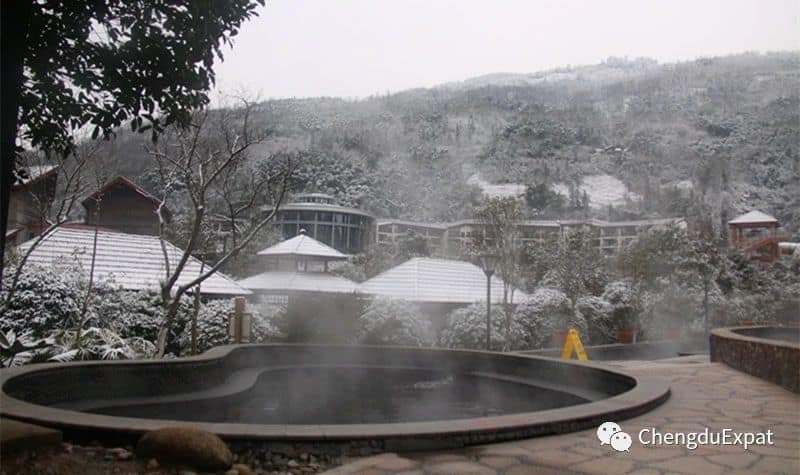 Quality and prices of the hot springs vary a lot in Huishiuwan, but the Chengdu Huashuiwan Mingren Hotel 成都花水湾名人度假酒店 (from 135RMB per person) is probably the largest.
Getting there:
 There is a direct bus connection from Xinnanmen Bus Station
Address:
No.174 Wuzhen Road, Huashuiwan Village
 花水湾风景区 花水湾镇武城街174号(近西岭雪山)
海螺沟贡嘎神汤温泉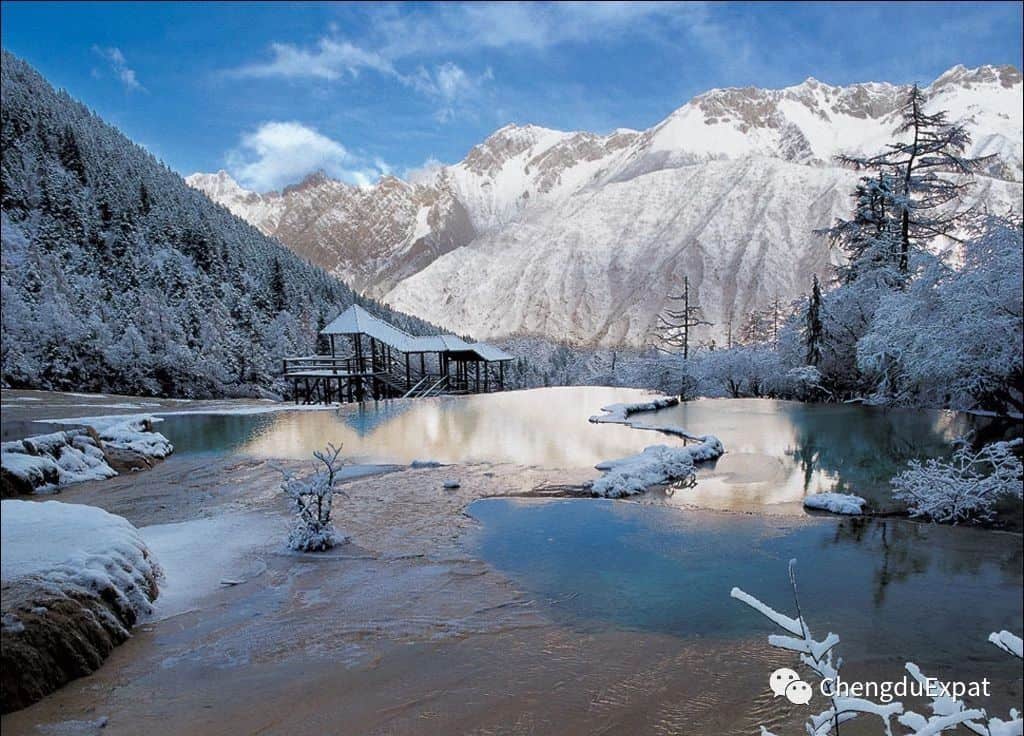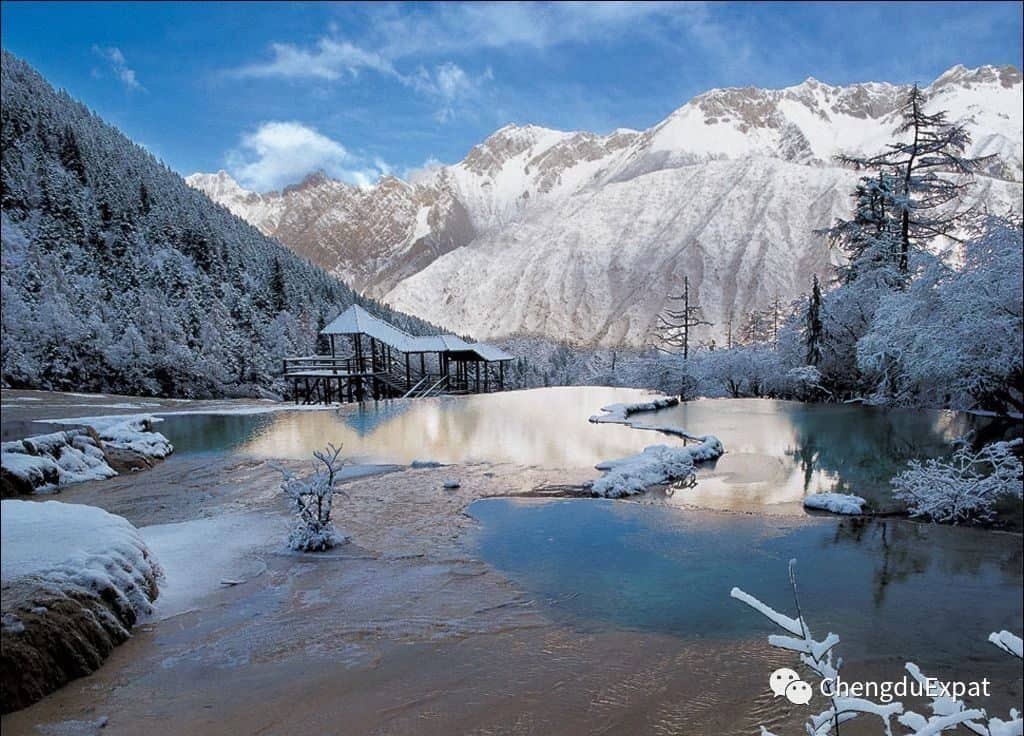 Hailuogou National Glacier Forest Park (at lofty heights of over 3000m) is probably one of the most beautiful places in China to dip your toes into thermal waters. It's on the road to Kanding and around 7 or 8-hour journey from Chengdu – but worth the journey through some of western Sichuan's most scenic spots.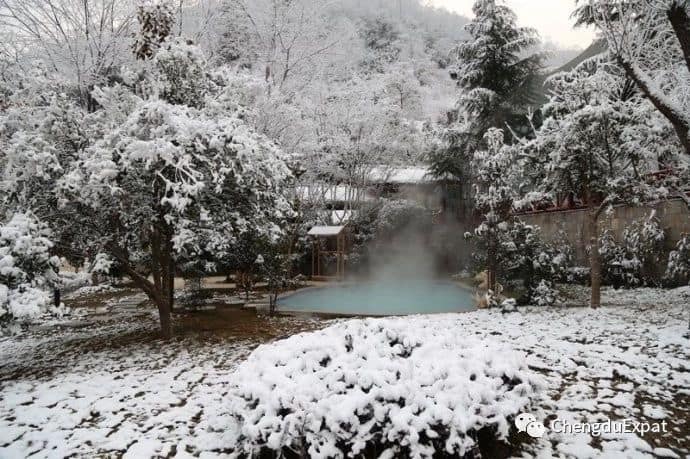 Winter is peak season here, so avoid weekends if possible. If you've not visited nearby Kanding – it's a fantastically lively little Tibetan city which is now easier to access with new road networks.
Opening hours:
 08.00-23.00
Price:
168RMB per person
Getting there:
Direct bus connection to Hailuogou National Glacier Forest Park from Xinnanmen Bus Station
Address:
 Moxi Town, Hailuogou, Luding
泸定县海螺沟磨西镇
Emei Mountain Lingxiu Hot Springs
 峨眉山灵秀温泉酒店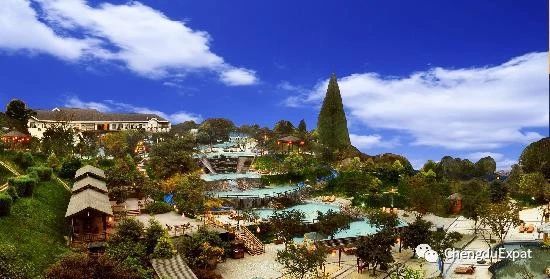 Hot springs are dotted around the base of Emei Shan, so it's a little difficult to select one out of the mix. But the design, ambiance, and quality at the enormous Lingxiu Hot Springs make it worth mentioning. At dusk, the famous mist of Emei Mountain glides over the springs and multi-colored lights brighten up the place – if it's too much natural beauty for you…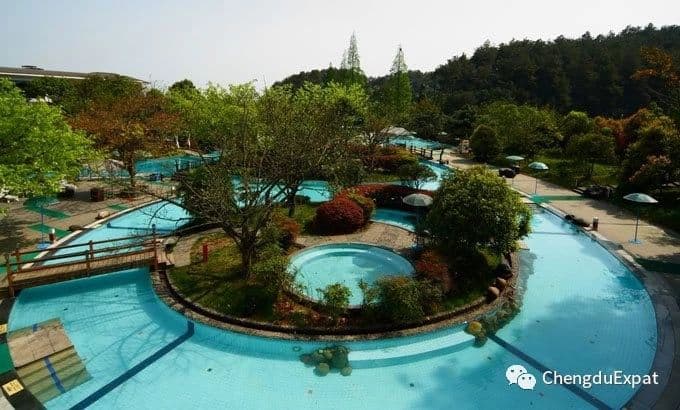 After a day of hiking the unforgiving stairs of Emei Shan, there's nothing more relaxing than sitting in a hot pool and taking in that sight… although visibility isn't guaranteed.
Opening Hours:
14:00-24:00
Price:
168 – 200 RMB, not including an overnight stay in the hotel
Getting there:
Highspeed trains run frequently from Chengdu South Railway Station 火车南站 or Xipu Station犀浦站 to Emei Mountain station 峨眉山站. Then take the 12 Bus to Da Jiu Dian Station 大酒店站.
Contact:
Tel: 0833 5590 370
周公山温泉公园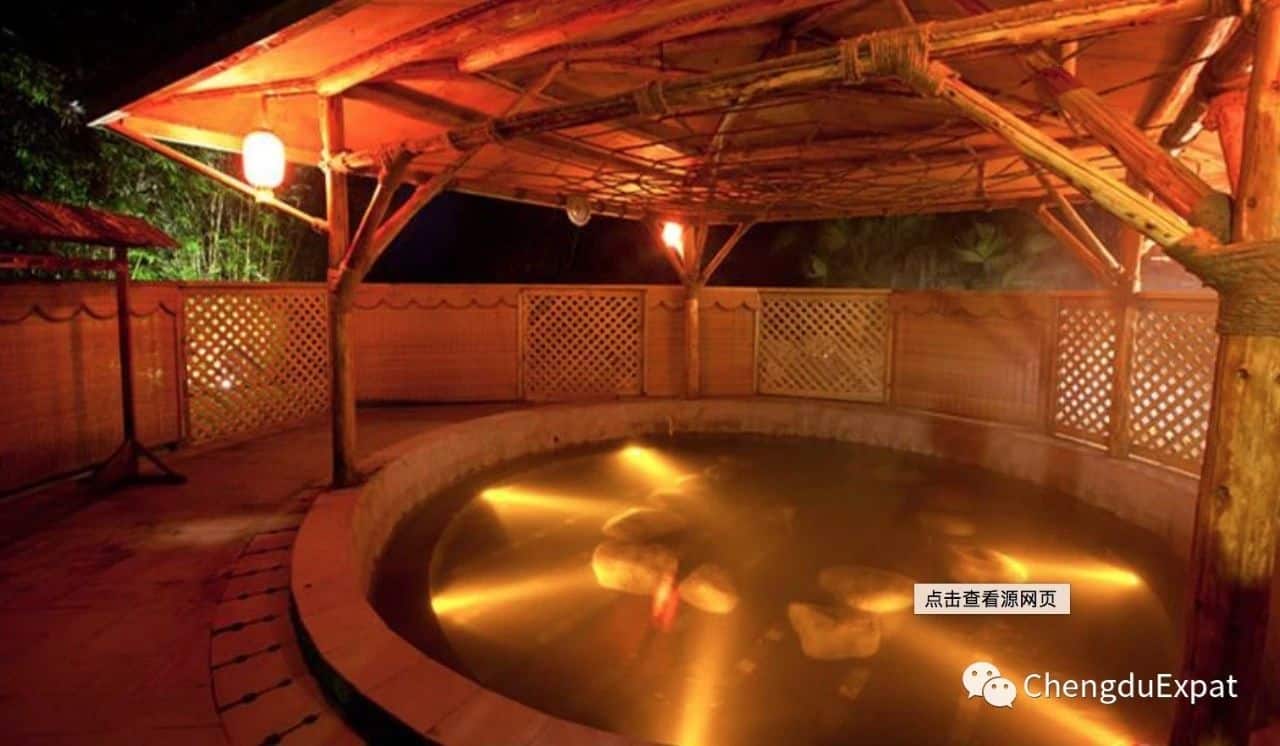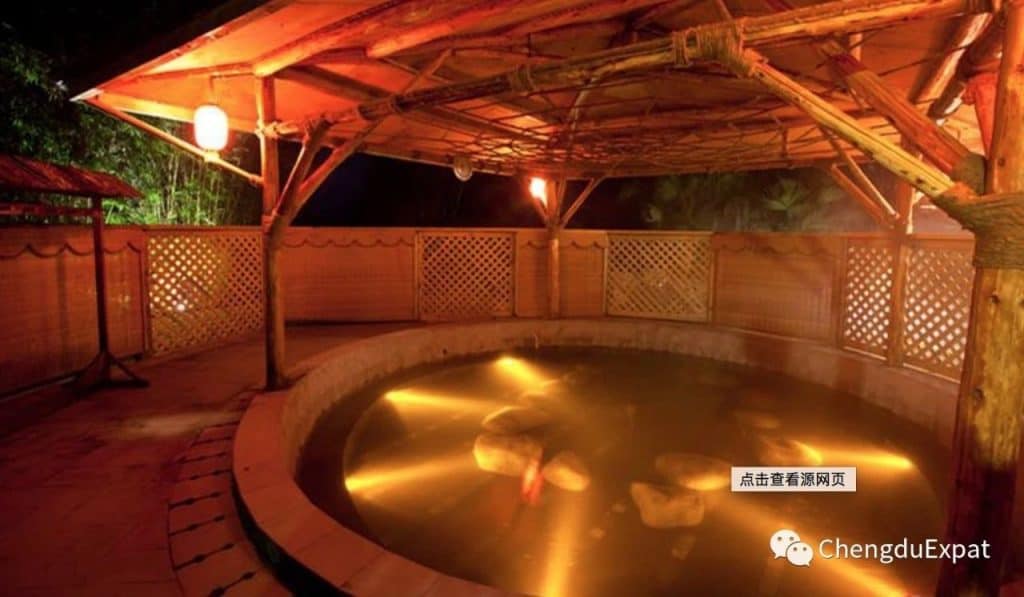 If you find yourself at the Bifeng Xia Panda Base, just a few hours outside Chengdu, the Zhougong Mountain Springs are worth checking out. Surrounded by mountains, there are a couple of hotels in this development with thermal baths – and the water comes from thermal sources 3000m below the ground.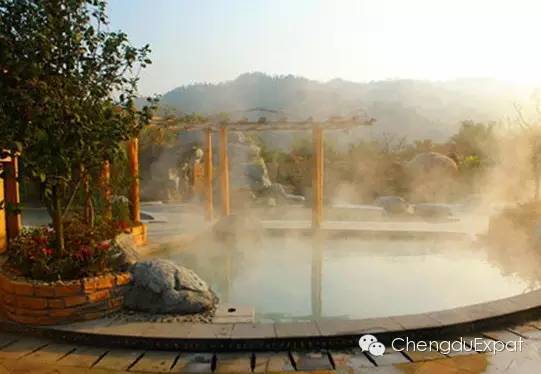 There are 2 hotels in the park: The Nanshuige Resort & Spa 楠水阁温泉度假酒 and the Zhougong Mountain Dream Spa 周公山梦温泉.
Opening hours: 14.00-22.00
Price: 126RMB
Getting there:
Take a bus from Xinnanmen station to Ya'an (90 minutes to 2 hours, RMB 40pp), then get a taxi or mini-van to ZhouGong Mountain 周公山 (RMB 10pp).
Location:
 Nanshui hostel, Zhougong Mountain Spa Garden, Yucheng, Ya'an
雅安市雨城区周公山温泉公园楠水温泉酒店
Contact:
18030720053
If you're looking for a healing hit of thermal waters inside the city, there are several options in Chengdu, but these 2 are our favorites:
 Tang Leyuan  汤乐源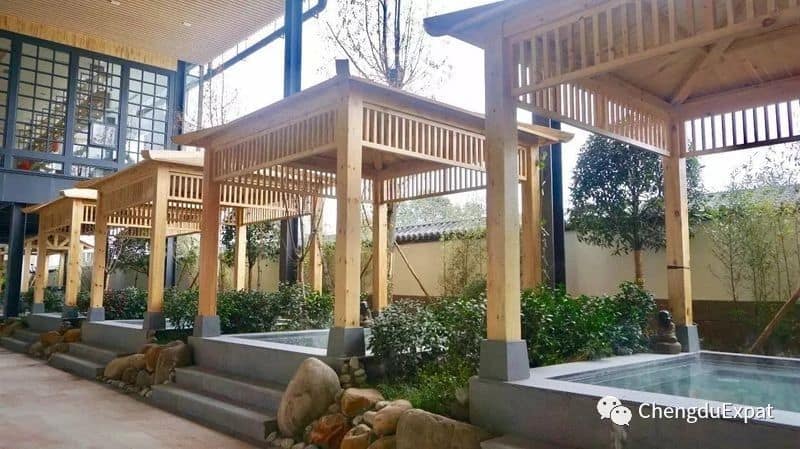 This bathhouse in the South West of Chengdu is modeled on a Japanese onsen, complete with kimono print pajamas and hot stone rooms. They have inside and outside pools (the indoor pools are segregated by gender) and offer a 'Japanese style' seafood buffet, big lounge chairs for staying the night and massage services. It's extremely clean and really quite fun.
Opening hours:
24 hours
Price:
228rmb ( incl. breakfast, hot spring & seafood buffet)
139rmb ( incl. breakfast and hot spring)
Address:
武侯区科园南一路10号
No.10 South Keyuanyi Road
 Herijun Hot Springs Hotel 何日君温泉酒店 
Right by Nijia Qiao stop on The Metro Line 1, this bathhouse-hot spring hybrid is well known amongst the Expat community in Chengdu and has been recently refurbished. There are hot and cold pools and steam room and saunas. There are comfy movie chairs and a children's area for you to take a load off – and of course, there is an area to play Mahjong and cards.
Opening hours: 24 hours
Price: 134RMB
Address:
2-8 Nijia Qiao Lu, Renmin Nan Lu, Section 4, Wuhou District
 成都市武侯区人民南路四段倪家桥路2号附8号
Contact:
028 8555 3230
A note on Chinese hot spring etiquette:
Changing rooms and inside pools are usually separated by gender, and some require you to be naked – so it's best to call before you visit if this is something you are not comfortable with.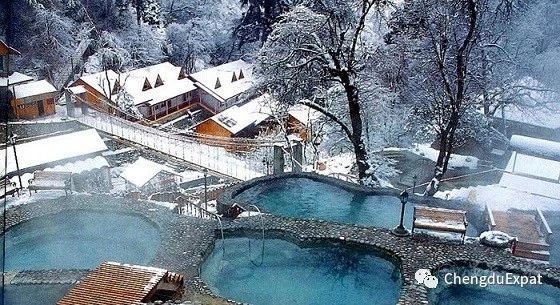 Outdoor pools are communal, so shower before entering. Natural thermal springs may smell strongly of sulfur – which is why they're attributed to having healing properties, but this varies between pools with different mineral makeups. Be warned that hot springs are often very busy during weekends and especially on national holidays – and can feel a little like a human hot pot, so go early to avoid crowds.