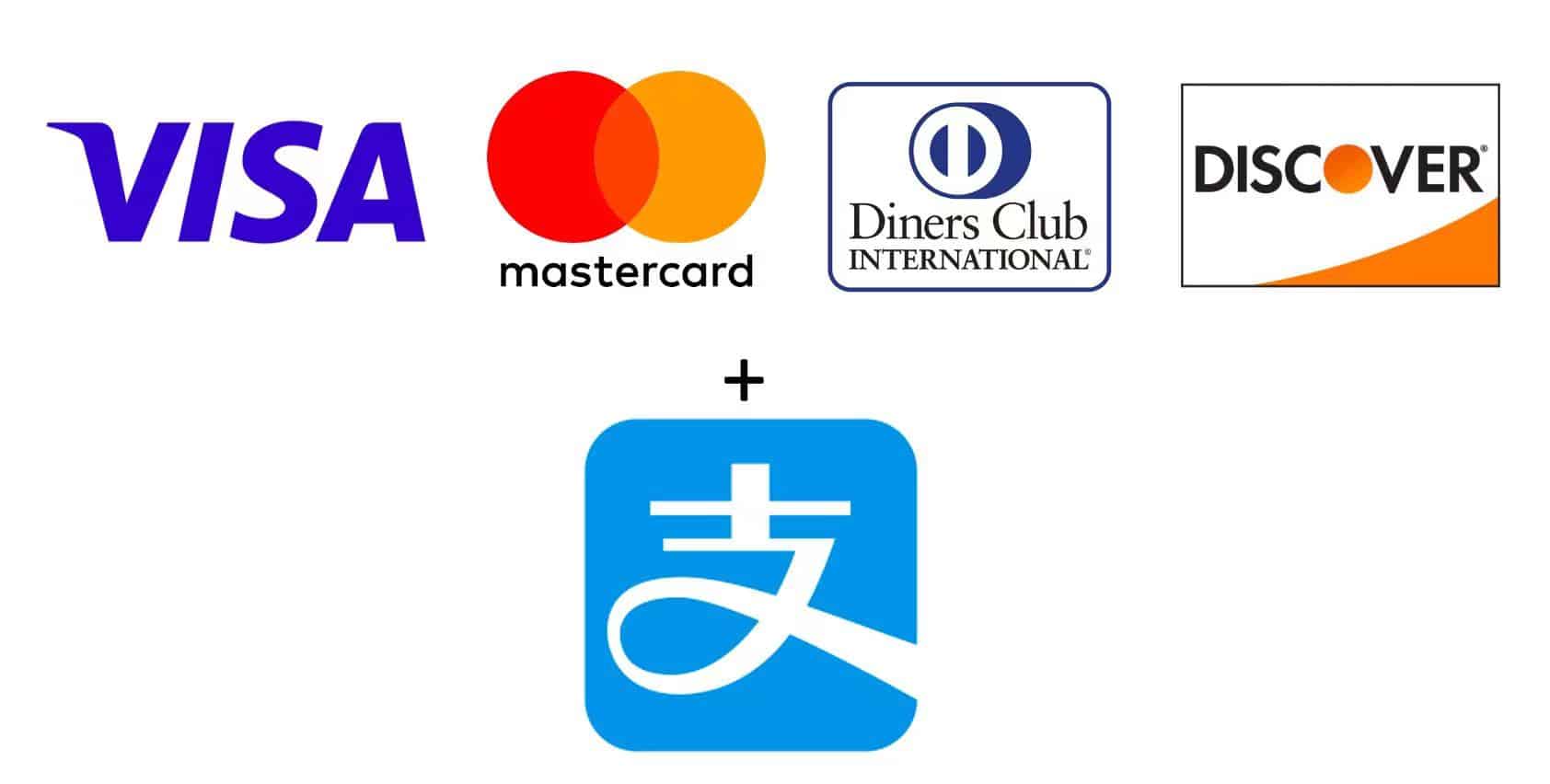 • Recently, Alipay has rolled out new upgrades to make mobile payment services more accessible and convenient for international visitors to China.
• Visitors to China simply need to link their foreigner bank cards to Alipay to make payments at tens of millions of Alipay partner merchants across the country.
• All major international card networks, including Visa, Mastercard, Diners Club International and Discover – are now supported. They have streamlined the registration and verification processes with no need to set up a prepaid account or acquire a Chinese phone number.
Alipay, a suite of cross-border digital payment and marketing solutions that connect merchants with multiple e-wallets and payment methods from different countries and regions by collaborating with global partners.
Under the new setup, international travelers can set up their foreign cards on Alipay with a few simple steps, allowing visitors to pay for a host of goods and services ranging from a quick meal at a food truck to life insurance.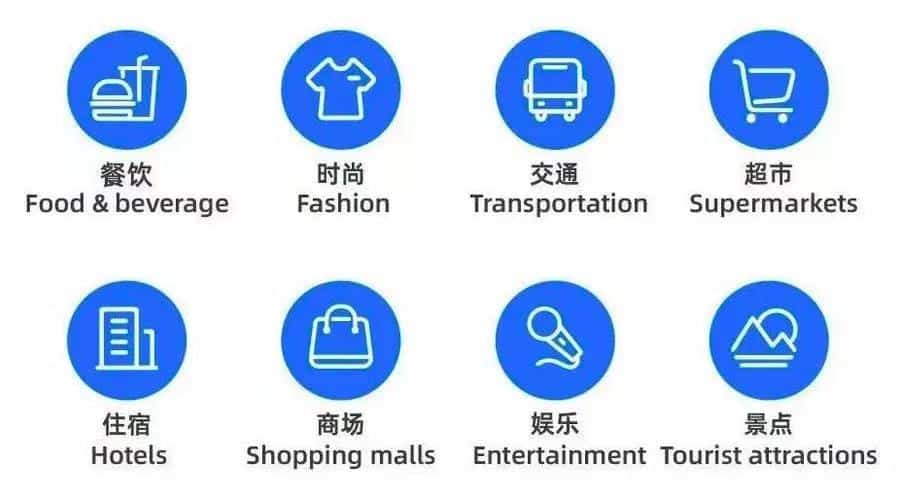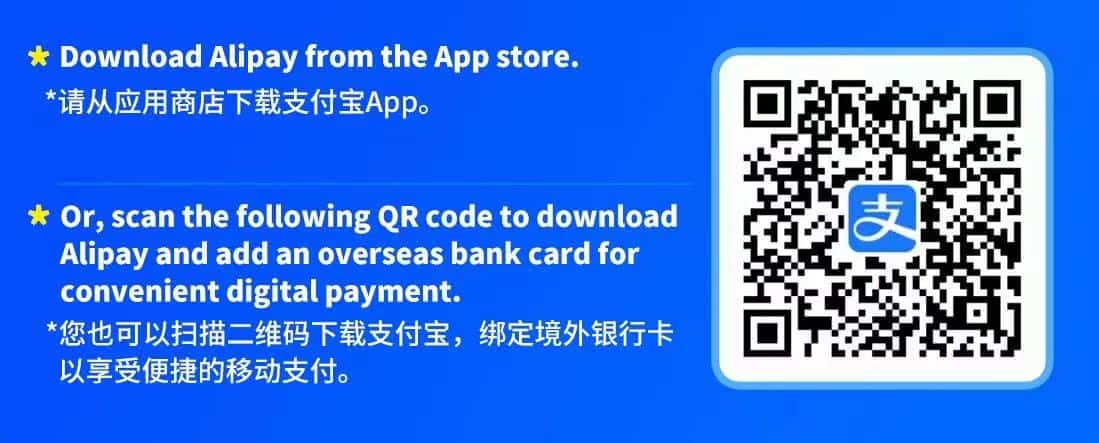 Link your Foreign Bank Cards in 3 Steps
1) Registration
Open Alipay > tap "sign up" to register
2) Verification and Adding Bank Card
In the lower right corner tap "Me" > Bank Card" > "Add card" and then follow the on-page prompts to add your card. Tap "Verify now" and follow the page prompts to fill in your identity information.

3) Make Payment​
Tap Scan, and then scan the merchant -presented QR code.
Tap Pay/Collect and then present your QR code to the merchant.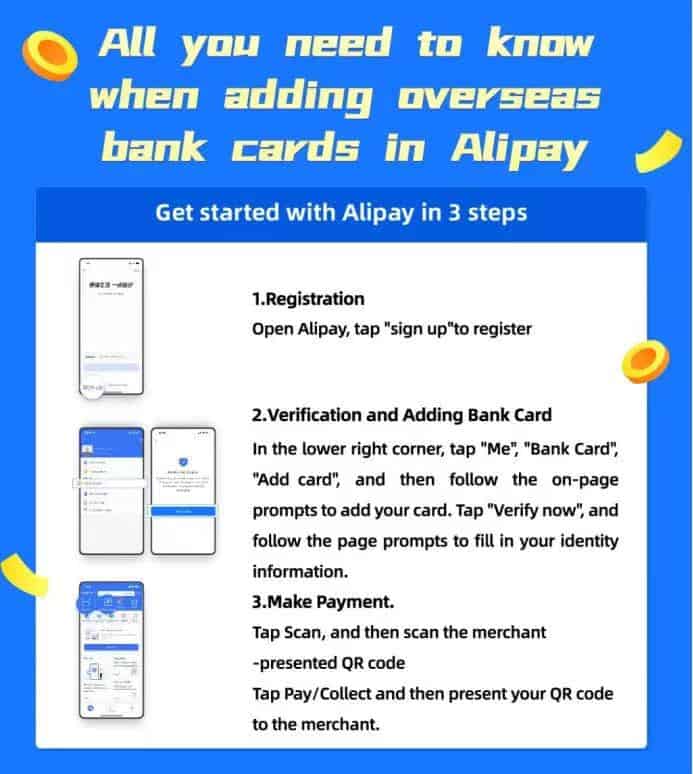 FAQ about linking to Alipay
Q: How do I know the exchange rate of the transactions made with overseas bank cards on Alipay?
A: The exchange rate for overseas bank card is provided by the card organization and issuing bank to which your card belongs. Please refer to the actual billing statement for specific information.
Q: Is there a limit for the amount of transactions?
A: Currently overseas bank card payments are limited to a single transaction limit of 3000, a monthly cumulative limit of¥50.000, and an annual cumulative limit of¥60.000 per account
Q: How much is the transaction fee for overseas card payments on Alipay?
A: There is a transaction fee for using overseas credit cards. However that for transactions under ¥200 would be waived. A 3% transaction fee will be charged for each transaction above ¥200. If you initiate a refund, the transaction fee will be refunded along with the payment order amount.
Guide to Taking Chengdu Metro & Bus

Are you using these Alipay functions?
Let us know in the comment section!