David Nicholson  Co-founder of ADI Sports talks the changing sports climate in China and the Chengdu International Football League Final this weekend.
Glasgow born David, or Scottish Dave to his friends, originally came to Chengdu in 2010 as an engineer. Since then, together with Andy McAuley and Iker Vergel who he met playing football when they first arrived in Chengdu, co-founded ADI sports. ADI brings international sports coaching in a number of diciplines to children in China's South West. David also helps organise one of Chengdu's biggest international community events; the Chengdu International Football League – which brings together ten teams and over 200 players. Chengdu-Expat caught up with him on the eve of the last day in the season: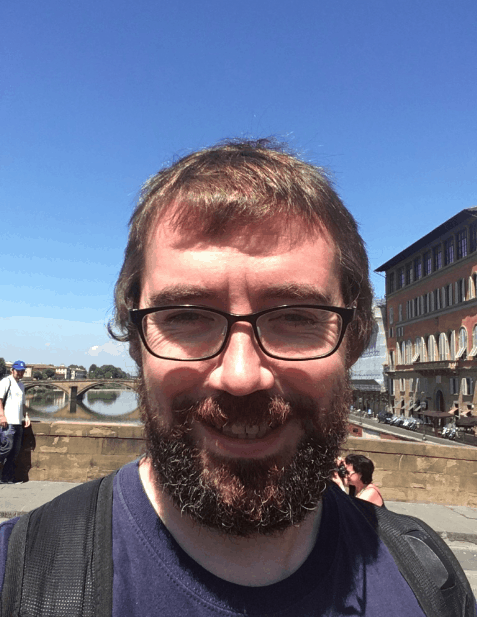 Chengdu-Expat: ADI is moving into its third year; how did it start?
David: We noticed that there was a lack of things for foreign kids to do here – so we started coaching football, mainly in international schools.  Afterwards Chinese families started to want to join in, so we now coach swimming, dancing, basketball, tennis and multi sports in Chinese schools and specialist camps.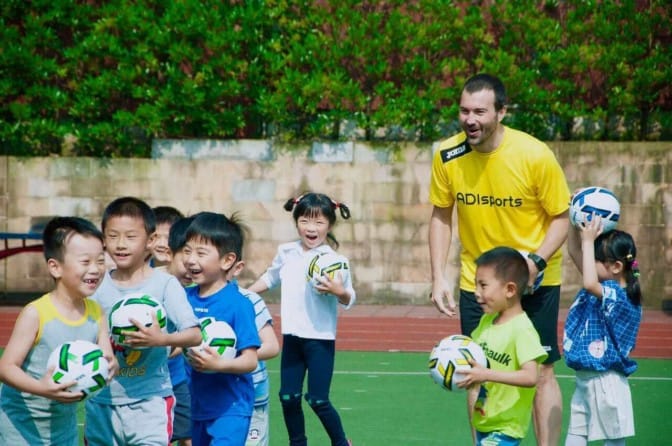 I think it really took off because around the time we started, the Chinese government changed their policy towards sports and made it more acceptable to be doing sports in school time. Before that everything was so focussed your child passing the gaokao, if they were doing sports in school time, this was time they could have been studying for the exam. This is slowly changing and I believe that from next school year, you can even take physical education as a part of the gaokaoand get points.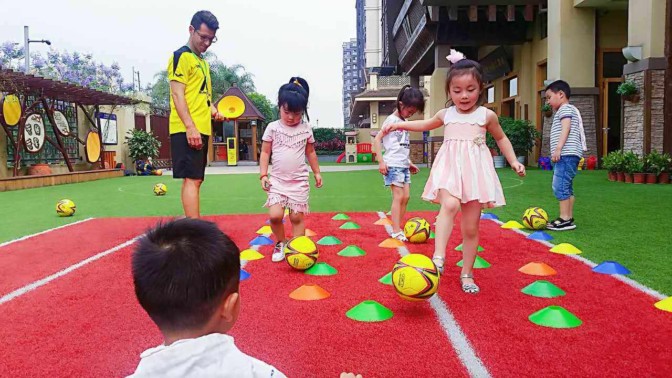 Chengdu-Expat: Does this mark a change in the way sports, especially as a career choice is perceived in China?
David: People are much more wary of their own personal health than they were, and at a higher level the government have realised to be seen as a developed country, they need to take an active role in making people healthy – and also from a status point of view, being a successful country in sports is important, which really kicked off with the 2008 Beijing Olympics. China is also putting funding into team sports and The NBA, Premier League and FIFA are doing a lot to promote basketball and football here.
China is currently spending a lot of money on bringing foreign talent over, it's a bit of an arms race, which probably isn't the best for the future of football here – but there are initiatives to bring money to grass roots programs, although t'll probably take another 10 or 15 years to for those players to go through the system and be trained properly. For Chinese players already in their 20s it's probably too late.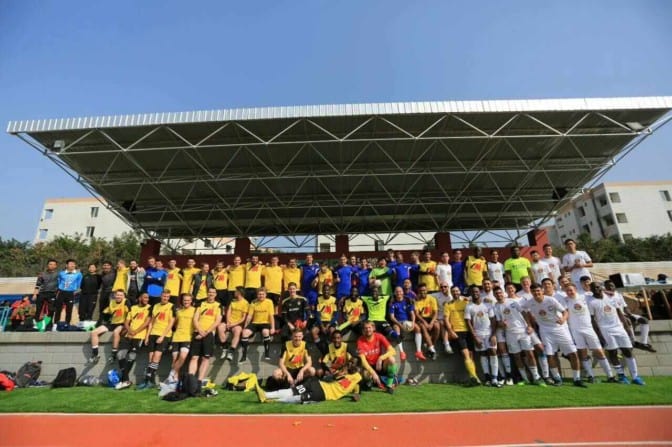 Chengdu-Expat: The Chengdu International Football League has grown to have ten teams –  how did it start?
David: When we first got to Chengdu we played on an eleven a side football team, it was the only foreigner team and we competed against other Chinese teams. After a while we grew a little bit frustrated with that, as we felt sometimes referees were occasionally favouring against us, or sometimes Chinese teams felt a bit like it was their chance to make a point, so it wasn't very friendly. Then by 2011 the international community had grown bigger and we started our own league – it wasn't just for foreigners, but a chance to show a more friendly side of the game and we could try and set the standard, and bring the local communities together.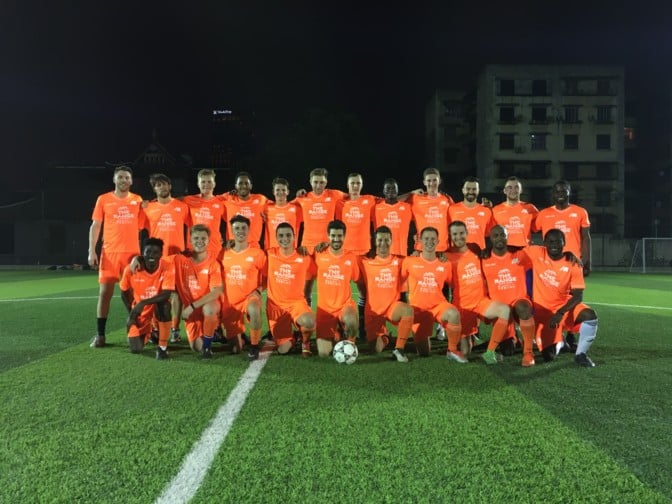 The Range Team in this years competition

Every 6 months, we play a season. It started off with teams devided by regions, Europe and China and America, but overtime it's become more mixed. The teams tend to be sponsored by bars and other F&B places in Chengdu and have up to 20 or 25 players each and there's 10 teams. Tomorrow is the final day of the championships, and by a nice coincidence, the top 2 teams will play each other: Deportivo Paname (back in the day Café  Paname sponsored them) and WMD FC.
Deportivo have finished second about 8 times, and won once and WMD have never won – they started out as a sort of pub drinking team but over the years have got more serious so should be fun. There's sort of a fan culture now too, we play at Huaxi campus so there's a lot of people who come over and there's beer and food sold, and it's a quite nice atmosphere. Come down tomorrow and watch, starts at 1.30, then the main game is at 3 o'clock. Then in the evening, there will be a party at Berlin Haus. There will be awards for team of the year, player of the year, top goal scorer, best goal etc.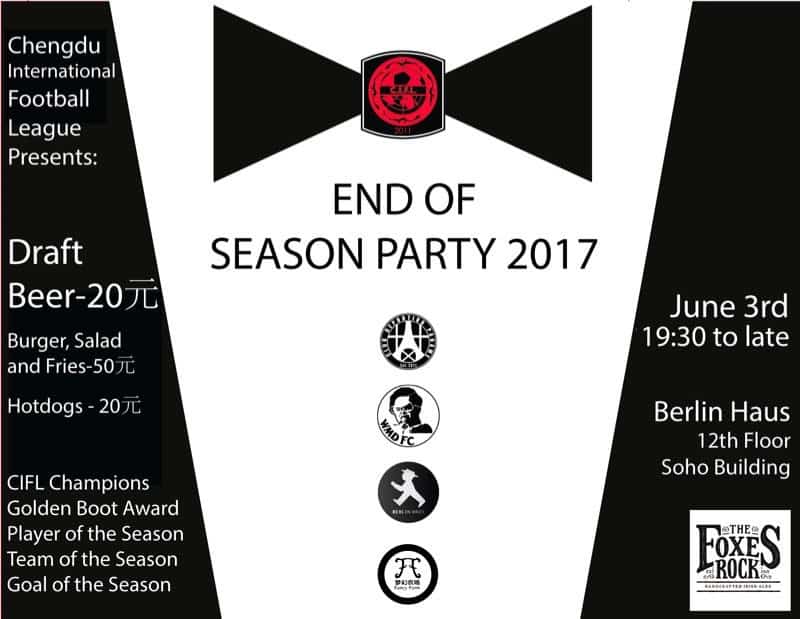 Chengdu-Expat: Who are the players to watch tomorrow?
David: Martin Fray who plays for WMD FC, a PE teacher from Malvern College is consistently the best player this year and last year – he's a midfielder. In terms of strikers, Ben Richards from Wales will finish top goal scorer in the league and Greg Ward from England has been excellent. Chris Leliuiga for WMD has also been great, as is Nenad from Serbia. We film all the games and have an APP to track all the data, all done through WeChat, so we can watch back highlights, league tables and how many goals each player has scored.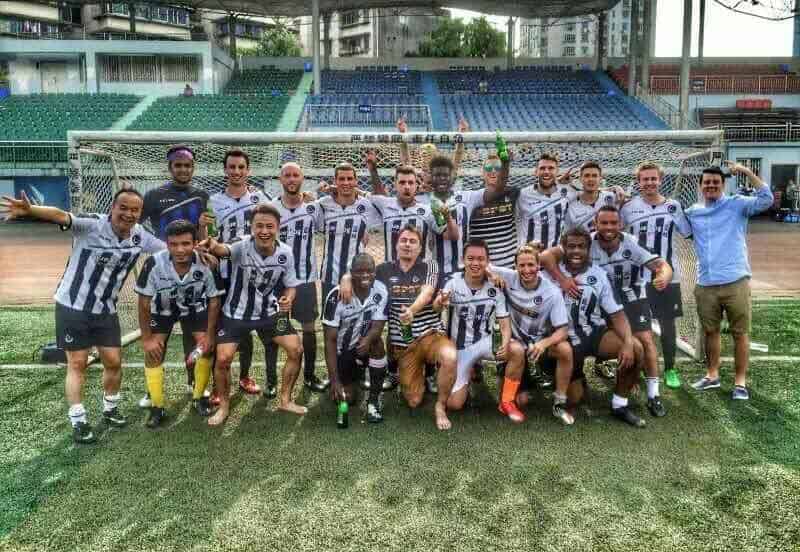 The next league starts September. A lot of players are students or teachers who can live far away or be quite isolated – so when they find a team and meet great like minded people it's really an amazing atmosphere and people make lifelong friends. We've been approached by big companies to sponsor the league before, but we really want to keep it as something friendly that helps bring together the community.