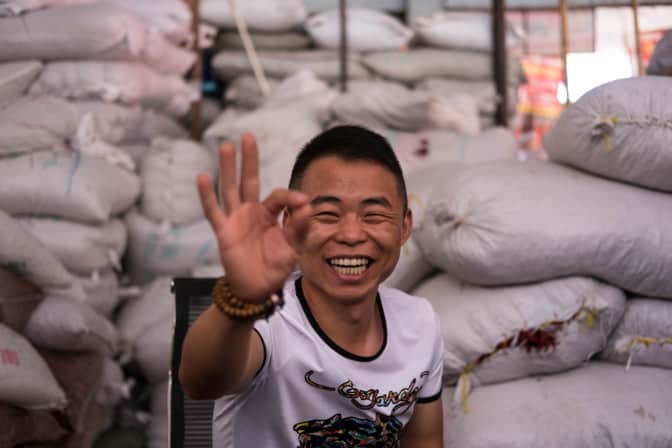 In the era of 'everything on the internet delivered right to your door', it's easy to forget to get out and explore your city when you need something. Hitting up Chengdu's markets is about more than just shopping, it's a way to connect to the pulse of the city and its people, and see something new.
That being said, there are some awesome things to be found in these unique markets around the city, that you might not find so quickly online. And it will definitely have a more engaging and exciting feeling being there in person. Get out there and explore!
24 Huan Hua Road North
草堂餐饮娱乐圈浣花北路24号
Located just down from the Qing YangTemple, this place is no secret but is still one of the coolest, and most visually appealing markets of the city. And one of the best place to find 'antiques' and curious. Peruse the outdoor stalls filled with propaganda posters, 50's nostalgia and precious rocks and carvings.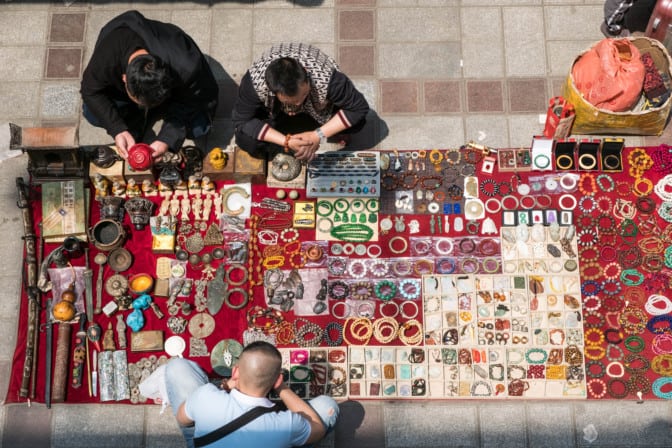 But don't forget to head to the 2nd story, and check out the art and calligraphy workshops. It's hard to verify the authenticity of any of these items for the best of us, and there are a range of prices here. Just go with the 'what's it worth to you' policy, or simply just go for the visuals.
1 Qing Shi Qiao Middle Street
青石桥中街1号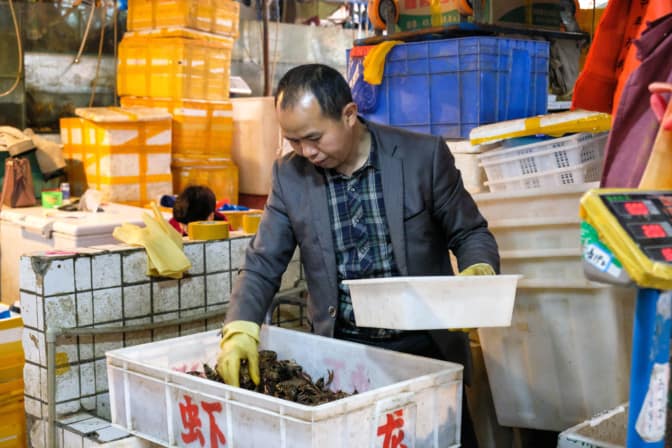 In a city known (by Chinese standards) for its relaxed atmosphere and casualness, the fish market at QinShiQiao comes with all the bustle and noise and energy (and mess) you expect if thought everything was going to be like 'Little Trouble in Big China'. It's as stimulating place for all the senses, but has some amazing deals on fresh seafood flown in daily from the coast. Show up in the middle of the night (2-4AM) for the trucks unloading the freshest, and lineup for the street side, seafood shaokao that emerges.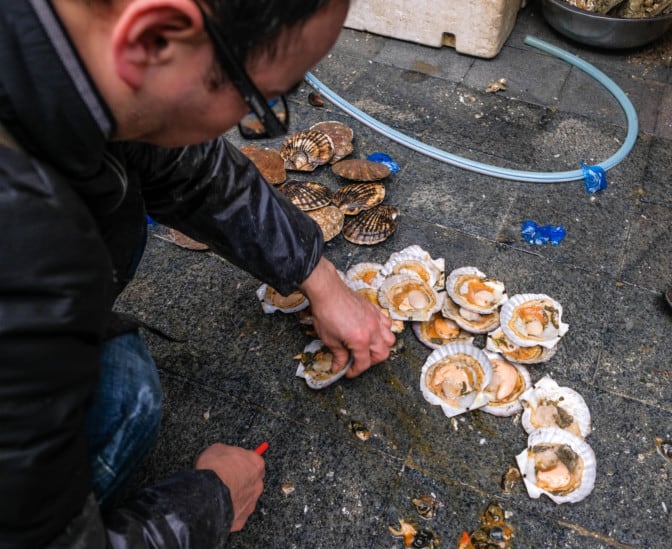 The shops surrounding the market, and on the 2nd floor, are also some of the best and cheapest places in the city to buy western food staples like olive oil, butter and balsamic vinegar – or even giant blocks of cheese.
亮佳鸿华二手市场
3rd Ring Road East Section 3 (inside), Near the Cheng Nan Flyover
东三环路三段辅路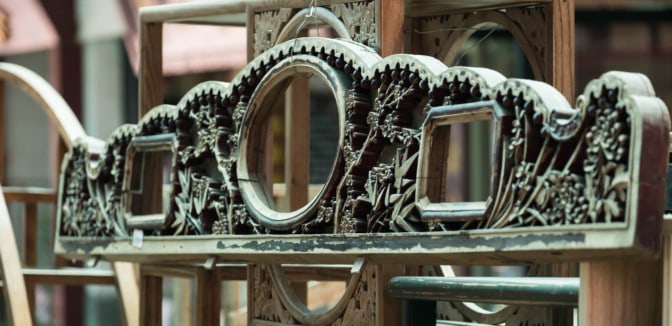 Located on the 3rd ring road east, this market isn't as easy to get to, but a trip out there will be worth your while especially if you're looking to outfit your new pad with some hip items.  It is a sprawling mass of mostly used restaurant items, old furniture, and refurbished art and antiques.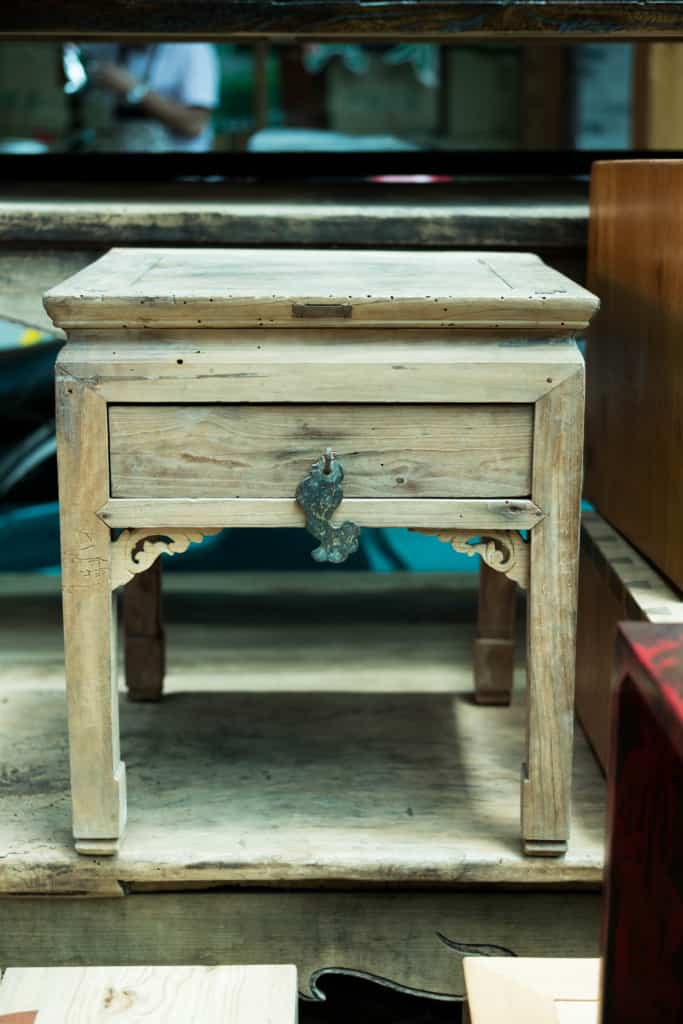 Not a tourist market, it can be a bit tricky to get exactly what you are looking for, but like any 'one man's junk is another man's treasure' hunt, you'll get what you put into it. Minivans lined up at the entrance can transport your items back into the city for you for pretty reasonable prices.
1st Section Rong Bei Shang Mao Road
赛云台西一路6号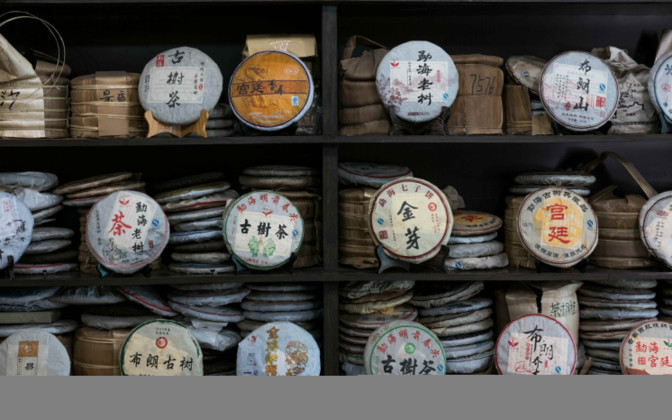 Even if you don't need 10KG of tea this massive collection of tea shops is a market as fascinating as it is fragrant. With incredible variety and selection you are able to see shops drying, packaging and processing tea leaves of all shapes and sizes.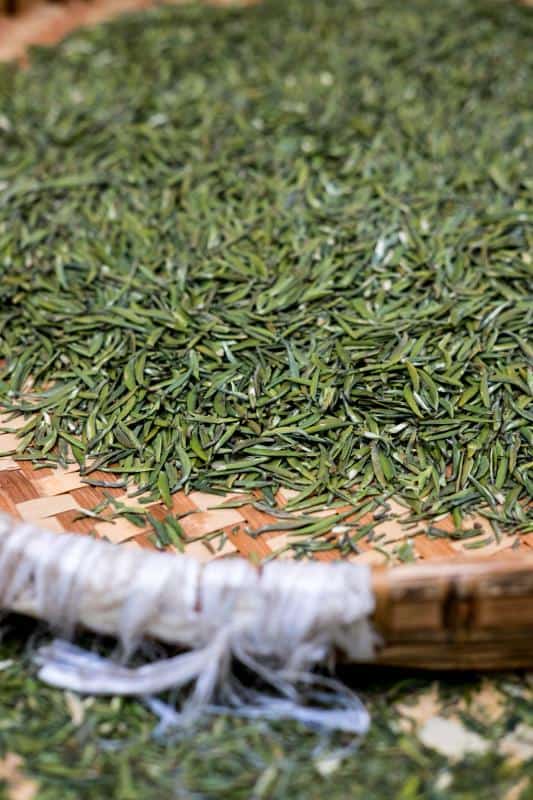 If you're in the market to buy, you can pull up a seat and taste what you want before you purchase. It's also one of the better and cheaper places to buy tea sets and accessories. Metro line opening soon!
Sai Yun Tai Road
赛云台路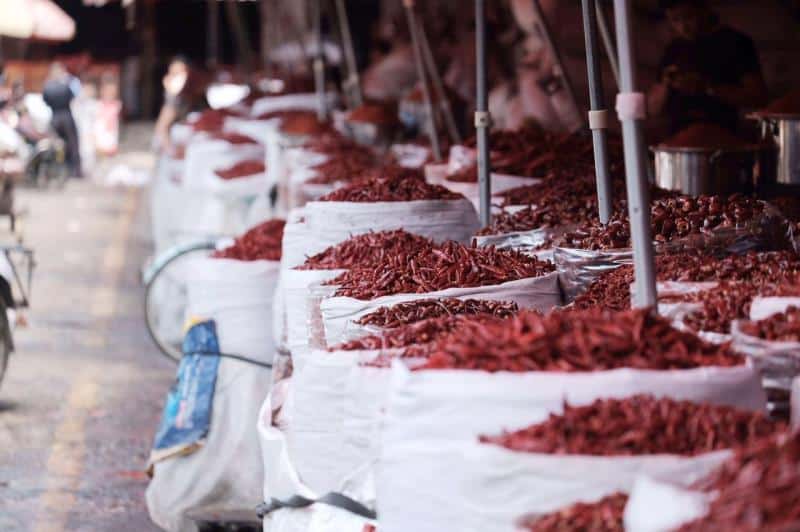 Just down the street from the tea market the wholesale spice market is a spectacle in and of itself. It is the market that services all restaurants and spice traders in the city and the sheer scale of it (1000s of kilos of chilis….) can be overwhelming.  The smell is intoxicating as you walk into the covered area and explore the immense amounts of spices used across the kitchens of the city.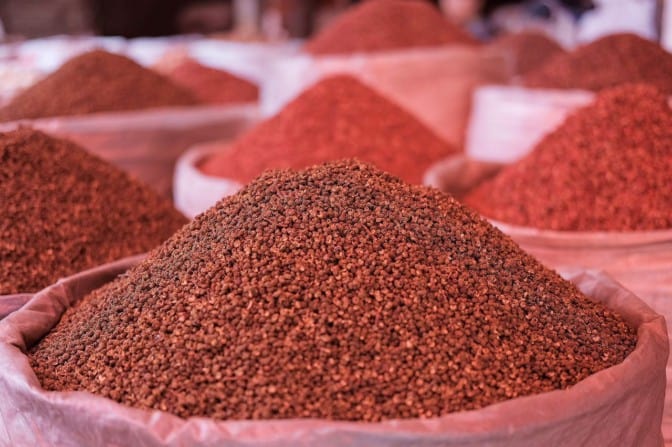 While it can be difficult to buy less than a half kilo (1 jin) of anything at a time, it can be a good place to find a greater variety of spices like turmeric or varieties of non-Sichuan pepper, than in other markets of the city. Or just have your choice of 7 different types of huajiao!
Market photos by Jake Homovich. Article by Jordan Porter.
Jordan Porter
More information from Sichuan food expert, food writer and founder of Chengdu Food Tours can be found at jordan@ chengdufoodtours. com