Do you know how to find an awesome Chinese tutor whom you can share your interests and life with?
Want to know where to find your native Chinese tutors/language partners from a variety of different people?
Do you feel bothered to travel a long way to reach your classroom?
If you don't then Clab have the solution for you.
Meet your native tutors at www.clabing.com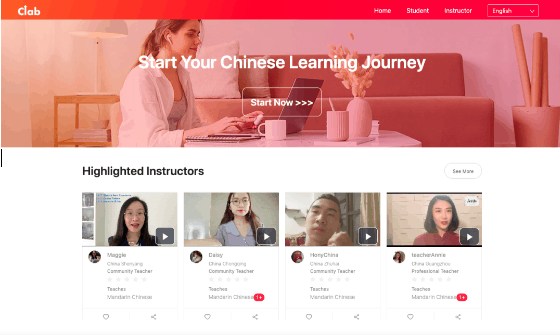 Meet a Variety of Native Chinese Language Tutors 
No matter where you are or what Chinese level you are at. No matter the language you speak or what kind of Chinese tutors you want. Despite any budget range, we have you covered.

Clab (www.clabing.com), your best choice to learn Chinese online.
 Whether you are looking for a Chinese teacher or a language partner, we've got you covered. 
On this website, tutors can set their own price based on their own experience, purpose, expectation, etc. Whilst, the learners can find the most suitable teachers based on their needs and budget.
Anywhere & Anytime 1-on-1 personalised lessons from $5/hour
Chinese Online 1-on-1 Lessons From $5/hour
Free language partners and trail lesions provided
For all levels, for all ages
Affordable and Authentic
Find native speakers and certified private tutors. Take a 1-on-1 Chinese lesson that fits your budget on our self-developed online Chinese classroom. Learn and practice Chinese naturally with native tutors. Save some time by learning online efficiently for your busy schedule.
Clab Online Classroom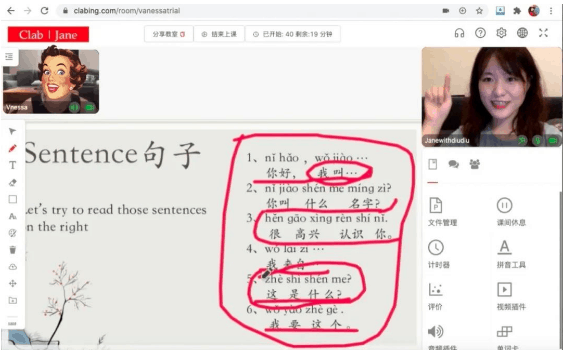 Designed specifically for online Chinese learning. We have all features you need to improve your online learning efficiency. 
We've developed features and functions which are entertaining, timely, and ideal for Chinese learners including pinyin transfer, conversational topics and character flashcards in the online classroom to rocket your learning.
About Clab and the Team 

We are Clab, a team based in Chengdu aimed to connect Chinese language tutors and students.
We are a young, energetic, chill but rapidly growing team, focusing on building an awesome Chinese language education platform for everyone around the world. 
Even though our website is currently touching the Chinese language market, you can also be one of the part-time language teachers here for other languages.
Come and enjoy the language teaching/learning journey :). 
Contact us or book a lesson by
WeChat 
janelyu0225

JANE
You can also access lots of free interesting self-learning materials via:
Instagram: chineselab_chengdu
Tik Tok: chineselab
Facebook: chineselab_chengdu
Lets Go Clabing
Giveaway!