Whilst COVID-19 is not longer a BIG risk in China, you still often need a city's specific health code if you plan to travel in China. Here's the health code guide for you to go to these locations in China:If your health code is Ok, traveling to these cities shouldn't be a problem for you to visit. However, we do recommend you to check with your hotel in advance, as some restrict foreigners, and others (especially in smaller cities) require a recent COVID test.
We know this article is long, but we didn't want to miss any useful info out. 
So get ready to scroll (or even better: use "Ctrl f" to find the specific city you're looking for) if you are looking for Health Codes for these places:
Municipalities 直辖市     
Beijing 北京市
Tianjin 天津市
Shanghai 上海市
Chongqing 重庆市
Coastal Areas 沿海地区    
Guangdong Province 广东省, incl. Shenzhen & Zhuhai
Hainan Province 海南省, incl. Sanya & Haikou
Jiangsu Province 江苏省, incl. Nanjing & Suzhou
Shandong Province 山东省, incl. Qingdao
Zhejiang Province 浙江省, incl. Hangzhou
Inland Areas 内陆地区   
Hubei Province 湖北省, incl. Wuhan
Hunan Province 湖南省, incl. Changsha
Sichuan Province 四川省, incl. Chengdu
Shaanxi Province 陕西省, incl. Xi'an
Guizhou Province 贵州省, incl. Guiyang
Yunnan Province 云南省, incl. Kunming
---
The Health Kit (Jiankang Bao) mini-program is now online! Foreign nationals may find the mini-program by typing in "Health Kit" in the WeChat or Alipay search bar and check your registered health status. The Health Kit serves as a reference for assessing your fitness for going back to work, entering/exiting public places, and other situations concerning COVID-19 prevention and control.
Users' Guide to Health Kit on WeChat
Open WeChat, search for the mini-program "Health Kit", or scan the QR Code below to access it. 
After accessing the mini-program, set the language first (you can choose between Chinese and English). 
For example, if you choose "English", read the following statement and confirm after setting the language. 
Click "Query on me" to fill in the information. Enter your name and the number of the passport you used for entering China. 
After filling in the information, take a photo of the key information page of the ID document you used upon entry for verification. 
Click "Query on me" to check your health status for the day. The query results are only valid until midnight of the day.
Alternative (not everywhere accepted): Users' guide to Beijing's "Health Kit" on Alipay
Step 1: open Alipay, then click the search box to search for health kit.
Step 2: click the health kit Mini Program in the search results.
Step 3: You can set the language to English, and then check statement and log in.
Step 4. Then health kit applies for your personal information, and click 同意(agree)
Step 5: After clicking, health kit will prompt "please log in to proceed", click OK to log in.
第五步:单击后,health kit提示"please log in to proceed",单击ok登录。
Step 6: After logging in to health kit, click query on me. Then fill in the personal information, click Start photo taking for face recognition authentication. After passing the authentication, you can view the status of the personal health code.
Tips:
Beijing health treasure can not be directly used in other areas, but the relevant information has been shared with other cities through the national gov service platform. At present, Hebei, Shanghai, Hangzhou and other places can verify the status of Beijing health code.
For the sake of verification, the ID information you upload when using the Health Kit should be the same as the one on the photo page of the ID document you used for entering China. 
Different colours represent different health conditions. Your code needs to be green to be able to travel and access places.
---
Foreign nationals in Tianjin can now get the 'Health Code' mini-program via WeChat. The health QR code, a certificate showing your health condition which is required to move around the city, was previously only supported on Alipay.
Users can fill in a condition inquiry list via WeChat's mini-program, and a QR code will consequently be issued in green, orange, or red, signifying a traffic light system.
If you need the mini-program, follow the steps below to get it: 
1. Search "WeChat" in your app store, download it, then register with your phone number to acquire a WeChat account.
2. After logging in, scroll down the screen and search for "Jin Xin Ban Guan Fang (津心办官方)" which will lead you to the targeted mini program.
3. Open it, and find Tianjin Health Code under Hots (热门服务) — popular functions.
4. Next, fill in the inquiry form, answering the questions based on your current condition, and you will be given your code.
A green code allows you to travel across Tianjin with no coronavirus-related traffic restrictions. Please show the code when required, and strive to protect yourself from being infected. The colour of the code is updated frequently, according to relevant policies, based on the health condition reported to the local gov. Please check your health code before going out.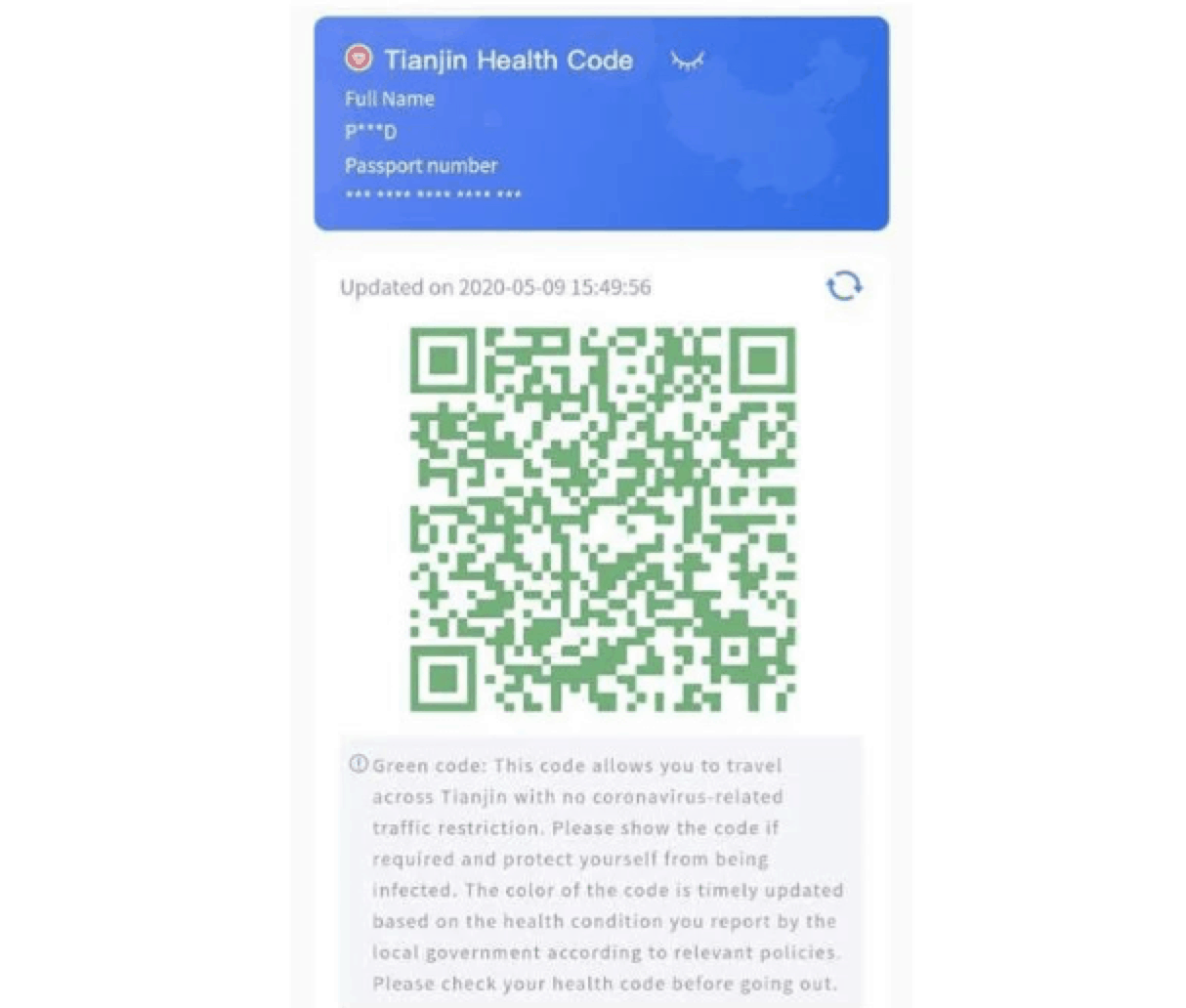 ---
1. Complete identity verification in the following page in Alipay before getting your Shanghai QR code.2. There are two ways to get your Shanghai QR code.
(1) Use Alipay to scan the following QR code.
(2) Or, after verifying your identity in Alipay, search for "随申办" (pinyin: Sui Shen Ban; meaning: Shanghai Public Services Online), and enter the mini program.Click on "随申码" (meaning: Shanghai QR Code), and the system will generate your code after big data analysis.If you have any questions about the application or the accuracy of your Shanghai QR code, click on "Feedback" at the bottom to leave your message. We will verify your information as soon as possible.The FAQ section has also been translated into English for your reference.
Detailed Steps:
Step 1: Make sure you are a verified user on the Account page.
Step 2: Click "More" on the home page.
Step 3: Click "City Service" on the Application page.
Step 4: Click the second icon from the left on the Shanghai Service page to apply for the code.
Green means you're healthy, orange means you are suspected or in quarantine, and red means you are a confirmed COVID-19 patient.
FAQ and Feedback links are at the bottom of the page.
---
According to the relevant requirements, all the people who live in Chongqing and accept the local village (community) management and the in-Chongqing returning personnel can search "渝康码" or "重庆健康出行一码通" mini program on WeChat, Alipay client and "Yukuaiban" App, open the page and fill in the relevant information, and receive the individual code. There is only one code for one person.
1.Foreigners and new immigrants who need to apply for "渝康码" can search WeChat for "渝康码" (Yukang Code)or "重庆健康出行一码通" mini-program.
2. For the first use, you need to register and authenticate according to the page prompts.
 After completing the certification, click "新入境人士来渝健康申报/在渝港澳台、外籍人士健康申报", and choose the type of report according to your own situation.
To facilitate the smooth application for foreigners who do not understand Chinese, the report page supports both Chinese and English.
3. After completing the form, users can enter the "新入境人士来渝健康申报/在渝港澳台、外籍人士健康申报", click the "我的渝康码"(My Yukang Code) button to query and display personal health status. 
Green code allows you access to airports, railway stations, high-speed rail stations, bus stations and other transportation stations, as well as public transportation such as taxis, online car rental, buses, long- and short-distance shuttles, and access to various enterprises and institutions, administrative service halls, supermarkets, public places such as the catering industry, hotels, and tourist attractions.
Where can "Yukang Code" be used?
(I) Various types of enterprises. All types of enterprises should fully use "Yukang Code" to realize the employment health data collection of employees, so as to achieve full coverage and omissions. It is necessary to effectively perform the main responsibility, implement "code scanning" and temperature measurement management for all enterprise employees, and report and deal with abnormal situations in a timely manner. Municipal state-owned enterprises should take the lead in popularizing the use of "Yukang Code".
(II) Residential communities. Residential communities should fully promote the use of "Yukang Code", according to the relevant regulations on prevention and control measures for grading and classification of epidemic situations. Management staff must implement "code scanning" and temperature measurement management on residents, grasp real-time dynamic health information of residents, and find abnormal conditions report and process in a timely manner.
(III) Public places. Institutions, shops and markets, airports, railway stations, ports, terminals, long-distance passenger stations, taxis, Internet-linked cars, colleges and universities, medical institutions, and other places with a large number of people must implement "code" and temperature checking management.
(IV) Outside the city. Individuals who have applied for "Yukang Code" can go to other provinces (districts and counties) that have signed the mutual recognition agreement of health certificate with Chongqing, including Sichuan and Guizhou provinces at present, and realize the mutual recognition of cross-provincial health certificate by displaying "Yukang Code"
(V) Work outside. Migrant workers can apply for an online Health Certificate at "Yukang Code". The online Health Certificate and the Notice on Doing a Good Job Report for Migrant Workers (Chongqing COVID-19 Group Office issued [2020] No. 40) have the same effect as the paper Health Certificate and are valid in all districts and counties in the city. Provinces (autonomous regions and municipalities) that have signed mutual recognition agreements achieve mutual recognition of health certificates for workers. 
Guangdong, incl. Shenzhen & Zhuhai
Guangdong Yuekang Code 粤康码
The Yuekang code (粤康码), also called Guangdong health code (GHC)-issued through an online platform called Yueshengshi (粤省事) operated by the provincial gov has been used to avoid the repeated collection of health information and inconsistent recognition of isolation between regions by pooling information including COVID-19 screening results, registration record of entering Guangdong, health declaration records, and temperature check records.
A special version of the Yuekang code on a mobile page 'GHC' has been launched for foreign nationals, people from China's Taiwan, and people from China's Hong Kong and Macao who have failed their ID authentication on the Yuekang code on the mini-program 'Yueshengshi'. Please notice that the mobile page Yuekang code 'GHC' is different from the Yuekang code on the mini-program 'Yueshengshi'. This guide is only for foreign nationals.
Hainan, incl. Sanya & Haikou
Starting from February 29th, 2020, the Sanya International Phoenix Airport introduced a "Hainan Health Code" system that will assist in ensuring the health and safety of passengers departing from the airport.
The Hainan Health Code system is divided into red, yellow, and green QR codes. Passengers with green codes are allowed to board flights leaving the island. Those with yellow and red codes, or who cannot produce one of the three codes, will not be allowed to leave the island per epidemic control policies.
The green code means people have little chance of having been infected, while people with yellow and red ones must be held in quarantine for a few days, report on their health information daily, and wait for the code to turn green before they will be allowed to travel.
An English version was launched in the Hainan Health Code system to support the users from the regions such as Hong Kong, Macau and Taiwan, as well as those from foreign countries, to apply for the health code through Alipay application.
Step 1: Open Alipay and scan the QR code below to apply for the Hainan Health Code.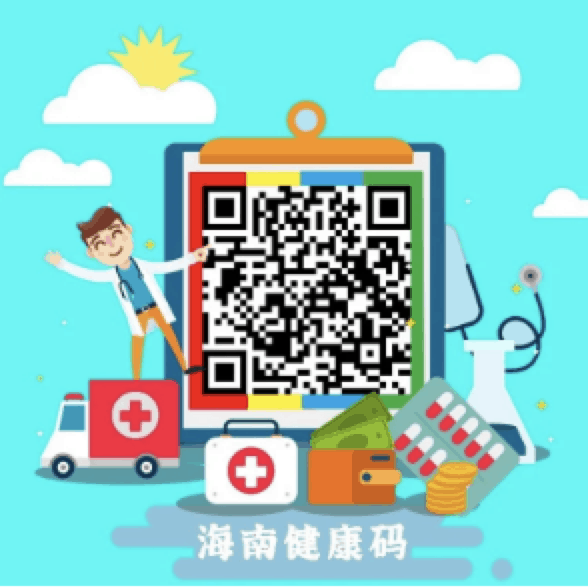 Step 2: Making an account and real-name verification is required. First-time users will need to register by providing name, gender, ID number, and detailed address.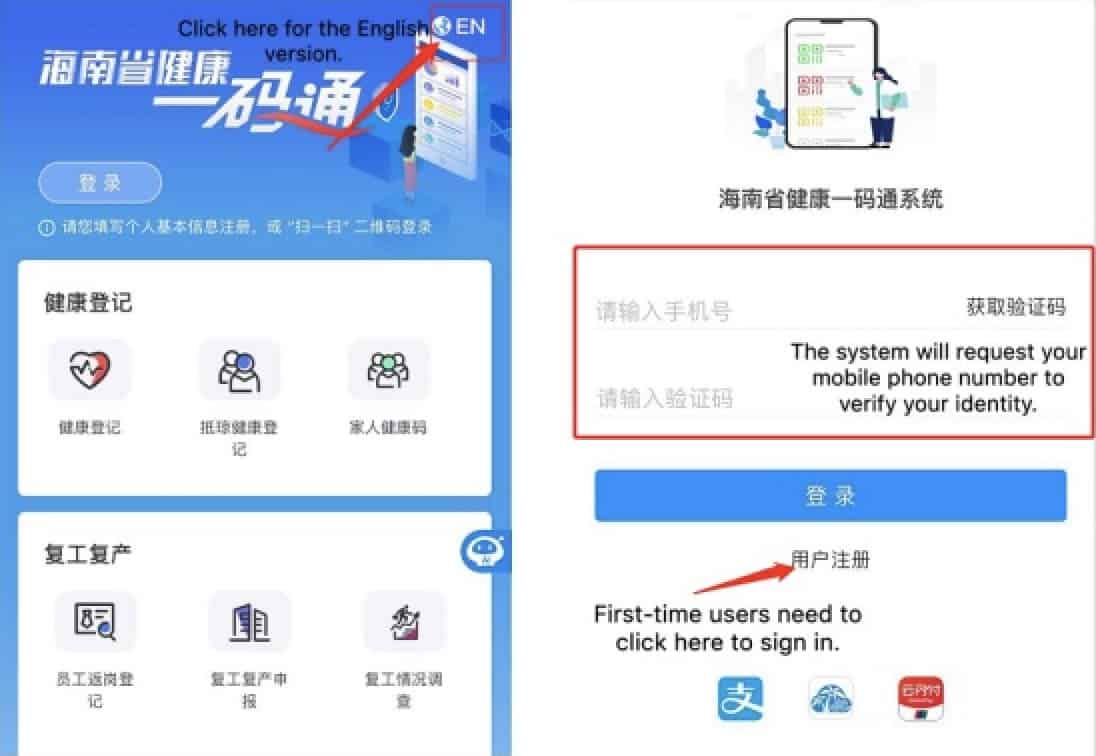 Step 3: Once an account is made, you can register to apply for the "Hainan Health Code." Individuals will then need to answer a series of questions including physical health and travel history, and then click "submit" at the bottom of the form. The system will generate a green, yellow, or red code based on the information you provide.
---
---
Suzhou Health Code via WeChat
Step 1: Scan the QR code below, or alternatively type in "" in the search function
Step 2: Change the language setting from "中文" (Chinese) to English and fill out the form
Step 3: Complete the form, press "Confirm submit" and wait patiently for verification.
After verification, you can get the health code like this.
Below the health code the date/ time when the code automatically refreshes is indicated.
---
Step 1: Open App Store or App Gallery, Input "Zheliban" at the search bar of "App Store", download and open the app "浙里办" (Zheliban).
After opening the App, find "Health Code" and tap it
Step 2: Tap "Zhejiang International Health Code" and input the information top-down according to the tips.
---
Input "Shandong e-health pass card" (山东电子健康通行卡) in the top search box and click search.
Then click "Shandong electronic health pass card" to enter, and "agree" (同意, blue button) to log in.
Then confirm the personal information and click "submit".
Then click "pass application" (通行卡申请)
Finally, fill in the personal information and click "submit".
Foreigners who use the passport they hold at the time of entry can apply for the Hubei Health QR Code called "鄂汇办" (E Hui Ban).
Use your mobile phone to search and download "鄂汇办" (E Hui Ban) APP.
Click the blue box in the middle of the page "同舟共济 抗击新冠肺炎"
Click "HK/MC/TW Residents and Foreigners Health QR Code"
Click "Apply for the Hubei Health QR code"
Choose "English" and "International personnel"
Fill in the relevant information truthfullyThe application can be completed after submission. Generally, within 24 hours, click "My Health QR Code" to use the code.
---
Hunan Health Code
After logging in WeChat, swipe down the screen to get the Mini Porgrams landing page and search for 湖南省居民健康码 ("Health code of residents in Hunan Province") which will lead you to the Mini Program.
Open the Mini Program, and find trans-provincial health code under Convenient service
Then open "ALL PASSPORTS"
​Alipay: 湖南省居民健康卡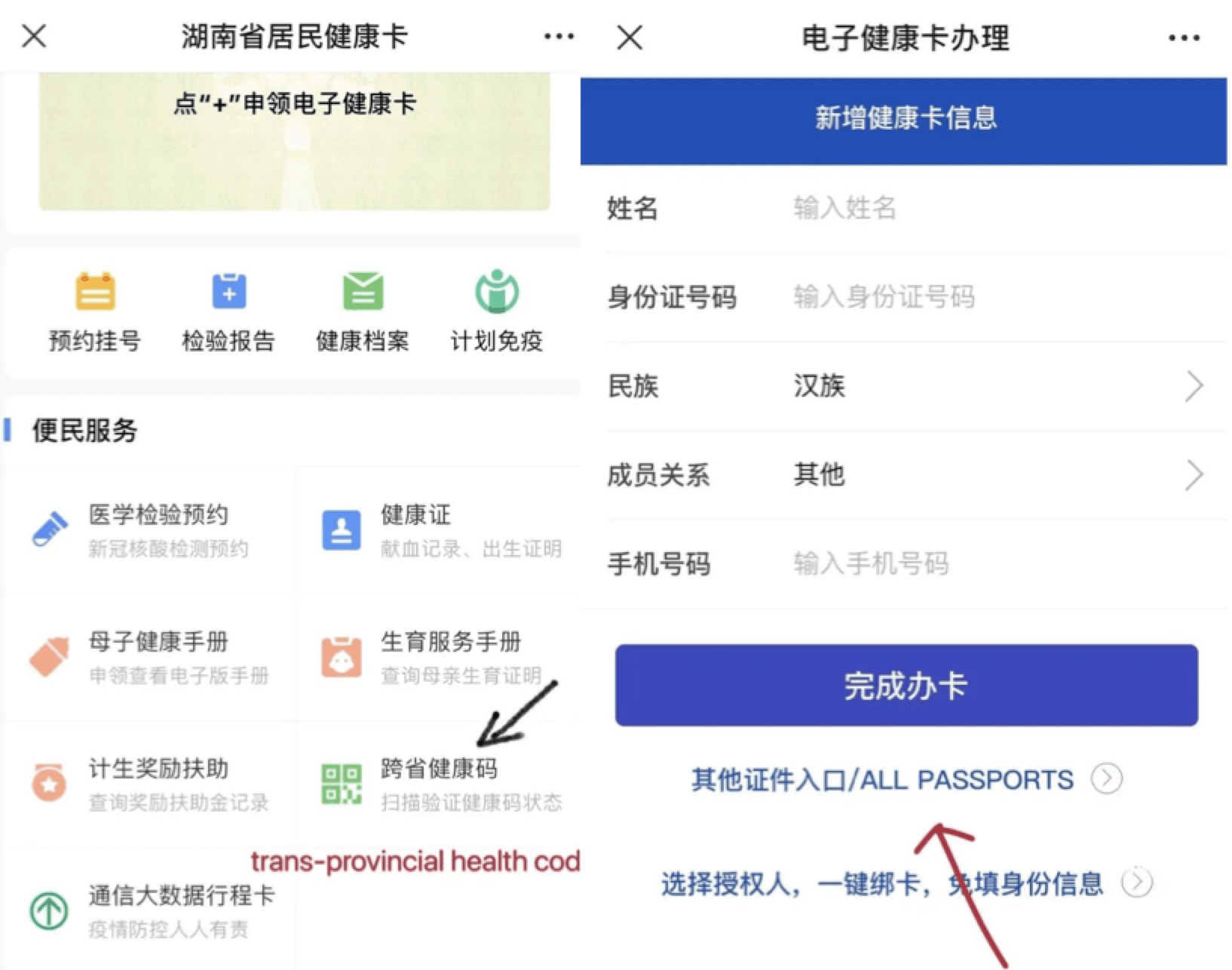 Next, fill in the inquiry form, answering the questions based on your current condition, and you will be given your code.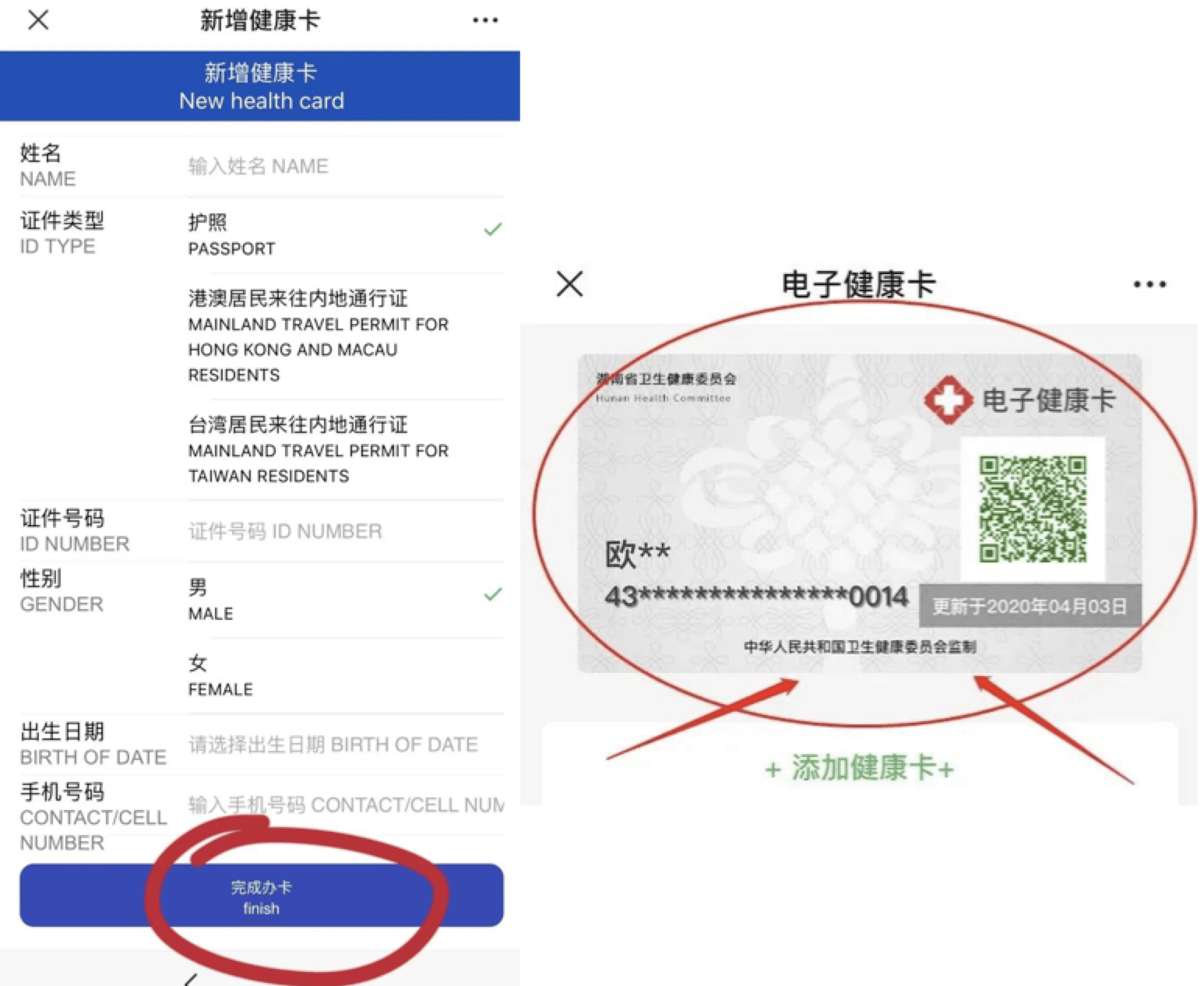 ---
Tianfu Health Code
Step 1: Access the Mini Program
Foreign nationals, Hong Kong, Macao and Taiwan residents can use the WeChat to scan the QR code to apply for the Tianfu Health Code.

Step 2: Declaration Entry
Log in the home page and enter the application page by "Click Here".
Step 3: Special Note of Your Declaration
When you enter the application page, you will see a special note of your declaration, which states that the information provided by foreign nationals is voluntary and not mandatory; and the information provided is only used for the prevention and control of the COVID-19. Users can select the language in the upper right corner, and proceed to the next step by clicking Next.
Step 4: Declare Information
Note: name and ID number must comply with one's ID documents.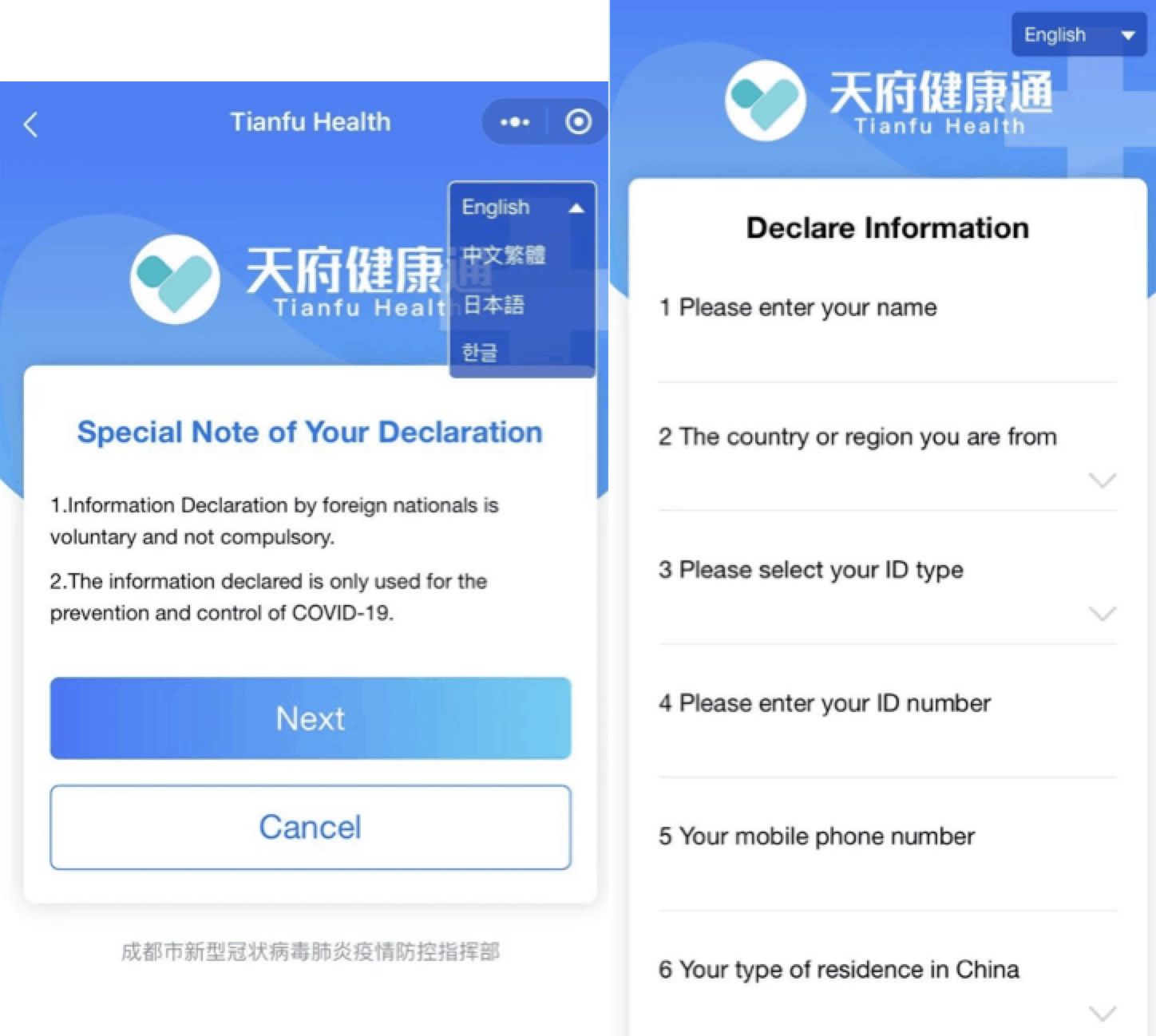 Step 5: Information Review
After being filled, the information proceeds to be reviewed. Within 24 hours the review will be processed. For the declaration that is not complete and fails the review, there will be a hint to redeclare.
Step 6: Health Code
Once the declaration is successfully processed, you can log on the Mini Program to see the Code, whose colour is classified according to health standards. Health information below the Code can be updated by the Code owner while the name and ID Number cannot be changed. Health information can be updated for only once within 24 hours as to avoid malicious manipulation.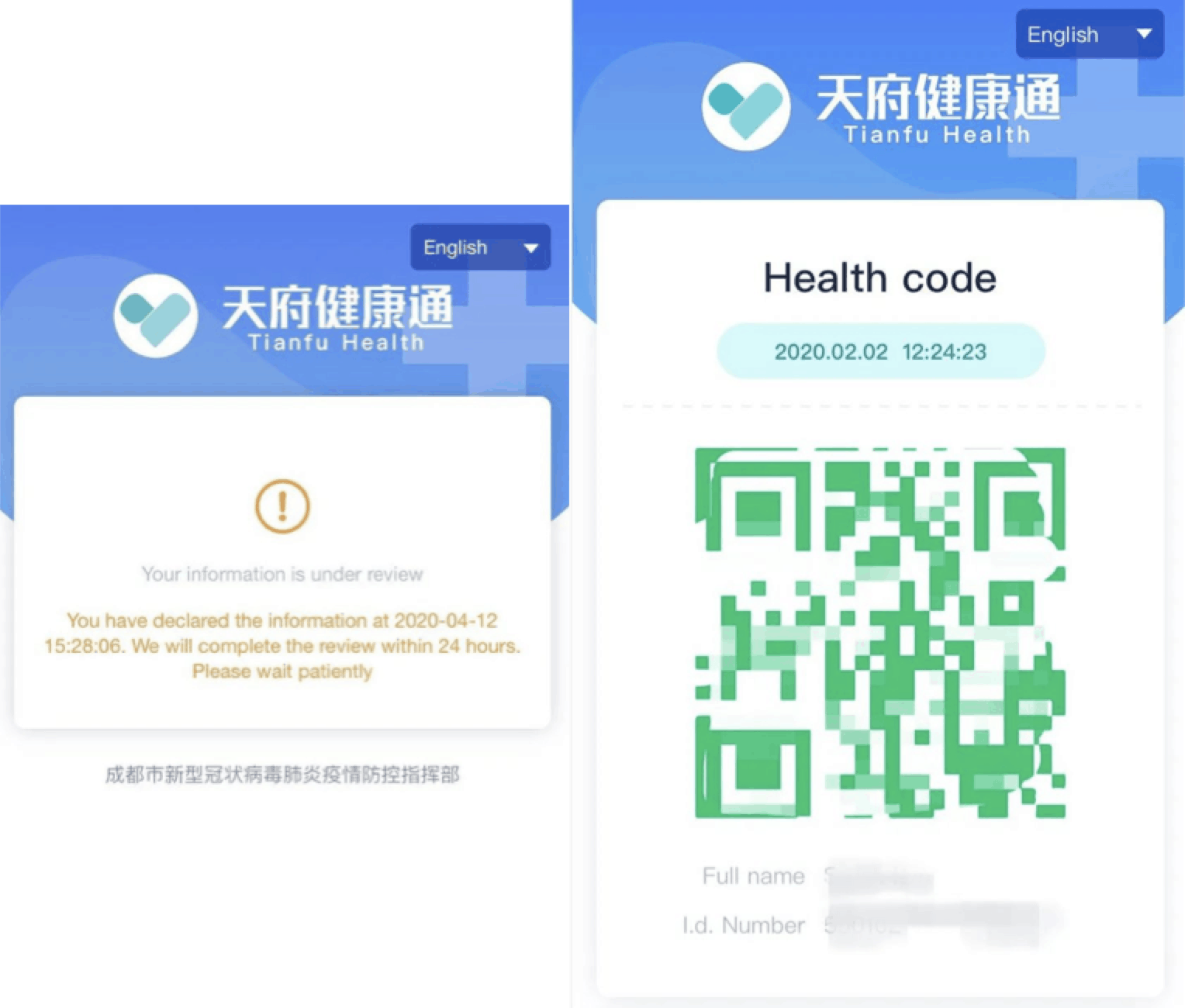 ---
Search "WeChat" in your app store, download it, then register with your phone number to acquire a WeChat account.
After logging in, scan QR code down below which will lead you to the targeted mini program.

Click the green button down to register, answer the questions, and click "consent"
If your code is green, then you're good to go. 
If yellow or red, you'll most likely be put in quarantine.

---
Guizhou & Yunnan,incl. Guiyang & Kunming
The Chinese Gov Service Platform  "Health Code Traveler Version" is designed for inbound travellers (including foreign nationals) without mainland ID cards for better epidemic prevention and control purposes. Main cities from Xian, Guizhou to Kunming accepts this code.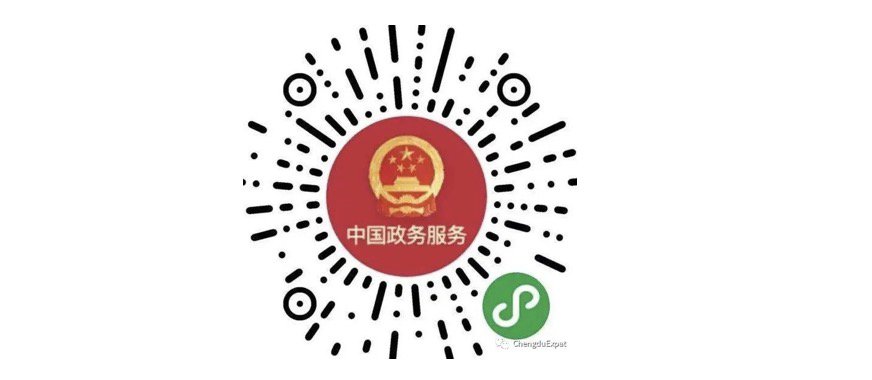 Check detailed instruction at our previous post COVID-19: New Health Code for Foreigners.
Sources: Chongqing News, MyHomie, Shenzhen Gov, ezhejiang.gov.cn, GICexpat.