Planning to stay in Chengdu? All foreigners in Chengdu (and throughout China), must register at the local police station within 24 hours after checking in to a rented apartment or house. Also, if your visa is renewed or if you travel back from other countries (including Hong Kong, Taiwan, and Macau), you will need to renew your registration again within 24 hours.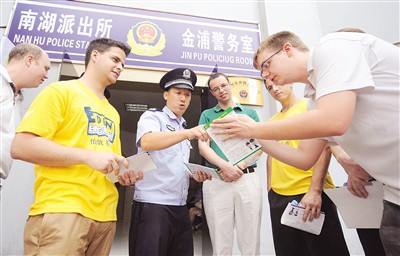 You will need:

Your passport
Photocopies of your passport's photo pages, visa page, and latest entry stamp
The original lease contract and an extra copy of the contract.
A copy of landlord's ID and property certificate, landlord's phone number and work unit
Your Chinese contact's phone number, copy of ID, name of work unit
The name of your work unit/institution
You'll also need to bring a local community clearance paper, which can be obtained at local community office with following documents:
Original lease contract and the copy
Landlord's original ID card and the copy
Original passport and the copy of the main page, visa page and the latest entry stamp
Note: The local police stations' requirements may change slightly, so you may wish to confirm with them in advance which materials you will need.
Once registered, your Temporary Residence Permit form will probably look something like this: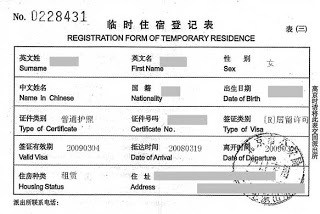 Some local police station addresses:

1. Sanwayao local police station (三瓦窑派出所)
  Opening times: Monday to Friday (09:00-12:00;13:00-17:00)
  Tel: 028-85353678
  Address: No.9 Tianhe East Street, Gaoxin District, Chengdu 成都高新区天河东街9号
Close to: Capitaland (凯德天府)、Times Crystal (时代晶科)、Huamin Garden (华敏世家)、East Hope Square (东方天祥广场)、Jiaxiang Ruiting Nancheng (嘉祥瑞庭南城).
2. South Railway local police station (火车南站派出所)
 Opening times: Monday to Friday (09:00-12:00; 13:00-17:00)
  Tel: 028-85353276
  Address: No.27, South Railway Station West Rd., Wuhou District, Chengdu 成都武侯区火车南站西路27号
Close to: European City (欧城)、Master (首座)、Utopia (观南上域)、Beverly Garden (金地贝福里)
3. Fangcao Street local police station (芳草街派出所)
 Opening times: Monday to Friday (09:00-12:00; 13:00-17:00)
Tel: 028-85178285 028-85563331
Address: No.10 Fangcao Street, Wuhou District, Chengdu 成都武侯区芳草街10号
Close to: Emerald (叠翠峰)、Residence1881 (公馆1881)
4. Shiyangchang local police station(石羊场派出所)
 Opening times: Monday to Friday (09:00-12:00; 13:00-17:00)
Tel: 028-85310497 69709280
Address: No.752 Jiannan Ave., North Section, Gaoxin District, Chengdu 成都高新区剑南大道北段752号
Close to: Cosmos (誉峰)、American Garden (美洲花园)、Tianfu Community (天府国际社区)
5. Shuijingfang local police station (水井坊派出所)
Opening times: Monday to Friday (09:00-12:00; 13:00-17:00)
Tel: 028-84447059
Address: No.1 Qingheli North Section, Jinjiang District, Chengdu 成都锦江区青和里北段1号
Close to: Times Residence (时代豪庭)、Metropolis (都汇华庭)
6. Shuanggui Road local police station (双桂路派出所) 
Opening times: Monday to Friday (09:00-12:00; 13:00-17:00)
Tel: 028-84525021
Address: No.99 Niushikou Rd., Jinjiang District, Chengdu 成都锦江区牛市口路99号
Close to: Yanlord Riverbay (仁恒滨河湾)、Sky Ville (天誉)、Zhongliang Hongyun (中粮鸿运)、Lotte Residence (乐天圣苑)、ICC
7.Hongpailou Street community office (红牌楼街道办事处)
Opening times: Monday to Friday (09:00-12:00; 13:00-17:00)
Tel: 028-87028110,13541347389
Address: No.9 Jialing Rd., Wuhou District, Chengdu 成都武侯区佳灵路9号