Luckin Coffee, the tech-coffee company thats changing china.
Luckin is challenging Starbucks' long-held dominance of China's freshly-brewed coffee market. You may have seen this coffee chain pop up near to your local office and wanted to know more about them. Here we give you the full story of their growth to become your go to coffee shop. With a focus on being close to their consumer and digitally savvy, they have used discounts to get ahead. Buy one get 2 free and buy 10 get 10 free have been popular offers. How much further can they grow and will this end Starbucks?
Astonishingly Fast Growth
Eighteen months on from when the Fujian company started, it has grown from a single trial store in Beijing in June 2017 to 2370 wholly-owned stores in 28 cities. Its customer base totalled 16.8 million "transaction" consumers as of March 31 according to its prospectus.
The company states in its prospectus that China's coffee market is highly underpenetrated. "Inconsistent quality, high prices, and inconvenience have hampered the growth of the freshly-brewed coffee market in China. We believe that our model has successfully driven the mass market coffee consumption in China by addressing these pain points.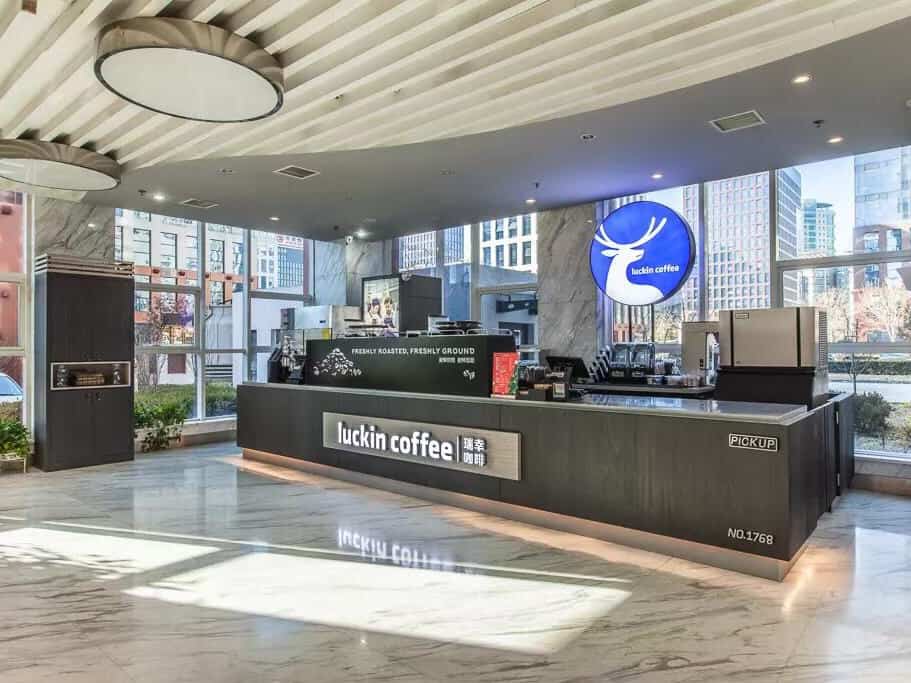 "We intend to further increase our brand awareness, expand our customer base and store network. We expect to continue to invest heavily in offering discounts and deals and other aspects of our business, especially sales and marketing expenses," the company said in its filing.
Competition with Starbucks
The china based company has quickly become a key competitor to Starbucks Corp. Some analysts have questioned whether the company can continue to grow without the use of the heavy promotions that have bolstered its expansion, can the company generate sales in the absence of discounts?
"Luckin has a cool brand backed by popular celebrities, but it's a different business model from Starbucks," said Dan Wang, an analyst at The Economist Intelligence Unit.
"Luckin is offering a different experience. It is focused more on takeaway, delivery and digital services. Their prices are better suited for price-sensitive consumers and office workers,"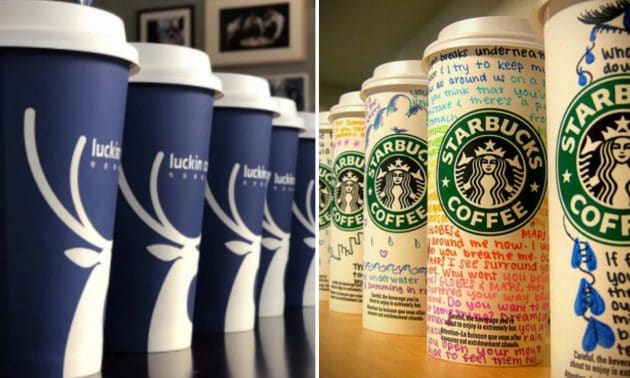 Unlike Luckin, Starbucks is focused on creating retail locations where customer will have the "third place experience" meaning customers can stick around after making a purchase – luckin's focus on takeaway is a differentiator.
Starbucks has stated its goal of adding 600 net new stores annually to reach 6000 locations by fiscal 2022. Starbucks has partnered with Alibaba for delivery service in 2100 stores in 35 cities – it has launched its popular loyalty program, which has accumulated 8.3 million members.
Starbucks are not a company to doubt though, as in response to luckin's growth Starbucks has opened its first Chinee store dedicated to takeout and online orders. This store has been opened in the heart of the financial street in Beijing and includes an area designed for delivery drivers to pick up drinks ordered online. These have been branded as "Starbucks Now" this is in response to a coffee retail market increasingly underpinned by delivery services.
Technology – 'Pick Up' stores and focus on its App
91.3% of the stores that they operate are "pick-up stores" that offer limited seating and are located in places like office buildings and university campuses that have built-in demand.
"Our mission is to be part of everyone's everyday life, starting with coffee," – The company's director and chief executive officer, Jenny Zhiya Quan, and an employee, Min Chen, Hold 83.33% of the equity interest in the company.
Luckin Coffee shops have no cashiers. Customers order and pay for their drinks through an app. They can choose to pick them up at one of the company's sparsely decorated locations or have them delivered within a guaranteed 30 minutes.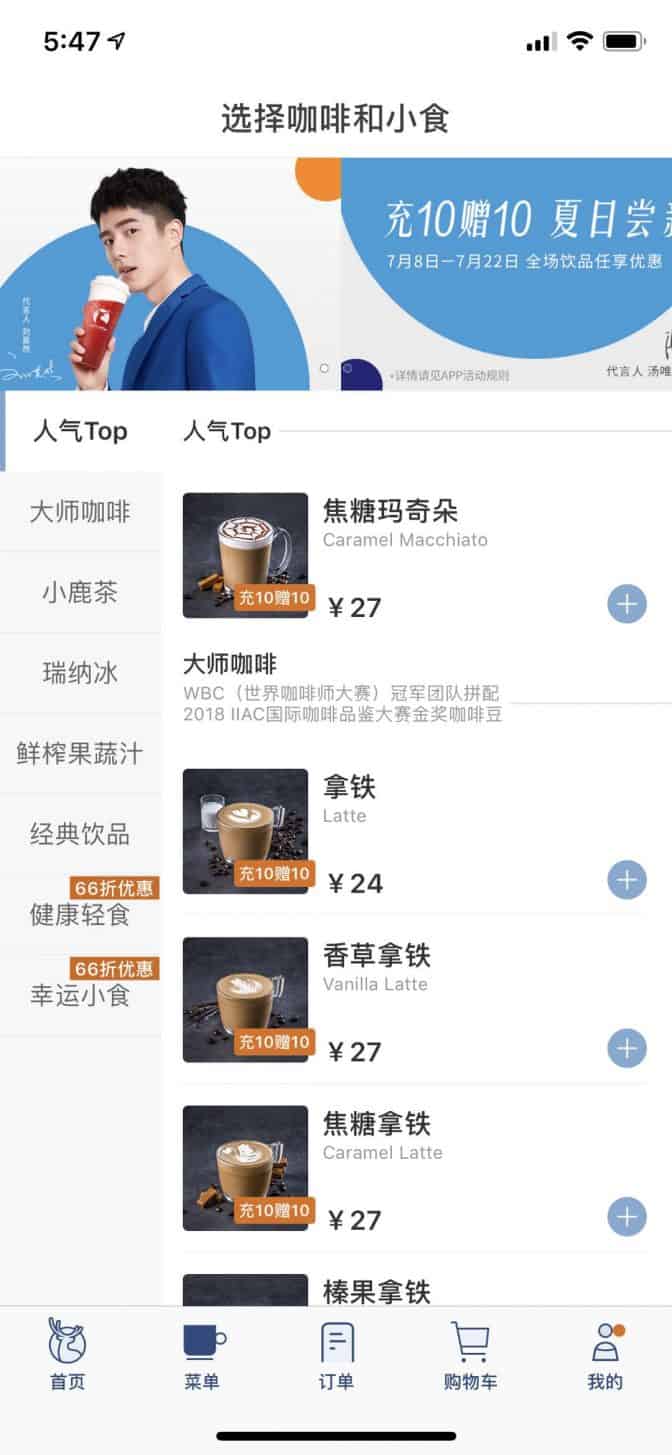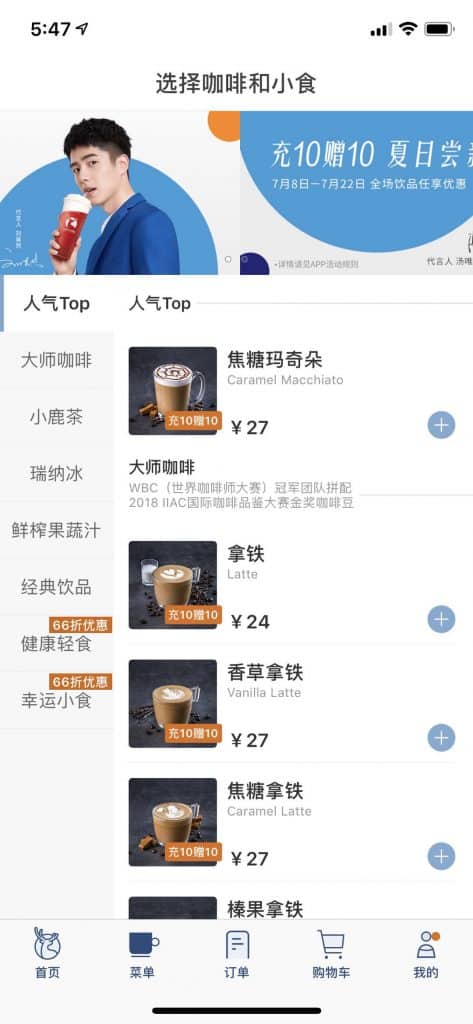 "The company aims to become the largest coffee network in China, in terms of number of stores, by the end of 2019," it adds.
Technology is key for the company, which luckin says it uses to standardise its operations and, through the use of AI, to analyse customer behaviour to better select products and services. Its mobile app is also a big part of the company's operations.
It is becoming very difficult for companies to succeed in China if they are not delivery friendly and digitally savvy as it can be seen by companies such as Carrefour, who have recently exited China. 
Luckin is proud to have an app that offers a "100% cashier-less environment." That's no surprise to anyone in China, given the digitisation of the country – to the point that even beggars have QR codes.
Luckin behaves more like a technology company than a chain of coffee shops. It is growing ridiculously fast, opening locations at an average rate of more than four per day.
Coffee as a rising trend in China
China, a nation of tea drinkers, is only just starting to get a taste for espressos and lattes. Coffee consumption was a mere 6.2 cups per capita last year, the prospectus states, citing consultants Frost & Sullivan. Germany guzzles 867.4 cups. Across the Strait, Taiwanese are downing 209.4 cups apiece.
"Luckin coffee is not top-quality coffee," said Wang. "Maybe the company can fare better in mid-income countries along the Belt and Road Initiative, where a coffee culture is forming."
In April 2019 – Luckin announced plans to enter into a joint venture with an affiliate of Louis Dreyfus company B.V. and Louis Dreyfus company Asia Pte. Ltd., a processor of agricultural goods, to construct and operate a coffee roasting plant in China. They have focused on adverts which focus on introducing pictures of Luckin Coffee being put in the hands of famous celebrities and even historical pieces of art and paintings of ancient traditions.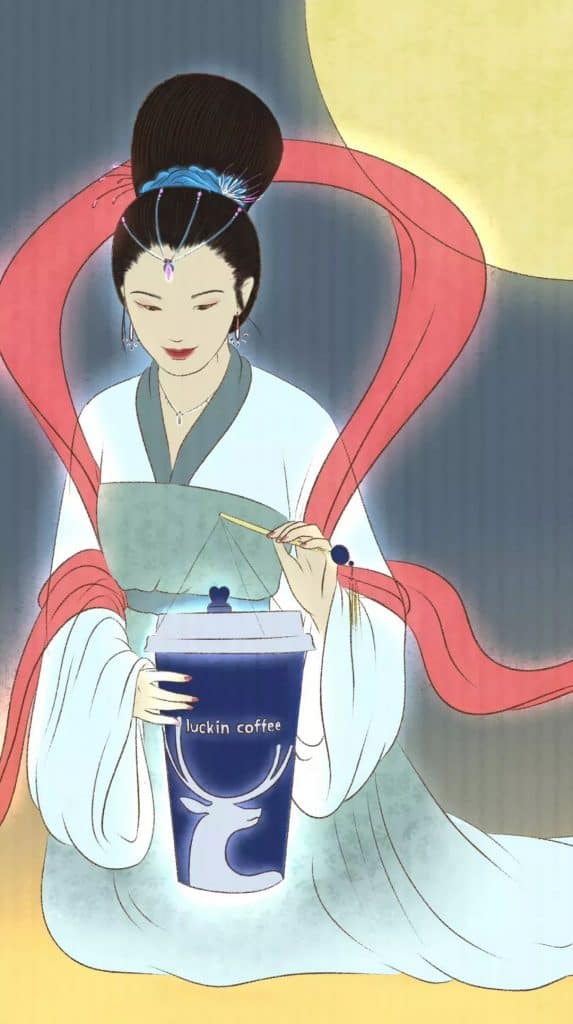 With Tea still being hugely popular in China, with Brand such as HeyTea producing astonishing queues and bubble tea's continued popularity Luckin Coffee are attempting to bring coffee closer to the hearts of a traditional tea drinking demographic.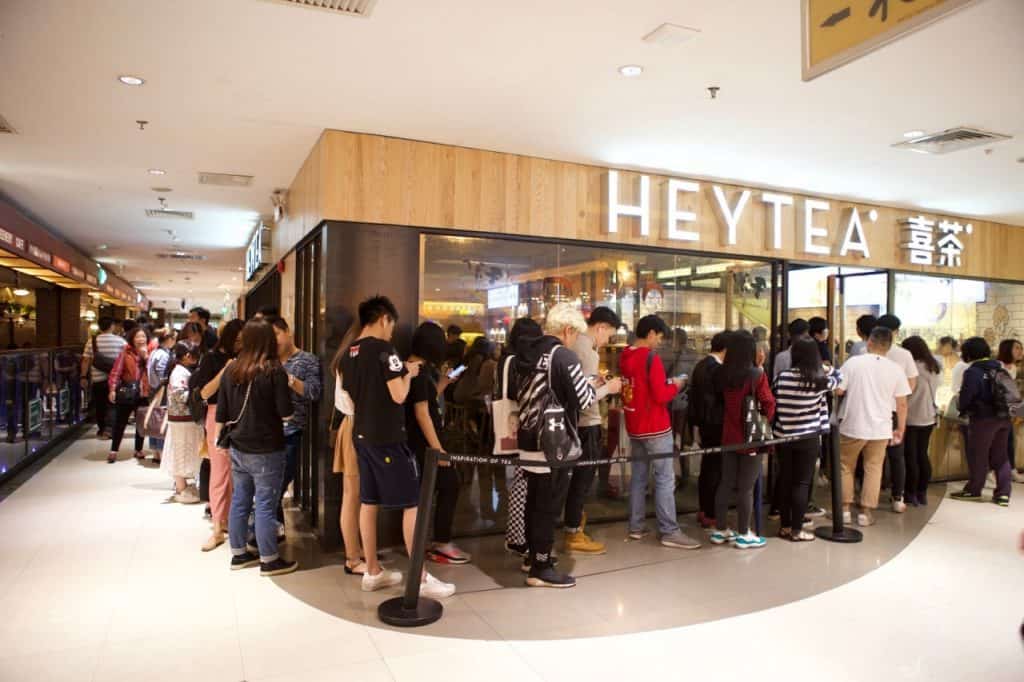 How long can it sustain this business model?
Marketing was far and away Luckin Coffee's top operating expense as a company in 2018, according to its IPO filing submitted to the SEC on Monday.
Luckin Coffee's business model is highly dependent on discounted drinks and special offers to lure customers away from rivals. More than 50 percent of its clientele are repeat customers, it says.
Marketing costs were 746 million yuan last year. To make every 100 yuan from selling coffee, Luckin spent 152 yuan to produce and market that cup – not including rent and general expenses.
Spending three times more than revenue makes Luckin a tech startup, not an F&B company.
Luckin needs to remove those marketing subsidies to turn a profit, seeing whether they can still attract customers with full price coffee will be interesting to see.
But management expects per-cup costs to drop as the number of items sold increases. If that happens, the company would ideally be able to keep prices low enough to support mass consumption, even without big discounts.
New Expansion into Tea?
On Monday 8th July 2019, Luckin Coffee launched a line of tea-based drinks in hopes of tapping new growth a larger market.
While Starbucks is Luckin's main competitor in the coffee market, there are at least a dozen famous tea brands across China. CoCo Fresh Tea & Juice has more than 3,000 stores and Yidiandian has more than 2,100, compared with around 2,400 for Luckin.
Even that gap might be closing soon. Over the past year, the number of tea shops has grown by nearly 50%. They now make up more than 70% of outlets selling freshly made drinks, compared with 53% two years ago.
Luckin Call their new line "little dear tea" – Luckin plans to give out generous freebies and discounts to attract customers to the tea brand, just as it did when it began selling coffee.
Adding tea to the menu could be a significant step toward's their goal of increasing the number of items sold per order which could allow them to keep prices low and support mass consumption.
Get Your Discounts Whilst You Still Can
With deals up to 50% off being very common, now is a great time to get yourself some cheap coffee delivered right to your office. Go to their app or WeChat Mini program to discover some of the deals yourself.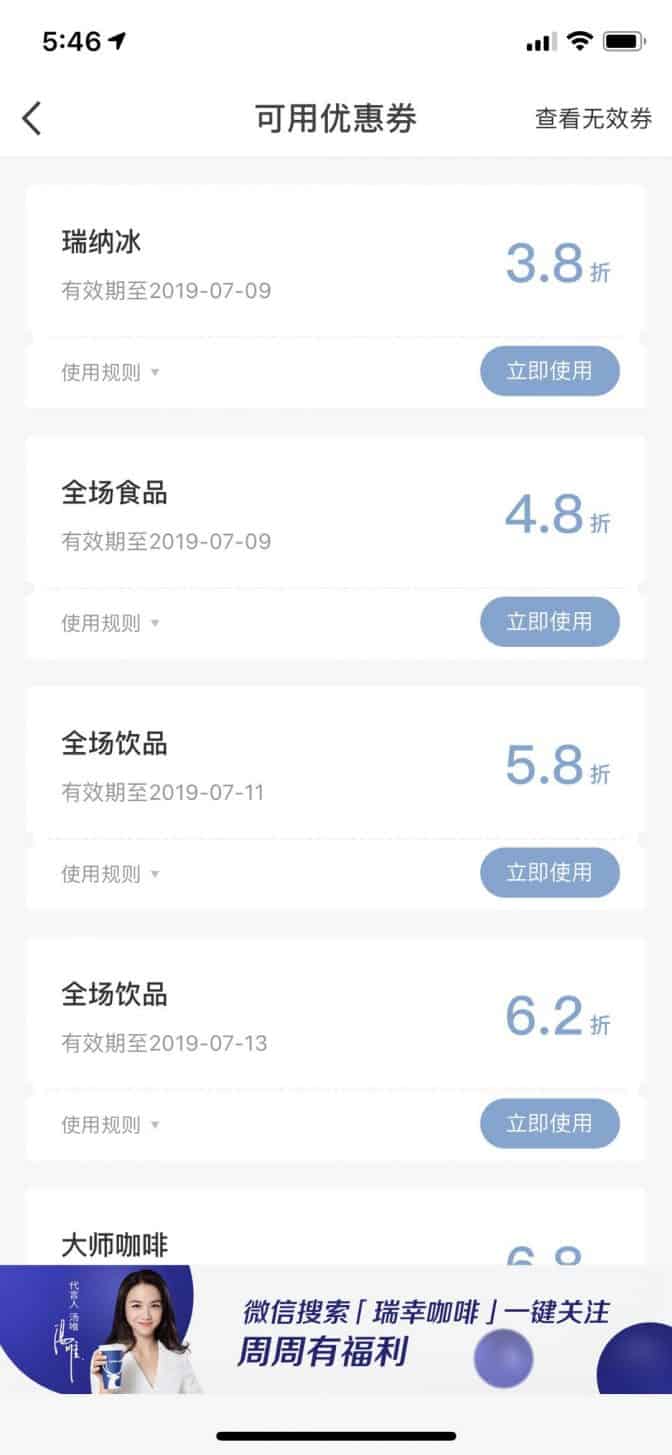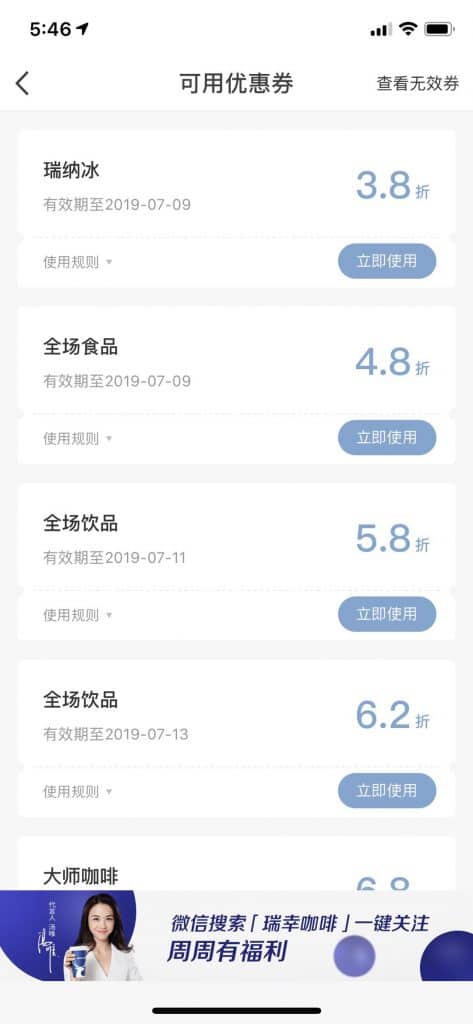 These discounts above reflect what is very common for Luckin – With those unfamiliar to what they mean. The offers which claim 3.8 mean you only pay 38% of the full price with that discount voucher applied. With deals like this reducing the price of coffee which would have been full price to 10.5Yuan ($1.53) for a large coffee, they is no wonder why they are being bought in such quantity.
Add Chengdu Expat's WeChat for more of the latest updates on China News and deals in the city.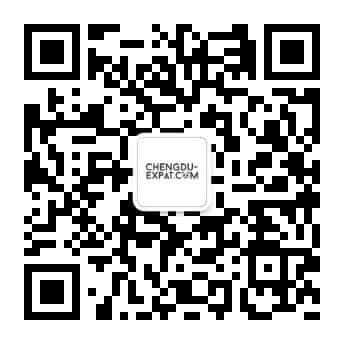 Like Chengdu Expat On Facebook for trends and lifestyle hacks in China