Meituan Lead the way in a food delivery revolution
Food delivery has taken china by storm with the rise of Meituan and E Le Me. From seeing every city in china flooded with delivery drivers to millions of Chinese consumers preferring to order on the delivery apps than eating out or even cooking. how far will delivery services go in china?
Rapid growth of the delivery market in China
Food delivery apps have an estimated 355 million users in China with the food delivery market being estimated to be worth over 37 billion USD, and it is growing rapidly according to iimedia research.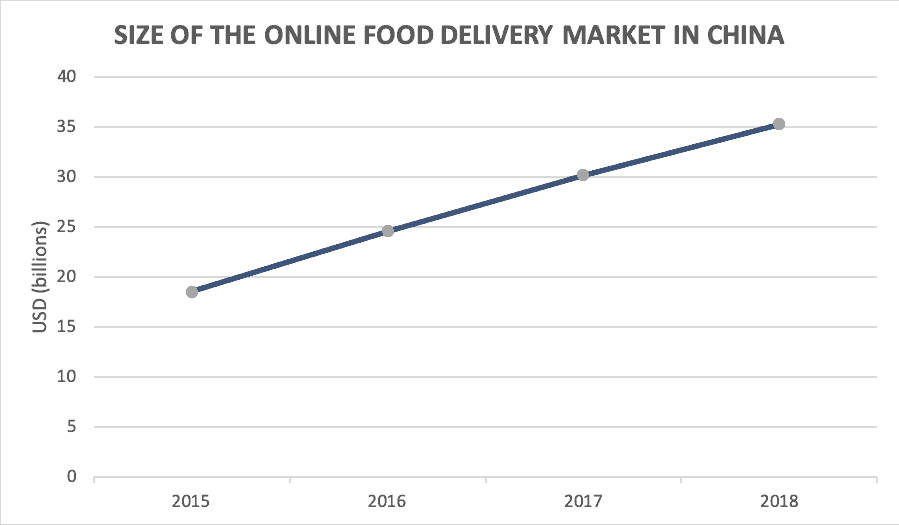 The Chinese food delivery industry is growing at a tremendous rate with an abundance of opportunity for profit, but you may want to have second thoughts about starting your own food delivery business as it is a fiercely contested market dominated by Chinese tech giants Alibaba and Tencent, who own Ele.me and Meituan respectively. There is a good chance you have seen both their drivers around Chengdu with Meituan in yellow  and E le Me in Blue.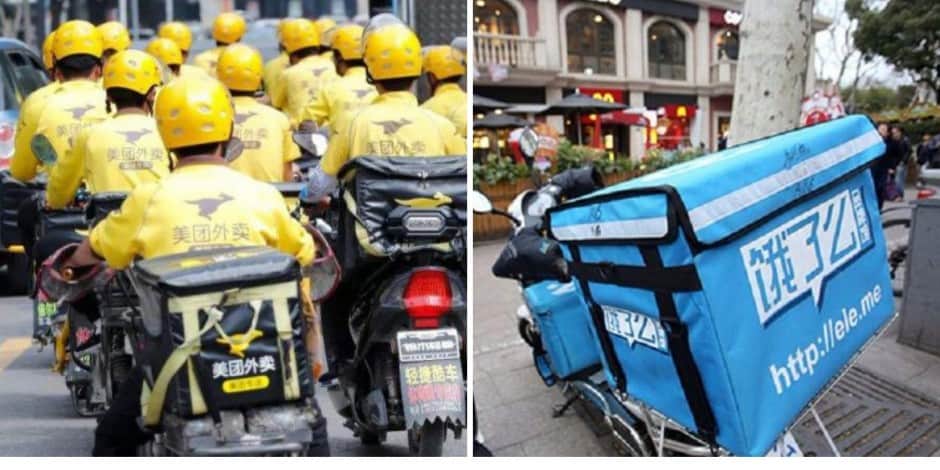 Who are using these delivery services?
35% of food-delivery app users order food one to three times a week, and a separate 35% of users order food four to six times a week, according to a report by iiMedia Research.
Consumers are clustered in top tier cities, with Shanghai boasting the highest number of users per capita. With a large share of the users being white collar workers, this is mainly due to factors such as price of delivery and convenience at the office.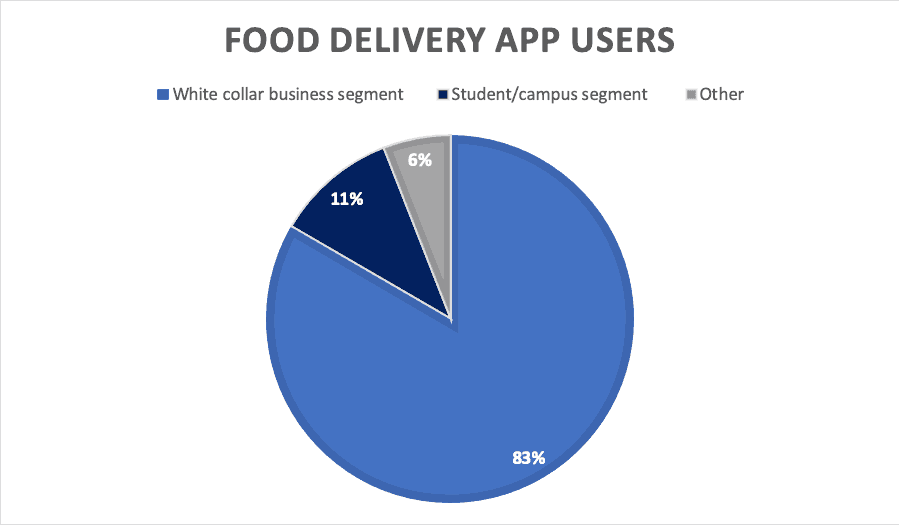 Consumer demographics are split nearly evenly by gender, with women making up 51% of food delivery app users. Users are overwhelmingly young, with 75% between ages 18 and 39.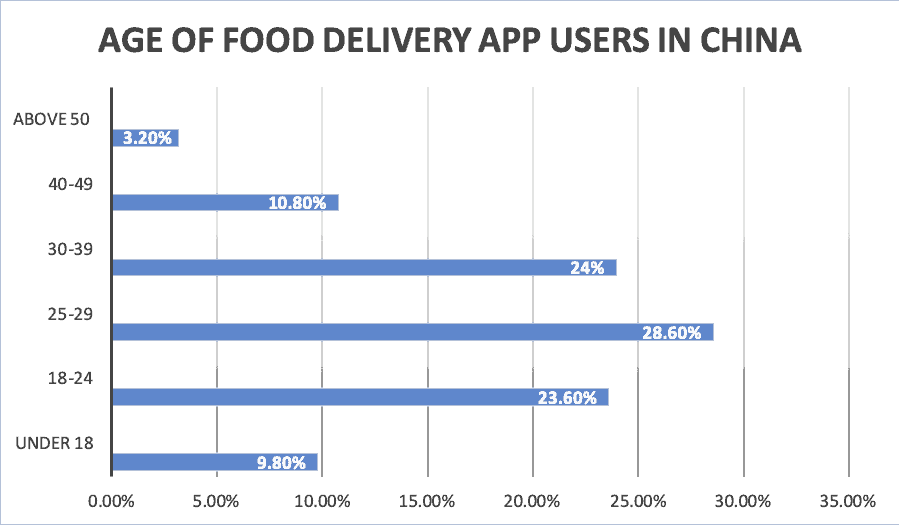 Because of the intense competition between Meituan and E Le Me, consumers often receive steep discounts and coupons when they place an order. This can often make ordering food cheaper than eating at home.
Listings on food delivery apps give restaurants in the Chinese market new profit sources, widened service awareness, and new consumers. App operations can be so profitable that some "virtual restaurants" operate out of the kitchen only.
To gain Chinese market share, Ele.me and Meituan provide restaurants with subsidies to entice them into selling food on their apps. But as the apps struggle to become profitable, they are raising commission rates on the food providers. Commission rates vary by restaurant location, size, and type, but most restaurants give the apps 20% of order revenues.
 Orders worth a combined $70 billion were delivered in 2018 according to the analysis firm iResearch. By comparison, online food delivery sales in the United States are expected to total $19 billion this year, according to Statista. 
Price, convenience and cheap labour is driving the growth
People love the convenience of the delivery in china, people will regularly order lunch on weekdays so they don't have to queue outside restaurants which are usually swamped with consumers during peak hours or on weekends when they are not in the mood to cook or go out to eat.
Roast duck dish from local restaurant can cost– 20 yuan about 80% less than it cost at the register through Meituan.
Average delivery time is 30 minutes for a host of different foods from burgers, noodles and cumin meat skewers which on average will be cheaper than ordering them thanks to the app's discounts and deals.
Delivery usually costs around 5-6 RMB (less than $1) dollar on average and can often be free for orders of over 20RMB (Around $3)
This is being made affordable due to the cheap labour available in china as deliverymen (who only give their surname on the app generally make $15 to $30 a day and as little as 75cent for a short trip according to Meituans CEO Wang Xing.
Meituan says it delivered 6.4 billion food orders in 2018, a nearly 60 percent jump from 2017.
Those orders were worth $42 billion in total, meaning the average order was $6.50 — about enough for a decent meal for one in a big Chinese city.
Whilst US food delivery company GrubHub reported $5.1 billion in food sales and 159 million orders in 2018, implying an average order value of $32 which is almost 10 times that of the
Can Meituan win the race for food delivery customers?
Meituan Waimai, commonly known as Meituan, controls 63 percent of the country's meal delivery market at the end of 2018 according to Bernstein Research making them the biggest player in the food delivery business currently however, Alibaba continue to invest billions into E Le Me to capture market share.
In 2010 Wang Xing founded Meituan in the mold of Groupon Inc., then one of the hottest startups in the U.S. Wang focused on food and dining to develop steady repeat customers. "They thought the business was group buying," he says of competitors. "We thought the business was e-commerce for services." By 2013, with rivals continuing to fade away, he shifted from volume discounts at restaurants to direct food delivery. 
He won over merchants with free, reliable technology that helps them keep their books and restock inventory, Once Wang had control of the meal delivery market, he began to spend more aggressively. He discounted the food so he could upsell users on hotel bookings and airfare. He was the first in China to make movie ticket sales easy online which lead Meituan's expansion into other services.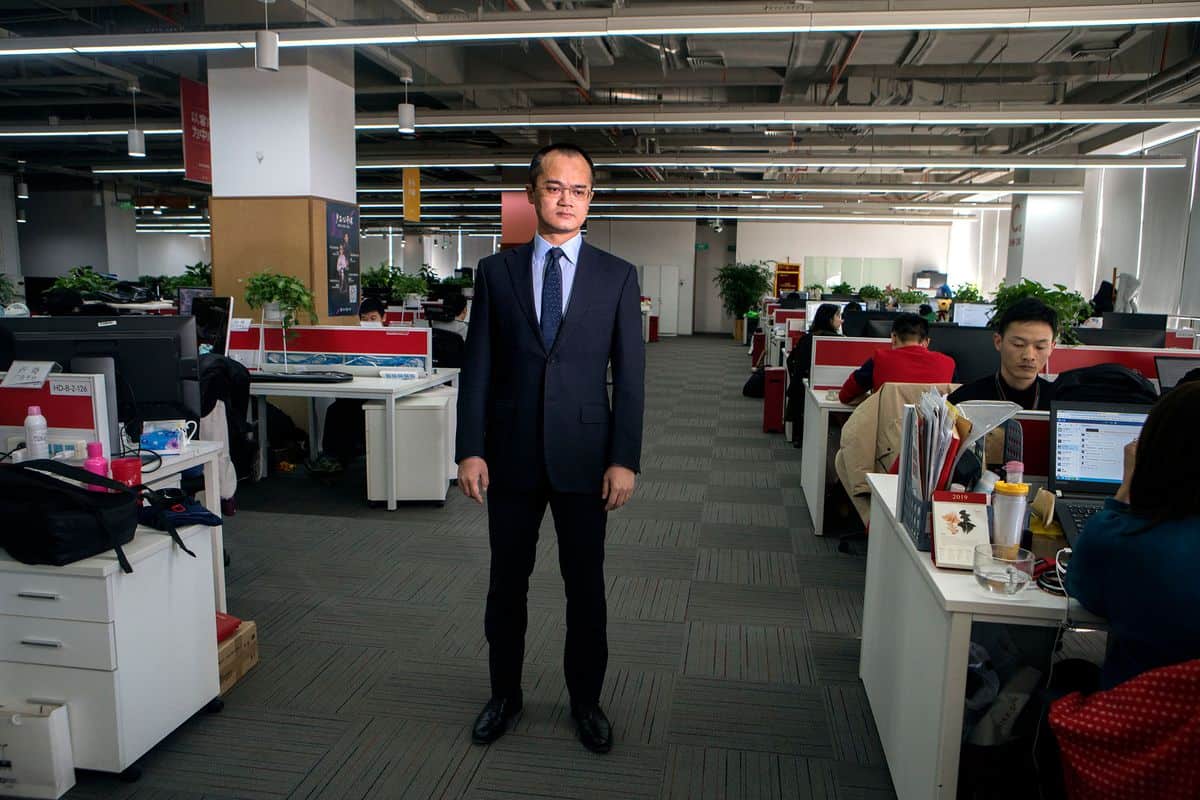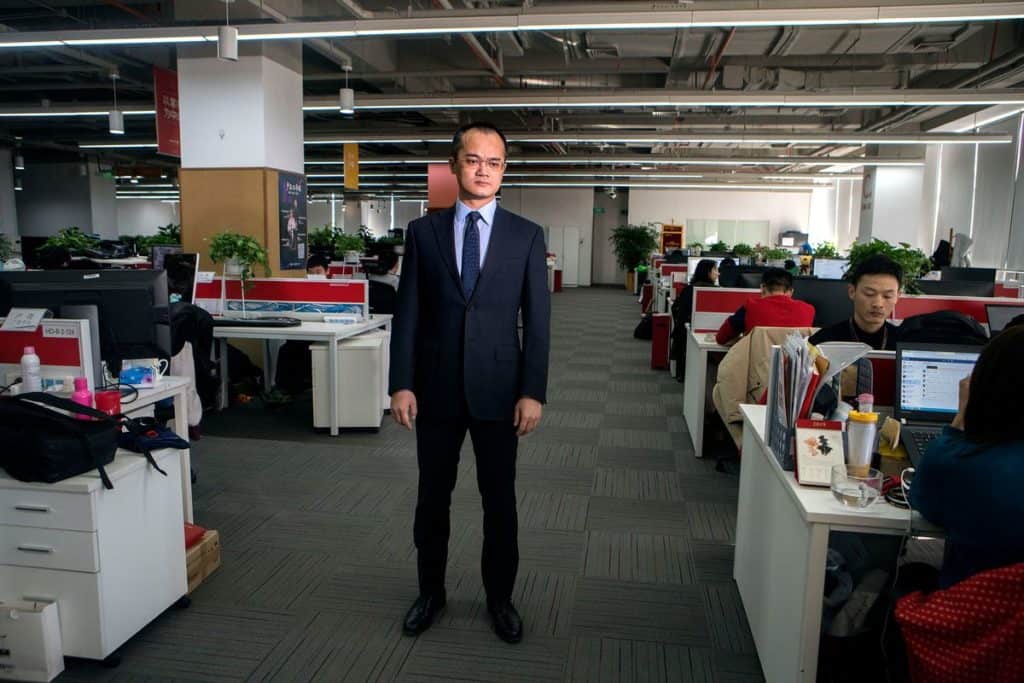 As Meituan looked to expand it completed a $15 billion merger in 2015 with its then main rival Dianping who are are similar to online review firm Yelp Inc. This helped it adopt services including movie ticketing, food delivery, hotel and travel booking as well as ride-hailing into its platform.
Within a few years he'd shifted that market from 10 percent digital to more than 60 percent. By mid-2015, soon after Meituan raised $700 million in venture funding from Alibaba and others, Wang had spent so much money to keep up that he needed another round of venture capital.
Alibaba refused to put more money into Meituan, because the younger company wouldn't fully integrate its app with Alibaba's, according to Meituan co-founder Wang Huiwen. Wang Xing worried he'd lose control of the business if that happened.
Instead, Meituan brokered a deal with Alibaba's longtime archrival, Tencent Holdings Ltd., best known for its WeChat super-app. Tencent agreed to lead Meituan's fundraising by pledging $1 billion, merge Tencent's own delivery service with Meituan, and let the combined company operate independently. Additionally, In September 2018 Meituan raised 4.2 billion in the worlds biggest internet focused IPO in four years which valued the company at around $52.8 billion.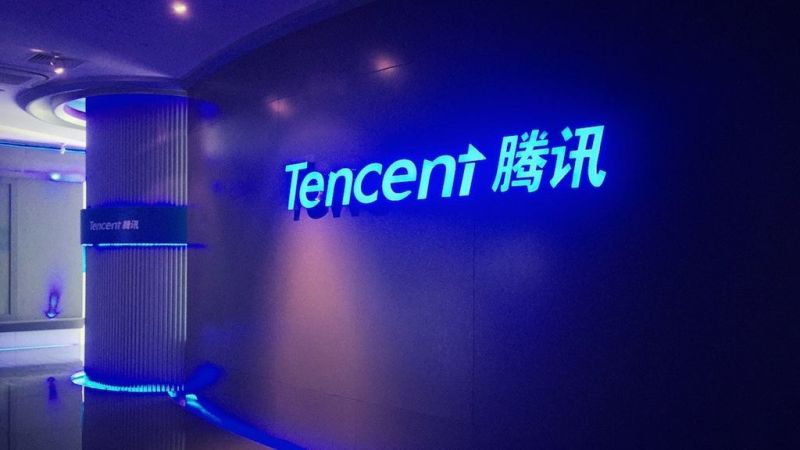 Meituan plans to mainly use the proceeds raised from the IPO to upgrade its technology, develop new services and products, and pursue acquisitions or investments in assets complementary to its business, according to its prospectus.
The math, and Meituan's potential, can be dizzying. China's urban areas have 2,426 people per square kilometer (6,283 per square mile), almost eight times the comparable U.S. population density. While the U.S. has 10 cities with 1 million or more people, China has 156.
Currently Artificial intelligence software helps determine drivers' itineraries. An average driver makes 25 deliveries a day, up from 17 three years ago; that's about 20 million daily deliveries across the network.
Wang is focused on using this technology in getting each delivery person to drop off 40 percent more orders.
Meituan's latest filing says that its currently focused on "expanding our customer base, satisfying unmet customer needs and enhancing our network, rather than prioritizing monetization now."
Challenges for Meituan
Lack of profits
Meituan has lost money almost every year since its founding, and though it has $8.6 billion in cash, Wang's hunger for expansion could quickly eat into the pile.
"The competition is too severe even for just two companies in competition," Alex Wong, Ample Capital director of asset management, said in a Bloomberg TV interview. "So the earnings side would be quite bad for the foreseeable future."
Wang says his role model is Ma's longtime nemesis, Bezos, who consistently defers profits and reinvests in new businesses. Wang plans to do the same. "There's so much to do," he says. "We are not going to finish in one year or two years."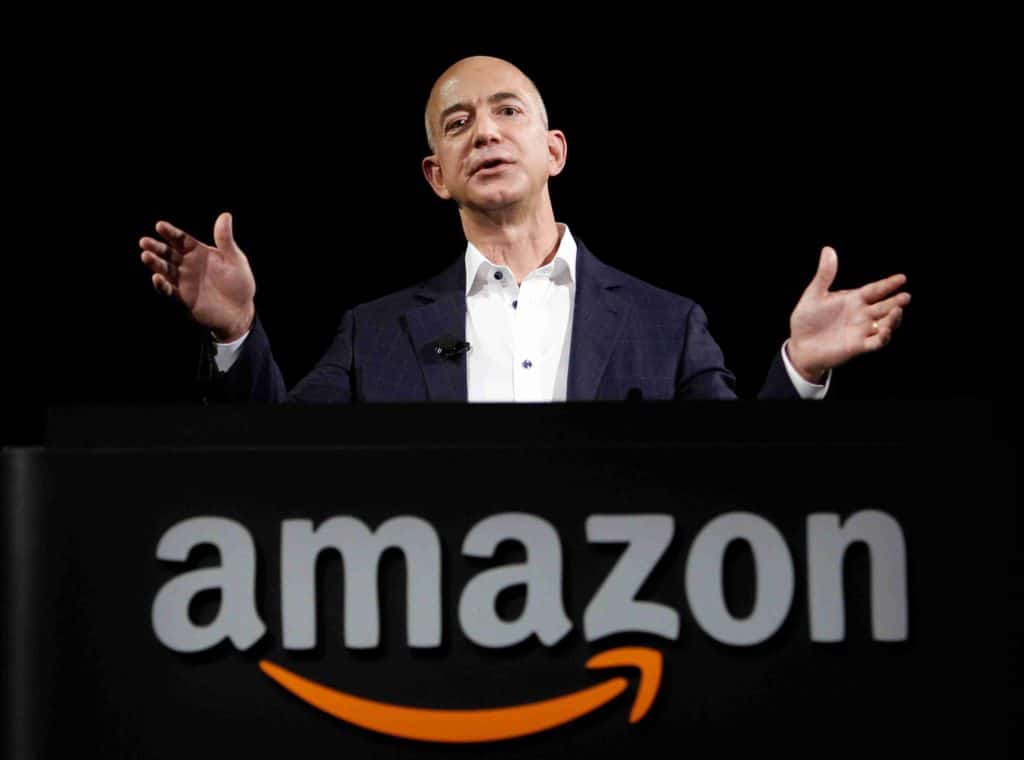 Meituans spending has helped them increase their market share from 40% in 2016 to 63% at the end of 2019.
Aside from fending off heavy competition, Meituan also has to spend to attract new users. According to data from the National Bureau of Statistics, the food-delivery market only accounts for less than 10% of China's total dining market. To grow the market further and get more people using its app, Meituan has been subsidizing meal purchases so that consumers have greater incentive to go online and make more orders.
"In the near term, the spending is likely to continue because growth is phenomenal," says Rob Sanderson, managing director of research firm MKM Partners.
Competition
Meituan's competitors are going all out to lure consumers away with steep discounts in what has effectively become a race to the bottom. Alibaba's food-delivery unit Ele.me has set aside hundreds of millions of dollars to offer cheaper meals. The ride-sharing giant Didi Chuxing is also expanding its food-delivery service Didi Foodie, which is now available in several cities across china.
E Le Me
Alibaba funded Meituan in its early years, and the relationship ended after Meituan Chief Executive Officer Wang Xing wriggled out of that partnership, infuriating Alibaba co-founders Jack Ma and Joe Tsai.
After Meituan refused to integrate fully with Alibaba it went about creating its own food delivery app known as E Le Me.
"Food delivery is a market we must take," E Le Me CEO says. "We will keep investing, and there is no limit to our budget."
Whilst Meituan was busy raising capital in its IPO. Alibaba formed a holding company for Ele.me called Koubei, for which it had received over $3 billion in new investment commitments, including from Japan's SoftBank Group.
"In China's food delivery market, as long as you are willing to spend, there will be results," he says. "Customers will always go to the platform that has the best discounts."
Ele.me can also help to promote Alibaba's payment services. The delivery platform currently uses Alipay, the e-wallet developed by Alibaba affiliate Ant Financial, as the default payment method. Meituan, by comparison, lists its own e-wallet Meituan Zhifu as the first payment option on its site.
More importantly, Ele.me will become a cornerstone of Alibaba's new-retail strategy. To find new avenues of growth, the company is seeking to revamp China's entire retail sector by analysing customer data more efficiently and integrating online and offline shopping.
Alibaba's have also entered groceries Hema stores, shoppers browse in the same space where employees fill bags with online orders that are placed on conveyor belts, which integrates online shopping and mobile browsing with in store products.
Alibaba at the time of Meituan's IPO that it had formed a holding company for Ele.me and food and lifestyle services firm Koubei, for which it had received over $3 billion in new investment commitments, including from Japan's SoftBank Group.
Many investors are betting on Alibaba, which has a market value of more than 12 times Meituan's $36 billion.
Cities need to develop infrastructure to handle the growth in delivery drivers
Digital commerce is exacting a very analog toll on the streets of Shanghai, according to the city's information office, there were 324 traffic accidents and five deaths involving delivery drivers during the first half of 2019.  Many other cities are getting similarly congested with the amount of delivery drivers out on the roads.
China is the world's biggest e-commerce market and more than 80% of those drivers were dropping off packages and meals for services such as Meituan Dianping and Alibaba Group Holding Ltd.'s Ele.Me.
It's a sign of how fast the market is expanding: For the whole of 2017, there were only 117 delivery-related accidents in the city.
Cities are unprepared to absorb the physical impact of e-commerce. For now, most problems don't yet rise above the level of annoyances. But the risks will grow quickly if developers and municipal leaders don't start to account for e-commerce when developing urban regulations and infrastructure
Plastic Consumption
The astronomical growth of food delivery apps in China is flooding the country with takeout containers, utensils and bags. And the country's patchy recycling system isn't keeping up.
Scientists estimate that the online takeout business in China was responsible for 1.6 million tons of packaging waste in 2017, a ninefold jump from two years before. That includes 1.2 million tons of plastic containers, 175,000 tons of disposable chopsticks, 164,000 tons of plastic bags and 44,000 tons of plastic spoons.
Takeout apps may be indirectly encouraging restaurants to use more plastic. Restaurants in China that do business through Meituan and Ele.me say they are so dependent on customer ratings that they would rather use heavier containers, or sheathe an order in an extra layer of plastic wrap, than risk a bad review because of a spill.
This environmental concern is something that these companies will need to address if the model is going to be sustainable.
With all these challenges the future is uncertain to what will happen with food delivery. One thing is for certain though and that is that this topic is not going to go away soon. To catch the latest developing news on trends in china make sure you follow Chengdu Expat on WeChat. Scan Below: