If you're returning to China soon, or simply curious about the quarantine process  Léman International School recently shared an account from one of their teachers who returned from abroad to Chengdu at the end of September 2020.
Mr. Alec Riley is currently with his family in hotel quarantine and has offered to share his experience.
Hi, all. This is my account of our return to China from the UK with my two children (aged 8 and 6). People's experiences may differ based on arrival airport and quarantine hotel, but it should give you an idea of what it could be like.
Returning flight to China
We flew from the UK on September 4th, first to Frankfurt (LH901 – LHR T1-FRA T2) then on to Chengdu (CA432 – FRA T2-CTU T1). Frankfurt airport was pretty empty, but McDonald's and McCafé were open the whole time, along with some smaller café/restaurant/bars. We whiled away the hours playing games in a corner of McDonald's away from others and where we could remove our masks. Elsewhere in the terminal, face coverings were mandatory. Face coverings must be worn for the entirety of the flight also.
At the gate, you will be asked to present your certified Health Declaration or COVID Test result. They wanted my QR code, but it wasn't working at that time. Other colleagues weren't asked for the QR code.
 The returning flight to Chengdu was almost full. All cabin crew were in full PPE (don't worry – they're just being cautious). They took our temperatures probably every 2-3 hours with a laser thermometer. Food was pre-packaged and not very appetising. Make sure you have a bag full of food or you'll be doing your fast for Lent a few months early.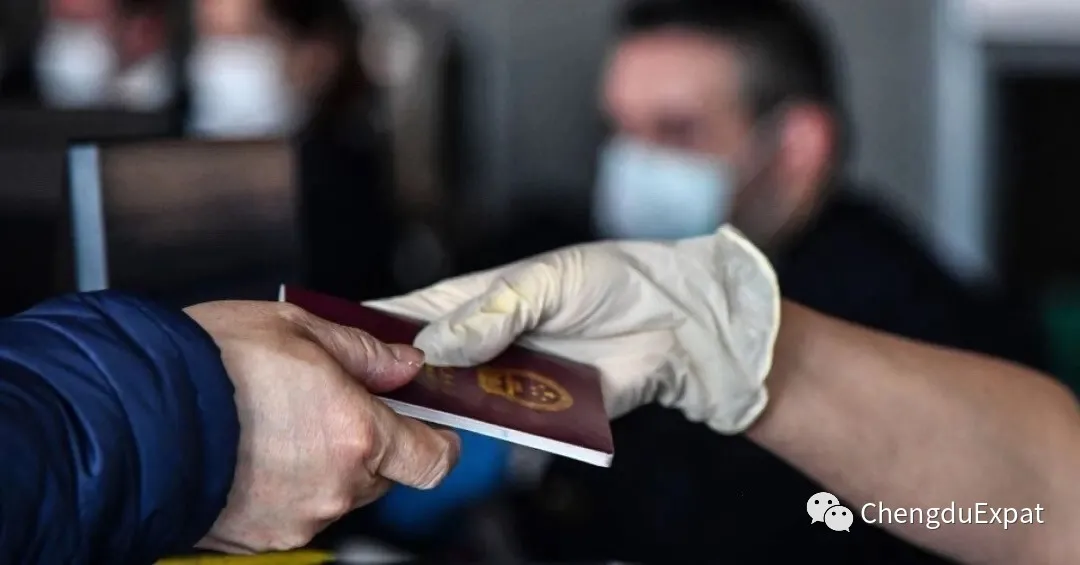 Arrival in Chengdu Airport
It was around 25 minutes from landing to being allowed to get off the plane. A few people returning, people with babies and very young children were allowed off a few minutes before the rest of us. We weren't called in groups, but there wasn't the rush to depart common to most airline trips.
From there, we were transported by bus to the terminal building. Again, everyone is in full PPE (mask, goggles, gloves, white overalls, booties – the works) but again, don't worry, they're just being careful. There was a toilet right there and you are asked to sit down. Here you need to make sure you have completed the online health declaration (QR Code) for every member of your family, including the children. Save the QR Code(s) as a screenshot and remember whose is whose, as it is indiscernible apart from the time you made the declaration. Make sure you input your name as it appears on your passport – Last name, first name, middle name(s). We couldn't figure out the system for being called, so I just asked an English speaking member of staff if we could go through as I was with children. She waved us through.
 Next, you walk one by one through the thermal camera channel which records your temperature. They write it on a Post-It and give it to you for the next step.
 Then, you are directed to a desk with a member of staff who will probably speak English – at least a few words. You give your passport, your temperature on the Post-It and show your QR Code. You are then given a printed document with your details and a sticker bar code, which will be attached to your vial when doing the COVID test. Next, you are through to the testing bays. They take your documentation and passport and do the test – throat swab and nasal swab for adults, throat swab for kids. They then put a sticker on your document and your passport to show you've done the test.
 Then, you're shown into another area waiting to board the buses to another part of the terminal for passport control and baggage claim. You present your QR code, document and passport to another set of officials who check it all over and hand you back your passport. You're told to sit on a numbered seat where you wait until the bus arrives. 
Next, you're bussed over to passport control. Remember to take an arrival/departure card from the stands on the right and fill out. Line up and go through the usual passport control then head on over to pick up your bags. Ours were already unloaded from the carousel. Pass through customs and the arrival hall as normal (though not normal, as it is empty) and head towards the officials.
 Officials will be waiting at tables to take your passport. I gave them a piece of paper with my name, passport number, address in English and Chinese and contact details for a person in China. They take down all this stuff (I assume decide which hotel you're going to) and hand back your passport. You then proceed outside to the hotel buses. There may be more than one, so they will tell you which one you need to get on.
 From there, you will be transported to your hotel. Ours was north of Chengdu in Pengzhou so we were on the bus for 1.5hrs – just what we needed! I thought they might be taking us back out of China for quarantine!
Returning: Quarantine Hotel
You arrive at the hotel and your luggage is unloaded and sprayed down with disinfectant – it wasn't bleach-based so no damage to the luggage. I heard from a friend who was also returning, that hers was damaged from the spray in Guangzhou, so maybe wrap your luggage in plastic or plastic bags before putting on the bus.
 You check in to the hotel with your passports, make sure you take a photo of your entry stamp and send to HR before they take your passport for two weeks. I used my minimal Chinese to ask if we were in time for dinner and if they have a WeChat contact of someone who speaks English. They did and they said they would contact me later. You write your name and Chinese phone number on a form, they give you some English language info about your stay and then help you take your bags up to your room.
 We are staying at the Holiday Inn Express Pengzhou Downtown so not in downtown Chengdu and certainly not in the area of our apartment. The room is clean, modern and the beds are super comfy. I feel very lucky! 
Food is delivered to our room three times a day and left on a small table outside the room. They knock on the door and move on. There are also temperature checks twice per day which are done at the door and you place your rubbish outside the door. This is all explained in the information sheet given at check-in.
 We were provided with a welcome pack containing an instant noodle, a piece of fruit, a fizzy drink (soda for our American friends), a jar of preserved vegetables, a sausage looking item, a small pack of anti-bac wipes, a few disposable masks, a bar of soap and a lighter (randomly). We are allowed food deliveries (and apparently, Taobao deliveries) in specific time slots at lunch and dinner time. There are local pizza places and KFC as well as local restaurants which will probably be a similar food to the hotel food. The hotel food is pretty tasty and there is lots of it – too much actually. We can also order noodle dishes from the restaurant with one day's notice if we are getting bored of rice. Other than a kettle, there are no cooking appliances and there is no fridge.
 There is no cleaning service, but I think you can ask for your towels and linens to be washed (if you're prepared to change them yourself). We brought with us supplies for washing dishes and doing basic laundry. There is a pullout washing line in the bathroom on which to hang clothes.
 The internet seems to be working well and the room is air-conditioned and it works well.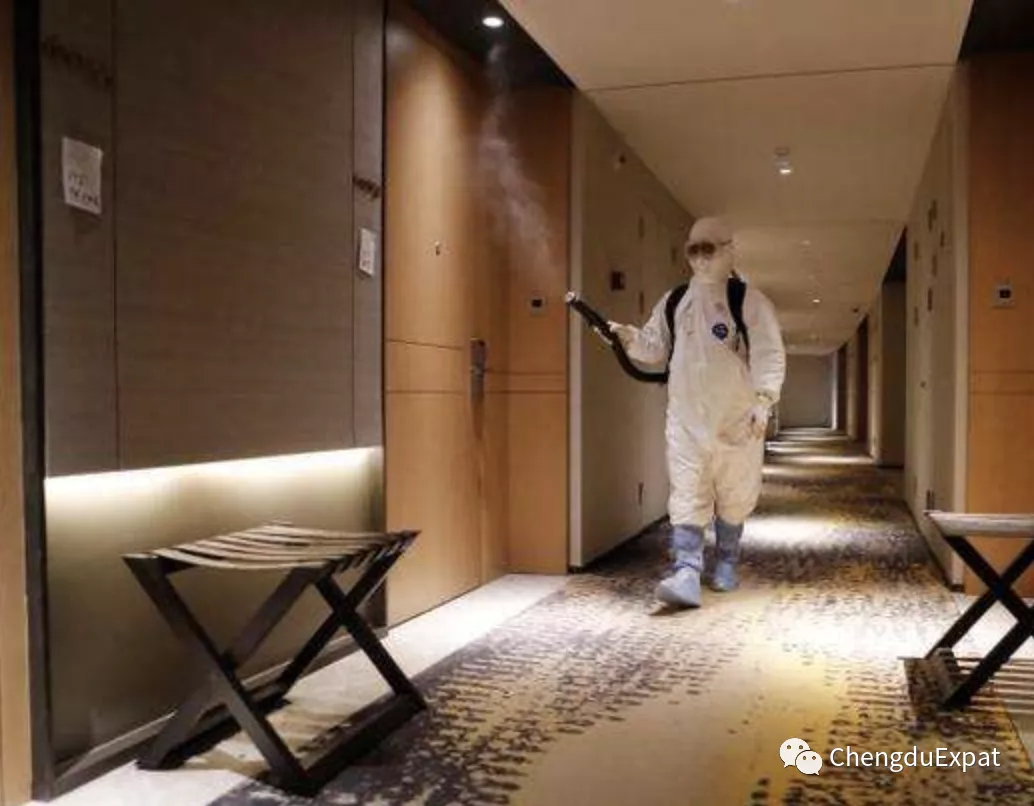 All in all, although a long and tiring returning experience (long haul travel always is anyway), it really wasn't too bad. The authorities were efficient and polite in spite of how scary they may look. Everything ran pretty smoothly and was a lot easier than I imagined. So, keep a positive attitude, remember we are in the middle of a global pandemic, and all will be fine. Everything is temporary and you'll be back to normal life in 14 days.
 Wishing you all the best in your returning journey!