ALL AROUND
Sino-Ocean Taikoo Li Chengdu Eighth Anniversary Celebration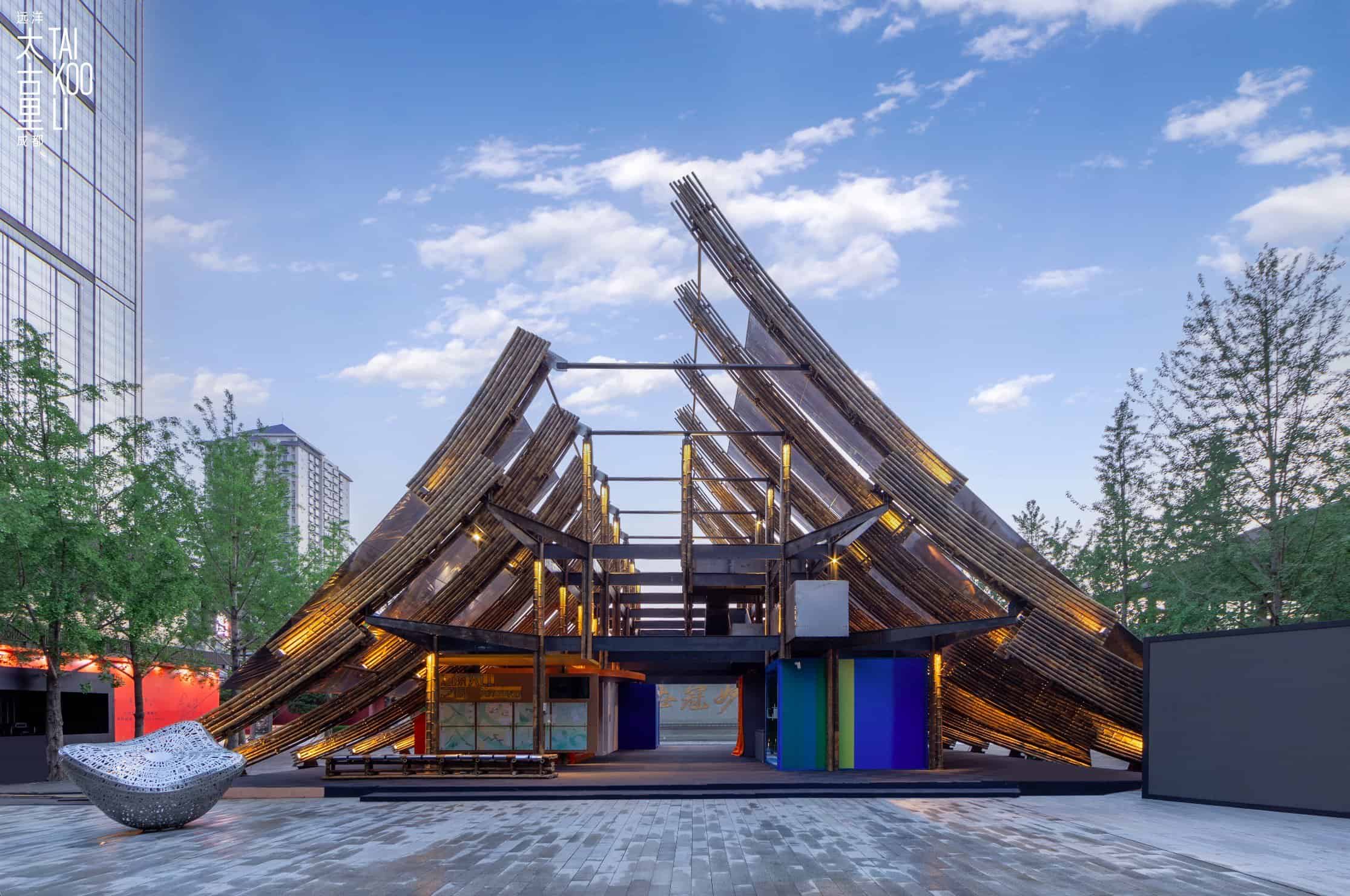 Sino-Ocean Taikoo Li Chengdu was finished eight years ago, and really changed the dynamic of the city. It has quickly become the key destination for luxury and lifestyle shops, bars and restaurants in Chengdu. Surrounding the historic Daci temple, and bordering the Temple House Hotel – the complex holds boutique fashion brands, top restaurants and more.
To celebrate this milestone, Sino-Ocean Taikoo Li Chengdu, inspired by the urban life in Chengdu, the unveiled a special exhibition to showcase the art of urban life in Chengdu, and working in tandem with architects, artists, and international brands. The renowned architectural design firm "Roarc Renew" has designed an exclusive hall for this celebration and exhibition entitled "All Around the Traditional Chuandou Architecture". Eight groups of architects and artists from different fields have partnered with eight international brands to co-create eight independent experimental art spaces and eight exclusive creative concepts that embody the essence of urban life in Chengdu, which can be visited at the centrally located Man Square until May 17th.
The Chinese character "八" ("Eight" in English) is composed of a left-falling stroke and a right-falling stroke, symbolizing that Sino-Ocean Taikoo Li Chengdu has entered a new chapter as depicted by the strokes in calligraphy. And its similarities to the shape of Chinese characters "入" ("Entrance" in English) and "人" ("Mankind" in English) pertain respectively to openness, connection, or creativity, diversity, inclusiveness, and people-oriented. The exclusive building integrates the concept of "Eight", using the iconic Sichuan-style architecture of "Chuandou" and carbonized bamboo as the material. From a distance, it presents the artistic form and power of Chinese calligraphy's distinctive "left and right strokes", showcasing the unique charm of Chinese culture. The eight exhibition spaces housed beneath the strokes echo their literal meanings of "All Around". In each of the eight diverse and conceptual experimental art spaces, a set of exclusive creative concepts closely related to spaces are displayed, interpreting Chengdu's urban lifestyle and cultural characteristics. Visitors can wander up the plank road, feel the allure of the building and space up close, and gain a unique perspective on the exhibition. Following the event, some of the carbonized bamboos will be disassembled into bamboo stools, a characteristic of Chengdu. A batch of bamboo stools will be placed in various public spaces for tourists to rest, while another batch of bamboo stools will be donated to Swire Properties' Sichuan Community Centre for local villagers to use, achieving the recycling from buildings to public facilities and implementing the sustainable development concept of Sino-Ocean Taikoo Li Chengdu.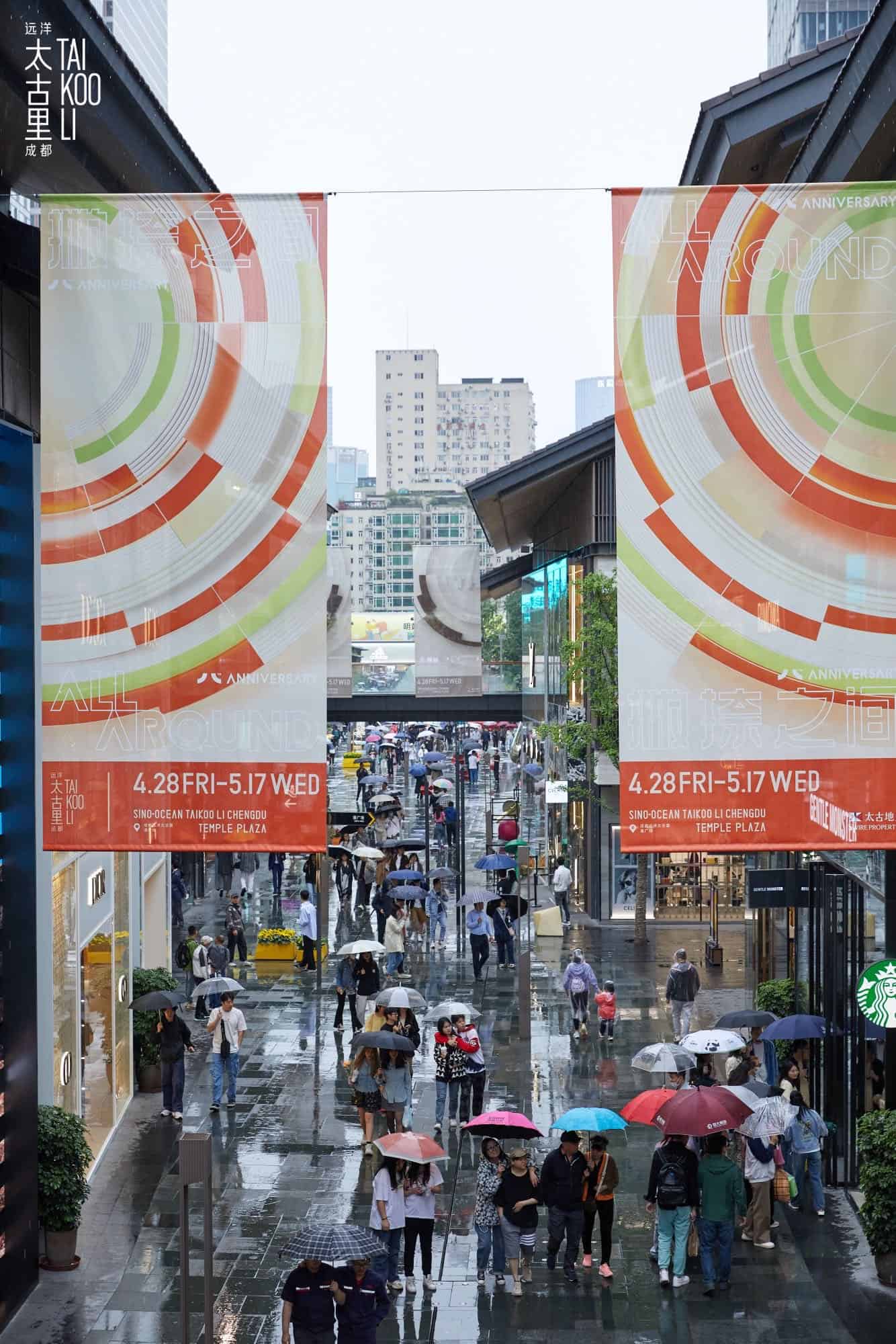 Exhibition Time: April 28 to May 17, 2023
Monday to Thursday: 10:00 – 22:00
Friday to Sunday and Holidays: 10:00 – 22:30
Note: The operating hours may be subject to changes based on the actual circumstances. Please refer to the on-site announcement for the most up-to-date information.
Venue:
Taikoo Li Chengdu 成都远洋太古里
Man Square 慢广场
Address:
DongDa Street No. 9, Jinjiang District (not too far from Chunxi Rd., behind IFS)
锦江区东大街9号(近大慈寺, 红星路步行街, 春熙路)
Entry:
Free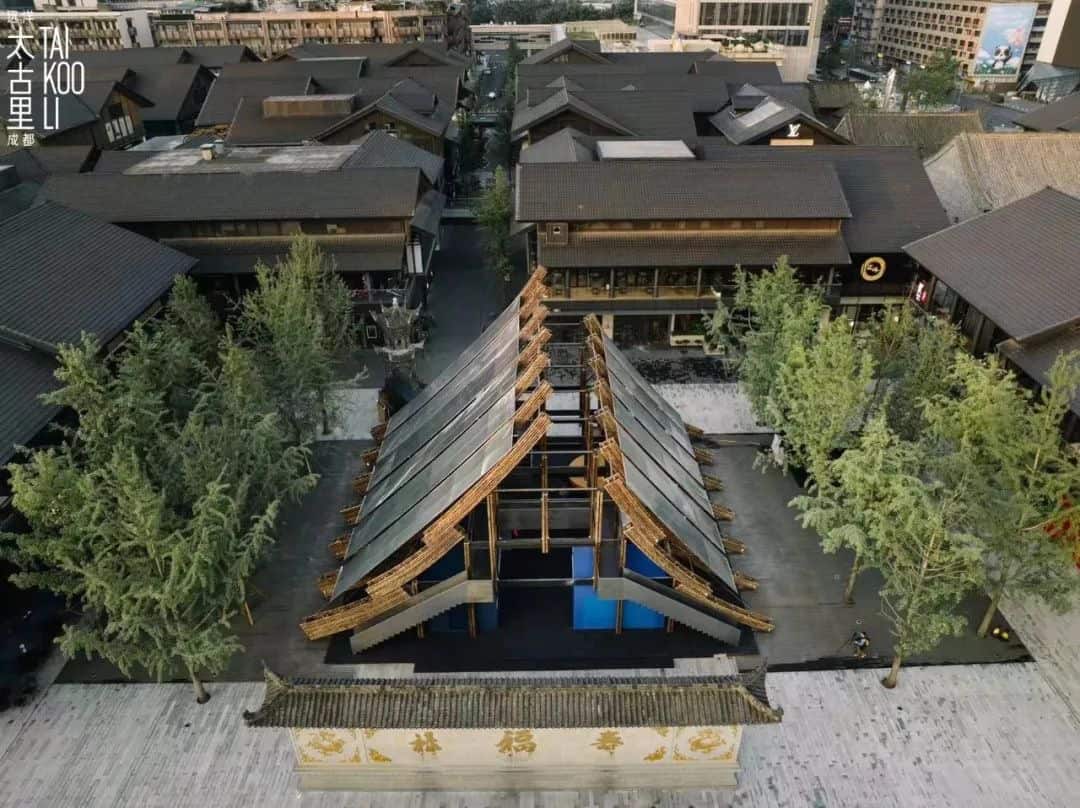 | | | | |
| --- | --- | --- | --- |
| | Experiential Spaces | | Architects & Artists |
| | Urban Architecture | | Roarc Renew |
| | Network of Streets | | Wang Yi |
| | Skies in Chengdu | | Hao Jingfang & Wang Lingjie |
| | Night of Chengdu | | Ma Lingli |
| | Basking in the Sun | | Zhang Honglei |
| | Slow Life | | Wu Didi |
| | Fashion Attitude | | In_K |
| | Disruptive Creativity | | Qiu San |
| | Creative Concepts | | Partners |
| | Flagship Creative Build | | LEGO® Brand Flagship Store (Chengdu) |
| | Sticker Set | | BURBERRY |
| | Burning Cloud Pineapple Pastry | | Mi Xun Teahouse |
| | Scent of Night | | BYREDO |
| | ReBIRD™️ Green Folding Chair | | ARC'TERYX |
| | Meditation Glass | | % ΔRΔBICΔ |
| | Conceptual Bag | | DENHAM |
| | Chocolate Volcano Ice Cream | | Blondel |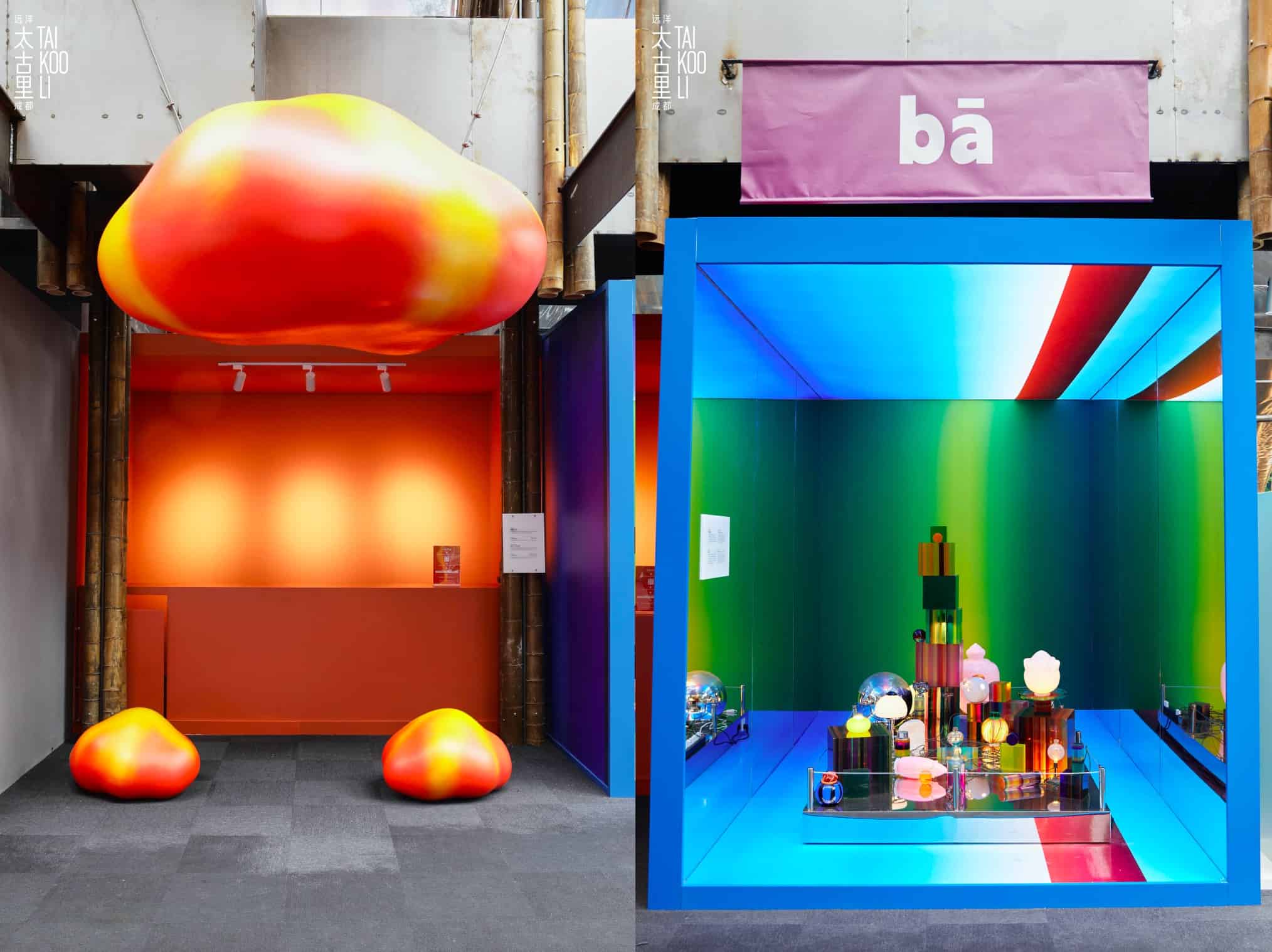 Organiser: Sino-Ocean Taikoo Li Chengdu, UNIQ ENERGY and NAISSANCE
| | |
| --- | --- |
| Space Concept | Urban Architecture |
| | The urban architecture reflects urban culture, history, and people. It is an art that blends function with aesthetics, creating spaces that inspire and connect people. Urban architecture is not just a building, but also a public space that shapes the identity and characteristics of a city. It bears witness to the past, present, and future of a city. |
| Architectural Work | All Around the Traditional Chuandou Architecture |
| | |
| | This exclusive building is specially designed for the eighth anniversary of Sino-Ocean Taikoo Li Chengdu. It is structured in the highly representative architectural form of Chengdu, "Chuandou", and uses carbonized bamboo as the building material. Modern steel structure technology is employed to construct the herringbone main beam. The three groups of carbonized curved bamboo beams are connected in turn, reflecting traditional calligraphy techniques of "pause in writing" and freehand brushwork. In the experiential space, we depict the construction of this exclusive building through drawings and how it can be subsequently recycled into public falicities for continuous use |
| Creative Concept | Flagship Creative Build |
| | It was specially provided by LEGO® Brand Flagship Store (Chengdu) for the eighth anniversary celebration of Sino-Ocean Taikoo Li Chengdu. |
| Space Concept | Network of Streets |
| | The urban texture serves as inspiration for spatial design, drawing from the traffic flow of colorful lines to create an abstract city street. Through installation art, the streets of Chengdu are visualized from a bird's-eye view. Streets symbolize the intimate relationship between people and serve as the hub of public life. The vitality of our city flows through the colors that permeate these streets. |
| Artwork | Mirage Collection |
| | Objects carry memories, bearing witness to the buzz of countless people and the changes of the times as people come and go. The artist has reworked and combined his collection of old objects and remnants that embody China's unique history and urban development marks. There is a fateful bond between unrelated objects, which were already there, and the artist simply follow the trend to gather these magnetic fields to re-express the city streetscape. |
| Creative Concept | Burberry Sticker Set |
| | In celebration of the eighth anniversary of Sino-Ocean Taikoo Li Chengdu, Burberry presents a bespoke sticker set inspired by its house codes and motifs from the Autumn Winter 2023 collection. |
| Space Concept | Skies in Chengdu |
| | The space, inspired by the burning clouds at sunset, allows customers to "appreciate the burning clouds in Chengdu" under the sunset and experience the poetry, romance, and surprise of catching a glimpse of a cloud while walking on the streets of the city. |
| Artwork | A Step to Sky |
| | The burning clouds intertwine with the changes in time and space, presenting a wonderful and delicate scenery lazily drifting in the sky. |
| Creative Concept | Burning Cloud Pineapple Pastry |
| | Mi Xun Teahouse, awarded with one MICHELIN star in MICHELIN Guide Chengdu, is committed to serving fine Chinese tea and vegetarian cuisine.  A well-presented and delicious "Burning Cloud Pineapple Pastry" is specially created by Chef Tony and the team for the eighth anniversary of Sino-Ocean Taikoo Li Chengdu. |
| Space Concep | Night of Chengdu |
| | We all hold unique memories of city's nights, and the night of Chengdu boasts its distinct style and scent. The entire space draws inspiration from the light-glowing windows of households at night, allowing visitors to experience the unique taste of Chengdu's nights through the "windows". |
| Artwork | Poetry Written by Time |
| | The contradiction between images and videos is a theme that Ma Lingli has repeatedly studied in her creations for many years. Utilizing the characteristics of silk, the artist expresses the relationship between reality and virtuality in space. The artwork projects a completely contrasting shadow on the wall under the illumination of a flashlight, with an image connected by time subtly echoing back and forth. |
| Creative Concept | Scent of Night |
| | Sino-Ocean Taikoo Li Chengdu joins hands with BYREDO to present the eighth anniversary special edition "Scent of Night". Starting from individual memory, the night of Chengdu is rendered through the atmosphere, and the collective memory of this city is narrated. |
| Space Concept | Basking in the Sun |
| | Chengdu residents' obsession with the sun, and the leisure and comfort that can be enjoyed anytime and anywhere with sunshine, are the artistic way of life in this city. The indoor space utilizes lighting to create a comfortable Chengdu under sunlight. Two small sunbathing stools showcase Chengdu's relaxed and leisurely attitude towards life. |
| Artwork | Between Sunrise and Sunset |
| | The artwork expresses a folded state of time through visual representation. The external screen displays the sun at various moments in a matrix format, while the internal simulation mimics the natural shape of the sun and creates an abstract expression to form an experiential mirror space in which the audience appears to walk between the sunrise and sunset, experiencing both the real and virtual worlds. |
| Creative Concept | ReBIRD™️ Green Folding Chair |
| | Take a seat and bask in the sun. ARC'TERYX continues the ReBIRD™️ project which recycles and reuses the remaining fabric during production, giving it a new value, truly realizing the brand's concept of "advocating circulation and respecting nature". ARC'TERYX has created a "ReBIRD™️ Green Folding Chair" for the eighth anniversary of Sino-Ocean Taikoo Li Chengdu, which can be taken outdoors to enjoy sunlight at any time, and interpreted sustainable outdoor experiences. |
| Space Concept | Slow Life |
| | Chengdu is a city that embraces the present, and its residents value the ceremonial aspect of life. When entering a space, take a one-minute pause to drink water and experience the slow life, living in the moment and relieving anxiety. |
| Artwork | You Are from Infinity |
| | In the short art film, the artist experiences the process of time unraveling in one minute, feeling and sharing the present. "I cannot explain the world in a brilliantly lucid manner. I simply experience the world; explanations are futile, but feelings remain. Eternity exists within constantly changing moments, and moments are not mere fleeting presents; once released, they become the future. Each moment points towards eternity with essential looseness." |
| Creative Concept | Meditation Glass |
| | The "Meditation Glass" was specially provided by % ΔRΔBICΔ for the eighth anniversary of Sino-Ocean Taikoo Li Chengdu. Please use it to take a sip of water in one minute and experience the present moment. |
| Space Concept | Fashion Attitude |
| | Bags have become one of the most classic cultural phenomena and fashion carriers in human society, reflecting everyone's personality and living habits and participating in the creation of dressing styles and displaying the fashion-forward attitude. Fashion-forward attitude has become a characteristic of Chengdu and is increasingly becoming the lifestyle of Chengdu. The space takes the form of a bag, allowing visitors to step into the "bag" and feel the pioneering and artistic changes. |
| Artwork | Memories |
| | Memory is not an addition; it is a fusion of various possibilities with ambiguous meanings. After weeks of training, AI neural networks gradually integrate tens of thousands of concrete images into new abstract images, constantly constructing and creating "memories" containing all possibilities, driven by consciousness. The music of the artwork was created by the sound artist MHP. |
| Creative Concept | Conceptual Bag |
| | Dutch fashion brand DENHAM created 50 limited-edition conceptual bags for the eighth anniversary of Sino-Ocean Taikoo Li Chengdu. The bags are made of denim fabric, cut and assembled by collaborating artists, and paired with graffiti creation. Each bag is unique, giving customers the opportunity to experience and contemplate the cultural and fashion meaning that is reflected by the bag. |
| Space Concept | Disruptive Creativity |
| | Chengdu, a park city at the foot of snow-capped mountains, is a city without volcanoes. Stemming from unbridled imagination, the space combines mountainous scenery, rocks, and new media technology to create an immersive volcanic space. The inverted volcano at the top visually represents the infinite possibilities and disruptive creativity. |
| Artwork | Black Rain |
| | The work utilizes light as its primary medium, conducts experiments on reverse visualization potential, amalgamates a fresh mode of expression, and generates an information logic loop utilizing the rhythmic movement of particles in light pixels. The objective is to lead the viewer through the state produced by this loop from sensing light to receiving input and consequently offer a new visual experience. |
| Creative Concept | Chocolate Volcano Ice Cream |
| | Switzerland's time-honored chocolate brand Blondel specially created this exclusive "Chocolate Volcano Ice Cream" for the eighth anniversary of Sino-Ocean Taikoo Li Chengdu. Red natural fruit and vegetable powder represent hot lava. The brown chocolate ice cream and black egg rolls resemble cooled lava from a volcano, adding a flavorful "sizzling" imagination to Chengdu, a city without volcanoes. |