The winners are in! A huge thank you to everyone who voted in this year's Chengdu-Expat Award. After 3 weeks of nominations, voting and the judges – we can finally reveal who you chose to celebrate this year in the city!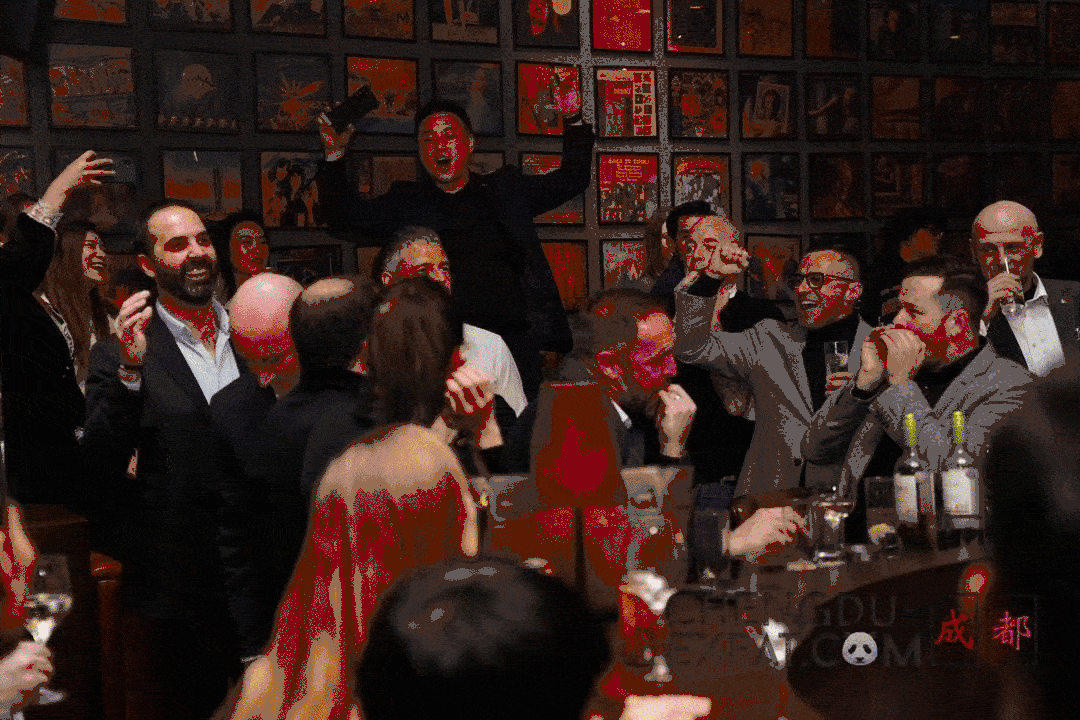 Just like last year, 30% of the vote was decided by judges from Chengdu's international community: judges have to have been in Chengdu for 3 years or more, have expertise in their category and be very active in the community.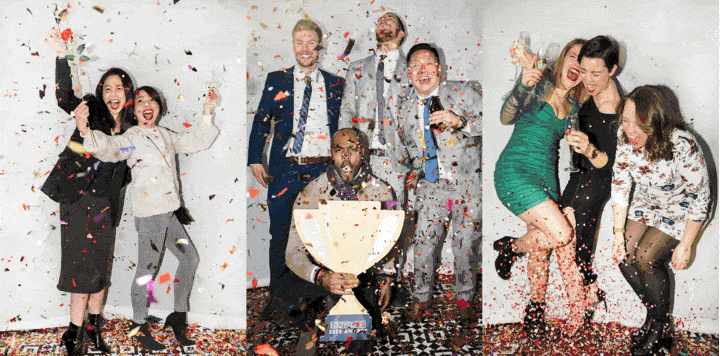 The majority of the vote of course went to you. A big thank you to the 8000+ people who make up the very fabric of Chengdu's complicated weave to take the time to vote. The people that keep the restaurants, hotels, bars and community doors open daily.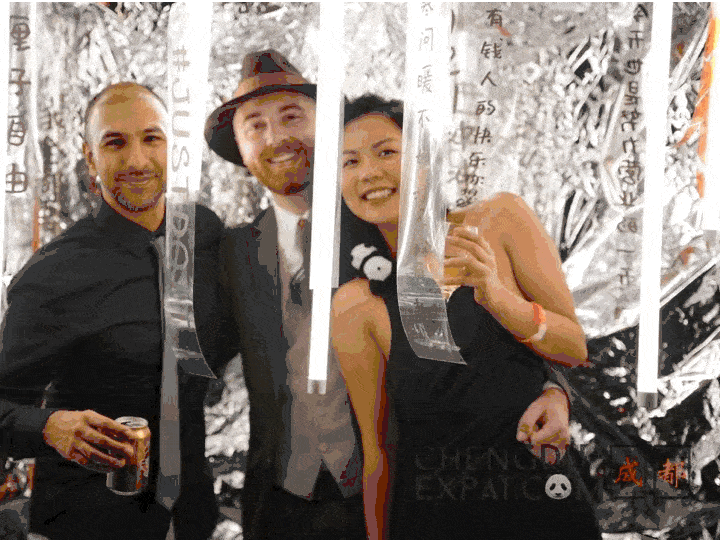 And wow Chengdu, you like to party! Over 160 people came out to celebrate the city's best and brightest on a night of glitz and glamour, at the Grand Hyatt's Xi•Mi. They walked the red carpet, heard the judges announcing the winners, enjoyed the live band, and some of them brought their dancing shoes.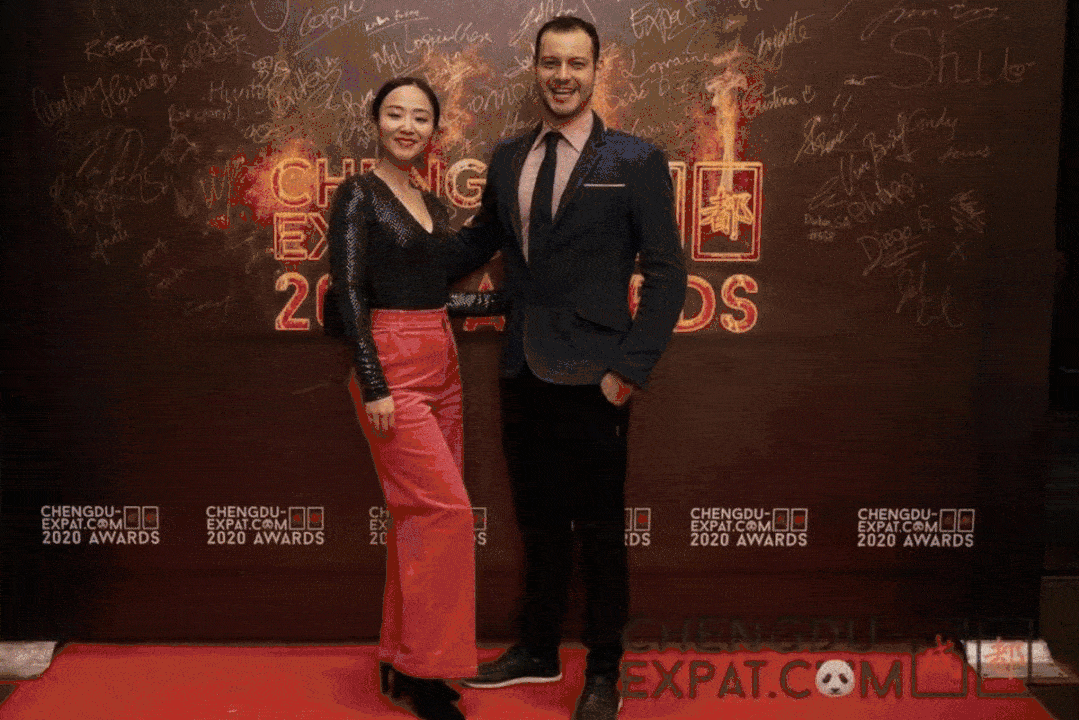 So, who did you chose?
---
🥐 
Best Brunch 
Spectrum, Fairmont Chengdu
1st Runner-up | CASA
2nd Runner-up| Gili's
Chair of the British Chamber of Commerce Southwest China, vice-president of the Rotary Club of Chengdu and managing director of Sino-British Collaborative Education at Chengdu University of Technology. Resident in Chengdu for nearly 20 years, a huge fan of good food and blessed with a Chinese sized kitchen, so he can regularly be found on a weekend with his family sampling the various brunches around town.
---
🍸
Best Bar 
JING Bar
The Temple House
1st Runner-up | Le Coq Au Vin
2nd Runner-up | Great Leap Brewing Chengdu
Expert Judge | Hannah Lan
Former Chengdu restauranteur and wine bar owner – Hannah now organizes over 50 wine tastings and parings in the city each year. She studies under sommelier Fengyi Walker, 1st master of wine in China and holds a WSET level 3 qualification. Hannah is passionate about authentic, local food, and drink experience wherever she travels in the world.
🎊
Best Reoccurring Event
Chengdu Comedy Club
1st Runner-up | CDFS Chengdu Film Society
2nd Runner-up | Spittoon
Expert Judge | Rachel Hart
This flamboyant, Southern, vibrant character, has been a passionate supporter of Chengdu's lively event scene since moving to the city 3 years ago. When not found at one of the city's events – she'll have a taco, and Bellini in hand. Fun fact; she guest-starred in Frasier S6E8: "The Seal Who Came to Dinner."
---
🛵  
Best Restaurant for Delivery 
Kathmandu
1st Runner-up | Mike's Pizza
2nd Runner-up | Rob's MVP
Expert Judge | Will Tang
Chengdu foodie, Will from Phoenix, Arizona has been living in Chengdu for the past 4 years. When not playing tennis with the ACES Tennis Club, you'll find him enjoying a cold fizzy apple juice at a nice restaurant like The Range or Gili's.
---
🤸
Best Sporting Community
CIBA -Chengdu Int'l Badminton Association
1st Runner-up | CIFL -Chengdu Int'l Football League
2nd Runner-up | Aces Tennis Club
Expert Judge | Joe White
Joe White is the vice chairman of British Chamber of Commerce Southwest China, co-founder of Sichuan Peppers Rugby Club and co-organizer of British Sports Festival, which aims to bridge China and the UK through sport, art and education. Joe lives in Chengdu with his wife Xu Ting (Julina) and young daughter Xu Ru Xi (Ava).
---
🎵
Best Nightclub
Orangutan Bunker
1st Runner-up | Flexroom
2nd Runner-up | Revolucion Cocktail
Expert Judge | Steven Clint Lux
This infamous Chengdu playboy has spent the last 14 years in China, and is the founder of Fusion design. He is also the co-owner of HappaHappa.
🎉
Event of the Year
Chengdu Mini World Cup
1st Runner-up | 2020 British Day
2nd Runner-up | Chengdu High-Tech Zone Davis Cup
Expert Judge | Richard Beach
Richard Beach has 6 years experience living in Chengdu, and is the design director at KURA Architects. He has been responsible for building many of the international schools in the city, including CDIS, Jade Learning House, and BARD College. He is an active member of there city's sporting community, and an honoury, and long suffering member of the Chengdu-Expat team. 
---
💡
Best Newcomer
Great Leap Brewing Chengdu 
1st Runner-up | CLAB
2nd Runner-up | Happa Happa
Expert Judge | Dieter Vanonckelen
Graduated as Master in Sinology, Dieter has over 10 years experience living in the Chengdu. As the founder of The Beer Nest, Chengdu-Expat, and most recently AD Medical, he is actively involvement in the city's vibrant community, and keeps his finger on the pulse.
---
🏨
Best Hotel
Fairmont Chengdu
1st Runner-up | The Temple House
2nd Runner-up | W Chengdu
Expert Judge | Melanie Moran
Jack of all trades, master of few. Likes: events, socializing, sleeping. Dislikes: quarantine, inefficiency, being awake.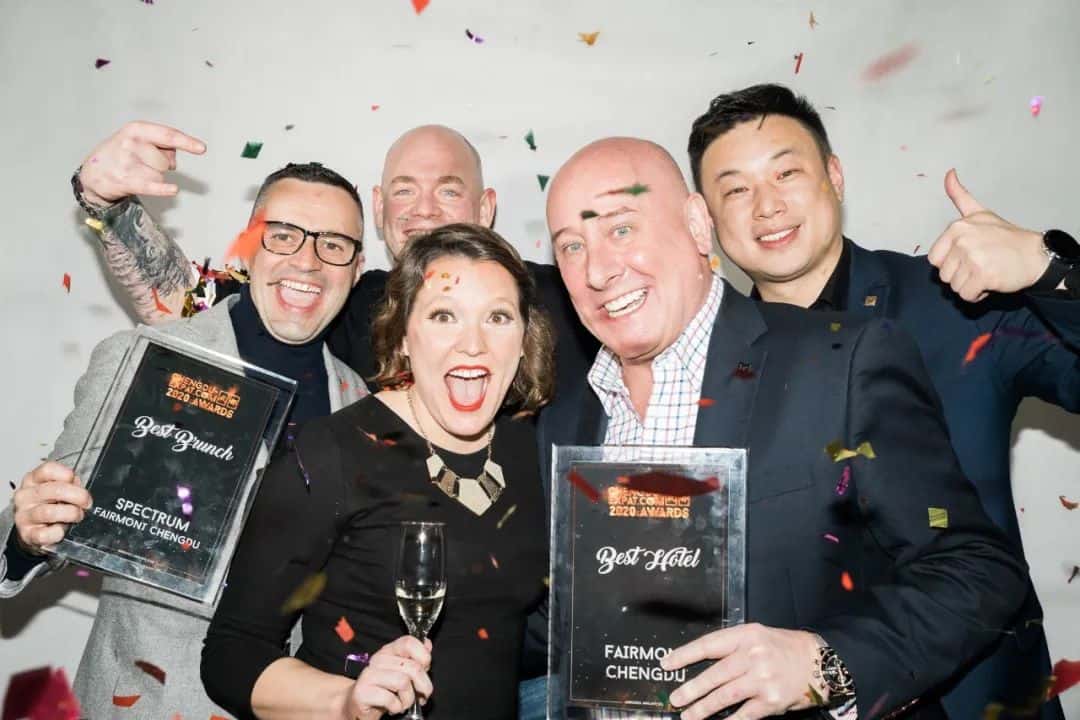 ---
🍽️
Best Restaurant
Happa Happa
1st Runner-up | Bucciano
2nd Runner-up | Gli Azzurri
Expert Judge | Harri Sheffer
Harriet has been in China for 7 years – and is the creative director of Chengdu based branding studio 糊画设计公司 (Studio Hu). She is the co-owner of Chengdu-Expat.com and former Pan-Asian chef. She is our current food writer, and enjoys chowing down on everything the China's cullinary capital has to offer. 
🥦
The Green Award
CASA
1st Runner-up | BRUNCH
2nd Runner-up | Zero Waste Chengdu
Expert Judge | Brigitte Janssen
Brigitte has been in Chengdu for 6 years now, and is Ubisoft Chengdu's event specialist and graphic designer. Brigitte is spearheading the gaming giant's CSR and Green initiative this year and is passionate about corporate waste reduction, and investing in a plant based future. 
---
❤️
Hospitality of the Year 
Sue, Gili's
1st Runner-up | Kate – The Range
2nd Runner-up | Harry Deng – Harry's Wizard Café
30% of this category was judged by the entire pannel of judges (who were not nominated themselves), and 70% of the public vote.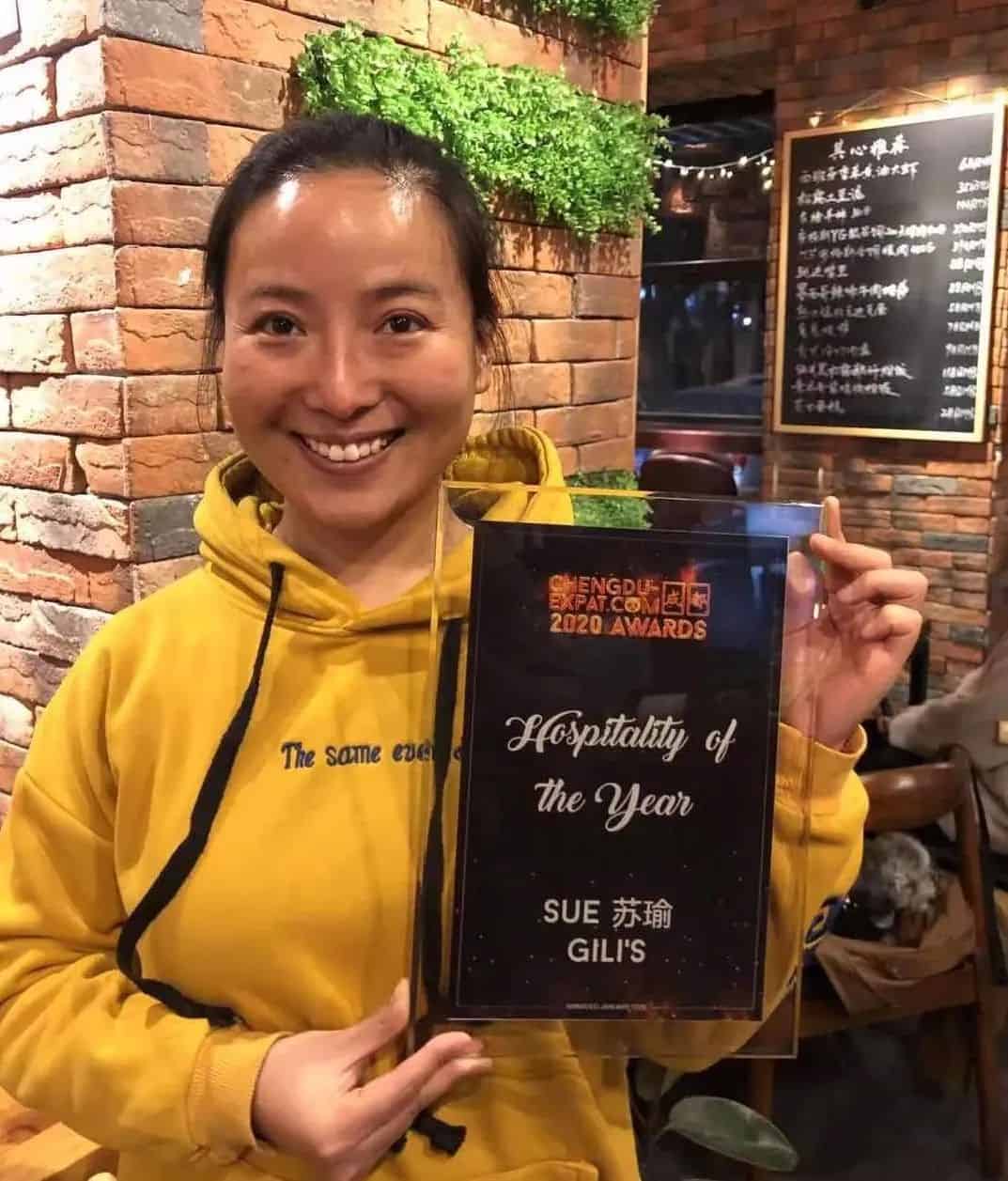 ---
👨‍👩‍👧‍👦  •  People's Choice Awards
Harry's Wizard Cafe
The People's Choice Award celebrated the company with the highest combined number of overall nominations, number of votes, together with the overall searches on the ChengduExpat+ MiniProgram in 2020.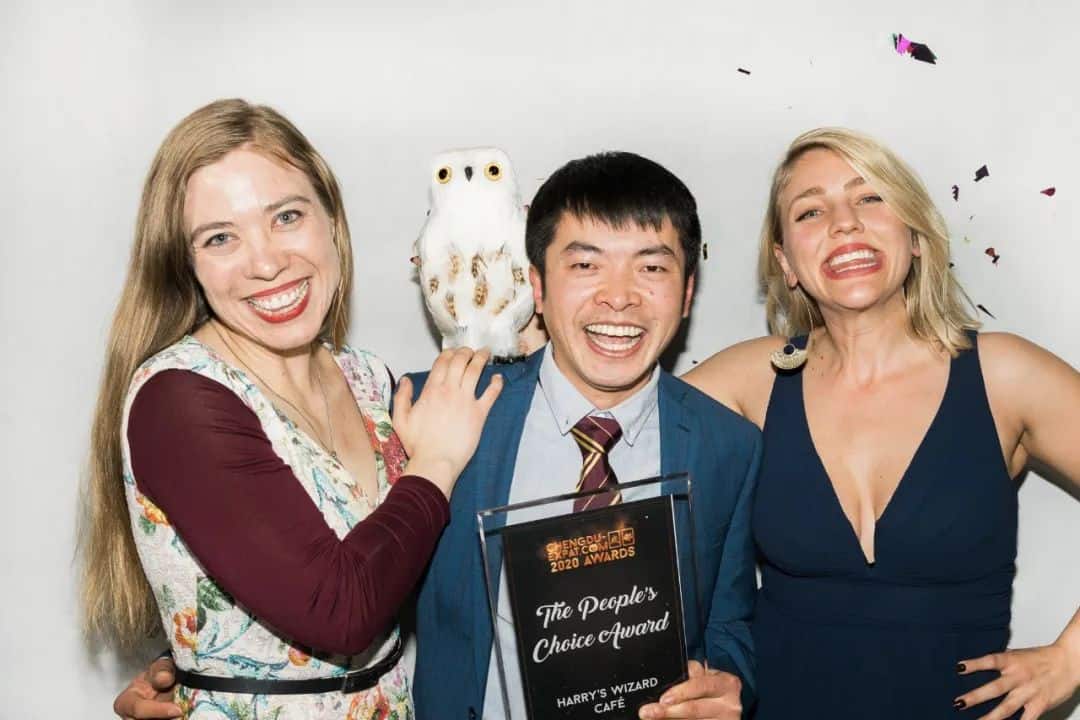 🥂 Congratulations to everyone who took part, everyone who
was shortlisted, and the people that the community chose to celebrate. We made it through 2020. So let's face it, we're all winners.
---
 Thank you to our wonderful photographers

Amar Shrestha
insta: @bokshiphotography
Chengdu-Expat Official Photographer 

Jake Homovich
insta: jake.homovich

Ngawang Sherap
 insta: ngawang_sherap
---
Thank you to the companies that sponsored lucky draw prizes for those who attended The Party, and supported with drinks.
It's our great pleasure to be able to celebrate the communities, places and people that make Chengdu so great to live in. Many thanks to our annual sponsors who make Chengdu-Expat possible.