It's time once again for the Super Bowl.
The biggest event in football – the US version with the oddly shaped leather-covered thing nicknamed a "pigskin," not the other version – is upon us: Superbowl 57. Whether you're actually rooting for someone or just want an excuse to start drinking at 7.30am, it's bound to be a good time, so we've compiled this list of places in Chengdu to catch the big game on Monday morning, February 13, 2022 (China time)..
Time to get excited for the big game – Philadelphia Eagles against the Kansas Chiefs.
Click on the posters to enlarge/ scan.
The Office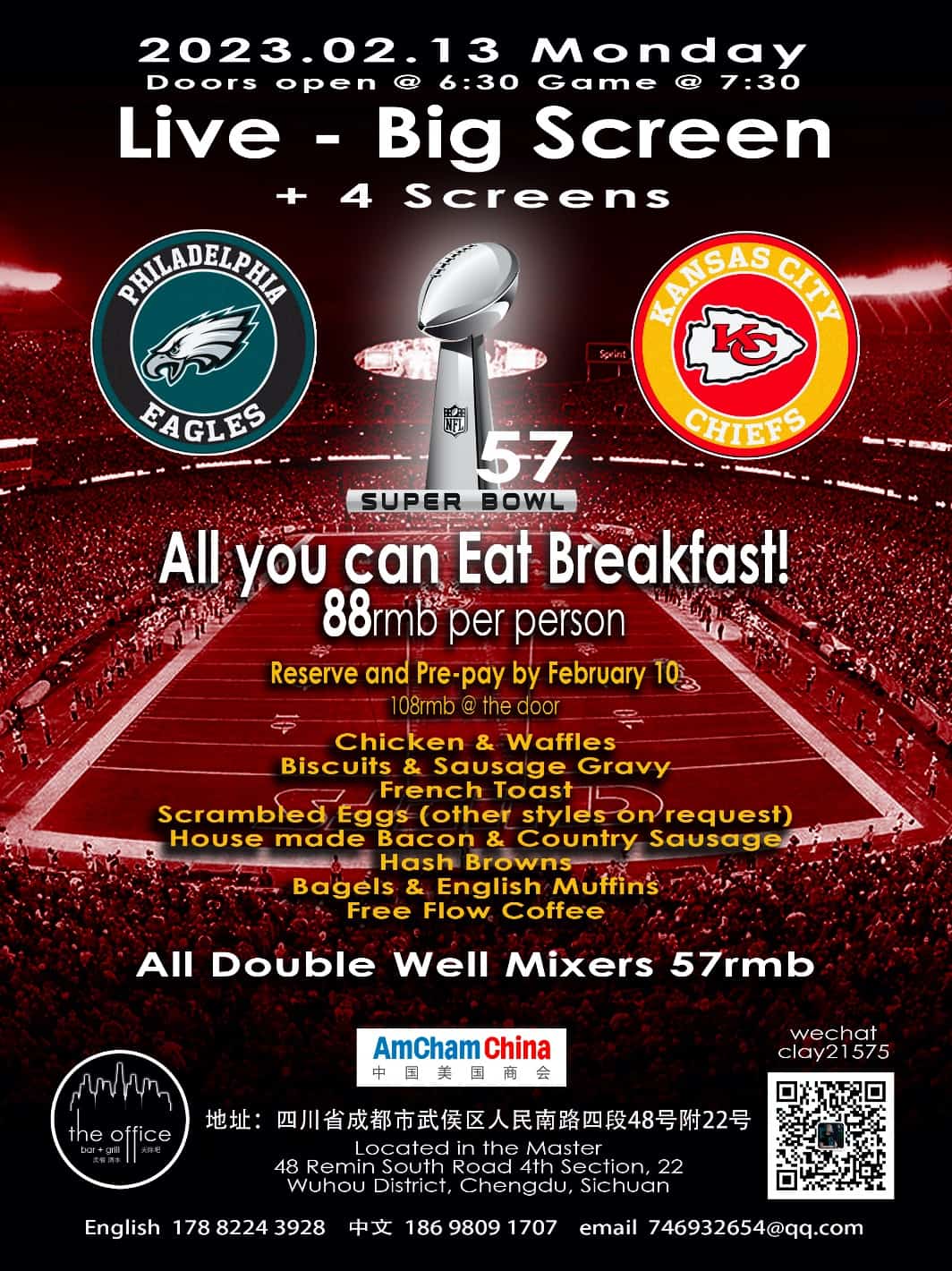 All-you-can-eat breakfast: pre-sale (before 13/2) 88RMB/ person, 108RMB at the door.
All double well mixers: 57RMB
Address: 22, 1/F, Master Commercial St., 48 Section 4th, South Renmin Rd.
人民南路四段48号首座商业街1楼22号
Barbemoo
Ya'll ready for some action? Join us at BARBEMOO on February 13th to watch SUPER BOWL live on our 6 Big Screen TV's and the Large Screen Projector. Delicious american breakfast's in house with amazing drinking specials.
Doors At 06:30AM, kick off at 07:30AM
Scan the QR Code and reserve your table now!
Bottomless Coffee ¥9.9
Free Flow ¥88/3 hours
Venue:
BarbeMoo 熏牛美式烤肉
Address:
20-21#, 158 Shuangcheng Road, Chenghua District
(Subway Shuangqiao Road G exit)
成华区双成二路158号附20-21
(地铁双桥路G口, 四川银行)
Tel:
18701304116
Homeplate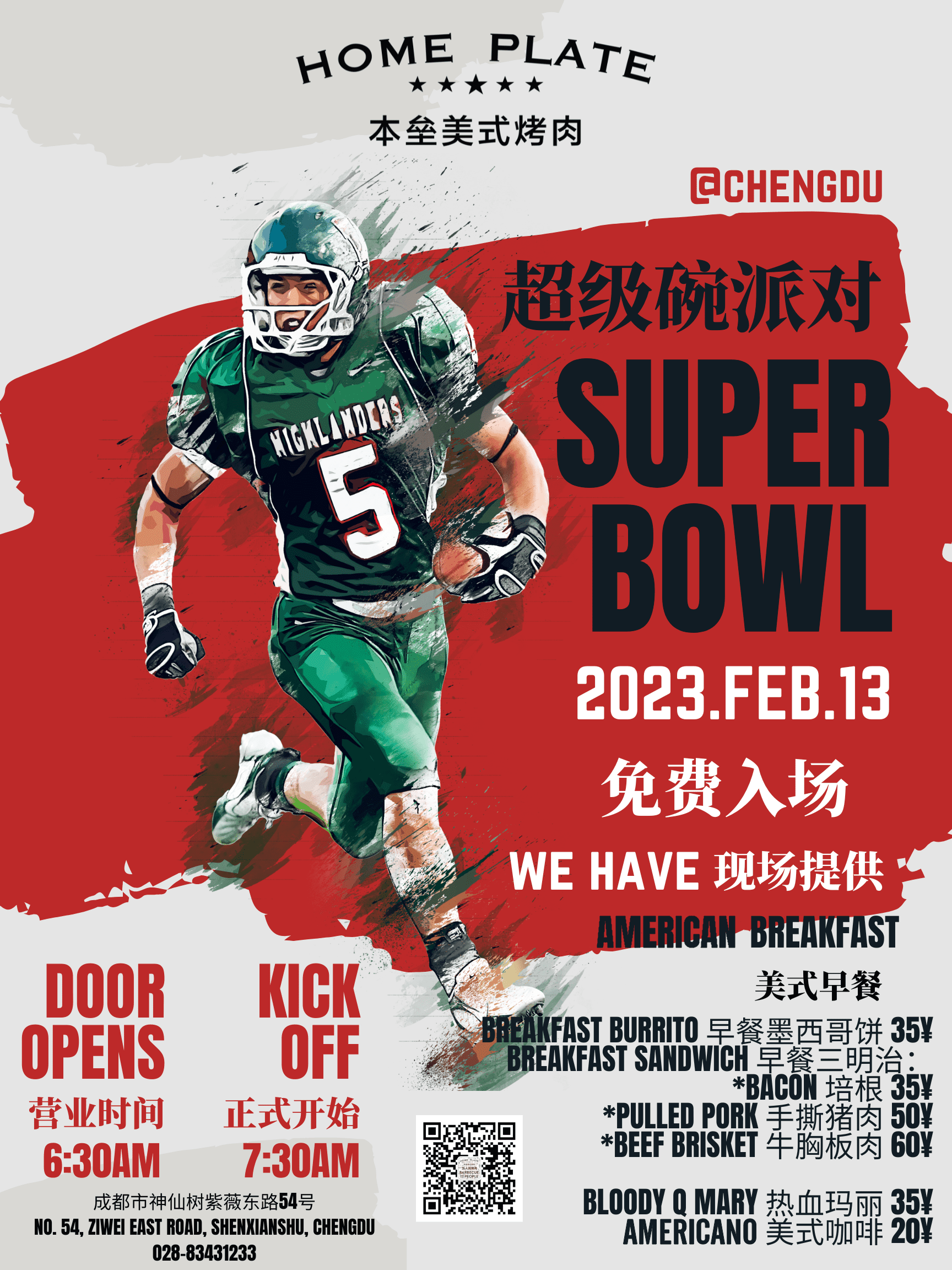 Date & Time:
Feb. 13th, doors open at 06:30am, kick off at 07:30am
Address:
Wuhou District, Ziwei East Rd. No. 54
四川省成都市武侯区紫薇东路54号
Tel:
028 83431233
Tease Bar & Grill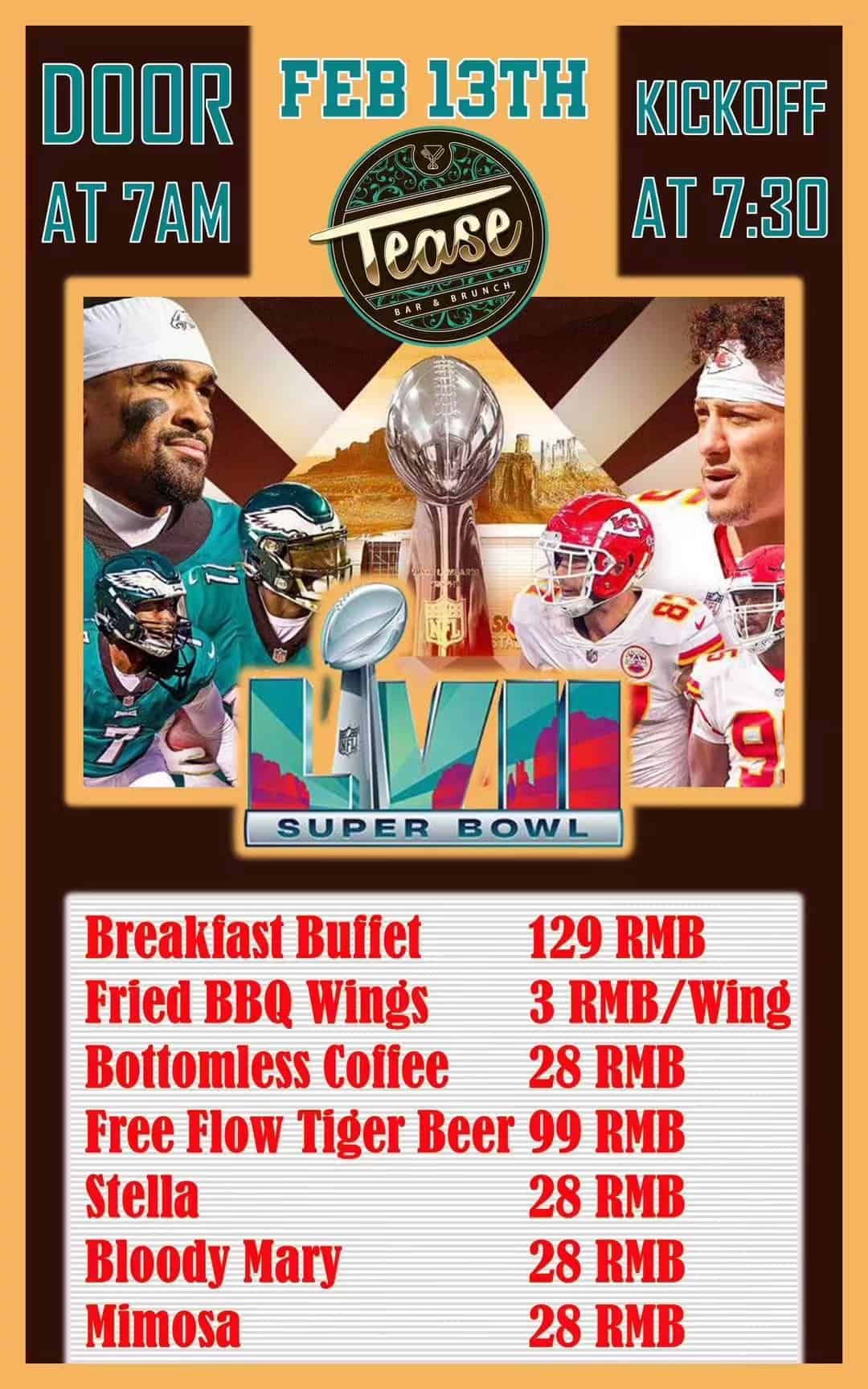 Address: 2F, No.129 Wangping Street 望平街129号2楼Tease 调色河景餐吧
The Leg & Whistle

Address:
Ke Hua Jie Chuan da Hua yuan (2F opposite WoWo convenience Store)
科华街1号附19号(川大花园南苑农业银行2楼上)
Tim's Bar-B-Q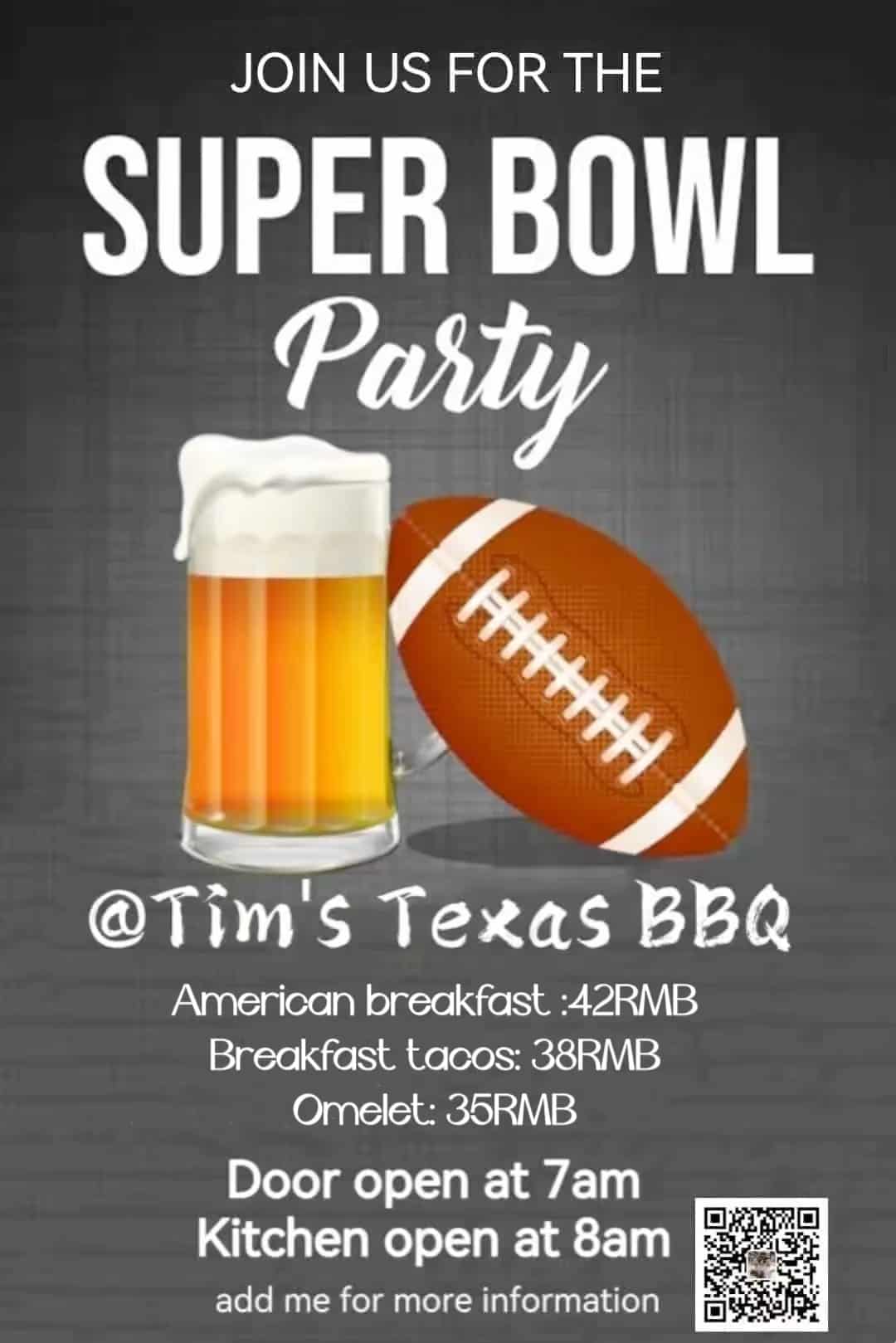 Door open at 7am, kitchen open at 8am.
Coffee: 19RMB.
Stella or HB: 35RMB.
Address: Address: No 7 Building C, Poly Centre, No. 1 JinXiu Road, Wuhou District
锦绣路1号,保利中心C座7号
Tel: 028-85407066
Do you know any other places to watch the Super Bowl?
Let us know!