The Civil Aviation Administration of China (CAAC) are an organisation at the heart of Chinese aviation and regularly update their website with the latest flight information from around the world- a service we find helpful in this uncertain time of travel information!
The CAAC website is the latest and quickest way to gain access to information, both in English and Chinese, about departure and arrival cities with specific flight information available.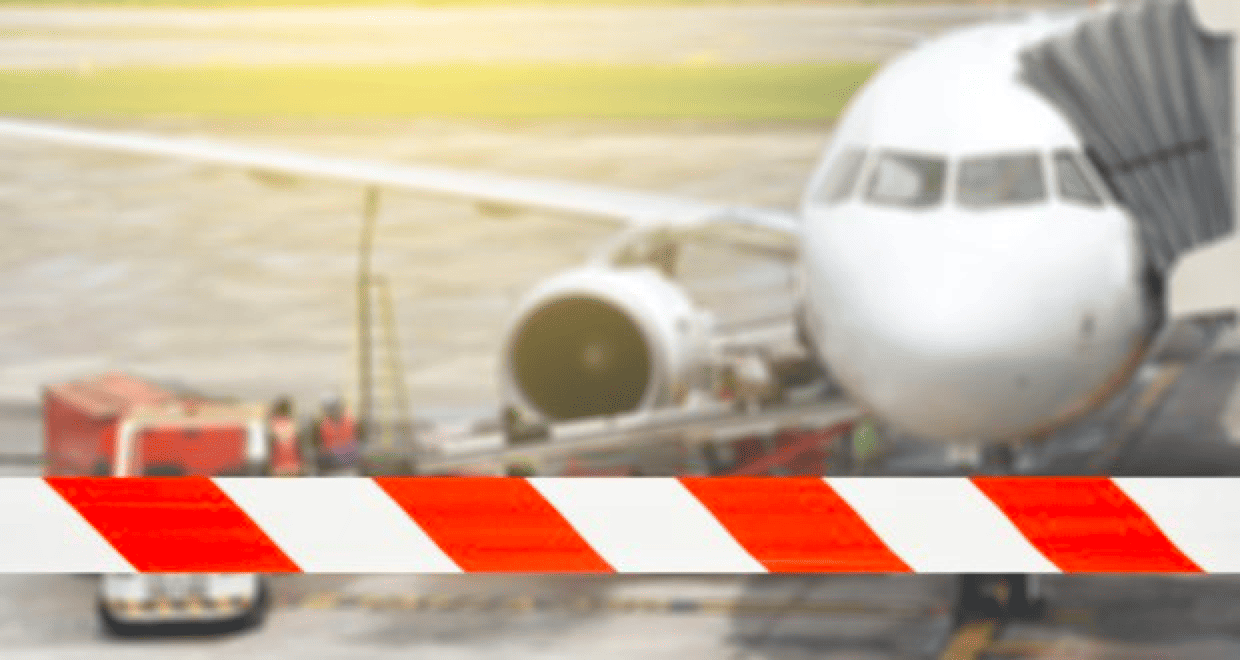 CAAC International Flight Schedule Guide 
Using the website lin or scan/ long press:
http://www.caac.gov.cn/INDEX/HLFW/GJHBJHCX2021/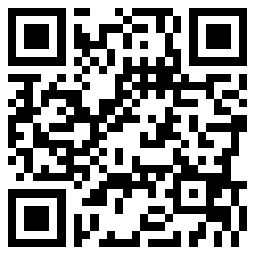 It is recommend to use your computer
The service helps to find Chinese names of the departure and arrival flights for all international flights!
Once you have inputted the departure and arrival city information (in Chinese) the website will then generate the flight numbers, through which you can then find the airlines operating that specific route. Furthermore, the website displays the date of the flight and even more specific information regarding the flight travel frequency!
All listed flights on the website have been approved by the CAAC despite this though, the worldwide uncertainty that the pandemic has brought to the travel industry means it is possible that some flights may be suspended or cancelled.
 How to check: A step-by-step guide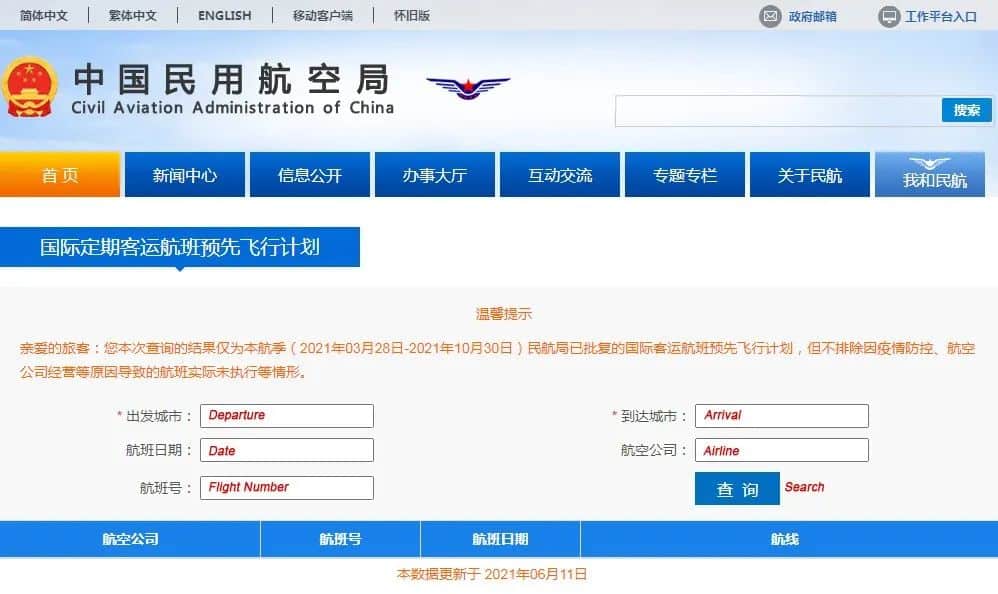 Step 1:
Using the Chinese names of the departure and arrival cities at the bottom of this article, it is best to first use Ctrl + F and then imput the departure city name you are inquiring about (in Chinese), then adding the arrival city as the first step of this process.
The picture below shows an example of what happens when I use the website to find flight information from Moscow (莫斯科) to Shanghai (上海).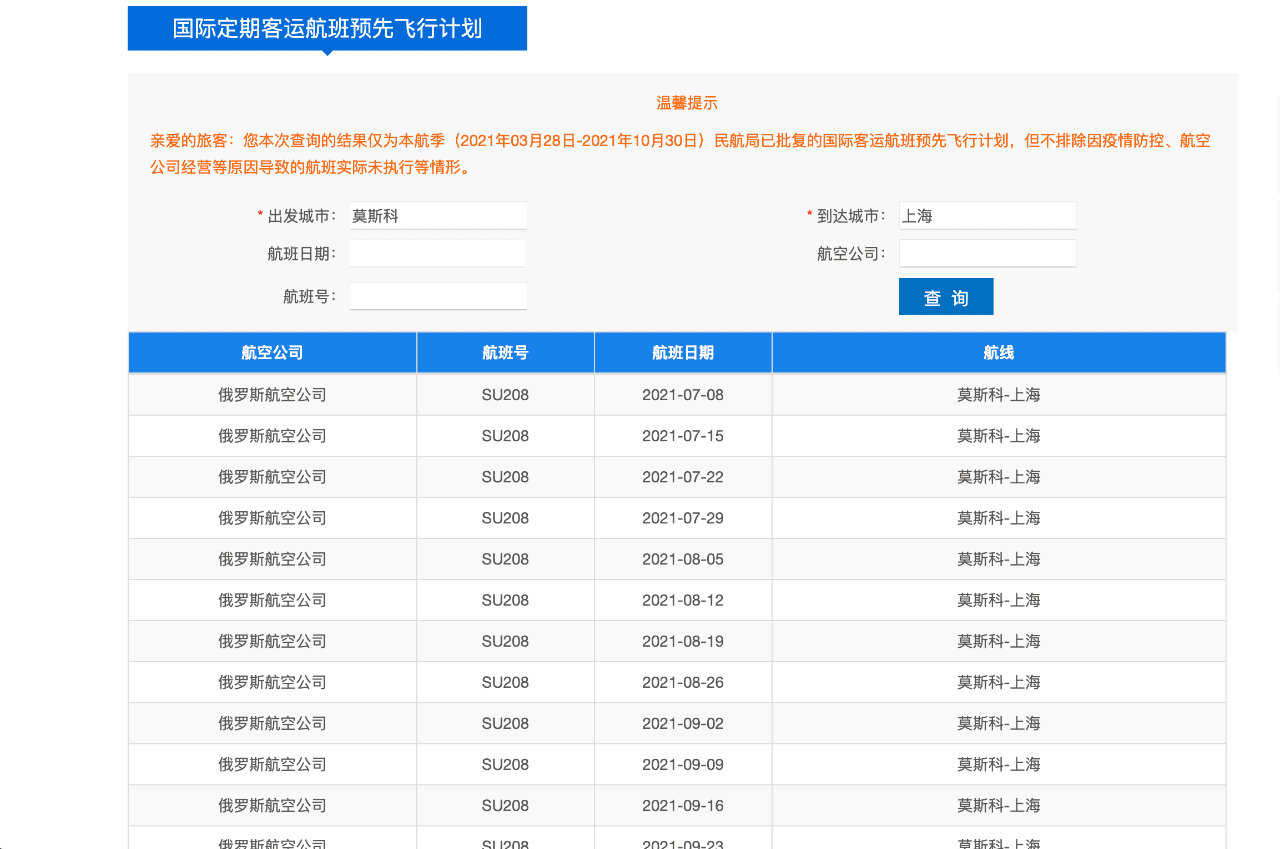 Step 2: 
In the second column the website provides the relevant flight numbers that you can use to find the airlines that are operating the routes, along with the dates. It is important to note that for imbound flights, the date is when the flights arrive in China and NOT the departure date of the local time, so for most the departure date is one day earlier than stated. 

Despite the listed flights being approved formally by the CAAC, it is important to note that current pandemic restrictions might result in flights being cancelled or suspended.
 Important Notice! 
Whilst the translation function below will give you most of the information, we highly recommend to ask a Chinese speaking friend to help enter the information in order to ensure you have acquired the correct guideline information.
Furthermore, for those non-Chinese speakers, when entering the information of particular locations, you may come across this message: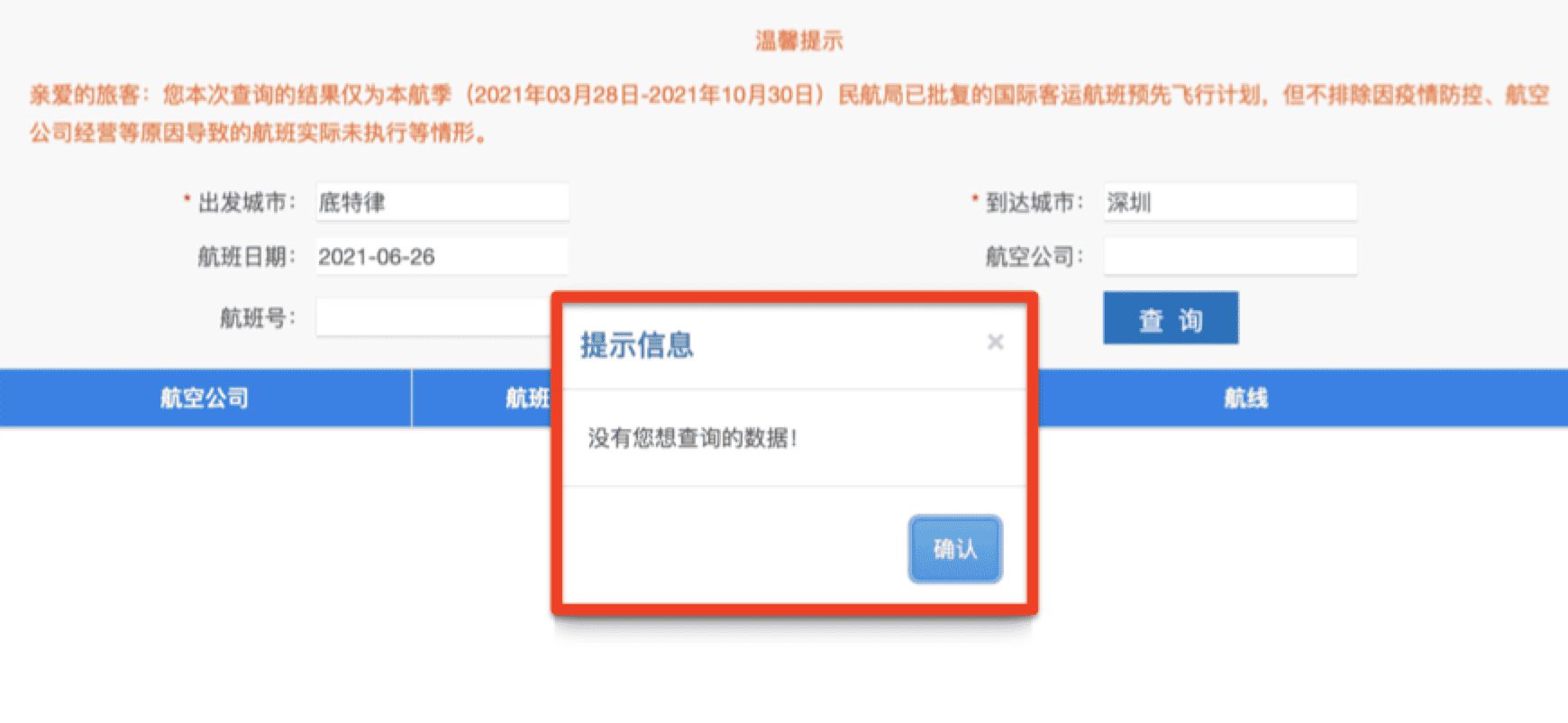 This message means that there are no flights going to or from the specified locations therefore you will need to change either the departure or arrival locations in order to access the relevant flight information.
 List of city names (English and Chinese)
| | | | | |
| --- | --- | --- | --- | --- |
| China 🇨🇳 | Beijing 北京 | Shanghai 上海 | Guangzhou 广州 | Shenzhen 深圳 |
| Xiamen 厦门 | Xi'an 西安 | Fuzhou 福州 | Hangzhou 杭州 | Kunming 昆明 |
| Nanning 南宁 | Nanjing 南京 | Qingdao 青岛 | Tianjin 天津 | Wuxi 无锡 |
| Chongqing 重庆 | Chengdu 成都 | Yanji 延吉 | Zhengzhou 郑州 | Shenyang 沈阳 |
| Dalian 大连 | Harbin 哈尔滨 | Changzhou 常州 | Taiyuan 太原 | Hohhot 呼和浩特 |
| | |
| --- | --- |
| USA 🇺🇸 | Canada 🇨🇳 |
| Los Angeles  洛杉矶 | Toronto 多伦多 |
| New York 纽约 | Vancouver 温哥华 |
| Seattle 西雅图 | |
| Detroit  底特律 | Russia 🇷🇺 |
| San Francisco 旧金山 | Moscow 莫斯科 |
| Dallas 达拉斯 | St.Petersburg 圣彼得堡 |
 European city names (English and Chinese) 
France 🇫🇷
UK 🇬🇧
Germany 🇩🇪
Italy 🇮🇹
Paris 巴黎
London  

伦敦

Frankfurt 

法兰克

Milan 米兰
Turkey 🇨🇳

Spain 🇪🇸
Netherlands 🇳🇱
Poland 🇵🇱
Istanbul  

伊斯坦布尔

Madrid 马德里

Amsterdam 阿姆斯特丹

Warsaw  华沙
Sweden 🇸🇪
Belarus 🇧🇾
Greece 🇬🇷
Portugal 🇵🇹
Switzerland 🇨🇭

Stockholm 

斯德哥尔摩

Minsk 明斯克

Athens 雅典

Lisbon  里斯本

Zurich 苏黎世
 Cities in Africa (English and Chinese) 
| | | |
| --- | --- | --- |
| Egypt 🇪🇬 | Rwanda 🇷🇼 | Ethiopia 🇪🇹 |
| Cairo 开罗 | Kigali 基加利 | Addis Ababa  亚的斯亚贝巴 |
| | | |
| --- | --- | --- |
| Kenya 🇰🇪 | South Africa 🇿🇦 | Algeria 🇩🇿 |
| Nairobi 内罗毕 | Johannesburg  约翰内斯堡 | Algiers  阿尔及尔 |
 Cities in Asia 
| | | | |
| --- | --- | --- | --- |
| Pakistan 🇵🇰 | India 🇮🇳 | Indonesia 🇮🇩 | Bangladesh 🇧🇩 |
| Islamabad 伊斯兰堡 | Mumbai  孟买 | Jakarta 雅加达 | Dhaka 达卡 |
| Karachi  卡拉奇 | Delhi 德里 | | |
| | | | | |
| --- | --- | --- | --- | --- |
| Vietnam 🇻🇳 | Uzbekistan 🇺🇿 | Thailand 🇹🇭 | Sri-Lanka🇱🇰 | Philippines 🇵🇭 |
| Hanoi 河内 | Tashkent 塔什干 | Bangkok 曼谷 | Colombo 科伦坡 | Manila 马尼拉 |
| Ho Chi Minh 胡志明 | | | | |
Nepal 🇳🇵

Malaysia 🇲🇾

Korea 🇰🇷


Kathmandu 加德满都

Kuala Lumpur 吉隆坡

Seoul 

首尔

Busan 

釜山

Singapore 🇸🇬
Iran 🇮🇷

Jeju 

济州

Singapore 新加坡

Teheran 德黑兰

Daegu 

大邱
Japan 🇯🇵
United Emirates 🇦🇪
Saudi 

Arabia 🇸🇦

Laos 🇱🇦
Iraq 🇮🇶

Tokyo 东京

Dubai 迪拜

Riyadh 利亚德

Vientiane 万象

Baghdad  巴格达

Osaka 大阪

Abu Dhabi 阿布扎比
| | | | | |
| --- | --- | --- | --- | --- |
| Cambodia 🇰🇭 | Myanmar 🇲🇲 | Israel 🇮🇱 | Qatar 🇶🇦 | Kuwait 🇰🇼 |
| Phnom Penh 金边 | Yangon 仰光 | Tel Aviv 特拉维夫 | Doha 多哈 | Kuwait 科威特 |
| Sihanoukville 西哈努克 | | | | |
| | | |
| --- | --- | --- |
| Brunei 🇧🇳 | Oman 🇴🇲 | Kazakhstan 🇰🇿 |
| Bandar Seri Begawan 斯里巴加湾 | Muscat 马斯喀特 | Alma-Ata 阿拉木图 |
 Oceania 
| | |
| --- | --- |
| Australia 🇦🇺 | New Zealand 🇳🇿 |
| Sydney 悉尼 | Auckland 奥克兰 |
| Melbourne 墨尔本 | |
Source: CAAC.gov .cn