Ella – Marketing manager, party girl, and founder of Green Foods describes her weekends in the 'Du.
Ella spent 6 years in Beijing as a bar manager at one of Beijing's craft beer breweries and has come back to Chengdu just over a year ago with the plan to give Chengdu her passion for fun, craft beer and green food. Ella is from the nearby city of Ya'an, in Sichuan Province. Since her return, Ella has been busy, busy. She is co-founder of Green Foods, a booming start-up which is a healthy eating delivery service. Ella also works part-time collaborating and organising events for Hugo's brewpub, and JingA craft beer.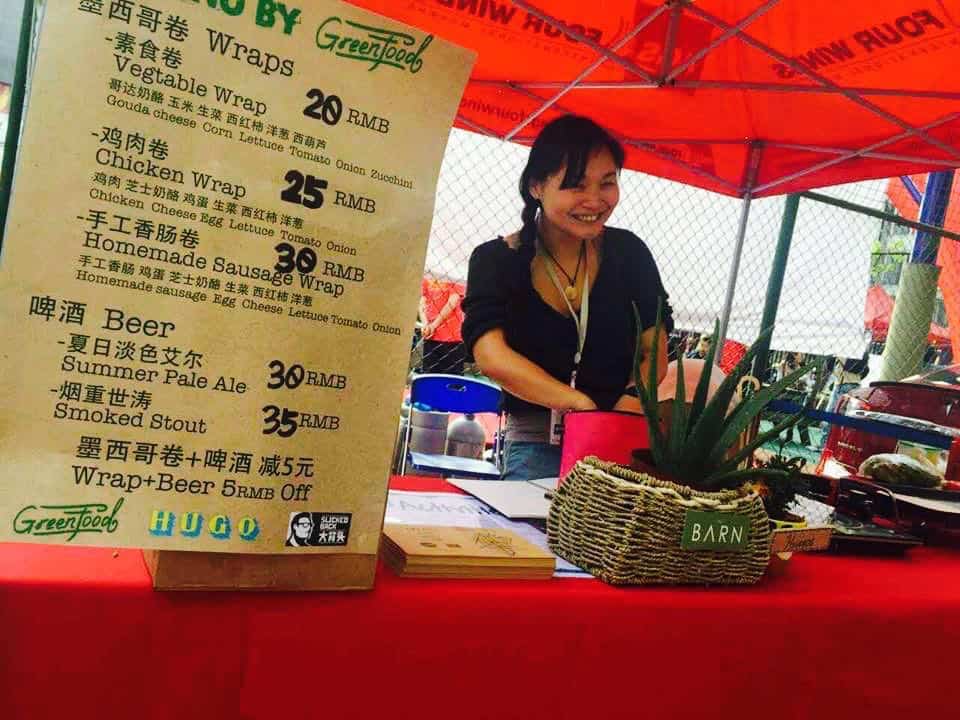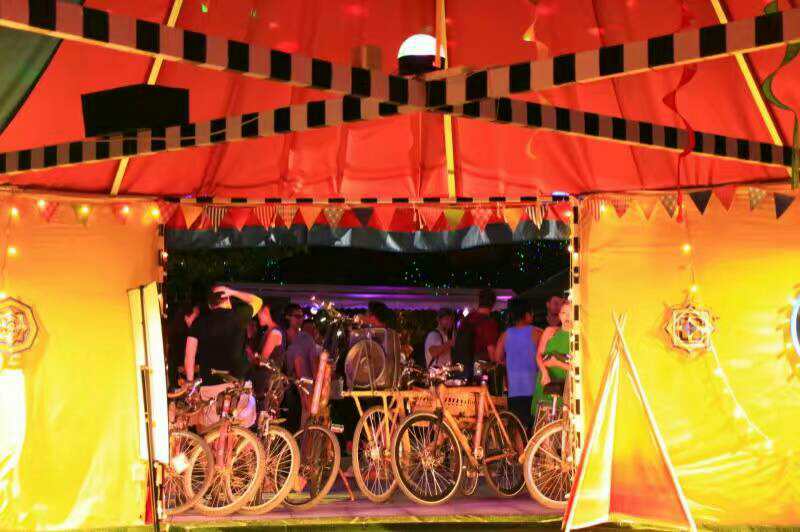 Friday:
On Friday's 12-2pm is the busy lunch hour at Green Foods so I will spend my afternoon there helping with the lunch rush. My work is quite flexible so for most of the rest of the day I will work on one of my many projects. I will finish work as soon as I can on a Friday so I can make time to go on the Natooke Friday Night Ride, also full moon rides. It's not dangerous to ride Chengdu, the road for cycling is nice and flat. I was born in Ya'an which is also in Sichuan Province so I'm very used to the crazy norms of driving in Chengdu.  Although it's a shame the winter is coming, it won't stop me going on the bike rides! I love riding, I have my own bicycle which I ride everyday, and after we will usually go for a beer and chill.
However, since my work keeps me so busy, sometimes I will have to travel to attend or organise events. I'm extremely interested in marketing and promotion. Since I opened my own company Green Foods, we have participated in a lot of events and also held a lot of events. It's all about events for me. They give me time to socialise, have fun and also do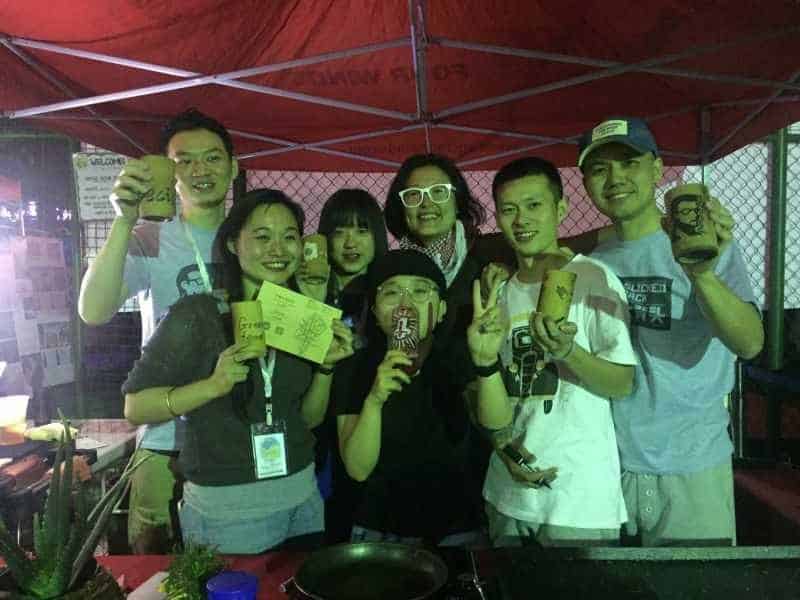 something productive for myself and for all the people involved. I started Green Foods because in Chengdu the food is not always healthy. At Green Foods we care about what people eat, and how to make it as tasty as possible, not only doused in huajiao. Chengdu is growing massively, socially and business-wise too. There seems to be a lot of active, young, passionate people around these days. So this Friday I will go to Chongqing to help set up a future JingA beer event.
Saturday:
On a normal Saturday I will work on one of my projects, or panic about one of my projects. Work never stops. But in the evenings I will search for a good event, to party, but also to see how the event is set up and learn more. This Saturday some friends have invited me over for Thanks-giving dinner. Once I came back to Chengdu I made so many new friends. I saw lots of people doing their own start-ups, it's a great energy that is here in Chengdu, and I'm very grateful for this. I try to get to bed at least by 2am on a Saturday night. If I have a free weekend I will go to my home town Ya'an, or for a weekend trip to one of the nice places around Chengdu. I would like to be able to go on more weekend trips.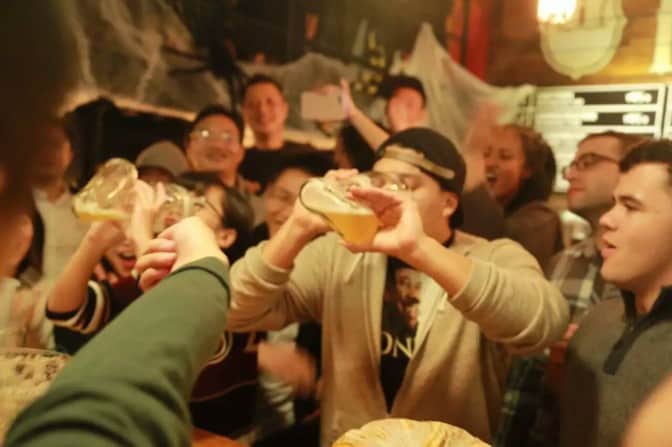 2016 Halloween party beer games
Sunday:
Sunday is the most boring day for me. I will try to do nothing, just chill at home, read a book and get
some rest. If the weather is nice I will try to get myself out of the house to play Frisbee or do some yoga, something to keep me active. This is what I try to do, but most of the time I am planning work for the next week. For example, a new project I'm working on is a collaboration of some great different elements: Hugo`s brewpub, JingA beer and Foxes Rock, it's called 'Cookin' with Beer'. I'm pretty excited about this event because I want to show that beer has
another great usage apart from drinking! In the winter not so many people like a cold beer, but they do love food, so I put the two things together.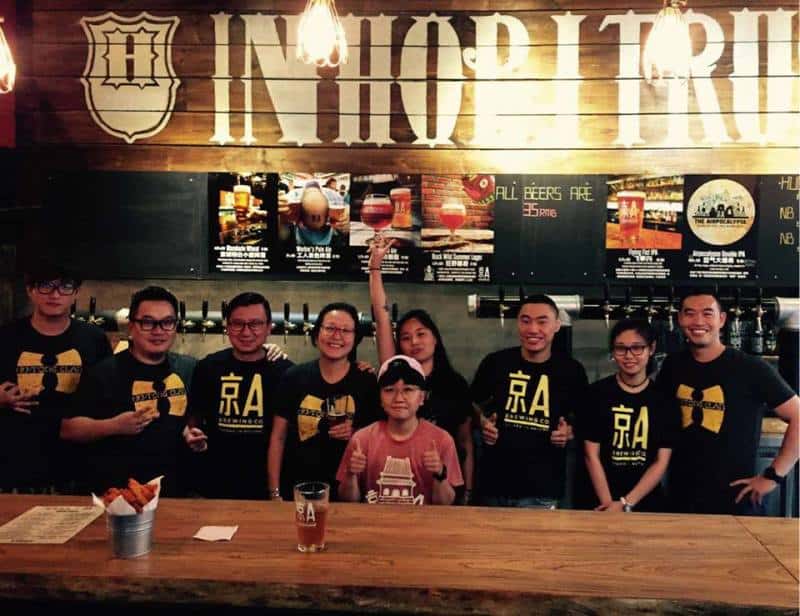 All over the world people use wine for seasoning and beer is a great ingredient too. For example, a warm Irish beef stew cooked by a stout ale. The mission of this event 'Cookin with Beer' would be to find what the best ale would be to match a particular nice warm winter meal. It will be a tasting competition too! I am very pleased to be working in Chengdu, where there are so many great beers, great food, and great people. The culture of beer drinking is not only changing in Chengdu it's changing everywhere in China. From my experience in Beijing in Shanghai there's already a beer drinking culture, and it's more interesting for me to experience and be part of the growing and changing beer culture in Chengdu.