FIFA World Cup 2018 will be taking place in Russia from June 14th to July 15th. being played in 12 stadiums located in 11 different cities, across 4 different time zones might be difficult to work out when the games start.
Therefore, we've worked out a FIFA guide with the games' China kick-off time and an overview of places in Chengdu where you could watch the live games and what specials they offer.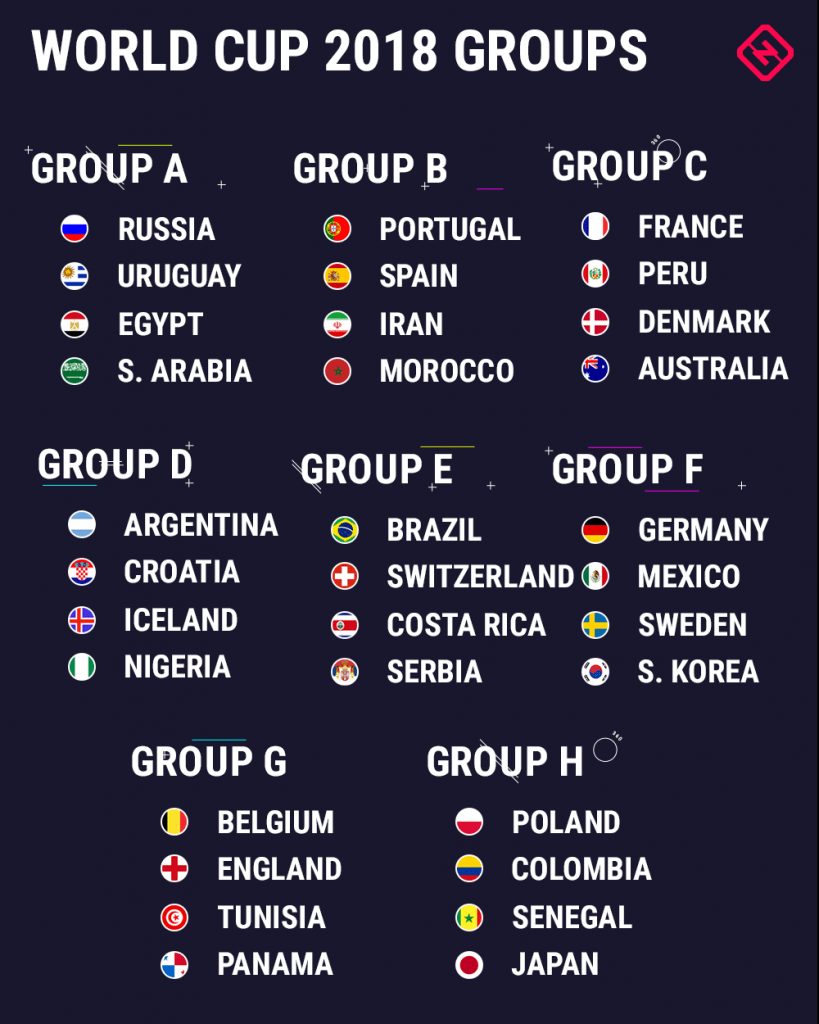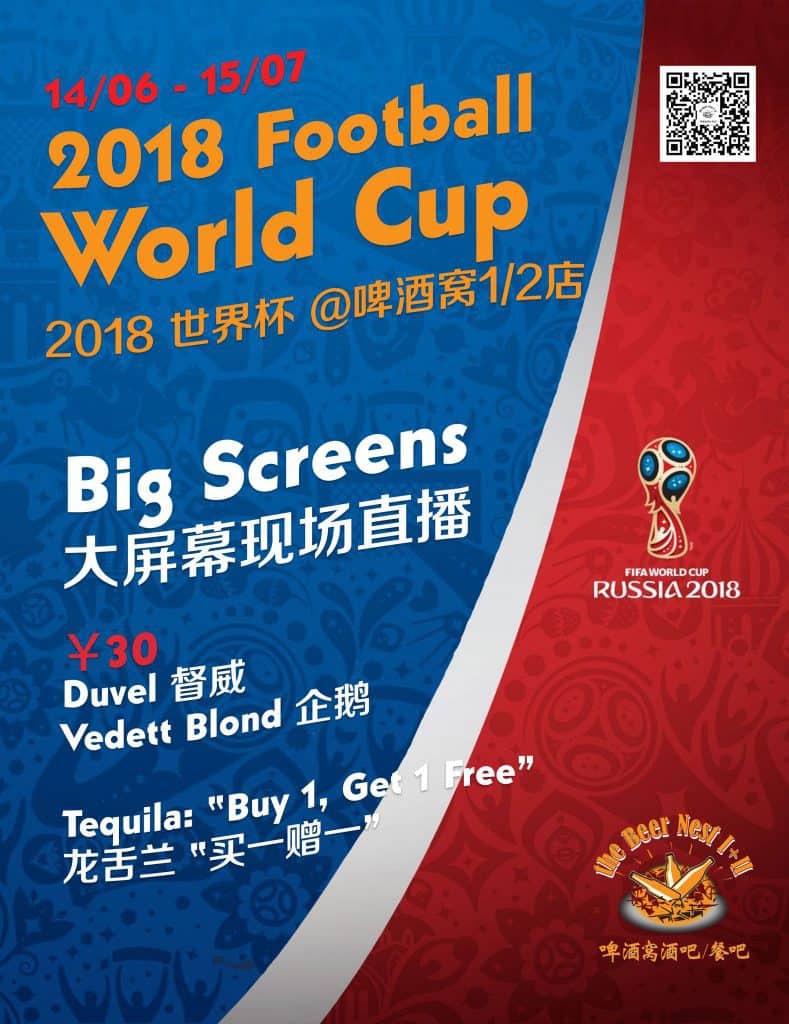 World Cup DEALS during the Games:
*Duvel 督威: 30RMB
*Draft Vedett Blond: 30RMB
*Tequila: "Buy 1, Get 1 Free"
Address:
Beer Nest I [2 screens + 1 TV, Chinese Commentary]
Jinxiu Road 34 – 7 (Across Poly Center Ping'an bank) 啤酒窝酒吧, 武侯区锦绣路34号附7号 (棕北国际楼下)
Beer Nest II [2 screens, English Commentary]
Renmin South Road Section 4 – No. 48-32, Master Commercial Street 人民南路四段48号附32号,首座万里商业街1楼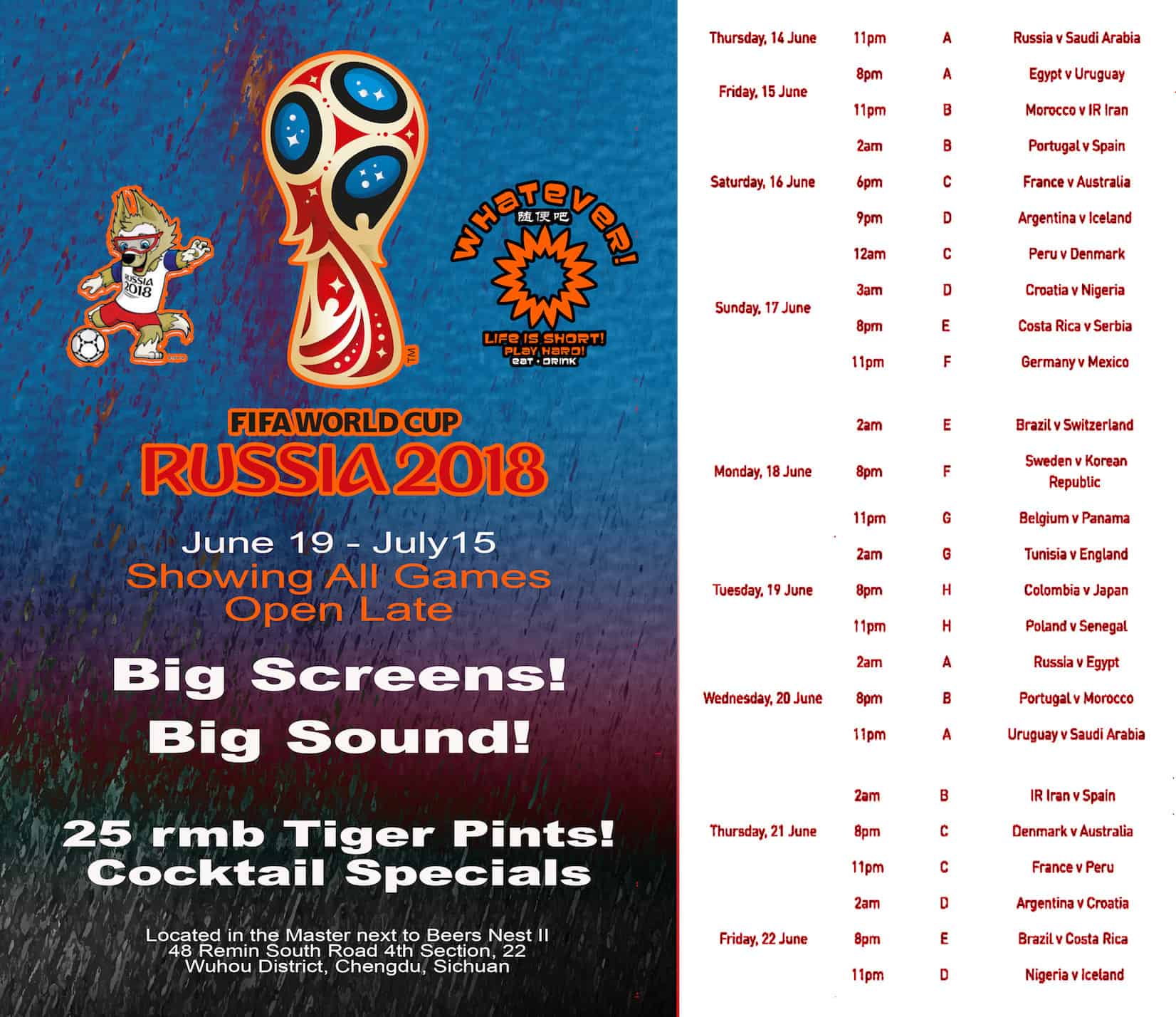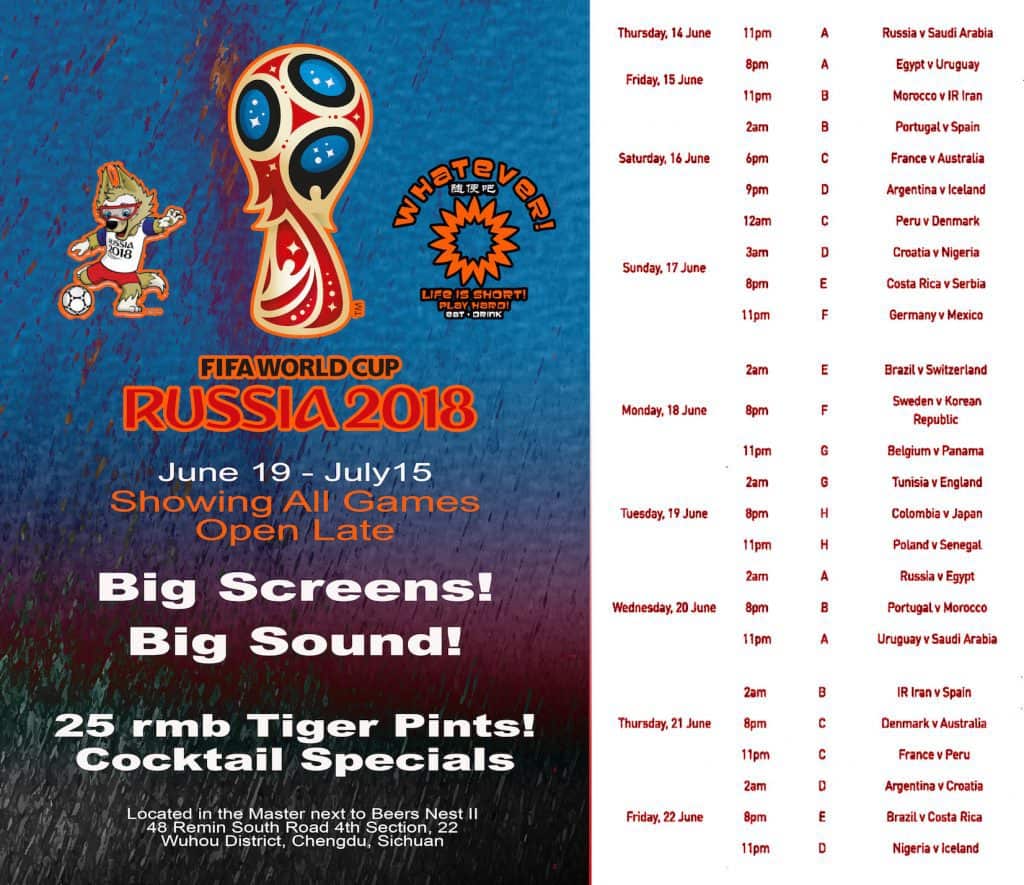 Big screens!
Big sound!
25 RMB Tiger Pints!
Cocktail specials!
Address: 22, 1/F, Master Commercial St., 48 Section 4th, South Renmin Rd. 人民南路四段48号首座商业街1楼22号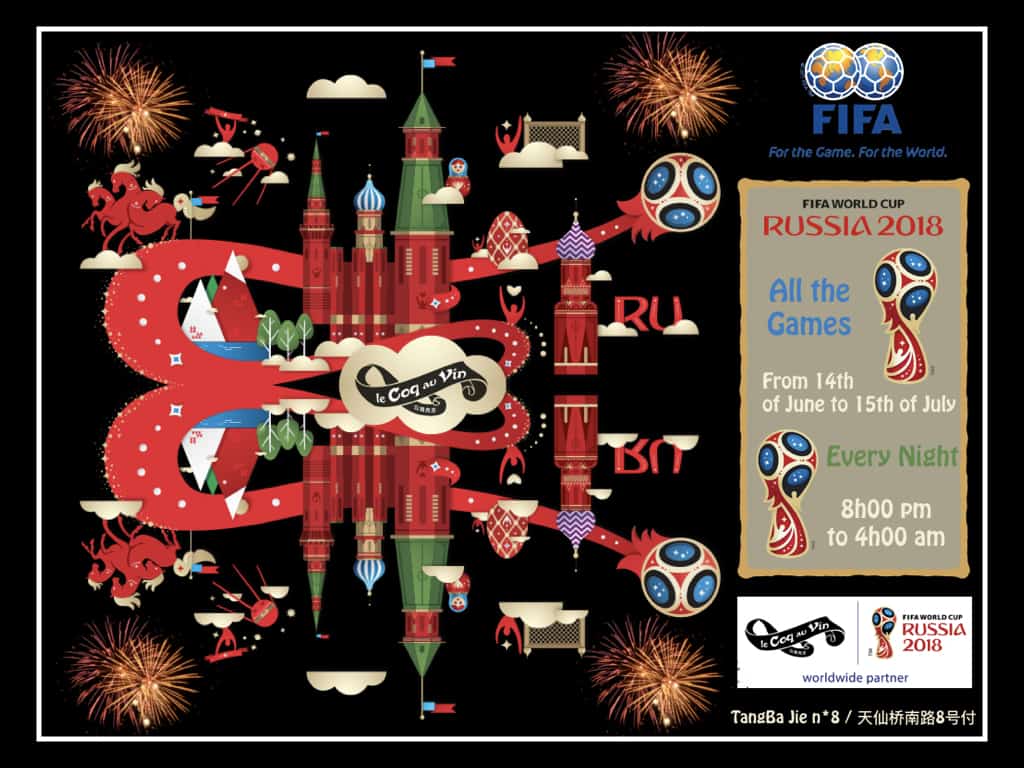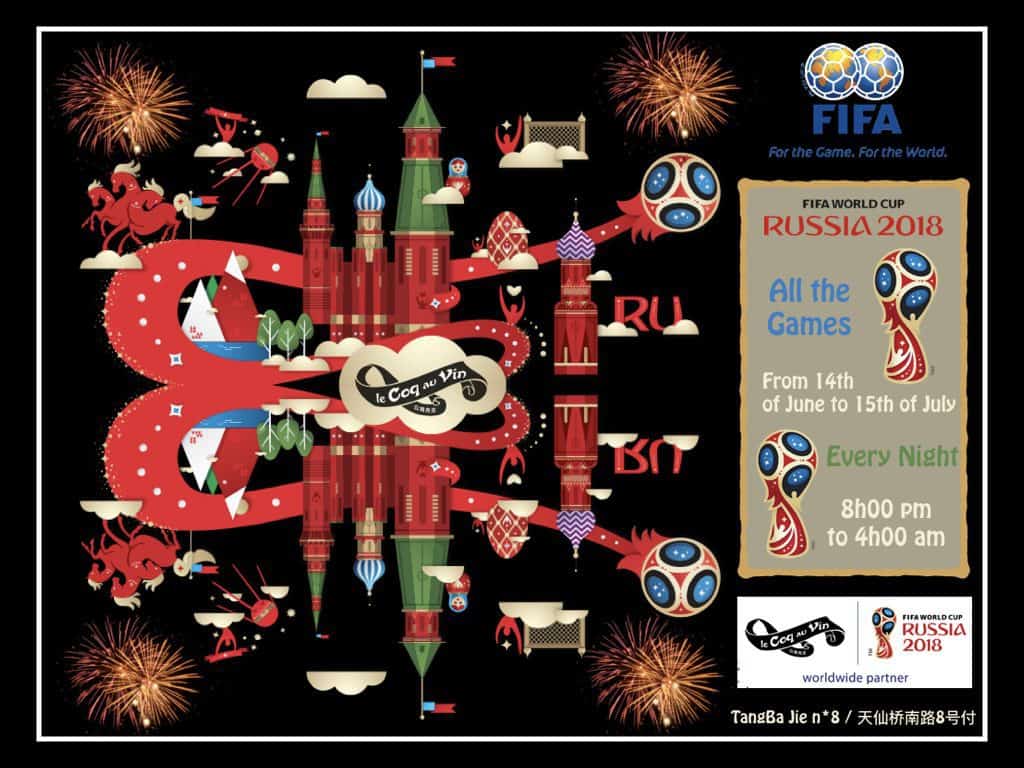 Le Coq Au Vin will show all the games, TV inside and projector outside.
Commentary in English.
Address: No.8 South of Tianxian Road, Tangba Street 锦江区镗钯街,天仙桥南路8号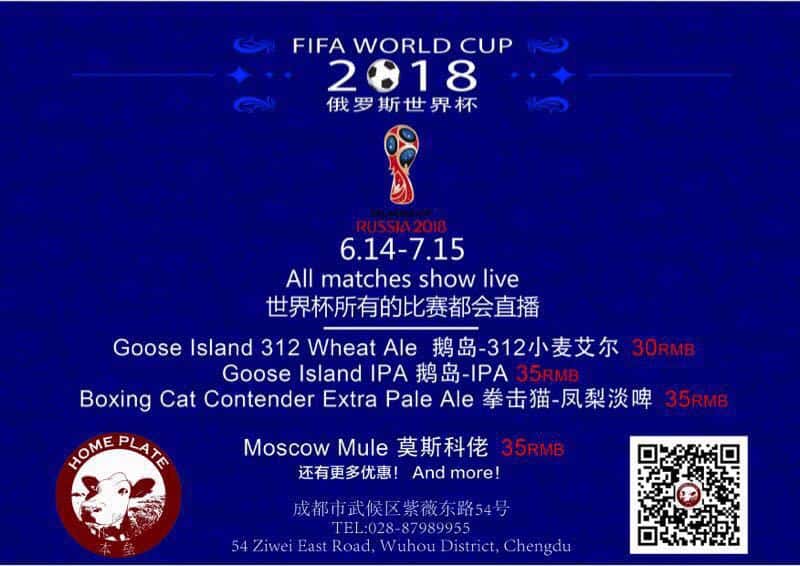 Home Plate BBQ will show ALL 64 games. Live matches and next day replays on our 2 projection screens and 3 large TVs while enjoying our drink specials:
Goose Island 312 Wheat Ale 30 RMB
Goose Island IPA 35 RMB
Boxing Cat Contender Extra Pale Ale 35 RMB
Moscow Mule 35 RMB
Address: No. 54 Ziwei East Rd., Wuhou District 武侯区紫薇东路54号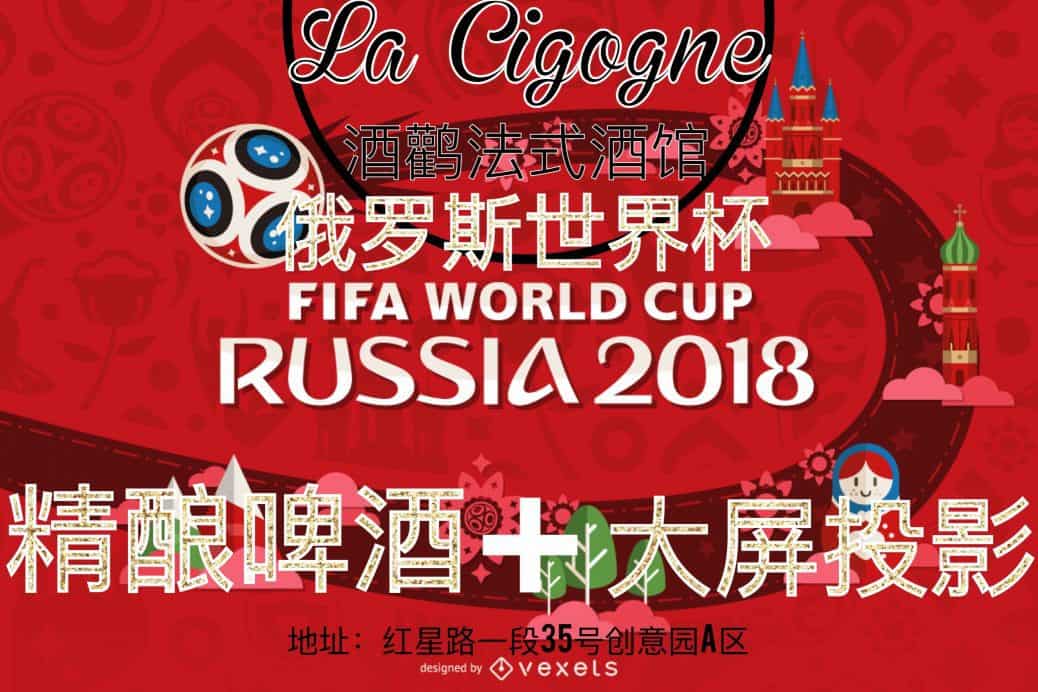 Craft beer!
Big screens!
Address: No.104 Hongxing Road, Redstar 35 building 2. 红星路一段三十五号创业园A区2号楼104号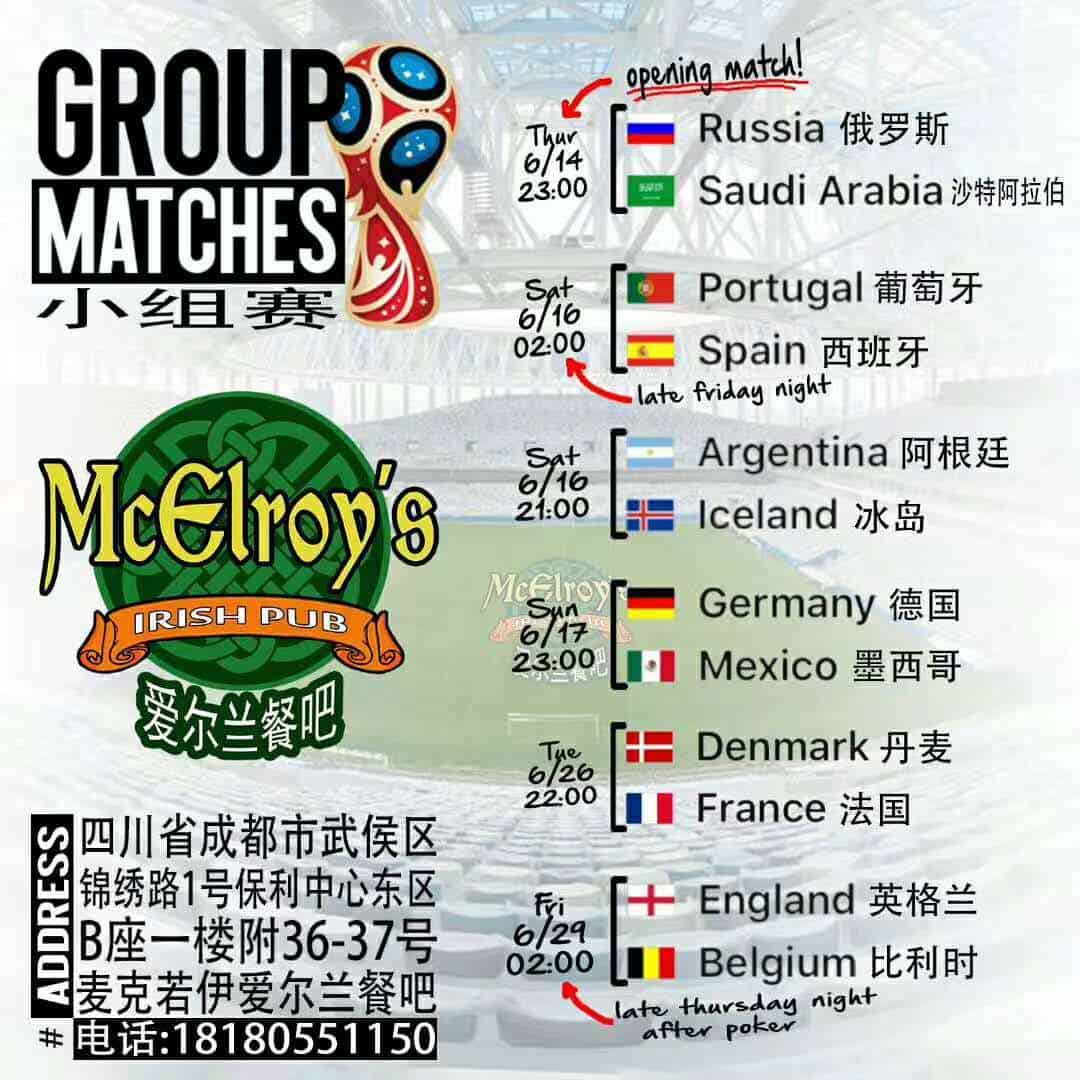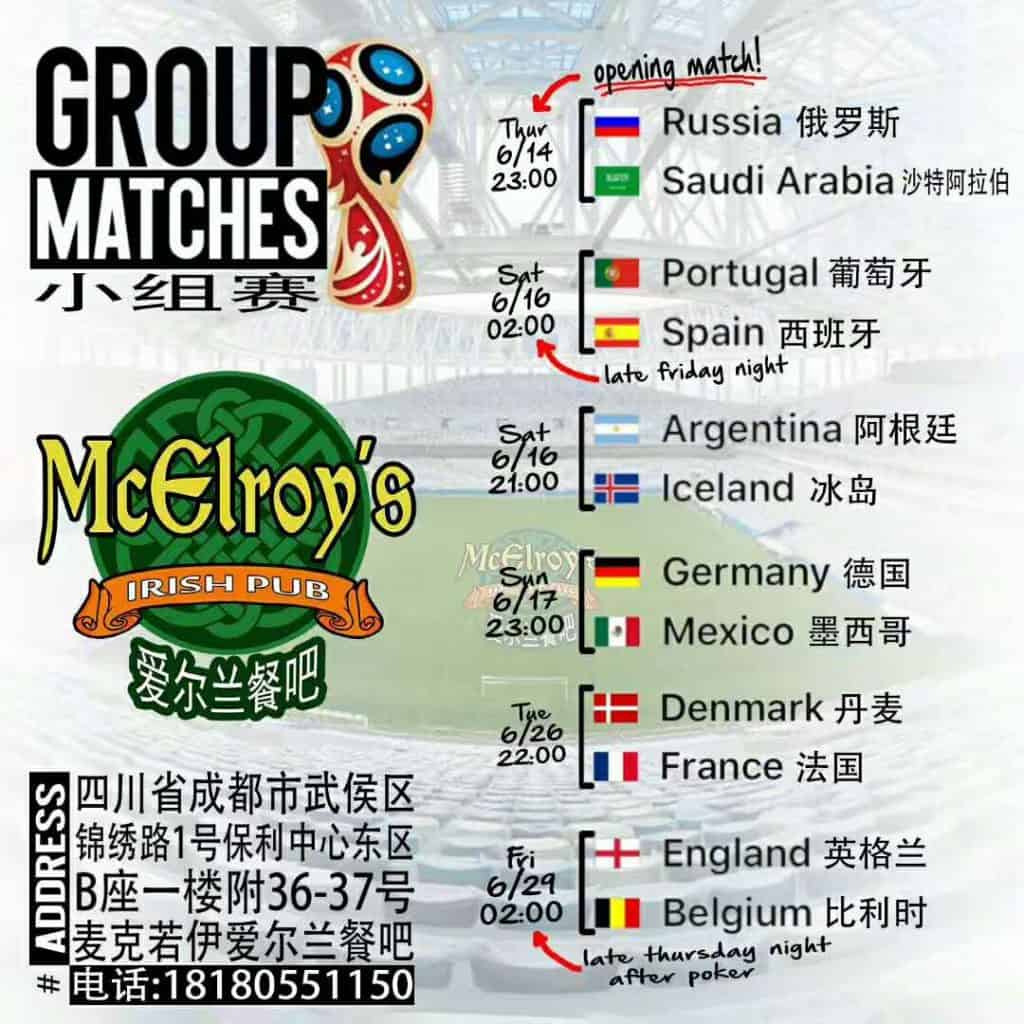 Address: 1-36/37 East Poly Centre, 1 Jinxiu Rd., Wuhou District 锦绣路1号保利中心东区商铺附36, 37号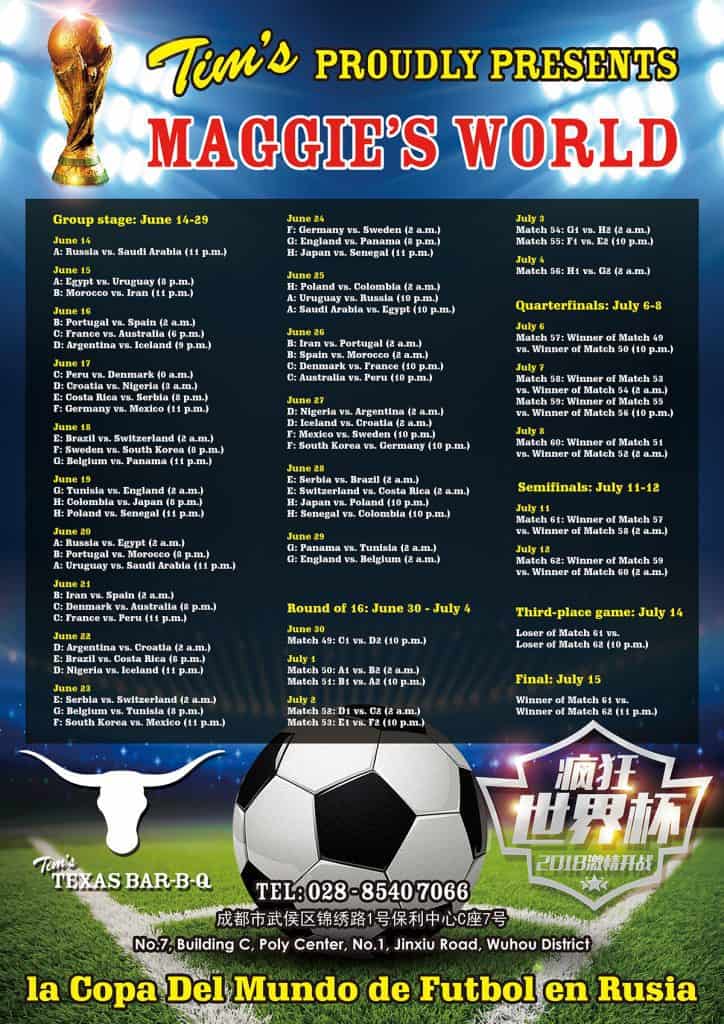 Address: No 7 Building C, Poly Centre, No. 1 JinXiu Road, Wuhou District 锦绣路1号,保利中心C 坐7号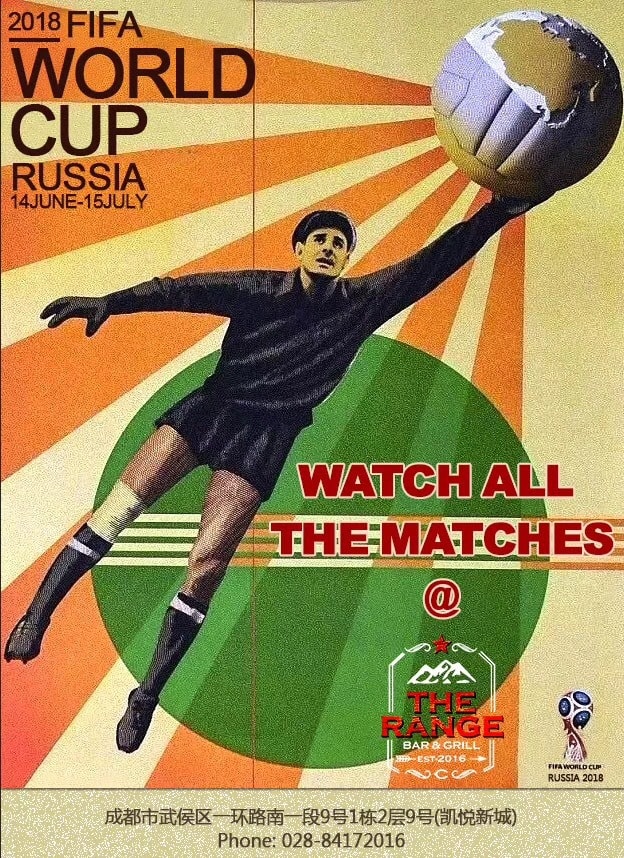 Address: Suite #9 Second Floor, #9 South First Section Building 1, First Ring Road(KaiYue New City), Wuhou District 武侯区一环路南一段9号1栋2层9号(凯悦新城)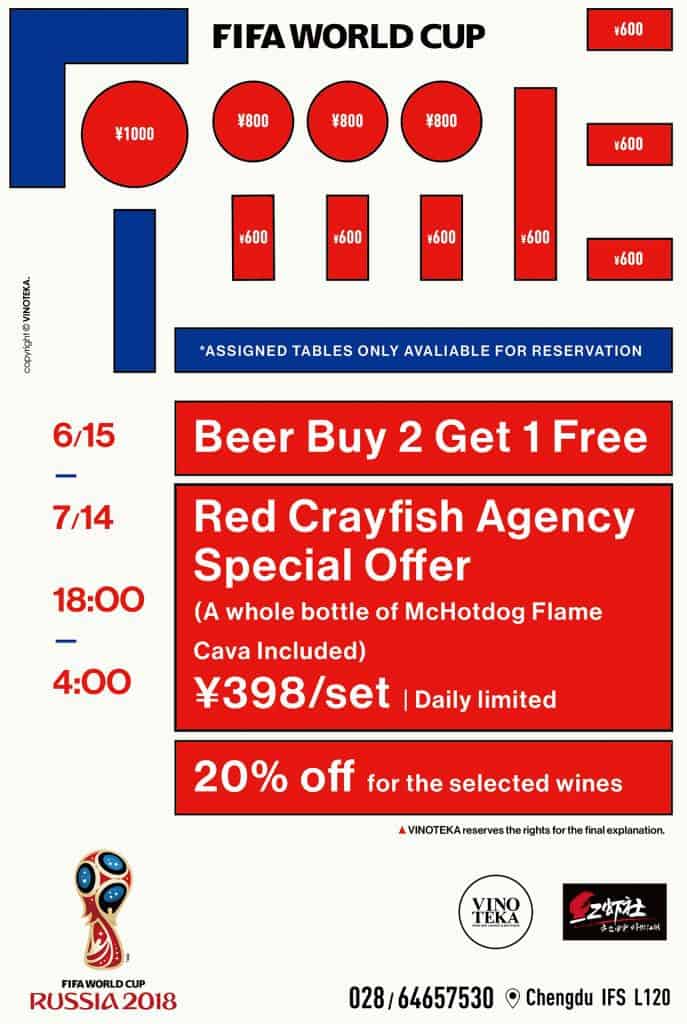 Beer buy 2 get 1 free
[Minimum spending for some tables]
Red Crayfish Agency special offer ¥398 / set
20% off for the selected wines
Address: F1 IFS [TaiKoo Li side, right left of the IFS entrance/ Niccolo Kitchen]  IFS一楼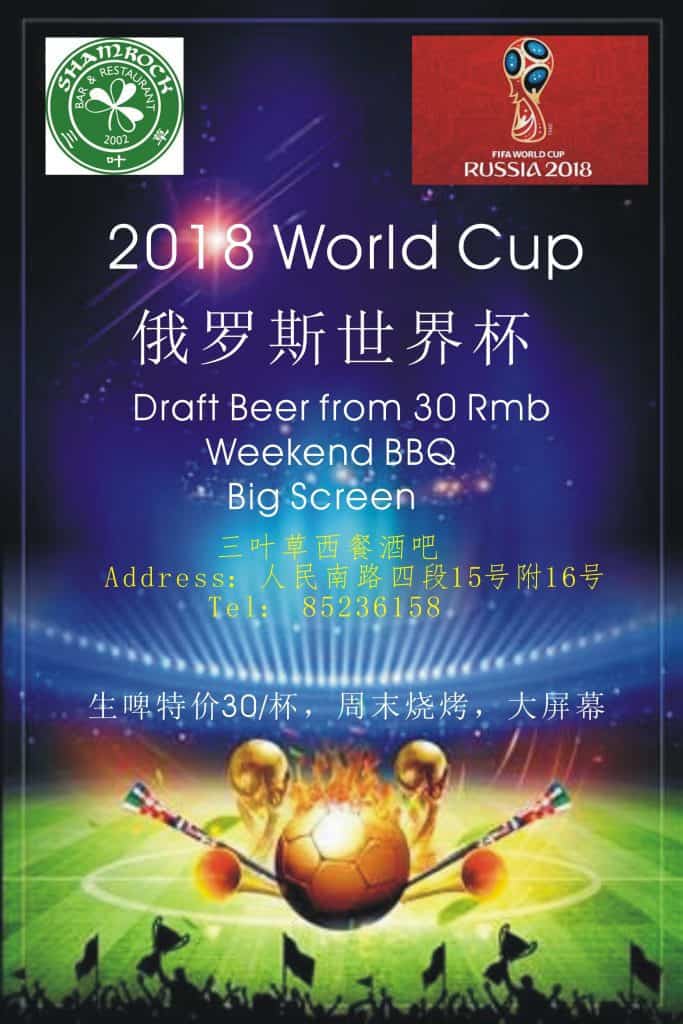 Draft beer from 30 RMB
Weekend BBQ
Big Screen
Address: 15, Sect. 4, South Renmin Rd. 人民南路4段15号
Commune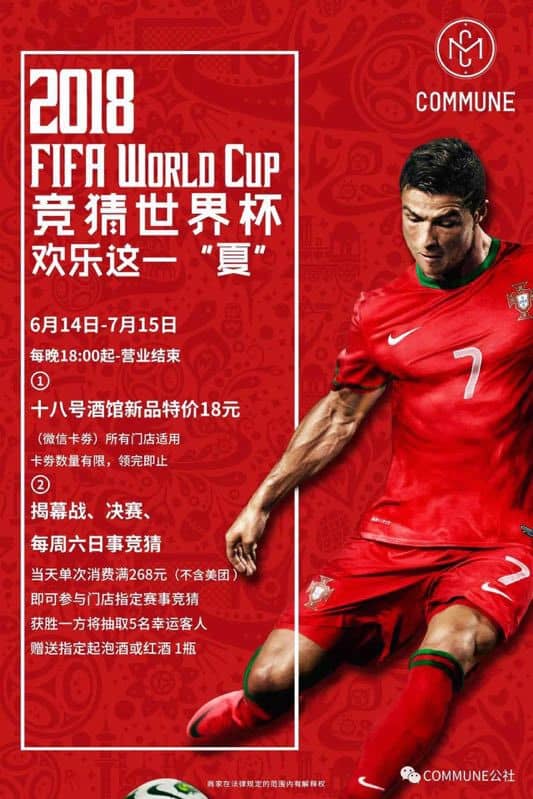 Addresses: 
No. 58 Kehua North Road Wuhou District (above Walmart) 成都市武侯区科华北路58号附1二栋二楼 (沃尔玛超市西侧)
1F, Fun2 Shopping Mall, 339 Television Tower 成都339购物广场A座一层G110-G111(沿着河边)
No. 951 Walking Street, Huijincheng, Middle section of Yizhou Rd., High-Tech District高新区益州大道中段盛邦街汇锦城步行街951号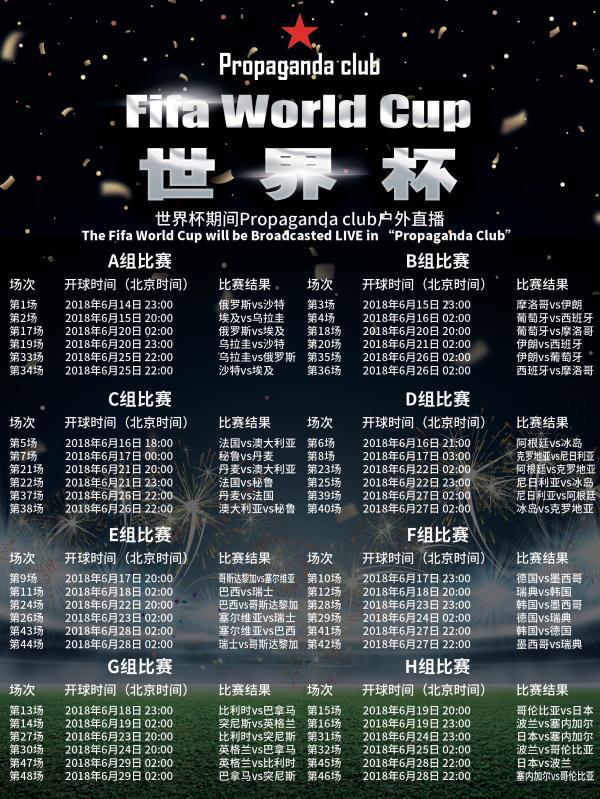 Address: 1F Fun 2 Shopping Mall [same as SPACE Club], 339 Television Tower 成华区双林路339号成都339购物中心A栋(西门)沿河一层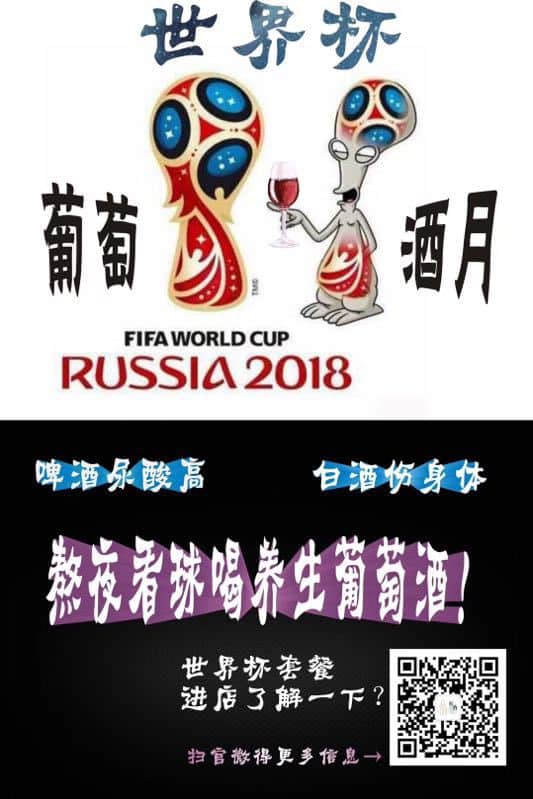 Address: No. 167-30 Yulin West Road, Gaoxin District 成都市高新区玉林西路167号附30号
 有独空间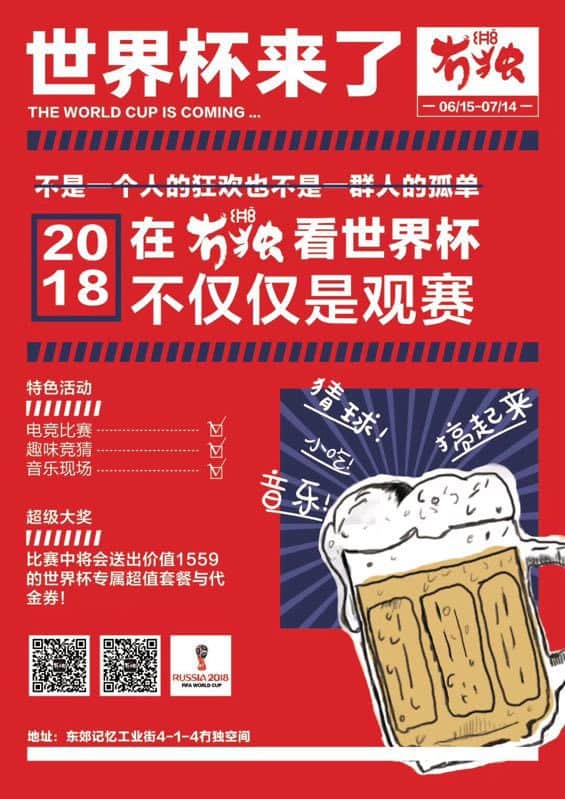 Address: #4-1-4 Gongye St. Dongjiaojiyi 东郊记忆工业街4-1-4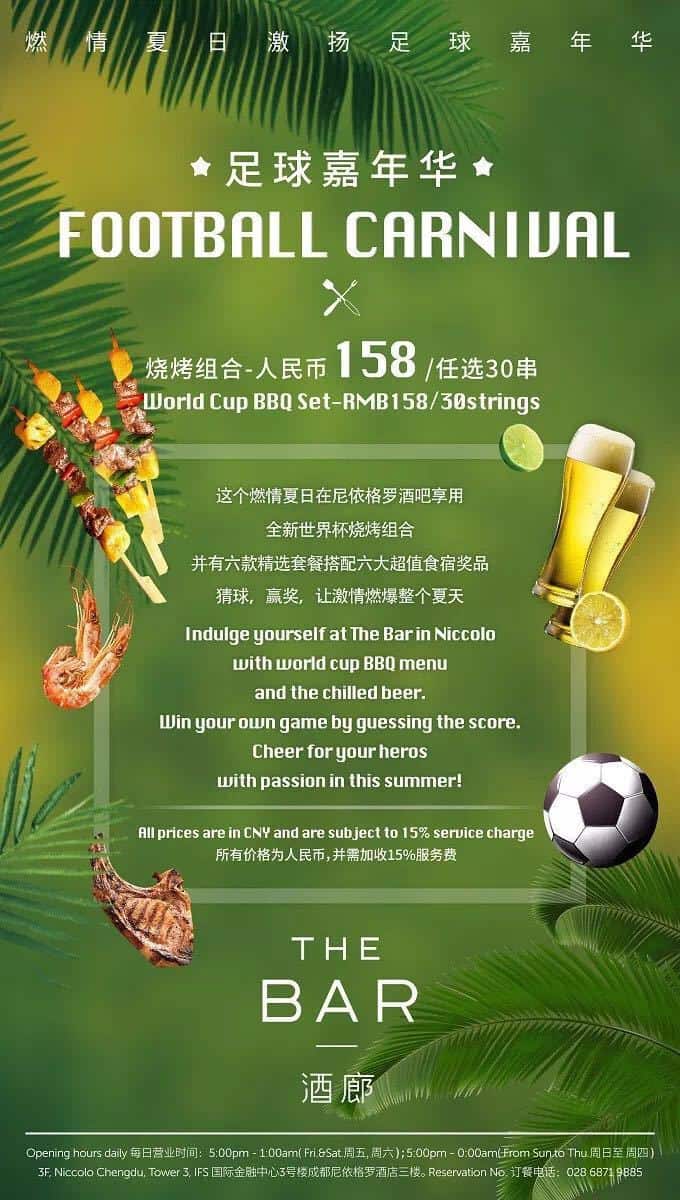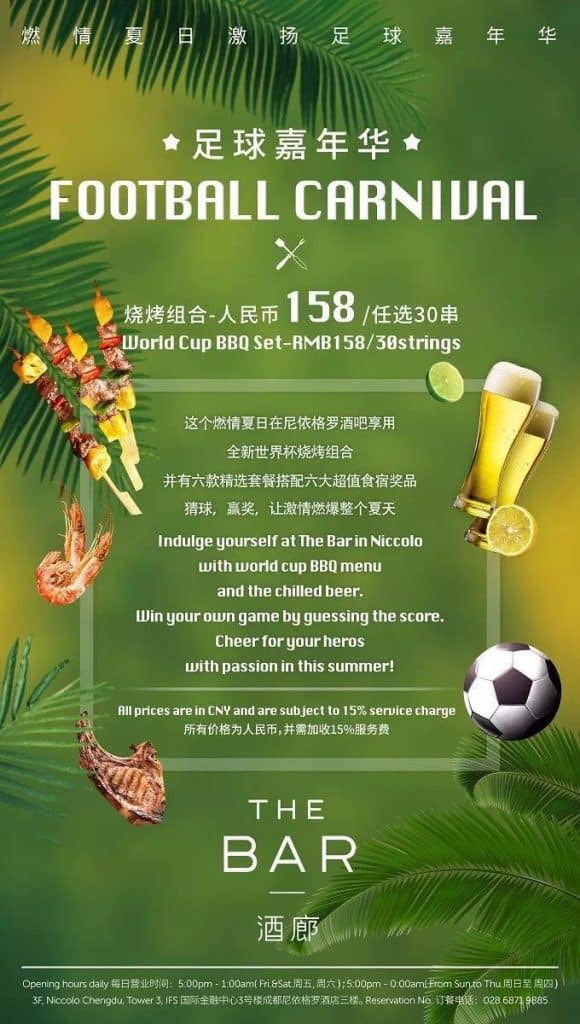 World Cup BBQ Set – RMB 158 / 30 Strings
Win your own gameby guessing the score.
All prices are in CNY and are subject to 15% service charge
Address: 3F, Niccolo Chengdu, Tower 3, IFS IFS国际中心3号楼成都尼伊格罗酒店3楼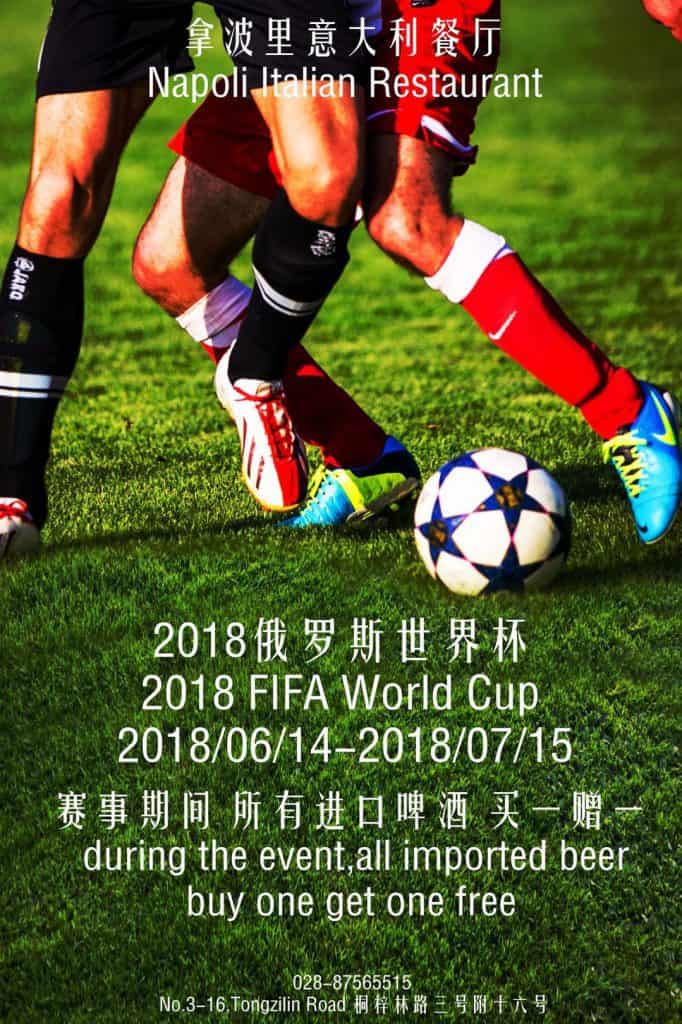 During the event, all imported beer buy one get one free!
Address: Tongzilin Road No 3 – B 16 (Opposite to ABC bank, near Europe City's side door) 武侯区桐梓林路3号付16号(欧城侧门农业银行对面)
The Leg and Whistle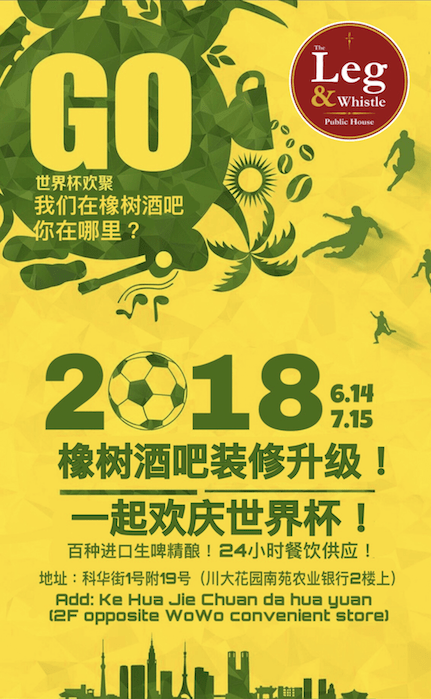 Big Screen, English Commentary.
Address: #1-19 Kehua St. 科华街1号附19号 (川大花园南苑农业银行2楼山)
Long Live House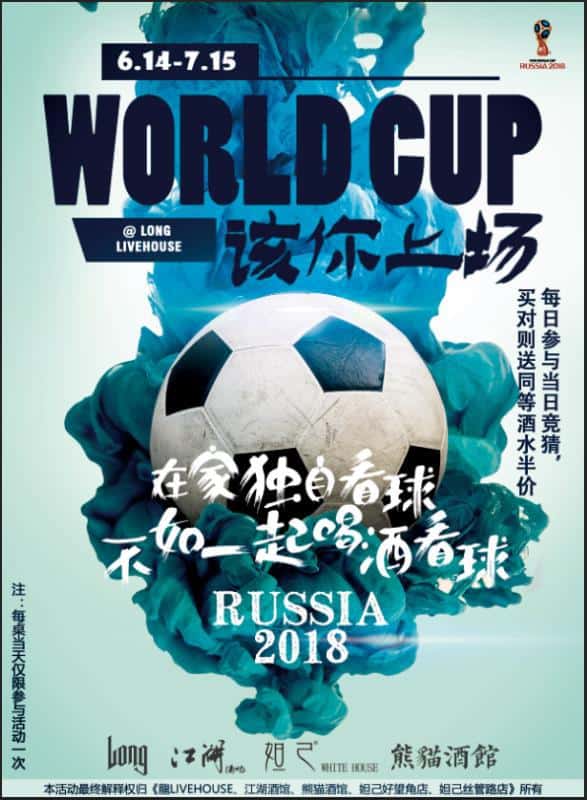 Address: #1-23, Building 1, No. 2 south section of the first Ring Road 一环路南1段-2号-1栋-1楼-23号博纳酒店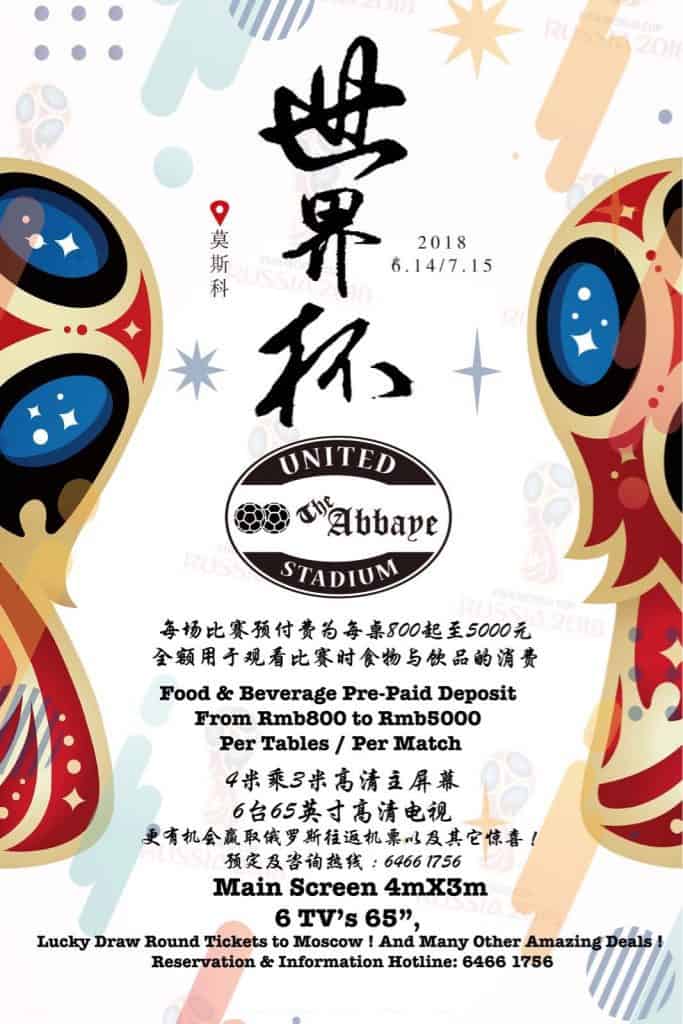 Food & Beverage Pre-Paid Deposit
From 800 RMB to 5000 RMB per Table / per Match
Main screen 4m x 3m
6 TV's 65"
Lucky Draw round tickets to Moscow! and other amazing deals!
Address: 1337, 1/F, Sino-Ocean Taikoo Li, 8 Middle Shamao St. 远洋太古里一层1337号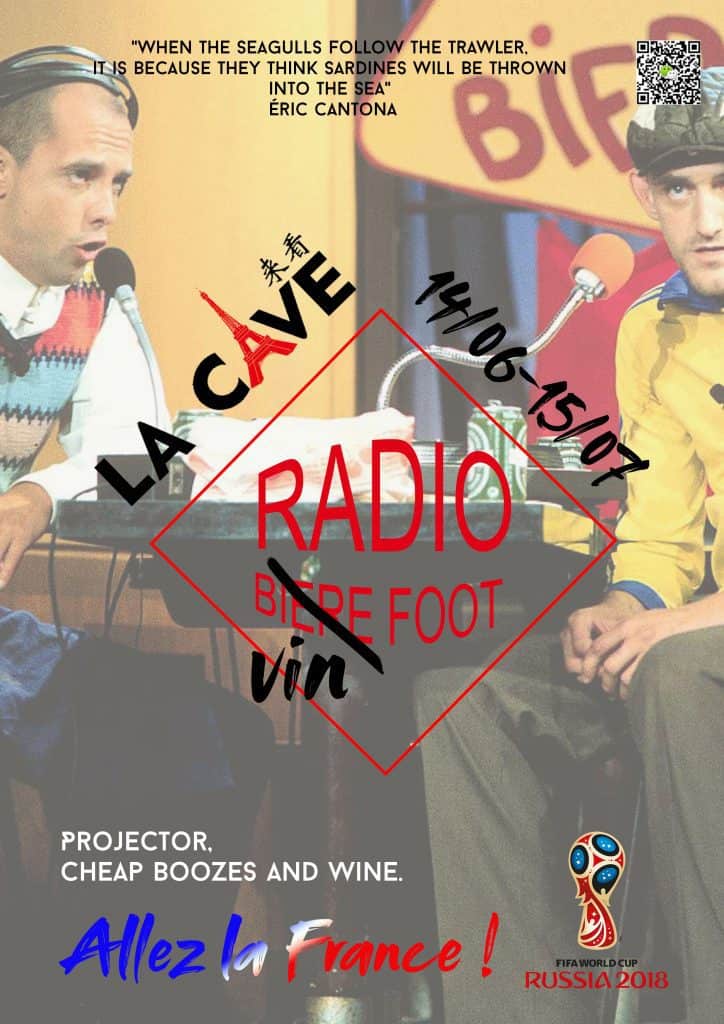 Allez la France!
Address: 2F, Master Commercial Street, 48-220, Section 4th, South Renmin Rd. 人民南路四段48号附220号首座二楼
AR Club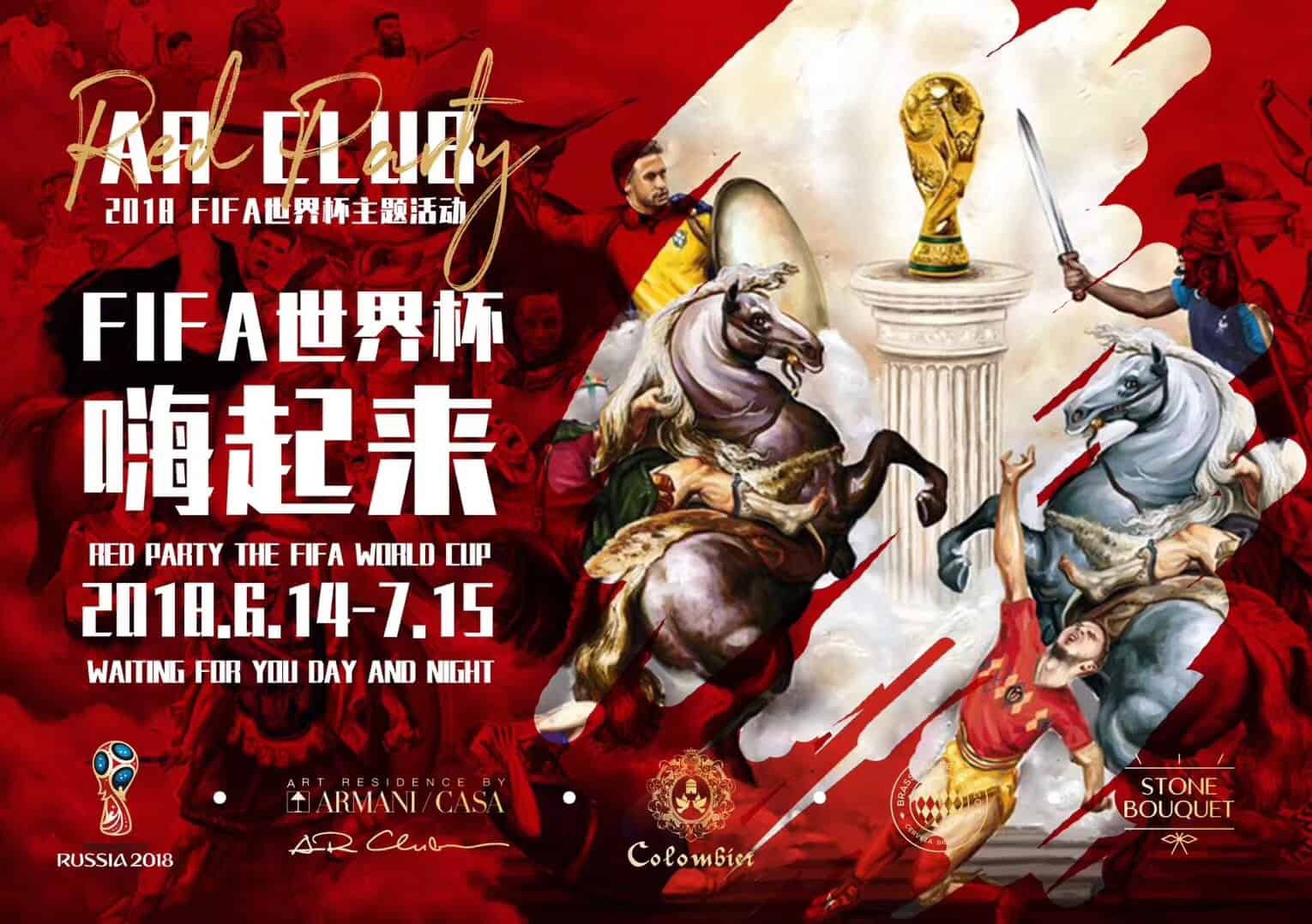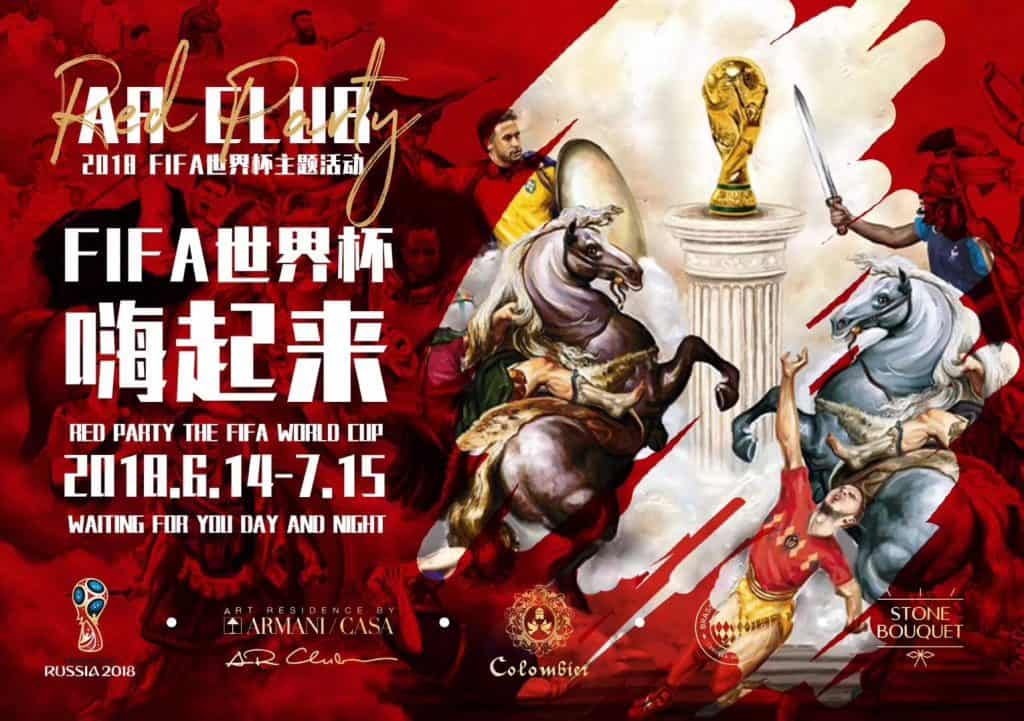 Address: 1F, No. 18 Second Shenghe Rd., north section of Yizhou Ave., High-Tech District 高新区益州大道北段盛和二路18号F1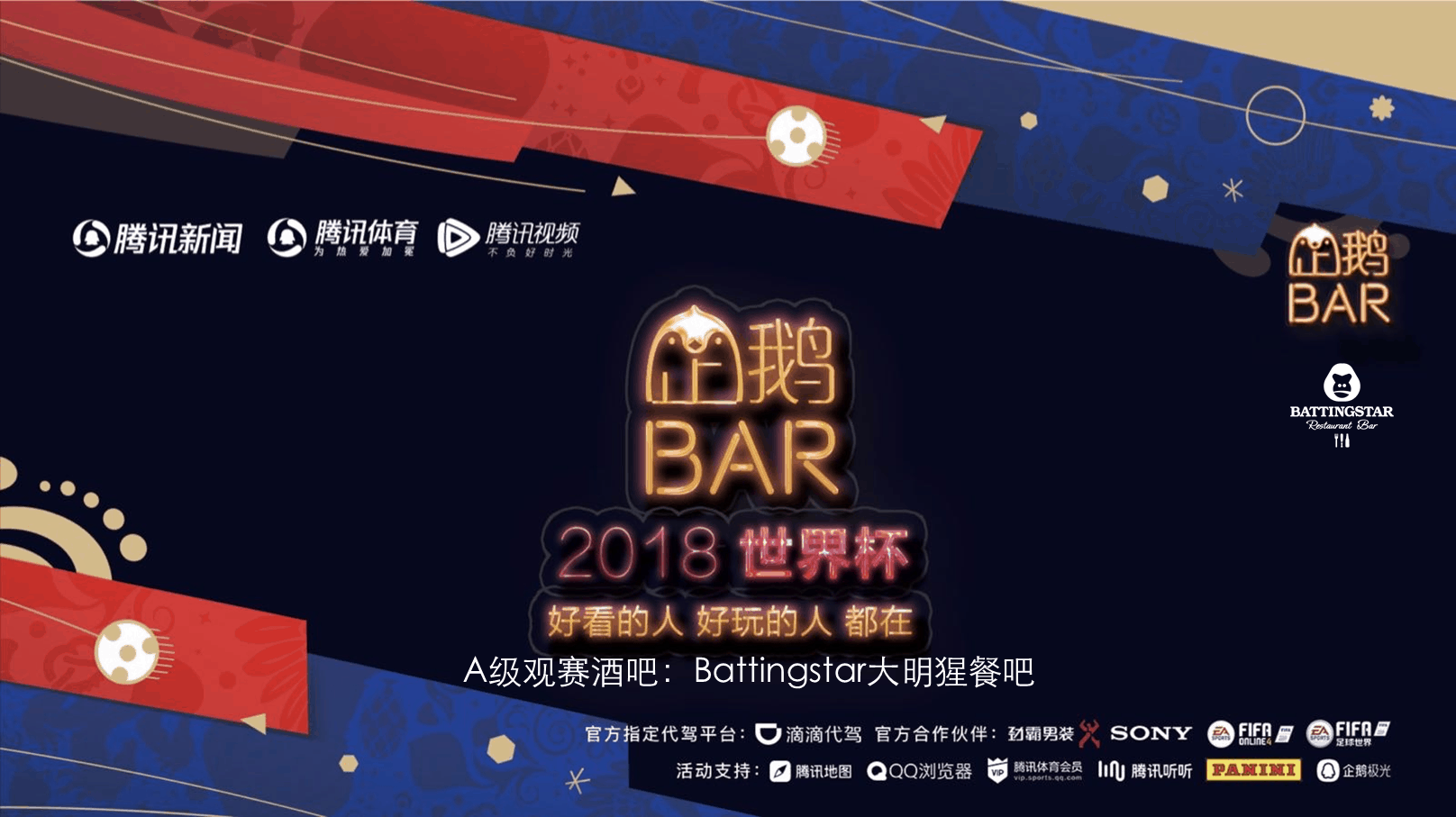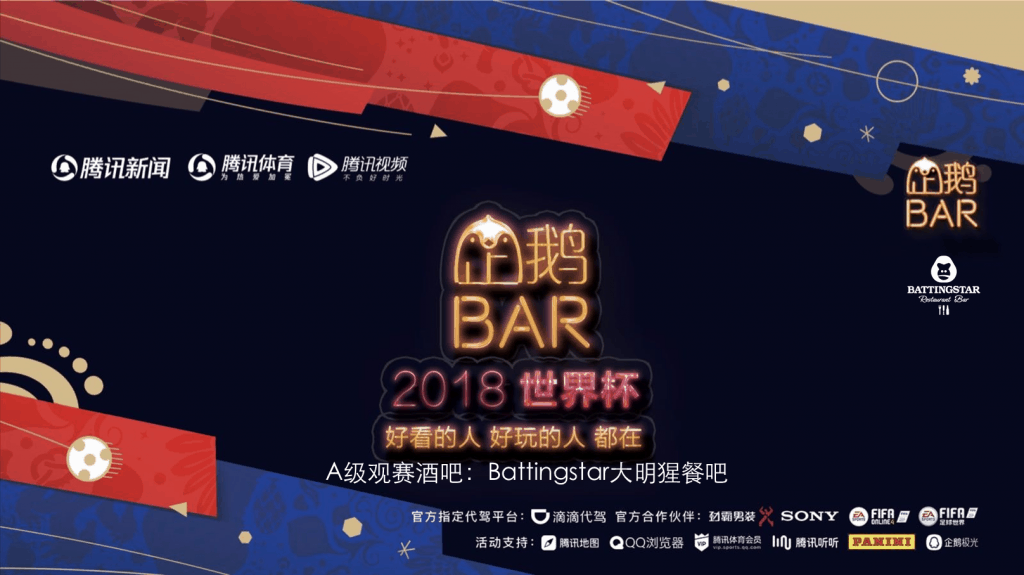 Address: North Beibei Road No. 1, West Village, Building 5, 5F, 510-3 贝森北路1号西村大院3好楼5楼5-510-2,510-3室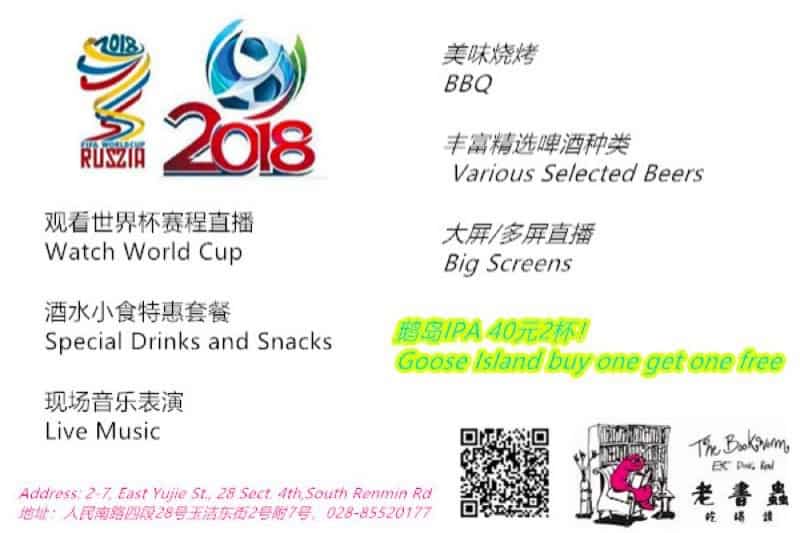 Big Screens
Special Drinks and Snacks
Live Music
Address: 2-7, East Yujie St., 28 Sect. 4th South Renmin Rd. 人民南路四段28号玉洁东街2号附7号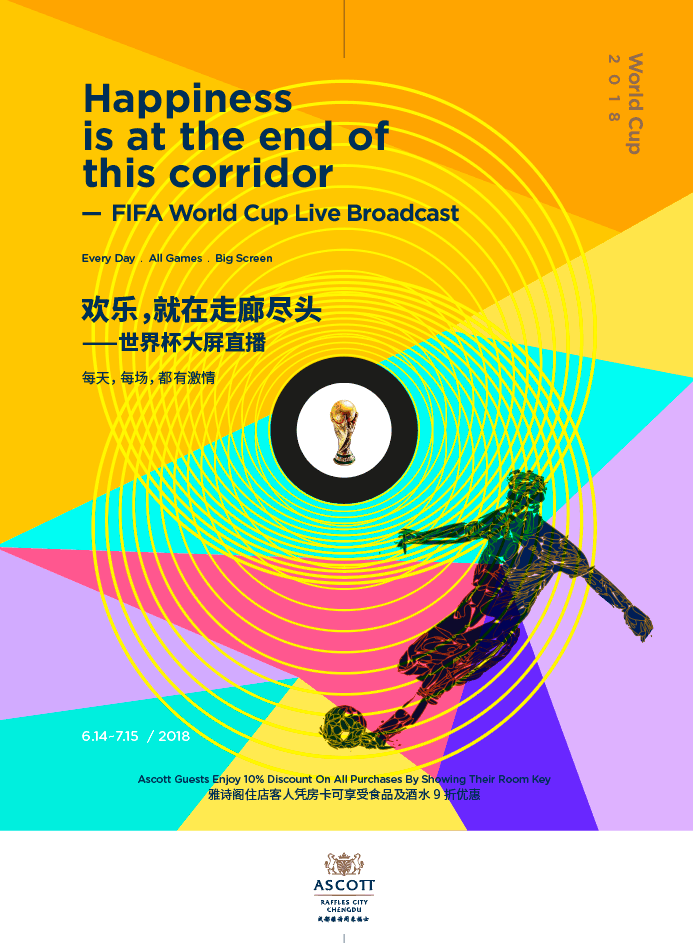 All games, big screen!
Address: 1F, Ascott Raffles City Chengdu, 3 Section, 4th South Renmin Rd. 人民南路四段3号雅诗阁1楼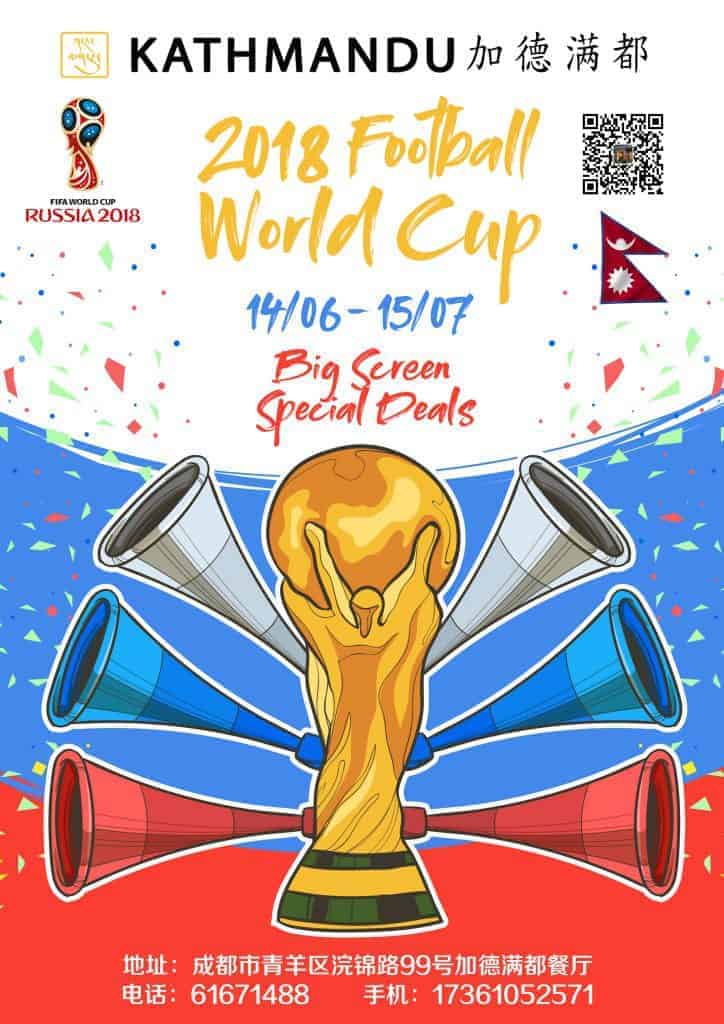 Big screens!
Special deals!
Address: 99 Huan Jin Road, Qing Yang District, Chengdu 成都市青羊区浣锦路99号
Also Broadcasting the games:
-The Underground
-FLAIR @ The Ritz-Carlton
-M99
-Nanmen Craft Beer Pub
And here are the platforms which will be showing World Cup games live in China.
CCTV

Website: http://tv.cctv.com/live/cctv5
or search 央视影音 in AppStore
China Central Television, China's state-run network of television channels, will be broadcasting the games on CCTV-5, as they have for many previous editions of the World Cup. CCTV-5 is Chinese state television's main sports channel, but since there will be many instances of multiple games taking place at the same time during the World Cup, games will also be shown live on CCTV-1, 2, 7, 13, and 22. CCTV has long been China's destination for live television broadcasts of the World Cup, having begun broadcasting the competition in 1970 as Beijing Television.
Youku

Website: www.youku.com
or search youku 优酷 in AppStore
Video-streaming service Youku (优酷) recently acquired the rights to broadcast the 2018 World Cup in China from CCTV. This is the first time that CCTV has allowed other streaming services to share its World Cup broadcasts, and this has allowed the games to be widely viewed online, in addition to on TV. All 64 matches of the World Cup will be available towatch on Youku's website, its mobile and PC apps, and on smart TVs.
Migu
Website: http://www.miguvideo.com
Livestreaming platform Migu (咪咕直播) was actually the first digital platform to receive broadcasting rights to the World Cup from CCTV, and similar to Youku, Migu will show all 64 games live on its mobile and PC apps. Youku and Migu are expected to be the only two platforms in China that will share broadcasting rights for the World Cup with CCTV.
Watching the World Cup will be more convenient than ever, as Youku and Migu provide greater digital reach towards younger Chinese viewers than CCTV does, allowing the games to be broadcast to a more diverse audience in a variety of different ways. Both platforms are also more skilled at producing intriguing content surrounding the games, driving greater interest and engagement in those platforms even during downtime between games. CCTV allowing other platforms to begin streaming a competition as big as the World Cup thus marks a major milestone in the history of sports and digital media in China.
And there's also a WeChat account to watch the games!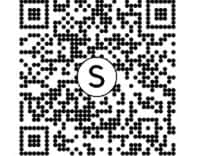 WeChat Account: Sporty
It's called Sporty and it's pretty handy. It broadcast a variation of sports like football, baseball, rugby, cricket, basketball, motorsport, etc.
First, extract this QR to follow their Official Account. Then, tap the option to "Open Sporty", and you're ready to go.