Whether this weekend is about resurrection, Ramadan…. or bread that isn't risen – for you, we all could use a reason to come together, with friends and loved ones, after a shaky few weeks in the city.
Many restaurants, and hotels are pulling out all the stops for their Easter weekend brunches. It may not be a bank holiday here – but we can still indulge in some daytime drinking, chocolate eggs, and spring delicacies, to get that festive feeling, even though we're far from home, and a Cadbury cream egg may not be on the cards.
Happy Easter, stay safe and stay sane!
If you use the MiniProgram, click the posters to enlarge
April 9: The Big Chengdu Easter Brunch
The brunch at Fairmont Chengdu has reached legendary status in the city, winning the 2022 Chengdu-Expat Award for Best Brunch! It's known for having out-of-this-world food, great vibes, and free flow bubbles. After our third SOLD OUT brunch event at Christmas, we are once again partnering with Fairmont Chengdu on Easter Sunday 9th April for The Big Chengdu Brunch Vol. 4!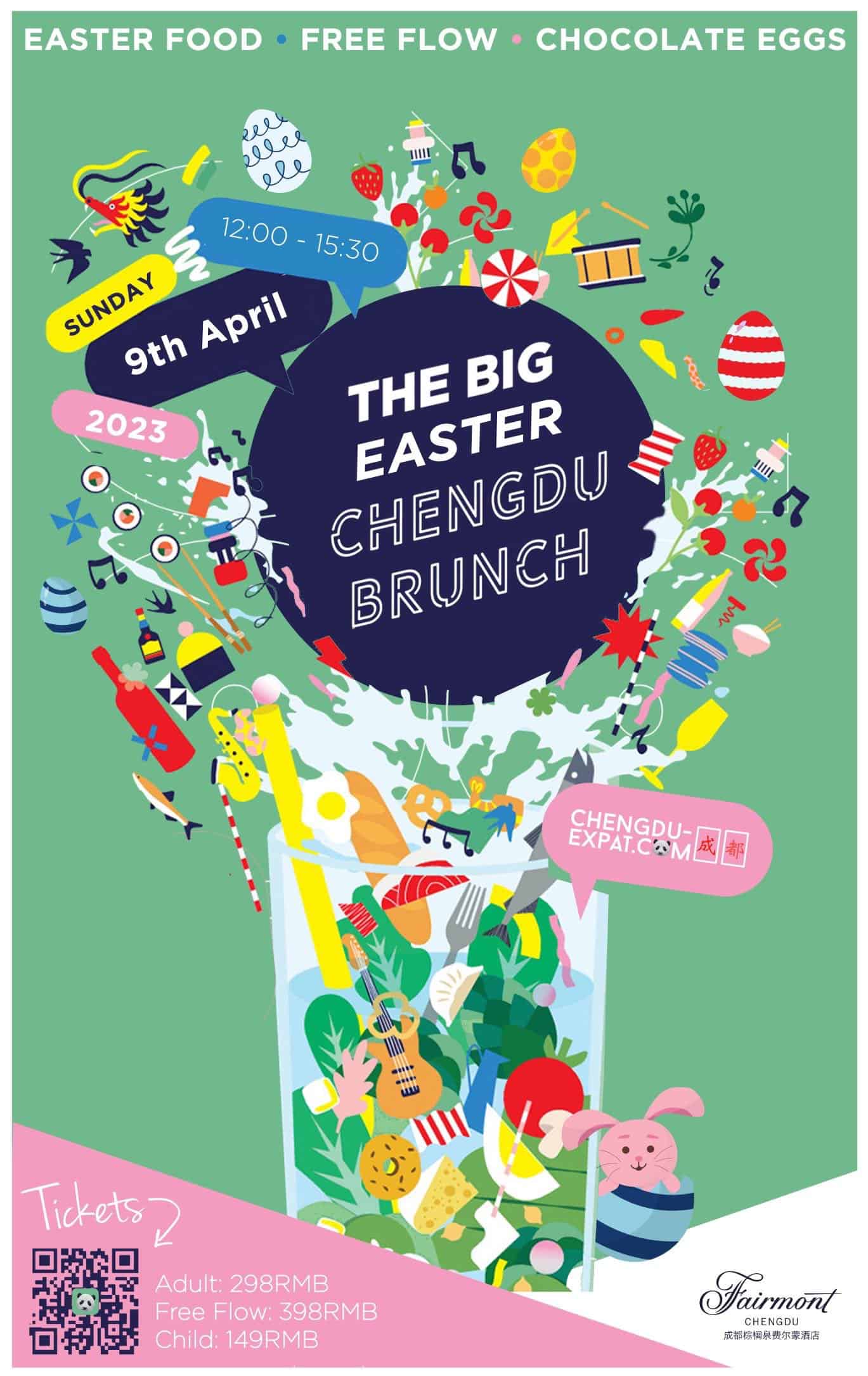 Alan Smith leading the culinary/ service team will serve a wide array of deliciousness, featuring all your EASTER favorites, such as Spring lamb, chocolate eggs, fresh sushi, a cheese counter, all the breakfast trimmings, beautiful cuts of meat, and more. The creative Chefs whip up amazing culinary creations right in front of you!  You can enjoy seafood like freshly shucked oysters, mussels, crabs, salmon, and seasonal clams. The made-to-order main courses offer some of the city's best dining experiences.
When 
Sunday, 9th April 2023
12:00 – 15:30
Tickets
298RMB /adult
149RMB /child (6-12y)
398RMB/ person (incl. alcoholic beverages free flow)
RSVP
Scan the QR code below or click here
Please RSVP early, as spaces are limited.
👇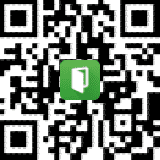 Where 
Spectrum, at Fairmont Chengdu
269 Tianfu Middle Avenue, Hi-Tech Zone
Metro Line 1, Century City, Exit D
成都棕榈泉费尔蒙酒店
高新区天府大道中段269号
---
April 9: Easter Egg Hunt & Painting @GILI'S Restaurants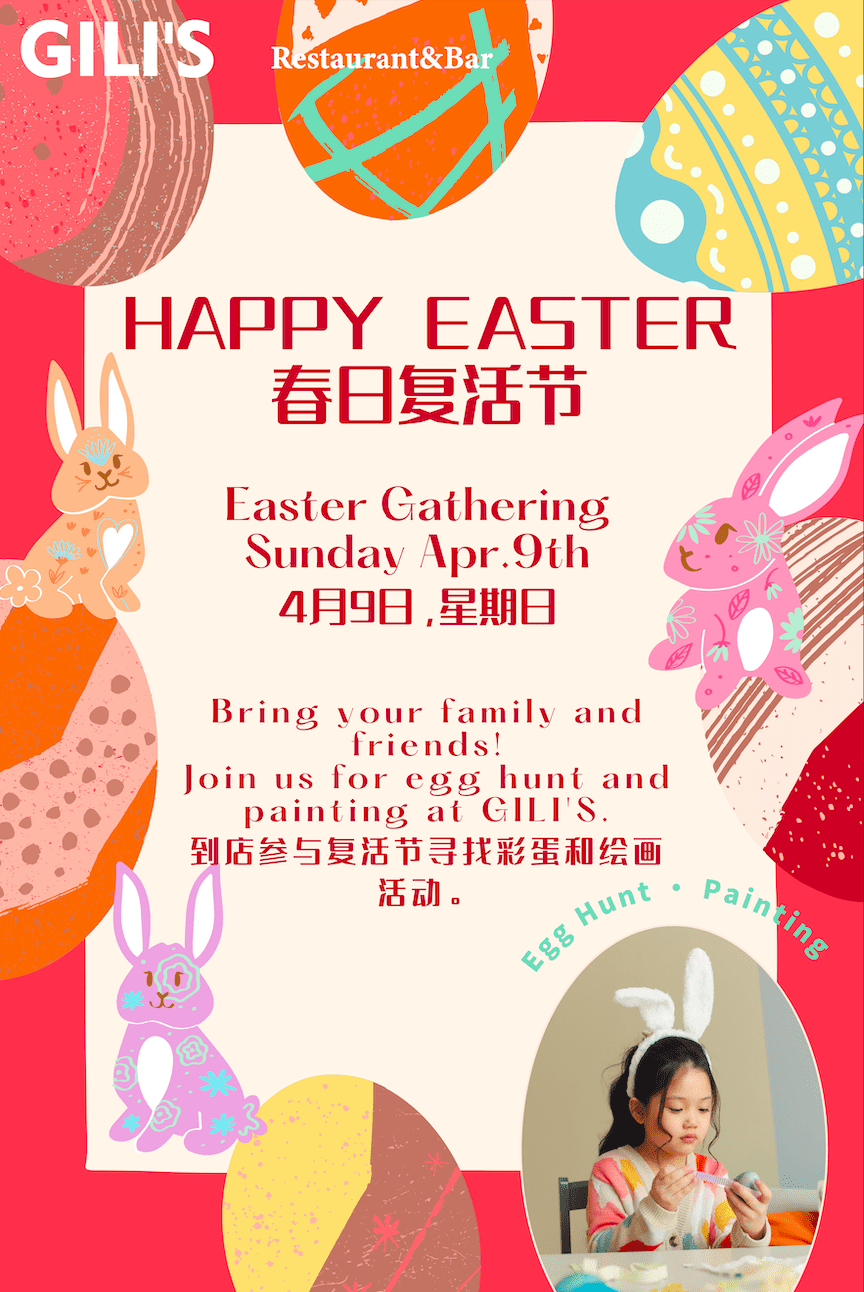 Date/ Time:
April 9th, 11:00-15:00
Price:
Free
Addresses:
GILI'S Restaurants and Bars
3 Locations: Tongzilin, LuxeLakes and TXT
Tel.:
18180775015
---
Easter Brunch @TIVANO Temple House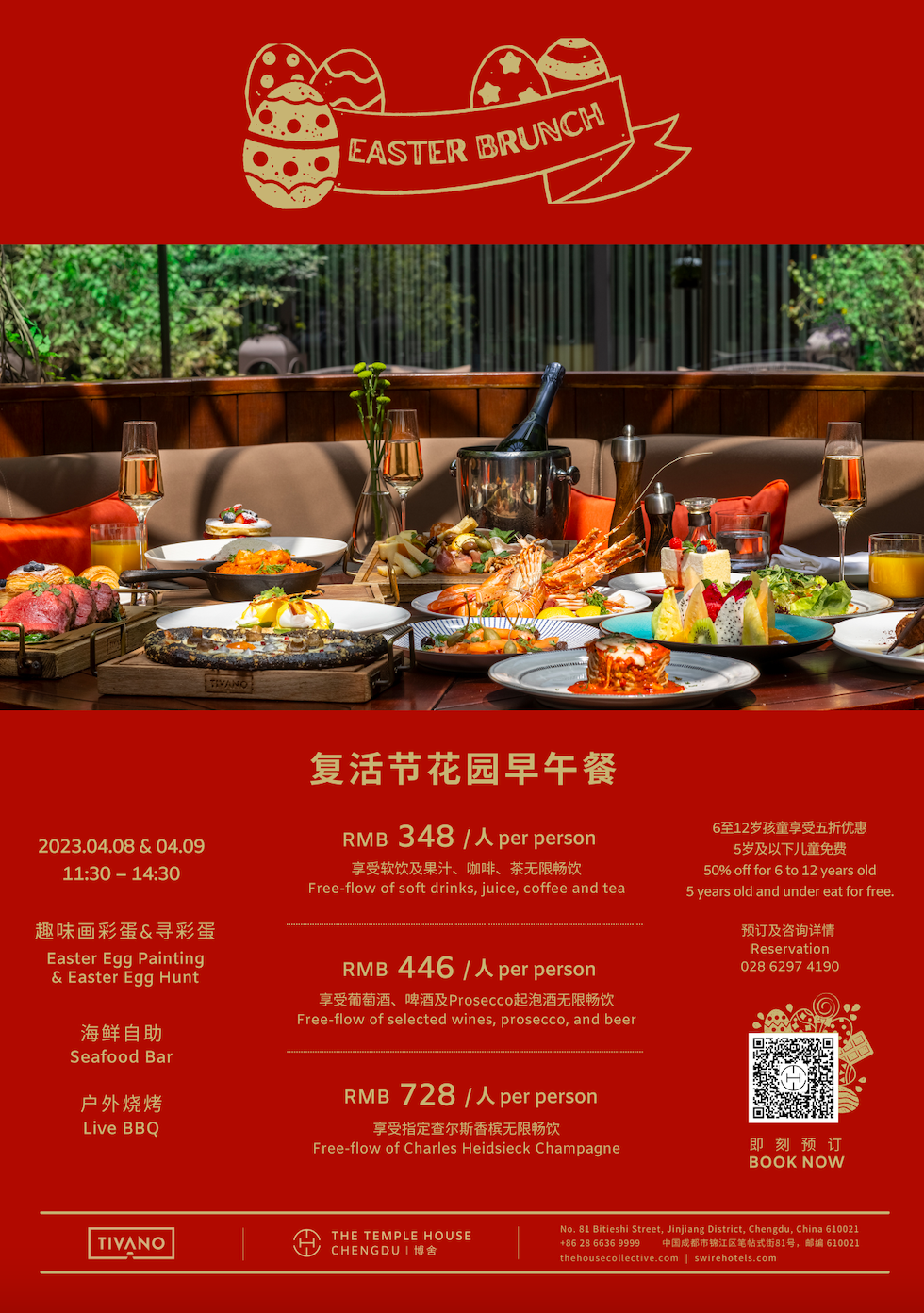 Easter Egg painting & Easter egg hunt.
Seafood bar.
Live BBQ.
Date/ Time:
April 8-9, 11.30 – 14.30
Price:
For Adults
Standard: 348RMB (free flow of soft drinks, juice, coffee and tea)
446RMB (free flow of wines, prosecco, and beer)
728RMB (free flow of Charles Heidsieck Champagne)
For Kids
6-12 years old: 50% off
under 5 years old: free
Address:
 81 Bitieshi Street, Jinjiang District
锦江区笔帖式街81号
Tel.:
028-62974190
---
Easter Brunch @St. Regis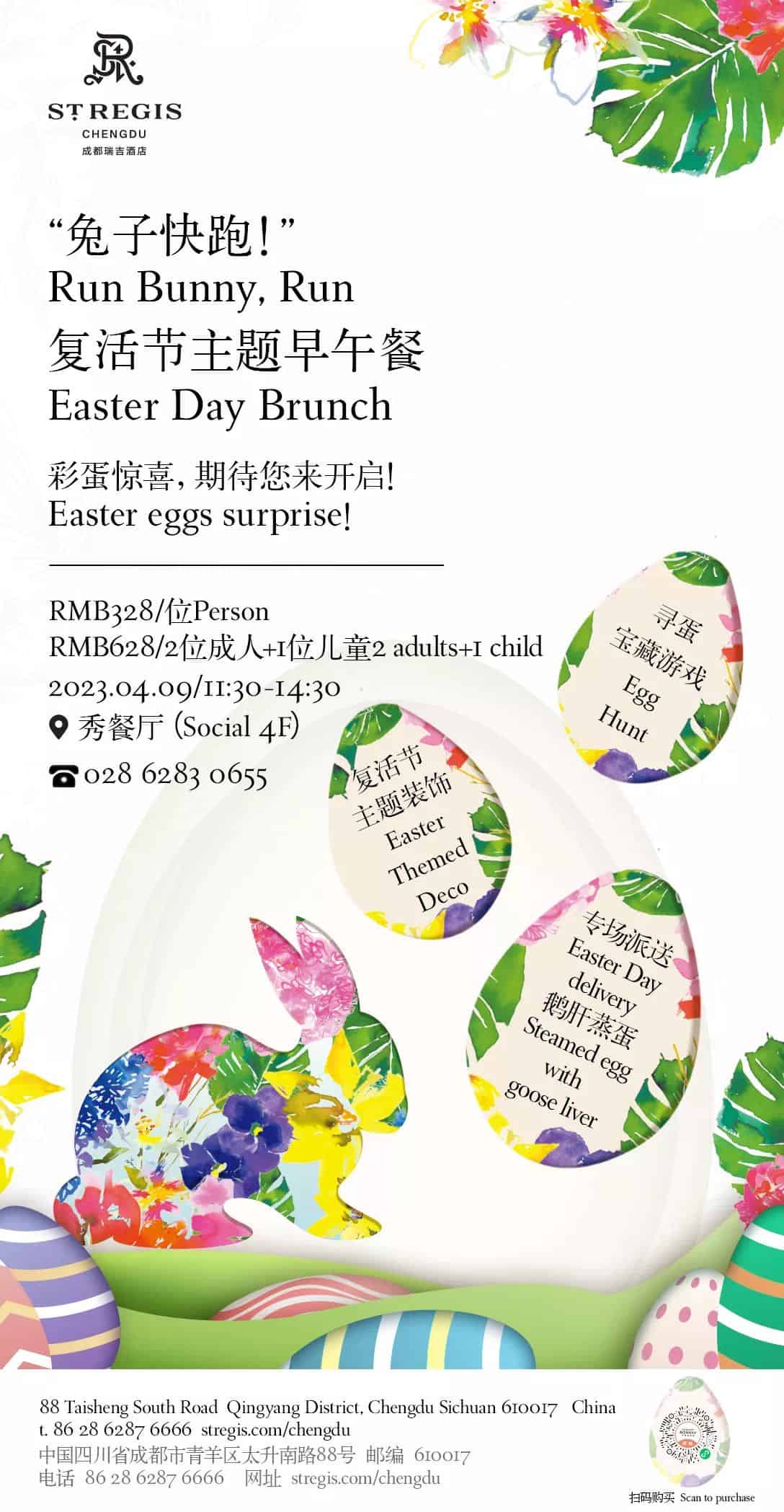 Easter Egg surprise
Date/ Time:
April 9, 11.30 – 14.30
Price:
328RMB/ person
628RMB/ 2 adults + 1 child
Address/ Venue:
88 South TaiSheng Rd, Social 4F
太升南路88号, 成都瑞吉酒店, 4楼秀餐厅
Tel.:
028-62876666
---
Easter Special @W Chengdu
Address/ Venue:
300 Jiaozi Avenue Chengdu
成都市交子大道300号
---
Easter Egg Painting @ Peter's Tex Mex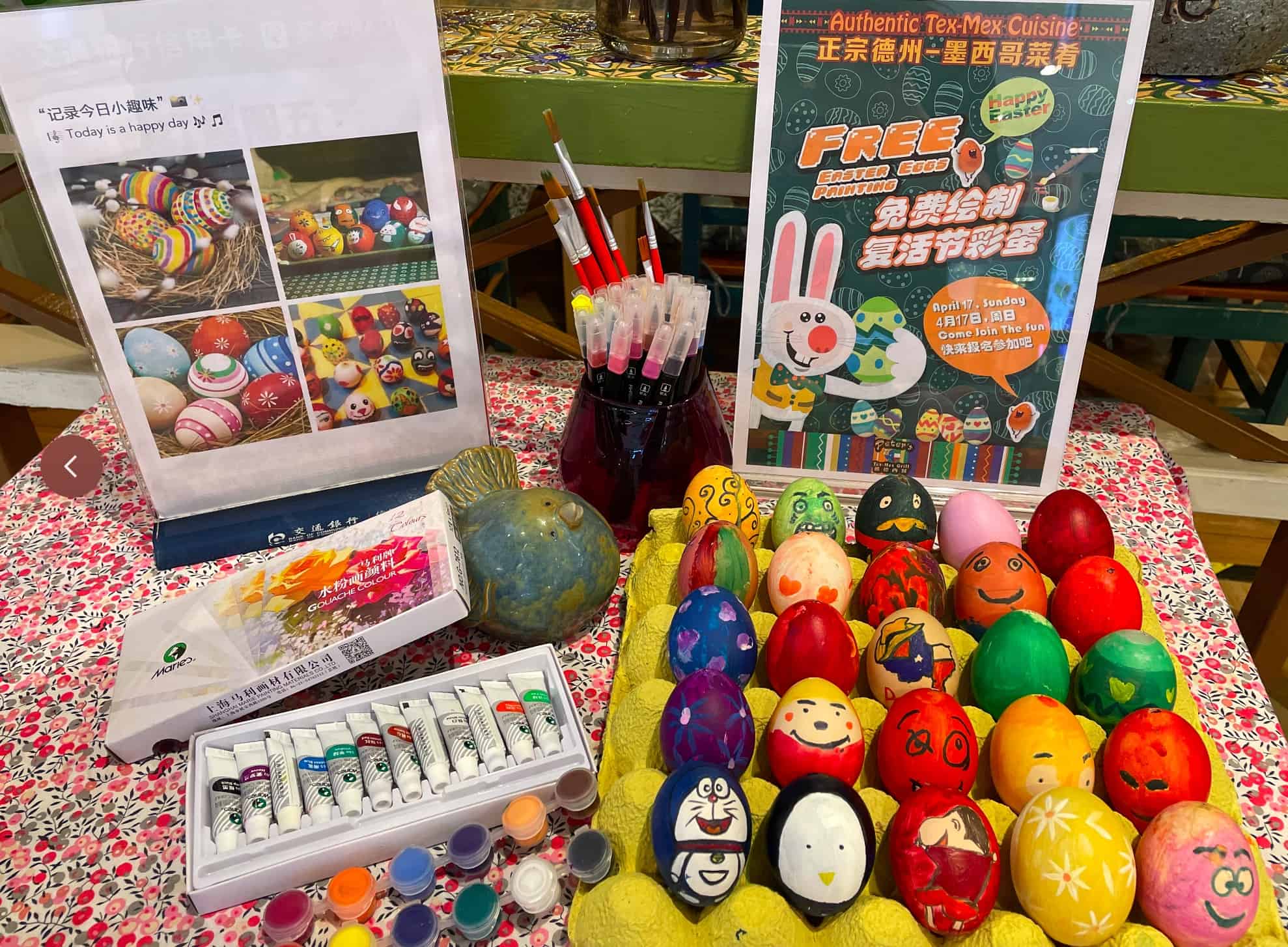 Date/ Time:
April 9th, whole day
Deal:
            Kids can enjoy free easter egg painting
Address:
Peter's Tex-Mex 彼德西餐 [Tongzilin]
Wuhou District, East Tongzilin Rd. No. 12
武侯区桐梓林东路12号
Tel.:
028-85180903