Family Friendly Spring Fair | 19th May
Chengdu Spring Fair is coming to the city for the first time, and will be one of the biggest international events of the year! Bring along the kids for a day of creative activities, games, great food and wonderful gifts to buy –  in partnership with DiDi's English Version.
There will be a children's bouncy castle and games inside the main building of Jade Learning House. The surrounding square, Wisdom Plaza will host international food and beverage stalls, children's games and art activities.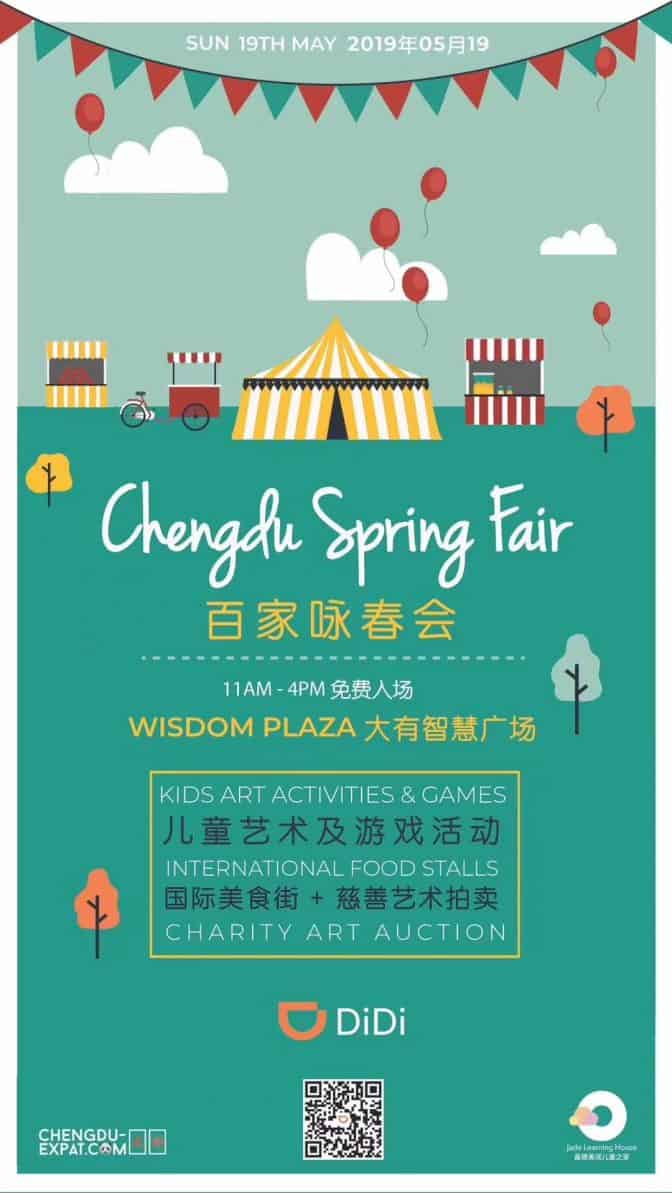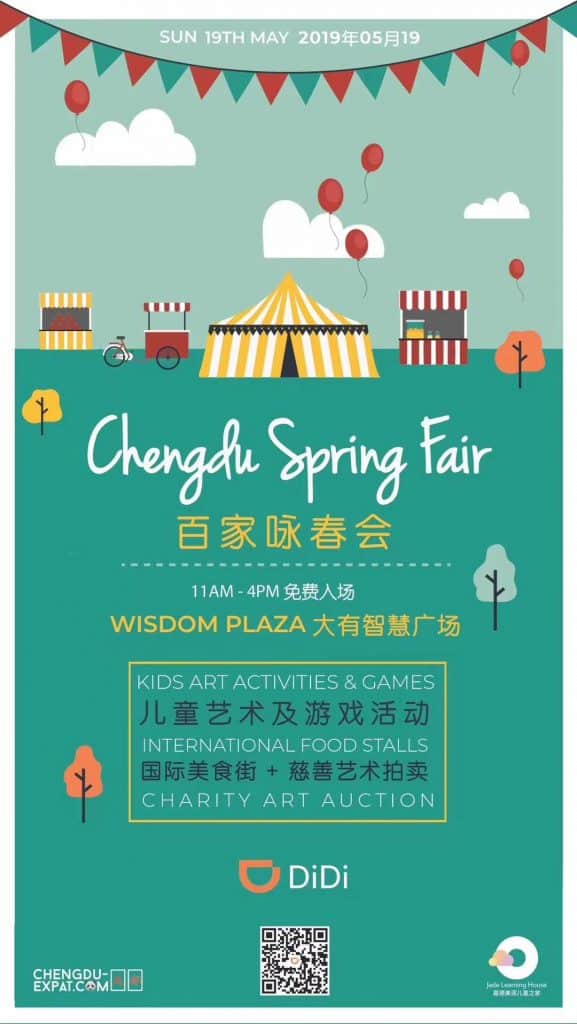 Food & Drinks
International food and snacks, gourmet drinks, and artisan beer.


Gifts & Handicrafts
Handicrafts  • Succulent Plants & Flowers  • Children's Illustrations• Jewellery & Gifts


Kids Activities
Face painting • Science Experiments • Art Activities • Children's photos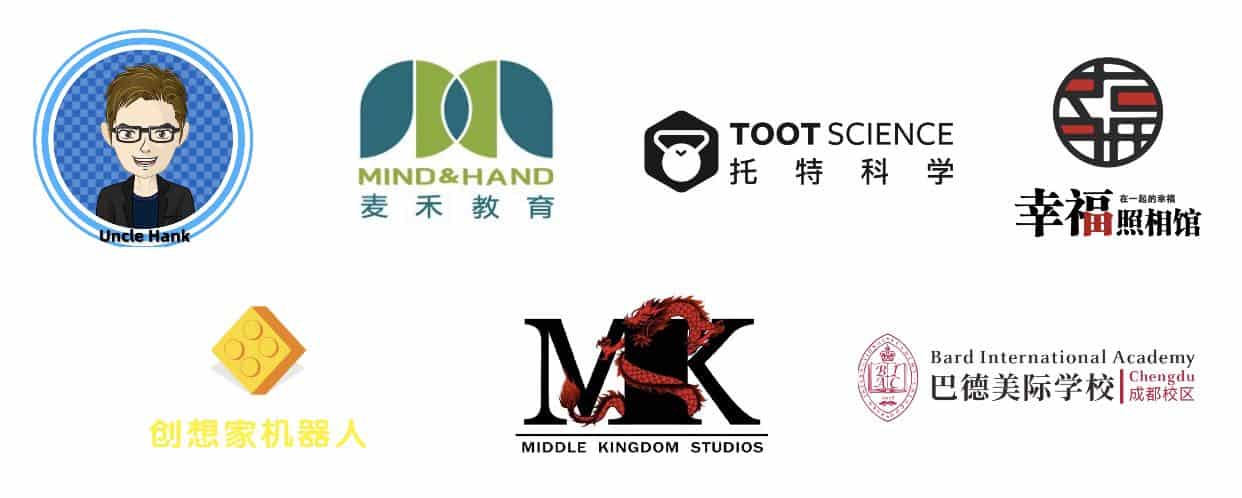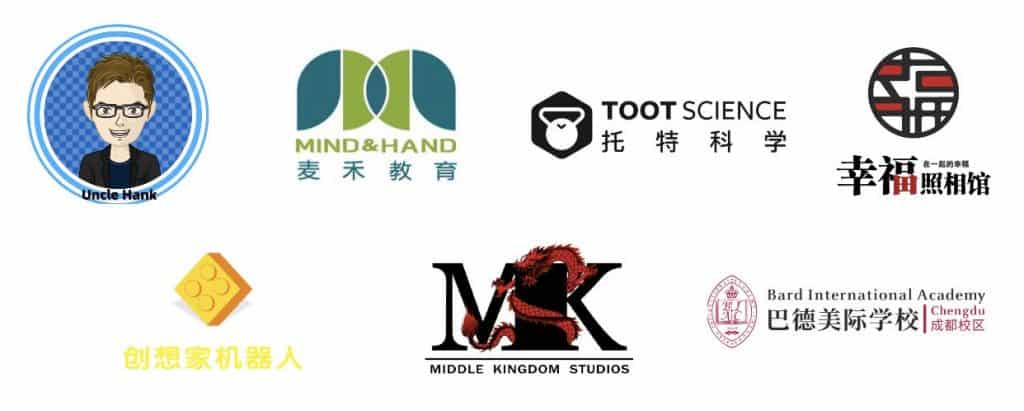 Charity Art Auction
The main stage will have music and performances throughout the day from Chengdu's international schools, and a charity art auction will take place to raise money for XIWANG·Gift of Health.

What Didi can Offer
DiDi EN knows moving your family around the city can be a challenge, and to help make it easier, their English version of the ride-hailing app has lots of useful family-friendly features:
Full English language service
It's as simple as switching your language setting in the DiDi app! The English version has an easy-to-use interface with additional features for English speakers in China. DiDi EN users get access to the same pool of drivers and the same affordable pricing structure as DiDi CH users do. What's more, DiDi EN accepts both English and Chinese addresses, and the driver can communicate with you through instant messaging in English.
6 Seater vehicles available
If your kids have their friends over, or you want to move the whole family, 6+ seater vehicles are available through DiDi EN. Simply enter the address, select Premier, and choose the Business Van.
Reserve a car ahead of time
Family life can get hectic, so DiDi EN allows you to book a car up to 3 days in advance.  Simply choose "reserve", and select your pick up time.
Use international credit cards
Both Chinese and international credit cards are accepted, along with Alipay and WeChat pay, to make your life easier.
Get hassle-free invoices for your company
If you need to give fapiao to your company for your travel, it's easy with DiDi EN. Simply go to  "My trips" – "Request invoice", and select the trips you want an invoice for.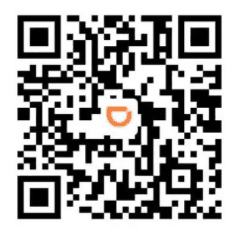 Get DiDi EN ride coupons when travelling to Chengdu Spring Fair
Scan the QR above to get 15% OFF your Express ride with DiDi EN. New DiDi users will get an additional 8RMB OFF Express coupon!
Stage Schedule
11 am
DJ Begins!
•
11.30 am
Welcome Speech
•
11.40 am
Introducing Jade Learning House
•
11.50 am
Science show by TOOT Science
•
12.15 pm
Zither Performance
•
12.25 pm
Drama show
•
12.45 pm
Science show by TOOT Science
•
1.05p m
Charity Art Auction
•
2.00 pm
DJ!
•
2.20 pm
Traditional Dance
•
2.30 pm
Solo Dance
•
2.50 pm
DJ!
•
3.20 pm
Science show by TOOT Science
•
3.40 pm
Lucky Draw & Closing performance
•
4.00 pm
Closing of the fair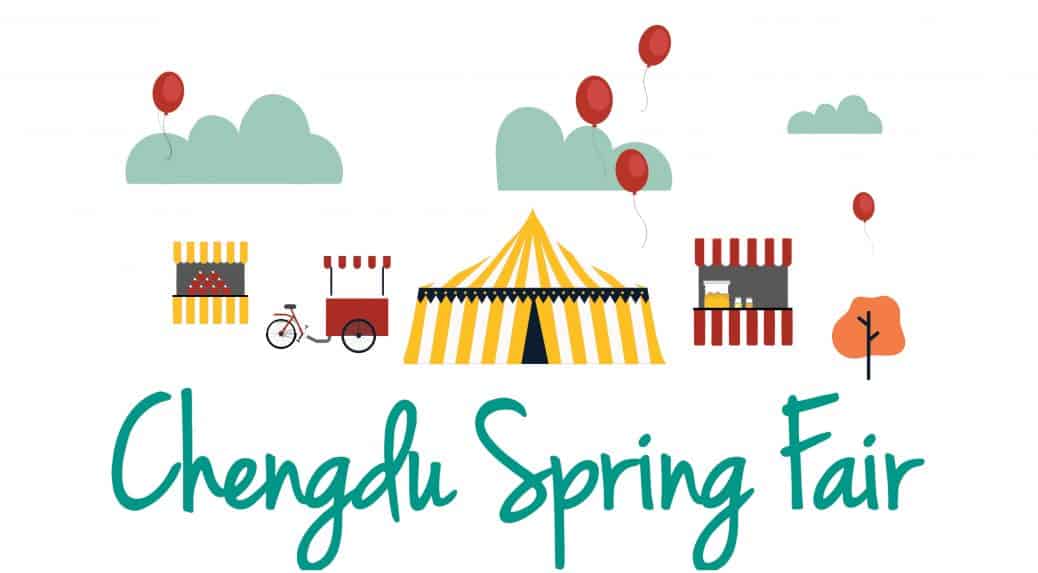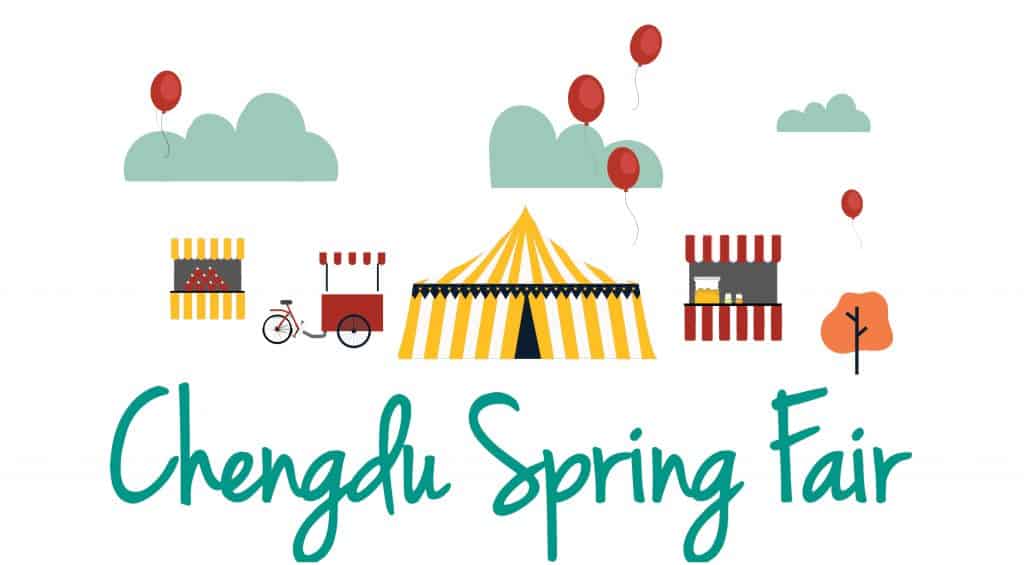 Sunday 19th May 2019
11 am – 4 pm
International Food Vendors
•
Kids Art Activities
•
Children'sGames
•
Charity Art Auction
•
Music and performances
This education centre for children aged 2 years old to 10 years old, offers an International Education program in the daytime from 8am-5pm and extracurricular activities in the afternoons and weekends. This unique learning environment prepares children for success in both International schools and local Chinese, schools depending on parents education direction. High-Quality education is matched by high-end facilities and resources. Jade welcomes foreign and Chinese students to join this exciting and innovative path to educational excellence.
Date and time:
Sunday 19th May 2019
11am – 4pm
Address:
Jade Learning House
Wisdom Plaza, Tianfu 3rd Street
天府三街大有智慧广场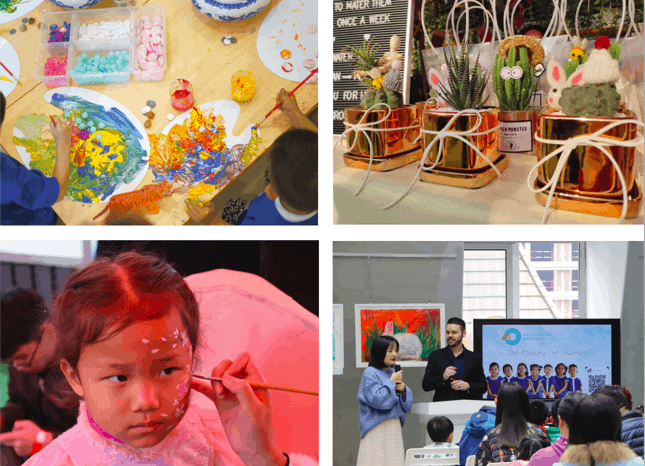 Proceeds from the charity art auction and a percentage of the booths will be donated to a carefully chosen charity, GFCF on the day.  Other selected local social enterprises will also be represented, so please come out and support this worthwhile, family-friendly day out!
With thanks to our sponsors




For questions or to become a vendor, please add Chengdu-Expat using the QR code below
⇣