Confirmed Cases and Geographical Distribution (Feb. 24, 11:15)
Sichuan: 527 confirmed cases, all quarantined.
Dead: 3, 18 in critical condition. Recovered: 263.
Guangan: 30, Mianyang: 22, Nanchong: 39, Zigong: 9, Dazhou: 41, Deyang: 18, Yibin: 12, Neijiang: 22, Luzhou: 24, Suining: 17, Bazhong: 24, Ganzi: 69, Liangshan: 13, Ya'an: 7, Leshan: 3, Ziyang: 3, Guangyuan: 6, Meishan: 8, Panzhihua: 16, Aba: 1.
Of these, 143 confirmed cases are in Chengdu. Down the image the numbers per area: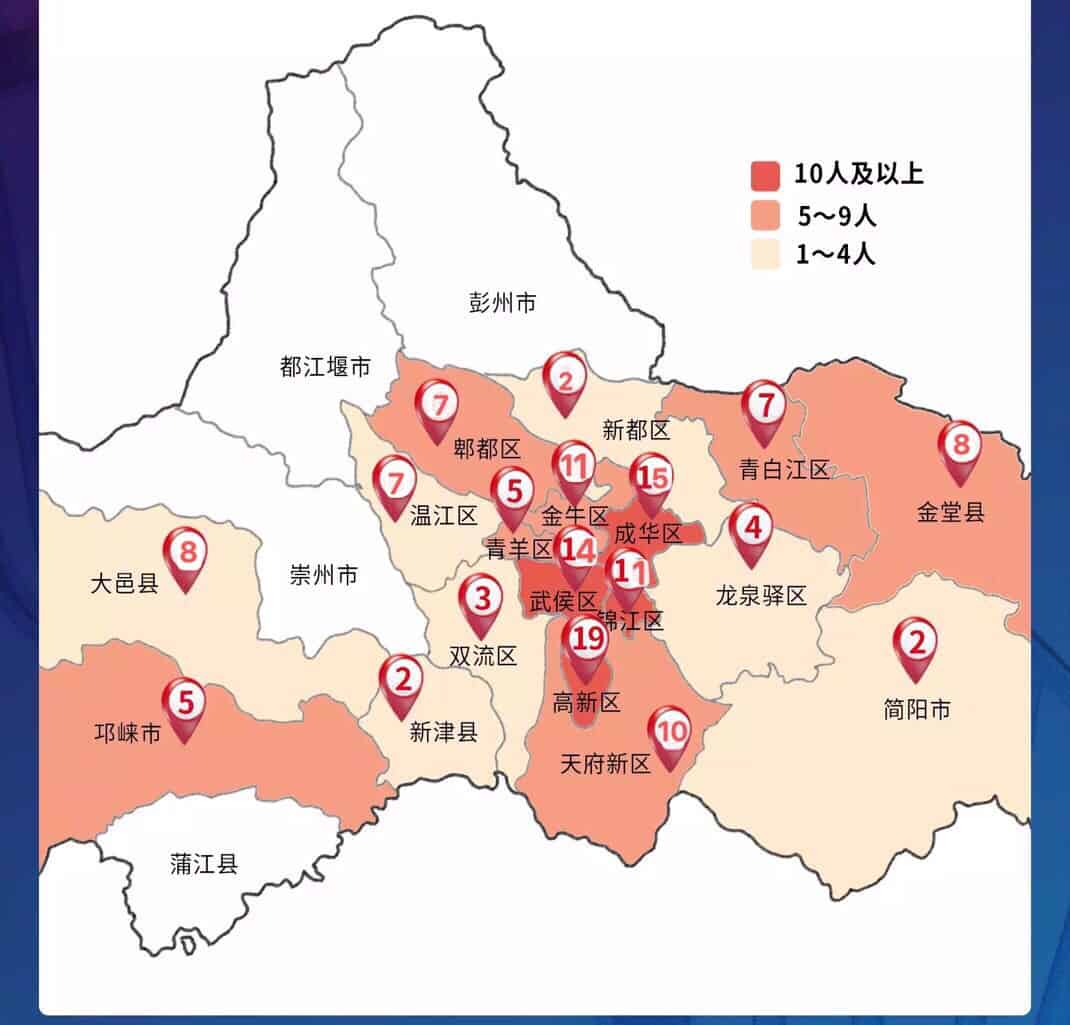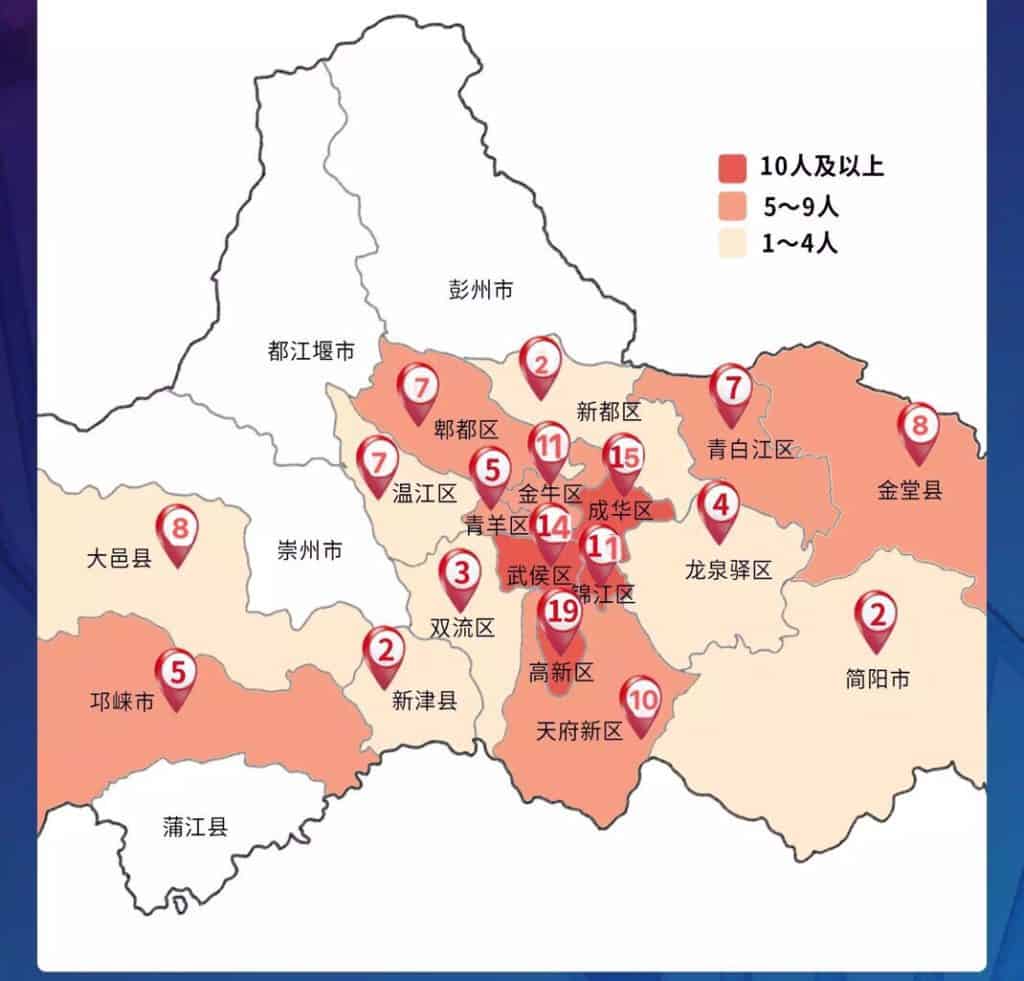 Chenghua District: 15, Gaoxin District: 19, Jinjiang District: 11, Qingyang District: 5, Wenjiang District: 7, Wuhou District 14, Qionglai: 5, Jianyang: 2, Qingbaijiang: 7, Jintang County: 8, Dayi County: 8, Xinjin County: 2, Jinniu District: 11, Shuangliu District: 3, Pidu District: 7, Xindu District: 2, Longquanyi District: 4, Tianfu New District: 10, Others: 3 (from airpot or train station)
Measurements and Restrictions
It is strongly suggested to stay inside, avoid any travel or spending extended periods of time in public places, wear a mask, don't touch your face and wash your hands regularly. It has been confirmed that the virus may be transmitted by people who are asymptomatic. Those with symptoms, such as fever, should quarantine themselves or report to a designated hospital (see list below).
Those returning from elsewhere are required to register their information online (and possible with your building management) and 
fill in your personal health information.
Most communities in Chengdu now require an access pass to enter/ leave the compound, which you will receive after registration, and housing communities limit access to non-essential personnel. Your waimai shuaige will call you to leave the order at the gate, and kuaidi should be collected from the secure pickup locations (keep an eye on your text messages).


‍
A few compounds in Chengdu already followed a more strict rule similar to other cities (Hangzhou, Xi'an, Harbin, etc), restricting each household to only have one person leave their community once every two or three days. We wonder if this restriction will become widespread in the 'Du.
The government has sent the CDC to all sites where patients have stayed and instructed property management departments to conduct daily disinfection there. If you are in one of these communities, they have now been well sterilized, so there's no need to panic. Over 68 buildings o
r communities in Chengdu have been placed under quarantine. Those inside the quarantine area will not be allowed outside for 14 days, nor will those outside be allowed in. Distribution of essential items will occur for those under quarantine. 
Anyone entering Chengdu by car (not by plane or train!) via highways is now obliged to fill out a registration form providing various information about driver, passengers, destination etc.
Anyone who has returned to Sichuan from Hubei Province since January 8th should report to their building manag
ement or a hospital for quarantine.
Several districts have imposed epidemic control measure: One action taken is they have employed 6 water canon trucks to head out at night to to certain districts to disinfecting the streets. The disinfectant won't harm you – but it is still recommended to keep your windows closed if you live in the area.
Click here
to find out the specific routes of these trucks.
As not-essential industries are not allowed to resume work for the time being, most companies have shifted their work to online assignments.
Schools will not resume classes at school until approval is given by the Ministry of Education. Current estimations put that at no earlier than March 2nd.
Transportation
Shuangliu Airport 
remains op

en, they have instituted screenings for all incoming and outgoing passengers. Budget a little extra time to ensure that you are able to make your flights and transfers. 

Traveling abroad is in decline with many foreign governments advising against non-essential travel to China. The list of international airlines canceling flights is growing as more and more countries impose travel restrictions for travelers from China. With the rapidly evolving situation, we recommend contacting the airline to confirm whether or not your upcoming flight will be affected.
The Chengdu metro is open with reduced service and closing time (see schedule below), general opening time is in between 6 and 7am. Wearing a mask is obligatory, those not wearing masks will not be allowed in.
Line 1, 3, 4, 5: Last train at 22:00
Line 2, 7, 10: Last train at 22:30
 🚗 Taxi's and ride-hailing 
The good old taxis are still an option, though you'd have

register when taking a right now.  
Didi is also an option, and the company took the next precautions for you and others safety: drivers and riders must wear masks, daily disinfection required, and the car must be well ventilated.
Train lines: Several (eg.: to Guiyang) have been temporarily stopped. Check the 12306.cn website (Chinese only) for updated information.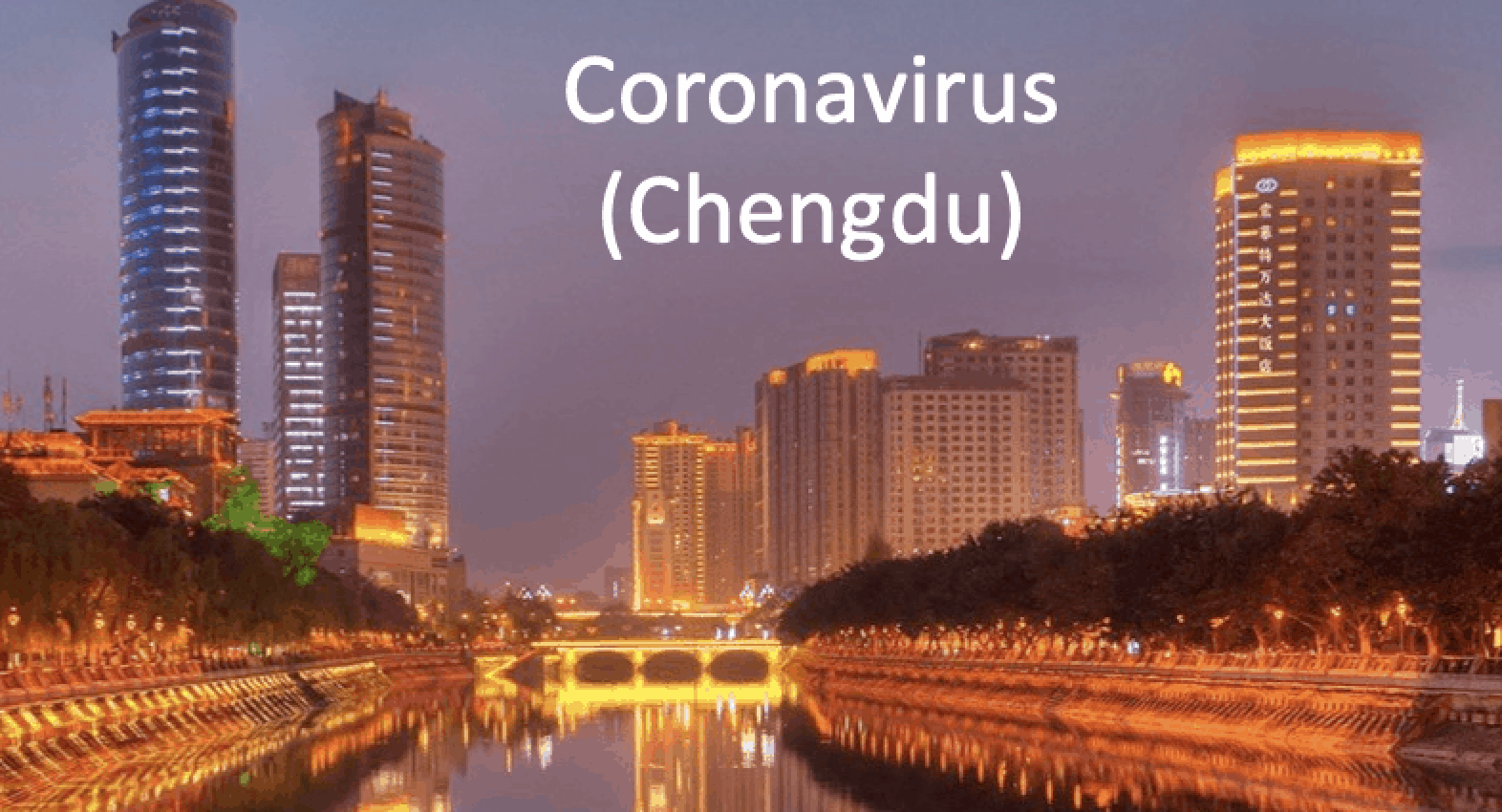 Useful Information

•All events are cancelled and touristic spots are closed. Touristic spots, museums, bars, restaurants and clubs are also closed till further notice.
•Public transportation is normal.
•Masks are compulsory on the subway and temperature is checked on the way in. Same in lot's of malls and compounds. For you and others safety, please cooperate.
•If you need to submit visa application or collect passport, the Chengdu PSB office reopened on February 3rd. For more information, add the PSB's official WeChat account (ID: ChengduCRJ) or call 028-86407769.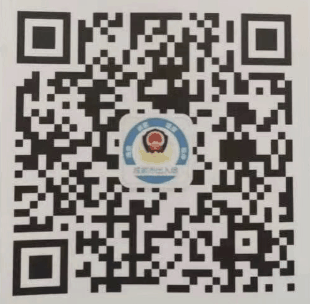 These Airlines announced cut Chengdu Flights
IndiGo: February 1st to March 28th 2020, 1 daily Delhi – Chengdu canceled. Mumbai – Chengdu planned launch temporarily on hold.
Vietnam Airlines: In the month of February, Cam Ranh/Nha Trang – Chengdu is canceled.
Lion Air Group: In the month of February, the route Denpasar – Chengdu is canceled.
Hong Kong Airlines: For flights on/before February 10th, Hong Kong – Chengdu is completely canceled.
KLM (Royal Dutch Airline): For February 2020, all flights from Amsterdam – Chengdu are canceled.
Shanghai Airlines: Suspended its Chengdu-Budapest flight between Feb. 4 – March 28.
Singapore Airlines: Reducing capacity on it's Chengdu flights in February.
For a complete overview of airliners that announced suspending China flights because of coronavirus, click here.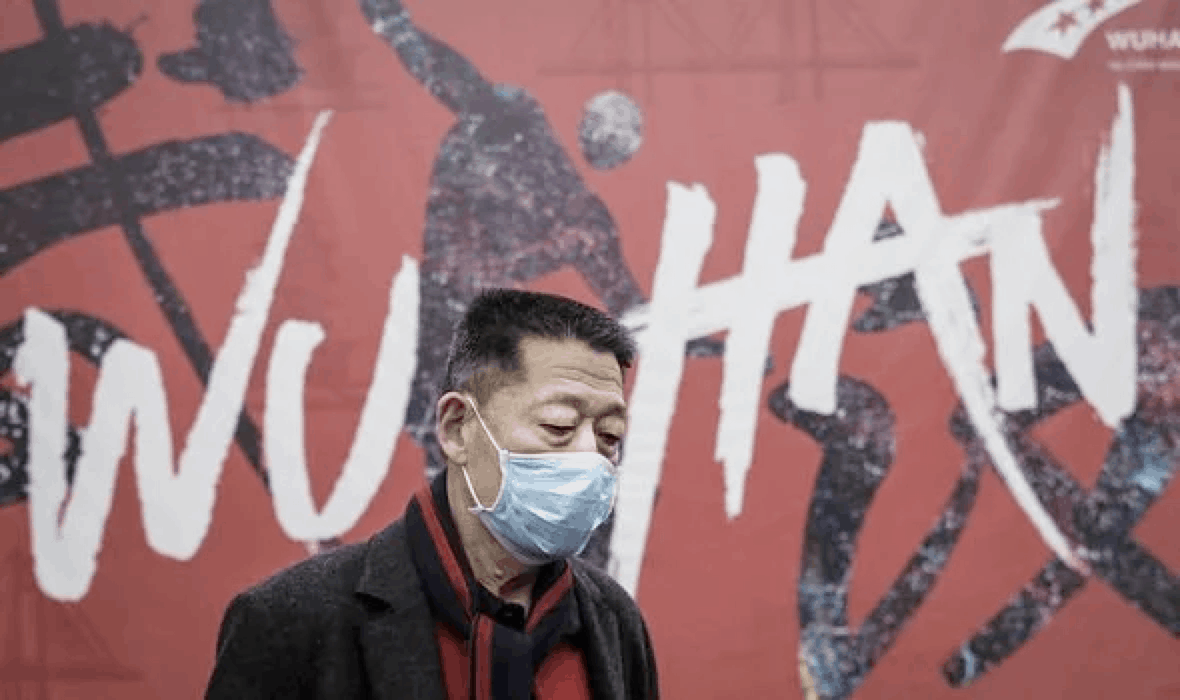 Dedicated Hospitals in Chengdu
Do you have a fever and/ or other symptoms of the deadly coronavirus? Not every hospital accepts you, you need go to one of them listed below
List of Chengdu Medical Institutions for Patients with Pneumonia Stemming from the New Coronavirus Infection:
成都市公共卫生临床医疗中心

Public Health Clinical Center of Chengdu

 成都市锦江区静明路377号

No. 377, Jingming Road, Jinjiang District, Chengdu

成都医学院第一附属医院(新都)

First Afflicted Hospital of Chengdu Medical College (Xindu)

成都市新都区宝光大道278号

No. 278, Baoguang Avenue, Xindu District, Chengdu

成都市郫都区人民医院

Pidu District People's Hospital, Chengdu

成都市郫都区德源北路二段666号

No. 666, Section 2, Deyuan North Road, Pidu District, Chengdu

成都市温江区人民医院

Wenjiang District People's Hospital, Chengdu

成都市温江区万春东路10号、61号

No. 10 & 61, Wanchun East Road, Wenjiang District, Chengdu

成都市龙泉驿区第一人民医院

The First People's Hospital of Longquanyi District, Chengdu

成都市龙泉驿区龙泉驿河3组201号

No. 201, Group 3, Longquanyihe, Longquanyi District, Chengdu

成都市双流区第一人民医院

The First People's Hospital of Shuangliu District, Chengdu

成都市双流区东升街道西北街149号

No. 149, Xibei Street, Dongsheng Subdistrict, Shuangliu District, Chengdu

成都市青白江区人民医院

Qingbaijiang District People's Hospital, Chengdu

成都市青白江区凤凰东四路15号

No. 15, Fenghuang East 4th Road, Qingbaijiang District, Chengdu

成都天府新区人民医院

Tianfu New District People's Hospital, Chengdu

成都市天府新区华阳街道正北上街97号

No. 97, Zhengbei Upper Street, Huayang Subdistrict, Tianfu New District, Chengdu

简阳市人民医院

Jianyang City People's Hospital

成都市简阳市简城镇医院路180号

No. 180, Yiyuan Road, Jiancheng Town, Jianyang City, Chengdu

邛崃市医疗中心医院

Medical Center Hospital of Qionglai City

成都市邛崃市临邛镇杏林路172号

No. 172, Xinlin Road, Linqiong Town, Qionglai City, Chengdu

彭州市传染病医院

Pengzhou City Infectious Disease Hospital

成都市彭州市天彭镇金彭东路995号

No. 995, Jinpeng East Road, Tianpeng Town, Pengzhou City, Chengdu

崇州市人民医院

Chongzhou City People's Hospital

成都市崇州市崇阳街道永康东路318号

No. 318, Yongkang East Road, Chongyang Subdistrict, Chongzhou City, Chengdu

都江堰市人民医院

Dujiangyan City People's Hospital

成都市都江堰市宝莲路622号

No. 622, Baolian Road, Dujiangyan City, Chengdu

蒲江县人民医院

Pujiang County People's Hospital

成都市蒲江县鹤山街道河西路18号

No. 18, Hexi Road, Heshan District, Pujiang County, Chengdu

金堂县第一人民医院

Jintang County First People's Hospital

成都市金堂县赵镇金广路886号

No. 886, Jin'guang Road, Zhaozhen Town, Jintang County, Chengdu

新津县人民医院

Xinjin County People's Hospital

成都市新津县五津西路149号

No. 149, Wujin West Road, Xinjin County, Chengdu

大邑县人民医院

Dayi County People's Hospital

成都市大邑县晋原镇北街323号

No. 323, North Street, Jinyuan Town, Dayi County, Chengdu
Clinics and Hospital
For a list of all hospitals and clinics, click here.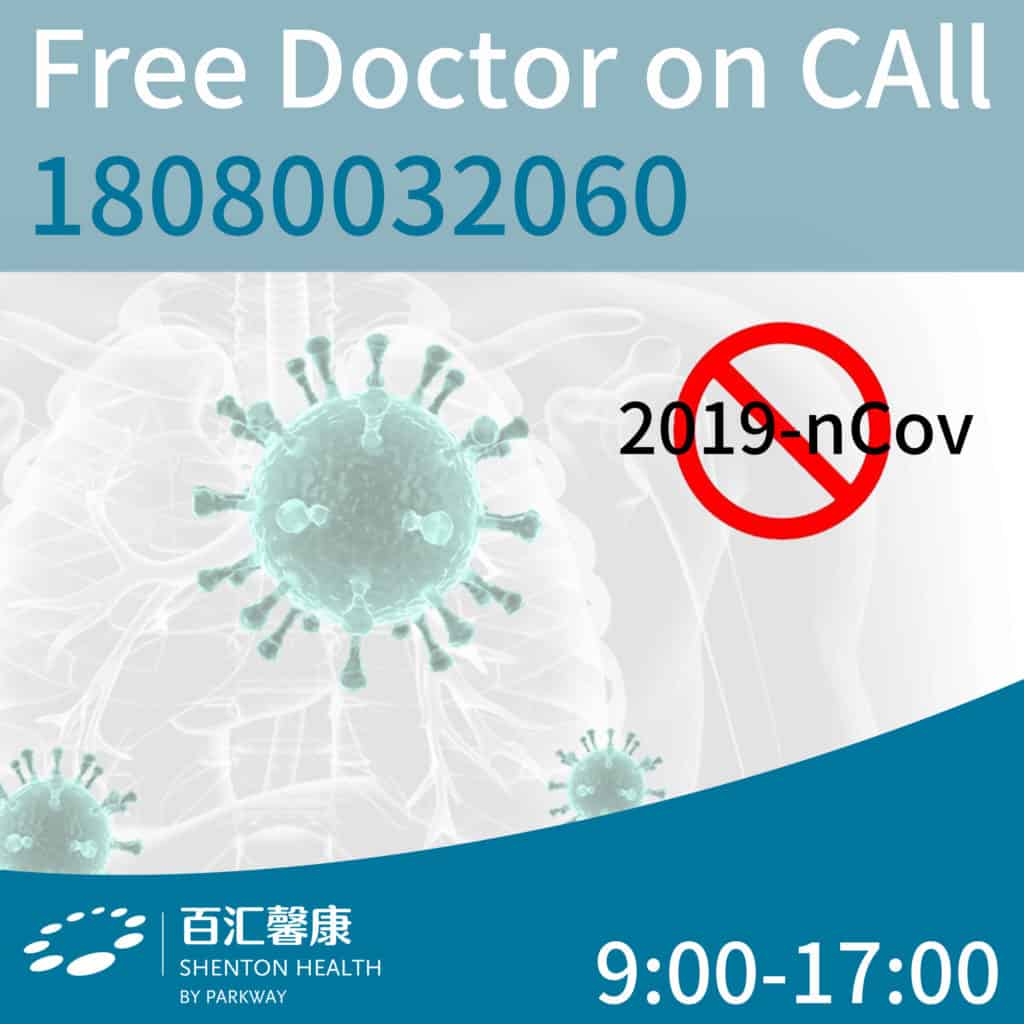 Got Questions? ☎️ Call 18080032060
Free English Doctor on Call, 9am-5pm
Supported by Shenton Health 👨🏻‍⚕️
What's Closed and Open in Chengdu
Putting the Coronavirus into Perspective
For a note on obsessing over Coronavirus infection counts, and other advice, Click here.
)
---
What do you think about the situation?

Let us know in the comments!

---
Coronavirus: Read More
⇣
Wuhan Coronavirus: Latest stats and info
Should I Stay or Should I Go Now?
13 Things to Know about the Outbreak
How to Track the Latest Coronavirus Stats
Coronavirus: Chengdu Statistics and Information
Top 10 Things To Do during the Virus